180 results for
ducati sport
It's not often I receive two customised versions of the same motorcycle in less than a week. This second example...
I'm a huge fan of Ducati's Sport 1000 and was disappointed to see them go when they ceased their production in 2010. The Sport...
This custom Ducati Sport 1000 named the "Hill Climber" has been causing a bit of a stir on the internet...
What is the Ducati motorcycle that Sam rides in the movie Tron Legacy? It's a Ducati Sport 1000 Biposto. Here's...
One of my favorite modern interpretations of classic motorcycle styling the Ducati Sport Classics, has been dropped by the Italian...
From the look of it, Ducati's Sport Classic range is fairing well for the Italian motorcycle giant. The Sport Classic...
2007 has seen the introduction of a new model range to the Ducati name in the form of the Sport...
What was once old is new again. 1993 doesn't seem all that long ago. It was the year Bill Clinton...
"This project is the first fully ground-up custom from our Pista Design Moto endevour… something especially for us rather than...
First things first a new frame was required which Rene acquired from a '76 Ducati 860 GT. To fit the...
Some time in the foreseeable future the advent of an apocalypse due to a zombie outbreak, nuclear war or perhaps even global...
This Cafe Racer conversion of a 1992 Ducati 900 Supersport comes from Cafe2Ride in Germany. The Ducati was a daily...
There was a time when the Gilera brand was as hallowed in motorcycle racing as Honda and Ducati. After World...
There's no doubt about it – making a good first impression takes hard work. When you get it right though,...
The iconic Gulf Oil orange and blue livery first appeared in motorsport on a Ford GT40 in the 1960s. Since...
Artist Albert 'Kameleo' Bierwiaczonek has been using his skills with an airbrush to paint motorcycles for the past 20 years....
Taiwanese custom motorcycle builder Alex Gao has a tendency to base his cafe racer builds on rather unlikely donors. In...
Retired air traffic controller Donald Mildebrandt has been around aeroplanes his whole life. Growing up his spare time was spent...
The words Harley Davidson and Cafe Racer aren't often muttered in the same sentence. Along with the challenges builders face...
In Greek mythology, Perseus was a legendary slayer of monsters and was responsible for beheading the serpent haired gorgon, Medusa....
They say imitation is the greatest form of flattery. In the commercial world, not so much. But when it comes...
We love a good concept motorcycle, even if it isn't a cafe racer styled ride. These two Ducati concepts are...
Trever Scales of Scales Studio is no stranger to these pages. But today, for the unveiling of his latest project,...
Whether you're a die-hard Ducatista or not there's something special about the Italian marque. In fact, some hold the Ducati...
After immigrating to the US with his family 12 years ago, Johann Keyser turned his passion into a career. The...
Jesse Spade owns and operates a workshop in downtown Atlanta, Georgia. Prior to 2016, his business was focused on customising...
Much to the dismay of the Ducatista, we listed the Ducati Sport Classic range as one of the worst factory...
How much difference can 300cc make? I made the mistake of thinking the Ducati Scrambler 1100 wasn't much more than...
Is it a Ducati 748/749 with bigger muscles or a trimmed down 1098? The Ducati 848 was a new bike in...
Keeping track of all the parts you pull off your bike during a build is a daunting task. When I...
On July 21st 2018 the Bike Shed London held the inaugural 'Cafe Racer Cup'. An event designed to allow everyday...
After designing and manufacturing his own performance parts for years Danmoto owner Wei Liya decided it was time to build...
2018 marks the 25th anniversary of the Ducati Monster. A motorcycle that revolutionized the 'naked bike' category and saved the...
Motorcycles and coffee are two items that appear on my list of things that I can't live without, which is...
Brothers Pablo and Carlos Delgado, the driving force behind Spanish workshop Valtorón, are the perfect example of this. Where others...
The sale came about after Flo was approached by Evy and Andy of Hermanus workshop in Bruges, Belgium. After attending...
At this point, you might be thinking that we're going to delve into the story of some OCC styled large-capacity...
If you couldn't guess by his name and industrially-advanced mind Walter hails from Italy, more specifically the island of Lipari...
"Why those two bikes you ask? Well, the GT750 was the Italian's prototype of their 90-degree V-twin engine format and...
Established 16 years ago, The Transportation Revolution is one of America's Premier Euro Motorcycle and Scooter Shops. The company markets...
Based on a 2013 Streetfighter S and a 2016 Scrambler 803 the 2 bikes epitomize the Slayer House style. The...
Die-hard sports bike fans will tell you that there are some bikes you just don't mess with. They're the elite,...
While a Motard style motorcycle may not seem like the obvious choice for a cafe racer conversion Jochen Diefke of...
Their 1996 Ducati Monster Cafe Racer may only be the third customer build the WNW team have undertaken, but the...
In the Netherlands at a workshop named 'Smokin Motorcycles' an engineer and an industrial designer have taken things a step...
How did you get your hands on the donor bike for this project? Gary: I found this bike in a...
The project began after a client approached Officine 08 and, rather surprisingly, requested the bike be customised for their newborn...
"We like all kinds of styles and therefore build a lot different bikes, but this is our first Café Racer."...
After spending two years working at the Italian custom workshop 'Factory Moto di Ferro', Maurizio decided to start Imbarcadero14 Venice....
In the Netherlands custom specialists Wimoto were approached by Niels, the owner of a well kept 900SS who was looking...
After finding the tired old SuperSport decaying in a garage the bike was relocated to the BCR workshop with the...
In the years following the demise of the Sport Classics companies like Deus Ex Machina and a plethora of new...
More cruiser than sports bike in its styling the Diavel falls into a category of its own in the Ducati...
"It's been two and a half years since I left Brazil where I was born. I left home to pursue...
With the Ducati's newest bike creating such huge interest in the custom scene lets start by hearing your first...
"Yes it's fast, yes it handles, and yep, it's already been on the track." The 'Eleven' was built as...
The work that's gone into the 'J63' comes as no surprise. Revival founders Alan Stulberg and Stefan Hertel pride themselves on...
If you consider yourself to be into custom motorcycles and you haven't heard of Walt Seigl then you're not really into custom...
"Modern Retro". That's how Taiwan born, LA based Samuel Kao of JSK Custom Design describes his 'Ivory Comet' Cafe Racer....
There are many amazing, readily available secondhand bikes to choose from when finding a donor for a custom build, but...
The small capacity custom bikes just keep rolling in. Here's the latest from Italian outfit Radical Ducati. As their name...
In collaboration with Tank Moto magazine, we are excited to bring you a bike that caused a flurry of online...
Even though we only in the first quarter of 2013, I feel as though I have already featured a year's...
The Ducati Monster. The backbone of Ducati's sales figures. It's the bike that Ducati designers imagined Brando would be riding...
I'm sure many Ducati fans will be looking at this motorcycle with a confused look on their face. In true...
The Milan motorcycle show (EICMA) has grown to be one of the worlds premiere motorcycle events. With many manufacturers showcasing...
Finally the wait is over and the Chanel COCO Mademoiselle short film/commercial is out. The 3 minute 20 second film...
Quite possibly the coolest looking track bike available, NCR's New Blue. Weighs about the same as your average 250cc and...
Image by Sabine Welte After writing my article on Benelli's TNT Cafe Racer I was interested to see what other...
Ducati has just added a 3rd bike to the Sport Classics range, the GT1000. Created using most of the same...
Let's not beat around the bush. The motorcycles built by Harley Davidson have never been hot favourites in the cafe...
What's worse than being stuck indoors for days on end? Not being able to ride your motorcycle! Here's another edition...
The purists will tell you there's no such thing as a factory-built custom motorcycle. But if you're not one of...
It may not be identical to its Italian brother, but the second "Twisted Twin" from Stile Italiano is just as...
Looking over the Moto Motivo portfolio it's clear that European motorcycles are the focus of his business so to find...
For the US release of David Fincher's The Girl with the Dragon Tattoo, actress Rooney Mara has done away with...
The Tarantulas are a collection of motorcycle loving friends in Portland, USA. They are riders and builders of Cafe...
But it seems the art director for Babylon A.D. had an idea of using custom bikes in the film that...
The companies actual beginning came about when a widowed mother invested her families equity into their garage business in an...
So you wanna buy a spanking new motorcycle to ride around town and make it without having to touch your...
Just when we thought 2020 couldn't get any worse one of our favourite motorcycle events on the planet got cancelled....
We all know Kentucky Fried Chicken. It's second only to McDonald's for making Americans fat and scaring farm animals globally....
So you're obsessed with two wheels? Well, we see no reason why that obsession can't span beyond motorcycles to include...
Pin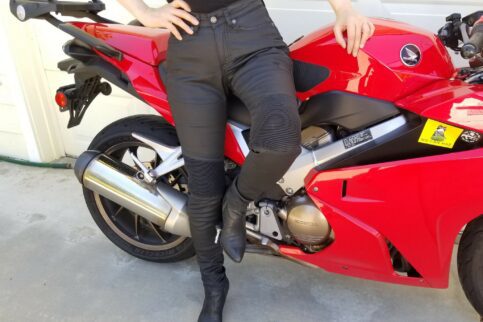 How many of us started riding because it looked cool to be on a motorcycle? You dreamed of being like...
It's spring, 1957 in an alternate-reality London, and the car park of the Ace Cafe is alive with leather-clad rockers....
While the average person may think Italy's best export is its cuisine, lovers of automobiles will argue otherwise. That's because...
At 54 years young Swedish born Norwegian Tomas Wrede has an enviable list of bike builds under his belt. He...
We've all experienced a time when our best-laid plans fell in a heap. But if that plan was to fail...
Stu Lloyd grew up in the UK during the late '70s and early '80s.  As a young boy, his leisure...
When it comes to building a cafe racer, no other marque is better suited than Triumph Motorcycles. This is of...
Having to introduce Max Hazan is the easiest and the hardest of jobs. Easiest because anyone who knows anything about...
Last week we featured a very tidy BMW K1100 LT cafe racer by Anthony LoGalbo of New York based workshop...
Honda proved that the Japanese could build capable v-twin cruisers with motorcycles like their VT series. Compared to US-built alternatives...
Over the past few years, I've been lucky enough to test ride almost every new modern classic, retro sports and...
Despite the lockdowns, we saw some amazing cafe racers completed in 2020. Many were built by individuals who suddenly found...
Back in 2017, French builder Ortolani Customs wowed us with his metalworking prowess. His polished Ducati 1199 S earned him...
34-year-old Mario Fedele's entire career spawned from a childhood fixation with motorcycles. It all began with obsessing over his father's...