What was once old is new again. 1993 doesn't seem all that long ago. It was the year Bill Clinton was president of the United States, Jurassic Park smashed box office records, Grunge Rock was at its peak, and I graduated from high-school. Put it into numbers though and it equates to 25 years. That's quite a while for a motorcycle to have been on the road (and for me to have been out of school!). After two and a half decades of good times, Mirko Tovazzi's 1993 Ducati 900 Supersport was beginning to show its age. Rather than taking the less ambitious route of a factory restoration he decided to add a few of his own 90's inspired styling tweaks.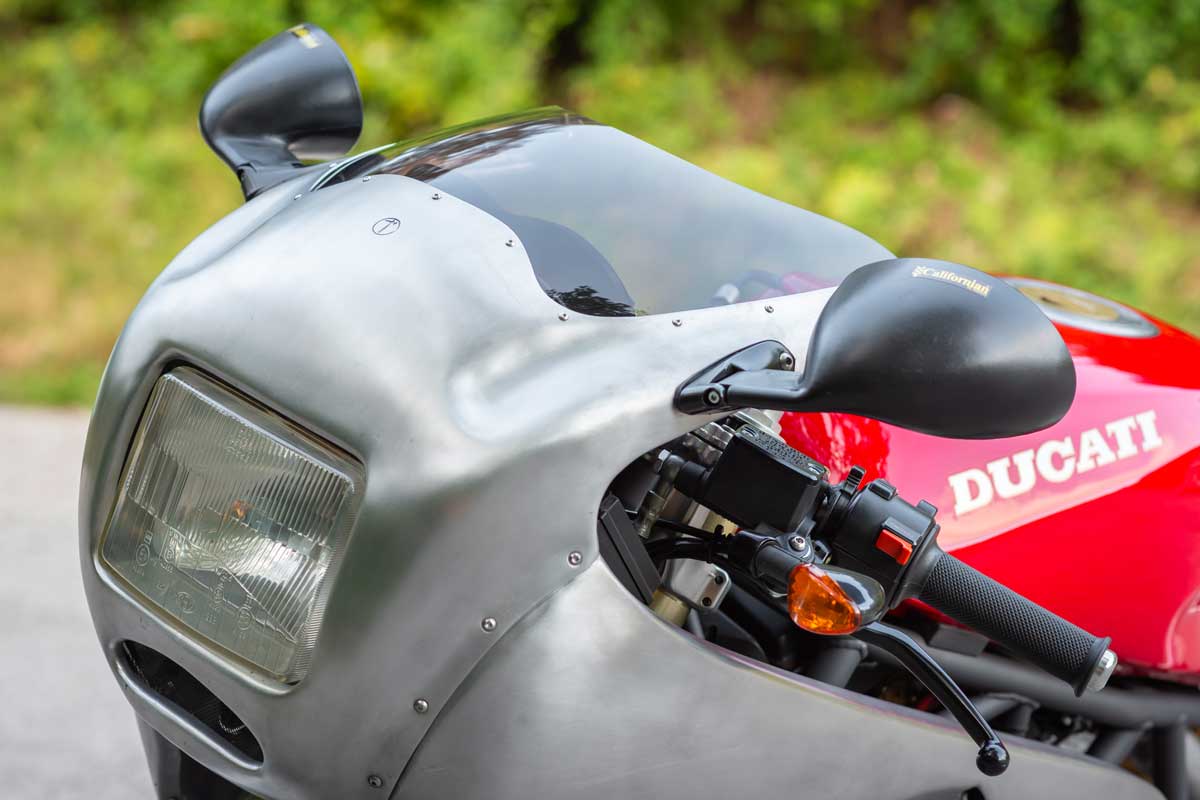 If you'd asked me what I thought of the Ducati 900 Supersports styling a few years ago, my response wouldn't have been all that flattering. But times and my personal taste have changed and somehow the Ducati's outdated aesthetic is now totally on-trend. Sure it's covered in plastic, but that rectangular headlight and bulbous rear end take me back to when chunky, full faired sports bikes ruled the streets. Thankfully Mirko shares my affection for that decade of motorcycling. So, rather than trying to transform his 900SS into something it's not, he opted to amp up the bike's nineties street appeal. Similar to his Moto Guzzi T5 Nautilus cafe racer, Mirko did away with all the plastic. Then, by leveraging his enviable skills with a sandbag and hammer, he replaced it all with beautifully hand-beaten aluminum.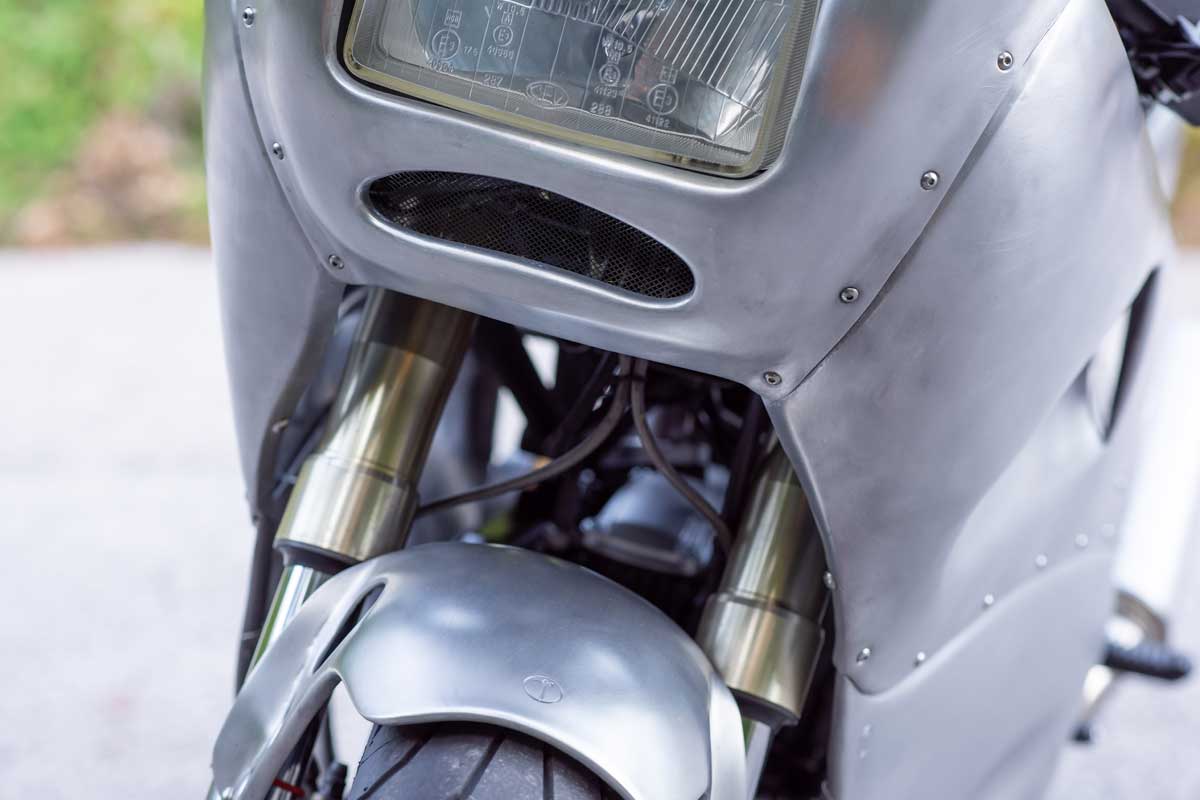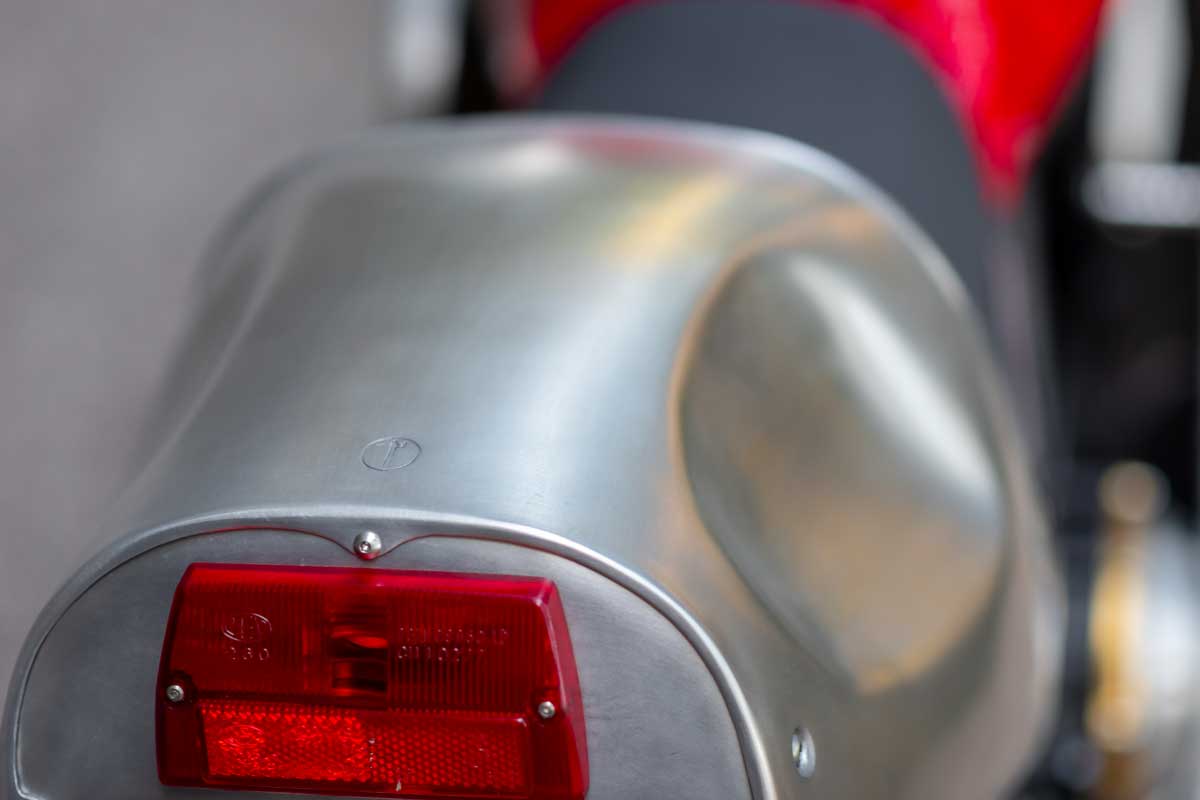 "My idea was to shape a metal fairing to replace the original one in a short time frame," says Mirko. "I went with my gut and my imagination. I didn't use welds. Every component is shaped from a single piece of metal and they're all joined using small stainless screws." This approach meant using similar geometry and mounting hardware as the original bodywork. But most importantly he wanted to retain features of the design that were unique to this generation of the Supersport.
The Ducati's new all-alloy full fairing is made up of 5 pieces plus a smoked windscreen. The aluminum parts consist of a central headlight shroud, 2 upper side panels, and 2 asymmetrical lower side panels; one of which wraps under the engine to form the belly pan. To aid with cooling and add some rigidity, Mirko's beaten large inlets to the panels. In the rear, you'll find more all-alloy bodywork in the form of a 2 piece tail. Indents in the tail tie everything together and Mirko's added an aftermarket brake light that's a hat tip to the rectangular headlight. The alloy work didn't end there though.
On the engine, you'll spot a new aluminum sprocket cover, belt covers, and clutch cover. The front and rear fenders are new too as are the exhaust brackets. The clutch cover also has a clever bit of engineering built into it. To keep road grime out Mirko added an internal plate that can be rotated to cover the openings. Alternatively, it can be opened to improve cooling, demonstrating that his approach to building bikes goes beyond simply trying to look good.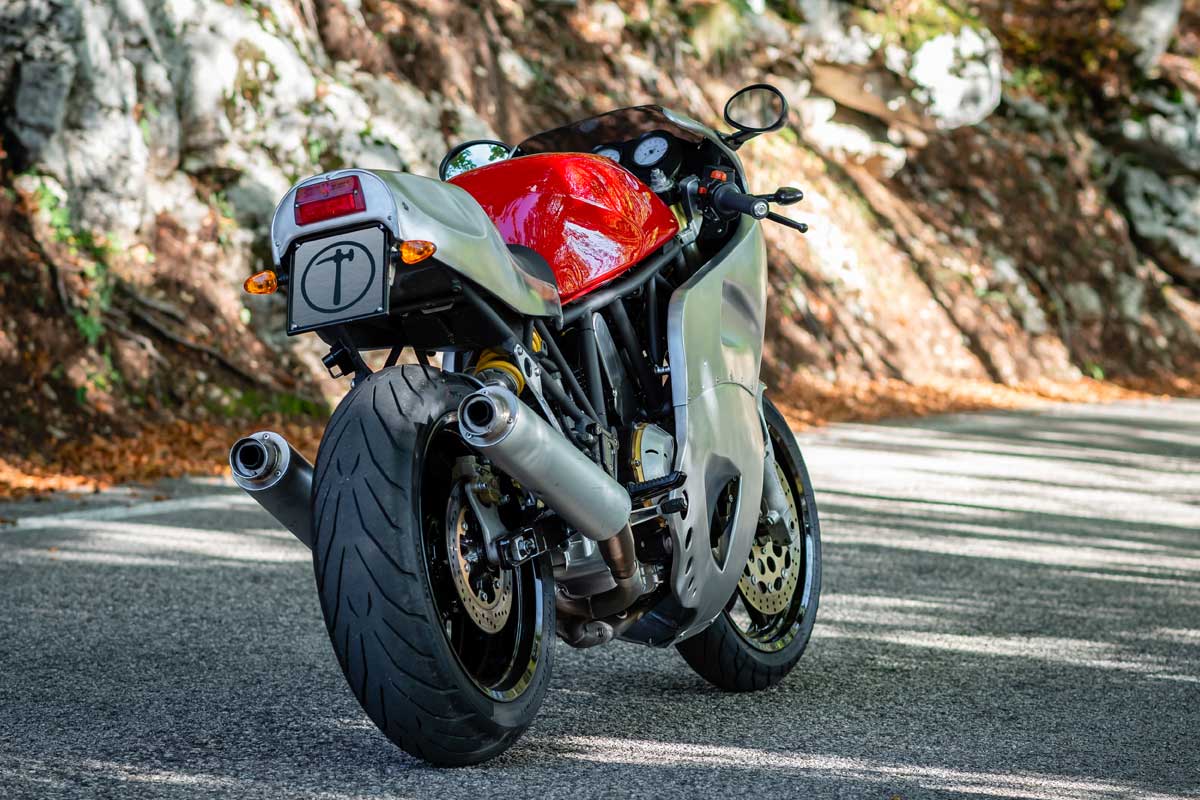 As for the rest of the overhaul, the Supersports 900cc L-twin has undergone an extensive refresh along with most of the bike's serviceable parts. Lower profile aftermarket indicators have been installed and a set of period-correct Vitaloni Californian mirrors hang off the front fairing. When the time came to choose a paint scheme Mirko wisely opted to leave his hard work bare. A light coat of clear helps keep oxidization at bay. To finish things off the trellis frame was shot in a dark matte grey to match the finish on the Duke's new saddle.
So while there are lots of things from the nineties that we'd all like to forget. I think we can agree when it comes to bikes like this Ducati 900 Supersport they're an up and coming commodity.
Photography by Graziano Galvagni