The story behind the success of Brisbane's Ellaspede workshop is one of good old Aussie grit and determination. They started out in a home garage back in 2009 without any financial backing or angel investors. Just the change in their pockets and plenty of enthusiasm. Then they survived the 2011 Brisbane floods despite their entire workspace being submerged and most of their equipment ruined. Somehow, against all odds, Ellaspede has soldiered on to become one of Australia's custom motorcycle meccas. Today they produce a wide range of original Ellaspede parts and orchestrate regular moto-centric events. Most importantly they're still building custom bikes and this Ducati cafe racer is one of their latest.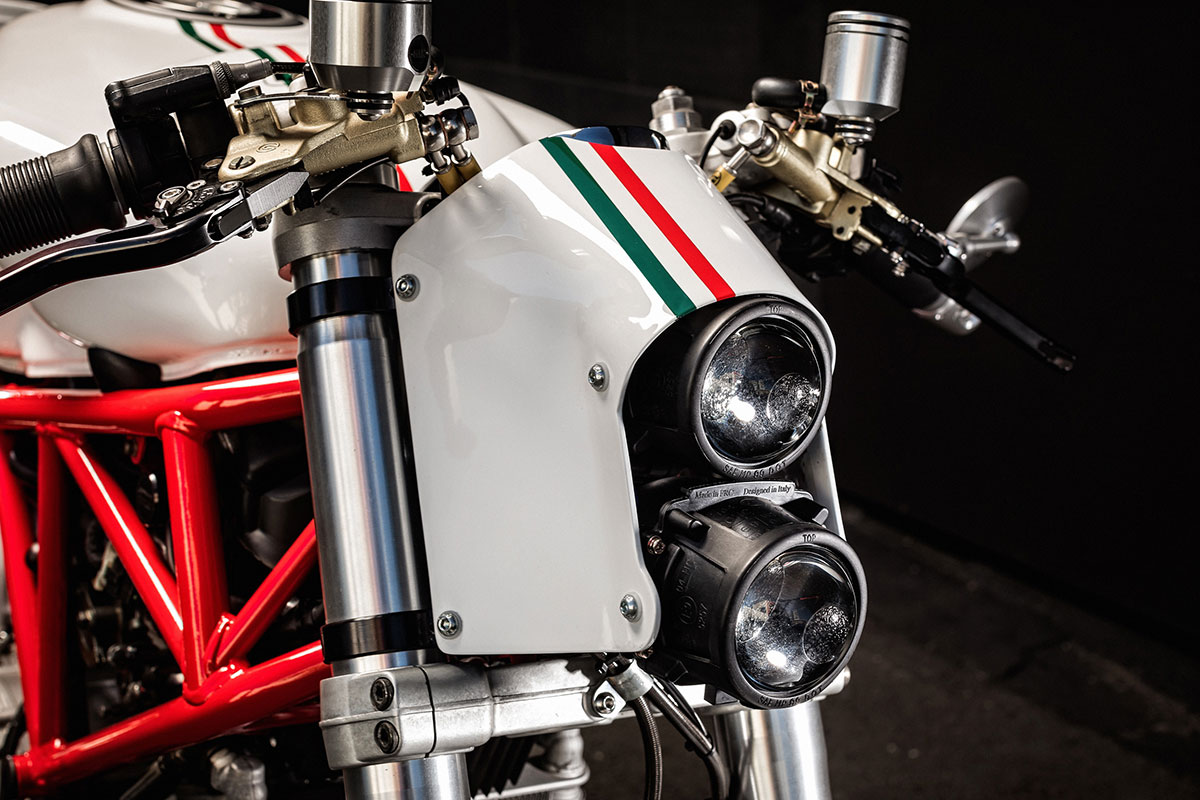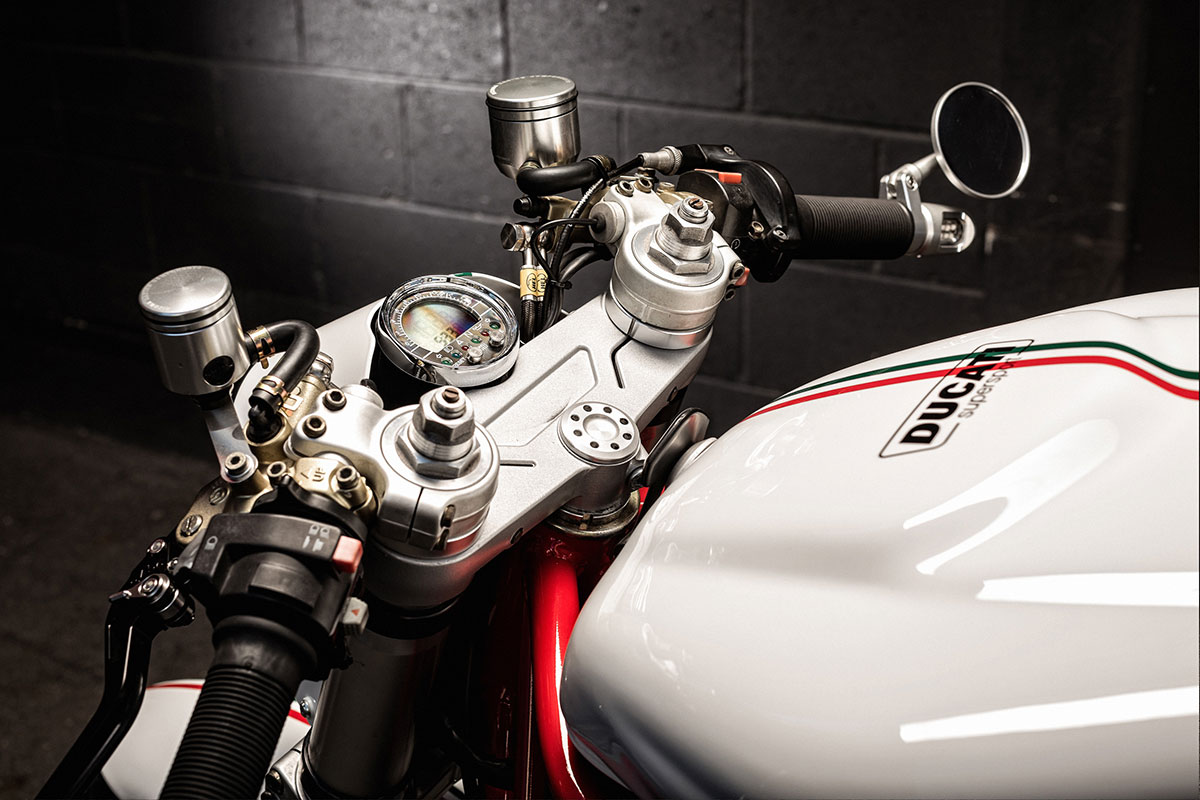 The donor for this Ducati cafe racer was a little out of the ordinary. The 2001 Ducati 900SS designed by Pierre Terblanche isn't a bike many would choose for such a transformation. For starters, this era of 900SS isn't a particularly sought after model. Terblanche's designs are often met with polarising opinions and in this case, his Ducati 900SS design didn't bode well. As for its suitability for a cafe racer conversion, it's a solid performer, but it's faired design introduces a lot of problems to overcome. Luckily Ellaspede isn't the kind of shop to turn away a challenge so when the bike's owner offered them the build they eagerly accepted.
With a Ducati Streetfighter already sitting in his stable the bike's owner Terry jumped at the opportunity to snatch up the bargain-priced 900SS. The bike had taken a spill so half of the fairing was already gone and he decided to have a crack at doing the work himself. After struggling to finding time the build demanded he turned to Ellaspede who had already been advising him on things. Terry shared his vision with the team and the bike was promptly relocated to Ellaspede HQ.
First things first the bike's engine was removed and sent to Theo at Bike Therapy for a comprehensive overhaul. With the engine out of the way, Ellaspede began the Ducati's transition from fully faired to entirely naked. once the bodywork was removed Ellaspede cleaned up the trellis frame and relocated all unsightly components. Fairings allow manufacturers to be less concerned with how they deal with things like routing wiring. This meant the guys had come up with clever ways of tucking everything out of sight to get a really clean finish.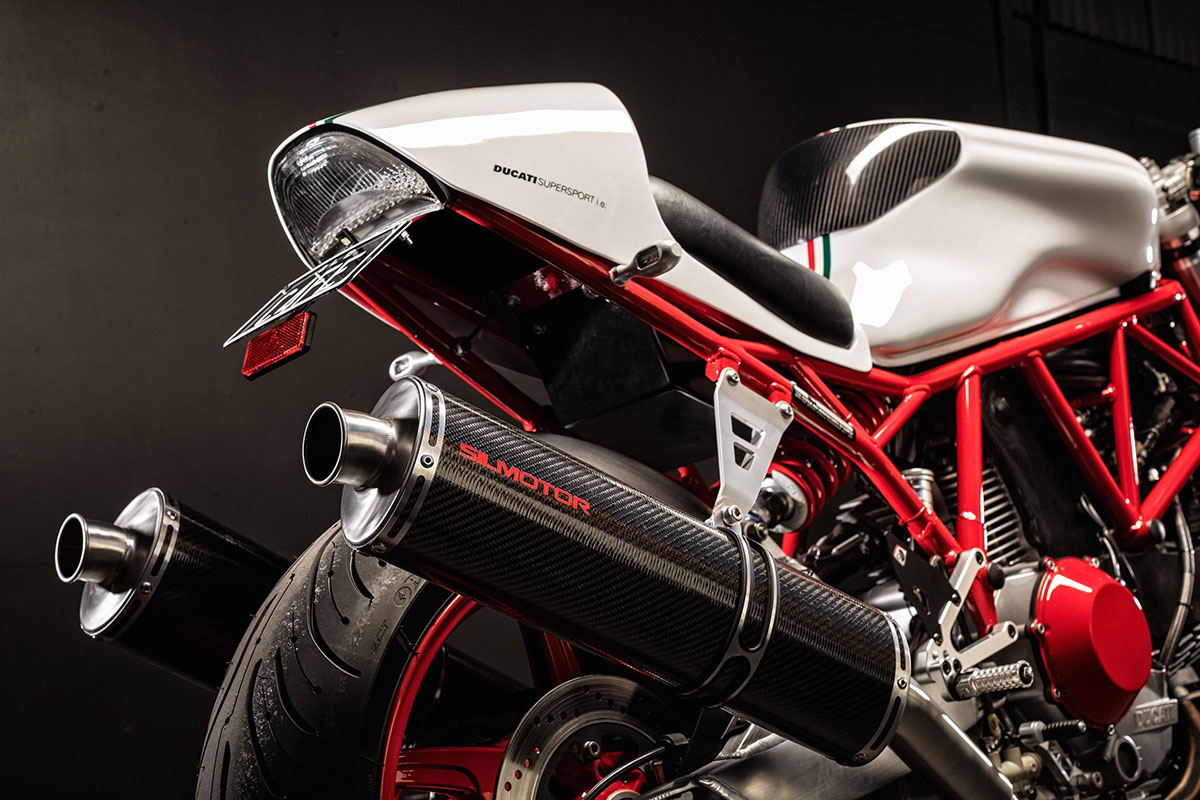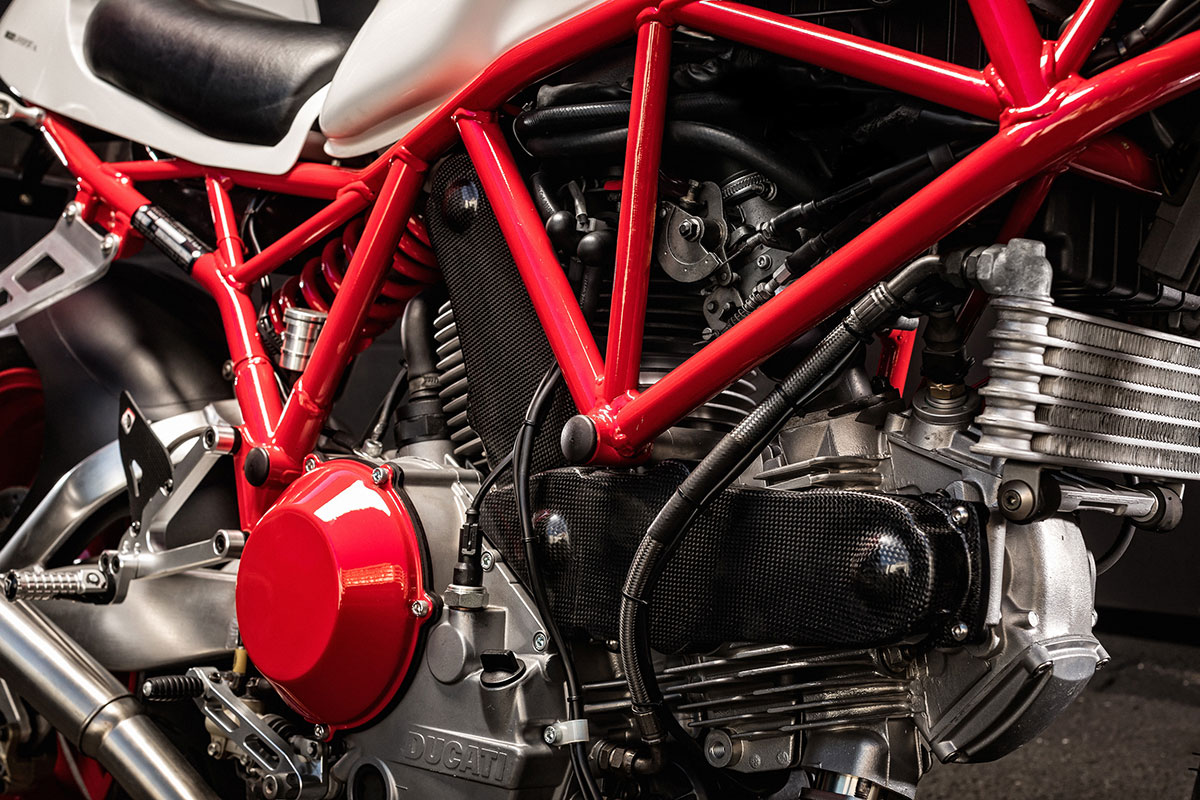 Due to the complexities of fitting another tank over the airbox the stock fuel cell was retained. Both front and rear fenders are original items as well, but everything else is a bespoke addition. After detabbing the Duke's trellis frame, a few adjustments were made to the rear to support a more cafe-esque tail. For this, they created a one-off aluminium wasps tail that features a lockable hatch and incorporates the tail light assembly.  Upfront they integrated a vertically mounted pair of projector headlamps which are also housed in a custom alloy cowl. Nestled into the top is an Acewell gauge for a factory-perfect finish and as per the clients request it's all finished in a pearlescent white paint.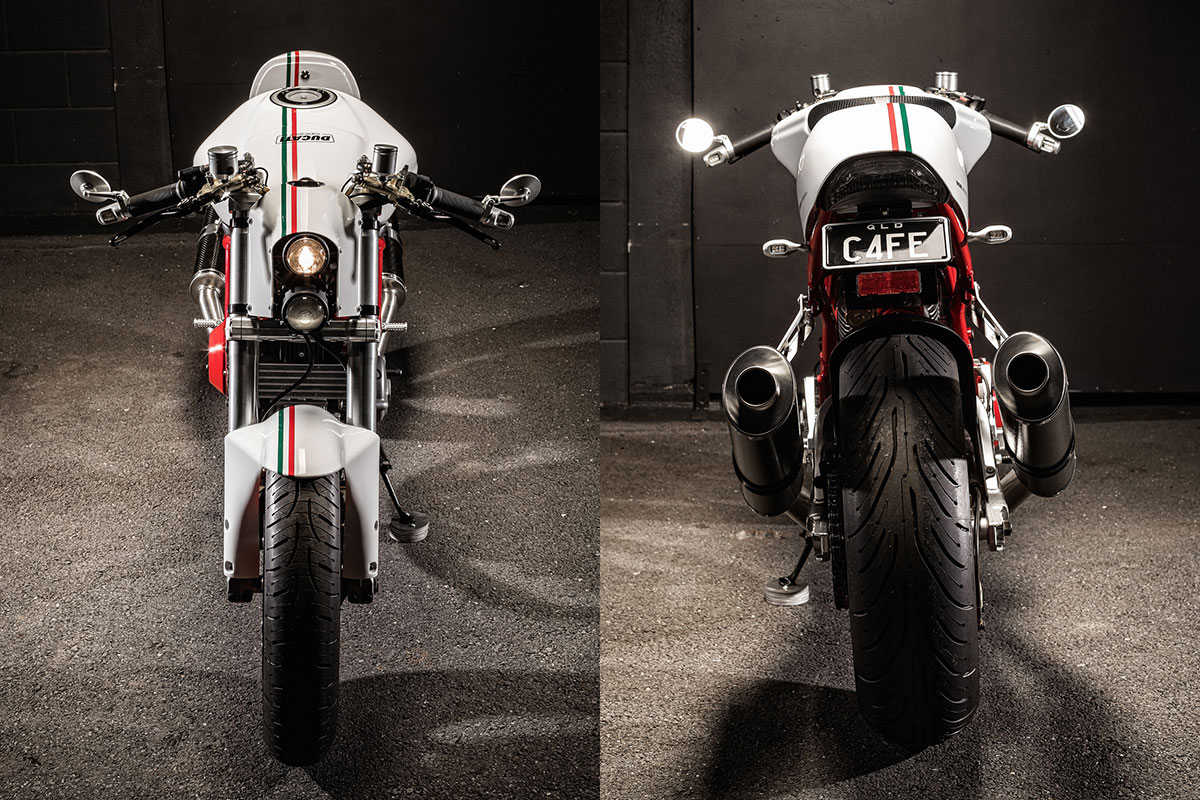 As with any custom build, the Ellaspede Ducati 900SS is adorned with high spec aftermarket add-ons. The list includes alloy bodied indicators and mirrors from Oberon, Ducabike rearsets, a Motogadget M-lock keyless ignition and one of Ellaspede's very own Ninja Star license plate holders. After a repaint, the wheels wear Michelin Pilot Road 4 rubber and for a tad more bite (and plenty of bark) each cylinder vents via a Silmotor carbon bodied muffler. The finished bike is a modern twist on the cafe racer aesthetic and while it's no swan it's certainly an improvement for this Italian ugly duckling.