Is it a Ducati 748/749 with bigger muscles or a trimmed down 1098? The Ducati 848 was a new bike in the Italians lineup for 2008 and we've found that 10 years later it might just be one of the perfect donor bikes for a custom build.
When it was released the Ducati 848 was lighter and more powerful than the 748/749, but it wasn't as 'hard-edged' as the smaller bikes or as aggressive as the bigger 1098. Ducati had designed it to be an 'easy to ride' superbike capable of enticing riders from Japanese super sports or bringing new riders into this market. They even swapped out the noisy dry clutch in favour of a wet clutch system.
A superbike is always going to make for a pretty wild custom ride, so for us, the 848 is a nice option with it's 'toned down' aggressive riding style whilst retaining all the Ducati design elements we know and love. Enter Simon with his classifieds sourced 848 which he pried out of the hands of a 'geezer in Gladstone'. He purchased the bike purely to use as a donor for a custom build and shared our vision for how to treat the underlying quintessential Ducati elements.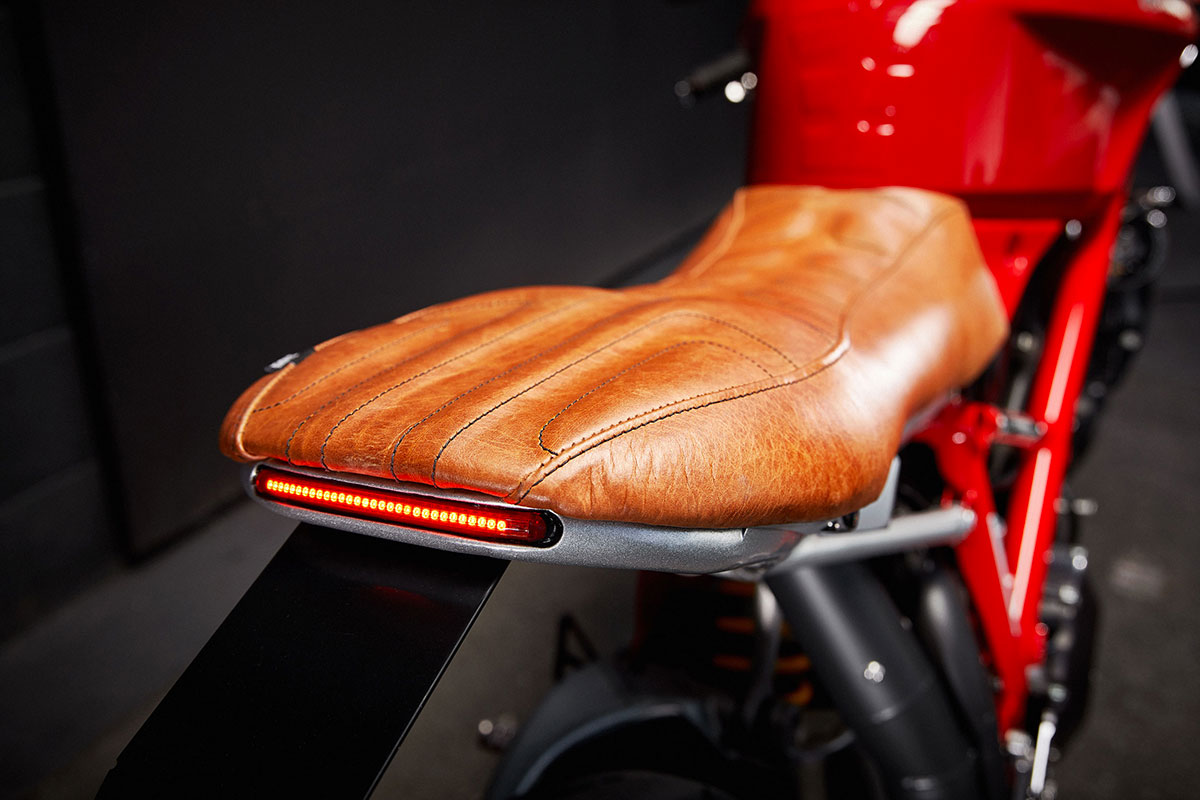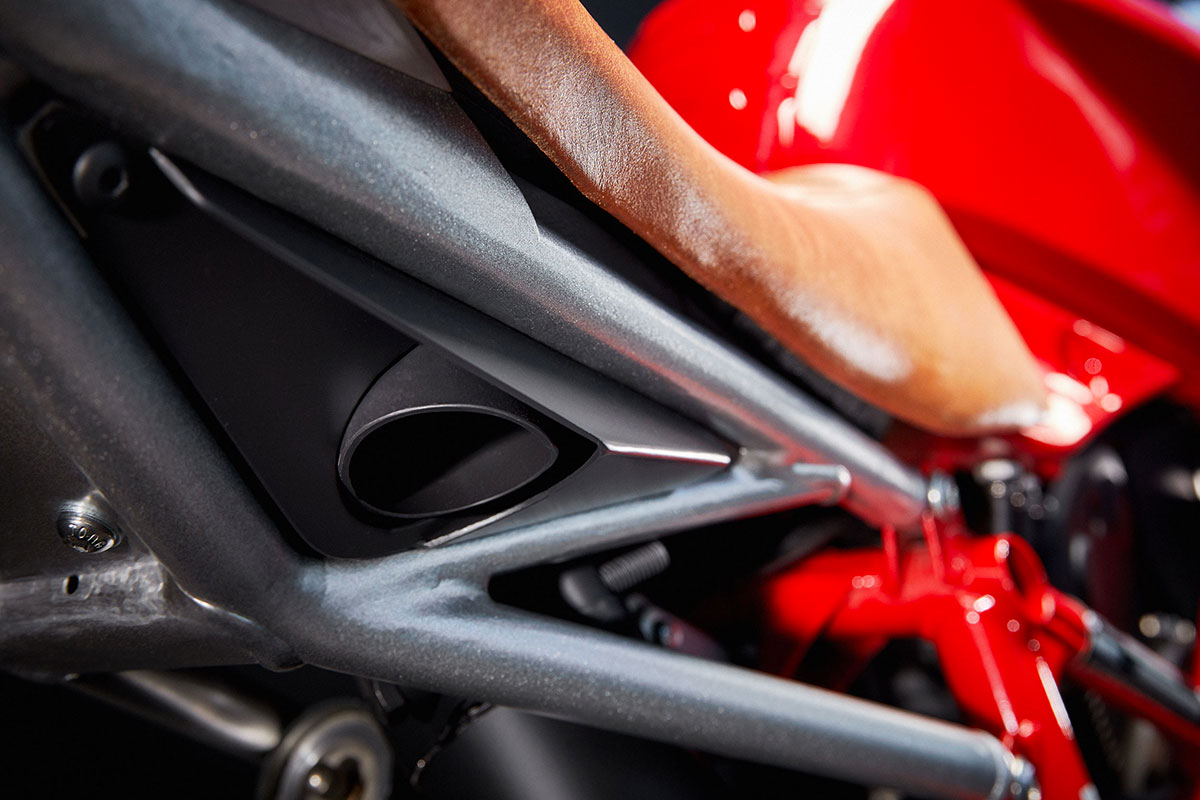 As with any fully faired motorcycle, we started by taking all the panel work off to assess exactly what we had to work with. Customising a full fairing bike usually takes a little more work. Typically it involves hiding all the bits and pieces that are usually covered by bodywork. This takes some creative thinking and remounting is always in order to get the bike looking tidy again. With the ugly items hidden out of sight and all of the unused tabs and brackets removed things started looking clean. The classic Ducati trellis frame could now become a feature of our 848 build.
A huge amount of attention was paid to the seat, rear subframe and exhaust on this bike. The stock subframe was shortened and modified to suit the desired lines before new some gussets, tabs and nuts were welded on. The plan was for a really tidy rear. So the exhaust restrictor valves were removed and from there it now enters a tight-fitting collector box up under the seat. The gases now exit from between the frame rails on each side of the tail via hidden dump pipes. Shrouding the new exhaust exits are some outlet bezels that both seal up the under-seat compartment and match the angled aesthetic of the frame. On the top, a generous custom heat insulation mat was installed before the metal seat pan was bent up, the foam shaped and then wrapped in Simon's specified brown leather.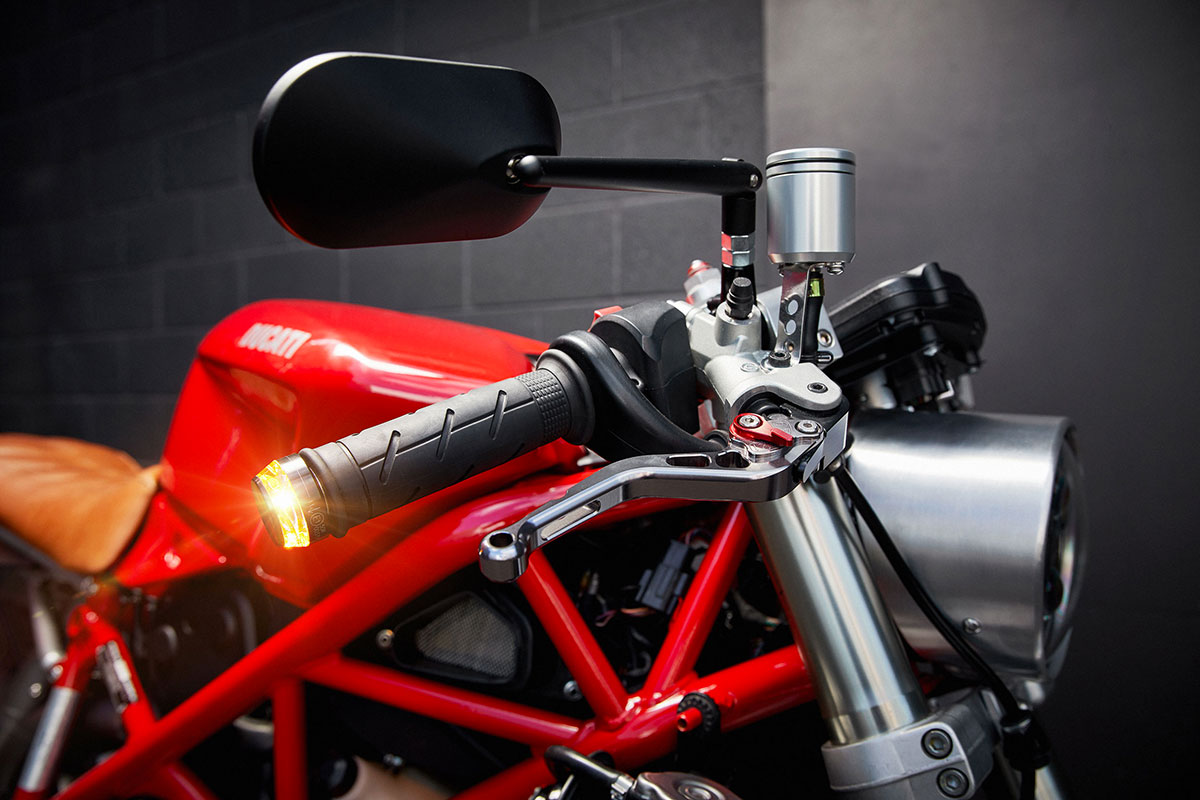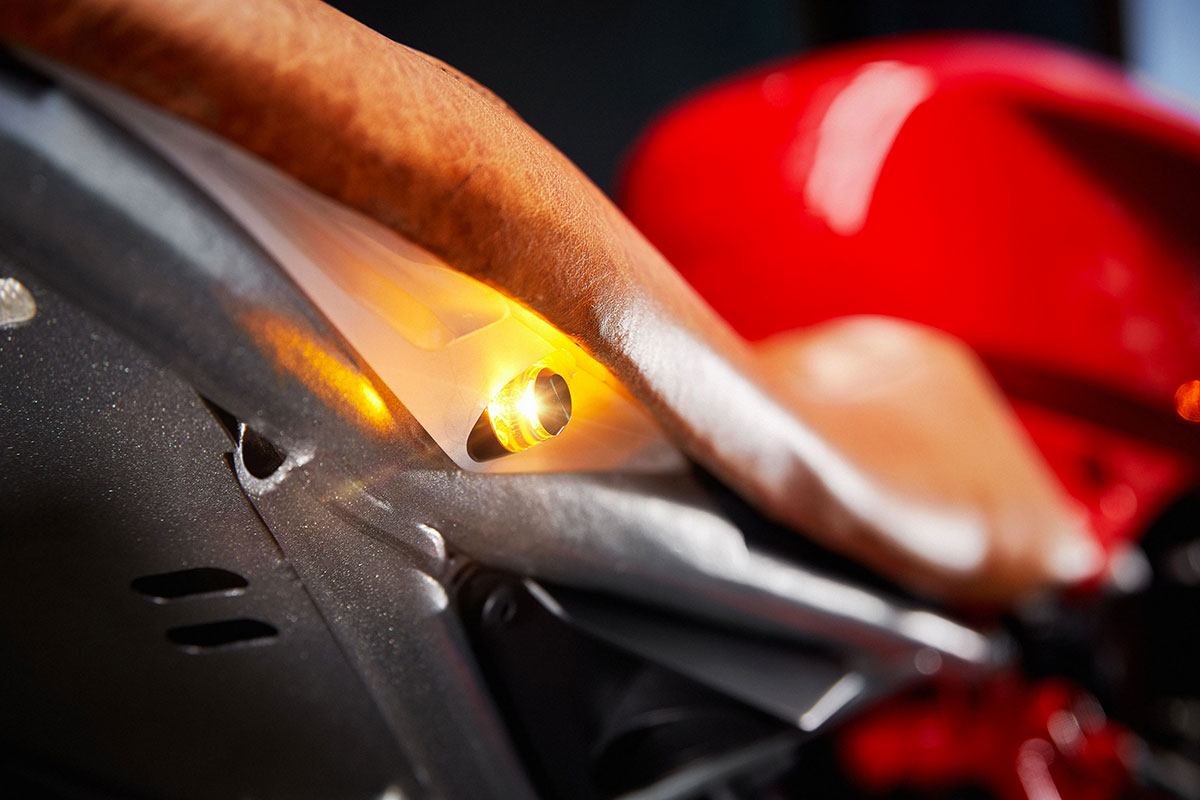 Up front, the stock gear was removed in favour of a custom made headlight housing that holds a new LED unit. The Ducati gauge is a nice item so it was simply mounted tight against the top triple tree. Some machining was required on the top and bottom trees to get it all fitting the way we liked before a factory look scour finish was applied. A trimmed custom guard sits over the front wheel. A pair of aftermarket mirrors hang off the clipons and some Rizoma brake and clutch reservoirs keep all the vital hydraulic fluid contained.
With a large majority of the previously unseen bike now on show, a whole host of stock items were repainted, polished or replaced to ensure they looked the part. The stock intake scoops were cut down and stainless mesh inserts added to prevent anything unwanted entering the airbox. Motogadget M Blaze indicators were wired in with Disc bar ends up front and Pin style units at the back. To add to their impact each of the MotoGadget Pins sits in a trick CNC machined polycarbonate light diffuser. A flexible LED tail light was frenched into the rear frame to keep things neat and a customised Ninja Star tail tidy holds the rego plate.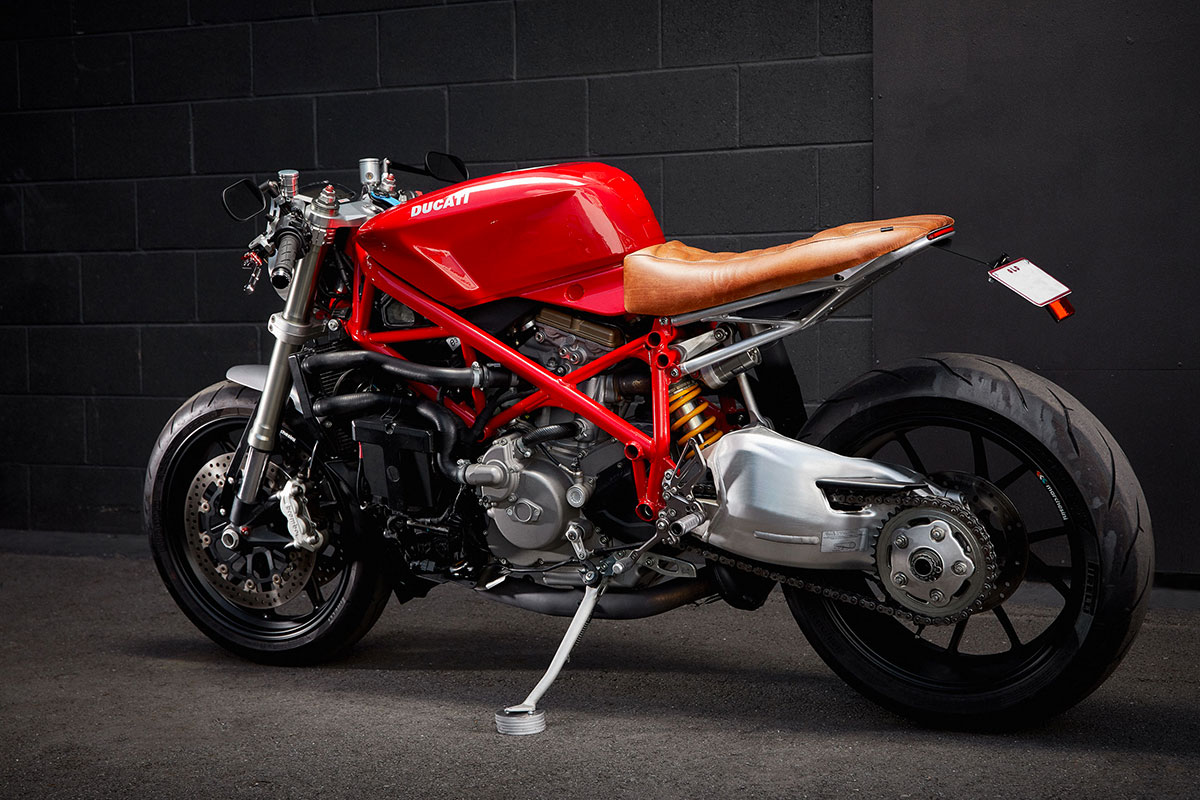 After all the air intake mods and custom exhaust install, a new tune was required, so the 848 was sent to Theo at Bike Therapy for an ECU remap and revised tune.
There was a long list of small custom, cleaning and problem-solving items on this bike. They don't even rate a mention here but are a timely reminder of the extra work involved when undressing a fully faired machine.
In the end, it was definitely worth it though… and to think that Ducati hid most of this bike under an (albeit good looking) fairing! Simon now has a 'modern cafe racer' Ducati 848 that retains its original ride, and sound but now also boasts a tight new custom look.
Story by Ellaspede / Photos by AJ Moller Photography