Keeping track of all the parts you pull off your bike during a build is a daunting task. When I heard that Mike Salek tore his bike down and worked on it at 2 different international locations all I could think of was how many parts he lost. Thankfully, Mike's clearly more organised than me. At the end of his Ducati 848 cafe racer build, everything was accounted for and functioning as it should. More importantly, he had transformed the Italian sports bike into a beautifully balanced, modern classic.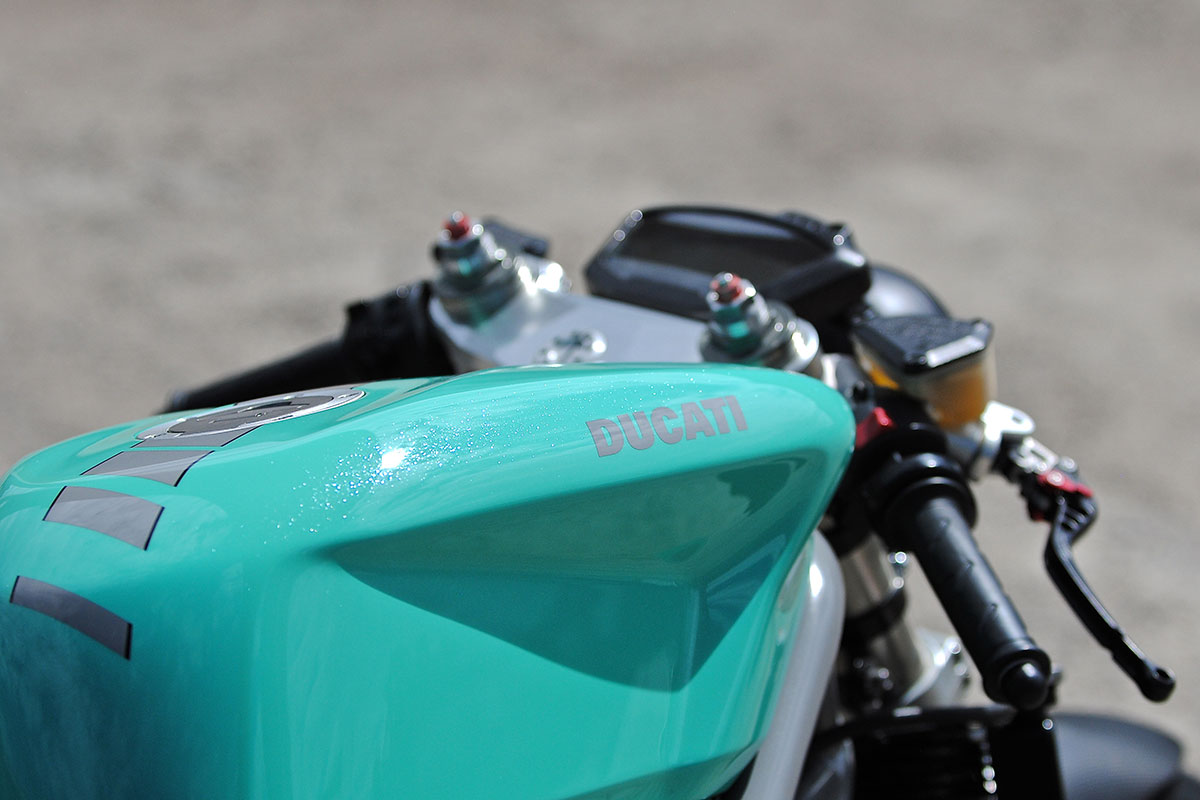 Ducati's 848 first hit the streets in 2008. Positioned around the middle of their range it was an affordable alternative to the higher spec, larger capacity options like the 1098. This didn't mean the 848 was lacking though. With 117bhp on tap and weighing a mere 168kg, the 848 offered more than enough oomph for your average rider.
Mike wasn't planning on building a custom 848. His last custom build was a Honda CB750 built 7 years ago, but when a friend offered him the bike he figured, "why not?" So, the deal was done and a plan hatched to rework the Ducati into something more his style. As the co-owner of an oil and gas based business in Calgary, Mike is lucky to have a dedicated warehouse space where he works on his projects. For this project though he wanted to do things a little differently.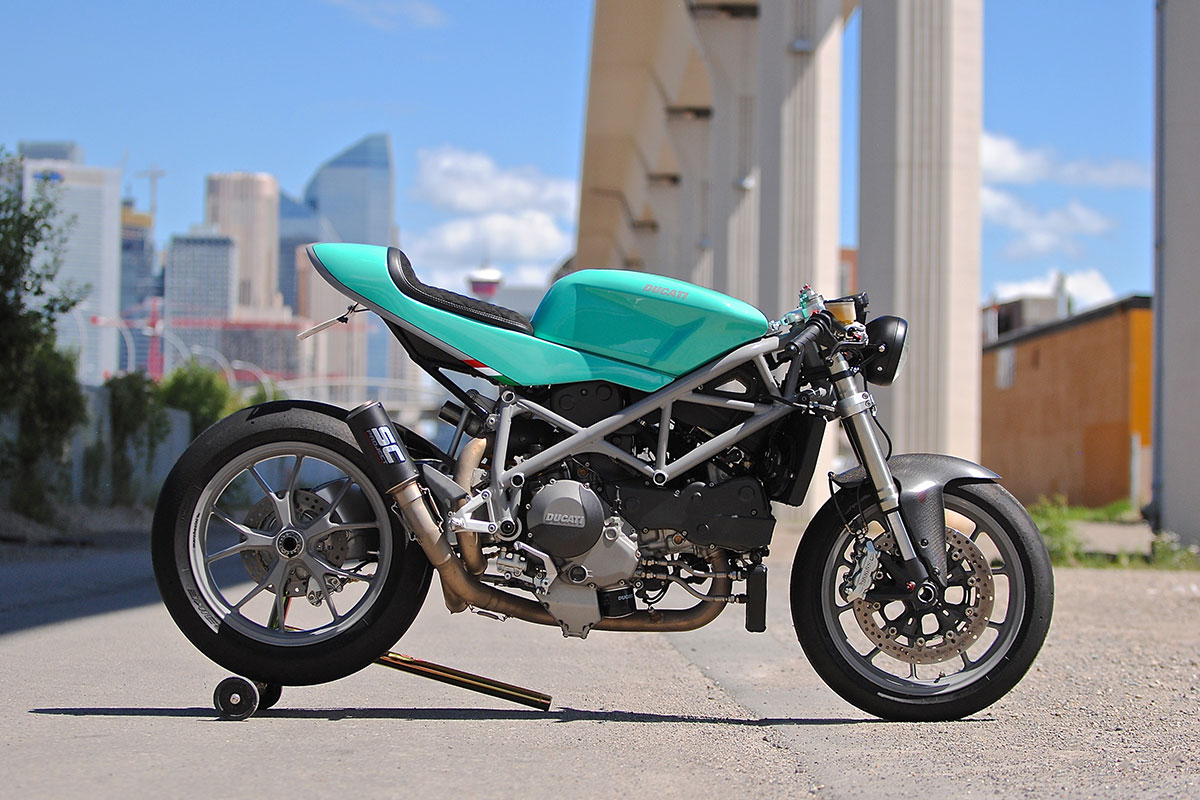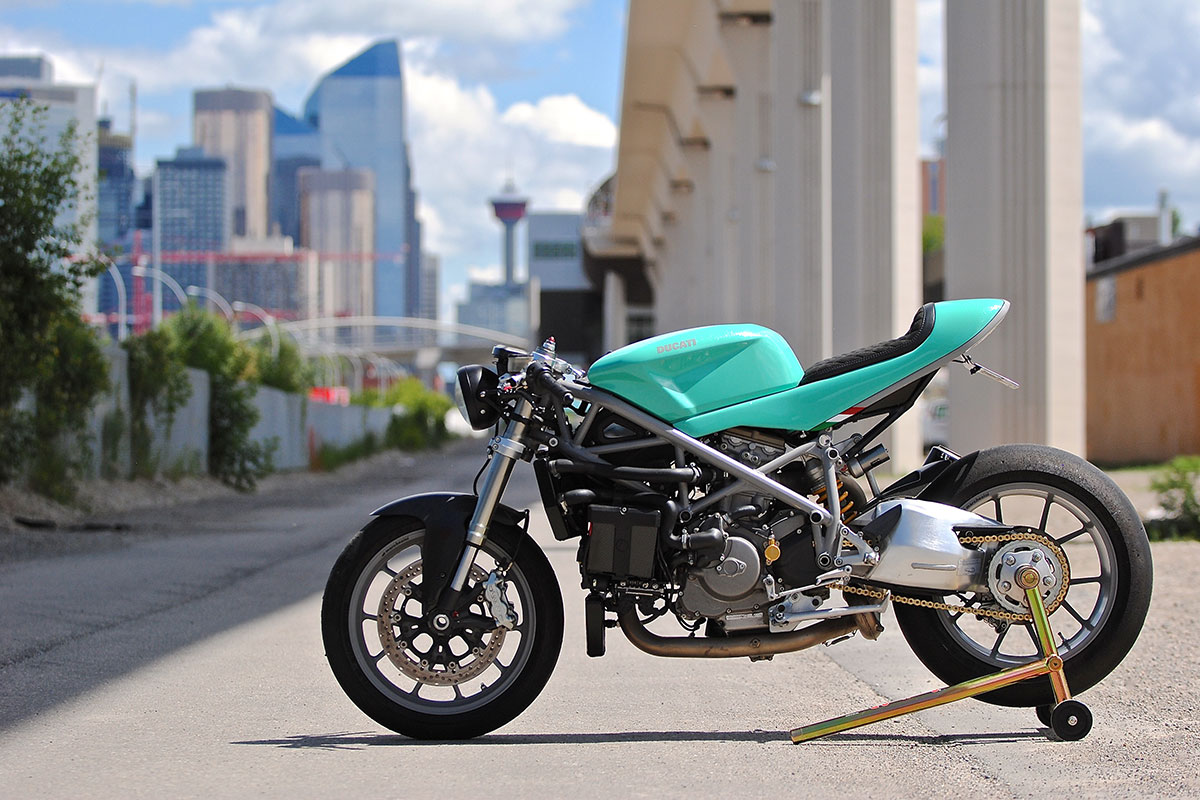 "I stripped the bike down to the frame, de-tabbed and cut off everything that wasn't needed at my shop in Canada," says Mike. "Then, I packed the bike up and flew it with me to Palm Springs, California with all the parts needed to make it a roller." Why go to so much trouble? Well, frequent visits to Palm Springs had exposed Mike to the local custom scene. He'd seen some impressive work by local builders and wanted them in on it.
Along with stripping the bike down Mike developed a concept of how he'd like things to look. The idea was to create a modern cafe racer that was light and fast. Hidden beneath the 848s bodywork is a unique, simplified trellis frame the Italians developed especially for it. Mikes concept was to expose the beautiful frame and engine, converting the 848 to a naked bike. Taking inspiration from Ducati's 999 the bodywork was also designed to be removable as a single piece, making servicing easier.
To build his bodywork Mike enlisted the help of David Martinez in Plam Springs. He was against the idea of using any fibreglass so by leveraging David's coachbuilding skills he could have everything shaped from aluminium. Meanwhile, the frame and wheels were powder coated using a light satin grey to complement the paint scheme Mike had in mind. Once David had the bodywork finished it was handed over to Little Shop of Kustoms for painting. The Porsche 964 ice pearl paint was chosen to get away from the black and silver schemes Mike was fed up with seeing. To make it really pop they've mixed in a light metal flake and laid frame matching grey livery. As soon as the paint had cured everything was carefully packed for the return trip to Calgary.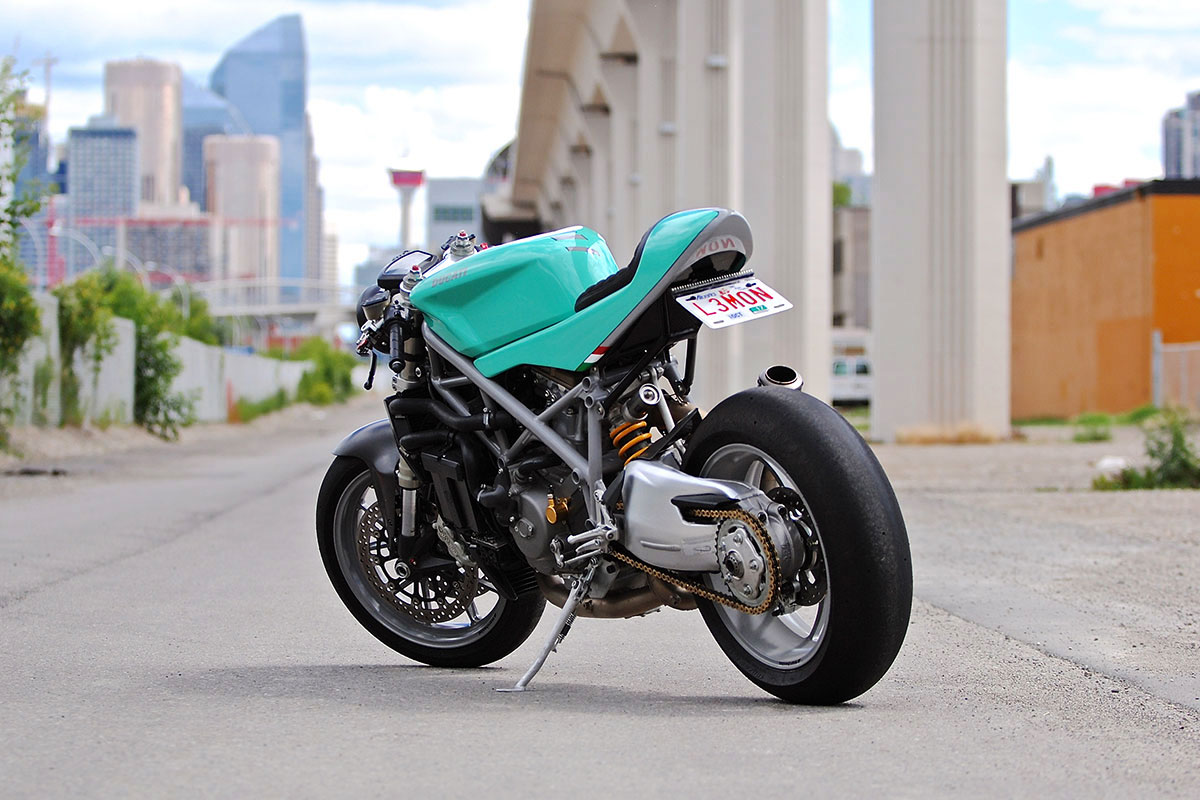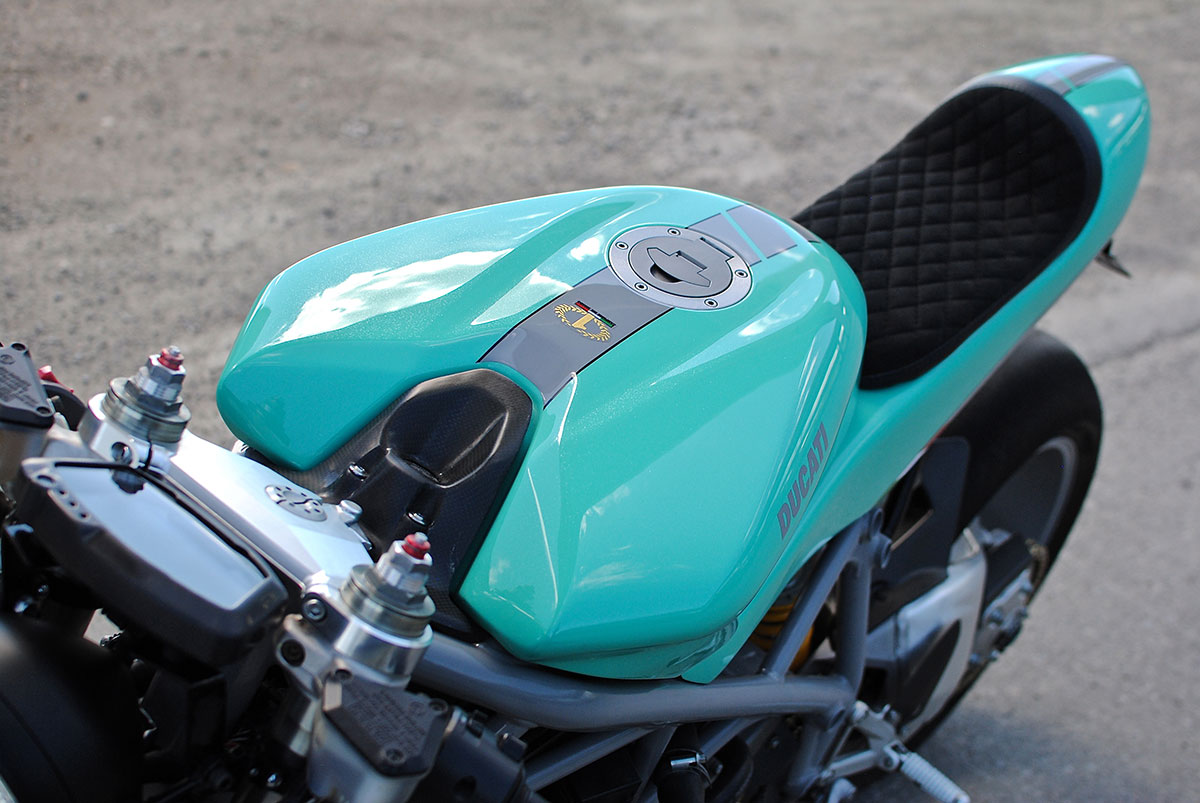 Back in Canada Mike decided the 848 should get a few performance upgrades to boot. The key ingredient in the power recipe is a custom made exhaust that Mike built himself. He installed the new pipe along with an SC carbon muffler. The airbox was also modified and a Power Commander installed before the bike was professionally dyno tuned. Ducati 999 bars, reservoirs and CRG levers now sit on the forks. The complex stock headlights have been replaced by a single 6-inch unit, fit using LSL parts. The dash is the original unit but it now sits in a carbon surround to neaten things up. Mike also spent countless hours carefully modifying the wiring harness to remove any excess length and fabricated his own carbon panels to finish things off.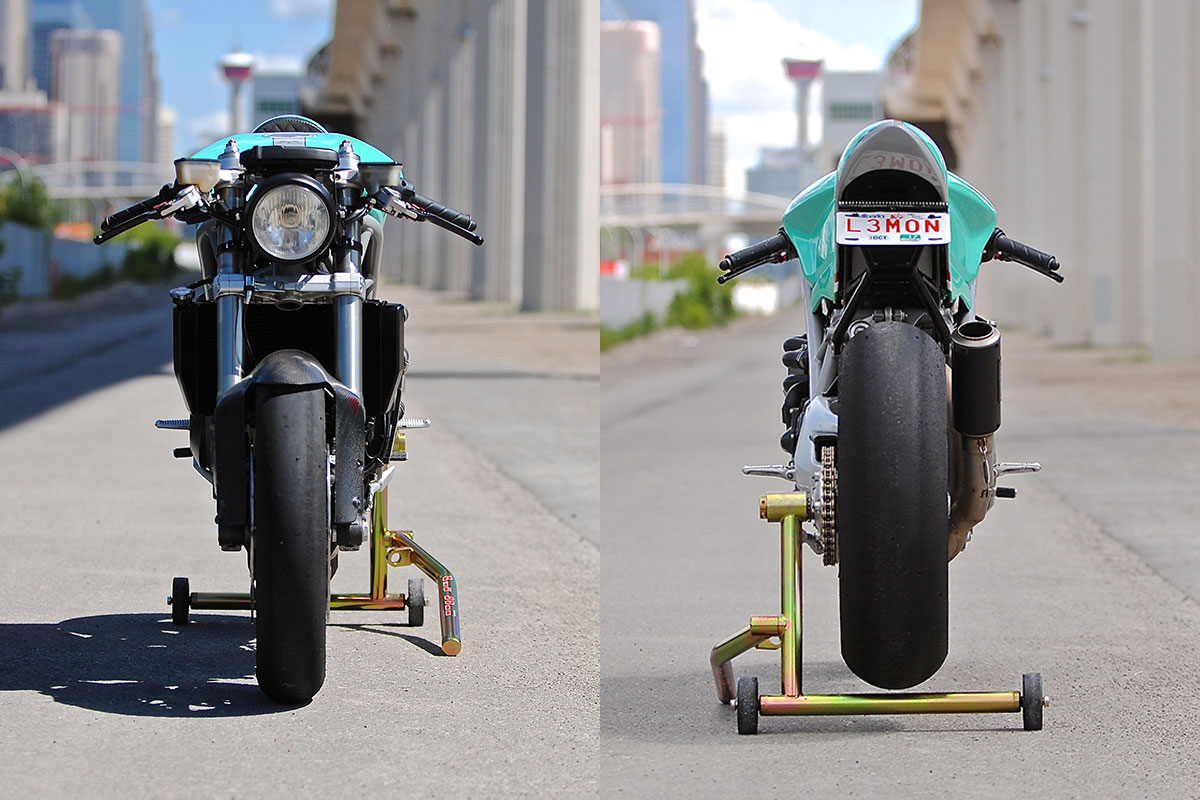 Even for a devoted Ducatista, it would be hard to pick the donor used for Mike's minty fresh 848. With more power and less weight, Mike's 848 promises to be a wild ride. If anyone at Ducati happens to be listening, please take note. It's high time we saw a redux of the Sport Classic range and something like Mike's bike would be ideal.