When good friends collaborate great things can happen.
Father of two, IT professional Jon Ball may not look like your typical custom bike builder on paper, but his passion for motorcycles has been a lifelong affair. Over the years he's made some great friends who share his passion for two wheels. Some of those friendships have spanned more than 20 years and despite their separate lives placing them hundreds of miles apart, the opportunity to work together on a build was the perfect excuse for them to get together again.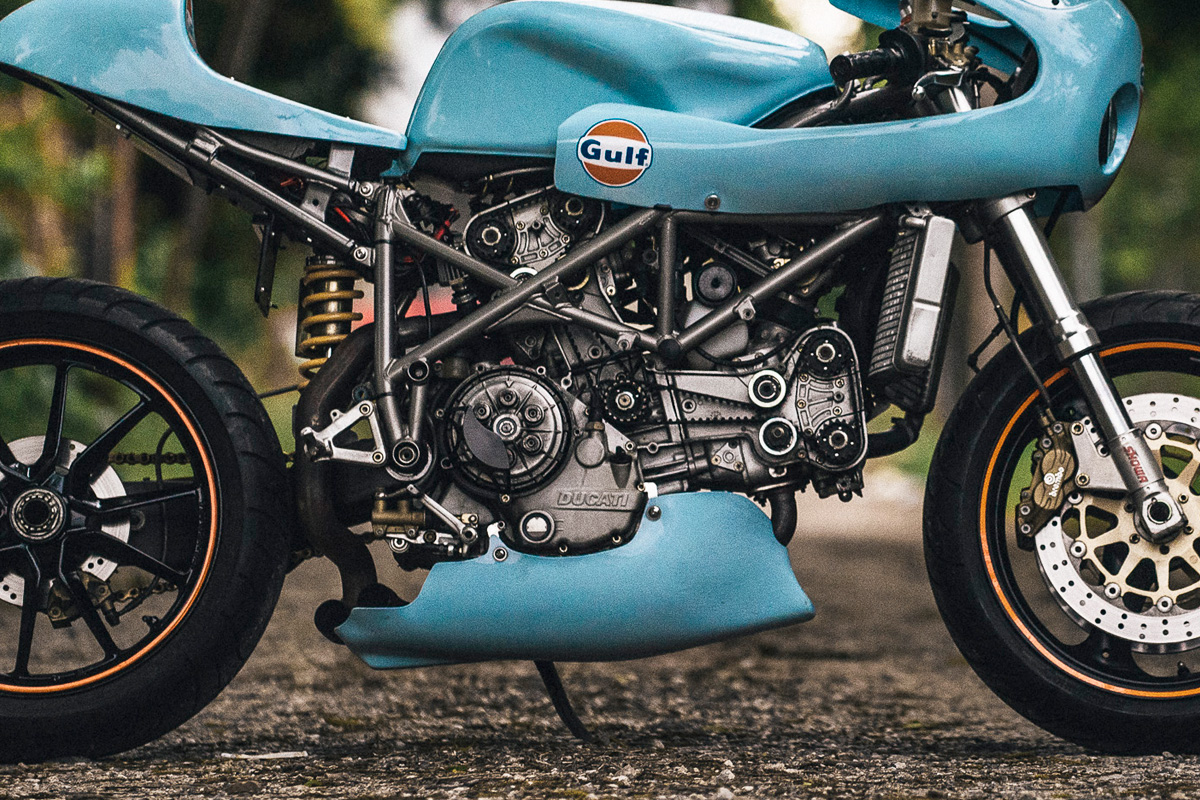 "I usually work out of my modest 2 car garage with my basic tools." says Jon. "We did the bulk of the fabrication for this bike in Dave Morales' shop, Denton Moto Collective, in Denton, Texas. I showed up at Dave's shop on a Friday morning in February and after 3 long days of welding, grinding, cutting, extending and splicing, I headed back to Austin to finish up the build."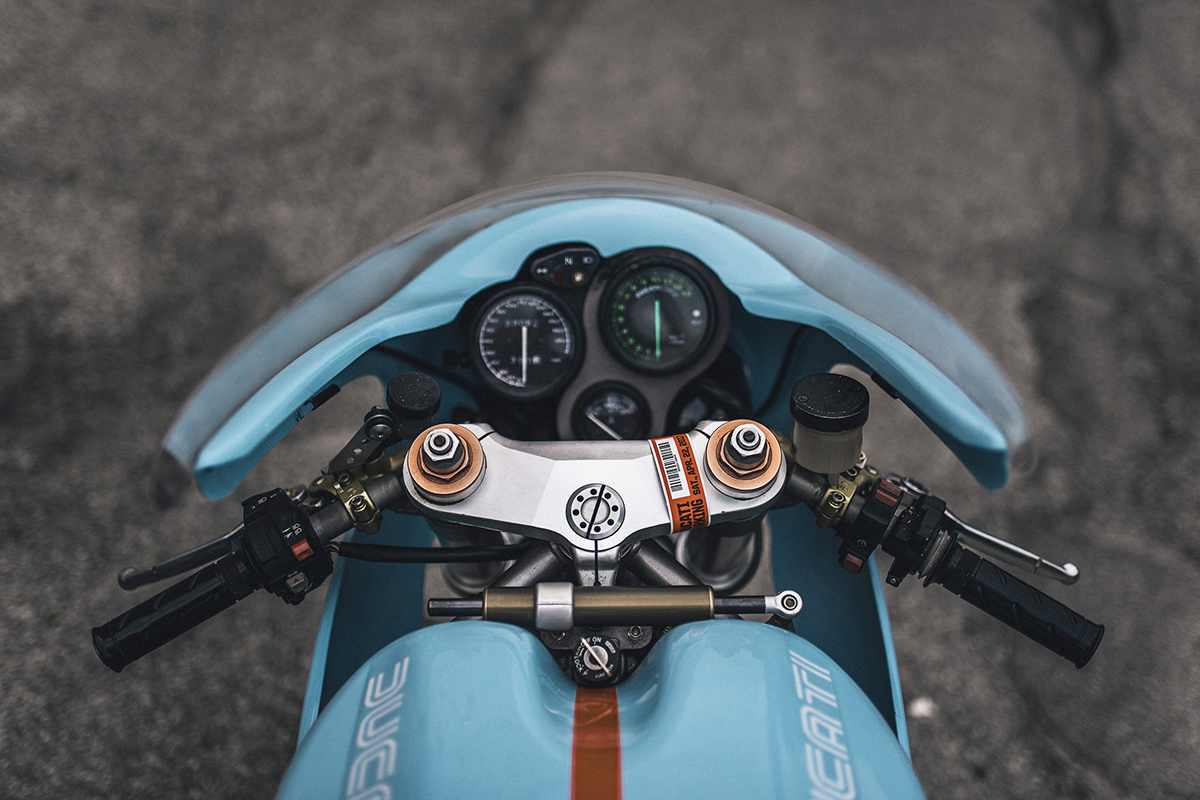 Even though the short time Jon spent at Denton Moto Collective was when some of the most dramatic changes were done to the bike, there was a lot of work that had already gone into it.
"Derek has found almost every bike I have ever owned. I actually bought my first bike from him when I was 19." says Jon. "He has a knack for finding killer deals on motorcycles and spotted the 2002 Ducati 748 within minutes of it being posted on Craigslist. He shot me a message asking if I wanted it, and after checking it out for me we pulled the trigger." The Ducati was rough around the edges, but its purchase fulfilled a teenage dream for Jon. He'd always had a soft spot for the 916 and knowing that the 748 was essentially the same bike with different displacement he was happy to devote the time required to give it a new lease on life.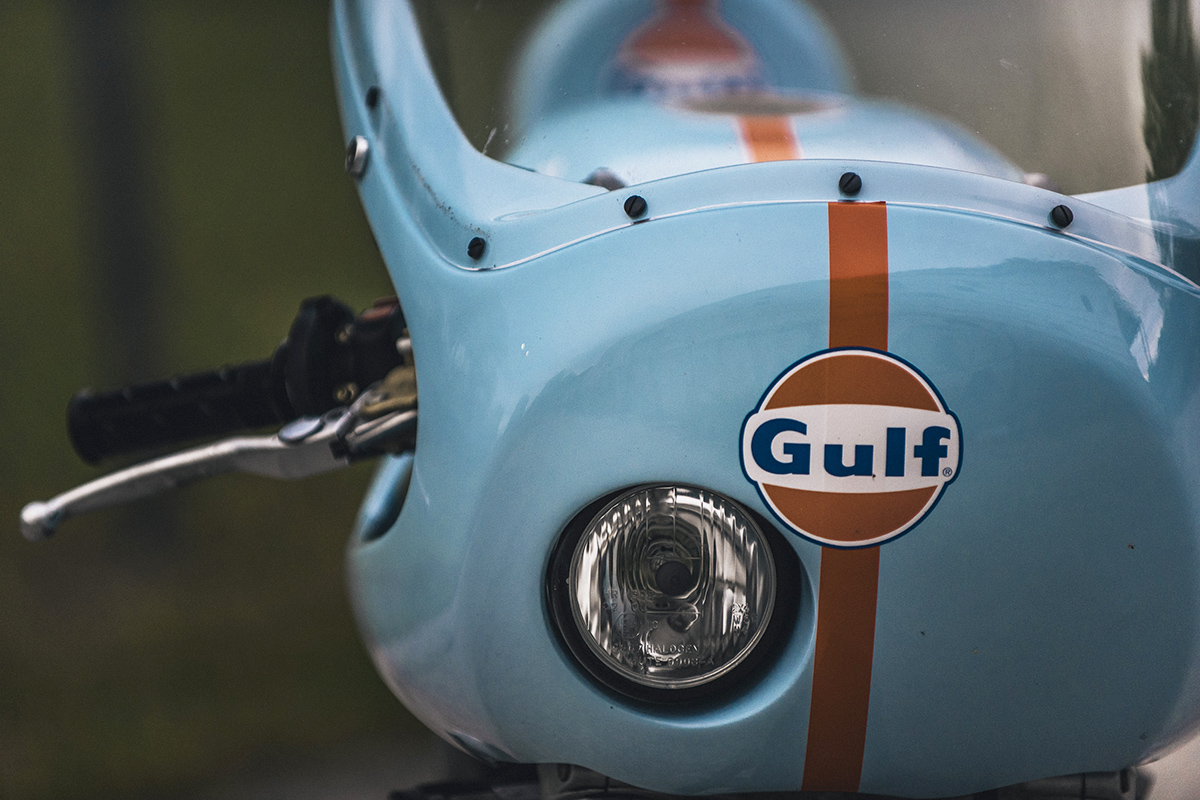 "I had originally purchased the bike to fix it and flip it. I tuned it up, cleaned the tank, fixed the issues, replaced tires and all the fairings…but didn't sell it." Instead, Jon's love for the Italian twin kept it parked in his backyard where he could gaze at it from his kitchen window. Soon afterward he began pondering his next project, a Gulf racing inspired build. He considered different donors for the project but after deducing that Honda CBs and Yamaha SRs were fetching way too much is Austin, "the heart of hipster land",  Texas, he realised he could save some money by using a bike he already owned, his beloved 748.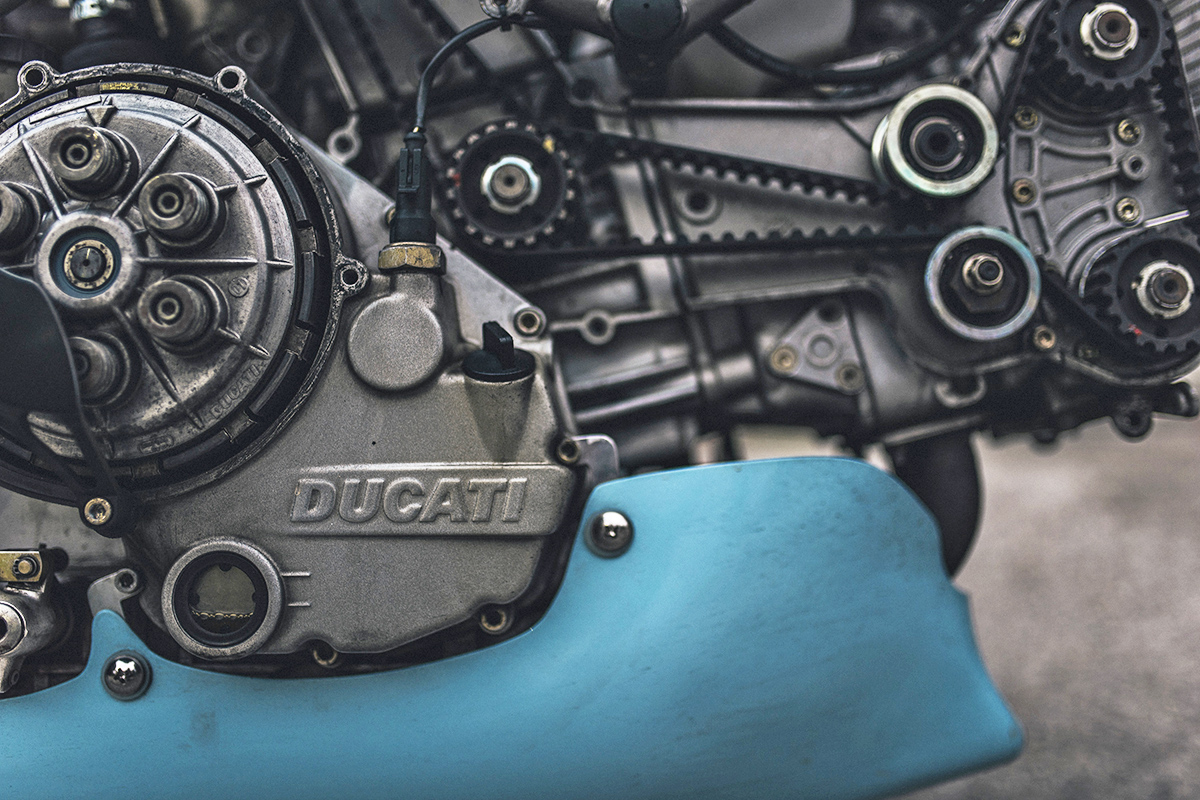 After doing away with the Ducati's factory fairings Jon started laying plans that would allow the fitment of more classically styled components. Soon afterward he had booked in some time to meet his friends 220 miles away in Denton. At the Denton Moto Collective, a progressive, collaborative workshop where fabricators, builders, leather makers, marketers, painters, and photographers share space and collaborate on bike-related projects, Jon worked alongside his friends Fabian, Derek and David to get the project underway.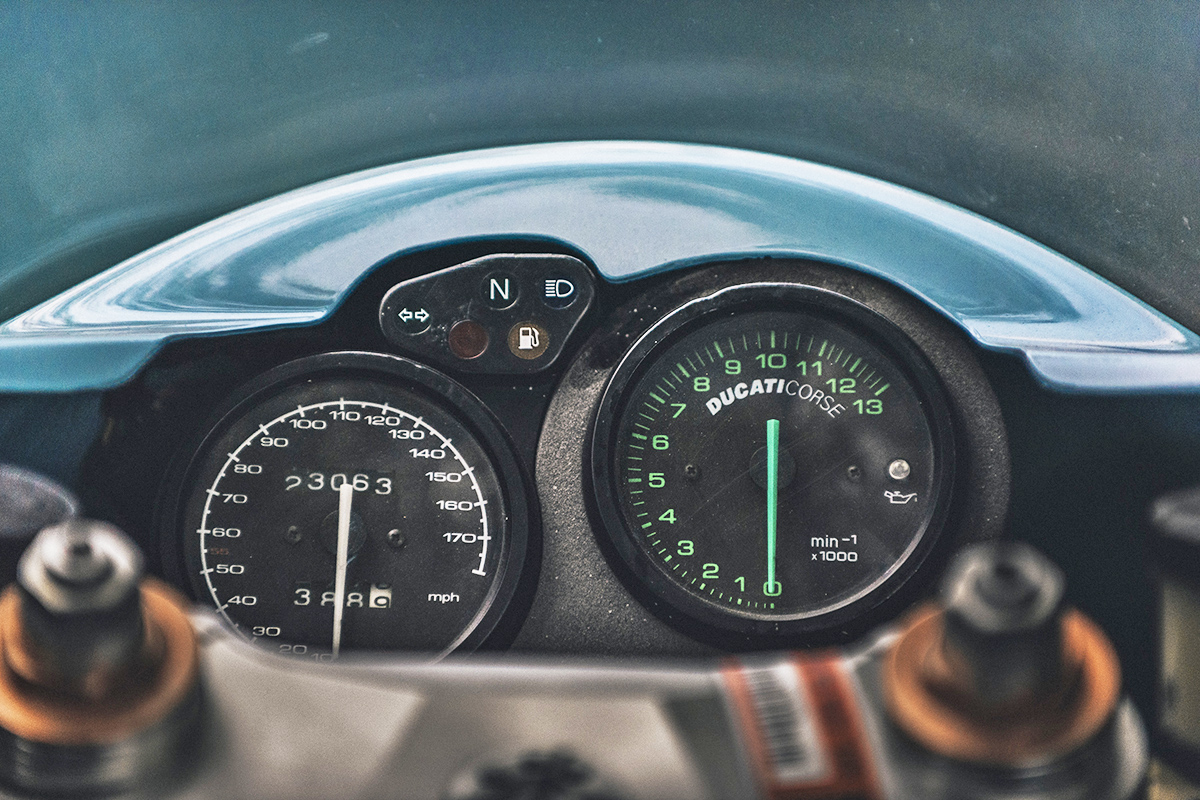 "The subframe was completely chopped up and rebuilt to accommodate the computer, battery, relays, and all the rest of the electronic doodahs." recalls Jon. "We moved all the wiring over to the left side of the bike in order to showcase the exposed dry clutch and cam belts/gears on the right. All the wiring also had to be extended to reach the subframe. Modern bikes have some serious wiring going on so I focused on that with Derek while David fabricated the tail section."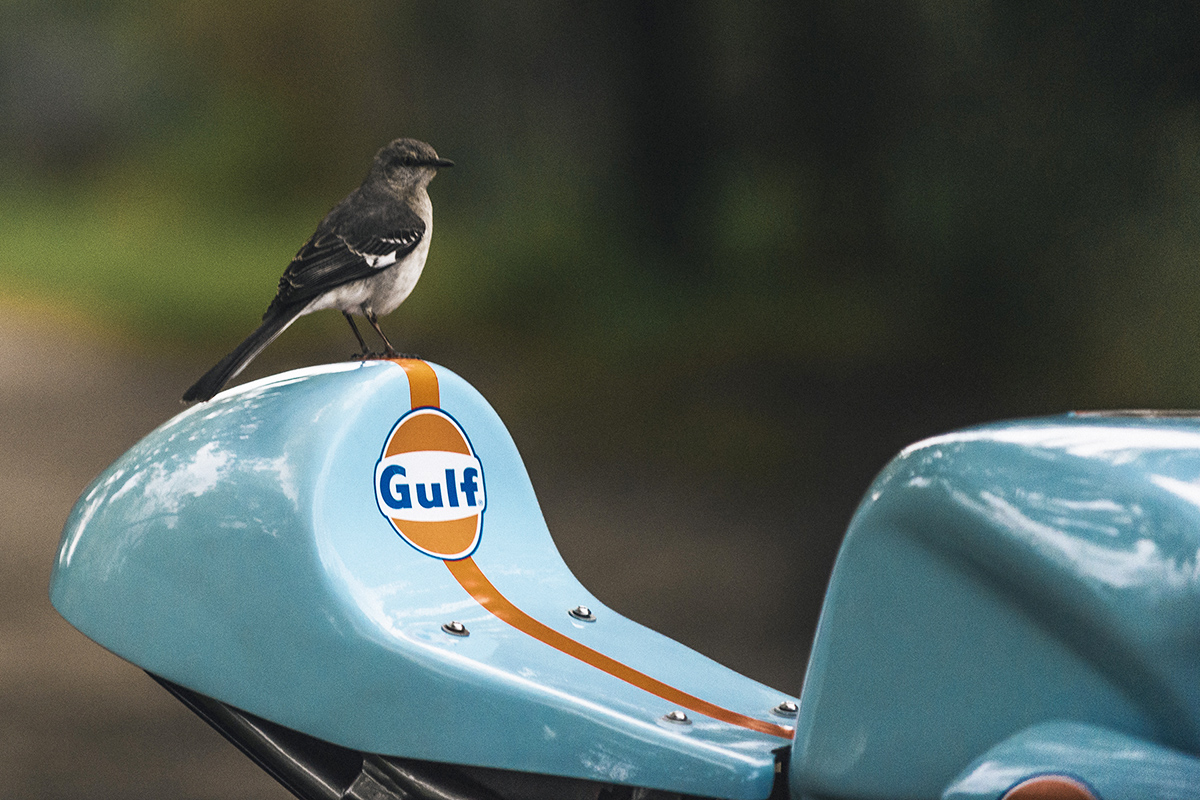 With the rear section of the frame revised, the wiring rerouted and mounting gear for the fairing done, Jon returned home to complete the rest of the build. Working in the evenings, after his kids had gone to bed, he performed the finishing touches while Scott Kinsey at Kinsey Customs laid the stunning pale blue paint, orange racing stripes and Gulf racing livery.
Could this be the best Gulf Racing tribute on two wheels? We certainly think so.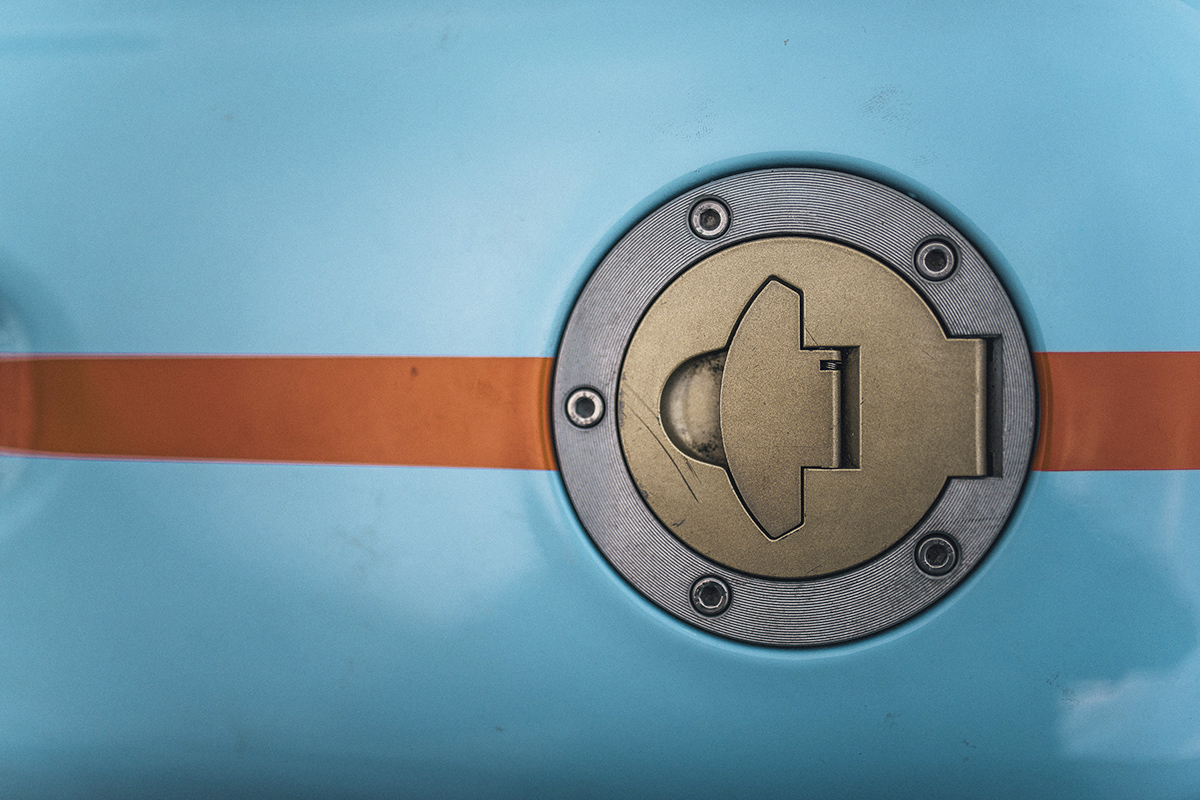 JON BALL     DENTON MOTO COLLECTIVE
Photography by Brandon LaJoie