Anyone who has a passion for Italian motorcycles is sure to know the significance of Bimota. The small privately owned manufacturer made their mark building quality performance focused motorcycles using existing engines from other manufacturers. Although Bimota started out using Japanese made engines, in 1985, after mounting pressure from local fans, they released their first Ducati based motorcycle, the Bimota DB1.
The DB1 was a huge hit. Beneath Bimota's all-new chassis was the latest Ducati Pantha 750cc Desmodromic v-twin. To get the most out of the engines 62bhp weight was kept low using aluminium parts and a chromoly frame. The suspension was a recipe of premium Marzocchi components and Brembo provided the braking power. Styling was typical of the era. The DB1 wore a full fairing which was great for aerodynamics. Unfortunately, it hid their beautiful trellis frame and that sexy v-twin from sight.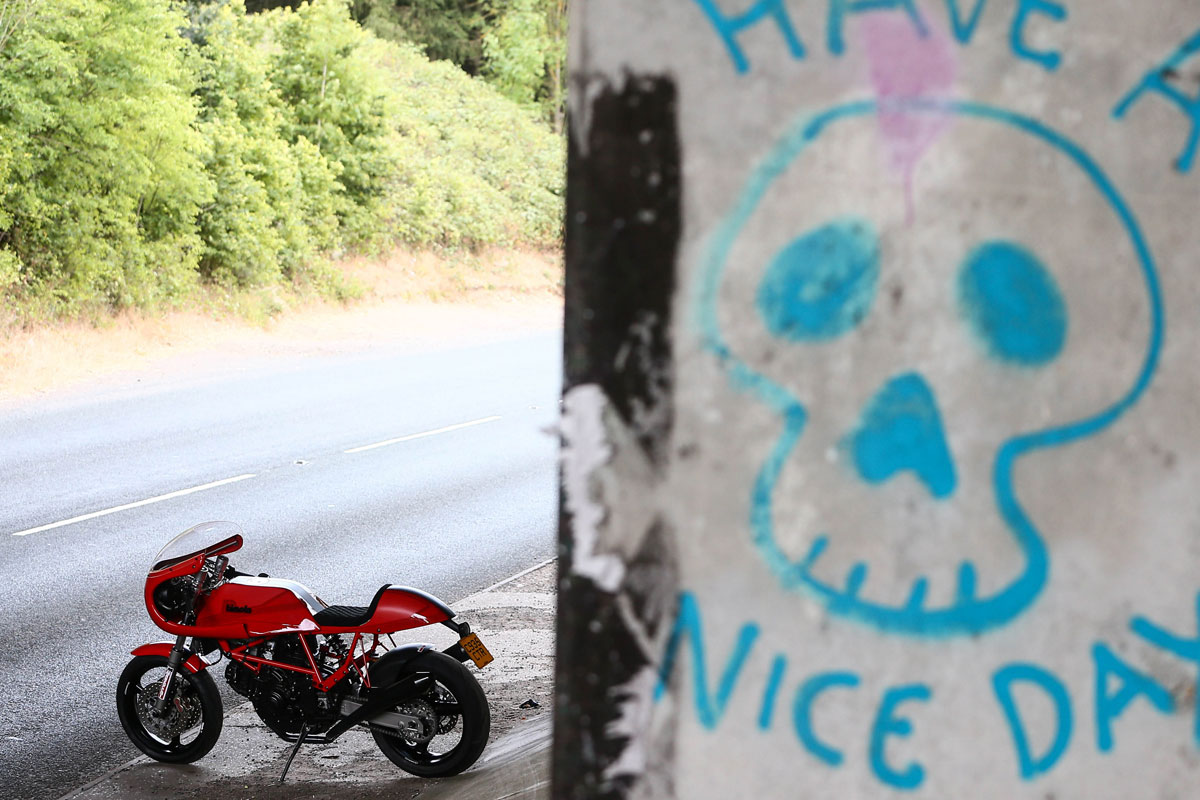 These days the Bimota DB1 is becoming somewhat of a collector's item. Any decision to customise one should be carefully considered. In fact, you could say that such a move should be left to the experts, like John Fallon of Britain's 'Made in Italy Motorcycles'. John has been building, riding and dealing with Italian bikes for over 30 years. So, it's safe to say he knows his stuff. When a friend in Germany offered up a heavily modified, poorly styled DB1 for sale John lept at the opportunity to own it.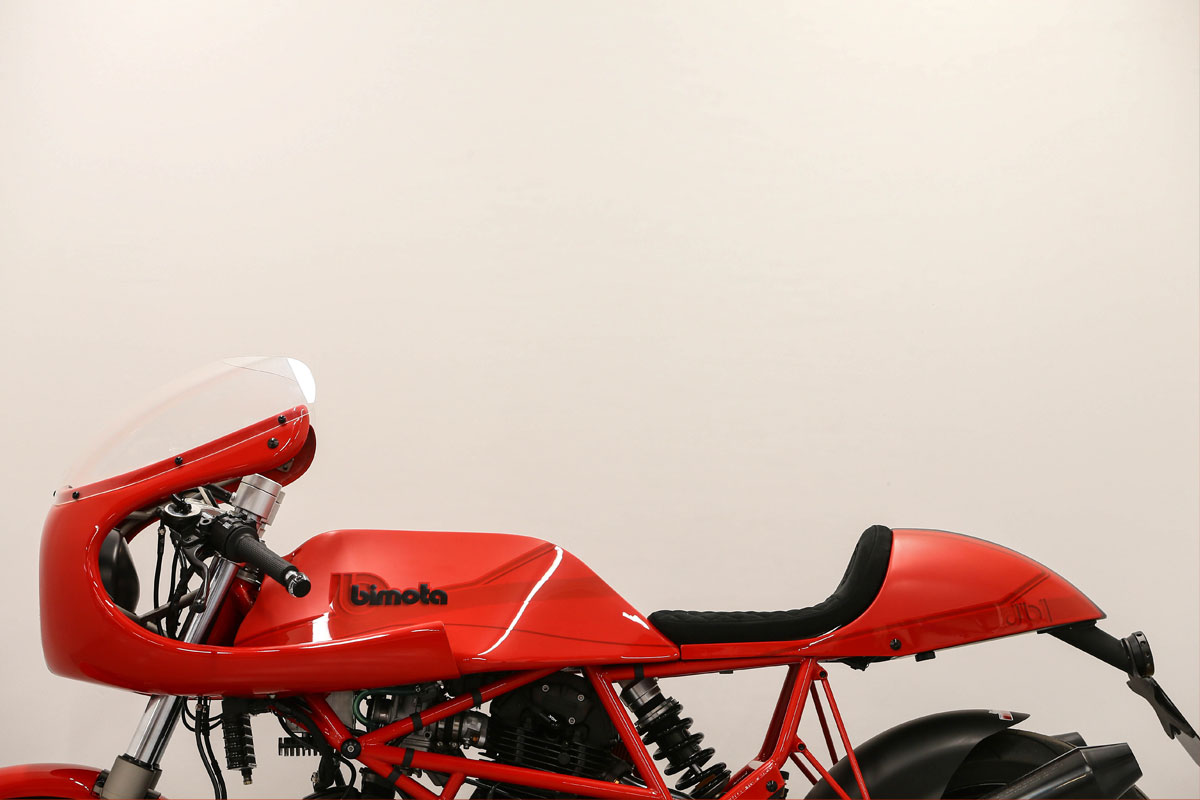 "I wanted to build a DB1 to the same high standards as Bimota would have," says John. "but in a style they may have used if it was conceived in the 1970s rather than the '80s." Unlike many of the bikes that pass through his workshop, the DB1 was a personal project rather than a commercial one. This meant there was no rush to get it done or constraints from clients. "I personally have a real love affair with Bimota DB1's and a love-hate relationship with the look of them in standard form. So I just built this one for myself".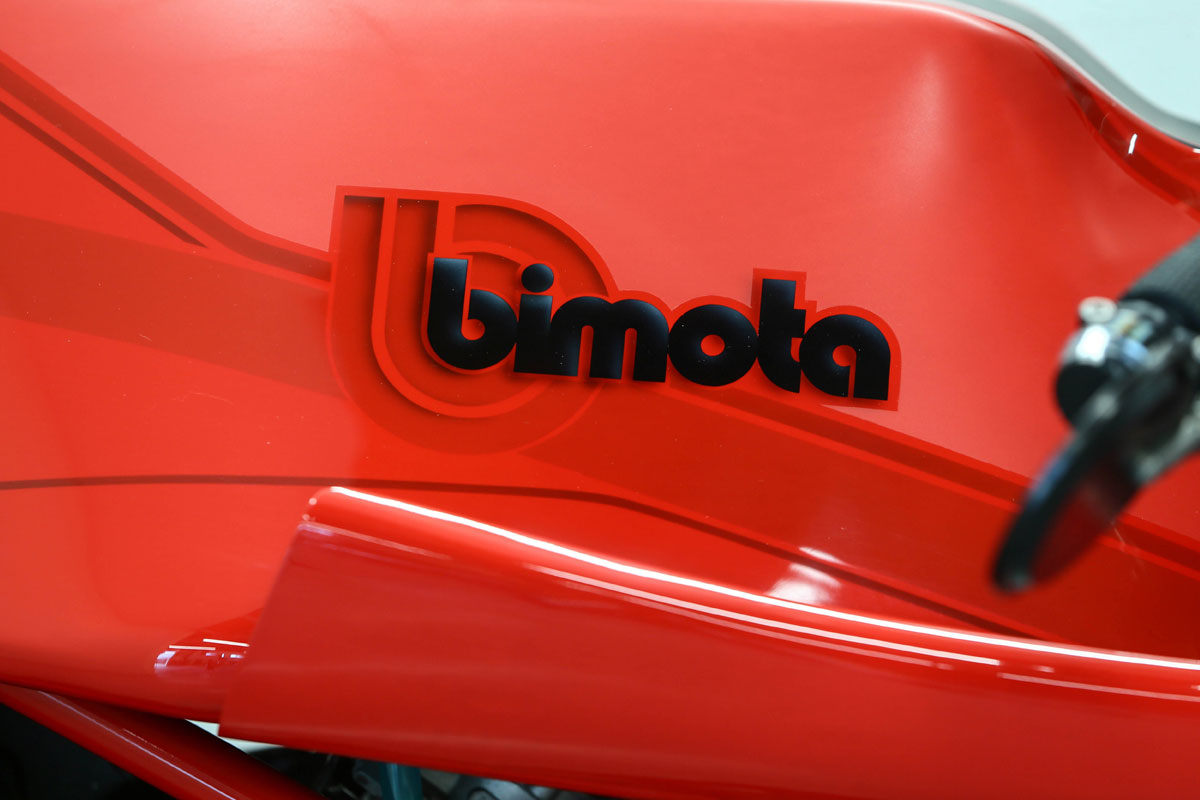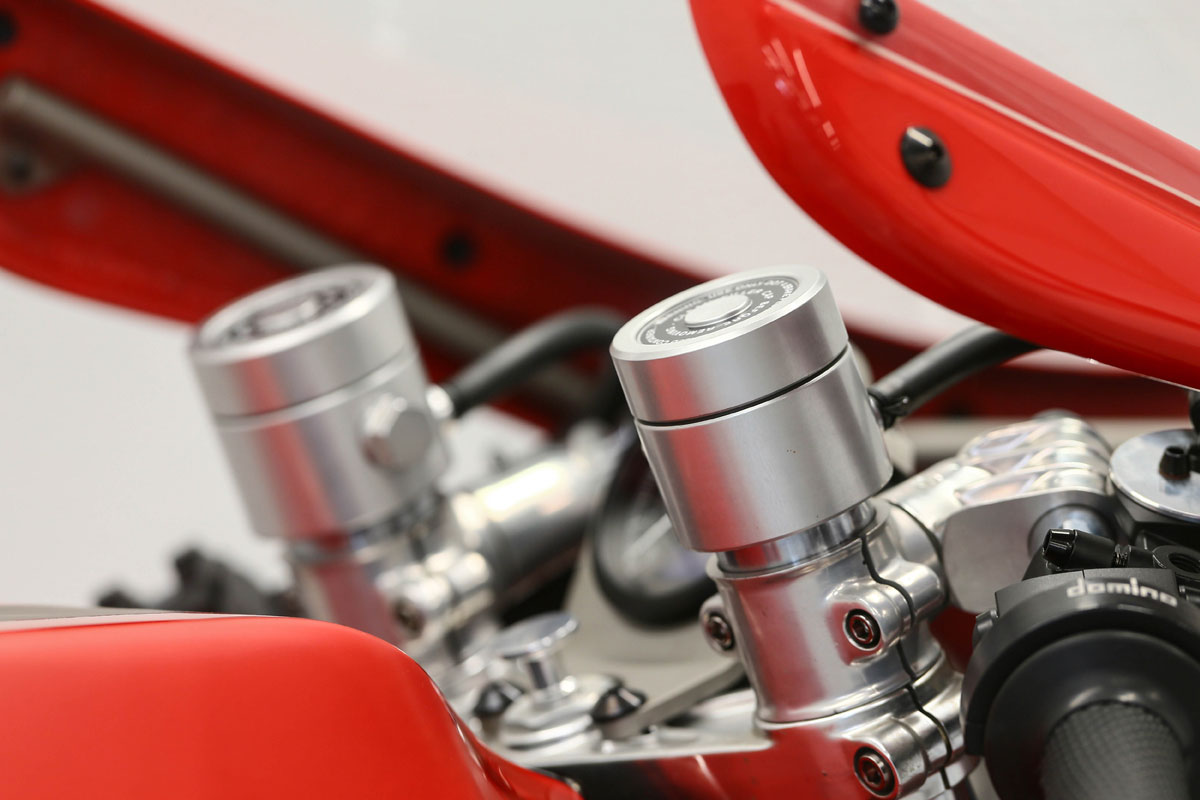 First things first John focused on getting the bikes new look underway. His vision for the DB1 included a 70's style half fairing and a fuel tank inspired by Imola and MV 750 styling. To create it he partnered with his good friend Laurent Amann who runs the metalworking and coach building workshop, Storik. Laurent's work with aluminium is second to none. His portfolio of reproduction vintage fairings made him the obvious choice for a project of this calibre. Laurent was tasked with building the fuel tank and tail in alloy while John sourced a reproduction fibreglass fairing.
When the donor was last customised most of the factory suspension, engine and components were swapped out. While this may have seemed like a good idea to the previous builder John wanted the bike to be closer to Bimota's original design. So he set himself the task of sourcing a long list of original DB1 parts. As you can imagine sourcing DB1 parts takes time and the arduous task contributed to the bikes 12-month build timeframe.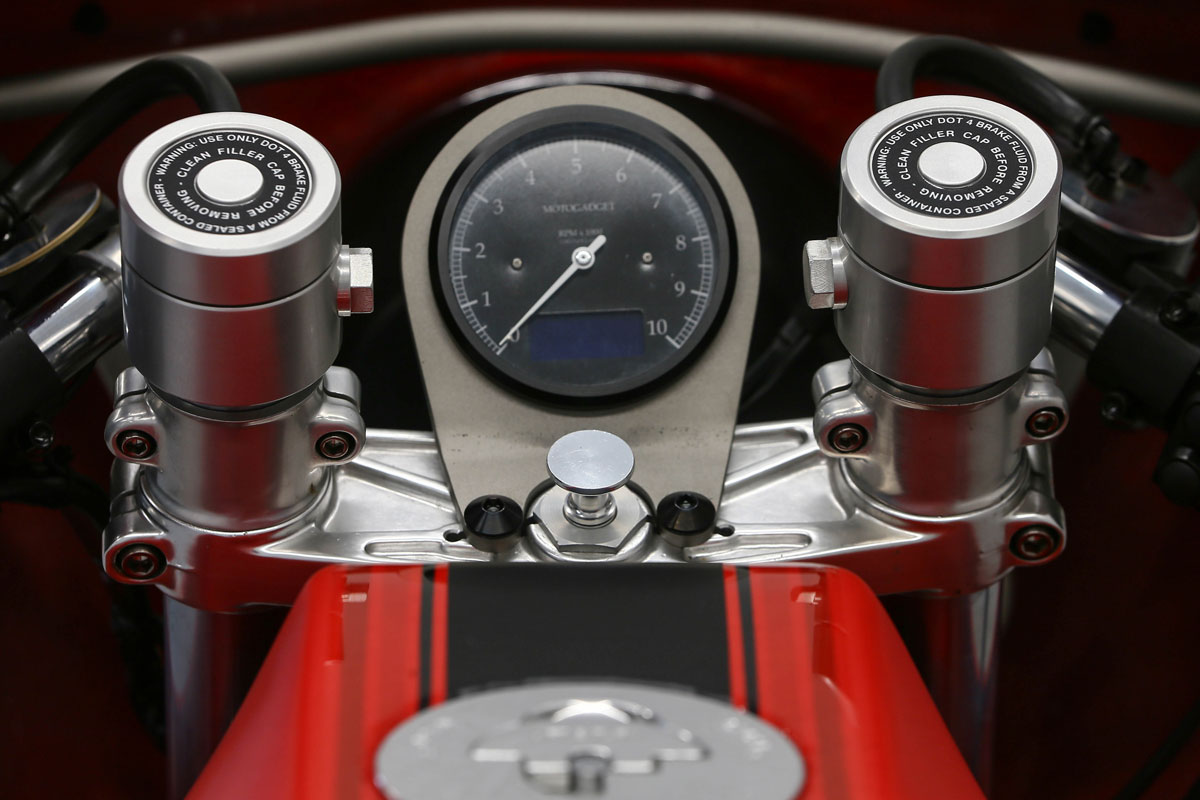 Once John had amassed a collection of original parts including DB1 forks, handlebars, reservoirs and clutch and brake cylinders he began piecing the bike back together. At this stage, he also added a few carefully considered modifications of his own. His DB1 now wears a Ducati 888 swingarm supported by a modern Wilbers shock. The brakes utilise period correct Brembo GP callipers and the wheels are streamlined items by Marvic. Although his original plan was to fit period dials, once the fairing was in place space was tight. So instead he settled for a slick Chronoclassic integrated tachometer and speedometer from Motogadget.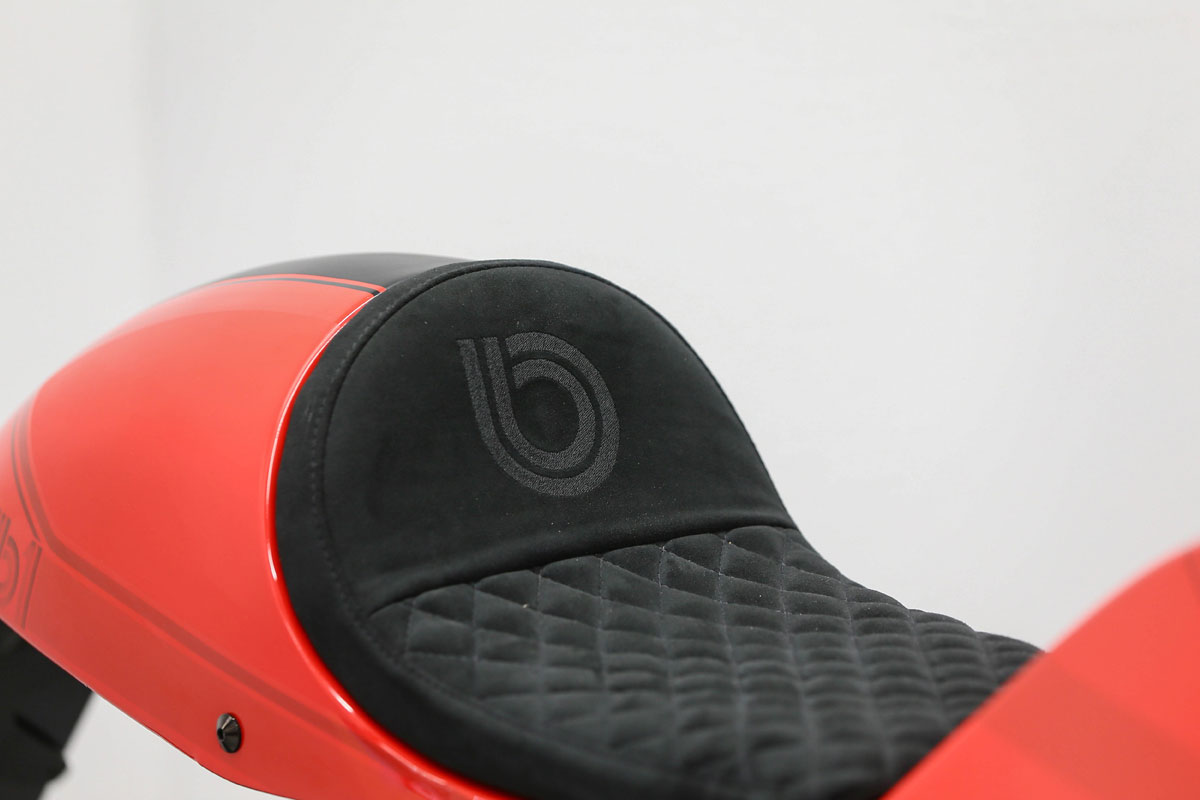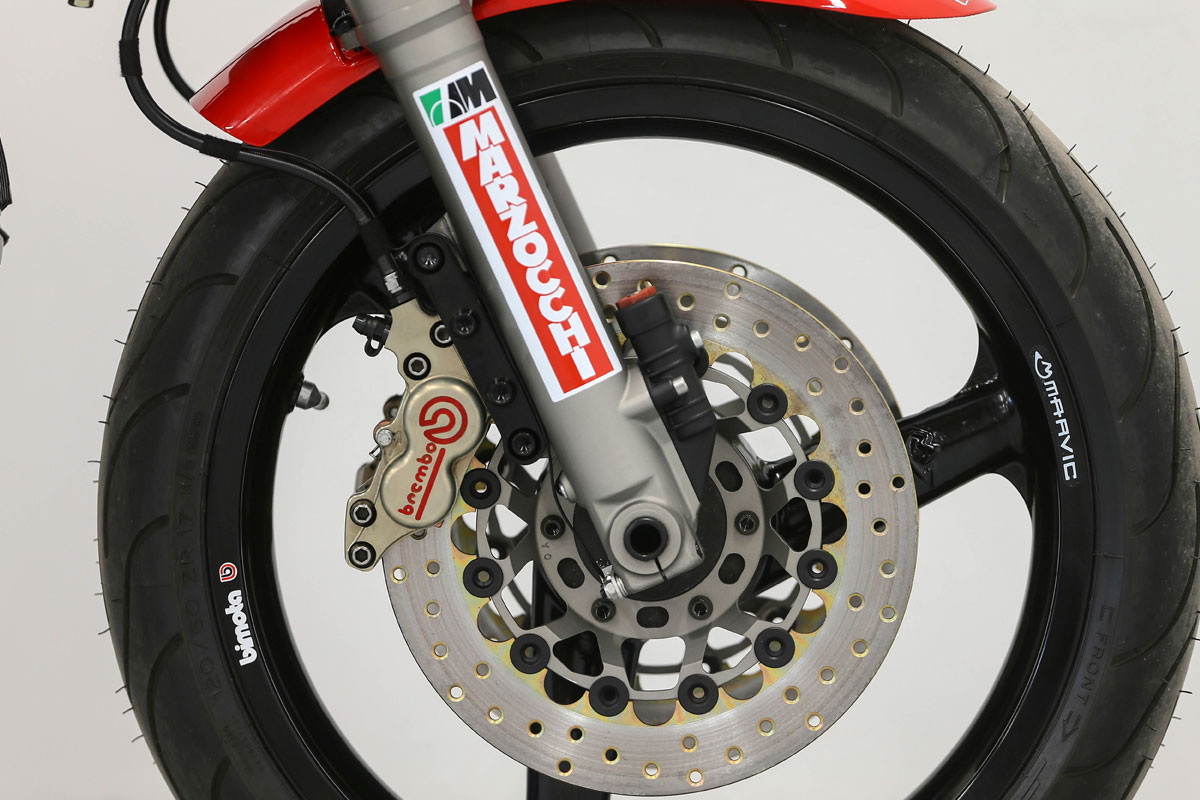 Although John didn't agree with many of the previous modifications one that sat well with him was the fitment of a 900SS engine. To free up some additional power and get it sounding right the bike now wears Ducati 851 silencers.
To the untrained eye, John's DB1 could easily be mistaken for a factory bike with a few modern touches. Exactly how he planned it. Sure it may not be as collectable as an unmolested original, but given the choice I know I'd be reaching for the keys of this beauty over Bimota's 80's style Italian any day.
Photography by Chippy Wood