There was a time when the Gilera brand was as hallowed in motorcycle racing as Honda and Ducati. After World War 2 the manufacturer became a force to be reckoned with on the track. Between 1950 and 1957 Gileras piloted by Umberto Masetti and Geoff Duke took out the top podium position at the 500 cc MotoGP World Championship an impressive 6 times. What's even more impressive though is that by the time Gilera withdrew from racing at the end of '57 they had won no less than 40 World Grand Prix races. That's a number few manufacturers can claim to have achieved in that timeframe.
Despite Gilera's racing successes of the mid 20th century and a few notable trophies after a return to racing in the early 2000s, the brand's popularity gradually dwindled. These days you can still buy a vehicle wearing the Gilera name, but it will essentially be a modified and restyled Piaggio. In the secondhand market, however, Gilera's from the brand's heyday are starting to become hot property.
If you happen to live in Argentina and have a soft spot for classic Gileras there's one man you would definitely want to visit. His name is Gabriel Jiménez and he works under the name of Coronas Modificadas.
"I have ridden motorcycles for as long as I can remember. I'm a mechanic and usually work on old motorcycles and on my truck," says Gabriel. "I have a small garage with a lot of tools, maybe too many, so I don't have a lot of space for motorcycle projects. For this reason, I only work on projects I want to do. If I don't like it I don't do it!"
One of the latest projects to pique Gabriel's interest was this '61 Gilera 150 Supersport restoration named La Black.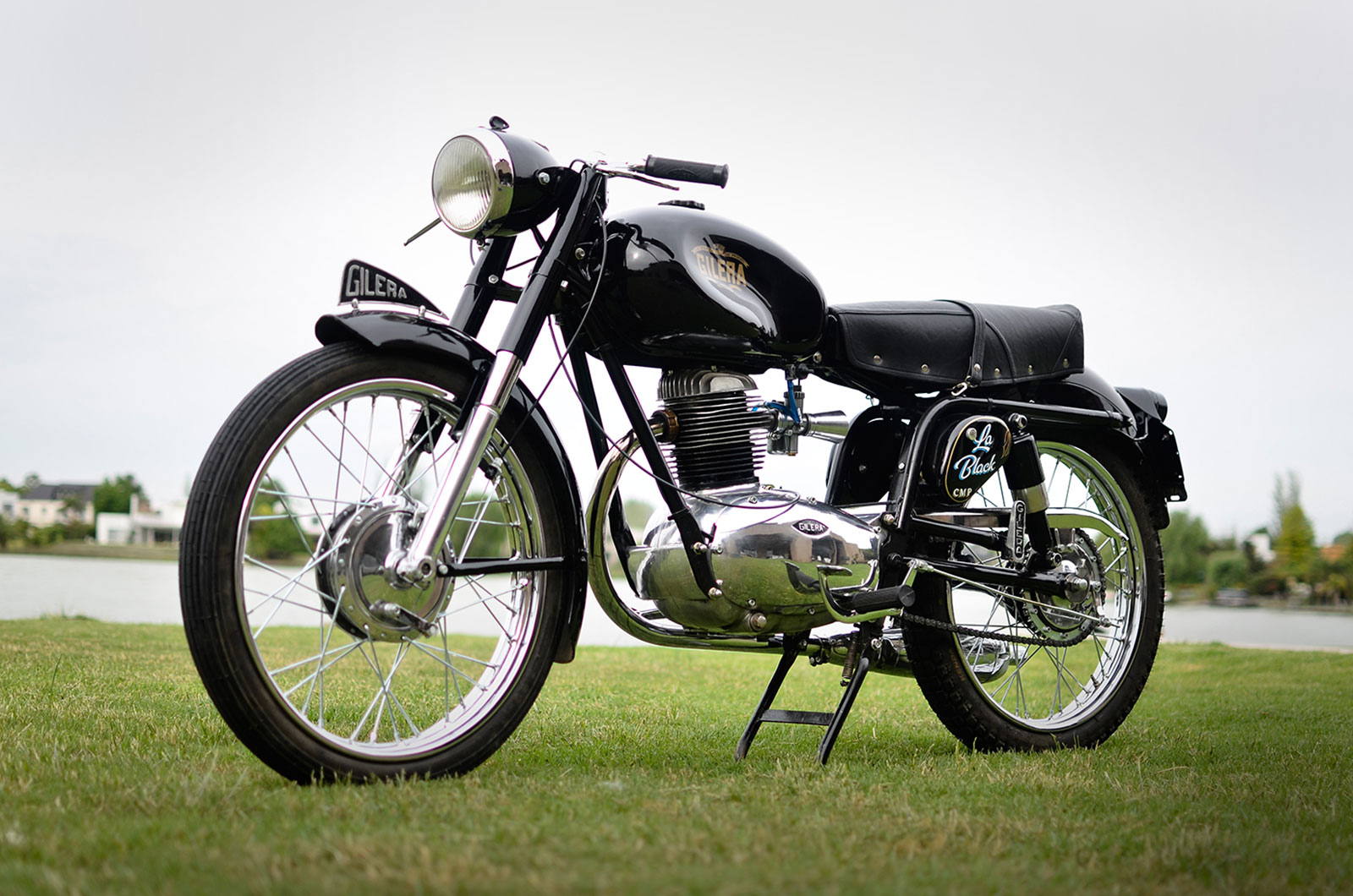 La Black belongs to Matias one of Gabriel's clients who has a strong love of the Gilera brand. He already has several Gilera in his collection and aims to restore them all before his riding years are up.
Matias purchased the 150 Supersport from the nearby province of Cordoba back in 2003. At the time the bike wore many aftermarket and non-original parts but was in good working order. Not being the kind of guy who buys things just to look at them, Matis rode the 150 Supersport frequently. As a member of a local club named the "Motonetas Picantes" (Spicy Scooters) he piloted the 150cc on many a club ride and meet, unfazed by inclement weather or unsavoury road surfaces. During that time he'd also had the bike partly restored but now he wanted it brought back to a near original condition.
Along with restoring the Gilera, Matias had a couple of requests for Gabriel which made the project a tad more interesting. First of all, he wasn't interested in sticking with the original two-tone 150 Supersport colour scheme. Instead, he wanted something a bit more sinister – stipulating that it should be all black. Second, he wanted the bike to have improved performance so that when he competed in the club's frequent drag races he had an edge.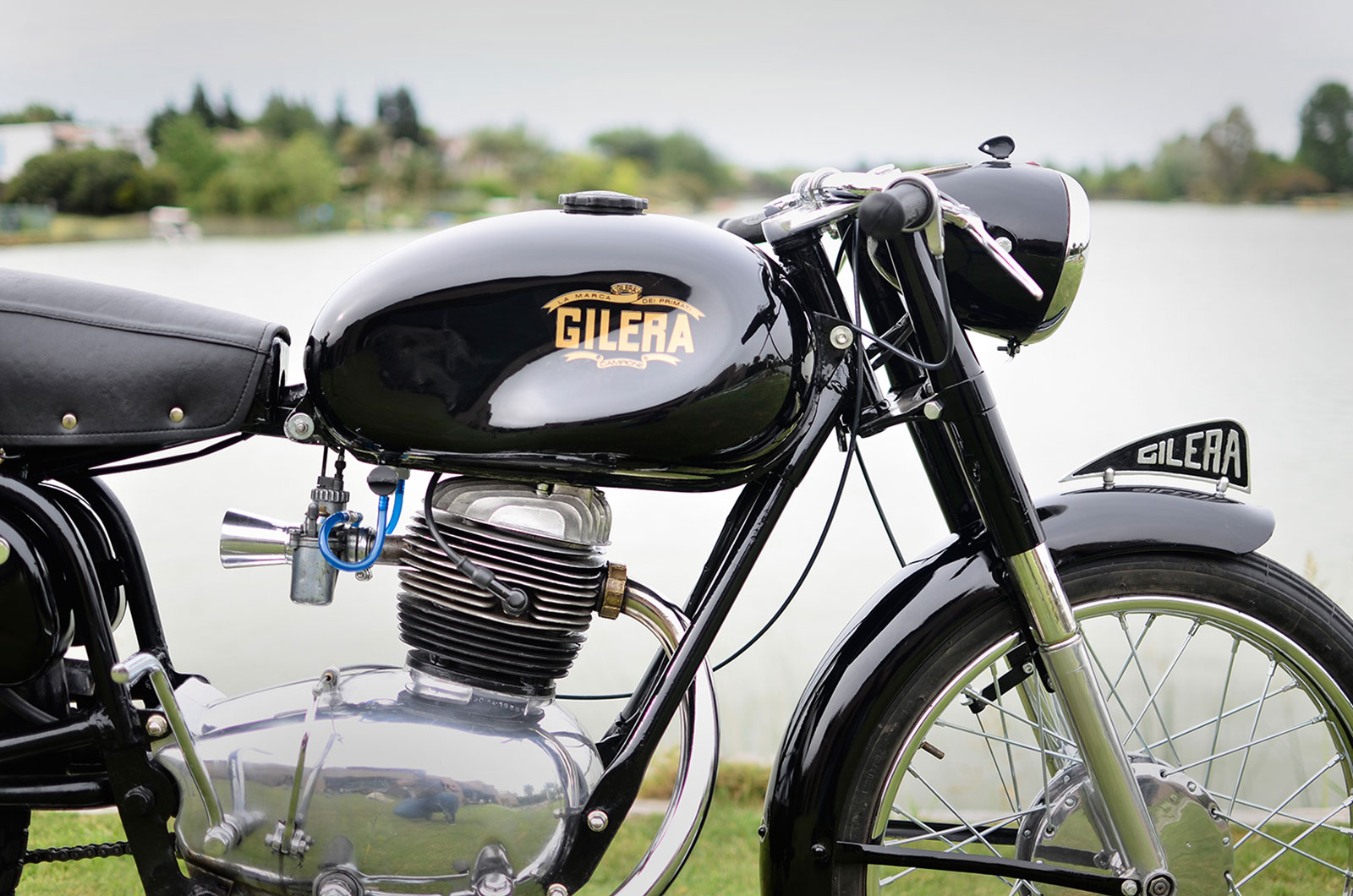 After stripping away anything on the bike that wasn't original, Gabriel got to work sourcing OEM components or parts he could restore. As everything went back together it was either finished in a glossy coat of piano black, polished to a mirror shine or re-chromed leaving it looking as good as it did the day it rolled out of the Gilera factory.
Apart from a fresh new look the main driving force behind Matias' decision to restore his 150 Supersport was that it had recently broken down. With the engine no longer running and an open invitation to modify it Gabriel had plenty of suggestions.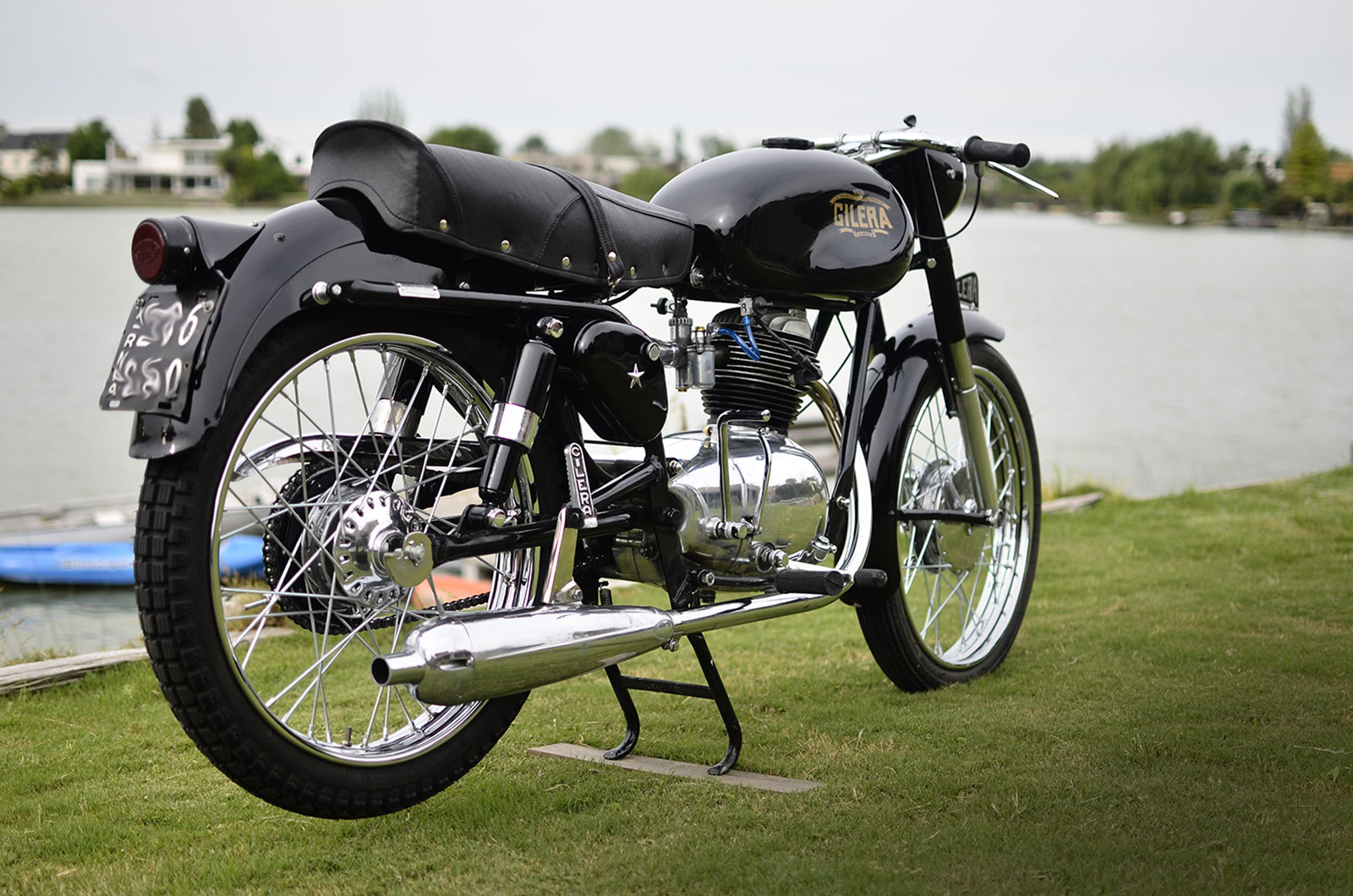 "The bike had a standard engine with a stock size bore and the classic gearbox," he says. "So I asked Matias 'What if we put some pepper on this engine' and he smiled."
With that Gabriel treated the 152 cc single to his tried and tested performance formula. In its standard form, the 150 Supersport was good for 7.3 hp at 5800 rpm and could manage a top speed of 62 mph. Now thanks to a specially made head, custom camshaft, bigger valves and lightweight gears the engine is outputting a very respectable 20hp at around 7000 rpm. And to top it all off, according to Gabriel the 150 Supersport now "sounds better than ever."
These days motorcycles of this ear tend to be restored to 100% original condition. But given the choice we're sure that even the most astute Gilera enthusiast would welcome this beauty into their collection.