It's been 2 years since we last spoke to Dennis Savic and the team at Australia's first electric motorcycle manufacturer, Savic Motorcycles. The great news is that Savic has managed to navigate the chaos of the global pandemic and has been working tirelessly to bring its first production motorcycle to market.
After hearing the news that Savic had secured a deal with Bosch Australia to provide ABS for the C-Series electric cafe racer. And that they'd completed their first round of major road tests, we thought it was time to touch base with Dennis and his team again to see what they had in store for us in 2023.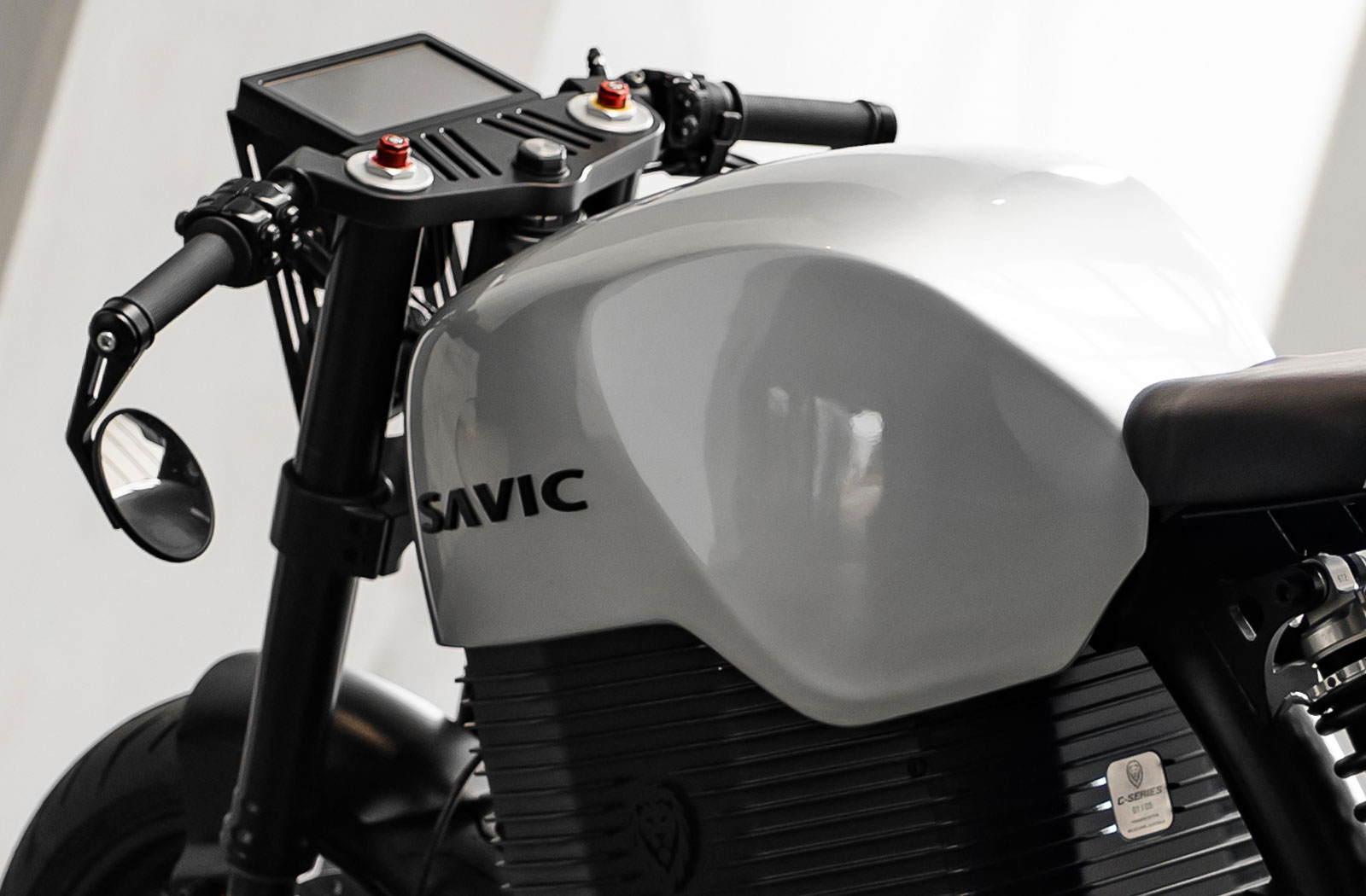 What's been happening at Savic Motorcycles since we last spoke?
There has been a lot that has happened since you last covered the 2019 prototype launch.
In 2020 we received Venture Capital funding and the team designed and built our first production representative prototype. We also leased our premises in West Melbourne and made a start on our assembly facility. Despite the challenges presented by COVID, in 2021 the team successfully sourced and tested all major prototype components and we finished off the year with a successful capital raise including a government grant, government loan, and a successful first road test.
In 2022 it's been full steam ahead as we have built our next 2 prototypes. One has been through vigorous on-road testing (as well as attending industry and customer events around the country) while the other has been through ABS Development with Bosch Australia and ADR Government Compliance, which is our final milestone before we're able to start pilot production and first customer deliveries.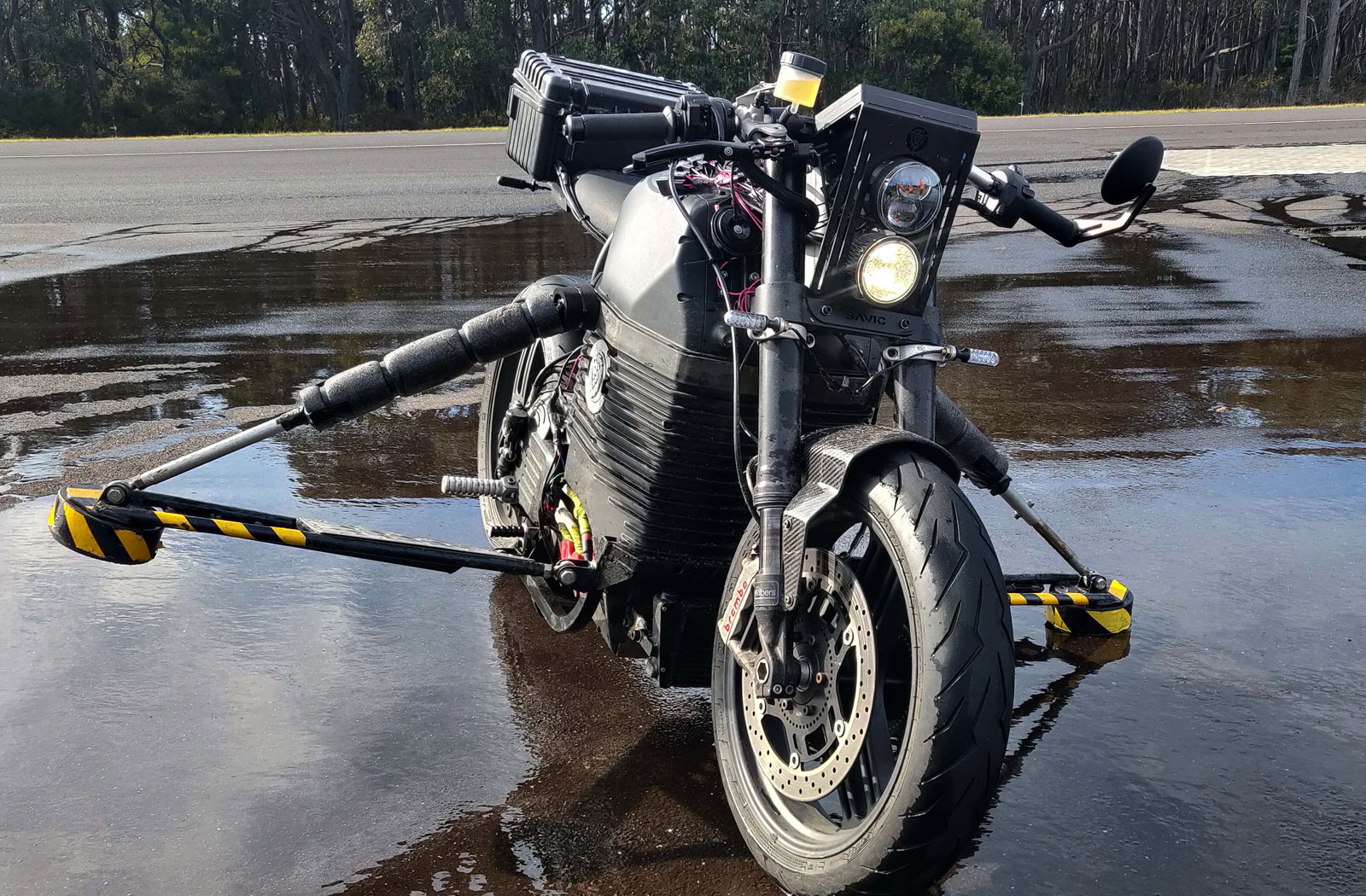 Have there been any changes in the design and engineering of the Savic C-Series?
Yes, there were significant changes over the last few years.
We've completely re-designed the battery pack architecture. In 2019 our hypothesis was that pouch cells would be best, but we couldn't get the design, the supplier, or the cost target right. It also presented longer-term durability concerns. So we moved to a prismatic cell architecture and changed suppliers and whilst we had some challenges at the start, all those issues have been resolved now and we're confident that we have a great quality battery in our motorcycles.
Similar to the battery pack, it took us some time to find the right motor supplier and cost structure, there were definitely a few challenges and lessons learnt along the way but we've found one who has been fantastic to deal with and delivered some great quality motors. So, while it was a tough road, we got there in the end. Persistence pays!
The 2019 and 2020 prototypes both had welded steel frames. In larger industries, this makes a lot of sense as it's one of the lowest-cost materials that has good performance characteristics. The challenge with steel frames is that they require many, many welding jigs and fixtures so it's very expensive, especially for an early-stage start-up.
The other major problem with this, which we found out, is if you try to do it cheaper with fewer fixtures/jigs, you will not get the tolerance you need for the rear hub. We learnt a lot over the process and re-designed EVERYTHING so that we could cast it out of aluminium. When you cast something, it doesn't come out of a mould and go onto a bike, there is a machining process before it goes off for coating. Whether that be painting, powder coating, or anodizing. But that machining process is what drills/taps all the holes in the item so that you know it's going to be very precise. The whole process is also efficient enough that it suits our business' cost targets. Not to mention the benefit and recyclability of aluminium so it fits with our company values as well.
How do the C-Series models differ?
The C-Series (standing for Cafe Racer Series) comes in two variants, the top-spec Alpha and the urban Delta. Both look exactly the same, the main difference is the battery size, resulting in different power outputs and prices.
ALPHA
PRICE $26,990 AUD ride away
POWER – 60KW
TORQUE – 200NM
HORSEPOWER – 80HP
CHARGE – 4.5 HOURS
0-100 km/h – 3.5s
RANGE: – 200+ KM *combined
DELTA
PRICE – $19,990 AUD ride away
POWER – 40KW
TORQUE – 140NM
HORSEPOWER – 54HP
CHARGE – 3.8 HOURS
0-100 km/h – 4.5s
RANGE – 150KM + *combined
*Combined is average of city and highway riding including re-gen of the brakes in stop/start city
*Ride away pricing includes all on roads and dealer charges and excludes any additional options and transport costs.
Both the Alpha and Delta are undergoing additional testing including real-world range, power and suspension testing, so we're hopeful we'll be able to exceed our customer's expectations, but for the moment we're being conservative with our estimates.
We have 4 colours for customer to choose from. Atomic Silver, Dark Matter Black, Radiate Aluminium (brushed aluminium tank cover and rear cowl) and a brand new Carbon Fibre option with gloss carbon on the tank cover, rear cowl and belly pan and a matte carbon on the front and rear fenders and belt cover.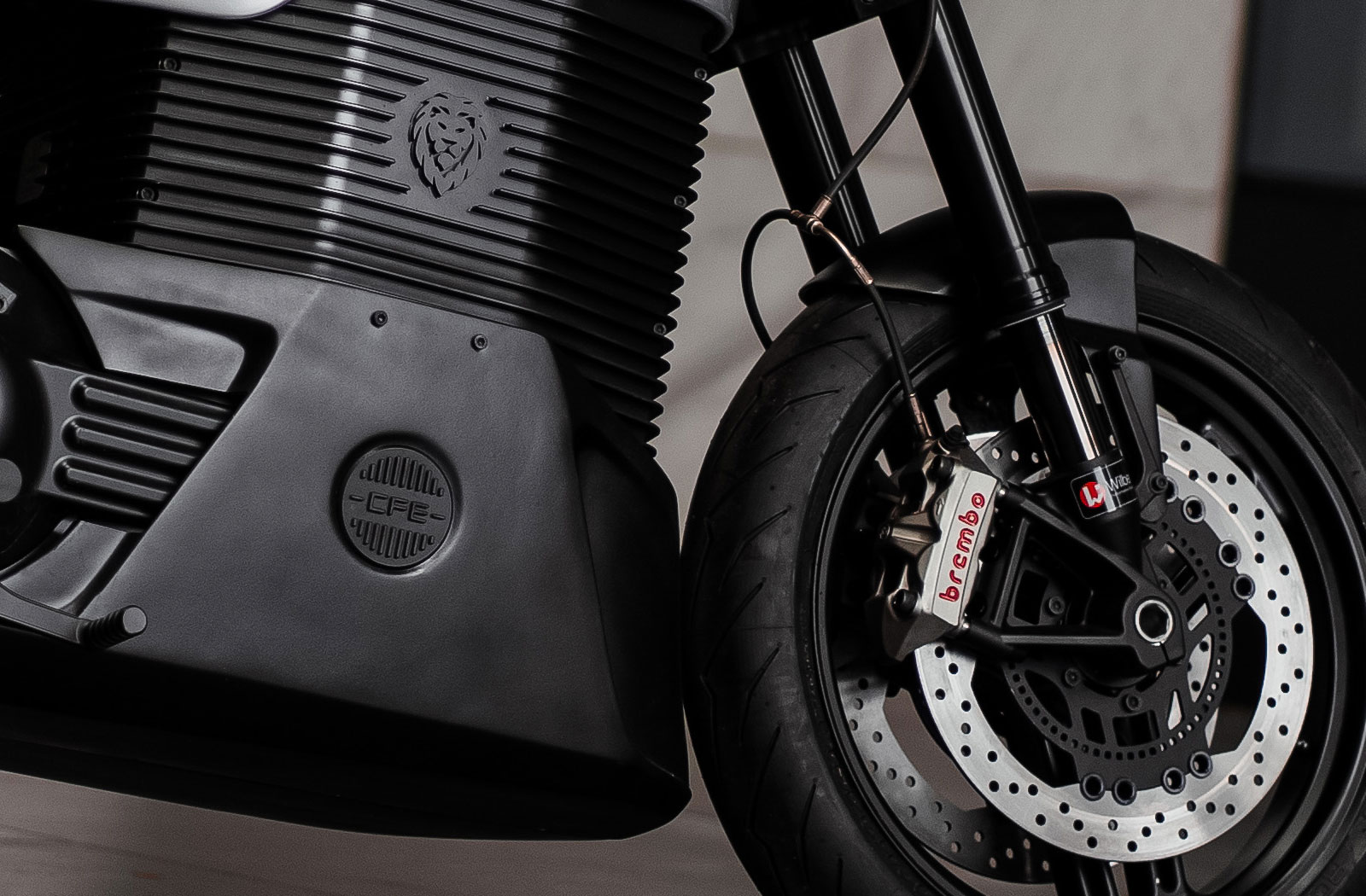 We also have two seat trims in either dark tan or black synthetic leather that is highly durable. We're continuing to explore leather alternatives for both our motorcycles, accessories and apparel including mushroom and cacti leather.
You can check out the bikes and play around with our custom bike builder on our website.
Where are the Savic motorcycles being made?
All of our motorcycles have been designed and engineered in West Melbourne, with components sourced globally from India, China, Europe and Australia. We then hand assemble each motorcycle from the ground up in our assembly facility in West Melbourne. We will be handing the first of the C-series motorcycles over to customers through our Melbourne Savic Motorcycles showroom (which will be opening later this year) or direct to interstate customer's doors with our transport partners.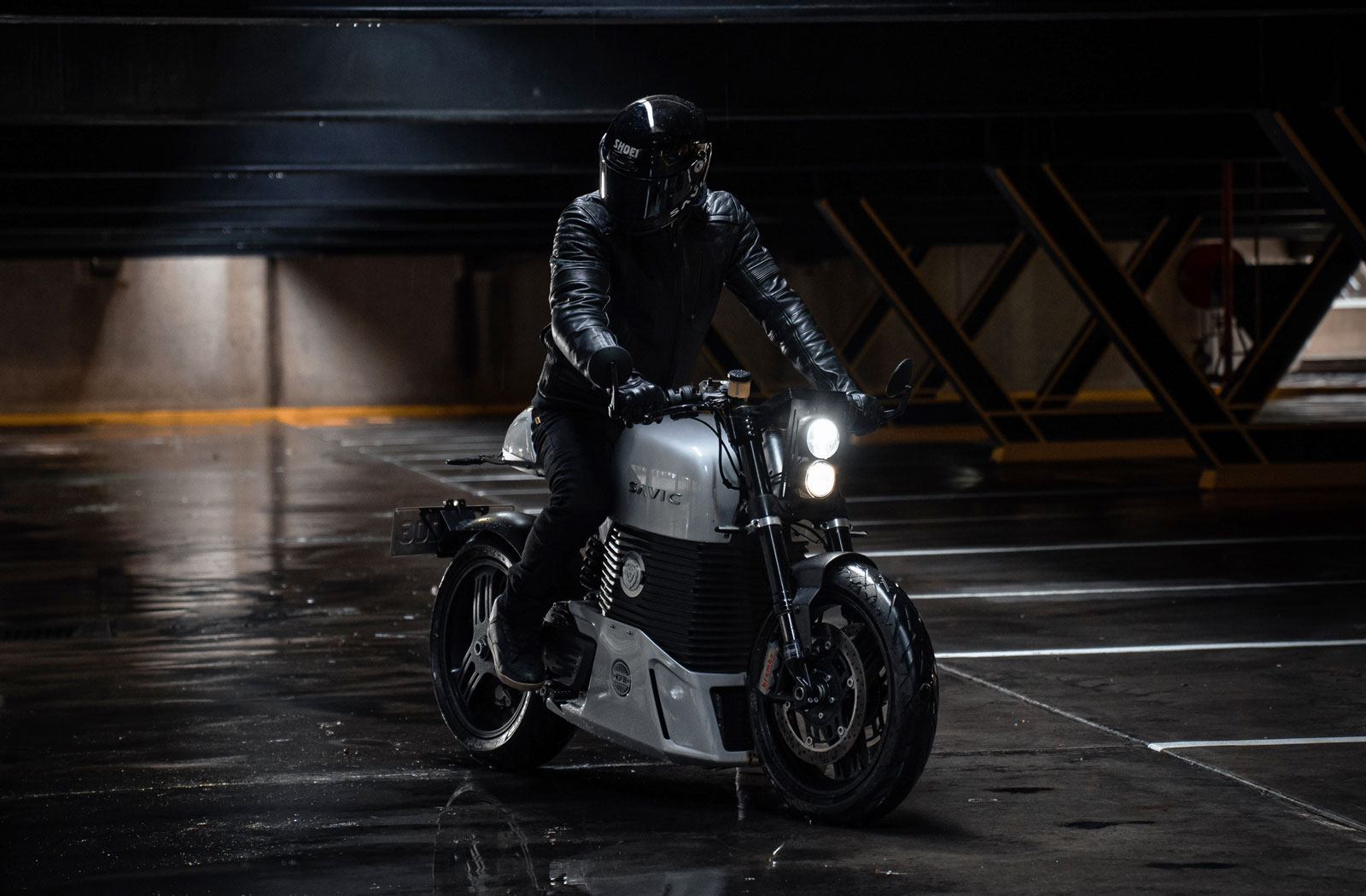 We have future plans to expand our sales network with boutique Savic Motorcycles dealerships across the country as well as a partnered service support network, although most of our diagnosis and updates will be able to be done over the air as our motorcycle is 4G connected. Our software team has fully developed our connected rider experiences on-site and will be continuing to develop and service our customers remotely from our Melbourne premises.
What manufacturing techniques are used to produce a Savic motorcycle?
Here's a breakdown of how some of the other components of each C-series motorcycle is made:
Gravity Die Cast Aluminium – Frames / Enclosure
Low-Pressure Die Cast Aluminium – Rims
Freezing rear hub prior to rear axle bearing pressing – tolerances are super tight!
Laser welding – battery cell terminals to bus bars
PCB Printing & Picking – Fully Automated Electronics board manufacturing
Injection Moulding – Some plastic components
Vacuum Forming – Seat Substrates
3D Printing – Currently exploring local 3D printing of some components
What are some of the technological highlights of the C-Series aside from the battery and drive train?
Belt driven – clean, high durability, quiet, low maintenance
Also, the C-series motorcycle's front pulley is concentric with the swingarm pivot eliminating the need for a tensioner pulley on the belt. The instrument cluster & software and connected to a rider experience with over-the-air diagnostics and updates. Front suspension is fully developed in-house and we will be using proprietary front and rear suspension tailored to the C-Series.

What challenges did you face with homologation and registration?
It did take a monumental effort for the engineering team to get through the ABS development with Bosch Australia. It's an intense process but a critical one and we had a great outcome. That was a massive milestone we were able to celebrate in September 2022.
Since then, we sailed through all of the tests quite smoothly for our ADR (Australian Design Rules) application and now we're just playing the waiting game as we wait for the government to check over the paperwork and give us the final tick of approval for road registration. Unfortunately, it's a lengthy process that is in dire need of an overhaul and we've included this in our submission along with countless other electric vehicle manufacturers in Australia in response to the recent national Electric Vehicle Strategy consultation paper.
When will Savic be fulfilling its first customer orders?
Our first customer deliveries are pending ADR approval but we're hopeful we'll be able to get a few out by the end of this year. In either case, we intend on ordering our first batch of serial production parts in January 2023 for a March delivery timeline for the first 25 customers. Our customers are across our timeline and have been very patient with us as we've built up to this exciting moment in Australian history.
We've just hit 235 orders in total across two production runs, and we're almost sold out of our second run with only 15 build slots remaining. We plan to start the second production run in late Q2 2023 which is really exciting and humbling for the team. We keep our customers updated whenever any dates or milestones change and like to share our wins with them. We've obviously built something that people are excited to own and ride and we can't wait to get them onto the road.
---
To stay up to date with Savic's progress, or reserve one of the few remaining C-series electric cafe racers in their second production, head over to the Savic website.