There's no doubt about it – making a good first impression takes hard work. When you get it right though, the rewards are always worth the extra effort.
This stunning Ducati Monster based cafe racer is the work of Unico Moto, a custom motorcycle workshop based in Orlando, Florida. Although it's not the first custom to roll out of the Unico workshop, it's the one they want everyone to take notice of. And from where we're standing, there's a pretty good chance of that happening.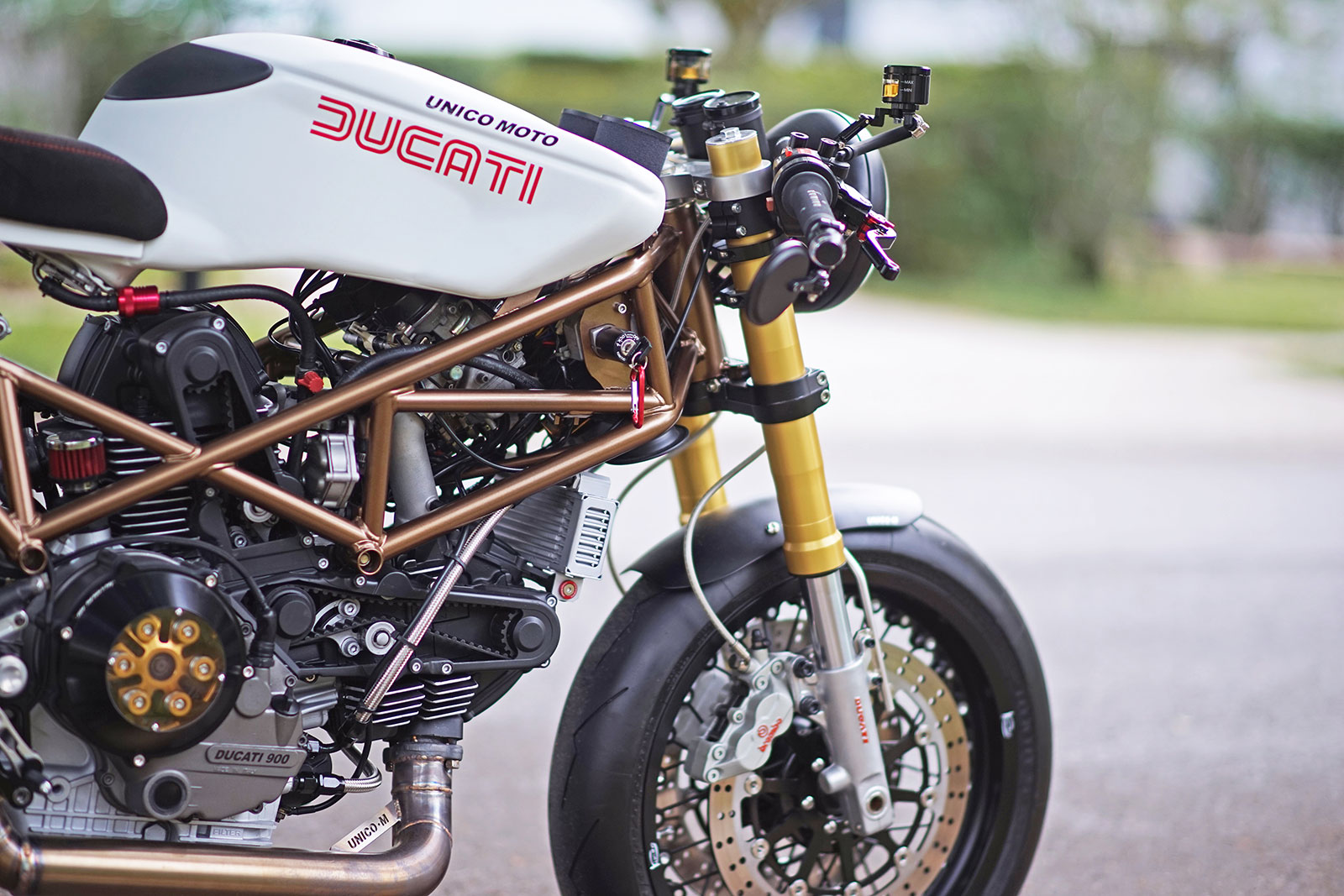 Founded in 2018 by passionate Ducatista, Andre Frizzarini and Justin Andrew, Unico Moto's goal is to become the United States premier Ducati focused custom workshop. "Our designs are created with passion, developed with precision, hand-built and assembled to aesthetic perfection with major attention to detail," says Andre.
Interestingly, Unico Moto didn't start out building bikes for customers. Instead, they fund each of these projects themselves. This gives them the creative freedom and control they required to achieve their vision. So far they have 6 custom projects in various stages of completion all of which are based on Ducati donors. Once each bike is completed they go up for sale but they also function as a template for customer builds. The idea is that Unico provide the basic layout and the customer chooses from a range of style and component options to make a bike their own.
After the success of their first 2 builds Adre and Justin decided to really push themselves in order to create a motorcycle that would become the flagship of their brand. "We wanted to develop a bike that could showcase our work in all areas. Craftsmanship, attention to detail, style, drivability, quality and of course the Unico Moto sound," says Andre and to do so they invested around 12 months of hard work into this Ducati Monster which they've named GP1.
As with each Unico project, the first stage of the build involved putting pencil to paper. After they had developed a design they liked it was digitised, finessed and then 3D modelled. The style they went for with GP1 was that of a modern cafe racer with retro cues and plenty of high spec modern components.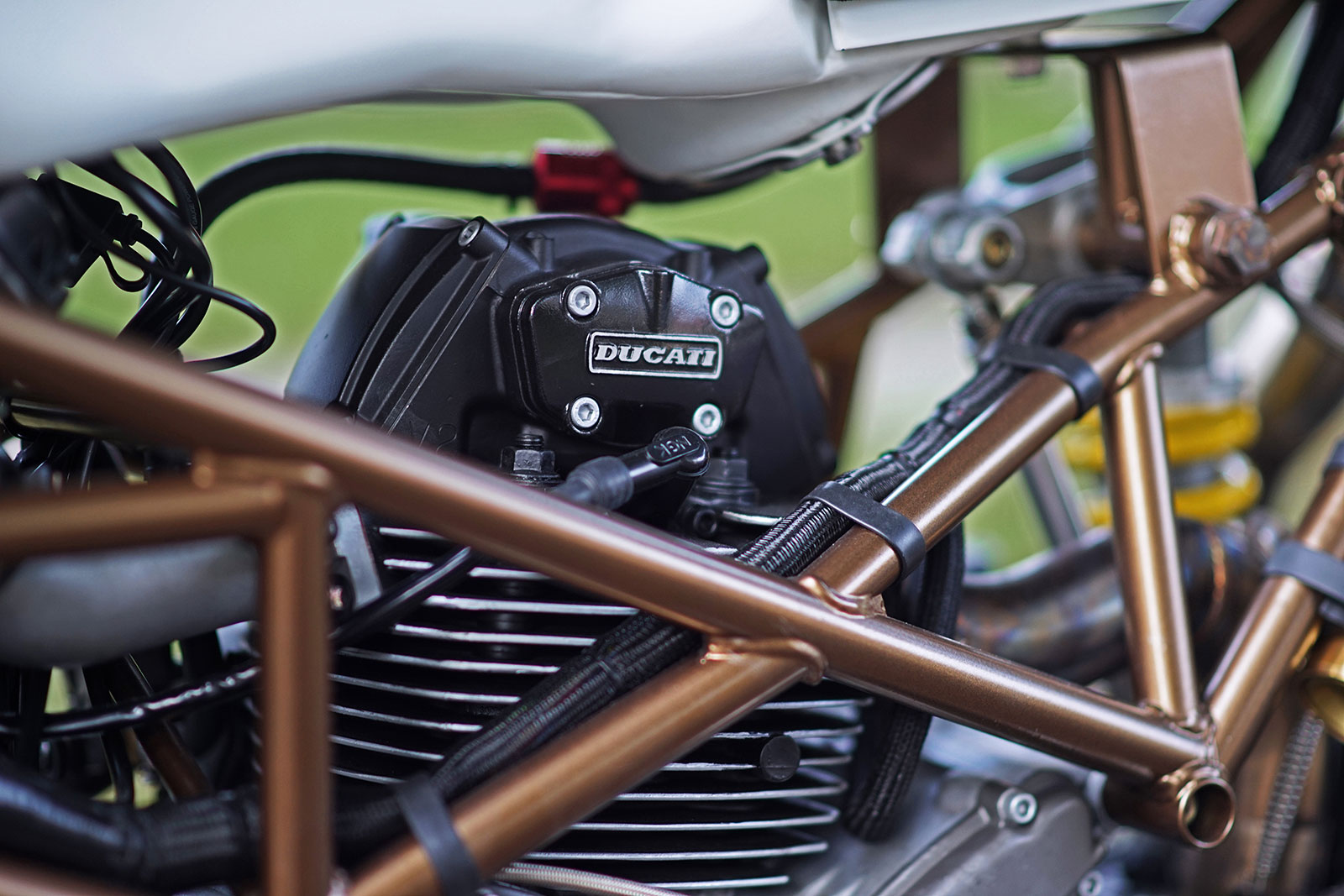 The Monster's iconic trellis frame played a big role in how GP1 would present, but the boys had second thoughts about its engine. "We wanted this bike to not only look amazing but perform like it," says Andre, which lead to the decision to do a full engine swap. The engine they flagged for the project was that of Ducati 900SS and it too has undergone some changes.
Creating that classic Ducati dry clutch sound is an anodised clutch assembly that is housed behind a trick KBike glass cover. Using K&N filters they have also designed and built a unique intake system. From the carbs, the intakes snake their way upwards and position the filters in the front of the fuel tank – directly beneath the riders chin. "Our intake filter design gives the rider a one of a kind experience. We like to call this 'hearing the bike breath'," says Andre.
While the sound of this 900SS inhaling is sure to be captivating it's when it exhales that things get really interesting. This is due to the fact that Unico has fit the engine with a beautifully constructed 2-1-2 set of custom stainless headers. After passing under the belly of the engine the pipes meet beneath the tail before splitting to feed a pair of GP style mufflers. As Andre puts it, "our bikes have a strong visual presence along with a sound that matches that presence. The roar of our custom exhaust and well-tuned engine performing at its peak capability is one of the goals we always have in mind for every build, especially on this one."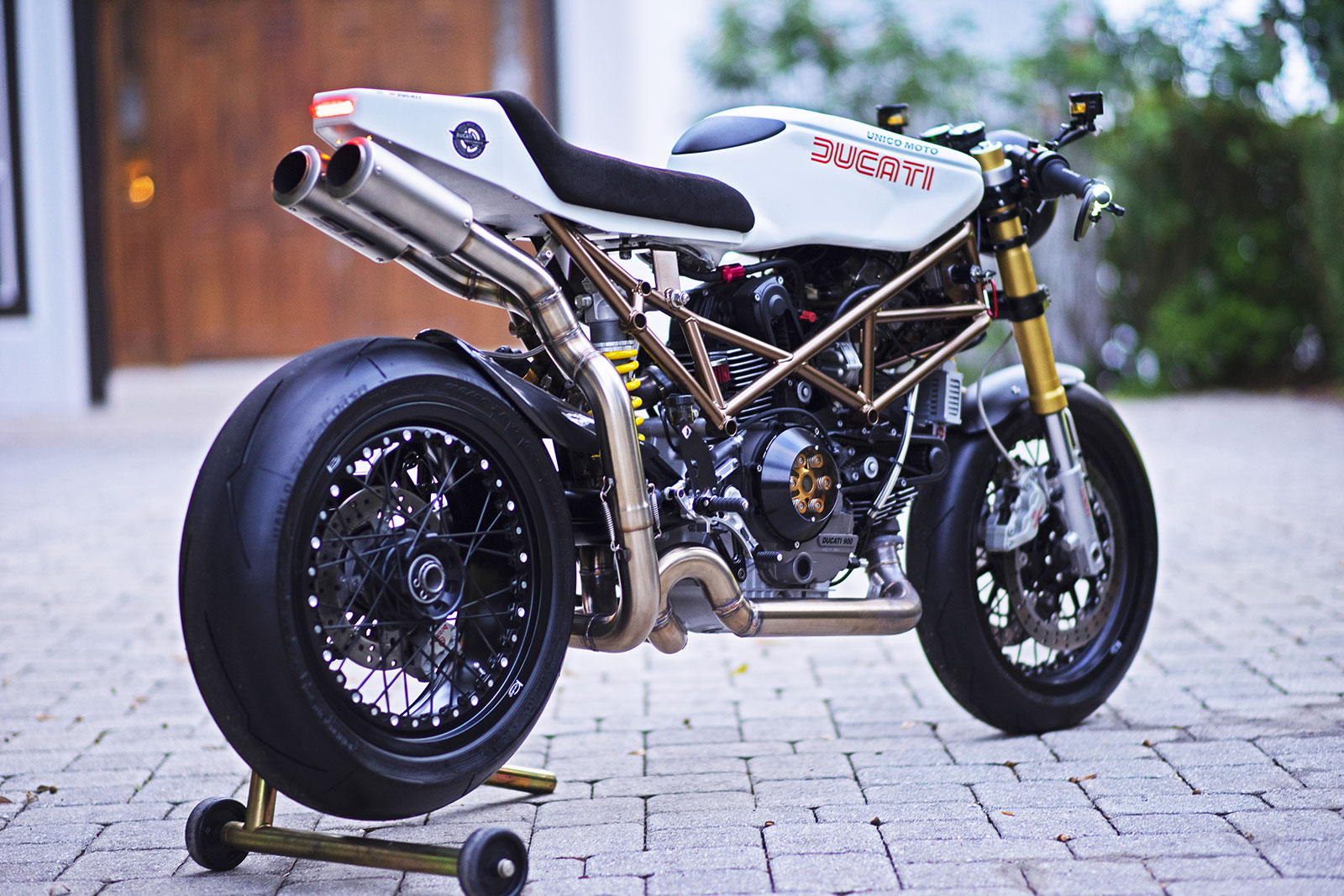 With the 900SS engine sorted Unico turned their attention to eliminating weight and setting up a more aggressive riding stance. "Choosing the tank was the first step as it changes the rider sitting position," says Andre. The tank they went with is that of a Ducati 999 and it's been fit using custom mounting brackets welded to the trellis frame. With the tank in place, they then fabricated a lightweight, modern iteration of cafe racer tail unit. Integrated into the design is a set of LED lights and there's a black suede saddle with Ducati red stitching to finish things off.
To complete the race-spec riding position the Unico Moto GP1 wears a set of Woodcraft adjustable clip ons dressed in a comprehensive collection of custom parts. These include Domino grips, aftermarket bar-end mirrors and LED turn signals, refurbished switch blocks, Rizoma CNC fluid reservoirs and adjustable levers. As for the foot controls, they opted for CNC Ducabike adjustable rear sets.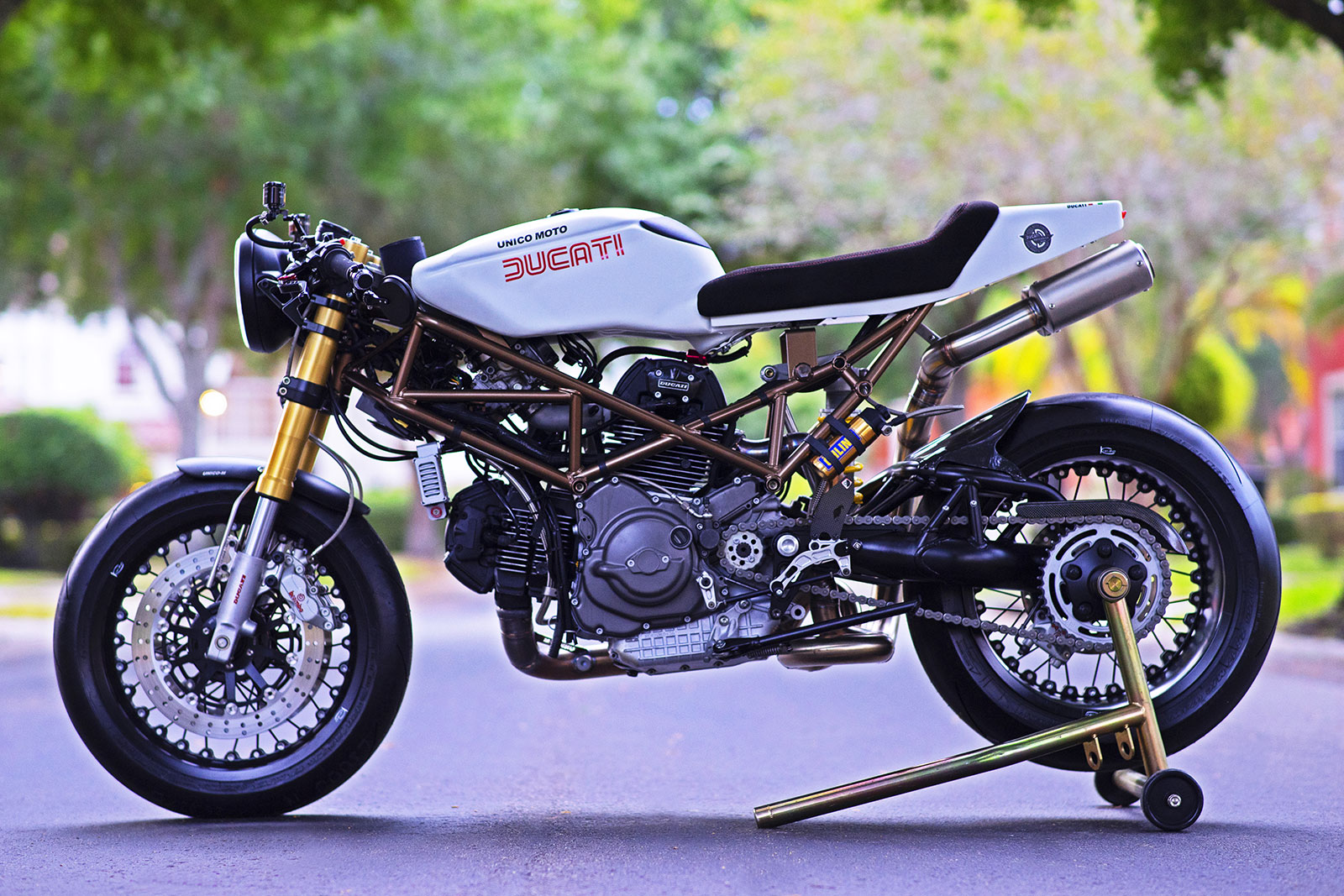 A sporty seating position is one thing, but without the right gear to back it up, it's all for show. So to sharpen the Monster's handling it now wears rebuilt forks mounted using a CNC Speedy Moto top clamp. In the rear, there's a custom-built Ohlins piggyback shock and it's supporting a single-sided swingarm that's been modified to suit the Monster frame. To get the right balance of looks and performance the Monster wheels have also been swapped for Italian made Kineo spoked hoops that are wrapped in Pirelli Diablo Supercorsa street legal racing rubber.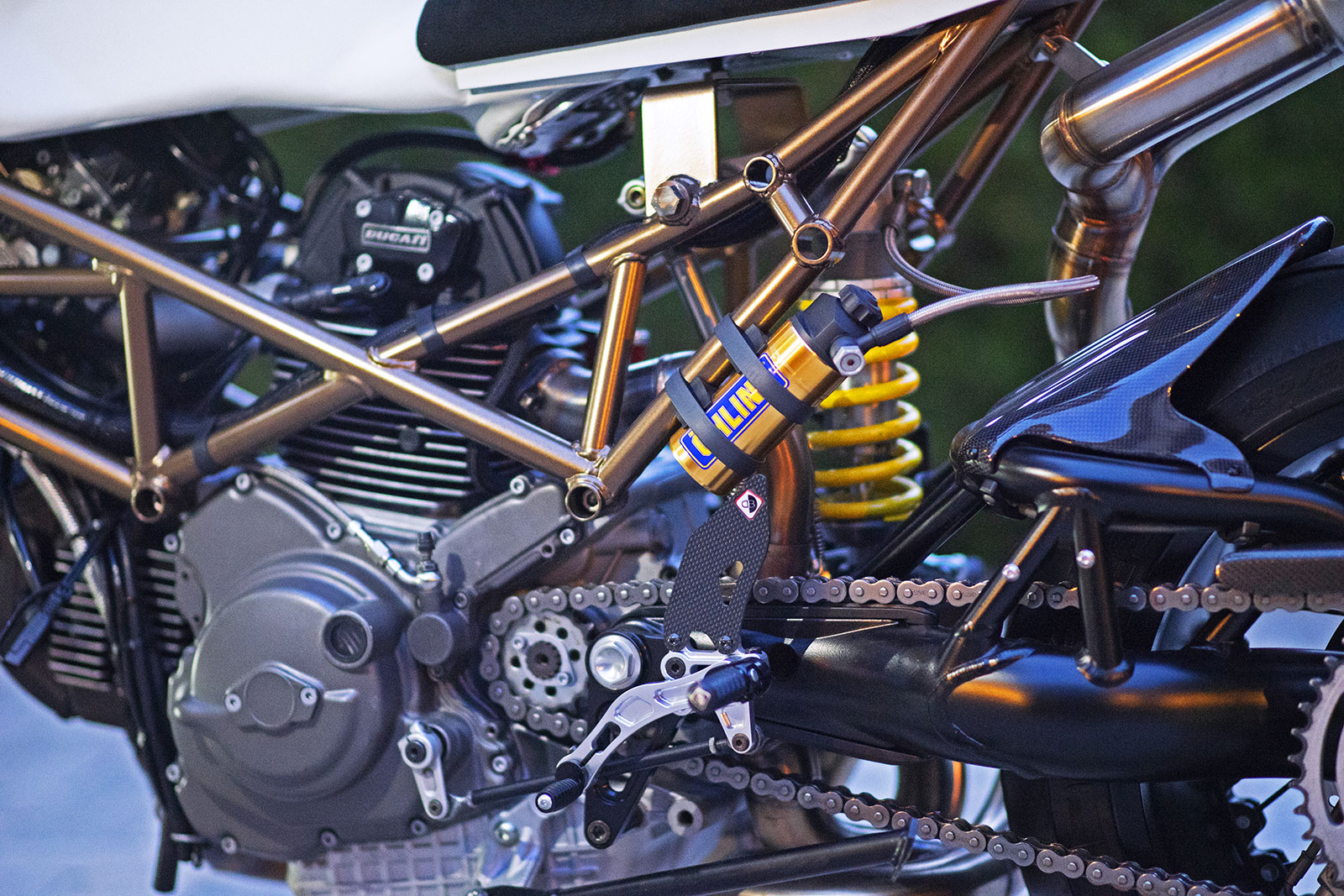 "Our bikes are hand-built with custom parts utilizing CNC cutting, 3D printed technology and tig welding fabrication," says Andre. "We also use OEM and top of the line aftermarket parts consisting of our most respected brands."
As you cast your eye over GP1 you're sure to spy several of those brands which further add to its track-ready demeanour. You'll also see a spattering of carbon fibre components that help keep the weight to a bare minimum, braided brake lines for improved stopping performance and a trick gauge cluster that utilises a GPS speedo and analogue tachometer.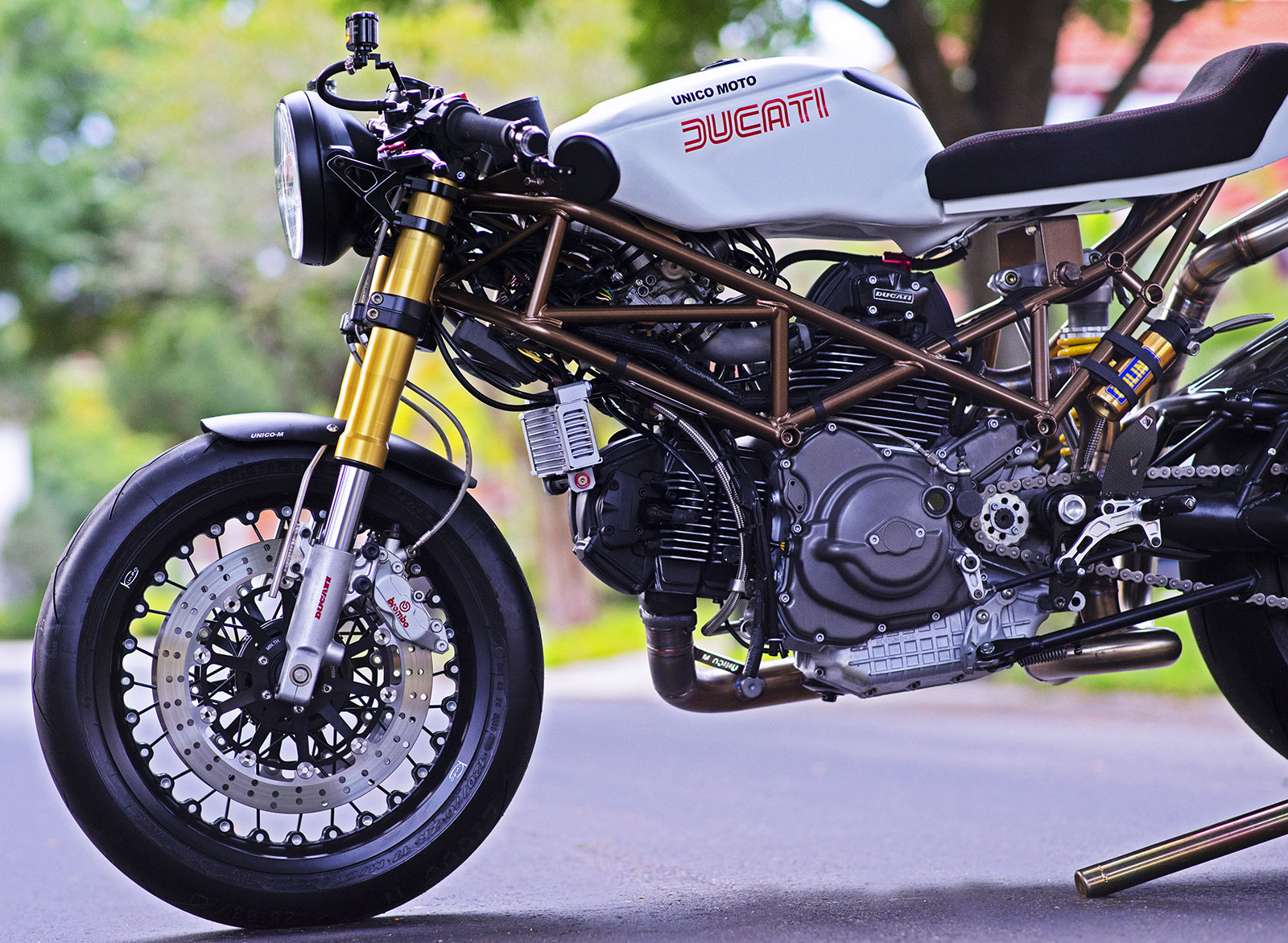 Looking at the finished bike and the long list of modifications it's clear that piecing this bike together was no walk in the park. When we asked Andre what the hardest part of the build was he said, "I think the most challenging aspect was the time we spent developing and researching the specific parts and the asthetic we were chasing. We wanted this bike to be symmetrical and aesthetically pleasing in all aspects."
I think we can all agree they've achieved exactly that.