The Ducati Monster needs no introduction. Hailed as the motorcycle that saved the Italian brand from going bust they've sold a staggering 350,000+ of them. Since the Monster's release in 1994, Ducati has released its evergreen naked bike in a plethora of different capacities, specifications and prices. Amongst them was the Monster 600, a middleweight and more affordable model which helped attract new riders to the Ducati Marque.
Although the Monster 600 lacks the same punch as its larger siblings, it is a solid performer and when you combine that with its affordable secondhand price tag you've got yourself a decent starting point for a custom project. This was precisely the conclusion that Roberto Passaro, the man behind the social media channels Ducati Special came to when considering his own Ducati cafe racer project.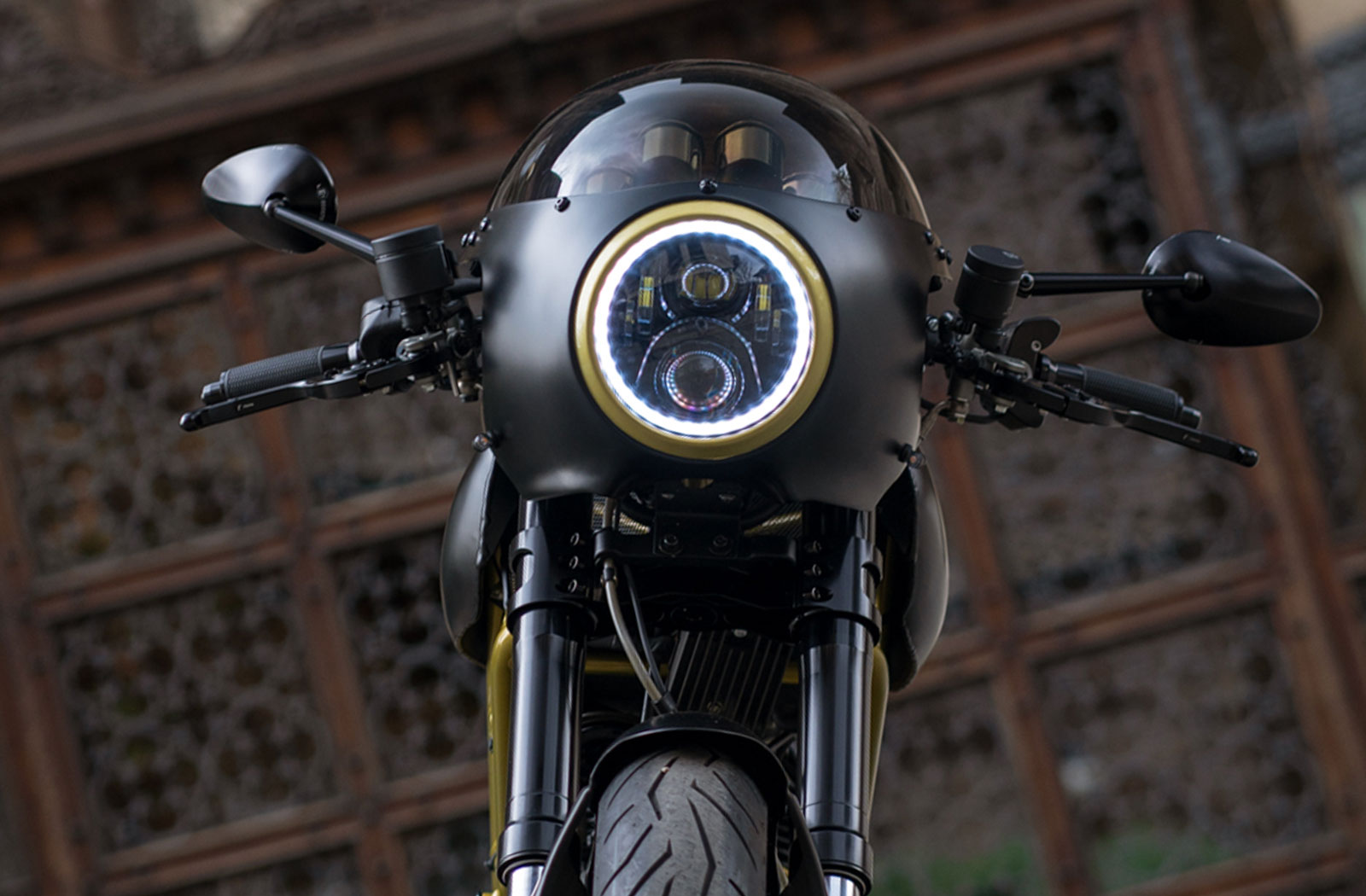 "I wanted a black motorbike that would catch the eye," says Passaro, and to realise his vision, he enlisted the help of Luca Pozzato the man behind Turin's famed Officine GP Design workshop. "Luca understood, supported, and materialized my vision, giving shape, substance, and above all, 'light to black.' It was from this paradox that the bike's name Lucenera was born."
Drawing inspiration from the cheeky, rebellious spirit of the Ducati Monster, Pozzato developed a concept for the project based on Passaro's stygian design brief. Despite having 100+ builds to his name Pozzato tends to work entirely from his own head, avoiding sketch work or digital tools, and this was precisely the approach used for this build.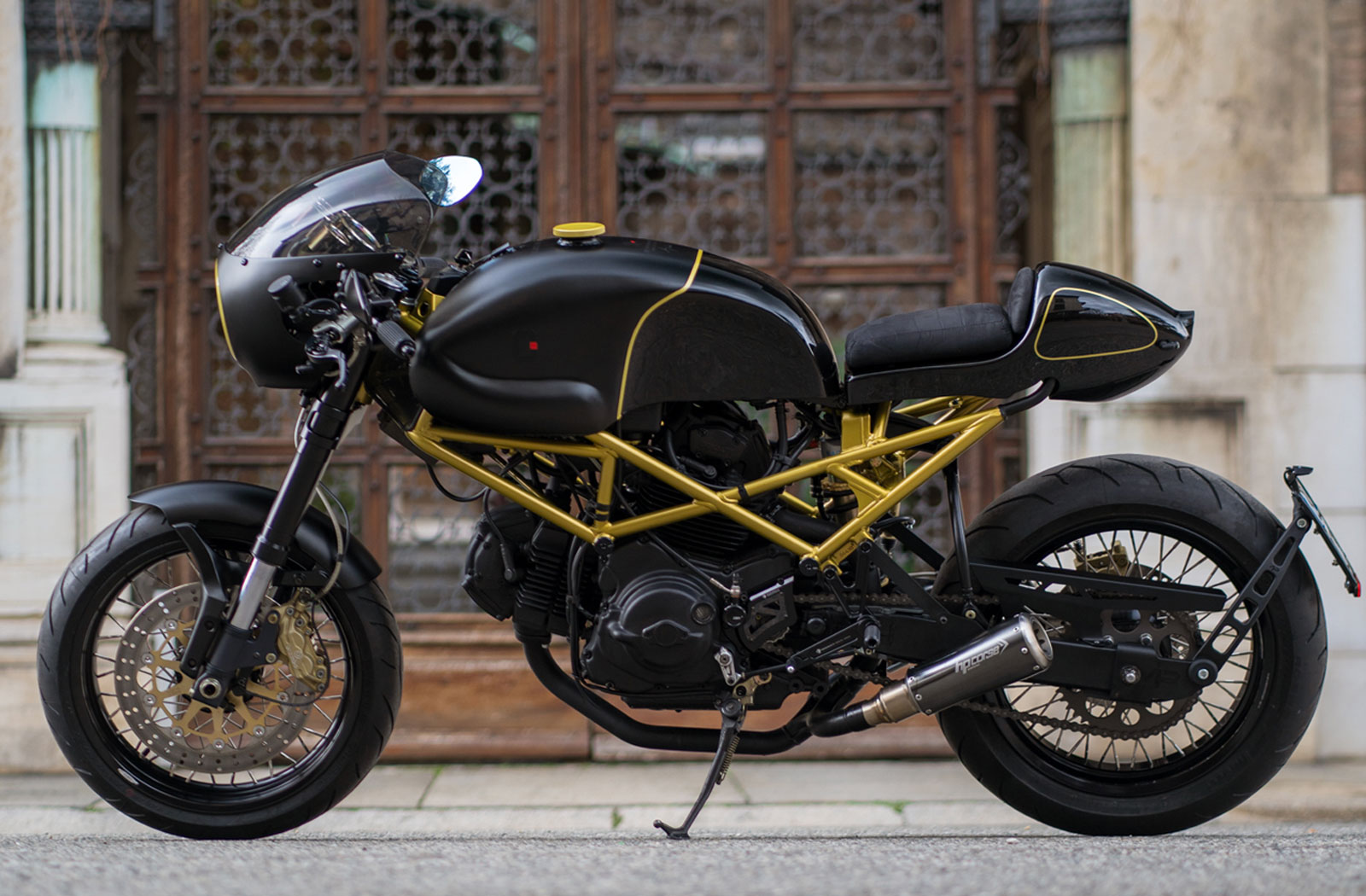 Along with the bike's drastic visual changes, almost every aspect of Lucenera has been overhauled or upgraded in some way. From Rizoma levers, grips, and fluid reservoirs to an STM clutch housing and switch blocks. Additionally, you'll find an AEM Factory steering plate, clutch actuator and frame caps, a set of Ducabike footpegs and sprocket housing and FG Racing clip-ons. The Monster's cockpit has also received a considerable overhaul using a stockpile of Ducati Performance instrumentation which would put some small aircraft to shame. Finally, to maintain a premium level of finish, Pozzato replaced all of the Monster's standard fasteners with high-quality Pro-Bolt alternatives.
For lighting, Pozzato has performed a comprehensive LED upgrade. Sitting in the front fairing is a modern LED headlamp with halo-style running lights. He then frenched an LED tail light directly into the custom-made, monoposto tail unit for a fully integrated finish. As for the tiny, ultra-bright turn signals, they come courtesy of the Rizoma catalogue.
A standout feature of this project is the handmade aluminium fuel tank. Along with giving the bike a more classic silhouette, its sides create the impression that the bikini fairing extends back like a classic 900SS-style half fairing. It's an interesting approach that we haven't seen done before and although unusual manages to achieve its goal.
In standard trim, the 583cc v-twin of the Monster 600 was good for 53bhp. Although Officine GP Design hasn't made any internal engine upgrades you can be sure this bike would outperform its former self. This is due in part to the fitment of a free-flowing HP-Corse exhaust system and a significant drop in weight. The Monster tipped the scales at 174kg when it rolled out of the Bologna factory. Now thanks to the fitment of lightweight Jonich spoked wheels and a long list of lightweight aluminium components it weighs considerably less. This will undoubtedly result in spirited riding by Passaro, so to help keep the rubber side down, the wheels are wrapped in sticky Pirelli rubber.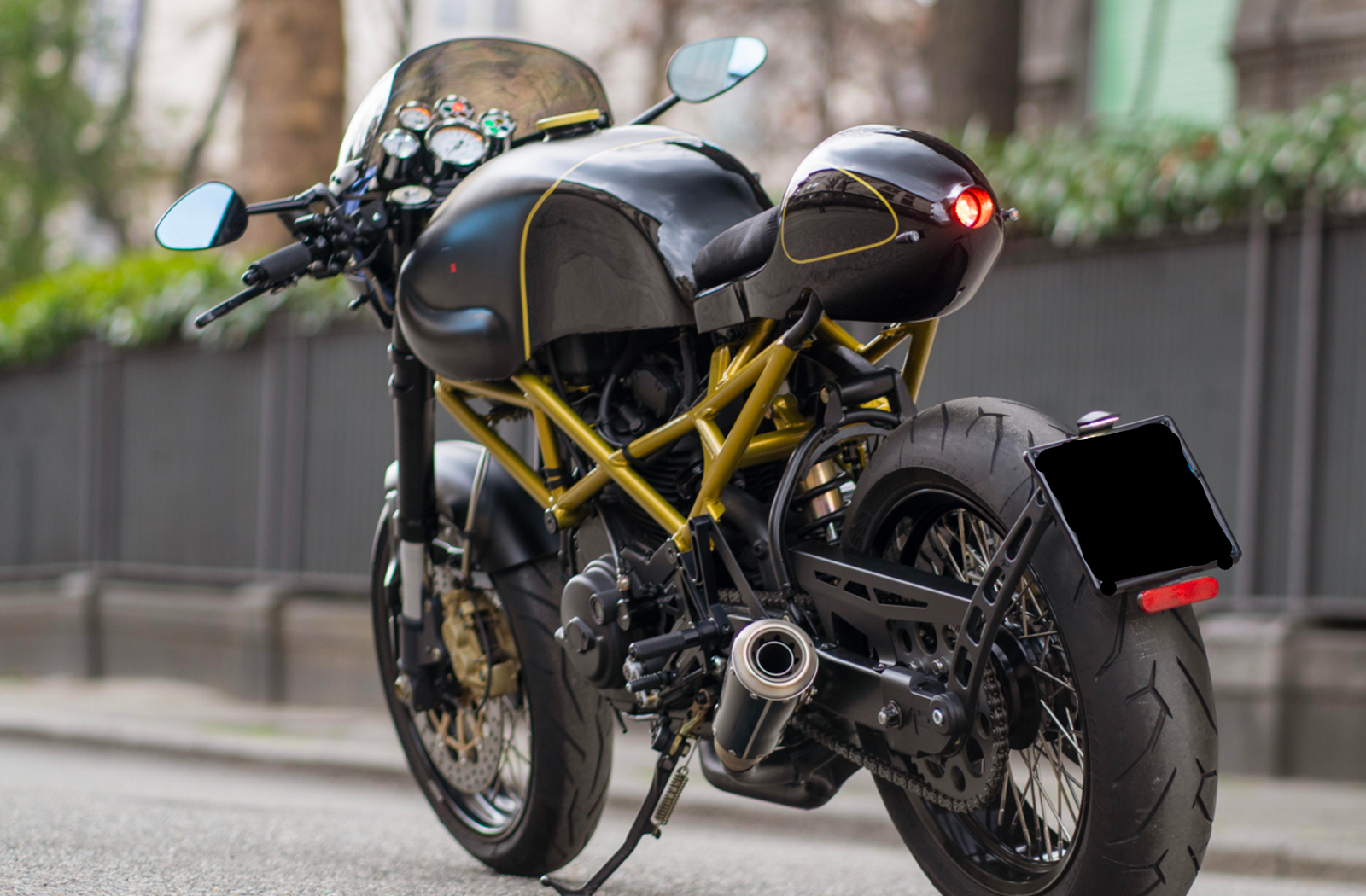 Pozzato has extended his meticulous attention to detail to Lucenera's paintwork. As per his client's brief, the Monster has been finished in a sinister mix of matte and gloss black paint. To bring some light into play he's then painted the bike's iconic trellis frame in gold and added gold pinstriping to the bodywork.
Along with the bike itself Officine GP Design has supplied its owner with a matching, custom-painted Bell Bullitt helmet, a Kurabike-customized bike cover, black Held technical clothing, and a black CT Scuderia watch.
OFFICINE GP DESIGN   /   DUCATI SPECIAL