Back in 1990 Kengo Sakuba and his brother set out to start their own aftermarket bodywork company dubbed 'Gull Craft'. Similar to how manufacturers unveil concept motorcycles at automotive expos, Kengo devised a plan to launch their brand by building a custom motorcycle that showcased their skills with fibreglass reinforced plastic (FRP). The result was the ID2000 which they revealed to the public at 1992 Tokyo Motorcycle Show.
The ID2000 was based on a Suzuki RGV250 platform but due to the extensive use of FRP, the bike was virtually unrecognisable. It wore bodywork that encompassed the entire chassis, engine and front end, featured futuristic-looking aerodynamically focused curves and a unique floating rear subframe design. At the time of its unveiling, it was unlike anything else on display at the show. As you'd expect it gained Kengo and his brother, and more importantly their Gull Craft brand, a lot of attention.
Today, some 30 years after ID2000 broke cover, the Gull Craft catalogue contains more than 60 aftermarket FRP parts. The range isn't as outlandish as the bodywork of ID2000 though. Instead Kengo has built an approachable offering of both universal and model specific fairings for many of Japan's popular motorcycle marques. Gull Craft's latest development however has seen them tackle an Italian-bred machine in the form of a first generation Ducati M900 – and boy oh boy the Monster has never looked so good!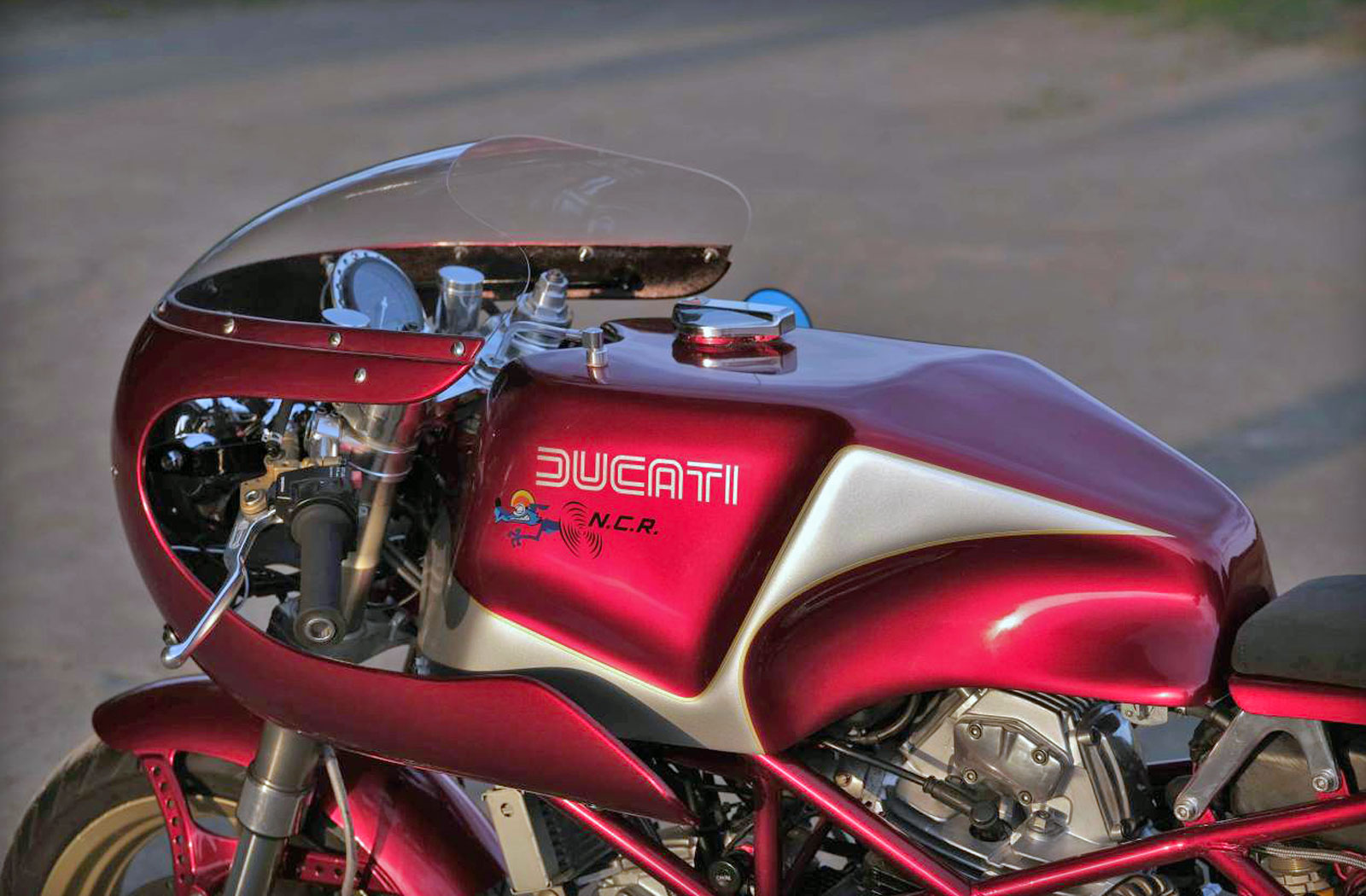 When it was released in 1992 the Ducati Monster was a gamechanger for Ducati and the motorcycling industry as a whole. It rescued the Bologna factory from near insolvency and by 2005 accounted for half of Ducati's global sales.
Although some considered it a "parts bin special" due to its expensive use of parts adapted from other Ducati models, the Monster's muscular styling and paired back design struck a chord with street riders. In the words of Ducati Monster designer Miguel Galluzzi, "All you need is: a seat, tank, engine, two wheels and handlebar,". Rather than disguising the utilitarian elements of a motorcycle Galluzzi created a masterpiece of functional form.
Despite the Monster's undeniably huge success, models of this era are showing their age. There's no mistaking it is a product of nineties styling, but strip away the bodywork and you've got yourself a very nice-looking basis for a custom project.
I've said it time and time again; with so many Ducati Monsters roaming the streets it's hard to understand why they aren't more commonly used for custom projects. Now someone has finally set out to do something about it. Kengo has clearly recognised the Monster's potential as a suitable and readily available custom donor. And it seems he's also fully aware of the current appeal of classic race bike styling in the custom scene. So he's set about building a Monster that's sure to set many a Ducatista's hearts racing.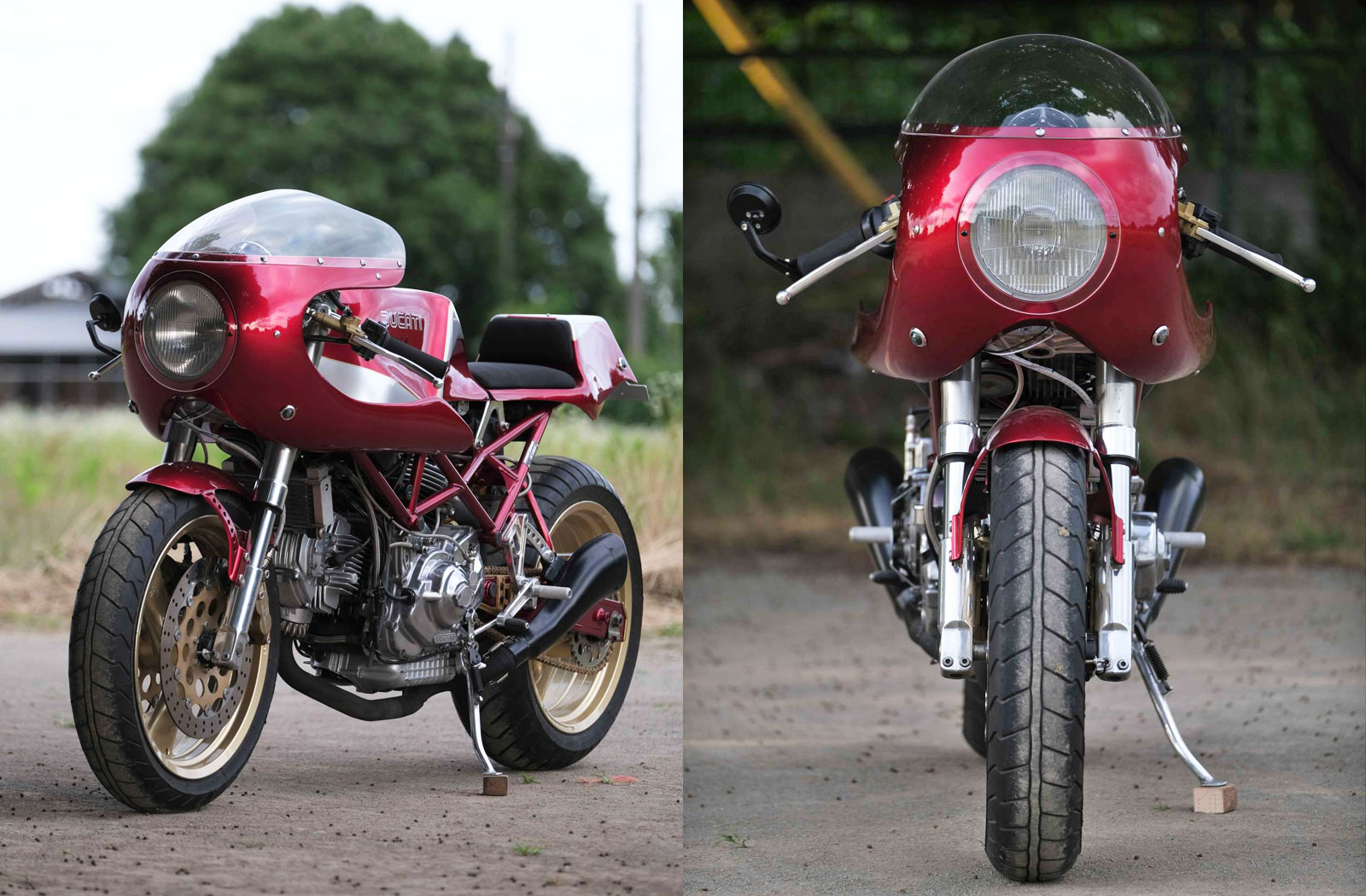 The Gull Craft M900 Monster has been developed as a demo model for a new kit Kengo plans to add to the Gull Craft range. Inspired by classic Ducati NCR racers he's wrapped the M900 is completely bespoke bodywork.
The similarities between Kengo's FRP fuel tank and that used on Mike Hailwood's 1978 Isle of Man winning NCR 900 are undeniable, but he isn't trying to hide the fact. The muscular tank mimics the lines of Mike's iconic motorcycle and wears NCR livery; including the brand's unmistakable Wile E Coyote mascot.
While designing his M900 body kit Kengo has focused on the ease of installation. This meant ensuring that fitment didn't require any difficult fabrication. As a result, the tail unit sits on an unmodified subframe. To create the line he was after the seat is supported it sits on a set of alloy brackets and a sturdy seat pan.
The styling of the tail also takes cues from Hailwood's NCR bike. Here however it's devoid of the side skirts that covered the rear shocks on the TT race bike due to the Monsters mono-shock configuration.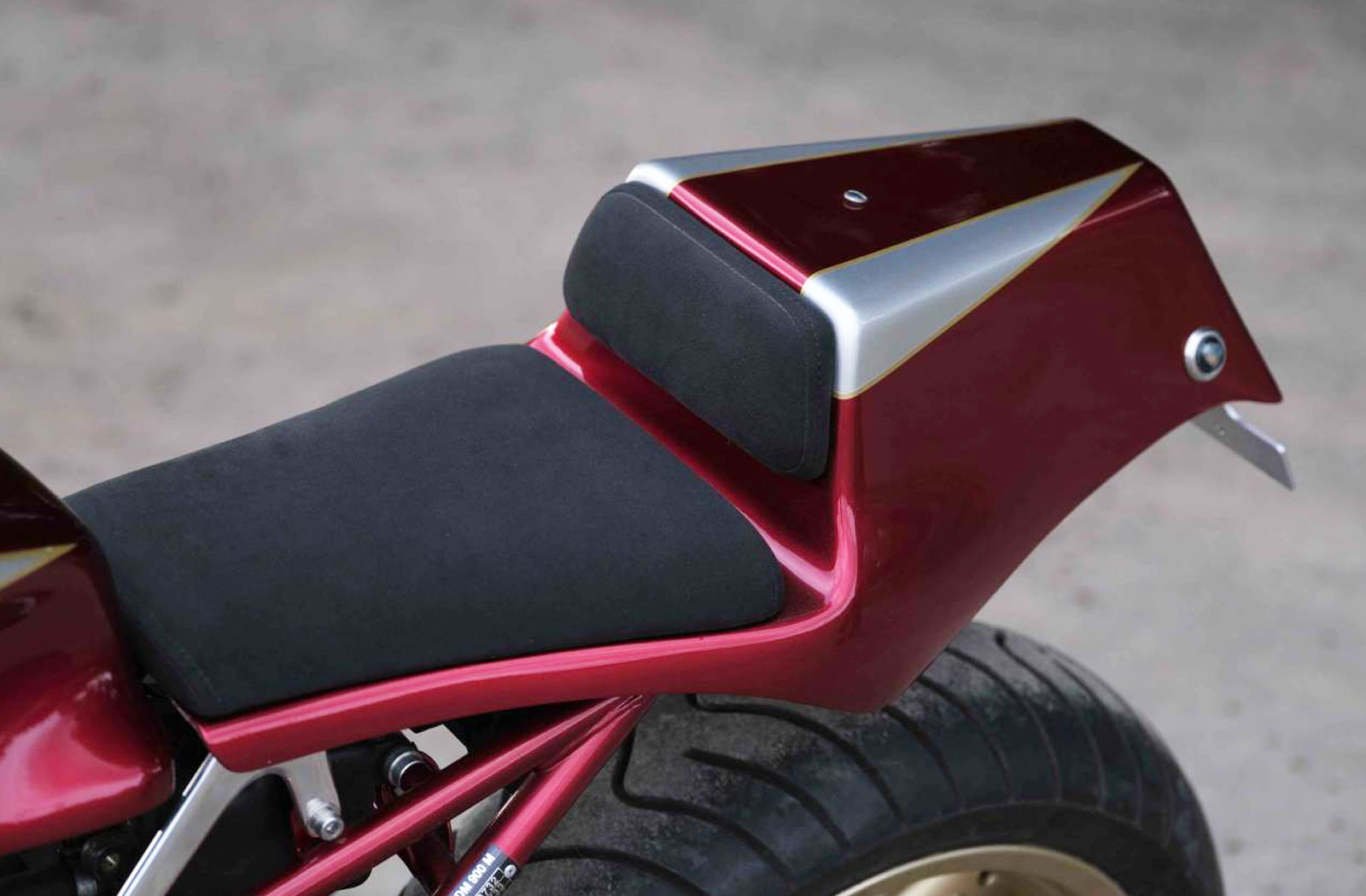 At the pointy end of the Monster is a fairing of Kengos own design. Built specifically for this model it sits neatly around the forks using purpose-built bracketry. Looking at the fairing it's clear he has a good eye by the way he's matched the angle of the fairing to the lines of the trellis frame. He's also managed to keep the Monster street legal without detracting from its track-ready appearance by incorporating lighting into the front and rear cowls.
Seeing as the goal of this bike is to attract new customers, Kengo didn't wrap things up there. The Gull Craft M900 is dripping with meticulously polished aluminium and a spattering of quality aftermarket components.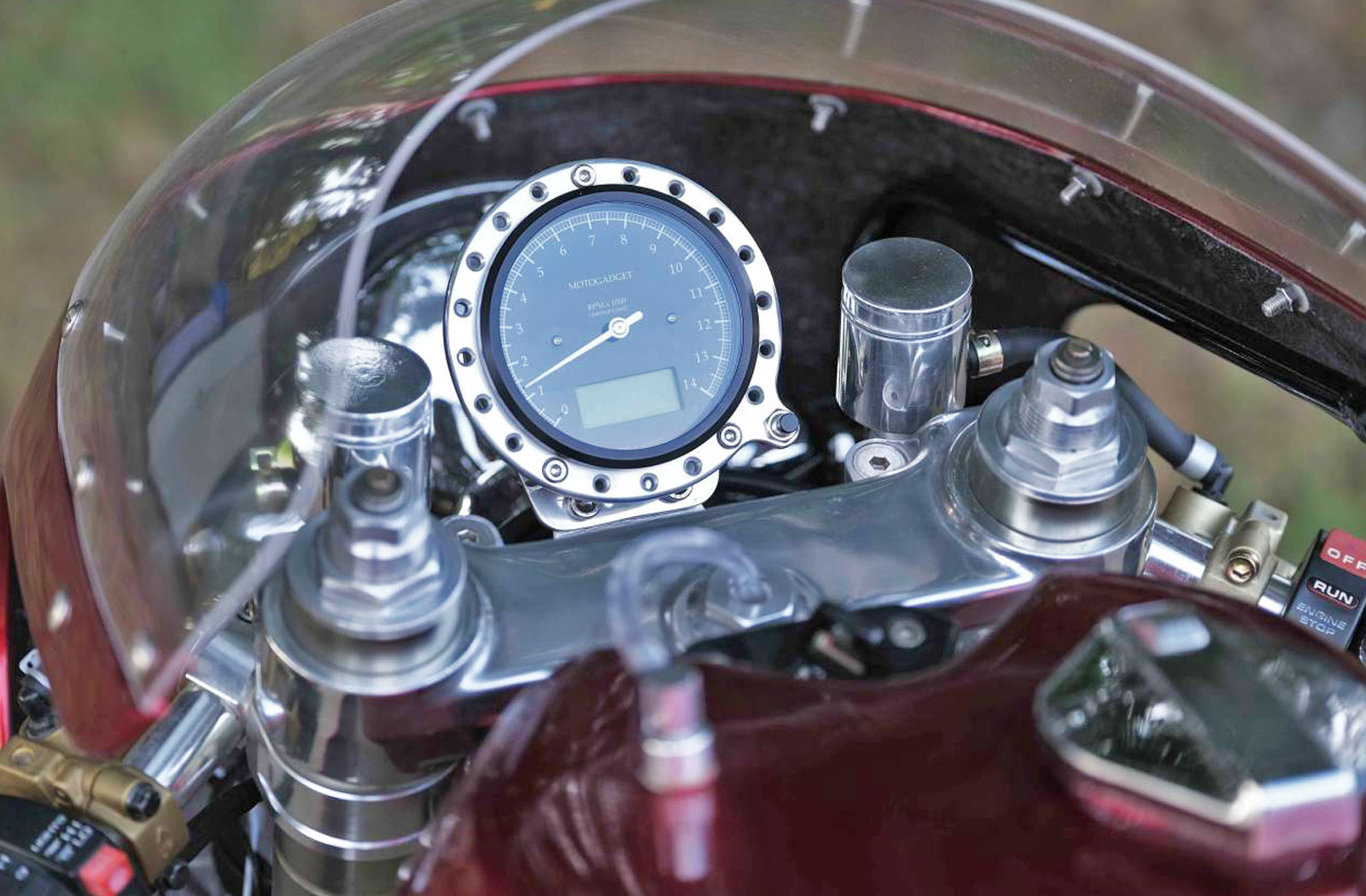 To complement the bike's more aggressive riding position it now wears rear sets by Ducati Performance. Clip-on handlebars hang from the fork legs and the plastic fluid reservoirs have been swapped out with aluminium alternatives. Taking pride in place behind the windscreen is a large Motogadget Chronoclassic tacho/speedo which is held in place by a one-of-a-kind bracket machined from aluminium.
Cast your eye over that shiny 900cc L-twin and you'll spy a few other Gull Craft custom tweaks. They include custom-made sprocket and clutch covers, exposed belt shrouds and a plethora of cross-drilled details. The highlight for me though (beyond the sexy bodywork) would have to be the twin blacked-out mufflers slinking their way up from under the engine. Kengo put them together using a set of aftermarket pipes he modified to suit his vision for the bike.
If this bike isn't enough to tempt you to start searching for cheap Ducati Monster donors – you may want to check if your heart is still beating!