The words Harley Davidson and Cafe Racer aren't often muttered in the same sentence. Along with the challenges builders face trying to massage a good looking cafe racer out of a hog, many consider the notion of a Harley Davidson cafe racer sacrilege. Regardless of that, every so often we see it done, unfortunately, more often than not it's done badly. But the past couple of weeks has proven otherwise. Last week, first time builder Scott McKee had us eating our words with his Sportster cafe racer, and today we have Archie Adelan rubbing our noses in it with this equally impressive Sporster 48.
California born and bred Archie Adelan has been an automotive tragic since childhood. Growing up amidst a booming 1980s car culture scene, and spurred on by a 'gearhead' father, his obsession with all things automotive was preordained. After beginning a career in marketing 20 years ago Archie's work and hobbies are far from aligned, but without one he couldn't have the other. So while the day job puts money in the bank his spare time is devoted to his hobbies which, as you'd imagine, include modifying motorcycles.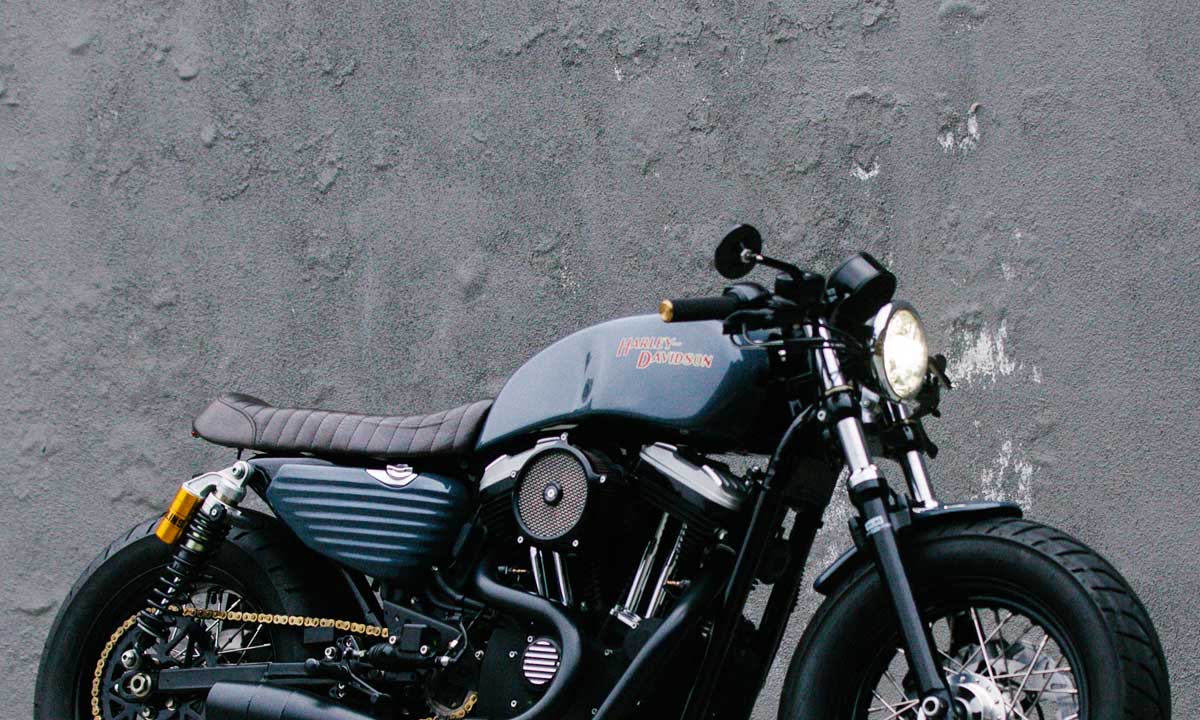 "I'm always drawn to classic design – anything pre-80s," says Archie. "I have a love for four-wheels too (I have an 84 Targa and a 75 2002), but what makes motorcycles special for me is the thrill experienced on each ride and the intimate level of connecting with a bike." It's been 15 years since Archie owned his first motorcycle, a Hickley Triumph Scrambler, and customising his rides has always been an essential part of ownership. Since the Scrambler, he's owned and modified a long list of motorcycles including a 2006 Ducati Sport 1000, 1968 Triumph T120r, 2020 Triumph Factory Custom Thruxton and even a 2005 Vespa GTV. Many of them he still owns and the few he has sold only ever went to people who he knew would appreciate them as much as he did.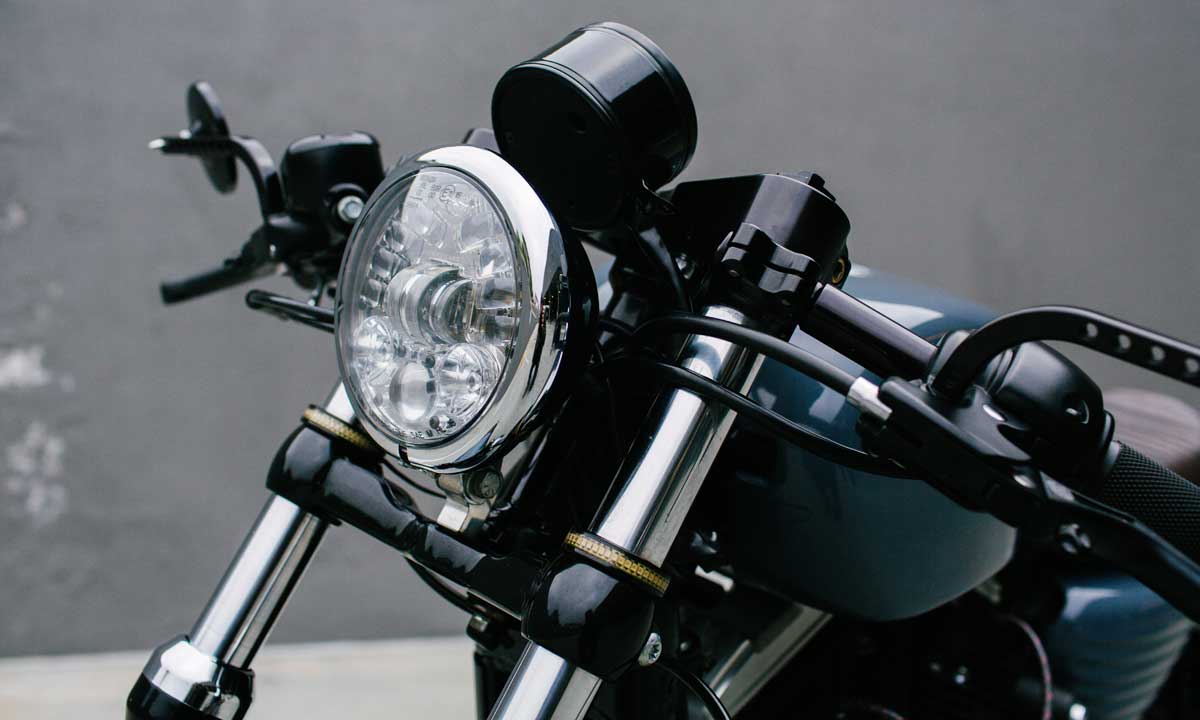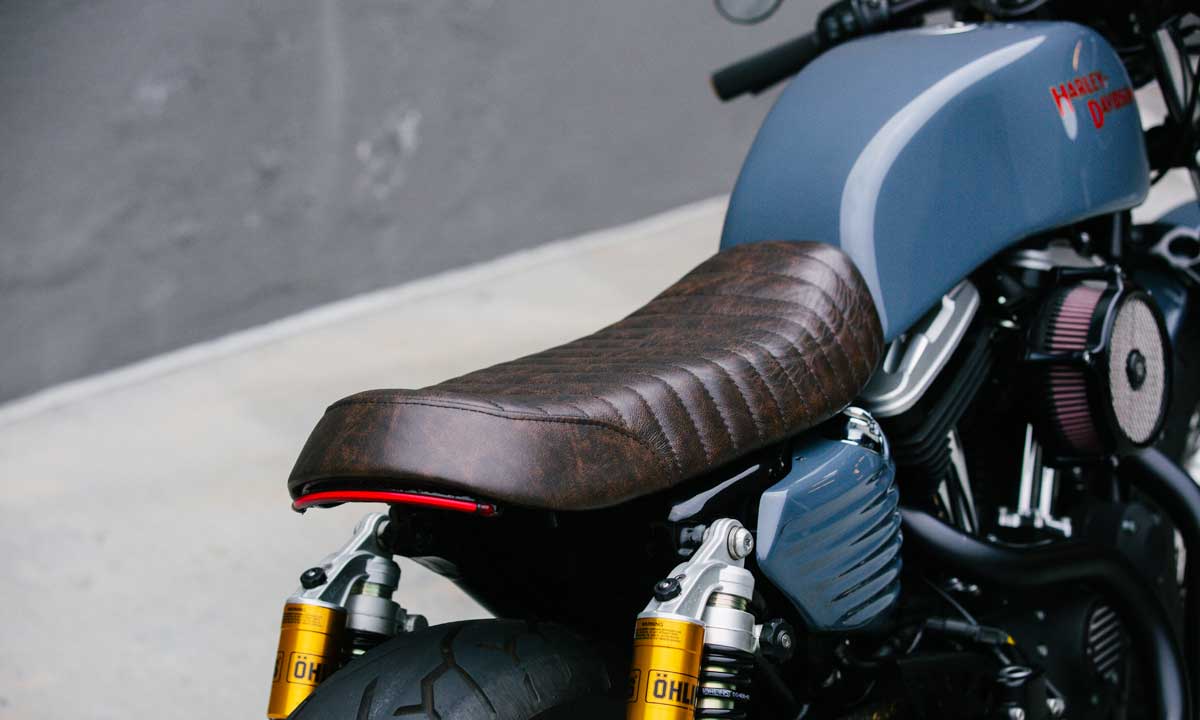 For his latest project, Archie's reworked a 2014 Harley Davidson Sportster 48. Despite purchasing the bike new in 2014 the process of modifying it didn't start until 2017 and took 3 years to complete. "This was a personal project of mine," he says. "I bought the bike brand new at Glendale Harley Davidson. It was nothing particularly special. Design inspirations were taken from everything that influenced me up until the start of the build. From all the bikes I've owned to the exotic cars I've been fortunate to experience first hand. I wanted the full experience, something enjoyable to look at and a bike that would perform at a higher level than most Sportster's out there. The Sportster you see here is that dream realized."
Achieving his dream meant big changes for the Sporty. "I started by cutting some weight. I chopped the rear seat-stays and used lighter material for the seat, fuel tank, fender and side covers," Archie says. He then worked with some of the best custom builders in the game to get the best result. In this instance, it was through collaborations with Storz Performance in Ventura, California and San Diego's Alchemy Motorcycles. Archie tasked Storz with executing his vision of what the Sportsters cafe racer style tank should look like. Following the contours of the v-twin, the tank slouches over the engine, doing away with any unsightly gaps. Knee indents add a cafe aesthetic while its low profile keeps everything beneath the top clamp for a streamlined stance. "Pro Art Paint out in Culver City, California painted the tank in Porsche's Graphite Blue. It's my favourite colour for a water-cooled Porsche and they finished it off with a classic Harley Davidson logo in contrasting red."
Alchemy's role was to create a saddle that complemented the Storz tank. The design leaves room for a passenger and levels out the Sportsters sloping bone line. The Alchemy team also tackled slimming down the lighting and they've nailed the brief using LED strip lighting for the taillights and fork-mounted indicators. "The fine art of restraint was definitely applied here," Archie says. "This build could have easily gone overboard with so many design influences."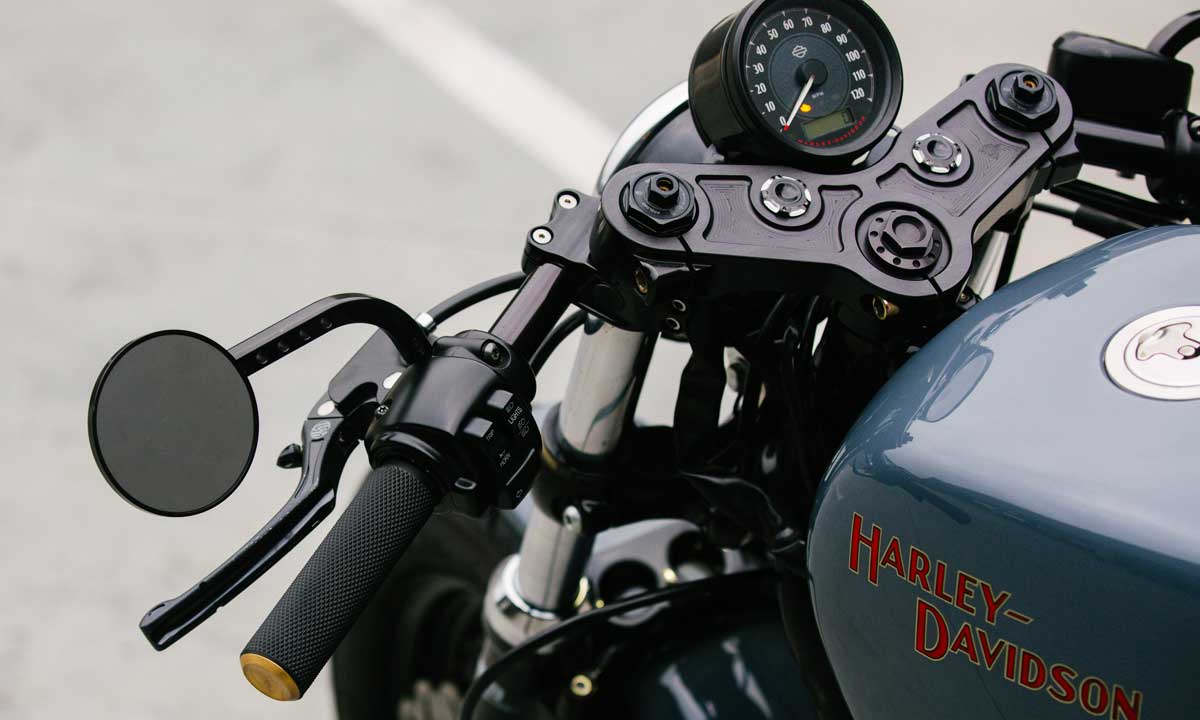 When it came to performance, Archie wasn't going to do anything in halves. "There are so many modern classic motorcycles available that already outperform the Sportster. Part of my goal was to push the limits of the Sportster's performance capabilities." Getting the Sporty to handle right was his first challenge. Swapping the front end was a serious consideration, but it was decided a USD setup wouldn't suit the look he was after. His workaround saw the standard 48 forks fitted with Ohlins cartridges and to balance things out Ohlins top-spec shocks now manage the rear. As for power, the Sporty needed triple digits at the rear wheel to bring it up to spec with the likes of Triumph's Thruxton R or the Kawasaki Z900RS. Getting it there required a jump in capacity to 1275cc using a Hammer Performance bore kit. This was then paired with a high flowing air filter and 2-into-1 exhaust. Archie reports the difference is night and day says it would have no problem keeping up with the other bikes in his garage, with the exception of his BMW R1200GS.
"I get the occasional naysayer that hate on why I built a cafe racer out of a Sportster," Archie admits. "I looked at it as an opportunity for improvement which made the build experience much more exciting. I had to get creative and identify ways to improve the bike's performance beyond off the shelf bolt-ons. The point was to build something special and move away from the cookie-cutter styles out there." I think we can all agree that's a job well done.
Photography by John Ryan Hebert