How did you get your hands on the donor bike for this project?
Gary: I found this bike in a mate's workshop (Moto Italia) in Sydney. It had been partly pulled down for spares and was labeled as "beyond repair" after being in a crash. It was sitting upstairs in a corner looking very sad so I made an offer. After having a chat with the guys I decided to do a bit of research on the bike to see if the frame could be re-registered. I called the Roads and Maritime Services and it came back clear so I purchased a Personal Property Securities Register certificate to have it on record. This didn't happen over night, but after a few weeks I was ready to settle the deal and start making plans for the bike.
I picked up the phone and said "Dave, I'll pick up the ST2", Dave's replywas "GONE!". A bloke that was working for ItalSpares in Adelong had bought the bike as a side project a week before. It was the same guy I speak to often when I need older parts for my Ducatis so I reminded him about wanting the ST2 every time we talked and made sure he didn't forget.
After about 6 months of reminders I got a call from him and he told me that his missus wanted to go back to Queensland and was ready to let the ST2 go since he couldn't take it with him. A mate of mine had just delivered a bike in Port Melbourne and was on his way back to Sydney so I got him to pick it up on the way. In the end I paid less than what I was originally going to pay for it and the project was underway.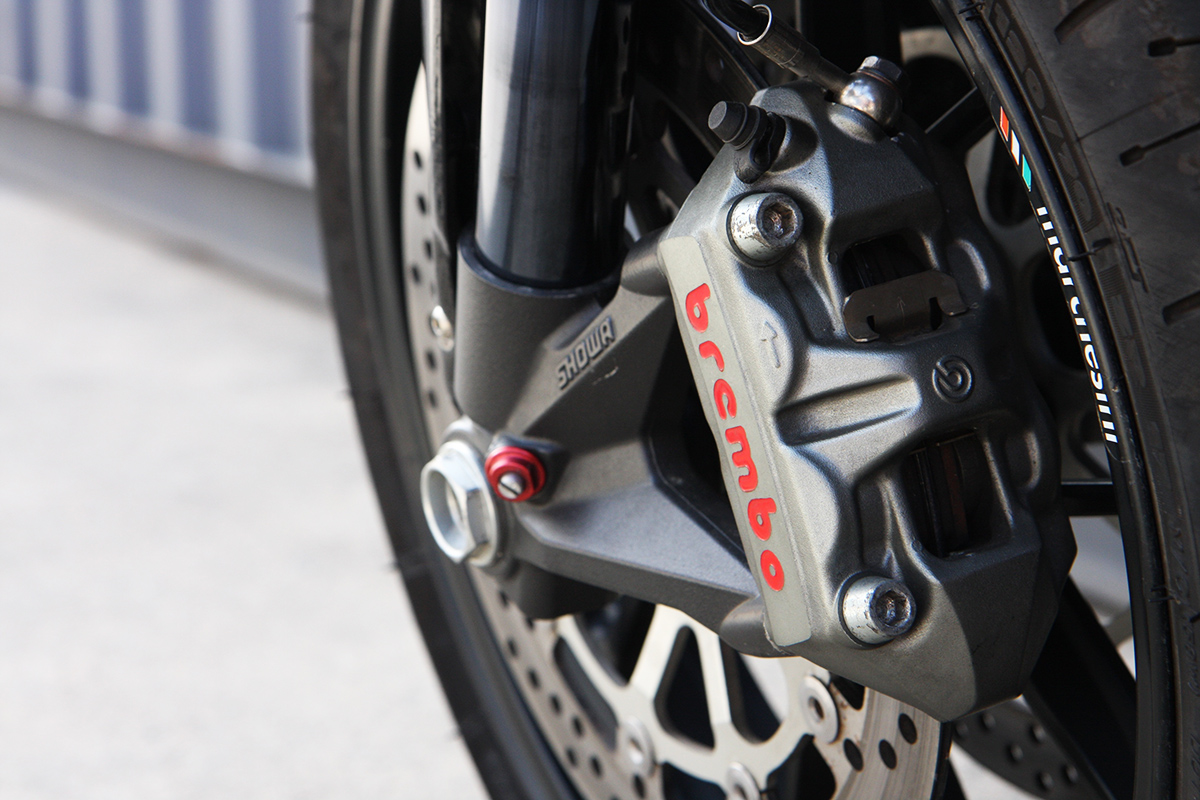 Why did you choose a wrecked bike for your project?
In NSW we don't have the "Repairable Write Off" classification for crashed vehicles. The bike was built because I knew the frame was good and could be registered again. However, I did not like the rest of the bike, so everything went on eBay. I ended up doubling my money and establishing a healthy build budget after selling off everything but the frame. Then it was just a matter of waiting for the second donor bike to turn up.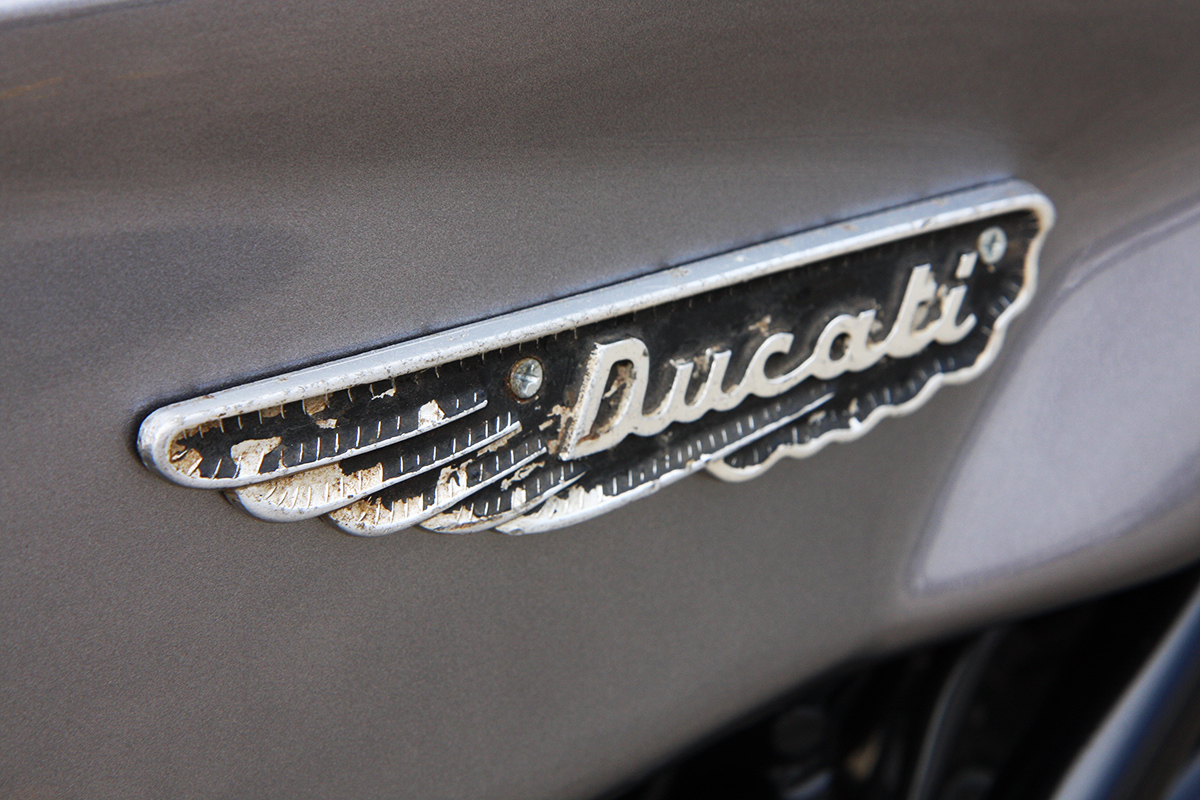 So after you found the frame how did the rest of the build come together?
At the end of 2013 I had the frame almost ready, but as the story goes life got in the way. I had too many projects, was getting married, had an accident on another motorcycle and then rebuilt the bike that was damaged in the accident. This pretty much chewed up 18 months. So, in mid 2014 I decided to hand the project over to my brother to see if he could get it happening.
My brother enjoys working on bikes a lot more than riding them and I thought this would be the perfect project for him. After a couple months, we found a second donor bike, a Monster 1000 DS. It was perfect and had everything we needed like bigger wheels and a good, simple engine. We got that bike through word of mouth from a friend Enrique, who is the owner of Sydney Motorcycle Transport. It was in a workshop in Sydney getting assessed after an accident. After agreeing on a price, we met the owner and handed over the cash. When we got the bike home we checked if everything worked and everything was in good order except the triple clamps, which were twisted. So now we had a good frame and an excellent donor.
This bike became my brother's weekend project assisted by me. After watching him work on the bike I soon realised that we were going in different directions building this project together. So I sold the bits that I had bought and let him finish the project himself. By 2015 the build had stalled again and not much was happening. Everything he'd done was working, except it looked like shit and we were wasting a good frame and engine. So in late 2015 I convinced him to buy another bike (a 1996 Ducati 748 signed by Luca Cadalora) and hopefully focus on the new toy. It didn't work and he was still passionate about the project. Now he had two bikes I wanted! I continued to buy parts and was determined to get this project back in my hands. After a few months of begging him he wrote me a receipt for the project and it was back in my hands again.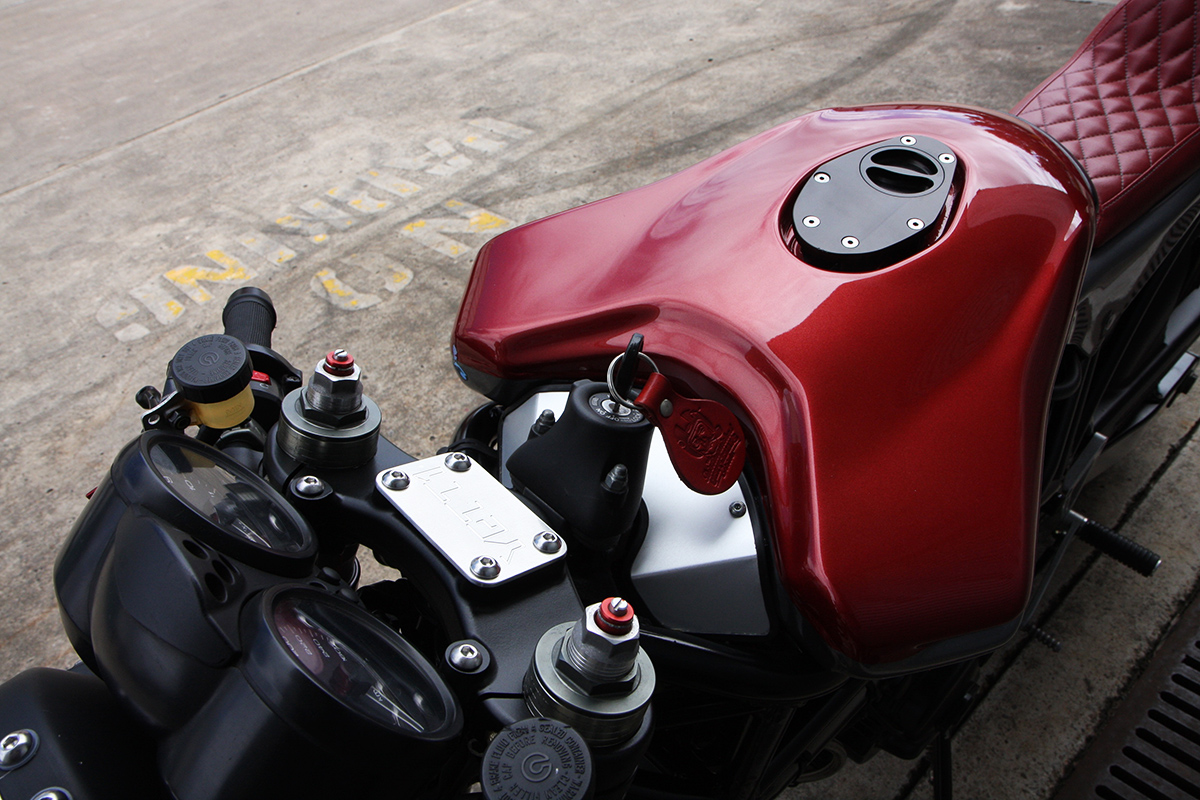 What was your vision for the project?
The idea was to use Ducati parts from different bikes using a mix and match style approach. I've always liked the look of Radical Ducati and ShedX builds so they were my major influnces. I wanted to keep it simple, air cooled, no radiator and no fancy electronics. Ideally, a carb model would have been my preferred choice.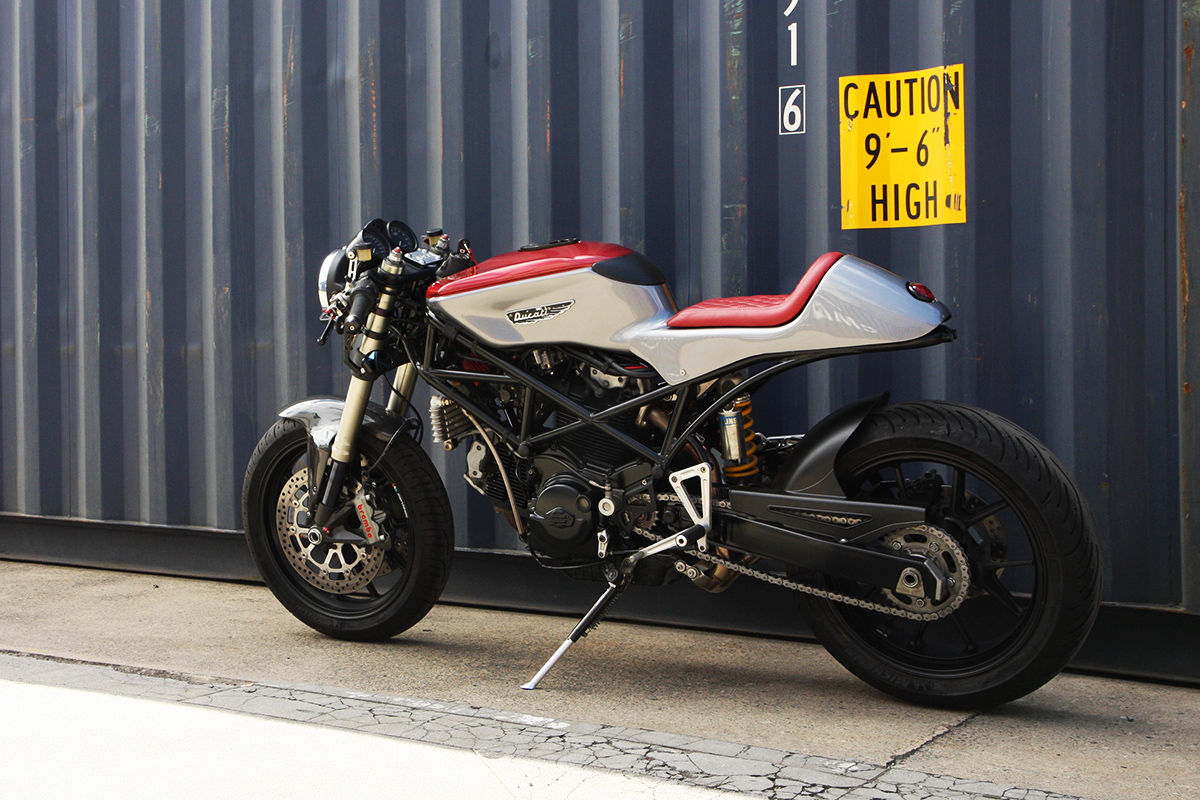 Can you walk us through some of the work you did during the build?
The frame had been cut and chopped, but never finished. I didn't know what seat to use so I focused on the rest of the parts first. The front forks/calipers came off an 1198 with a 749/999 front wheel and disc. I measured them up and the offset was correct for the radial mount calipers. The chunky lower triple clamp looked so good on the USD forks, but I wanted to use the original steering stop on the frame and the 1198 triple clamps didn't allow this. With a bit work, I was able to use a Monster 696 lower triple clamp with the original ST2 top clamp (bored out to 53mm by DNA Custom Cycles). The dash then had to be lowered as it sat too high on the bike. The headlight and bracket was a Gumtree special and indicators are from eBay (they looked ugly when I opened the package, but they have since grown on me).
The rear end is a standard Monster swing arm with a 749/999 rear wheel. It needed some spacers inside and out which were also made by DNA Custom Cycles. The exhaust headers are off a Multistrada 1000/1100 DS and are mated to an Arrow 2-into-1 system modified by DNA. The conical muffler is from a Honda CB600, I ended up flying down to Melbourne to see what it looked like, before I bought it as photos weren't given me a clear enough picture.
When it was time to do the frame I seeked some advice and help from Motorretro in Seven Hills, west of Sydney. Vaughan and Georgio were a great help. I signed up to their 24 hour class and this gave me access to their workshop and use some of the tools. I wanted to do something simple with the frame, like a straight tube up to the subframe, Vaughan and Georgio just looked at each other and said NAH! We all agreed that it should look a little different to a Radical Ducati or ShedX frame. Because the frame is so triangular and boxy, we introduced a few curves. I cut some tubes and bent them until we had the right lift and length. The rear loop was then match to the seat hump, but because we didn't have the right radius Vaughan had to hand beat it into shape. Brackets were fabricated to fit the rear sets from a Ducati 851, I was just going to use a 2mm plate but decided I wanted to keep everything trellis on the frame so we cut the center out.
The 749/999 tank wasn't so hard to fit, but getting the line as low as we wanted was prevented by the rear cylinder head. It was in the way and there was nothing we could do about it. It was also a bit of a guessing game as we didn't have the fuel pump at the time so we didn't know how low it sat out of the tank. This ultimately determined the final seat height and line of the bike.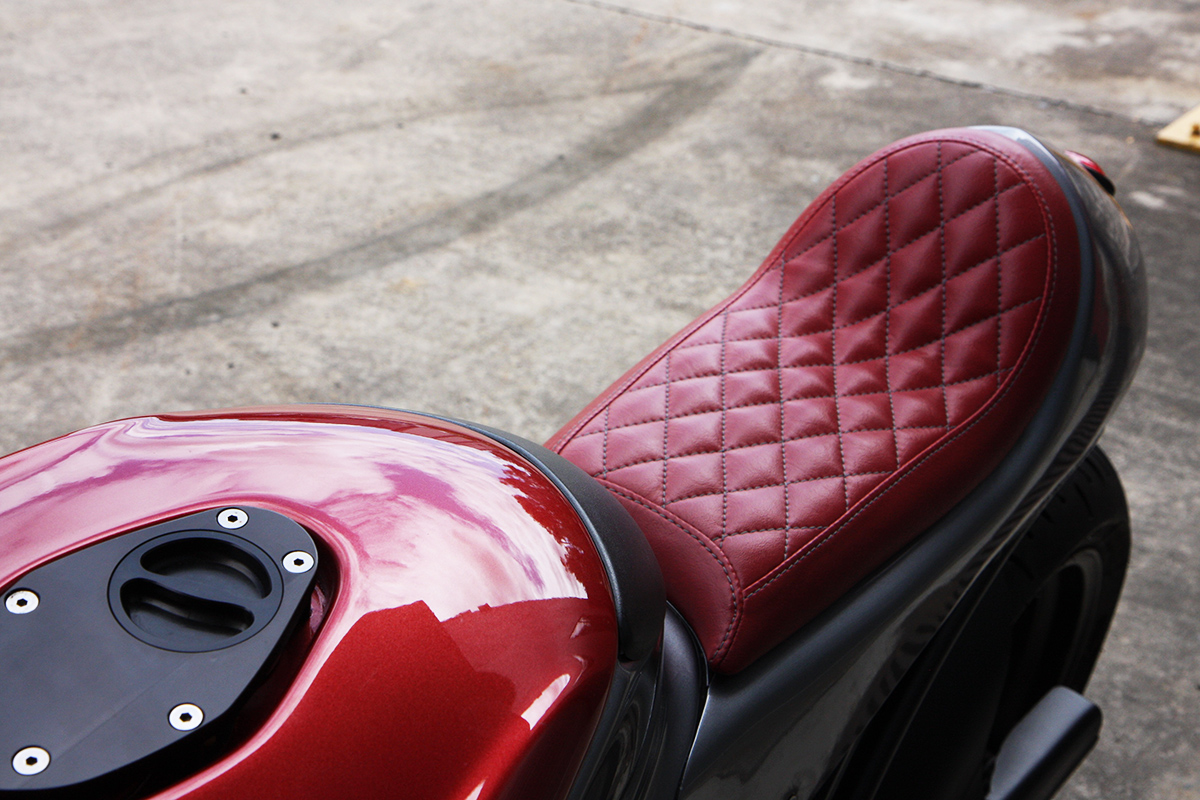 The seat and tail is a one off piece. I just wanted to purchase a glass race replica unit but Georgio at MotorRetro said no way! He insisted that I do something different. So the rear hump is off a BMW R80 the side panels of the seat were made from a flat sheet of metal and shaped using an English wheel, then welded to the hump. The base has 2 parts, a seat pan and a base with the hump storing the Lithium battery and some wiring. The seat took me almost 3 days to get it all welded together. The process included cutting the pieces, making templates, hammering, English Wheel work, stretching & shrinking, spot welding, tig welding and lead wiping.
I also decided to recess the rear tail light into the seat hump for a cleaner finish. Vaughan said it would take me a day just to make the right half of the cone to house it. I did it in half a day, using a cupcake pan!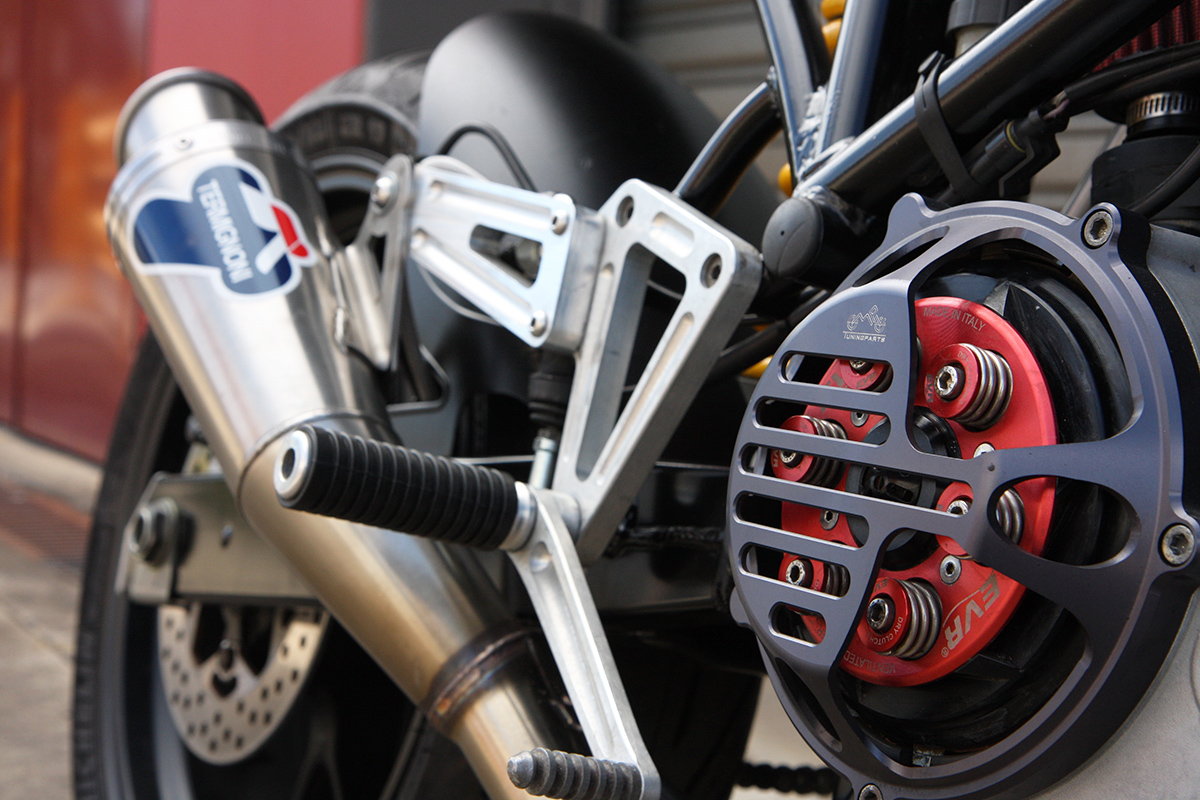 The engine had some work done as well. High comp piston, higher lift cams with bigger valves and, ported and polish heads. The dry clutch is standard and I added an EVR pressure plate and MPL cover.
Was there anything done during this build that you are particularly proud of?
I think doing the frame and seat, working with steel again brought back memories from high school when I did metal work.


BUILD SHEET:
Ducati ST2 frame
1198 radial front end
749/999 wheels
749/999 tank
Monster 696 triple clamp
BMW R80 seat (hump section)
Ducati Multistrada exhaust
Honda CB600 muffler
Ducati 851 rear sets
Cup cake pan
Earlier this year I headed to Sydney with Luke from Tank Moto to shoot a few stories for an upcoming issue of the mag. While we were there we spent some time at the MotoRetro workshop where I was fortunate to meet Gary Vicente. After talking with Gary about his bike collection it became pretty clear that he had a soft spot for European scoots, Ducatis in particular, and his latest build confirms my observation. Over the past 3 years he's been working on and off on putting together this '97 Ducati ST2 framed cafe racer, learning a few valuable fabrication techniques along the way.