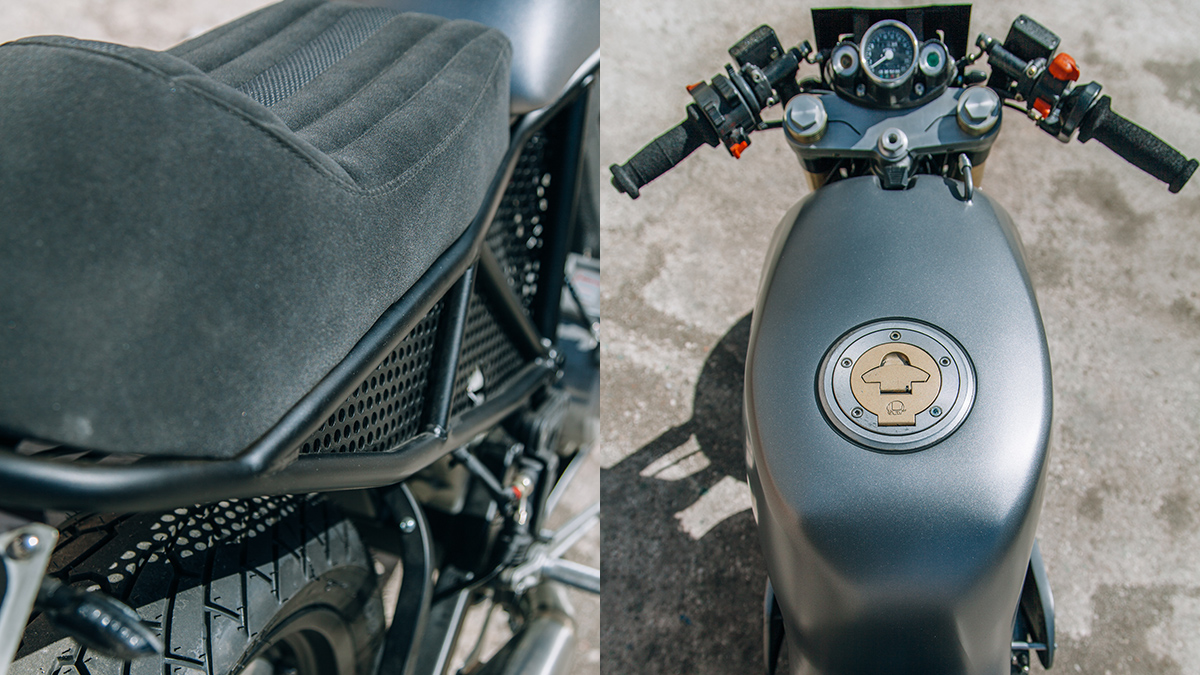 After spending two years working at the Italian custom workshop 'Factory Moto di Ferro', Maurizio decided to start Imbarcadero14 Venice. IMB14 got its name because it is located in a Venetian lagoon amongst the other local motorcycle artisans and specialist workshops of Venice. Together with his girlfriend and small team of workers, he now builds motorcycles for customers all over Italy.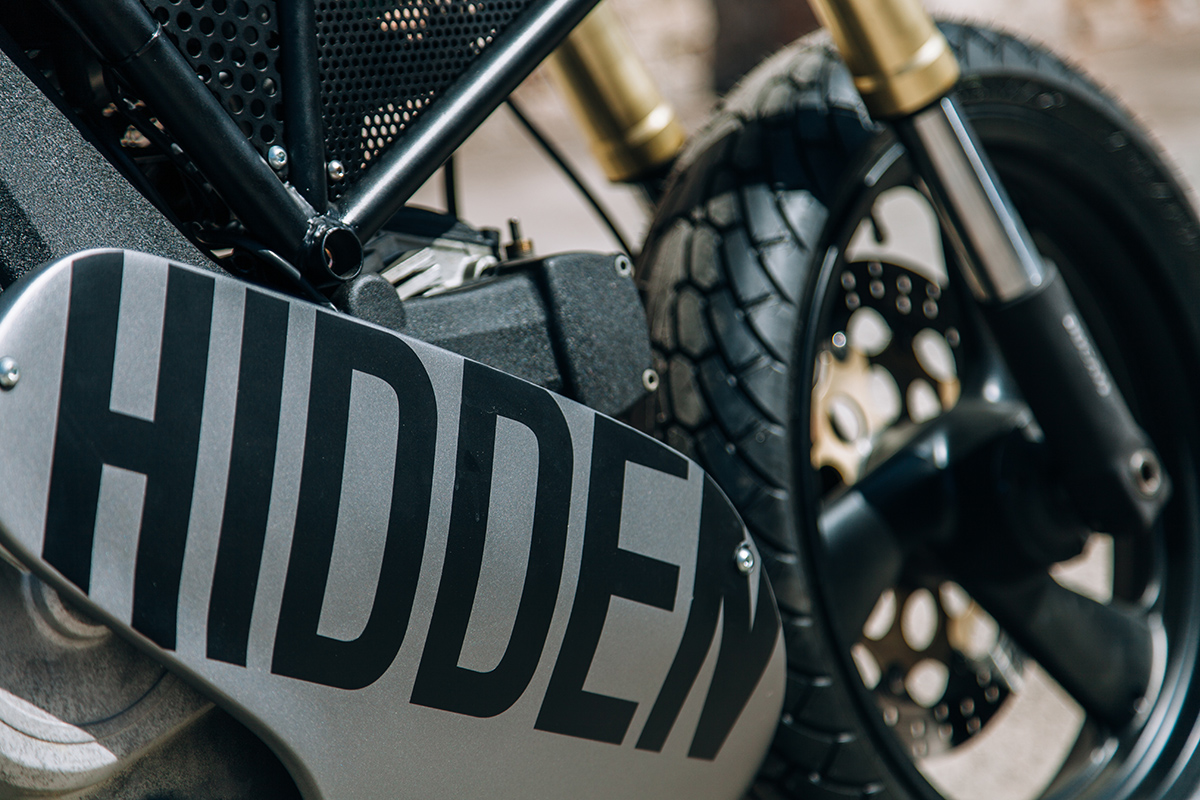 The Ducati, which has been named 'Hidden' thanks to it's engine being masked by custom bodywork, was built for a young customer who was wanting a bike that couldn't be easily labeled using classic styling references. To do this Maurizio focused on fine tuning the bikes proportions and creating bespoke design solutions rather than adhering to any set style or utilising off-the-shelf parts solutions.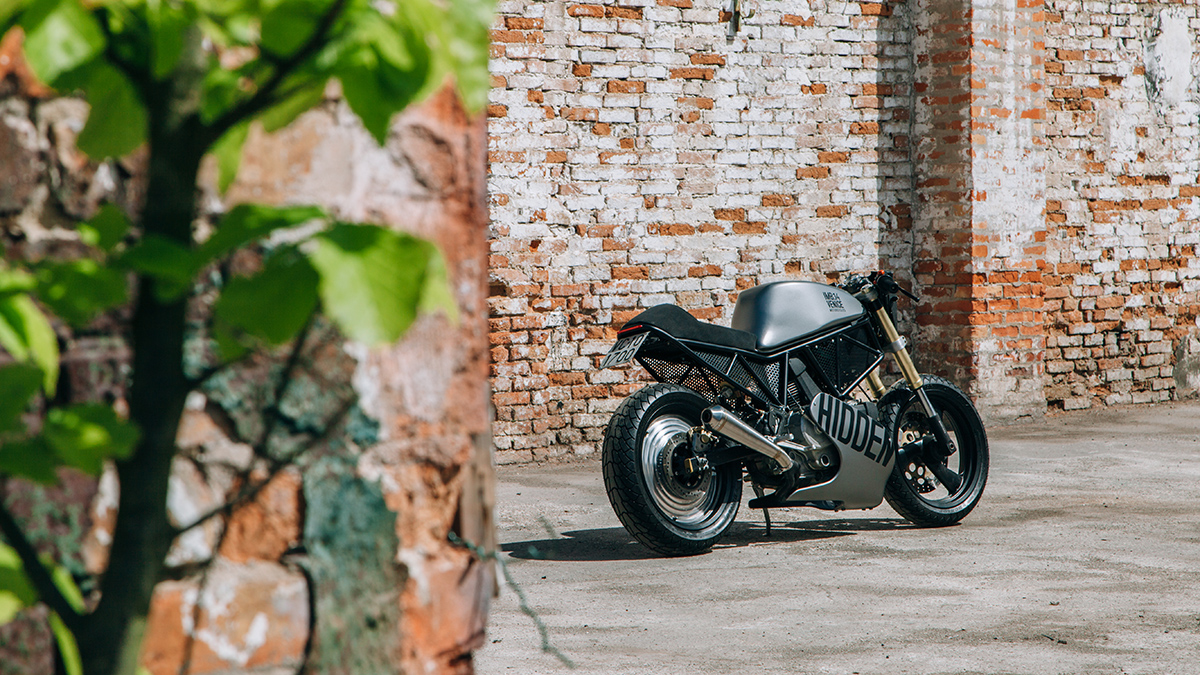 After the bike was stripped down and all of it's plastic bodywork discarded, work began on the frame. In the rear it was trimmed and closed using a custom upswept hoop. To disguise the 600SS engine and running gear, perforated paneling was then welded into the frame to help give the bike more visual bulk without compromising kerb weight. With the new subframe finished a custom, suede covered seat was constructed with LED tail lights and indicators tucked into the tail.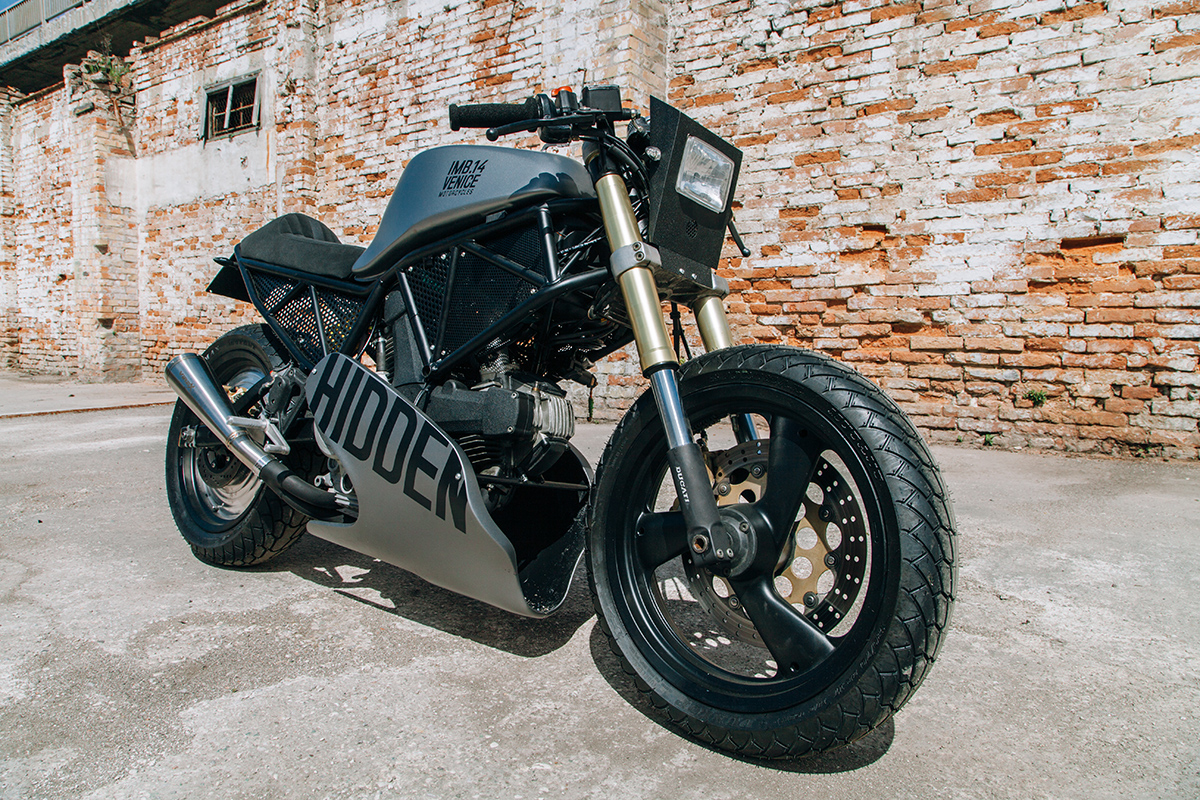 For a cleaner profile the original 600SS tank underwent a few cosmetic changes, most notably the removal of the the hump on its back. To add more visual bulk to the little duke the factory 3 spoke rear wheel was then covered using ribbed alloy discs.Filling the void between the engine and the road is a custom underslung fairing, which helps to visually lower the bike for a more aggressive stance. Then snaking its way out from under the fairing is a custom exhaust system designed and built in house that handles the task of announcing the bikes imminent arrival.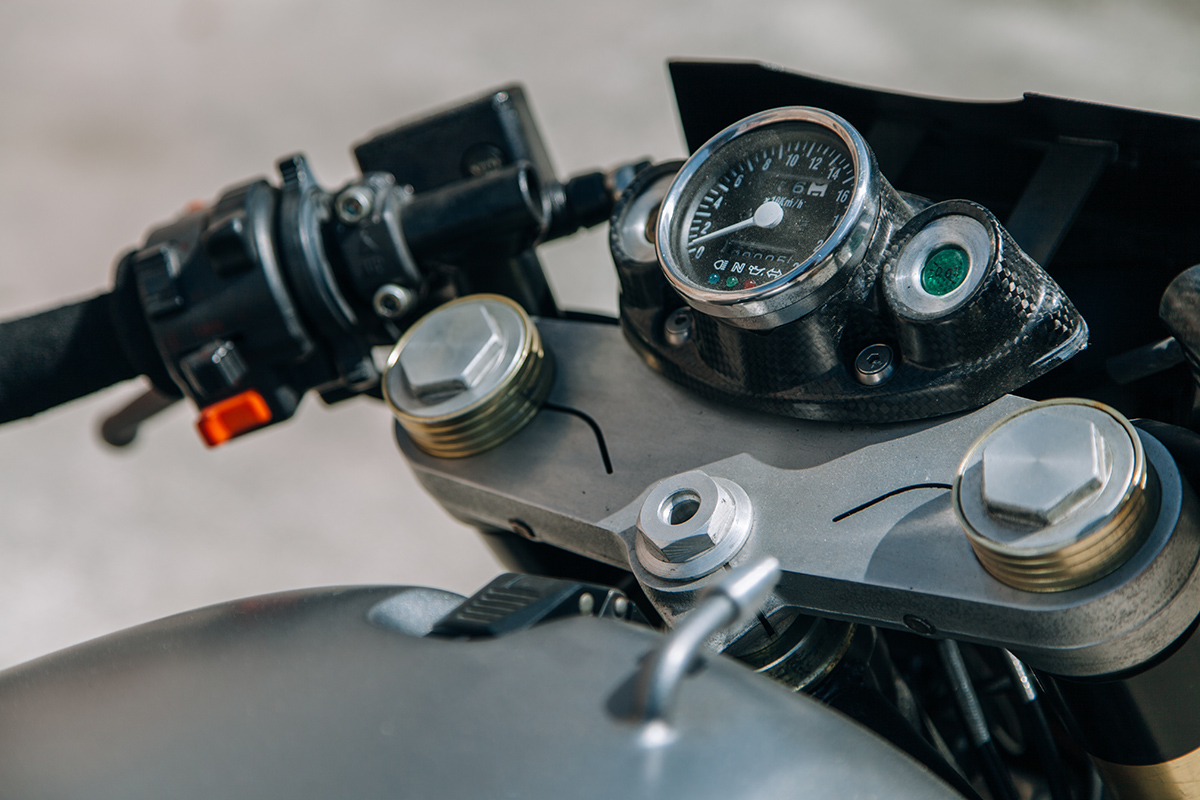 Continuing his approach of encasing and enclosing the bikes components, Maurizio designed a custom carbon fiber dash to mount the speedo and warning lights into. Then to completely break tradition he mounted a rectangular headlight into a hard edged angular plate that from a side view mimics the shapes found in the Ducati's trellis frame. Last, but certainly not least the Ducati rolls on Dunlop 'Sportmax Mutant' supermoto rubber, which may be a statement relating to this bikes unconventional styling, or perhaps it's just coincidence. You be the judge.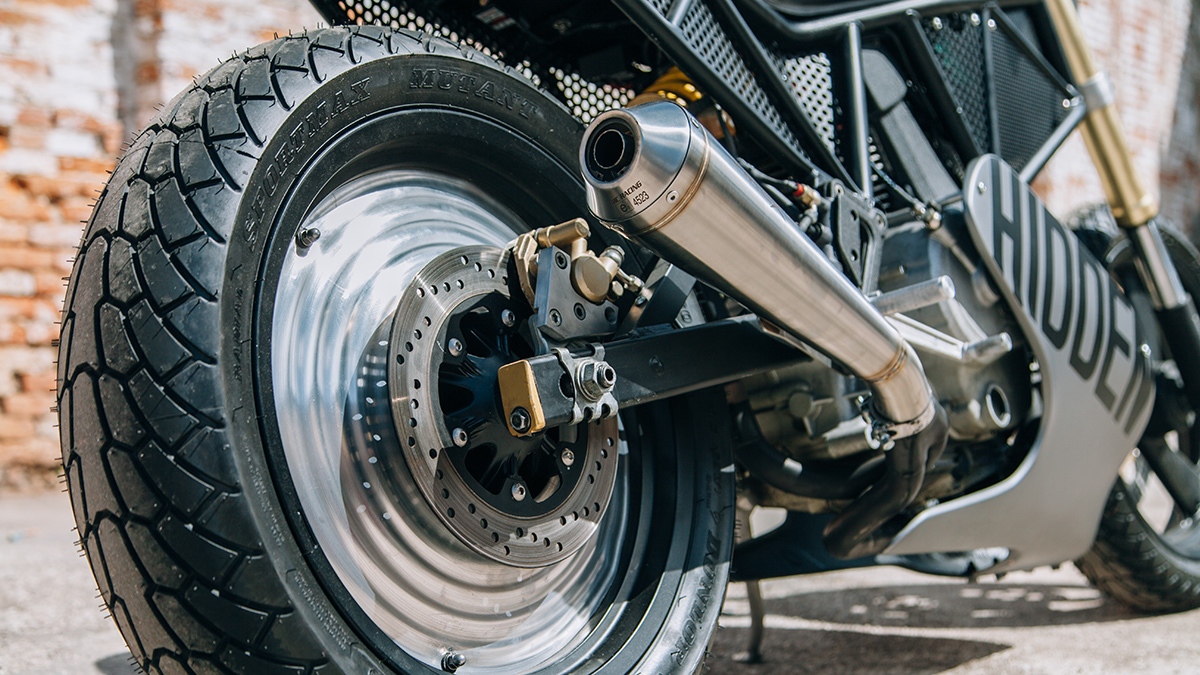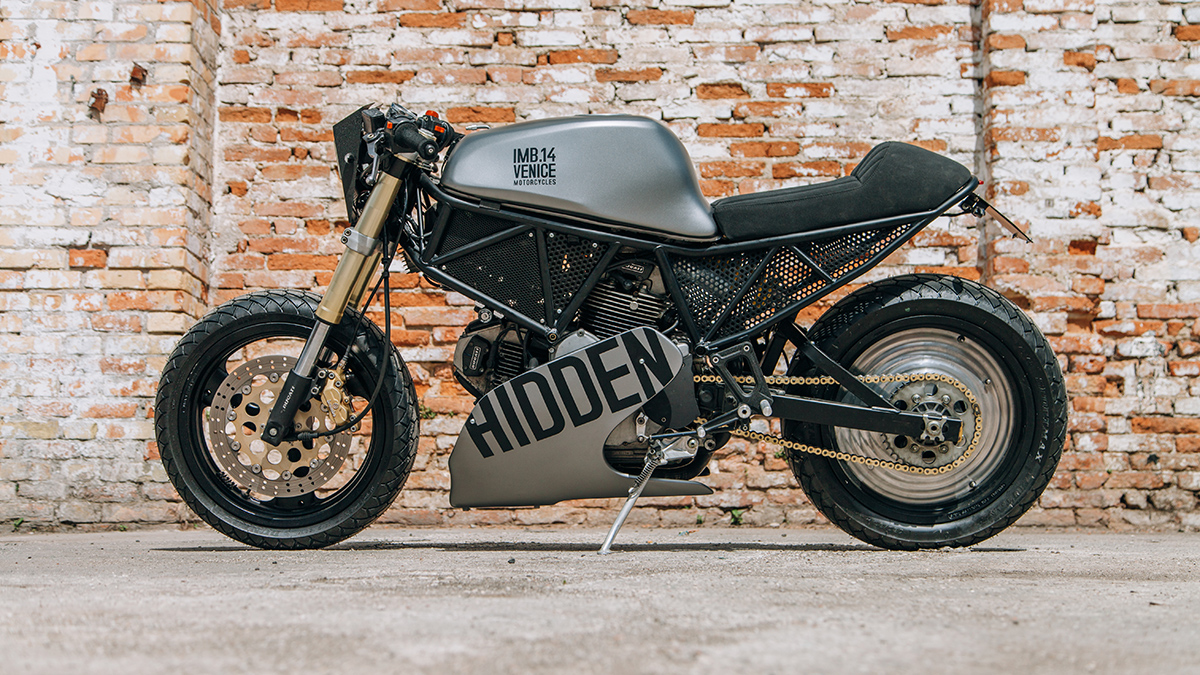 One of the great things about running this website is coming across a builder who does things a little differently. A few months ago I had the pleasure of meeting Maurizio Carraro the owner/operator of Imbarcadero14 Venice (IMB14). Maurizio had teamed up with legendary Japanese custom builder AnBu to build an awesome Moto Guzzi SP3 that had my jaw dragging on my keyboard. In just 3 short years the IMB14 portfolio contains over 20 impressive builds and with each one, Maurizio's own style is becoming more pronounced. For his latest build, he and his team sank 300 hours into reimagining a Ducati 600SS and the result is as impressive as it is unique.