Thanks to a huge increase in the popularity of the custom motorcycle scene many hobby builders have turned a passion for building bikes into a career. For Johann Keyser and his North Carolina-based Moto Motivo workshop, his transition into the world of custom bike building was no walk in the park. It was the 2009 downturn of the economy that left him with no option other than to rely on his knowledge of motorcycles to stay afloat. Eight years on, he can look back on his experience with pride. His workshop now offers customisation, restoration and general motorcycle servicing as well as hosting yearly motorcycle tours to South Africa, the country where he was born.
Looking over the Moto Motivo portfolio it's clear that European motorcycles are the focus of his business so to find a custom Honda amongst them was an unexpected surprise. As the story goes Johann had been planning on building another Moto Guzzi cafe racer for some time but when he was challenged to apply his concept to a Honda CX500 he confidently accepted.
"I bought the CX from its original owner who rode the bike till 1982 when he had a small incident with a dog on the highway." says Johann. After a quick inspection and a look over the Honda's comprehensive service history documents, he returned to the workshop with the bike in tow. Despite being in storage for more than 30 years with '80s fuel sitting in the tank he had the Honda running again after flushing the fluids, strapping in a new battery and filling it with fresh gas.
"The idea for building this bike came from one of the designs I had drawn up for a Moto Guzzi Café Racer. After a customer told me that it is impossible to build a nimble, lightweight, good looking Honda CX500 I decided to apply the Moto Guzzi design to my CX500 to prove him wrong."
Starting with the bike's engine, Johann had the longitudinal v-twin chemically cleaned before applying a fresh layer of satin black powder coat and replacing the fasteners with stainless steel items. Improvements to the Honda's performance were made by mounting new Mikuni carburettors wearing Ducati 748 velocity stacks. A set of custom 2-into-1 stainless headers and a Moto Motivo stainless muffler were also added to free up the flow of gases.
"The ceramic coating colour for the exhaust system was decided on before the paint colour." says Johann. "I personally do not like exhaust wrapping (we all know he's not alone there) so I decided to go with a colour that my painter applies to firearms. The velocity stacks, intake manifolds and valve covers were also coated with the same ceramic coating for better visual effect. "
To achieve his nimble and lightweight goal Johann stripped the Honda frame of unnecessary brackets and removed the now redundant airbox. The factory rear shock and subframe were next to go and in their place he mounted a fully adjustable rear subframe. For the bike's suspension, he put together a system that would fit right at home on a modern sportsbike. "I designed and fabricated a fully adjustable mono shock rear suspension system complete with an Ohlin's shock that was sourced from a Ducati 900SS." Johann explains, while at the front of the bike, a set of Ducati Monster S2R 1000 forks were modified to fit the Honda headstock. To compliment the upgrades in suspension a Brembo brake system was added, using parts sourced from a Ducati Sport Classic. Both the front and rear wheels are custom made using alloy rims and stainless spokes laced to the original CX hubs.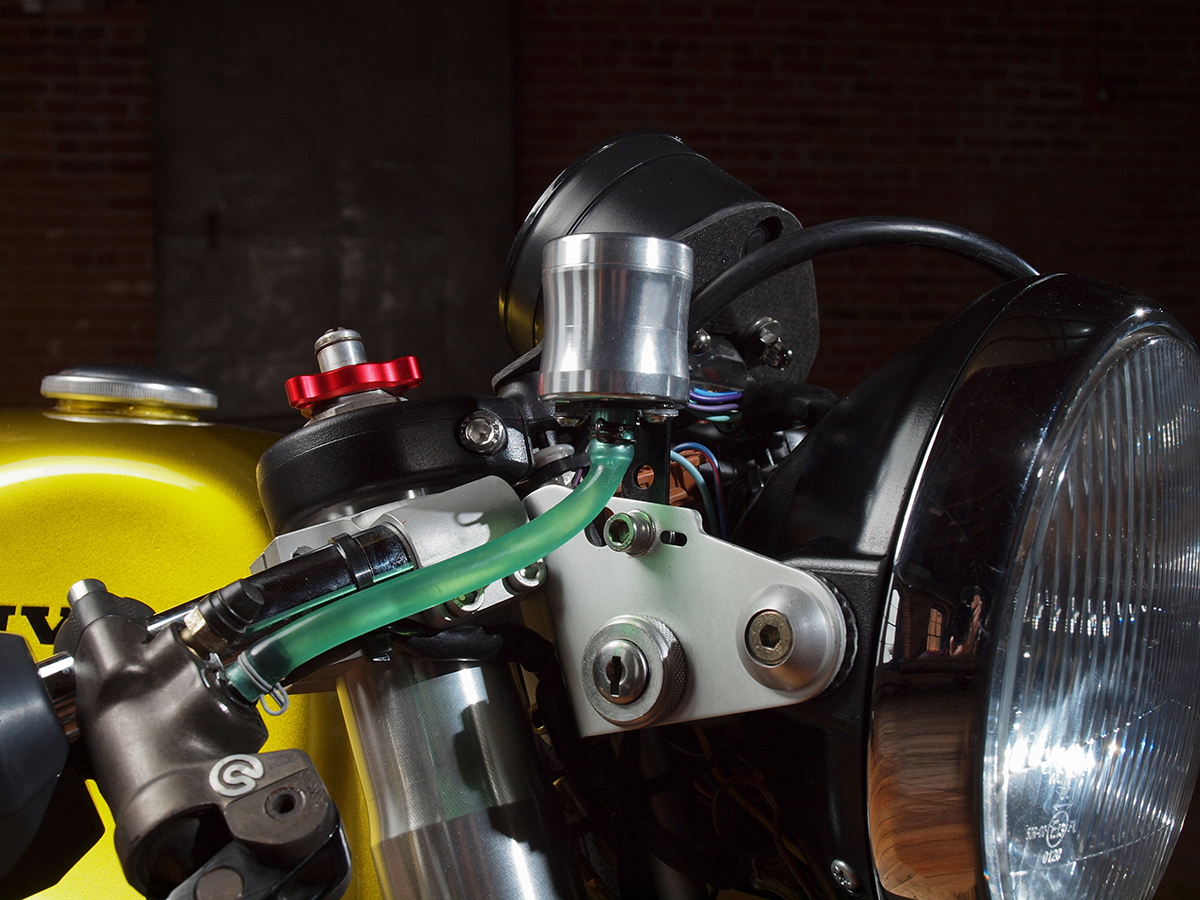 To shed even more weight and to give the bike its classic good looks a specially made fuel tank was ordered from fibreglass experts 'Airtech'. Once the tank arrived the Moto Motivo team designed and built their own fibreglass tail and seat pan to sit atop their custom made subframe. The bikes rear lighting has been reduced to a tiny LED unit mounted in the tail while at the front a Ducati Monster headlight sits between the fork legs. Revs and speed are relayed to the rider via a single electronic gauge mounted to the top clamp and a tiny lithium battery under the seat is all that is required to turn the 500cc twin over.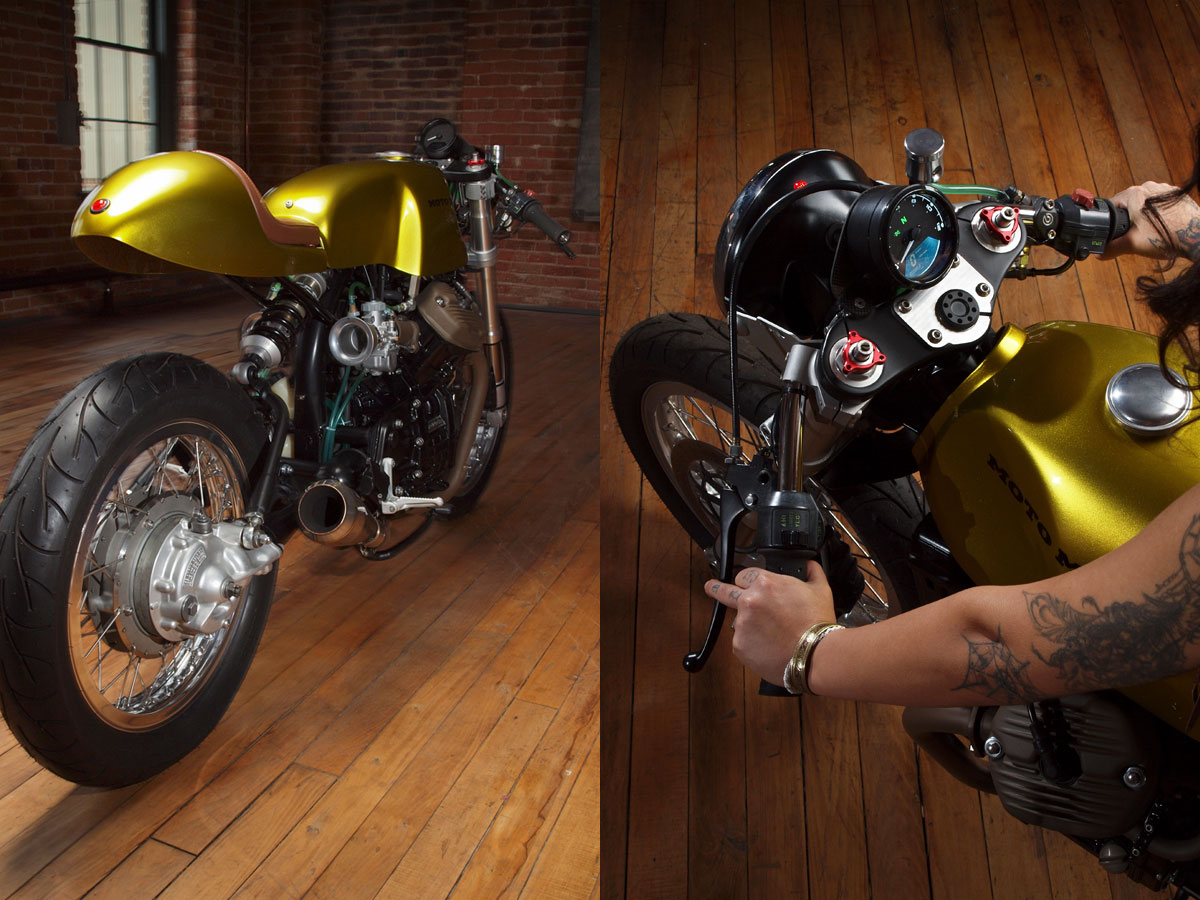 With a bike this good looking it would be a shame to subdue its impact with a dull paint scheme. According to Johann "The paint color and decals were decided on with the help of a couple of friends while enjoying cold refreshments." While there are times when this approach to decision-making should be avoided in this case it turned out great. The paint colour they chose is a classic Honda colour called 'Panther Gold', found on the '73 SL350. The Moto Motivo decals use a classic Honda typeface and brown leather of the seat ties the bodywork to the brown details on the engine seamlessly.
"This bike truly turned out to be one the coolest Honda CX500's in the world!" Johann proudly proclaims and we'd have to agree.
Photography by Ron Smith