Artist Albert 'Kameleo' Bierwiaczonek has been using his skills with an airbrush to paint motorcycles for the past 20 years. Three years ago he transitioned from painting other peoples bikes to building his own custom creations from scratch. Having a soft spot for Italian motorcycles his first 2 builds were based on the same platform, the evergreen Ducati Monster.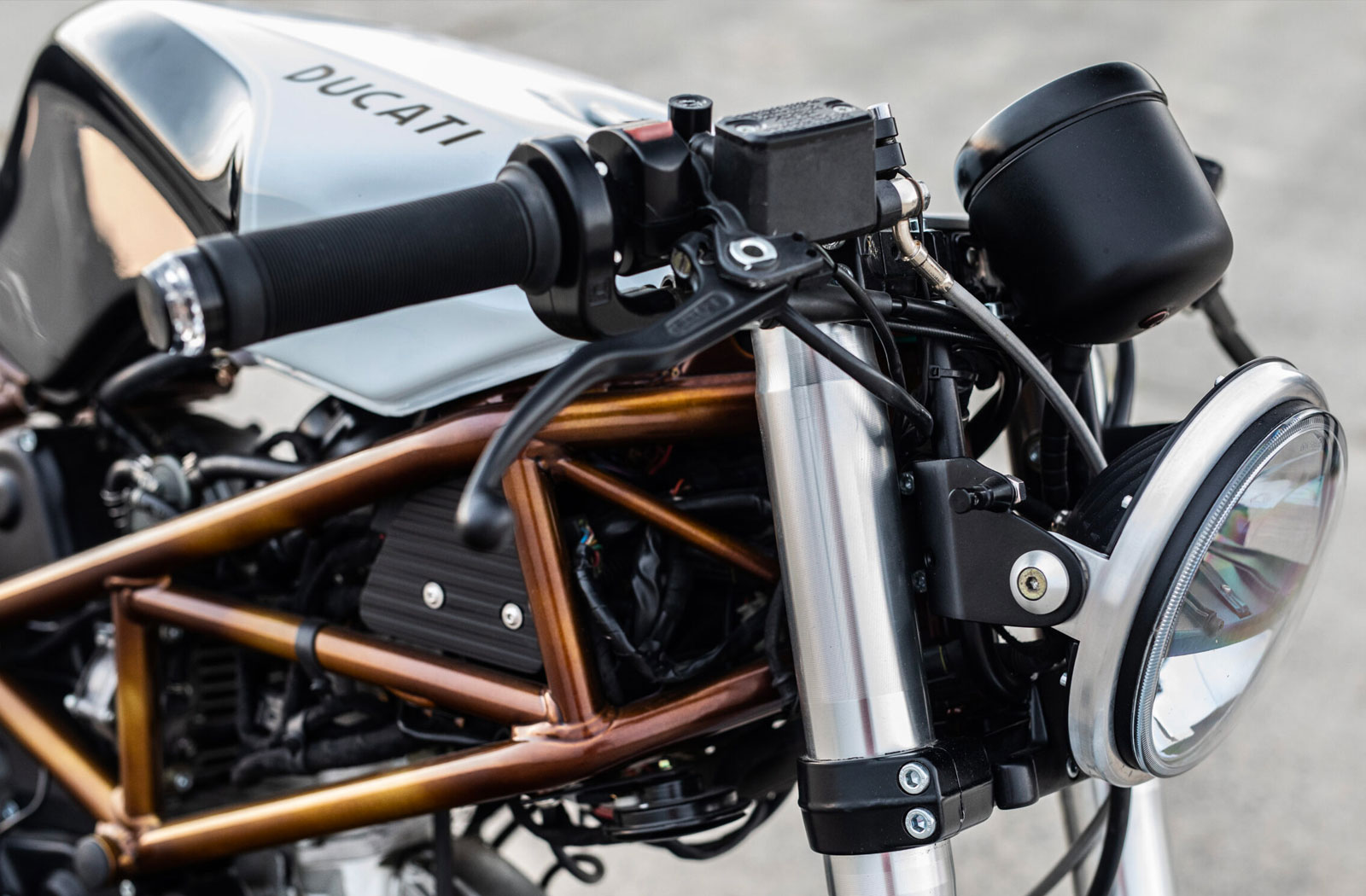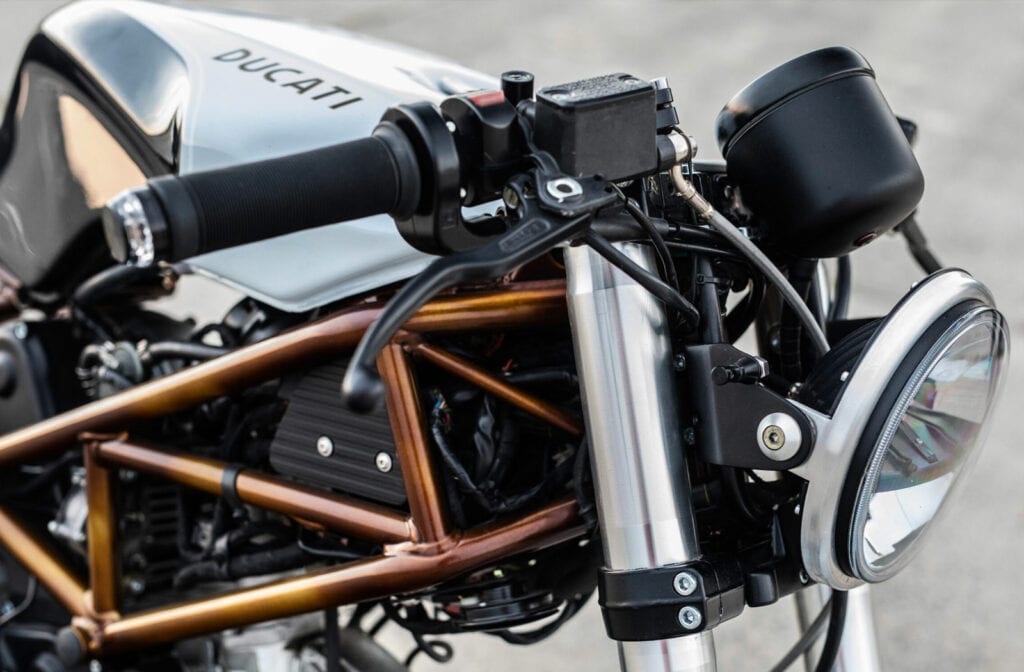 Named Kameleo One and Kameleo S the 2 custom Ducati Monsters share a lot in common yet Albert has managed to give each a unique look of its own. Kameleo One retains the Monsters iconic naked styling but is now more cafe racer than muscle bike. Albert achieved this look with a spattering of stereotypical cafe racer components and some smart retrofitted parts.
"I mainly place emphasis on design and the whole shape of the bike, then I take care of every detail," says Albert and there are plenty of details here to keep your eyes occupied.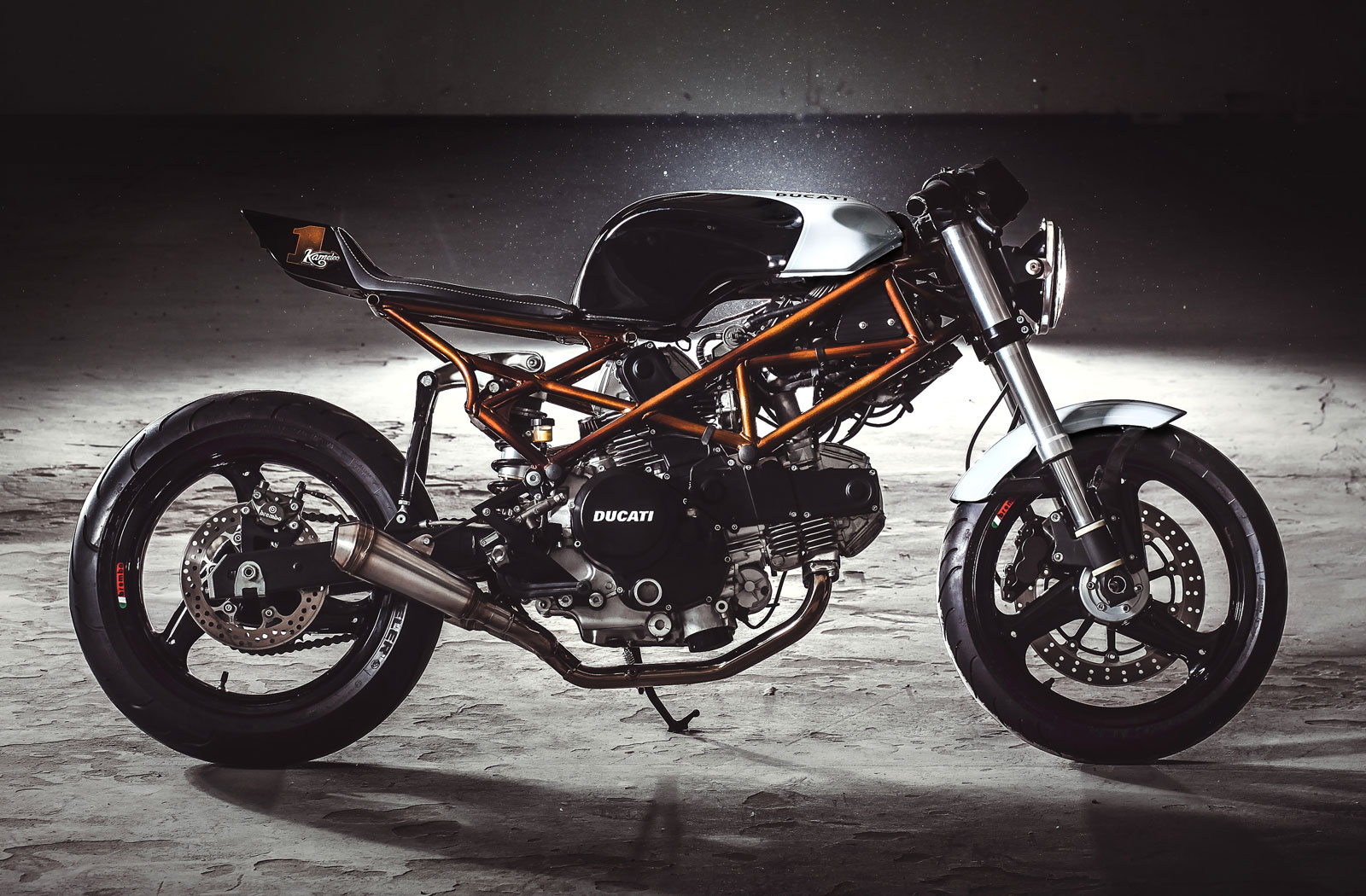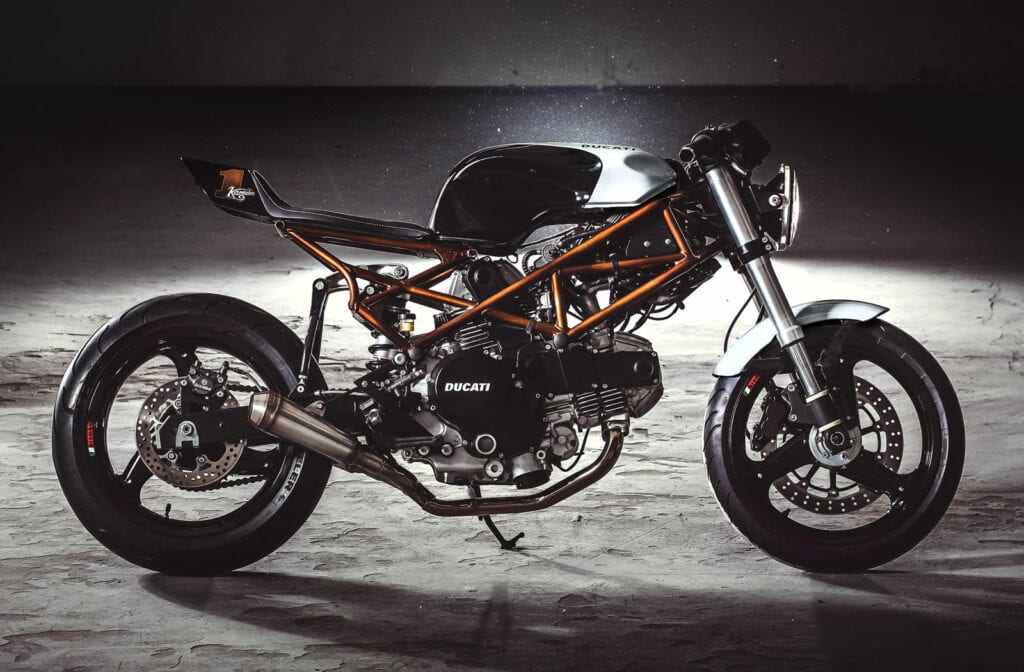 The build of Kameleo One began with a 2000 edition of the 600cc Ducati Monster. After stripping the bike down he redesigned the Monsters trellis chassis. The entire rear subframe is new and perched on its rails is a custom suede saddle and minimalist tail unit. The Monster's stock fuel tank didn't suit Albert's vision for the bike either. In its place is a Cagiva Moto unit wearing a custom paint scheme applied by the man himself.  The Monster's frame also wears a custom airbrushed bronze paint job to draw attention to one of Albert's favourite aspects of Ducati's design.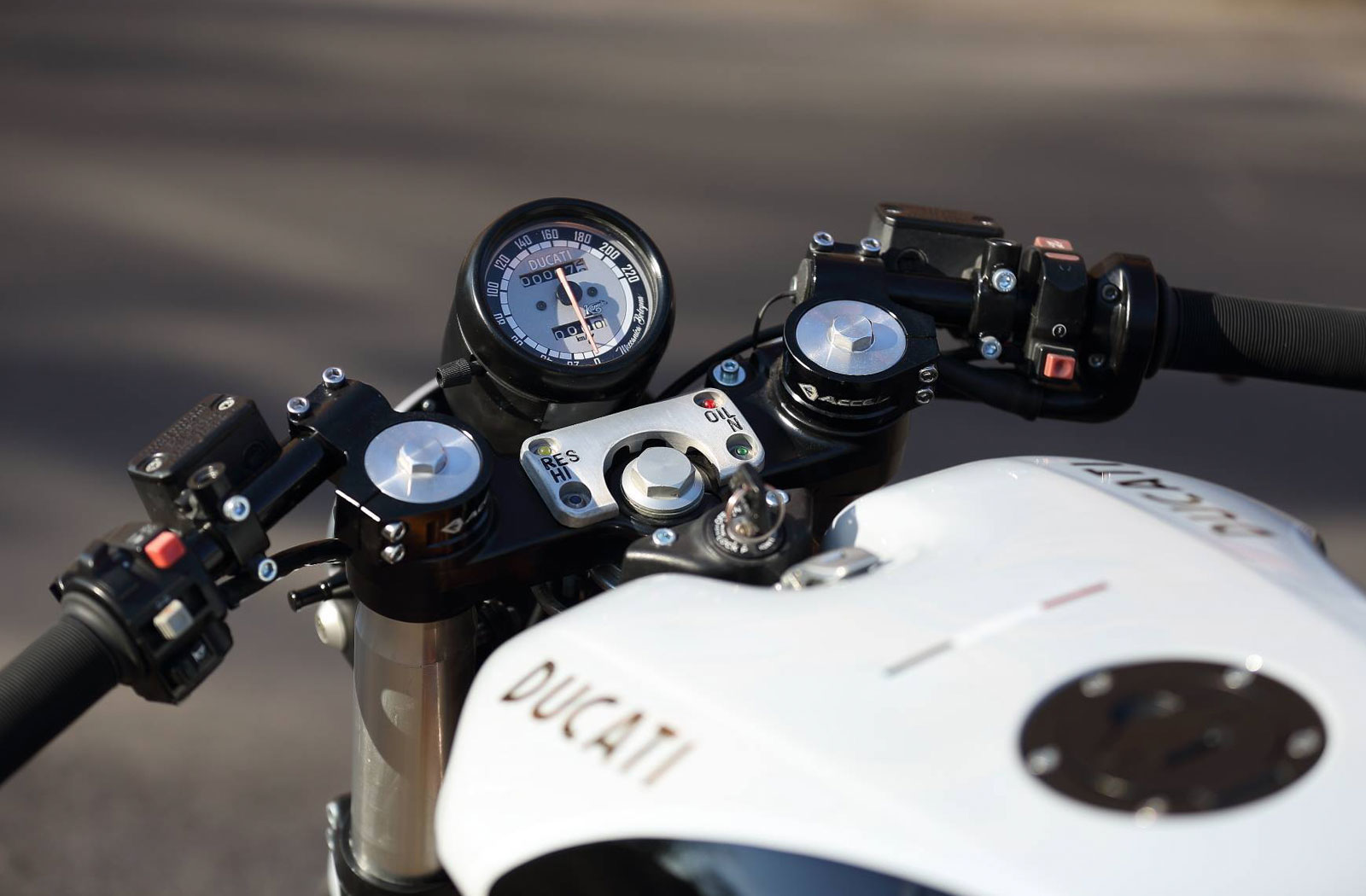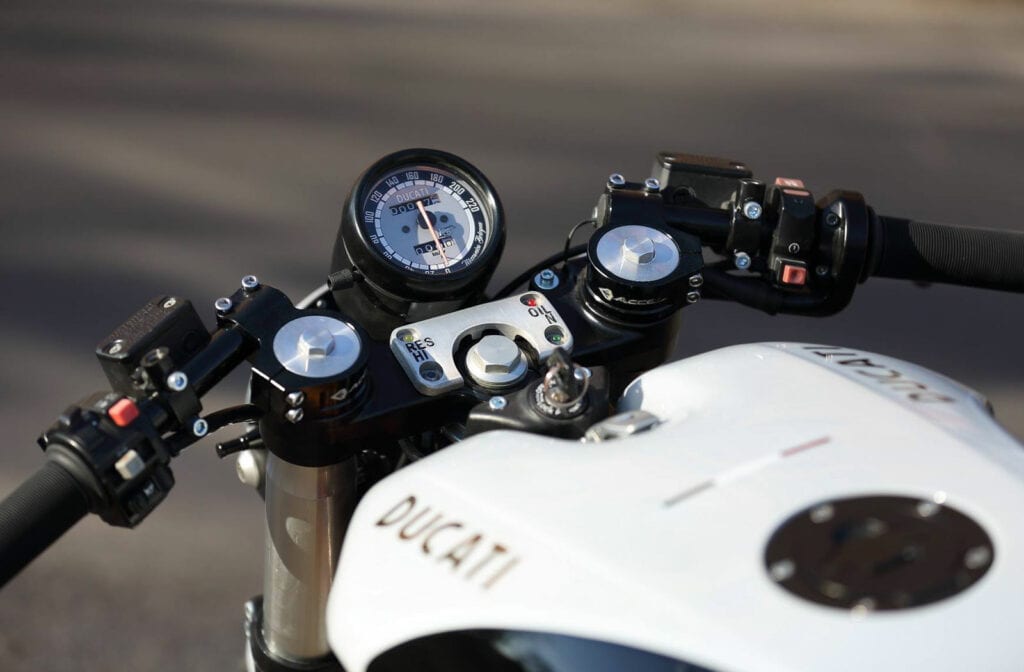 Clip-on handlebars were an obvious addition to this cafe racer styled conversion. To ensure the bike remained comfortable he slipped the triple trees lower on the stanchions and clamped the clip-ons up top. This also helped to level out the frame for a nicely balanced bone line. With the stock handlebars gone Albert filled the space they left on the yoke with a custom bracket that houses the bikes warning lights. Perched them is a custom made Kameleo Design tacho and a discretely mounted Motogadget speedometer.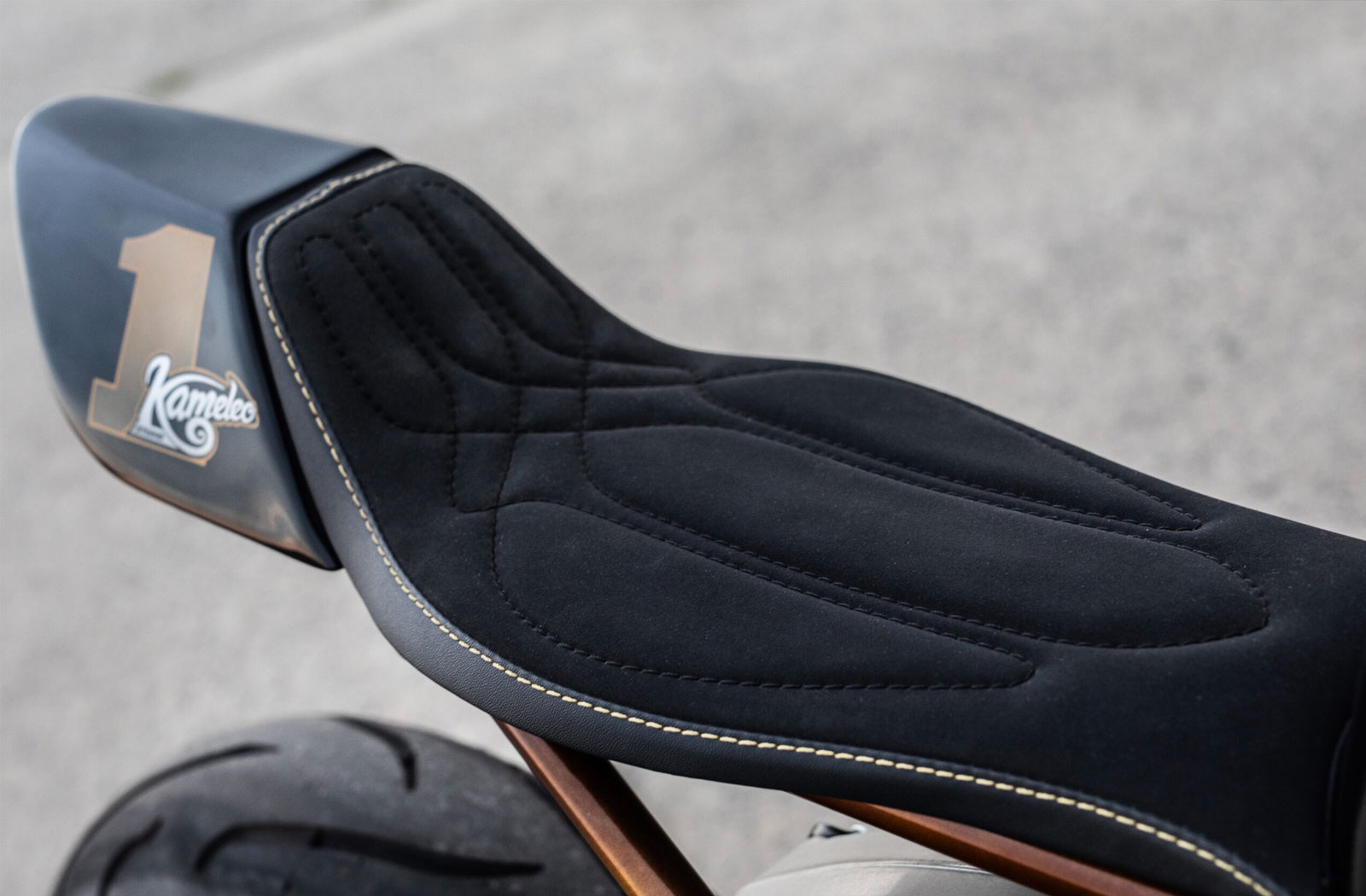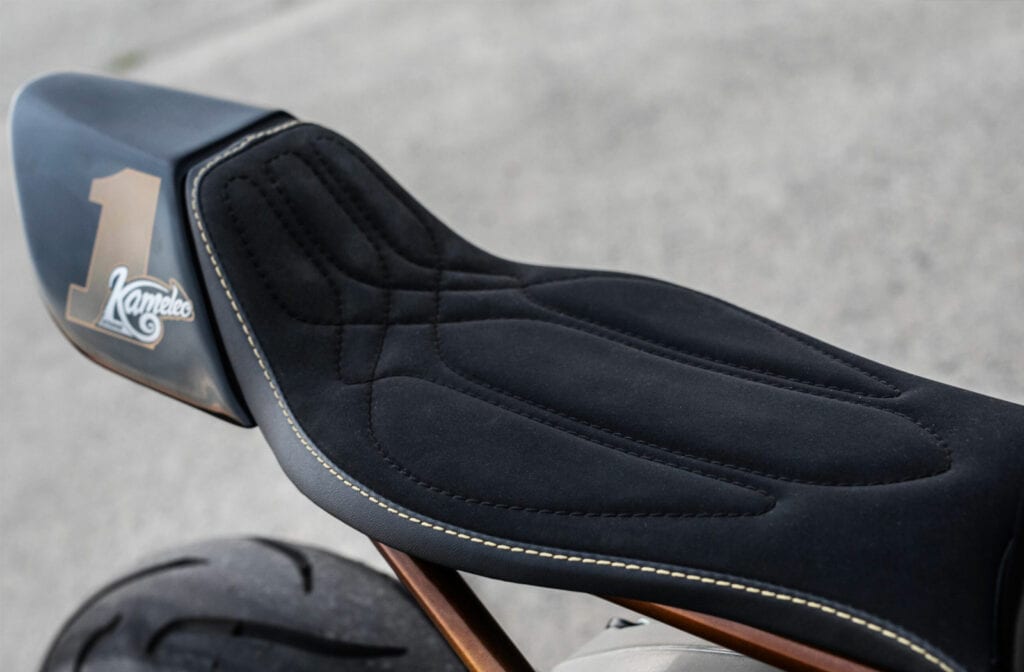 To keep things looking clean Kameleo One wears a full set of LED lighting. Albert has mounted Motogadget bar-end turn signals on the bars, and fitted an LED taillight in the back and LED headlight up front. Removal of the Monsters stock bodywork opened up the frame so to keep things looking clean he trimmed the wiring down to the bare minimum and stashed it beneath the tank.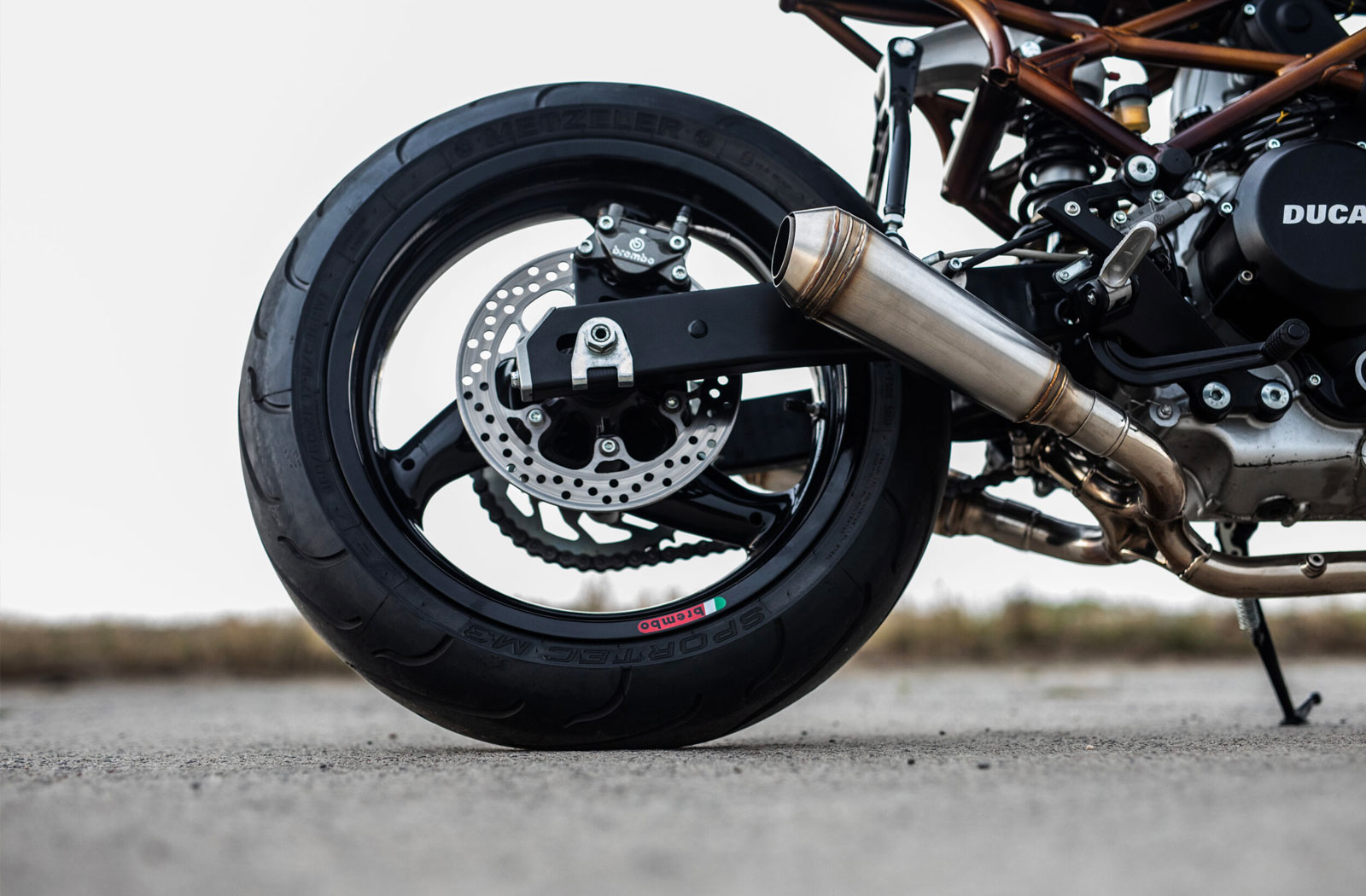 Performance gains here come from a sizable drop in kerb weight and the customary changes to intake and exhaust. DNA filters feed the carbs which have been tuned using Dyno Jet parts. As for the exhaust, it's a completely bespoke design that sheds a chunk of weight and unleashed the Desmodromic V-twin's distinct growl.
After its completion Kameleo One took out first place at the motorcycle expo in Warsaw, Poland, giving Albert the confidence boost he needed to launch his Kameleo Design workshop.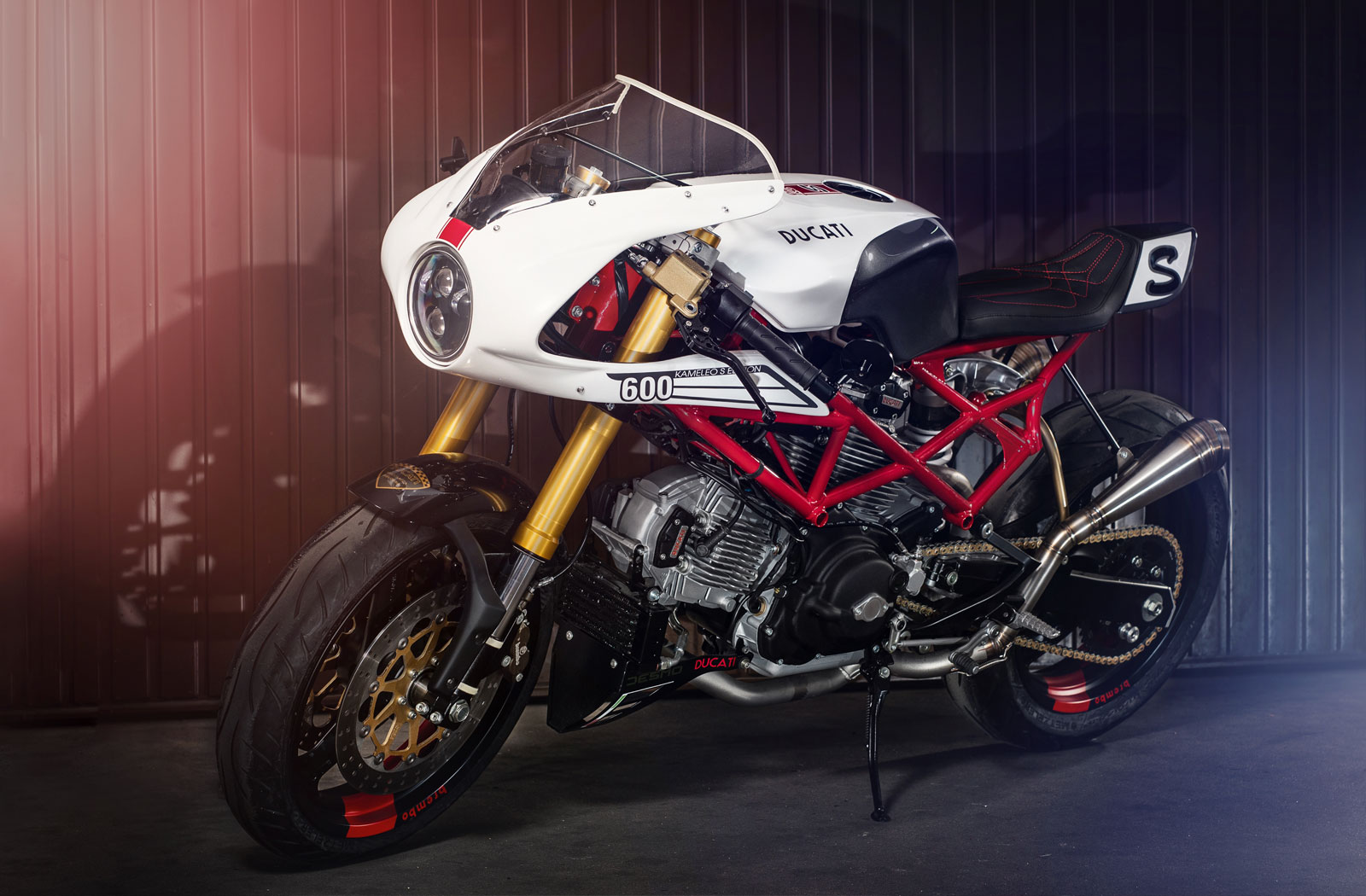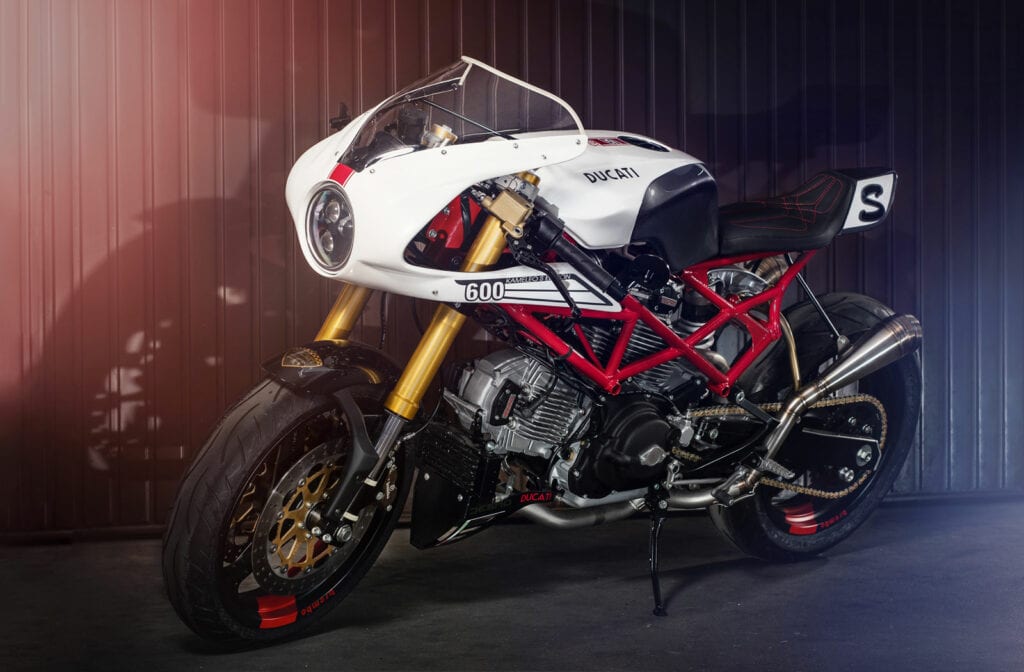 Kameleo S is Albert's second custom Ducati Monster build. With this bike, he took an almost identical approach to the first by recreating several of the parts he developed for Kameleo One. The big difference here though is the addition of bespoke bodywork. Thanks to a custom made fairing, belly pan and sporty livery Kameleo S would look right at home cutting laps around the Mugello Circuit.
Utilising his keen designer's eye, Albert incorporated shapes from the trellis frame into the fairing. This resulted in a finish that looks so at home you'd think it was installed from the factory. The blacked-out belly pan follows suit, mirroring the radius of the front wheel and wrapping snuggly around the bikes oil cooler.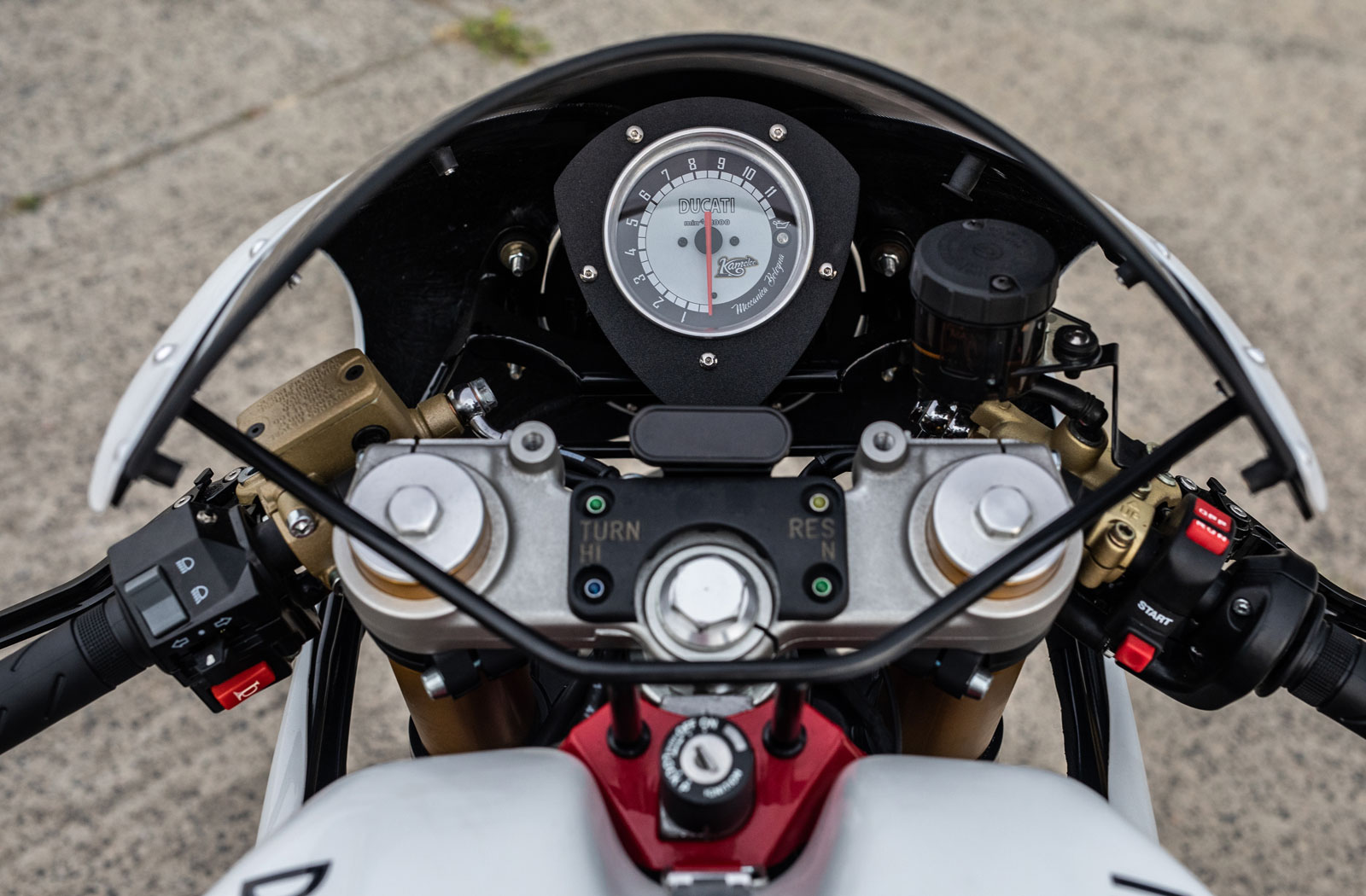 Building a second Ducati Monster 600 also allowed Albert to improve upon a few small details. One area he focused on was the gauge cluster. The revised design features a custom tacho sitting in a bevel gear gazer inspired bracket and sitting beneath it is an inconspicuous Motogadget Motoscope Mini speedometer.
"It was important for me to keep the brand character and highlight the best details while creating my own look. I tried to make everything fit together and form a coherent whole." he says. If we didn't know better we'd think either of these Monsters could have rolled straight out of the Borgo Panigale factory and that's a very good thing.