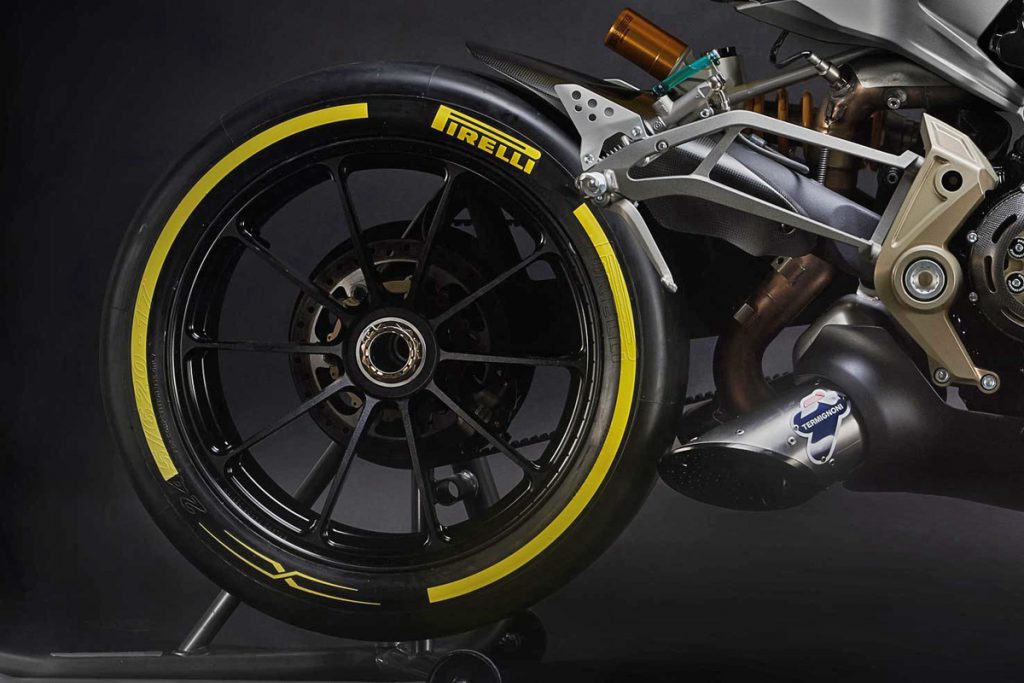 More cruiser than sports bike in its styling the Diavel falls into a category of its own in the Ducati line up. With the new X series, Ducati has introduced a more powerful, performance-focused version of the bike featuring "premium quality materials" and "top-level technology" along with a new 156bhp, Testastretta DVT 1262cc engine, and all new main belt drive. The DraXter embraces these improvements in power and performance to create a one-off custom aimed at tackling the drag strip.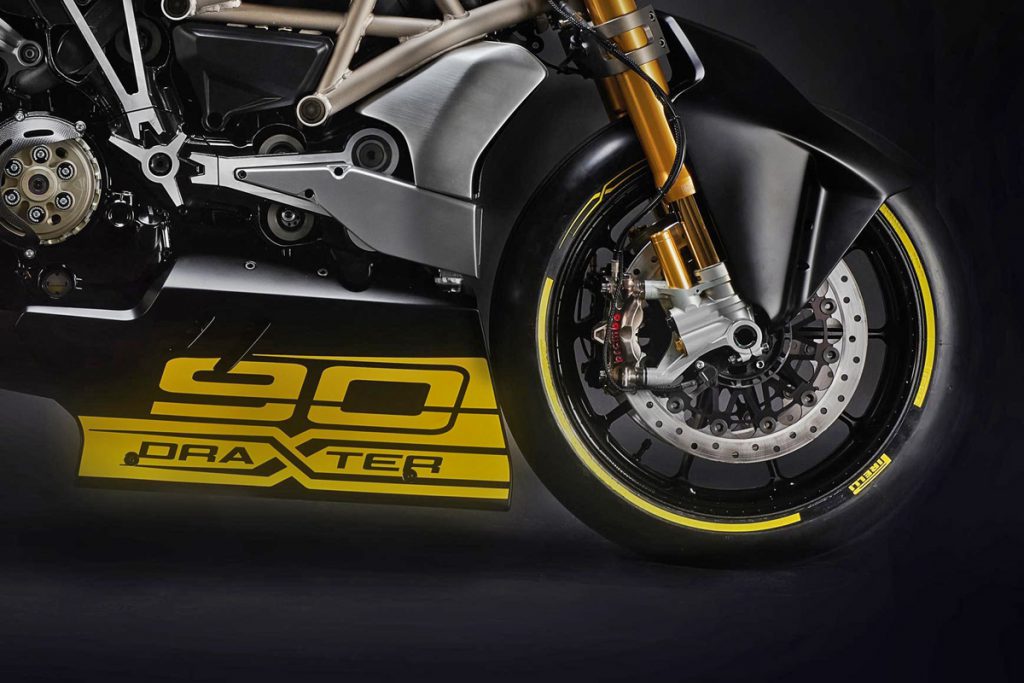 The Ducati Diavel Draxter is what the Italian motorcycle manufacturer refers to as their "sporty interpretation" of the X series Diavel. It was designed in-house by Gianni Fabbro and his team at the Ducati advanced design department. As Fabbro explains "In drag races, everything is taken to the extreme in order to achieve pure performance, a rocket start off the line right up to maximum speed. In doing this, however, we have made full use of our technical resources, in the sense that we turned directly to Ducati Corse for the components!"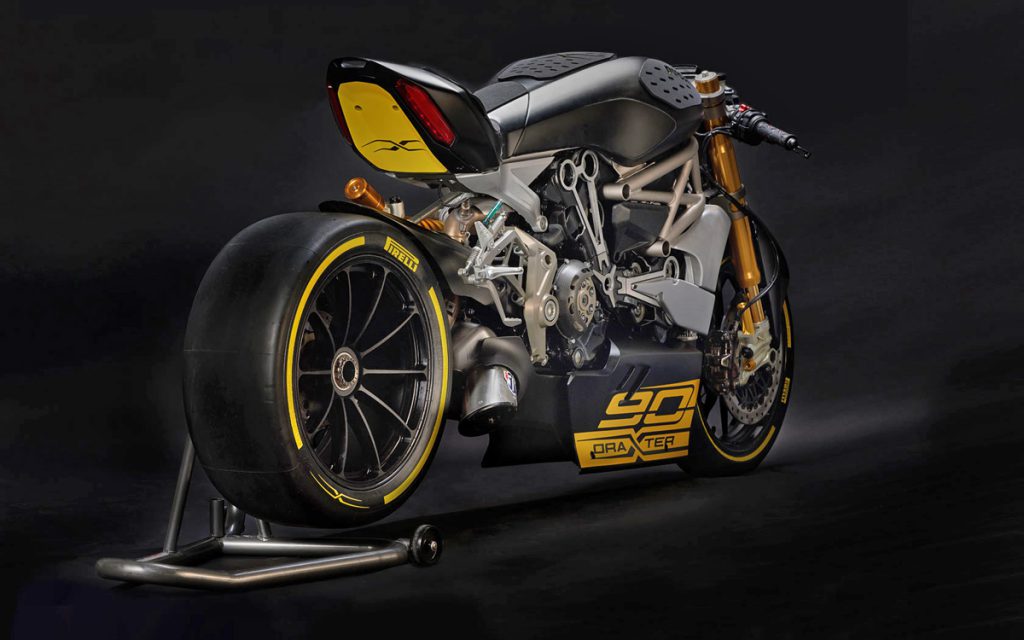 The XDiavel's original frame, swingarm, and fuel tank remain, but the DraXter wears a suspension and brake packaged taken from Ducati's Panigale Superbike parts bin. The aggressive riding position uses clip-on handlebars and rear set foot pegs positioned behind the rider, and a new rear wheel configuration wears a wide flat racing slick readying the DraXter for the quarter mile challenge. Beneath the bike's belly pan is a custom exhaust system with a Termignoni muffler and on it's exterior a racing style number 90 celebrating Ducati's ninety years of business.
Unfortunately, for now, there's no footage of the DraXter tearing down the strip for us to enjoy, but we're hopeful that's something Ducati plan to release soon. After all, that's what they built it for…. right?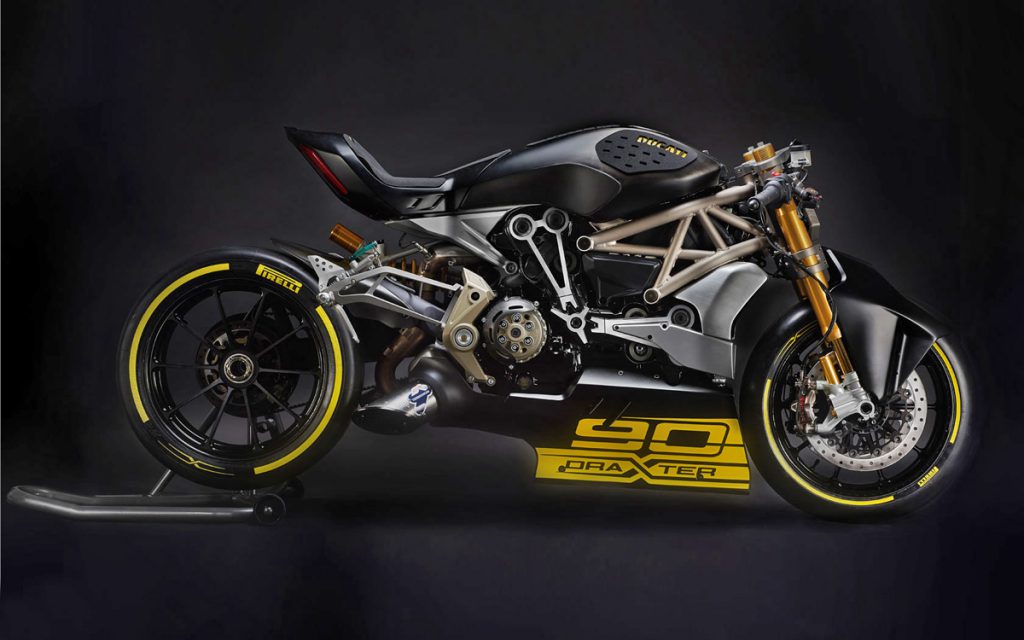 I take my hat off to Ducati for producing such a radical looking machine as the Diavel. When it was released 6 years ago it's styling was unlike any other bike available and that statement still rings true today. The latest incarnation of Ducati's power cruiser, the XDiavel, debuted last November at EICMA, but to signify it's official release at the 2016 Verona Motorbike Expo they've unveiled a radical custom version of the XDiavel named the DraXter.