Retired air traffic controller Donald Mildebrandt has been around aeroplanes his whole life. Growing up his spare time was spent either in the air or building and restoring planes with his family. But during the 1980s sports bikes and road racing piqued his interest. Soon after that he developed an obsession for Ducatis and headed down a long road of Ducati ownership. Donald's garage has housed a long list of Italian thoroughbreds including a 750GT round case, 350 single, M750 Monster, 900ss cr, 996 track bike and a couple of ST4s'.
After working on aeroplanes for most of his life Donald decided it was time to build a motorcycle of his own. With a set of skills under his belt most of us could only dream of he built this Ducati ST4s cafe racer. Today he's sharing the story of how it came together…
All photos of the Ducati ST4s Cafe Racer are courtesy of Jeff Barger at www.bargerphoto.com.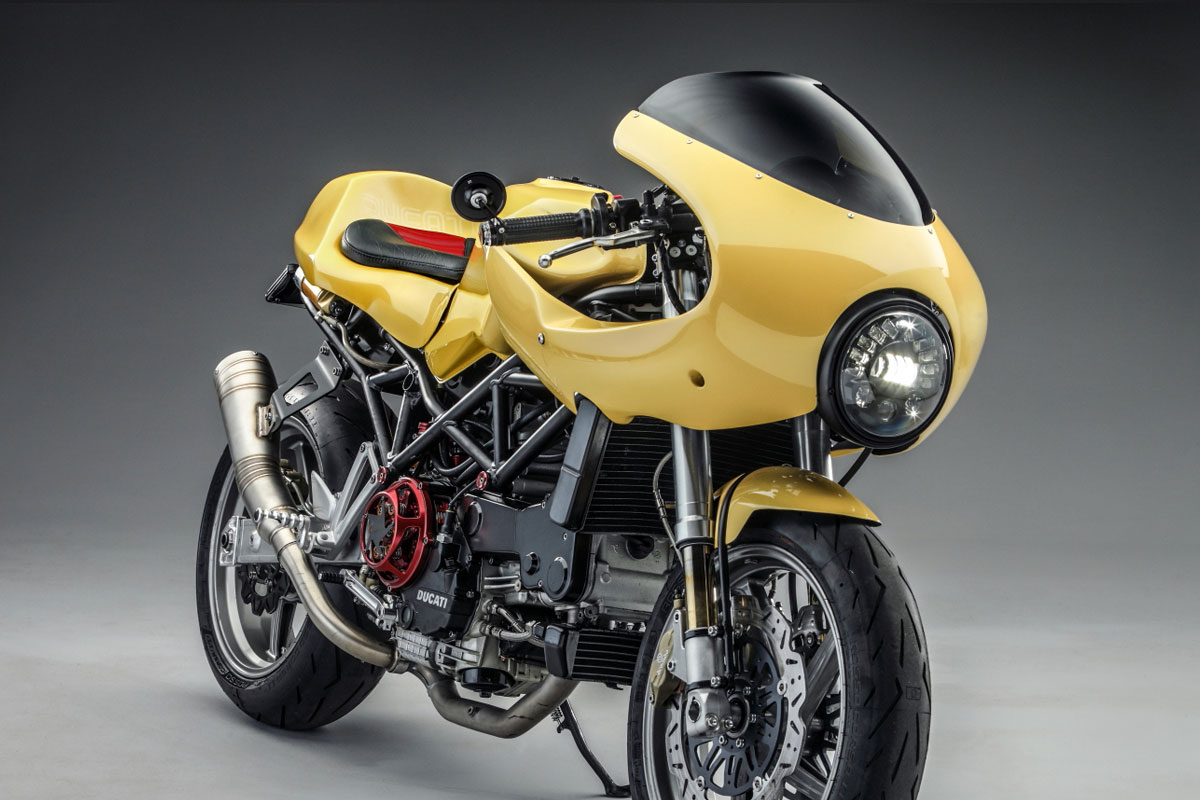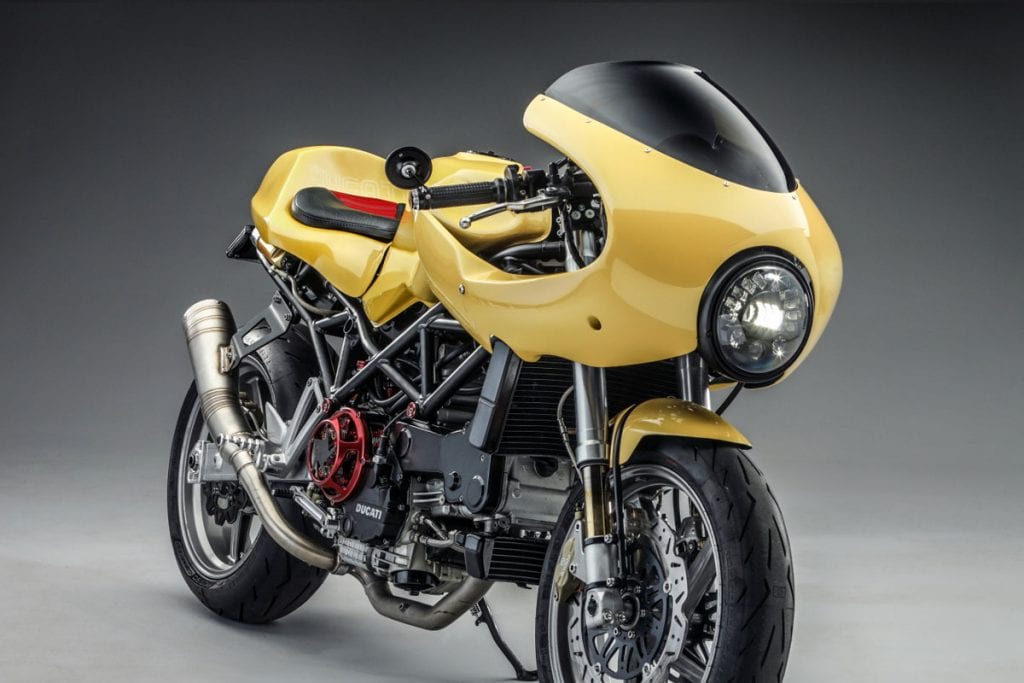 "I always liked the look of the Ducati Paul Smart Sport Classic," says Donald. "While perusing the web I came across pictures from Tifoso a producer of kit parts from Greece. He has parts for different Ducati models and I just happened to have a Ducati ST4s waiting for a new look. The Tifoso kit for the ST has the look of a Paul Smart with those classic flowing lines. A look that I feel is a modern interpretation of the Ducati round case 750 motorcycles of the 1970s."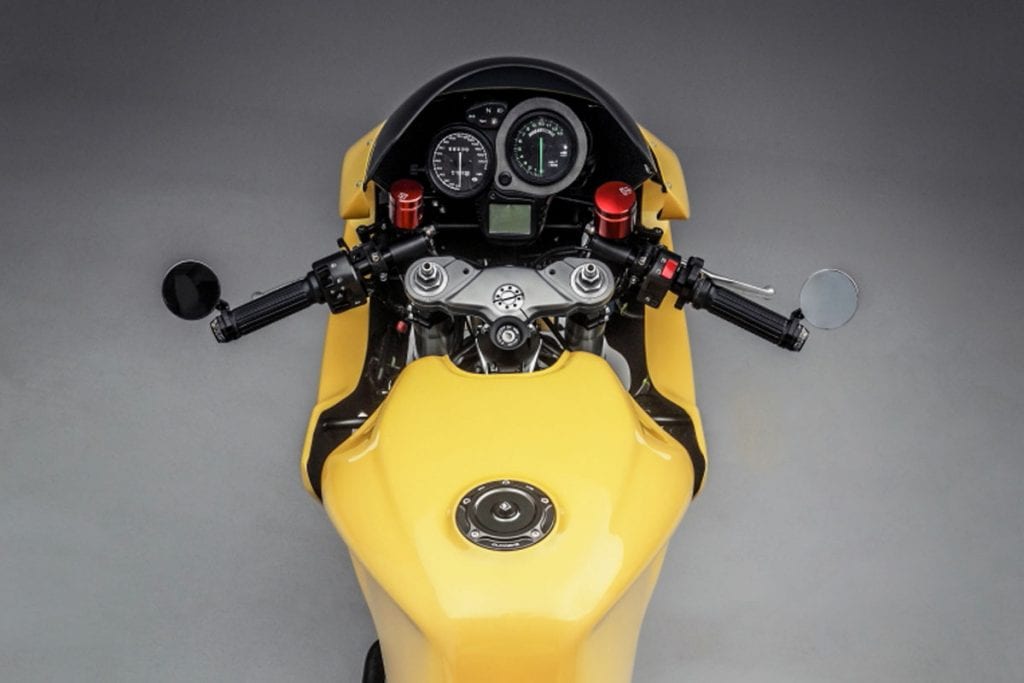 "While I started with a good running, straight bike, without any road rash it was beyond filthy. During disassembly, everything was cleaned and catalogued for possible use or resale. The new fairing, seat and mounting brackets were acquired from Tifoso. The fairing originally comes as three pieces but I decided that I would glass them together to make one piece. The seat mounting was modified for ease of removal using flush mount Camloc fasteners. Beneath it, I built a compartment that houses some of the electronics and a lightweight lithium battery.
I repaired the wiring harness where it had been tapped into for accessories such as heated grips that I would not be using. I then rerouted it so as to hide as much wiring as possible. Before I began working the wiring I was told 'don't start hacking the wiring, just reroute it. Otherwise, it may never start again!' That was wisdom worth its weight because it started right up again after completion."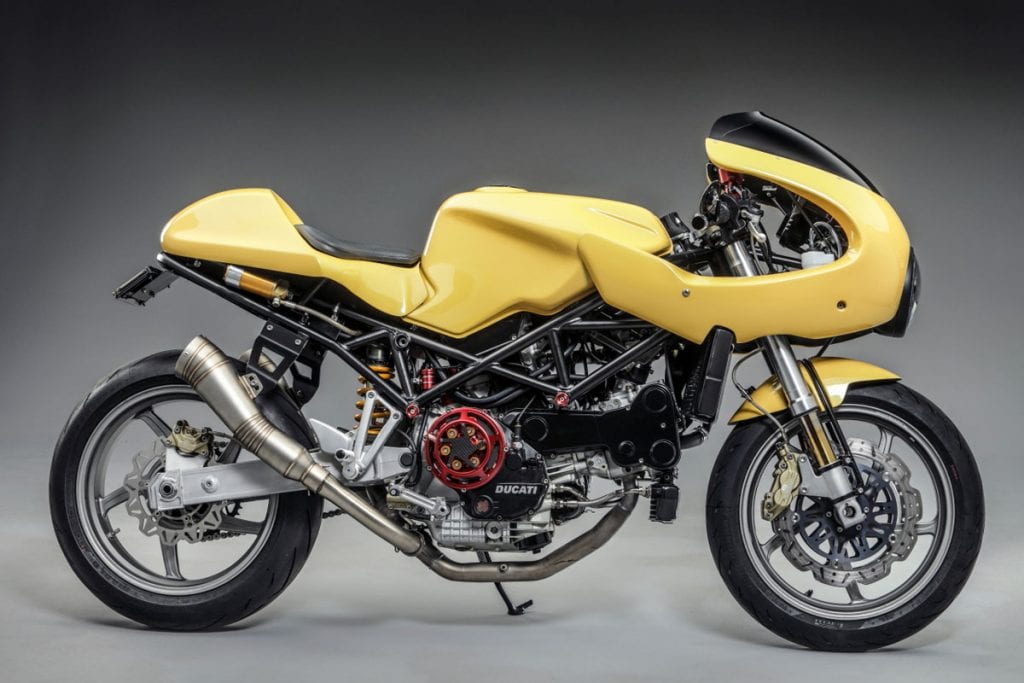 "I designed the muffler hangers and had Milazzo Performance fabricate them from stainless steel. The same shop machined the upper triple tree, removing the ears that the stock Ducati ST4s uses. He then machined the casting ridges back to look stock. The right-side case cover was also machined to open the 'windows' around the clutch basket.
Once all was mocked up and I was satisfied, it was disassembled for final engine work, cleaning and paint. Aluminium parts such as the swingarm, case covers, triple trees, footpeg supports etc. were sent to KE3 Restoration for vapour blasting. The parts were absolutely gorgeous when they were returned.
While waiting for other parts to return, every nut and bolt was cleaned, polished and then run on a jewellers wheel. The brake callipers were torn down and cleaned with Simple Green Aviation Grade cleaner. It is the only cleaner that I use on my bikes and aircraft as it is non-corrosive. Having tagged and marked every wire connection, nut and bolt the reassembly was straight forward and quick."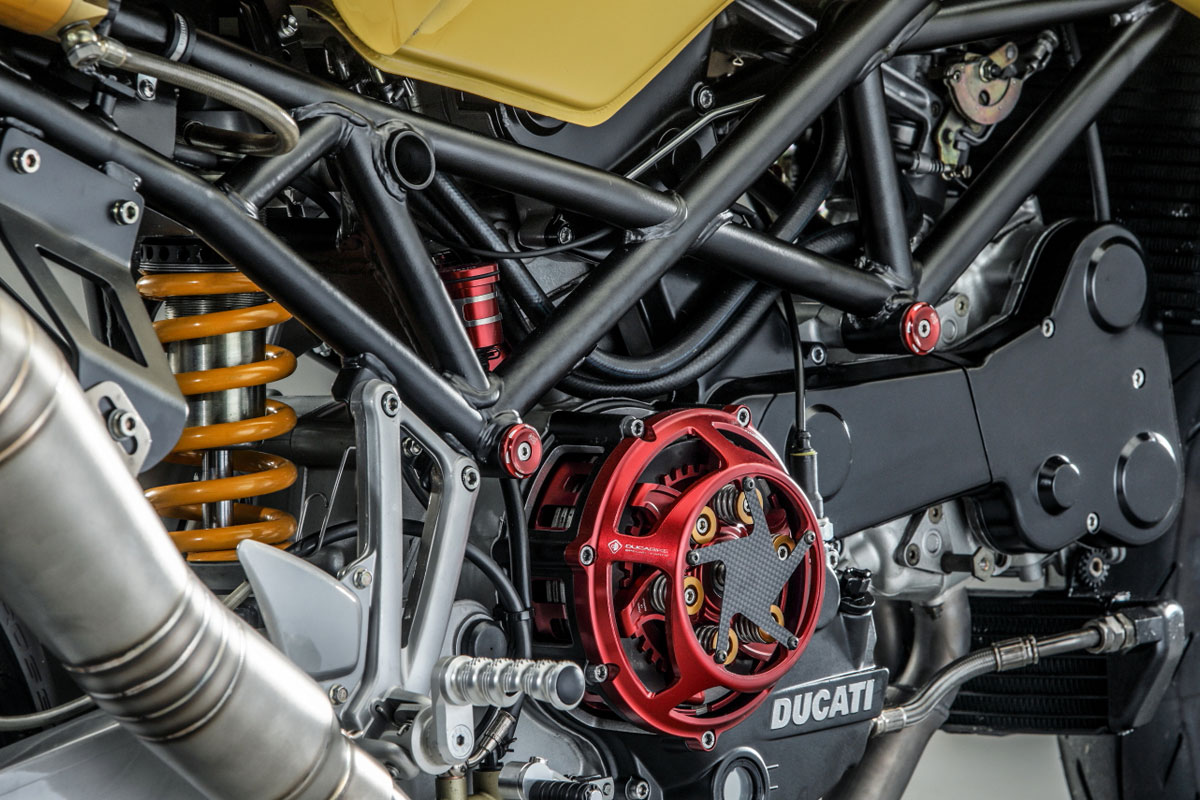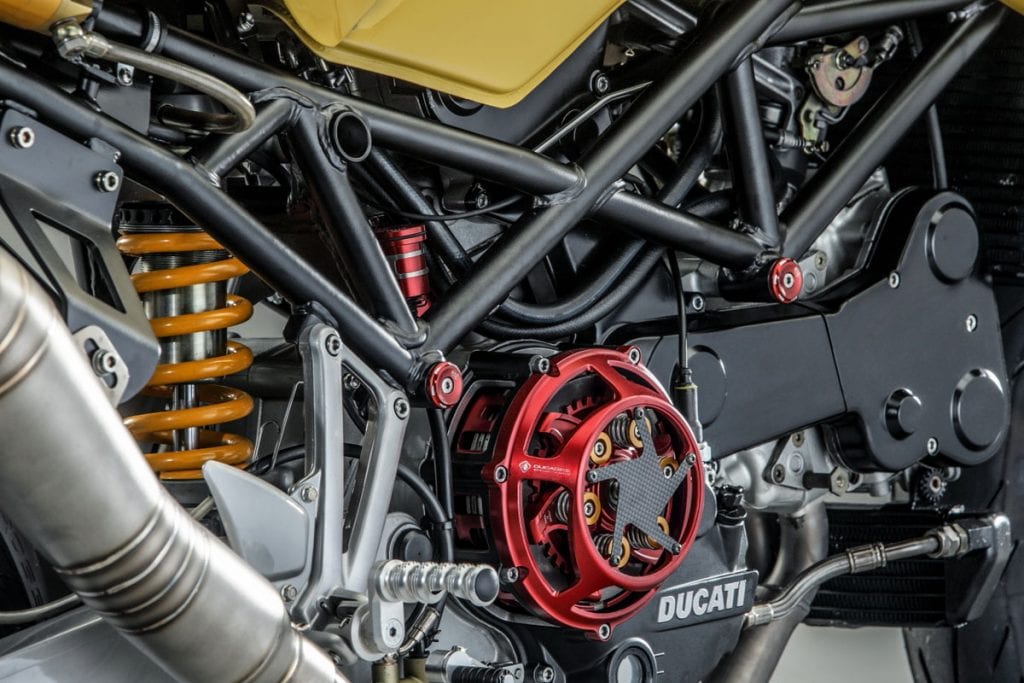 "In its previous life, this Ducati ST4s weighed 467 pounds (212kg). It is now a more svelte 397 pounds (180kg). It has not been run on a dyno yet but feels as strong as my other ST4s which has 120 horses at the rear wheel. I have no doubt that between the engine mods, weight loss and re-gearing it is much quicker. The bike also had a Ducati Performance ECU on it when I purchased it. Even with the airbox removed and the stubby exhaust it starts and runs excellent. There are no fuelling issues.
Getting the bike handling right took a bit of setup work. I had the suspension rebuilt based on my calculations of what it would weigh, which was more than what was achieved. After more adjustment, it now handles really well. The ride position is more forward-leaning than a ST though not as extreme as a 996. It is just a hoot to ride.
My paint scheme and colour plans changed many times over the duration of the build. In the end, the colour I went for was a Lamborghini Pearl Yellow. I chose to leave off embellishments such as stripes, Italian flag colours and Ducati logos. In fact, the only Ducati logo painted on the bike is ghosted above the seat cushion and is an older 1970's Ducati script. The cross on the tail was added at the request of my wife.
The concept was to let the bike stand on its own merits and not just individual parts or fancy paint. Having the engine case covers powder-coated black pays homage to the round case 750s of '72. The bare aluminium parts have been powder coated in clear. The paint was done by CPV Paint & Graphics in Franksville, WI. Powder coating by Moto-fied Cycles. As far as a name goes….it is just the CR. I've never really named any of the bikes, cars or aeroplanes that we've owned."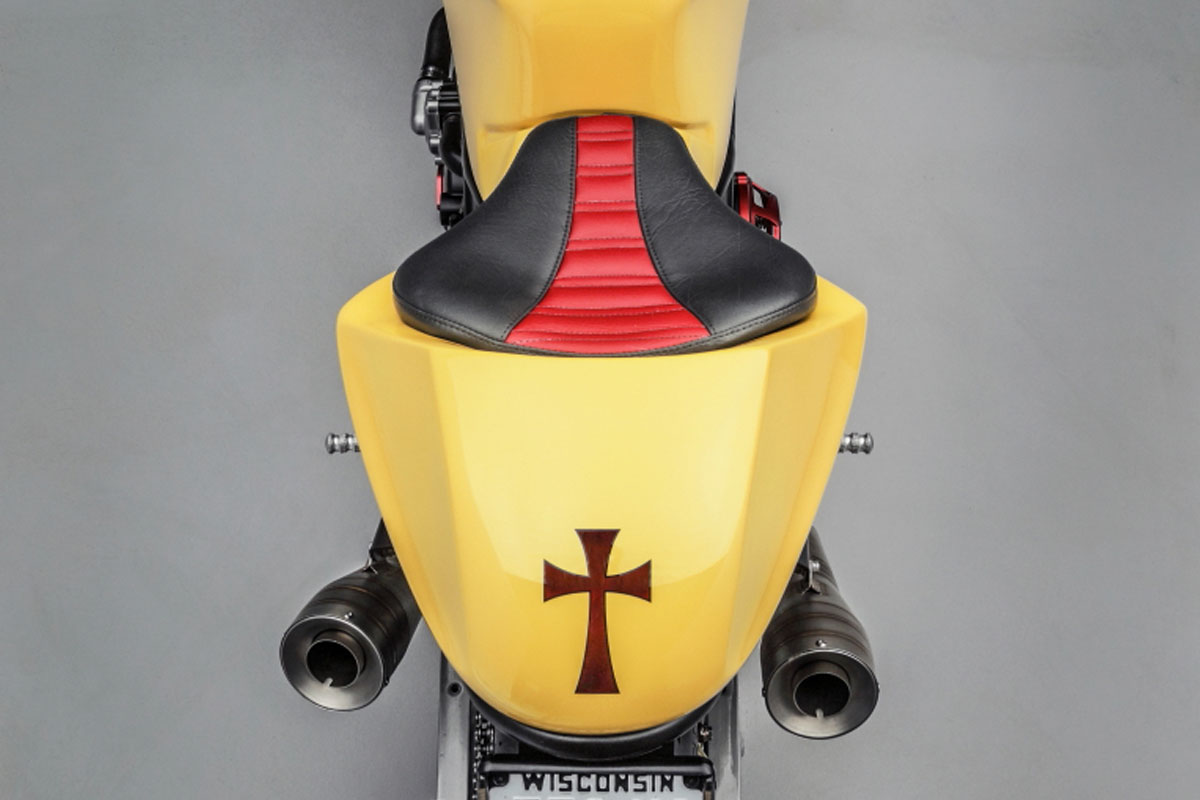 Although his account of hid Ducati ST4s cafe racer build is thorough, Donald has been modest with his description of the work he's done. For starters, the Ducati's frame is no longer standard. After stripping it down he removed all the unnecessary tabs and welded in his own, shorter tail loop. Along with cleaning up the wiring, he's upgraded all the lighting. Up front there's a JW Speaker adaptive headlight in a Motodemic bucket. The bar end turn signals are Motogadget items and all the rear end lighting is by Radiantz. Motogadget also provided the new mirrors and grips which are mounted to Woodcraft clip-on bars.
Additional engine work included the removal of the airbox and installation of an MWR Performance air filter for a Ducati 996 which was retrofit over the ST4s intake bells. Donald also managed to shave around 3 pounds of weight from inside the engine. This was done by installing a lightweight flywheel and cam pulleys, an aluminium clutch hub, basket and pressure plate. The exhaust is also bespoke made up of the stock collectors and aftermarket mufflers.
Finally, he went all out on dress-up parts to get the bike looking exactly how he'd envisaged. There's a long list of items from Ducabike which include the gas cap and frame plugs. Desmo Times provided levers and sprocket covers, GP levers supplied the adjustable footpegs and Rizoma tarted up the cockpit with red anodised fluid reservoirs.
Just as Donald wanted there aren't any aspects of this build that stand out more than another, put them all together though and you've got yourself one hell of a good looking Ducati cafe racer!