So you're obsessed with two wheels? Well, we see no reason why that obsession can't span beyond motorcycles to include electric bicycles—especially since they also come equipped with a motor.
We know as well as you that eBikes don't offer quite the same experience as a motorcycle, but there are many benefits to pedal-powered transport that can make them an appealing addition to your two-wheeled fleet. eBikes are all the rage right now, and we're seeing some impressive performance out of them.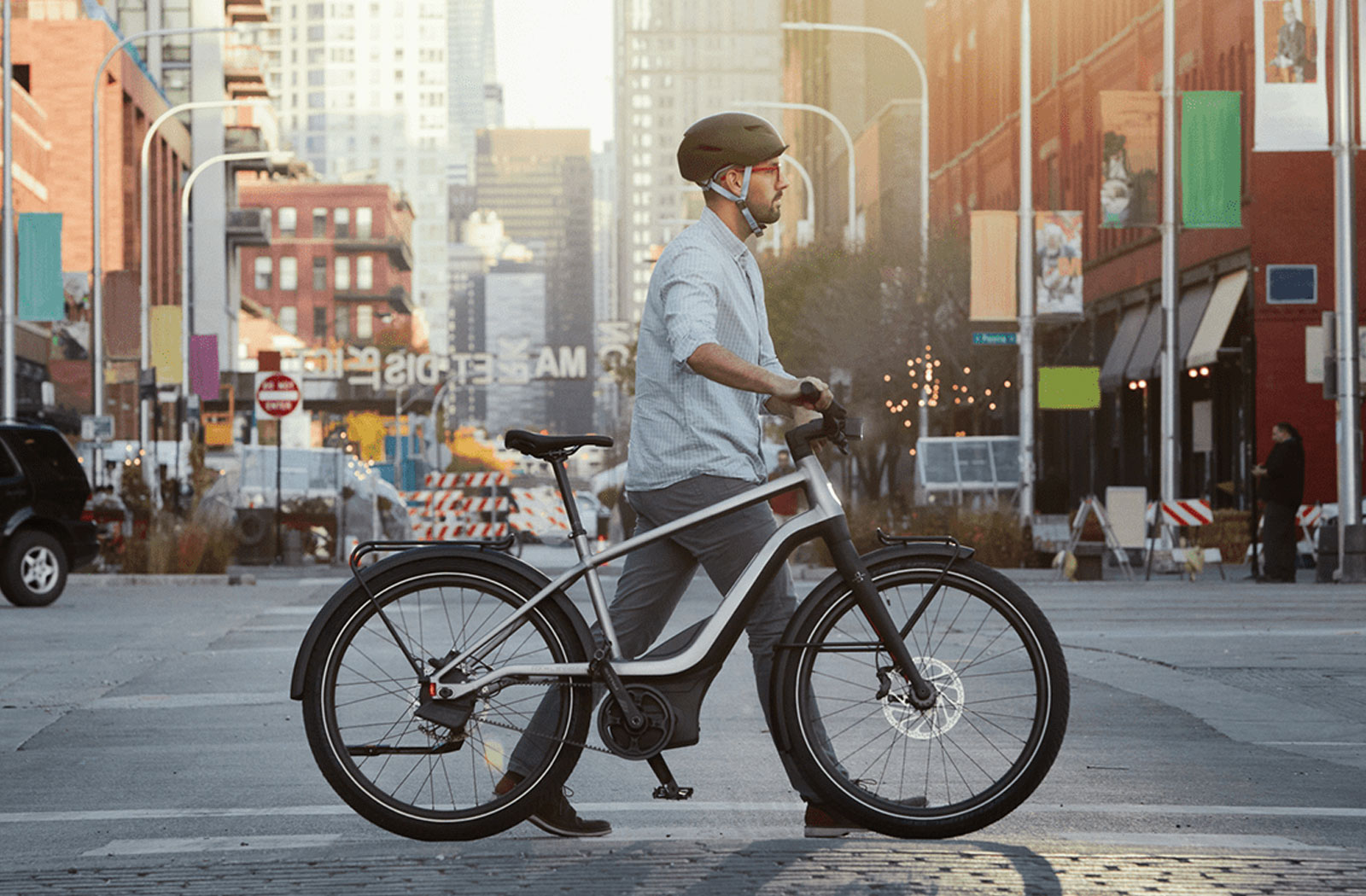 Via Serial 1
If you're into offroad action, an eBike will allow you to go where motorcycles legally can't. If you're simply looking for a bit of exercise, there are eBikes for casual riders who still want the look of a retro motorcycle. And, if you're brand loyal, a few motorcycle manufacturers have even got into the eBike game.
Today, we'll explore some of the best-looking and most powerful eBikes on the market that are sure to appeal to even the most steadfast of motorcyclists.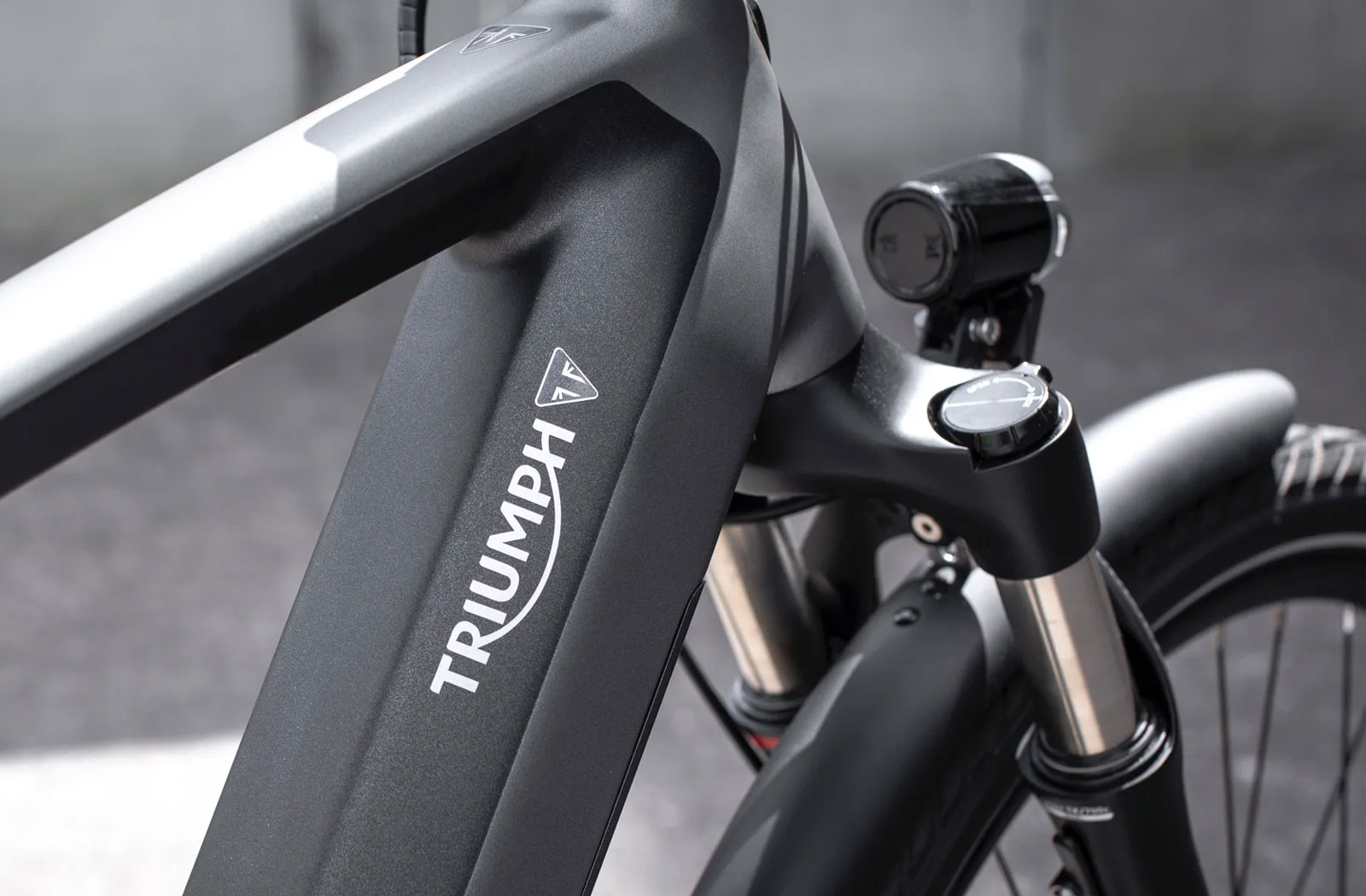 Via Triumph.
Motorcycle Manufacturer eBikes
Motorcycle manufacturers have been slow to adopt electric motors. That's through no direct fault of their own, though. The major issue is to do with battery technology and the limited range they offer in motorcycle configurations.
Although several manufacturers have teased us with electric motorcycle concepts, very few have actually brought one to market. There are however a few who are testing the waters by producing their own eBikes.
Here are three eBikes from Triumph, Ducati and Harley Davidson that we think are well worth a look.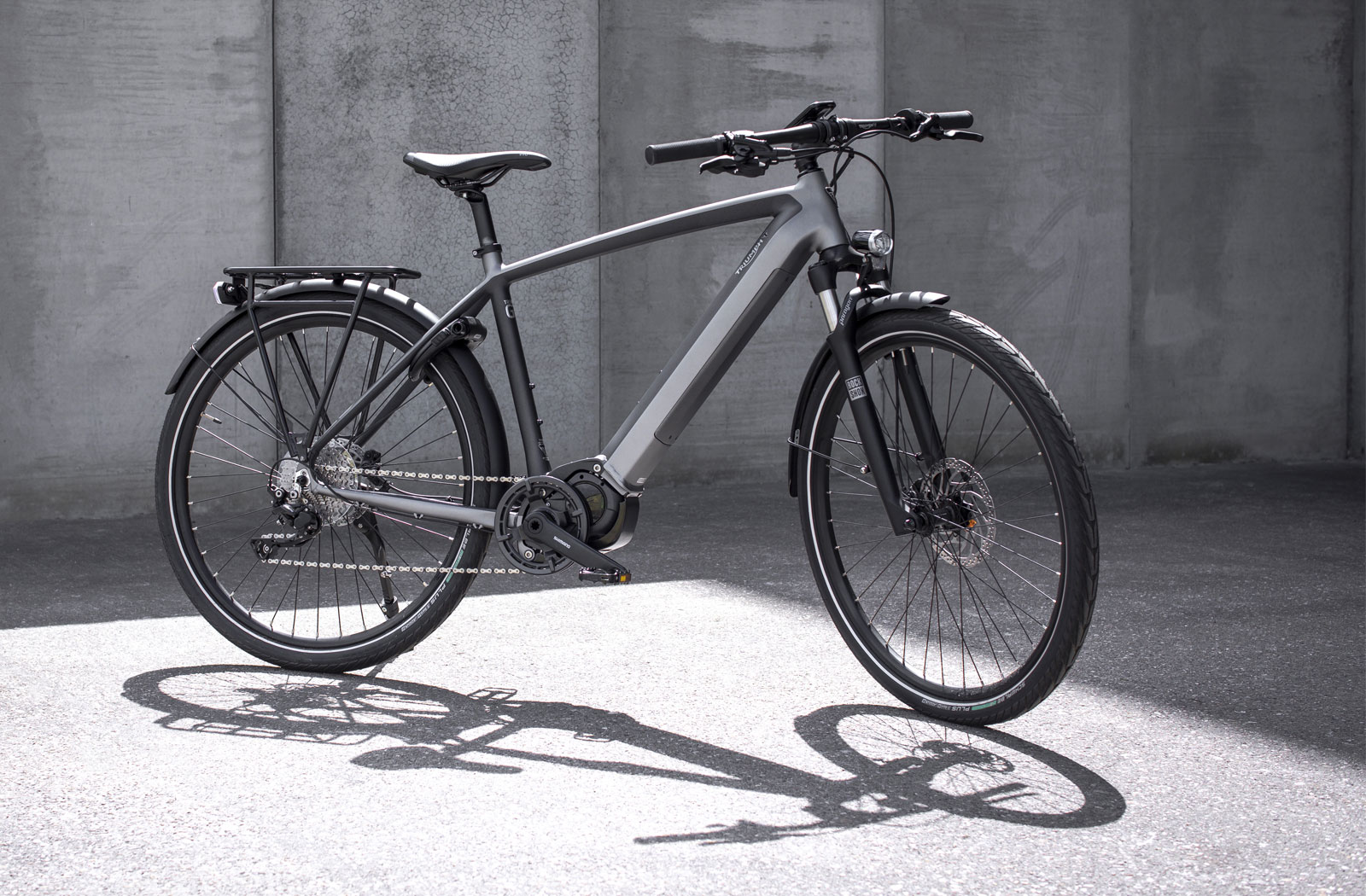 Via Triumph.
Triumph Motorcycles Trekker
Like many of the older motorcycle manufacturers still in operation, Triumph Motorcycles (formerly Triumph Engineering) originally launched their brand with a bicycle. The iconic British manufacturer's first motorcycle was essentially a bicycle with a Belgian Minerva engine shoehorned into the frame. Fast forward 136 years and the Brits have returned to their roots, but this bicycle is battery powered.
The Triumph Trekker eBike is the manufacturer's first electric bicycle. The Trekker features a 250W Shimano motor which is powered by a 504Wh Shimano battery. Triumph has also given the Trekker a plethora of high-end Shimano parts to complete this premium eBike package.
Designed primarily for street use, the Triumph Trekker is a pedal-assist only eBike. It offers 3 different modes of motorised assistance. The highest setting provides 230% of assistance while you get 70% in the Eco setting.
The Trekker's frame is all-alloy. featuring a hardtail rear and Rockshox air-sprung forks up front. As for the look and rider experience, Triumph's PR department states that the Trekker boasts the same elegant style, comfort, quality, and finish customers expect from their brand.
The Triumph Trekker is currently available in one colourway of matte metallic grey and matte black, featuring the brand's iconic emblems. Impressively, the Trekker promises a whopping 90 miles of pedal assistance—which will see most urban commuters through a week of riding without the need for another charge.
Specifications
Power: 250W Shimano DU-E6100
Torque: 45 Nm
Range: 90 miles
Weight: 53 lbs
Price (USD): $3,7500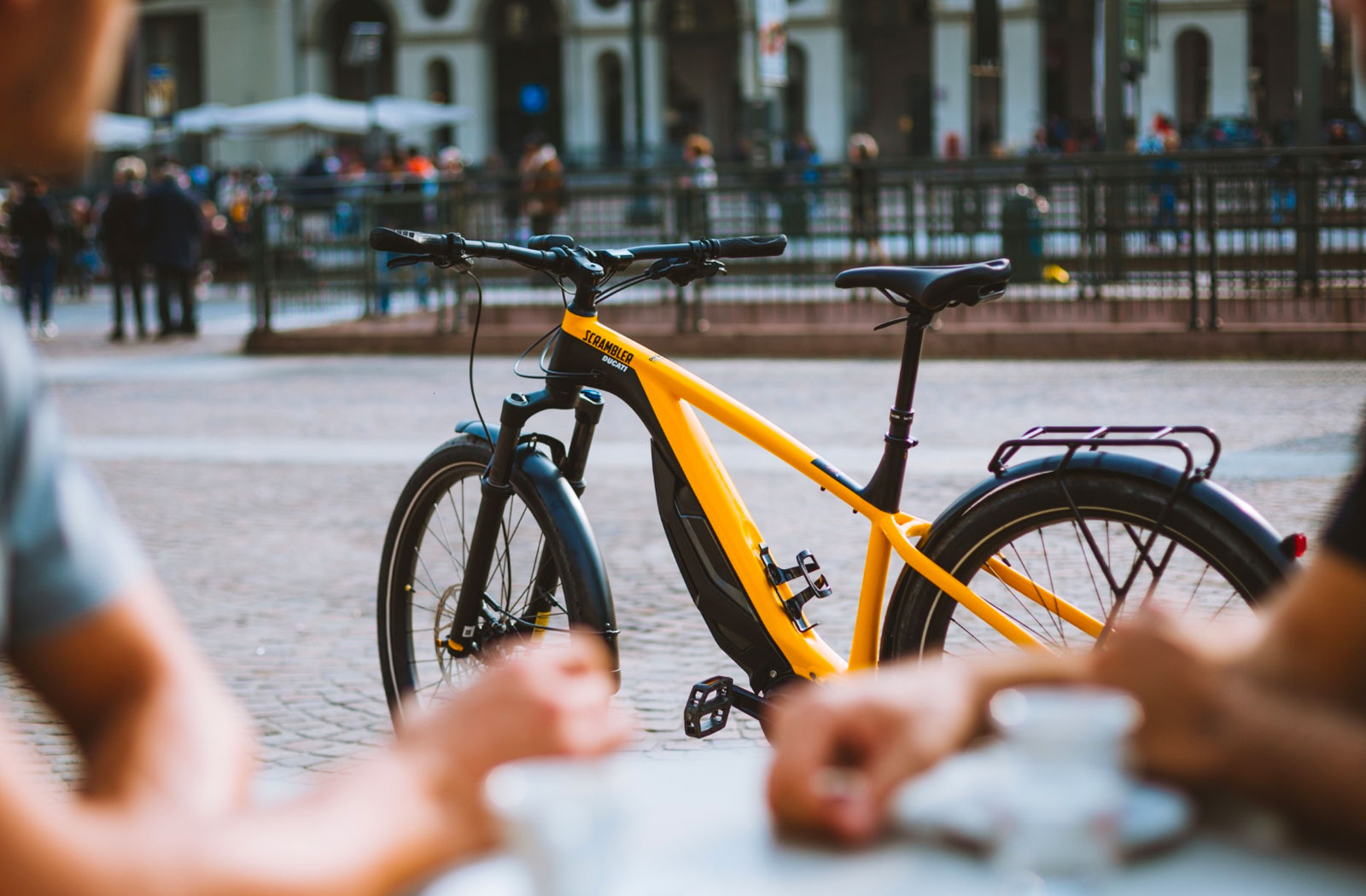 Via Ducati.
The Ducati e-Scrambler
Despite some rather cringe-worthy marketing that promised riders access to the "Land of Joy" or a chance to join the #joyvolution!, Ducati has enjoyed huge success with their range of Scrambler motorcycles. The brand has now extended that range to include an electric bicycle they have (rather predictably) named the e-Scrambler.
Like the motorcycle version of the Ducati Scrambler , the Ducati e-Scrambler is targeted at the urban commuter. The bike was developed in conjunction with seasoned Italian eBike manufacturer Thok. As a result, it benefits from Thok's extensive knowledge of eBike design.
Looking over the specs you'll find quality gear from Shimano, Suntour and Pirelli. Everything is bolted to a 6061 alloy frame consisting of CNC parts and hydroformed tubes. Interestingly, Ducati has included a drop post in the e-Scrambler design—a feature usually limited to off-road-focused MTBs, which may be convenient for those carrying a load. The e-Scrambler also comes with integrated lighting and a rear, fender-mounted carry rack.
Although the e-Scrambler wasn't developed entirely within the walls of Ducati's hallowed Bologna factory, Ducatista are sure to find this eBike offering hard to pass up despite the high price tag.
Specifications
Power: 250W Shimano Steps E7000
Torque: 60 Nm
Range: 75 miles
Weight: 49.6 lb without pedals
Price (USD): $4,200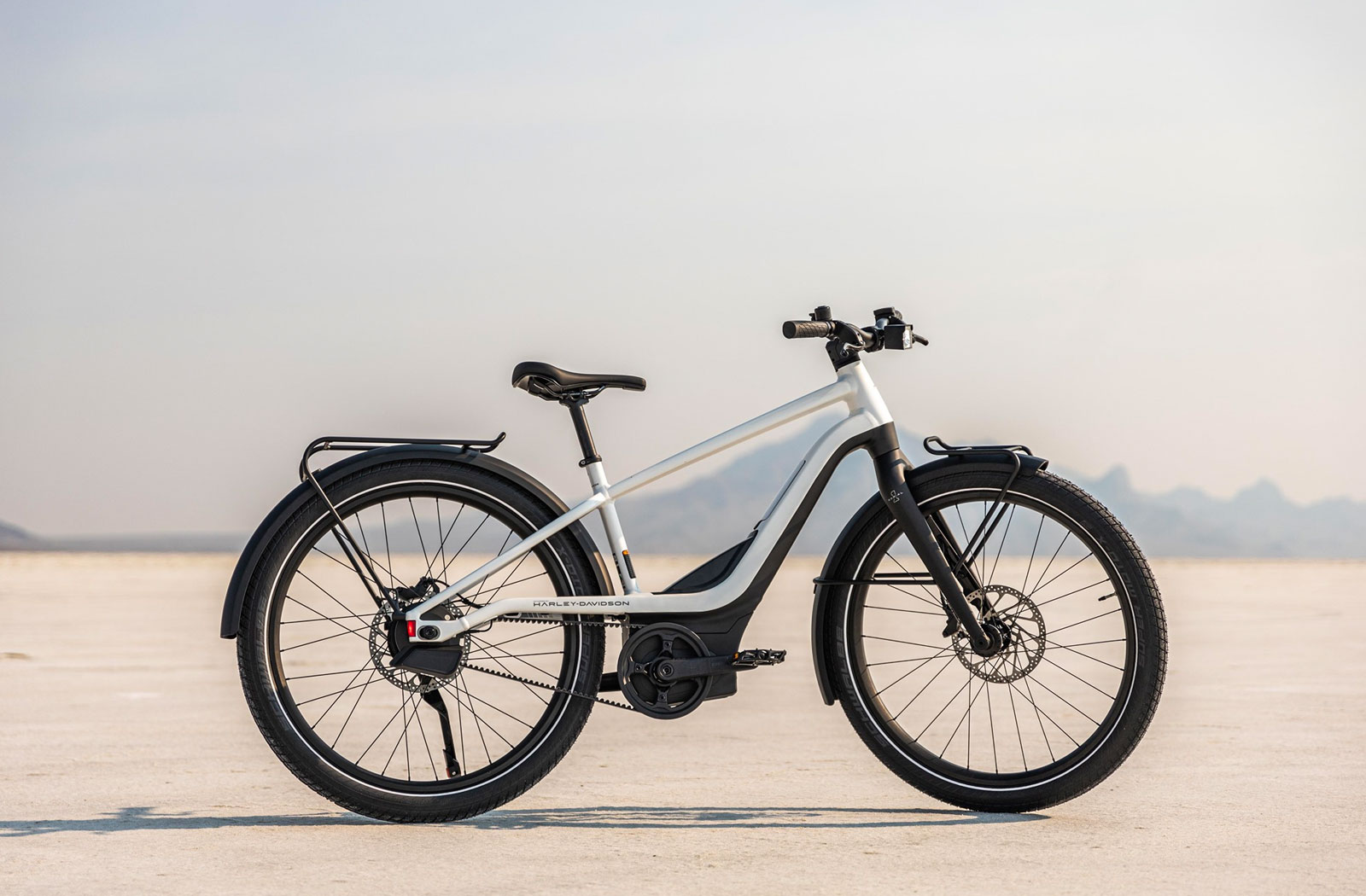 Via Serial 1
Harley Davidson Serial 1 Rush/CTY Speed
Of the 3 motorcycle manufacturers on this eBike list, Harley Davidson's presence makes the most sense. They are, after all, the only big-name motorcycle manufacturer to have actually released an electric motorcycle for sale (in the form of the Harley Davidson Livewire).
Interestingly, Harley has created a new sub-brand for their eBikes named Serial 1—after the company's 1903 motorised bicycle, which was nicknamed 'Serial Number One'. The Serial 1 Rush/City Speed is the brand's flagship commuter bicycle. Created with speed and comfort in mind, it can barrel along at up to 28mph thanks to a mid-mounted 250W Brose motor.
As for comfort, it comes equipped with everything you'll need for your everyday urban commuting. That includes integrated front and rear lighting, multiple riding modes, a modest "glove box" in the down tube for storage, front and rear luggage racks, and fenders.
The Rush/City Speed is available in 2 colourways (grey/black and white/black), and features both Serial 1 and Harley Davidson branding. It comes in 4 different frame sizes, and they all feature a neat-looking backlit Serial 1 emblem on the headstock of the frame.
The premium-priced Serial 1 Rush/City Speed retails for $5,599 USD. That may put a few seasoned eBikers off, but Harley customers probably won't bat an eyelid since this eBike features their beloved bar and shield.
Specifications
Power: 250W Brose Mag 2
Torque: 90 Nm
Range: 115 miles
Weight: 59 lbs
Price (USD): $5,599
Via Serial 1.
Harley Davidson Serial 1 also recently produced a one-off custom eBike named the Mosh/Chopper. This oddball eBike came with a classic banana seat, high-rise bars, and a '60s-style metal-flake-and-pinstripe paint job.
That bike sold at auction for an eye-watering $14,200 USD. You can't buy one now, but we're sure to see more limited-edition eBike releases like this from the brand in the near future.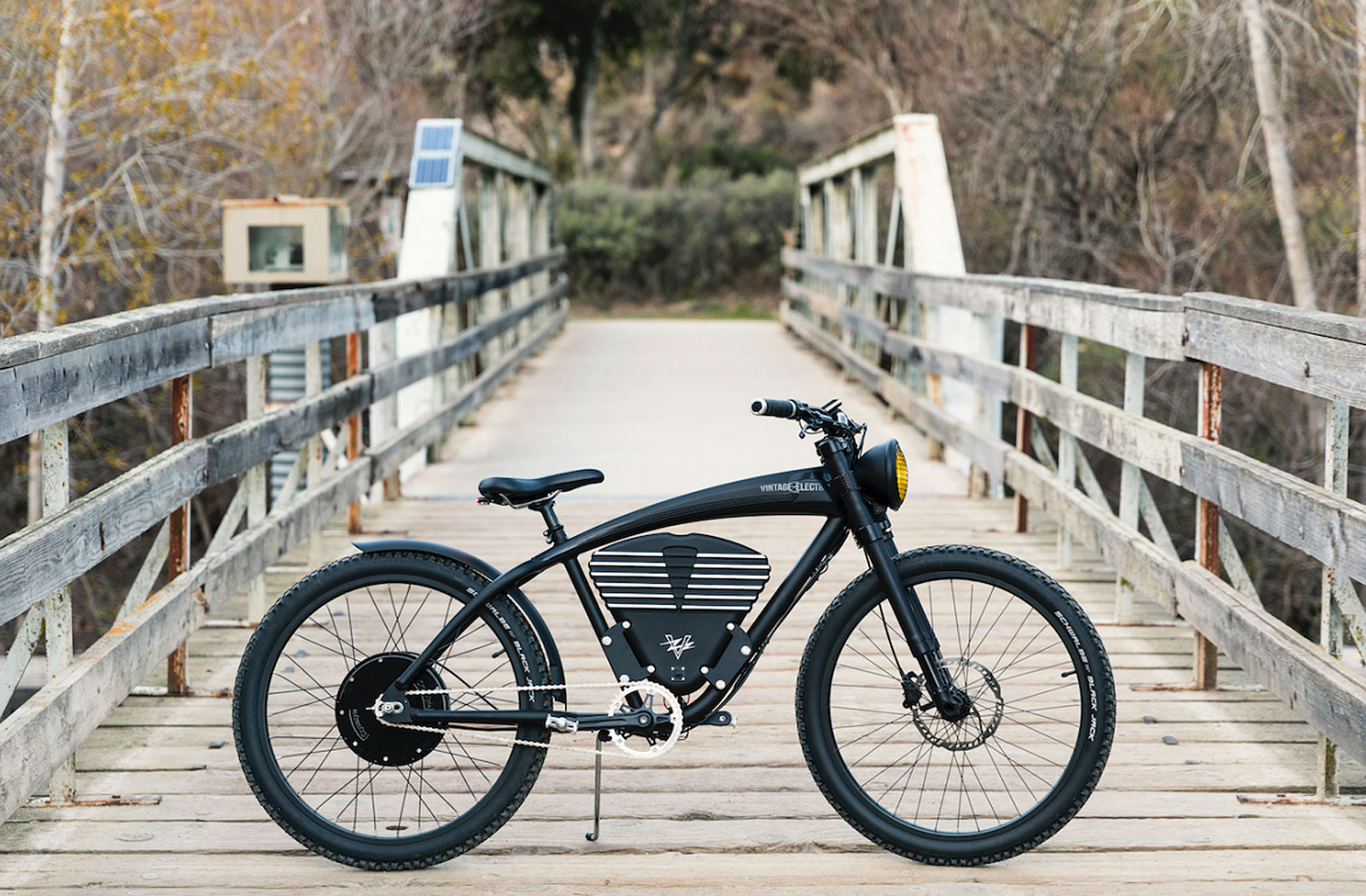 Via Vintage Electric Bikes.
Retro & Classically-Styled eBikes
When the "new wave" custom scene took hold, many motorcycle manufacturers began catering to customers by releasing modern classic and retro sports models that blended modern technology with classic styling to offer riders the best of both worlds. Recently, the same approach has also been adopted by several eBike manufacturers.
Retro styled eBikes are great for getting around town or for cruising the coastline in style. Many of the brands that produce these models have also been clever with their designs. Battery units are often incorporated into the design, which in some cases results in an eBike that could easily be mistaken for a motorcycle.
Here are four of our retro favourites.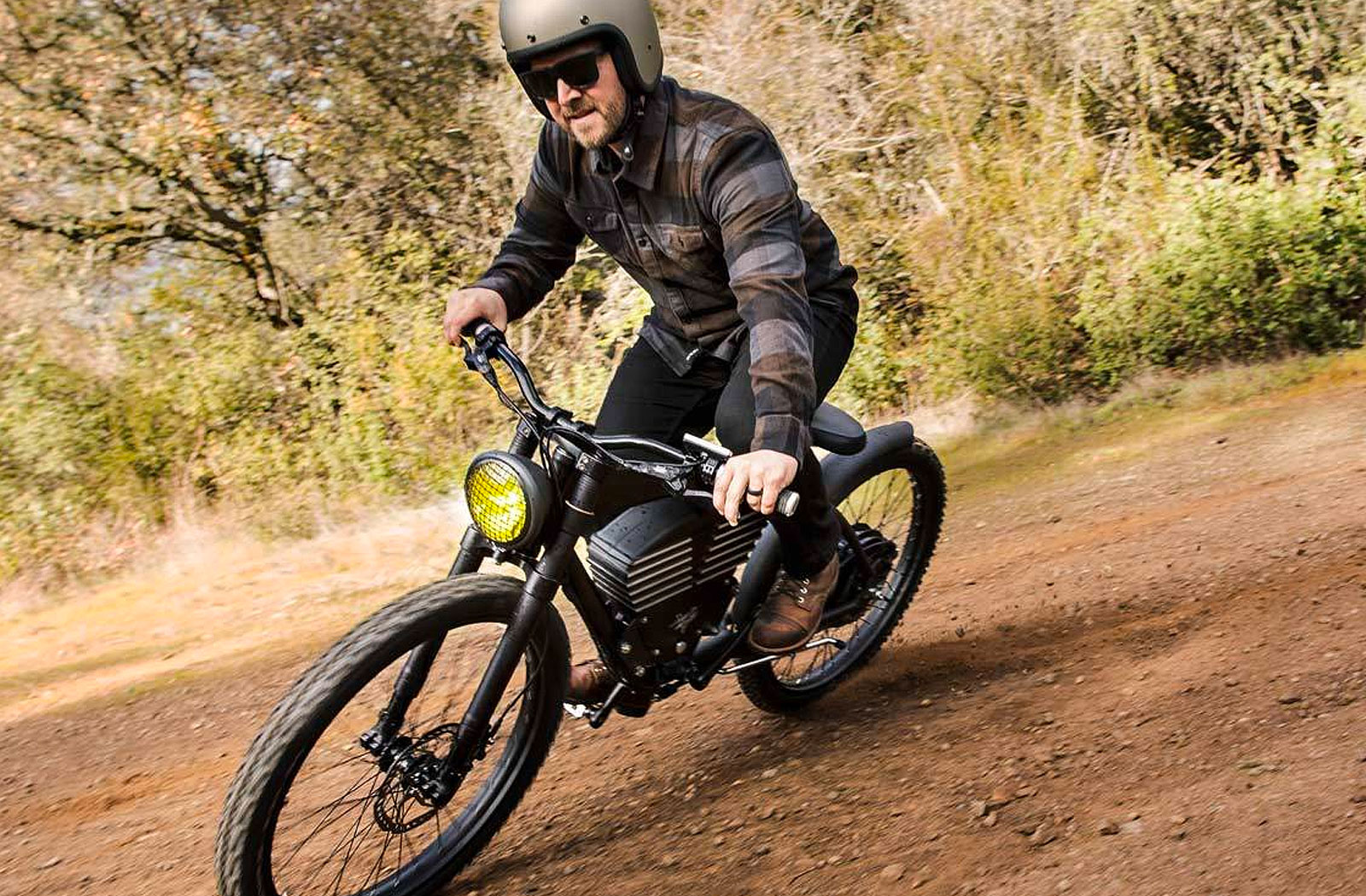 Via Vintage Electric Bikes.
Vintage Electric Bikes Scrambler
If you're looking for a retro-styled eBike, the aptly named Vintage Electric Bikes website seems an obvious place to start. Their range consists of a series of eBikes, most of which are based on a similar frame, battery and engine configuration. The differences are in the styling and accessories.
Among the designs on offer, it's their Scrambler that appeals to us the most. The Vintage Electric Bikes Scrambler is the brand's off-road retro eBike. Inspired by the original Scrambler motorcycles of the 1960s, this eBike will happily pilot you across the tarmac or unsealed terrain without skipping a beat.
To achieve this, VE Bikes fit the Scrambler with a "rugged" set of MRP inverted forks offering 60mm of travel. The 26-inch spoked rims are wrapped in chunky 2.35 Schwalbe Black Jack Knobby rubber and contain puncture-proof inner tubes.
The Scrambler also features one of the beefiest batteries (1123 watt-hour lithium) in the VE Bikes lineup. This enables it to tackle tougher terrain for up to 75 miles. For those wanting to really tear it up, you also have the option of adding a Race Mode to the bike—which will push the top speed up to 36mph.
As for styling, the Vintage Electric Bikes Scrambler certainly looks the part. The bike's hydroformed aluminium frame has a wide centre reminiscent of a motorcycle's fuel tank. The battery unit is cleverly shaped to look like a V-twin, and it even has shaved "cooling fins".
The whole package has been finished in slick matte black duco, and up front you'll find a motorcycle-style yellow lens headlamp covered by a purposeful mesh stone guard.
Specifications
Power: 750W hub motor
Range: 75 miles
Weight: 86 lbs.
Price (USD): $6,995 (with optional race mode)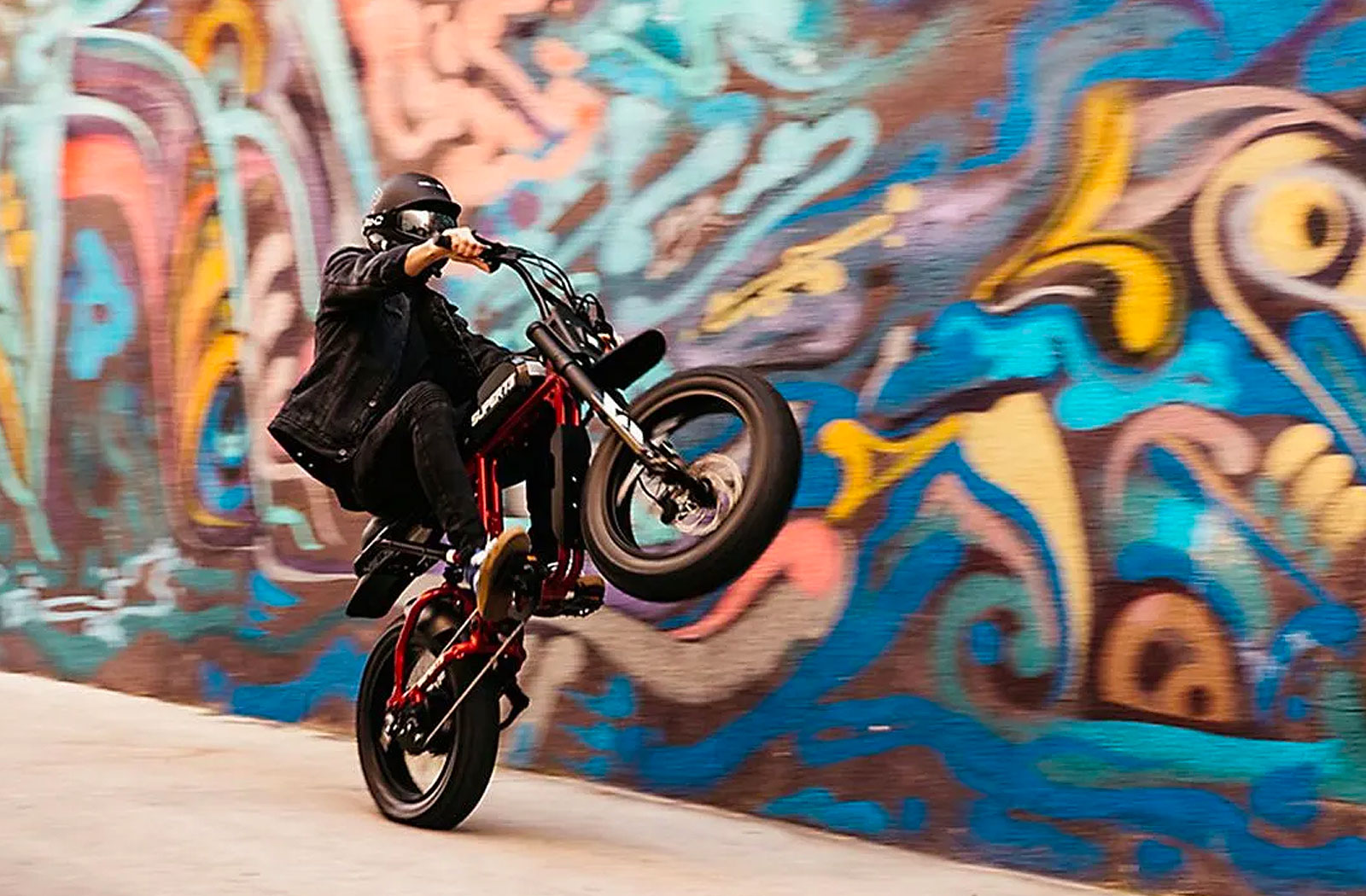 Via Super 73.
Super 73 RX
If you're old enough to remember the pit bike craze of the 70s and 80s, you're sure to love the eBikes by Super 73 of Southern California. Sporting frames and geometry more akin to motorcycles than bicycles, Super 73 eBikes are the perfect pedal-powered companion for the moto lover.
The Super 73 RX is the brand's most powerful street-legal eBike that does not require a license to operate. The RX is powered by a hub motor capable of up to 2000 watts of power. That translates to a top speed of 28mph+ in the bikes Ultimate mode.
When pushing the motor to its limit, the 960 watt-hours battery will cover around 38 miles on a single charge or 73 miles in the lowest pedal assist mode.
Via Super 73.
Adding to the all-terrain ability of Super 73 RX is a dual-suspension set-up. In the front are inverted air-assist forks, and the rear features a piggyback Coilover mono-shock. Both systems are fully adjustable to tailor the ride to your specific needs. The RX also sports 5-inch wide BDGR tyres that'll glide over soft terrain with ease.
Above all else, it's the styling of the Super 73 RX that really sets it apart. The front end features a high-mount dirt-bike-style fender poised beneath a racing plate headlamp surround. The light itself is a powerful 600 lumen LED.
Perched on the frame looking very much like a motorcycle fuel tank is the RX's battery pack. All of the bike's cabling is internally routed for a clean finish, and it comes with a comfy cafe-racer-style seat.
Available in either a grey or red highlight colour scheme and priced at under $3500, the Super 73 RX is a very impressive eBike offering.
Specifications
Power: 1200 watts nominal / 2000 watt peak
Range: 73 miles
Weight: 80lbs
Price (USD): $3,495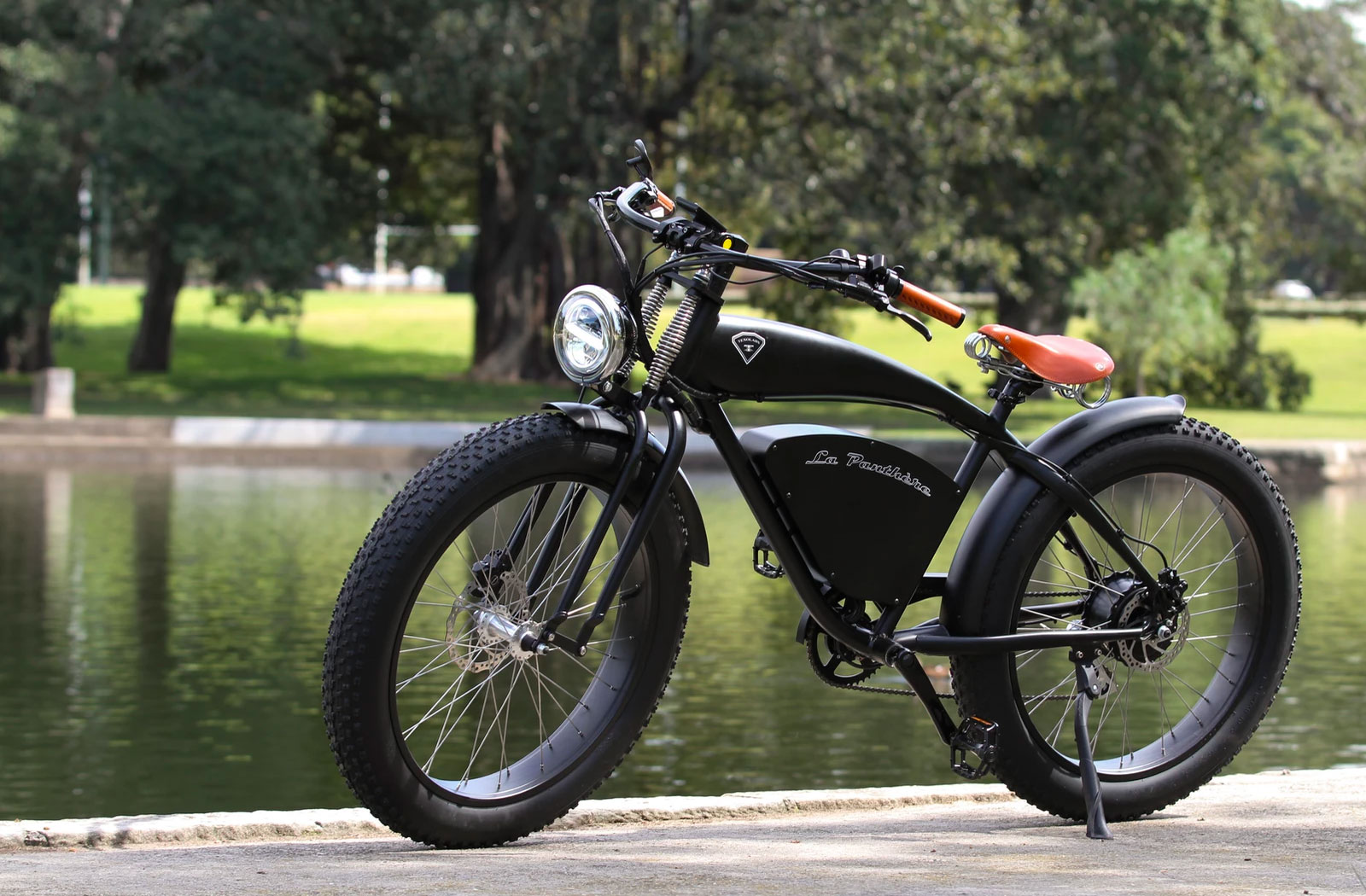 Via Texolabs.
Texolabs La Panthére
When creating their retro eBike, Australian manufacturer Texolabs took inspiration from vintage V-twin motorcycles. The Texolabs La Panthère features a design reminiscent of the 1930's Harley Davidson 45". The similarities are most obvious in features such as the bike's springer-style front end suspension, wide cow-horn handlebars, sprung leather saddle, and bottom-mounted headlight. Texolabs also placed the bike's batteries inside a V-twin shaped compartment in the cradle of the frame to complete the look.
La Panthére is powered by a 250W Bafang "Very High Torque" motor. Speed is limited to 25km/h to adhere to Australian regulations, but an included thumb throttle can be installed at the owner's discretion.
Range varies depending on the battery configuration but the standard 576 watt/hour unit will provide pedal assistance for 40 km (25 miles). La Panthére also comes with 26-inch wheels sporting 4-inch wide rubber and front and rear fenders to further enhance its motorcycle-esque aesthetic.
Specifications
Power: 250W
Range: 25 miles
Weight: 79lbs
Price (USD): approx $3,000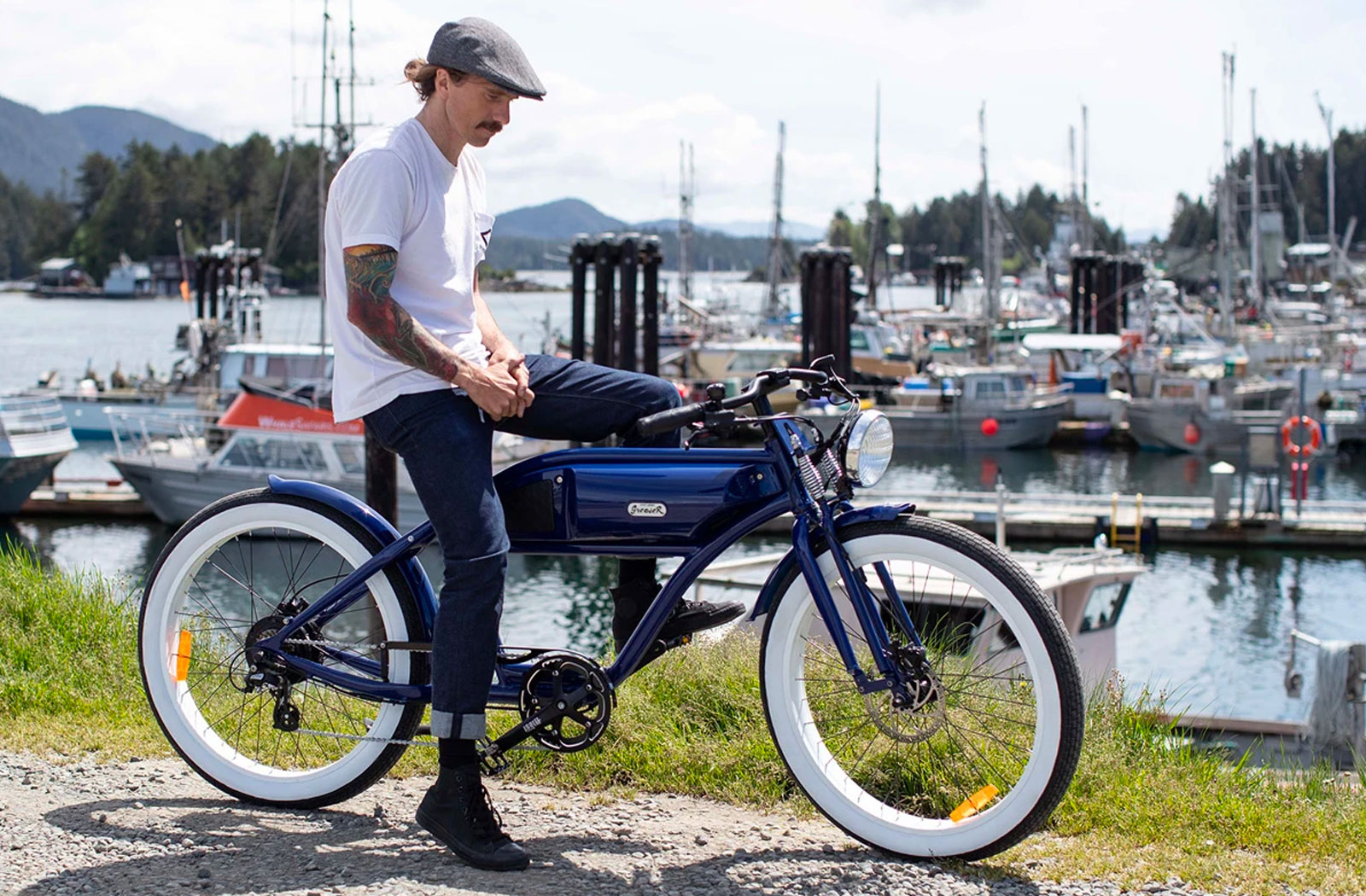 Via Michael Blast.
Michael Blast Greaser Springer
Labelled as an electric board tracker by its manufacturer, the Michael Blast Greaser Springer takes its styling cues from the 1920s. Similar to the Texolabs La Panthére, this Australian-built eBike was designed to look like a vintage motorcycle, and it does a very convincing job of it.
The Greaser Springer features springer-style front suspension, wide backward-swooping handlebars, large fenders, a classic round headlight, and a battery pack posing as a fuel tank. And, for an added touch of classic motorcycle style, the bike's wheels are white-walled.
The Michael Blast Greaser Springer is available in two engine configurations. The lower-spec version offers a 250W street-legal design. If you're after something with a bit more kick, you can opt for the 500W drivetrain—which is designed for use off-road or on private roads. The 500W setup is capable of speeds in excess of 25mph, and it'll cover around 30 miles on a single charge.
Specifications
Power: 250W or 500W
Range: 31+ miles
Weight: 64lbs
Price (USD): approx $3,600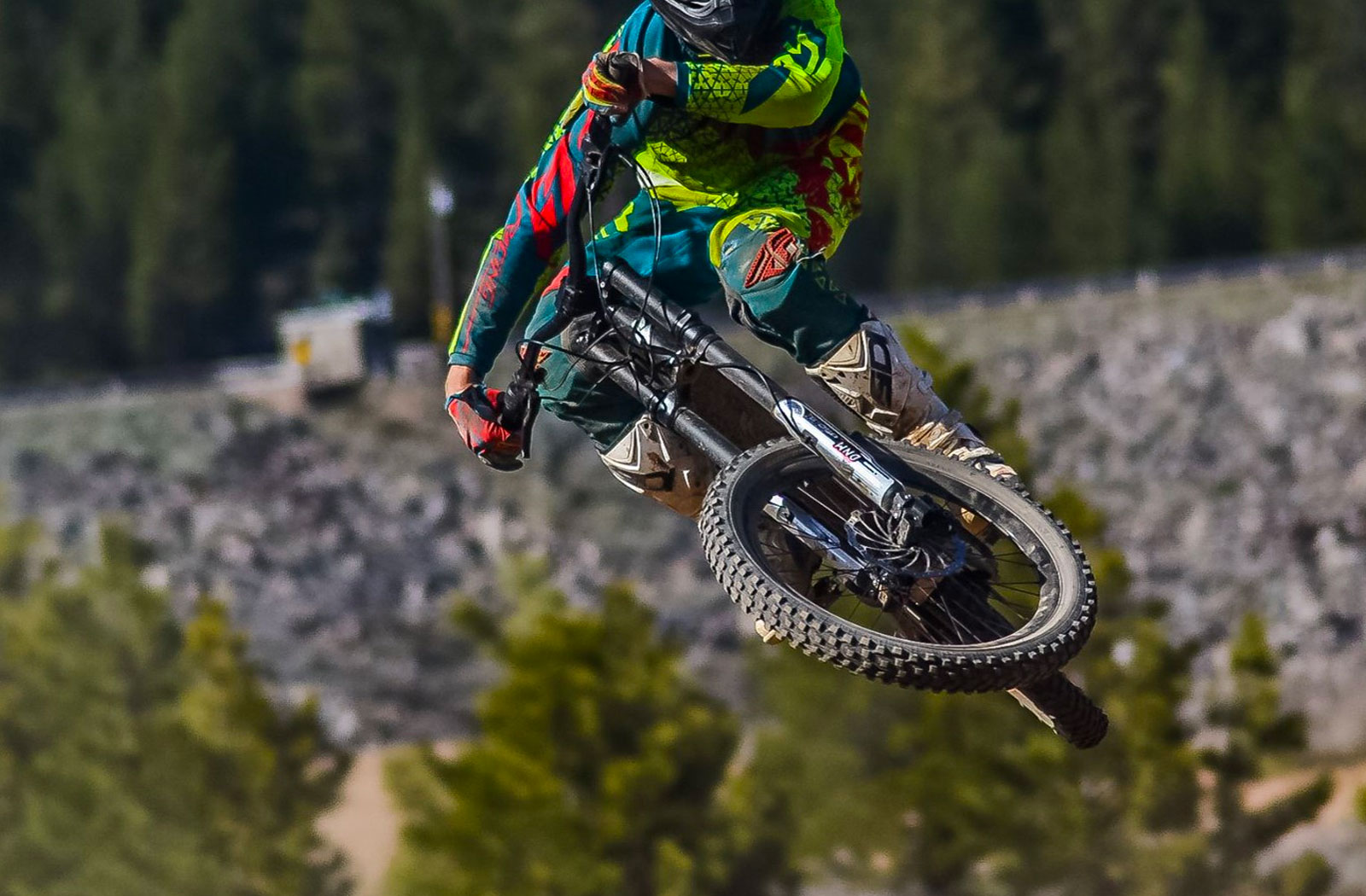 Via Stealth eBikes.
Serious Off-road eBikes
So you want to take your riding to the trail? Off-road tracks that allow motorcycles are becoming few and far between due to strict noise rules and conservation laws—so a mountain bike is certainly one way to get your two-wheeled outdoor fix without treading on any toes. But if you want to really get some speed up or make that ride to the peak a piece of cake, these high powered off-road eBikes will not disappoint.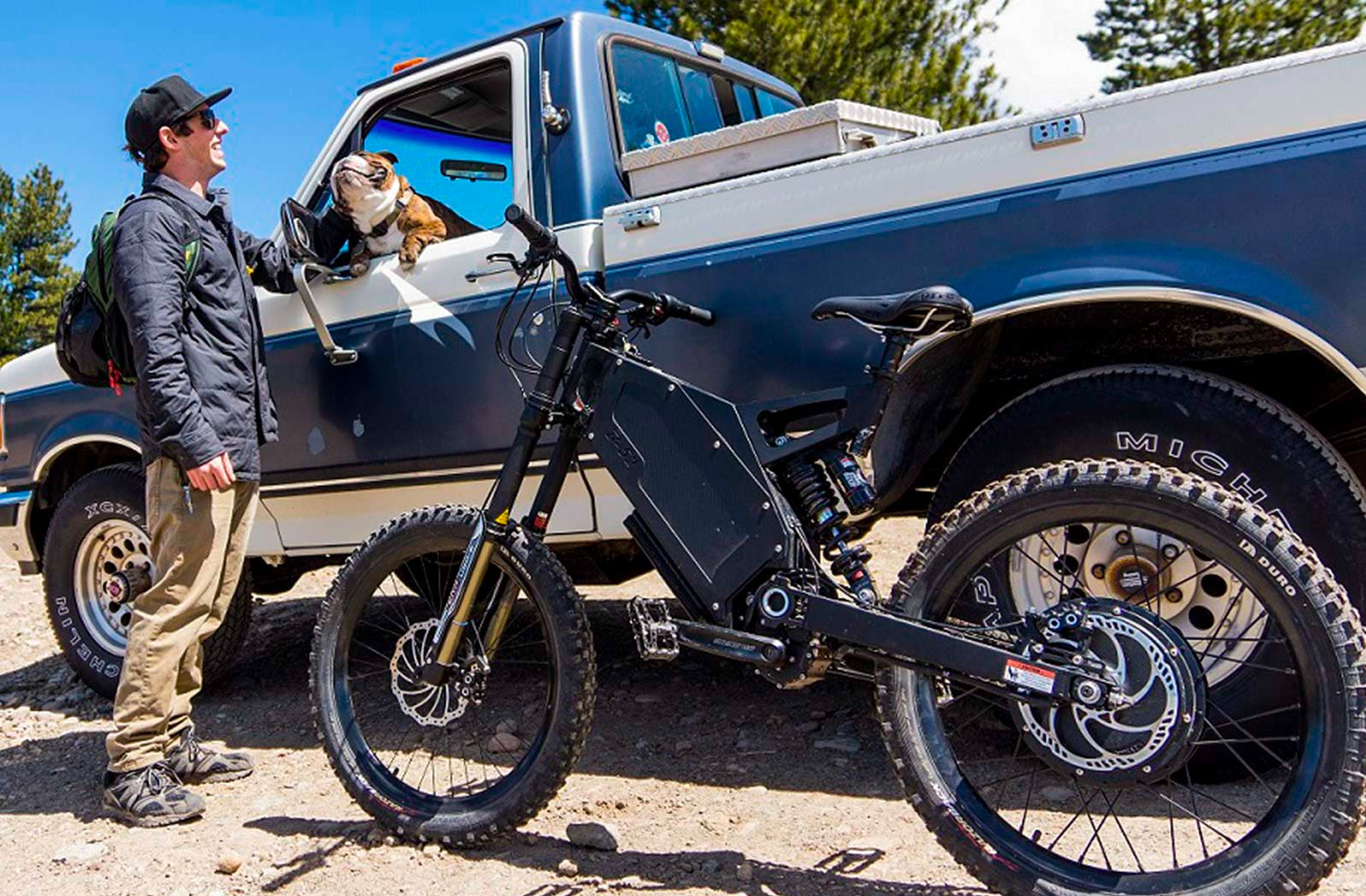 Via Stealth eBikes.
Stealth eBikes B-52
If going fast is your thing, the Stealth B-52 is the eBike for you. Labelled as the companies 'heavy artillery', this angular, fully loaded off-road eBike doesn't pull any punches.
Powered by a hub motor with a peak power figure of 6,200W, the B-52 has ample power on tap for your off-road antics. At full speed, you can expect to see numbers upwards of 50 miles per hour. In economy mode, the B-52 can cover 60 miles of terrain, but in the full power 'competition mode' your achievable distance will more than halve.
Since this eBike is designed for serious off-road abuse, Stealth has fit it with some seriously capable components. The bikes Fastace forks offer 200mm of travel while the rear mono-shock covers 250mm. In order to pull the bike up in a reasonable amount of time, the front and rear brakes are 4 piston hydraulic items by Magura.
The B-52's performance isn't the only thing that'll leave you feeling faint. With a starting price of $7,550, it's one of the most expensive eBikes on this list.
Specifications
Power: 6,200W peak
Range: 60 miles
Top Speed: 50+ mph
Weight: 112lbs
Price (USD): $7,550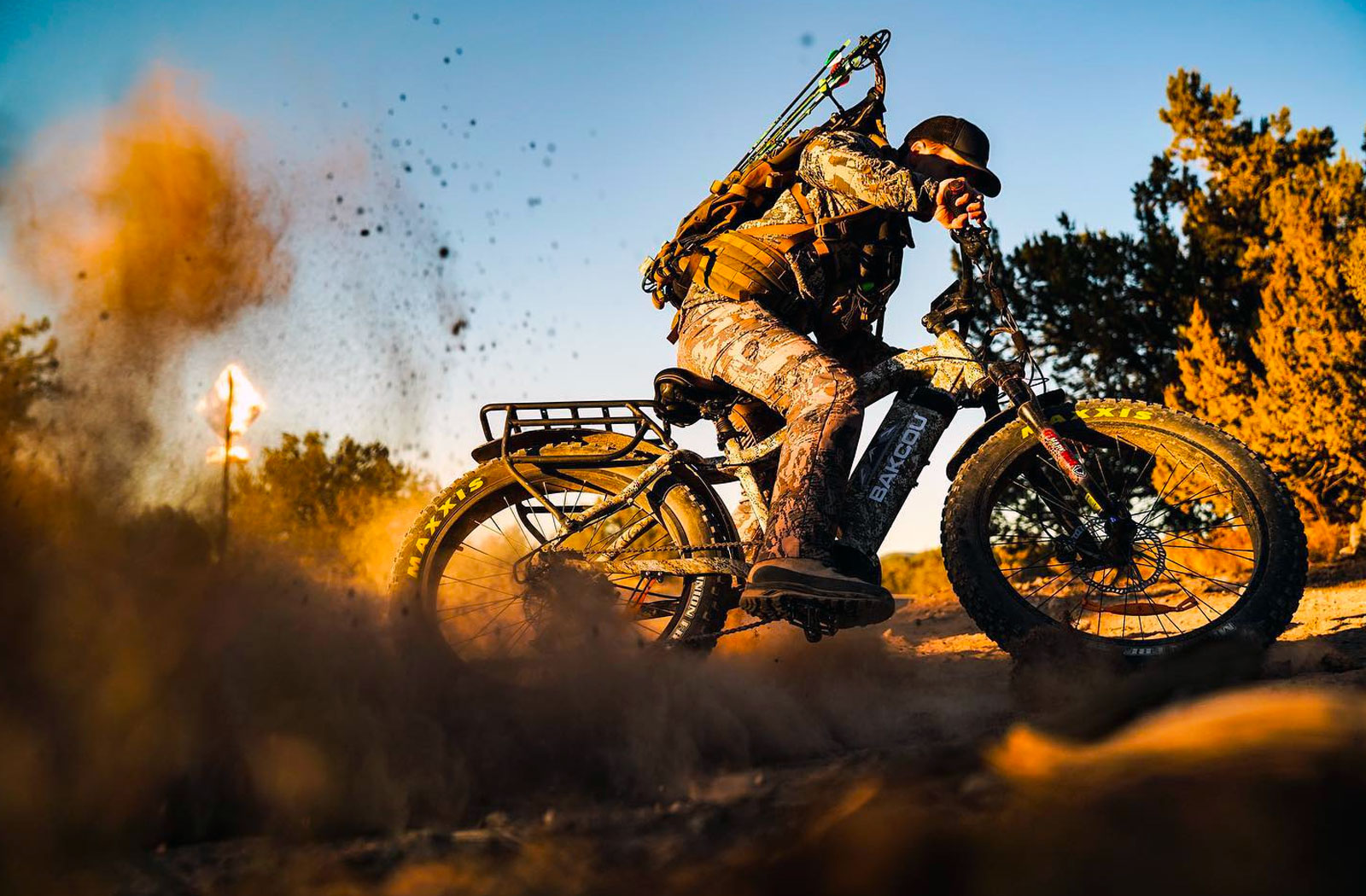 Via Bakcou.
Bakcou Storm
The Storm by Bakcou is another immensely capable off-road eBike. Bakcou has baptised the engine powering the Storm the 'Diesel Engine of eBike motors' due to the massive 160Nm of torque it generates. Combine that with a max power output of 1,500W and you've got an off-road eBike that can "chew up rocky climbs and steep descents with ease."
Thanks to its impressive torque output, beefy dual suspension, and sturdy 6061 alloy frame, the Storm is a real workhorse. Fully loaded, it's capable of carrying 300lbs of gear and comes readily equipped to do so thanks to a sturdy rear pannier rack.
Bakcou designed the Storm with the goal of creating the ultimate backcountry hunting eBike, and every aspect of the bike has been built with this in mind. Along with its load-bearing ability, you get anti-puncture tire liners, chunky Maxxis rubber, a high-tensile chain, grippy alloy pedals, and front and rear mudguards. Bakcou also offers the Storm in 2 camo paint schemes to help you blend in when you're on the hunt.
Specifications
Power: 1,500W
Troque: 160Nm
Range: 82 miles
Top Speed: 35+ mph
Weight: 72lbs
Price (USD): $6,198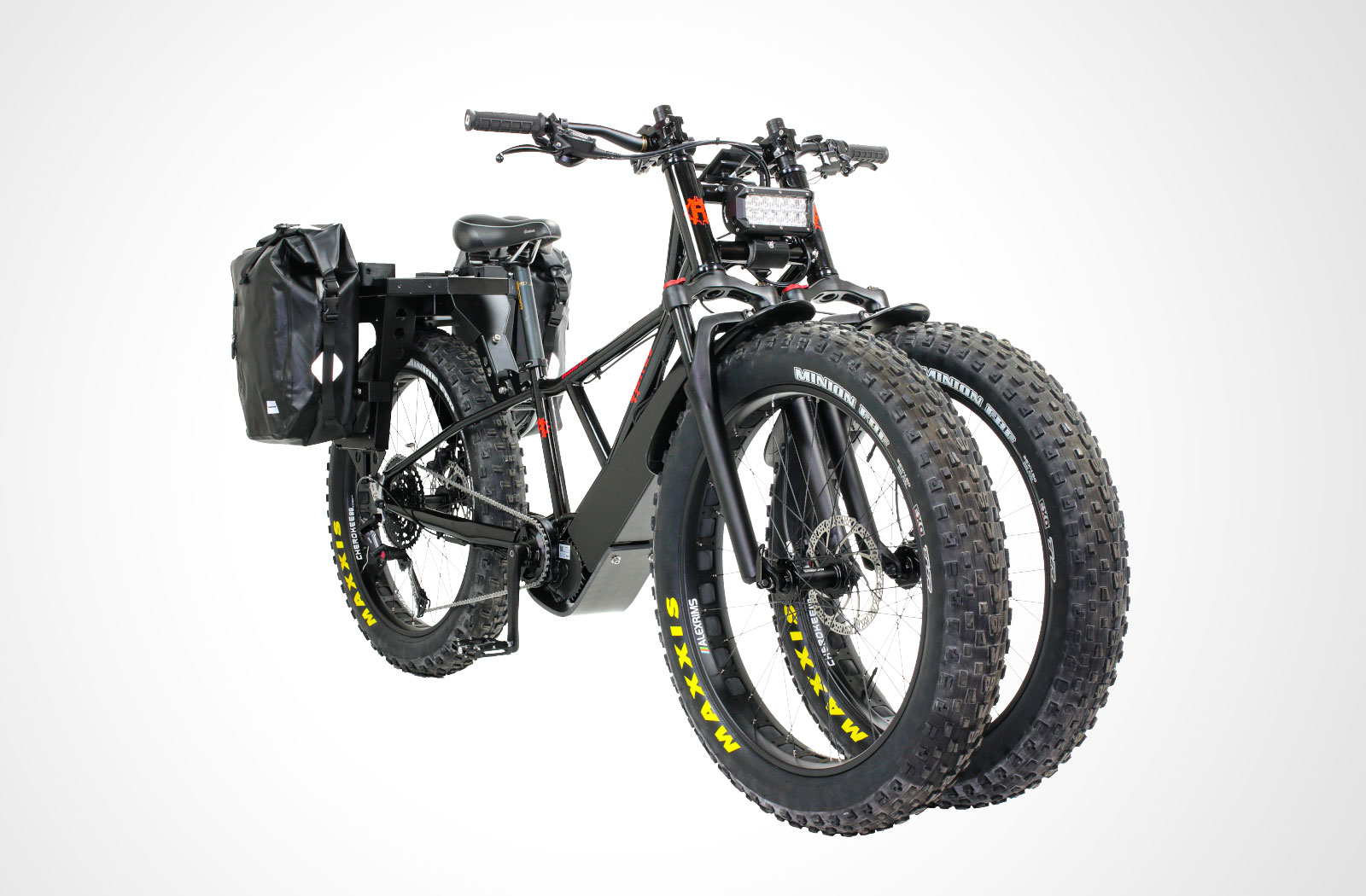 Via Rungu.
Rungu Dualie XR Rubicon Trail Edition
Trail riding can be tough on two wheels. To give their off-road eBike the edge, Runga had to get one up on their competitors—literally.
Runga's range of Dualie eBikes features a unique three-wheel configuration. While this definitely makes these eBikes more challenging to transport, the company claims this design makes their trail bikes vastly superior to both standard MTB eBikes and ATVs.
How can this be? Well for starters, having 2 wheels out front at only 9 inches apart gives the Dualie superior traction that can help to prevent front end washouts. Rungu also claims that this unique approach allows their eBike to traverse mud, rocks, logs, and up to 9-inches of snow with relative ease.
The Runga Dualie XR Rubicon Trail Edition eBike is the brand's flagship offering. This beast of a trail bike gets its name from the 22-mile-long Rubicon trail in the Sierra Nevada where it was put to the ultimate test (and passed with flying colours).
The XR Rubicon Trail Edition features the same three-wheel configuration as the other eBikes in Rungu's Dualie range, but it has a few aces up its sleeve. Topping the list of upgrades is the Rubicon Trail Edition's dual battery setup. Having 2 batteries effectively doubles the bikes range, and Rungu states it'll provide 37 pedal-assisted miles on serious off-road terrain.
Impressively, when you move to the pavement, the Rubicon Trail Edition will cover an incredible 250+ miles in the lowest pedal assist mode. Other features unique to this model include a BOX Prime 9 gearing system, wide Maxxis off-road tires, and a few other unique accessories chosen specifically for trail riding.
With 242lbs of torque and a max power output of 1429W, the XR Rubicon Trail Edition is also capable of ascending grades of up to 50%. So if you want to do some serious mountain climbing on two wheels, this awesome eBike will undoubtedly see you reach the summit.
Specifications
Power: 1429W maximum
Torque: 242lbs
Range: 37 miles off-road / 254 miles on sealed surfaces
Weight: 120lbs
Price (USD): $7,759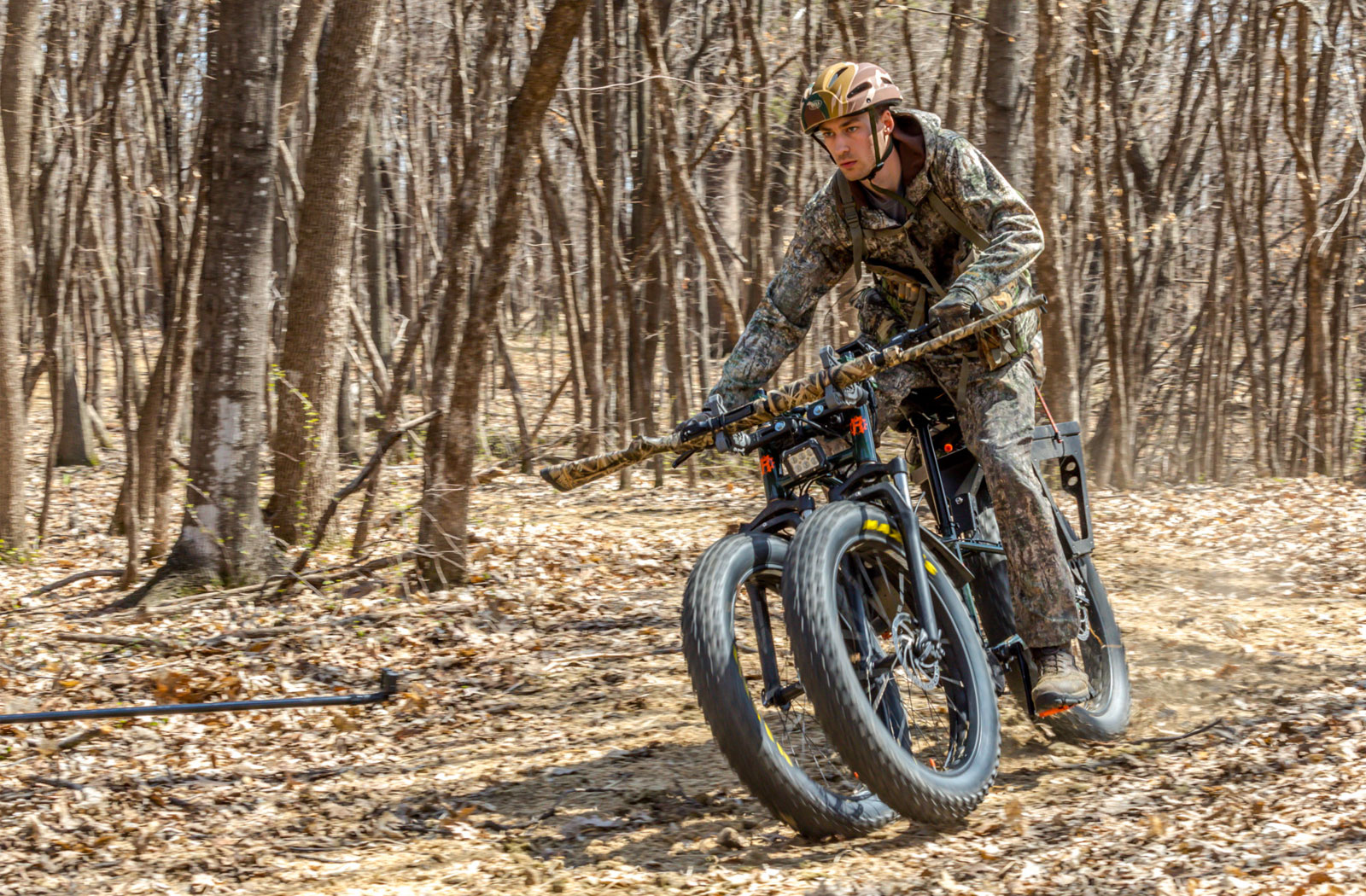 Via Rungu.