In collaboration with Tank Moto magazine, we are excited to bring you a bike that caused a flurry of online excitement back in 2012 when photographer Daniel Simon released a small set of early build images. This Ducati Monster Flat Tracker is the work of automotive designer Alex Earle. Based on a '94 Ducati Monster it's as unique as it is well designed and is destined to be available in kit form. We bring you the story of this bike in collaboration with Tank Moto Magazine.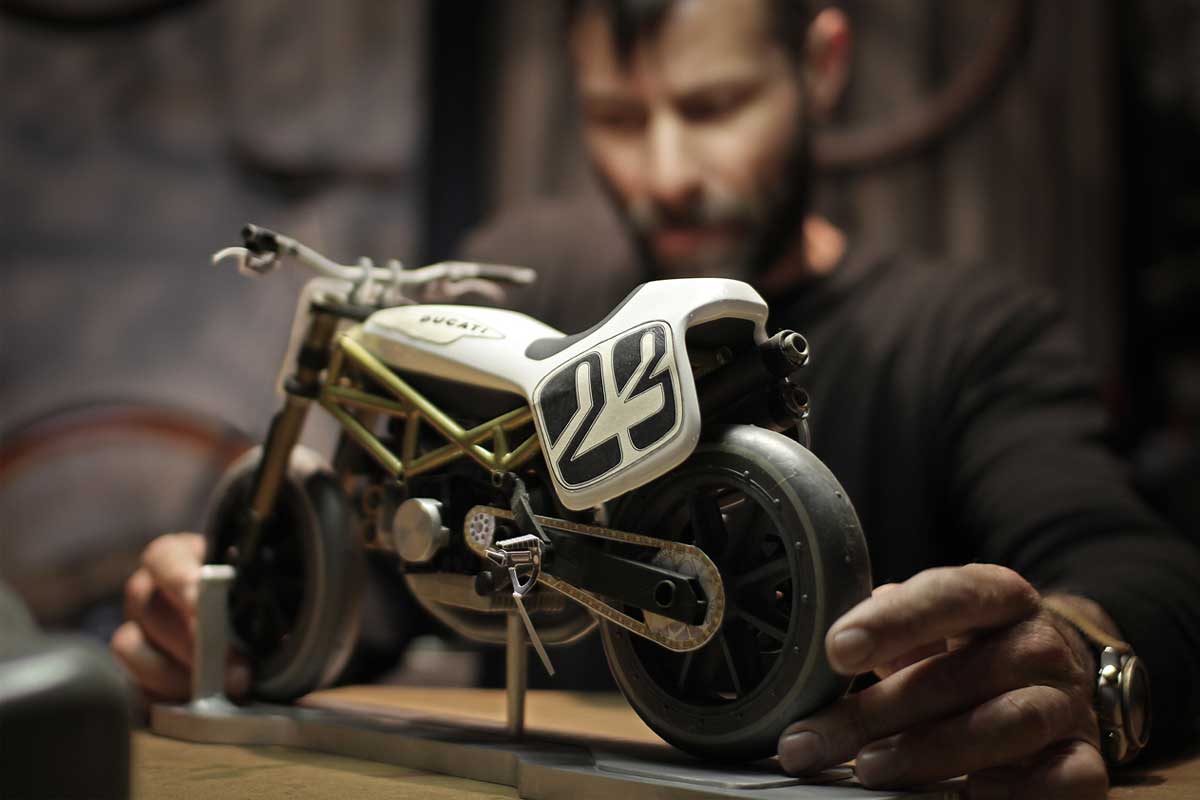 I can clearly recall the first time I learned about the Ducati Monster, it was 1994, my first year out of high school. I'd just walked into the cinema where I worked to find a couple of workmates blubbering over a motorcycle magazine. I went over to take a look at what all the fuss was about. Straight away I liked what I saw. No fairings stripped back like an old classic but ultra-modern with that lovely 90-degree v-twin exposed for all to see. My friend then informed me "it can do a wheelie in any gear!", I was impressed, to say the least.
That same year, some 20,000kms away in Denver, Colorado, automotive exterior designer Alex Earle had his own first encounter with a Monster. "It was a yellow M900 parked on the street in Denver – it stopped me in my tracks" and so began his own obsession with the motorcycle that 'revolutionized the naked bike category'.
Alex's experience as an automotive designer has seen him work for the likes of Porsche, Audi, and VW for the past 15 years. In 2005 he designed the VW GX-3, a 3 wheeled car/motorcycle that gained an overwhelming response from the public but never (as with many groundbreaking concepts) went into production. Alex is also an avid off-roader. Originally hailing from Utah, Colorado he's always looking for an opportunity to get out in a Jeep or on a trail bike and has even taken part in the 6-day trials in Romania twice.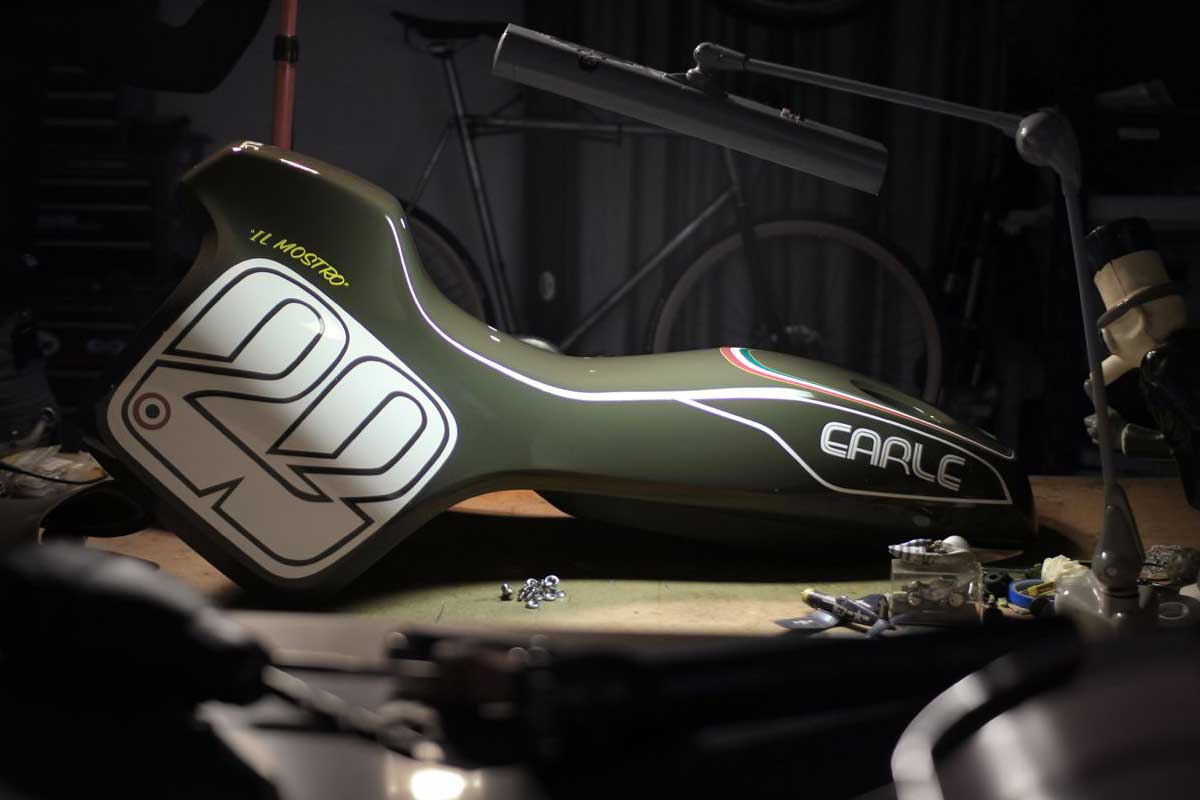 A few years after that first encounter Alex got his hands on a clean example of a '94 Monster with only 5000 miles on the clock. The bike was exactly what he'd been searching for but it didn't take long for him to begin considering other design possibilities for the bike. "I started thinking about what I could do with my aging Duc. Selling it was out of the question, it still sounded fantastic with that beautiful V-twin but the seat height was too low and I wanted a more distinctive, bad-ass look".
"One of my friends had built a street tracker out of a Sportster and I thought it would be great to use my nice Italian motor to do something a little different. I would create a custom bike with more appropriate seat height and all-new bodywork of my own design. Simple.
The process was the same as we use in the automotive industry. I began sketching the concept. Horizontal flat tracker proportions with 19" wheels, and a minuscule gas tank that sat lower than the triple clamps. Nothing protruding beyond the front of the fork legs, high wide bars, and big, graphic number plates. I devised a concept akin to the Meyers Manx dune buggy – a single piece, fiberglass shell on a lightly modified, street-legal frame with minimal fabrication requirements and maximum character.
Next, a hand-carved 1:5 scale model was created from dense foam, paper, and styrene, further developing my asymmetrical, single-piece bodywork design. Once completed, the model, Ducati motor and frame were 3-d scanned. This provided the data required for 3D modeler, Mark Smith, to build the bodywork in Alias. A female mold was milled and the first fiberglass part was pulled.
Meanwhile, fabricator, Dennis Hart started constructing the exhaust system and rear subframe in his shop in Ventura. He managed to build equal length headers with a perfectly placed cross over and constant diameter producing an amazing exhaust note.
The airbox was eliminated and a super low profile (12 liters) conformal gas tank, also welded by Dennis, was put in its place. The battery and part of the wiring harness were relocated to a tray built under the seat.
The front wheel is from an early 80's Kawasaki while the rear is a Harley front that has been widened to accept the big Maxxis DTR-1, Richard Pollock from Mule Motorcycles showed me how to do this. I then turned and powder coated new hubs to adapt everything to the Ducati bearings and axles. The stock swing arm was retained but I had to mill the adjustment slots to accommodate the larger wheel diameter.
Some pricey aftermarket solo pegs and brake levers were added but most of the other components were retained to keep the budget in check. The headlamp is an off-road driving light that can be digitally dimmed with the stock Ducati switch while the tail light is an aftermarket unit with full LED brake, number plate light and turn indicators built-in. Fork protectors were fabricated to complete the dirt track look and provide some additional territory for graphics. The original speedo was replaced with a Knog wireless, bicycle computer with 12 functions – It's waterproof and fits the aesthetic of the body well. The seat was covered by Sam Trout in his garage in Whittier.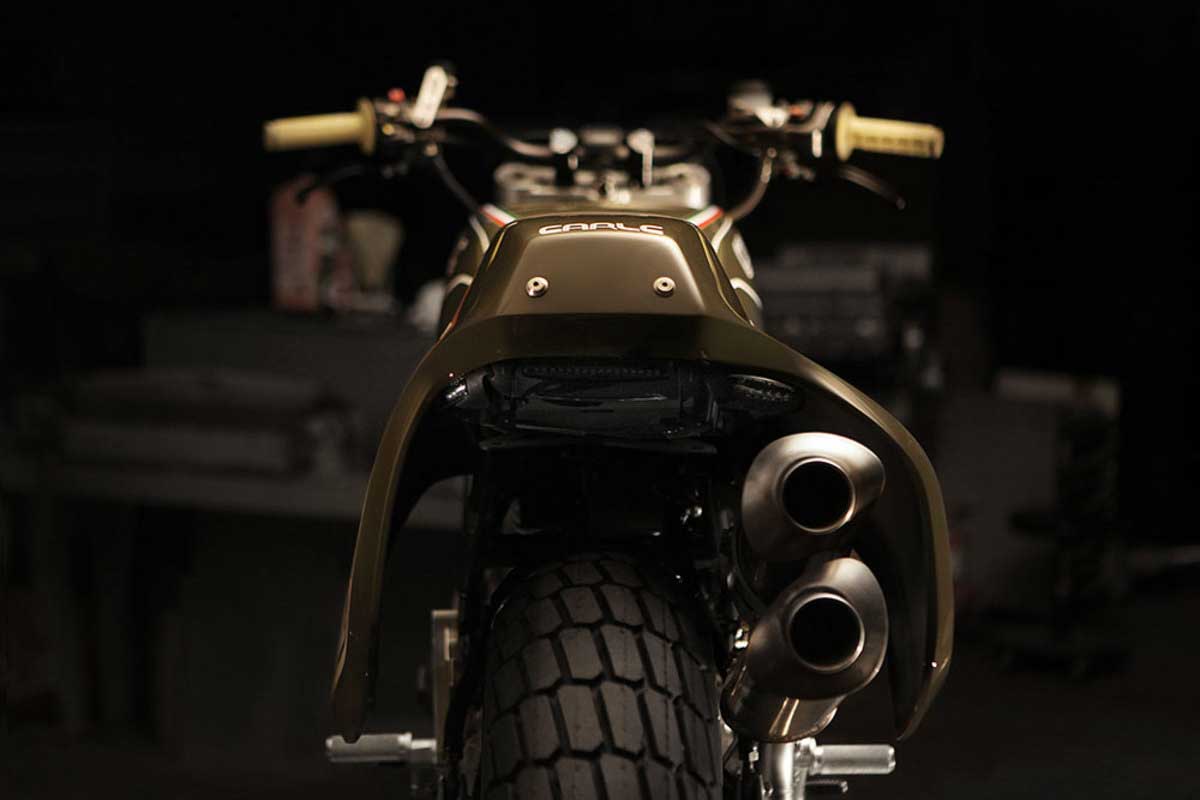 The graphics were developed by taping lines on the newly completed bodywork then scanning and further refining them in Illustrator. It was important to me that the bike had numbers. I wanted it to have a more theatrical appearance like something you might see in a movie. The number 23 is a tribute to Kevin Atherton while the tank graphics are a nod to racing Duc's from the '70s.
A few thousand man-hours later and it was time to disassemble, recondition and refinish. Kenny Oneill laid down the Army Man Gloss paint while the frame and everything that could be removed from the engine were powder coated. I reassembled everything in my apartment.
The result is a street-legal tracker with OEM level of fit and finish, seat height several inches higher than stock and a one-off design. I couldn't be happier."
Under his own 'Earle Motors' brand, Alex now plans to offer duplicates of the components he and his friends built for his Ducati Monster Flat Tracker. With the skills and technology they have available he points out that they can also produce the parts to fit Harley Davidson's XR1200 or modern Triumphs. Available parts will include the aluminum fuel tank, wheels, exhausts, and headlight system, giving builders access to the ultimate bolt-on, custom Ducati Monster Flat Tracker kit. For availability and details visit his website.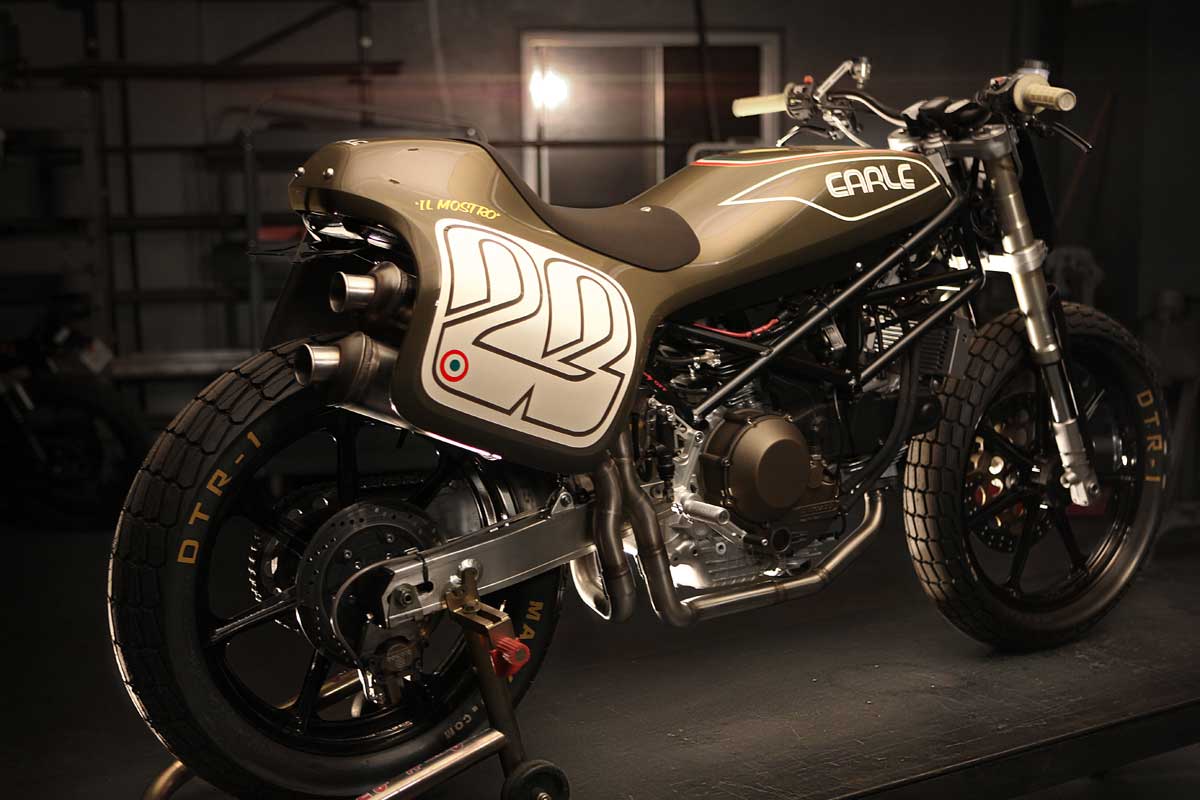 I hope you have enjoyed this, the first Tank Moto/Return of the Cafe Racers collaboration feature. Through my work as Editor of Tank Moto Magazine, I will be gaining exclusive access to images and stories from each issue. These features are a small sample of the images and stories you will find inside each magazine, so if you like what you see be sure to grab yourself a copy of our Australian made and produced, independent publication here.