In Greek mythology, Perseus was a legendary slayer of monsters and was responsible for beheading the serpent haired gorgon, Medusa. Dan Iluta is no slayer of mythical beasts. He does live in Dracula's hometown of Transylvania though, but that actually sounds more exciting than it is. The reality is that he's an economist who forecasts changes in financial markets. What Dan does have going for him though is a love for motorcycles and for going fast. And as a result, he's created this Ducati 749 cafe racer that packs enough punch to dispatch any unsuspecting sportbikes.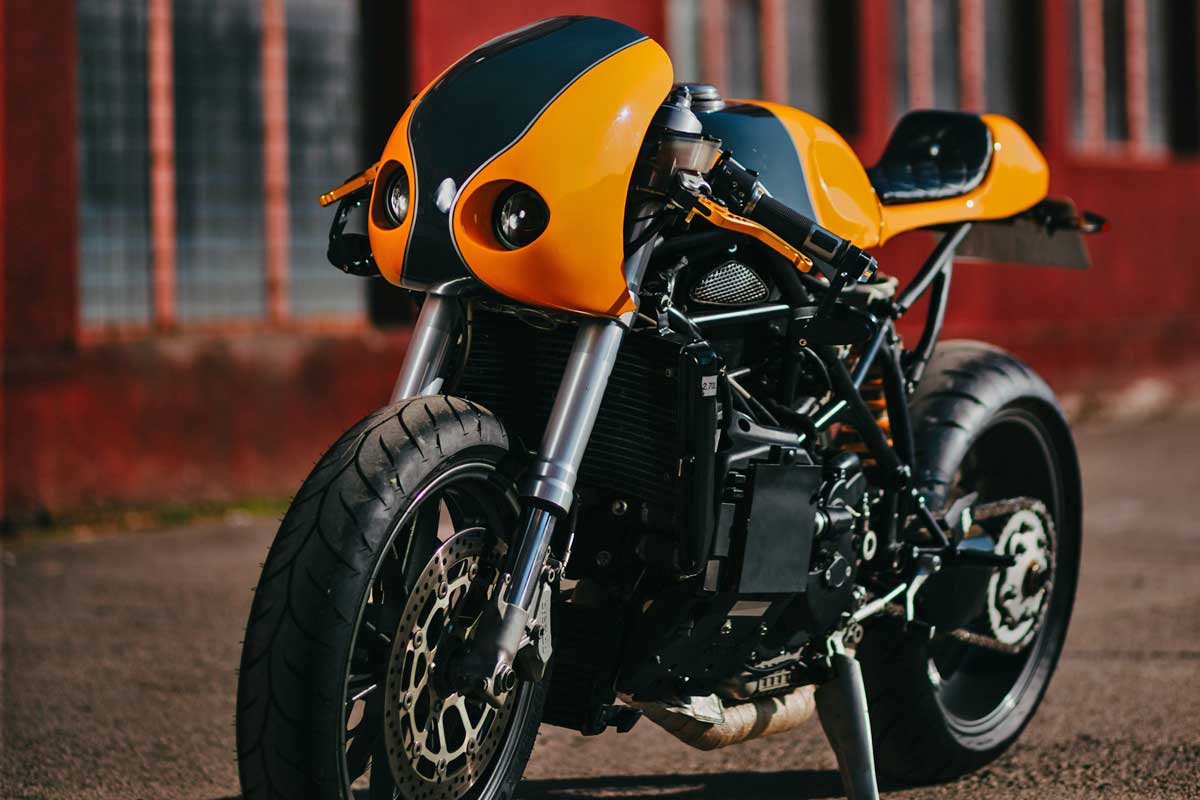 "I am very passionate about MotoGP and probably one of the biggest fans of Jorge Lorenzo in the years he competed in the MotoGP Championship," confesses Dan. Inspired by Lorenzo's achievements he decided to purchase a Ducati when his idol joined to the Italian marque in 2017. With no Ducati dealerships in his locale, he reached out to a Ducati specialist in Bucharest, the capital of Romania. Working with their mechanic he settled on a secondhand Ducati 749 and promptly commissioned the workshop to give it an extensive overhaul.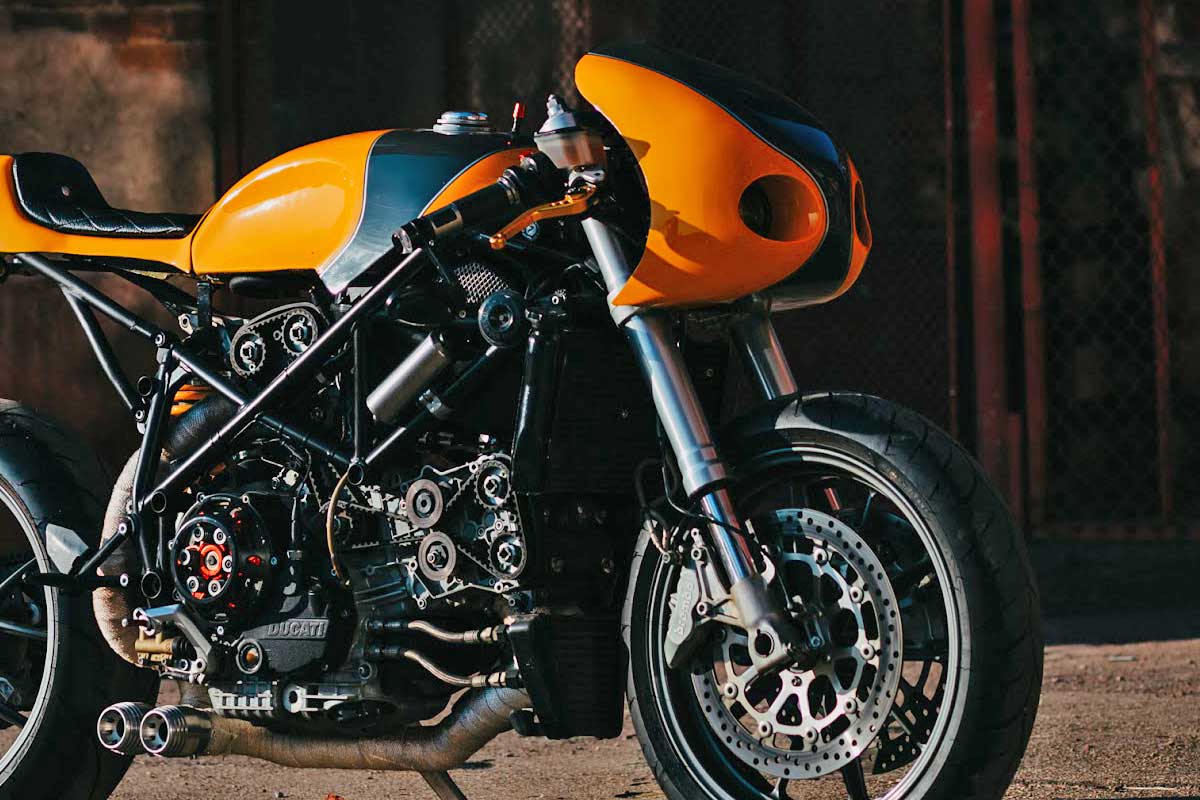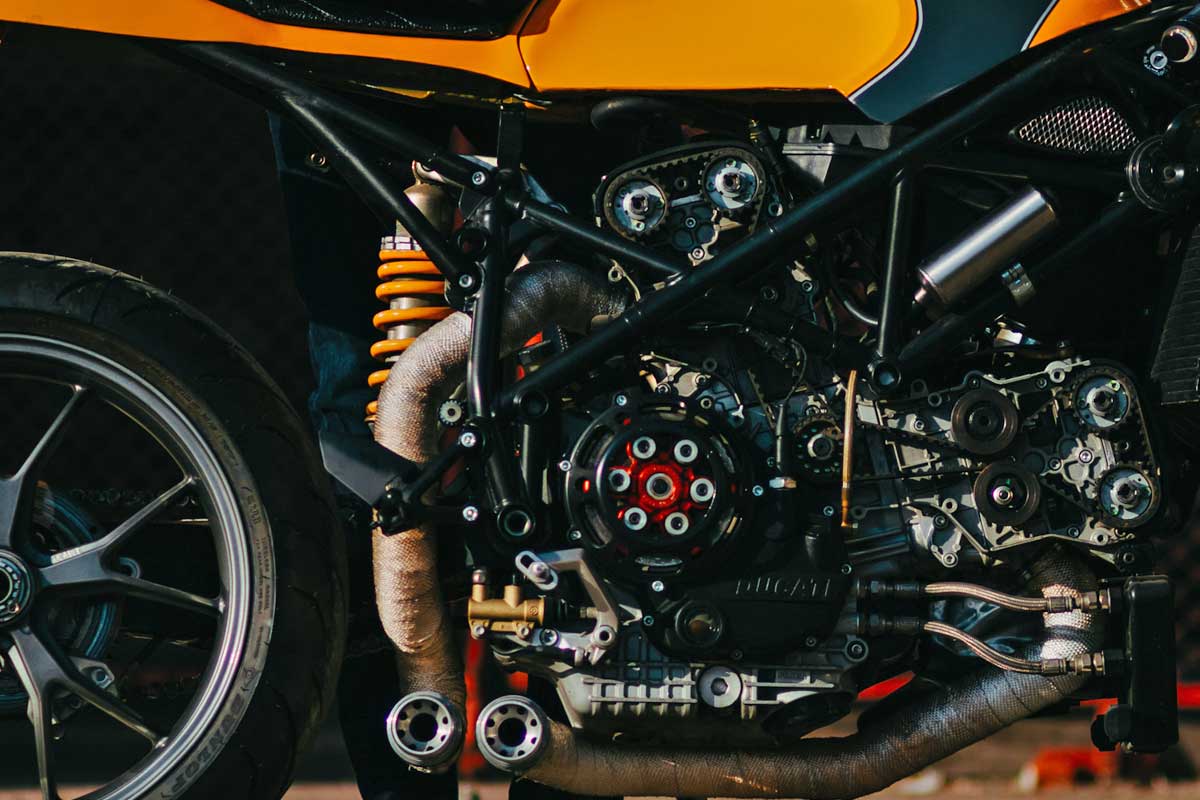 The bike underwent a complete teardown, engine rebuild, suspension tweaks. He also commissioned the fitment of a 996 single-sided swingarm, Marchesini 1098 wheels and a fresh black and gold paint scheme. With work wrapped up, Dan headed to Bucharest to break it in. After his first track day, he was hooked and commissioned the workshop to once again rework his 749. This time they installed racing software to push the bike's performance up to competitive standards then sent it off to Dan's hometown.
Around a year later Dan was considering what changes he could make next to his beloved bike. This time though it was more about visual tweaks than performance mods. The goal was to create a Ducati 749 cafe racer. A bike that had the look of a modern classic but offered genuine, track-proven performance. To translate his idea to a tangible concept Dan enlisted the help of his good friend and painter Radu Asanache who helped sketch things out. Being a fellow motorcycle enthusiast and competent restorer it wasn't long before Radu had a design which was both visually appealing and achievable using the skills and resources available to them.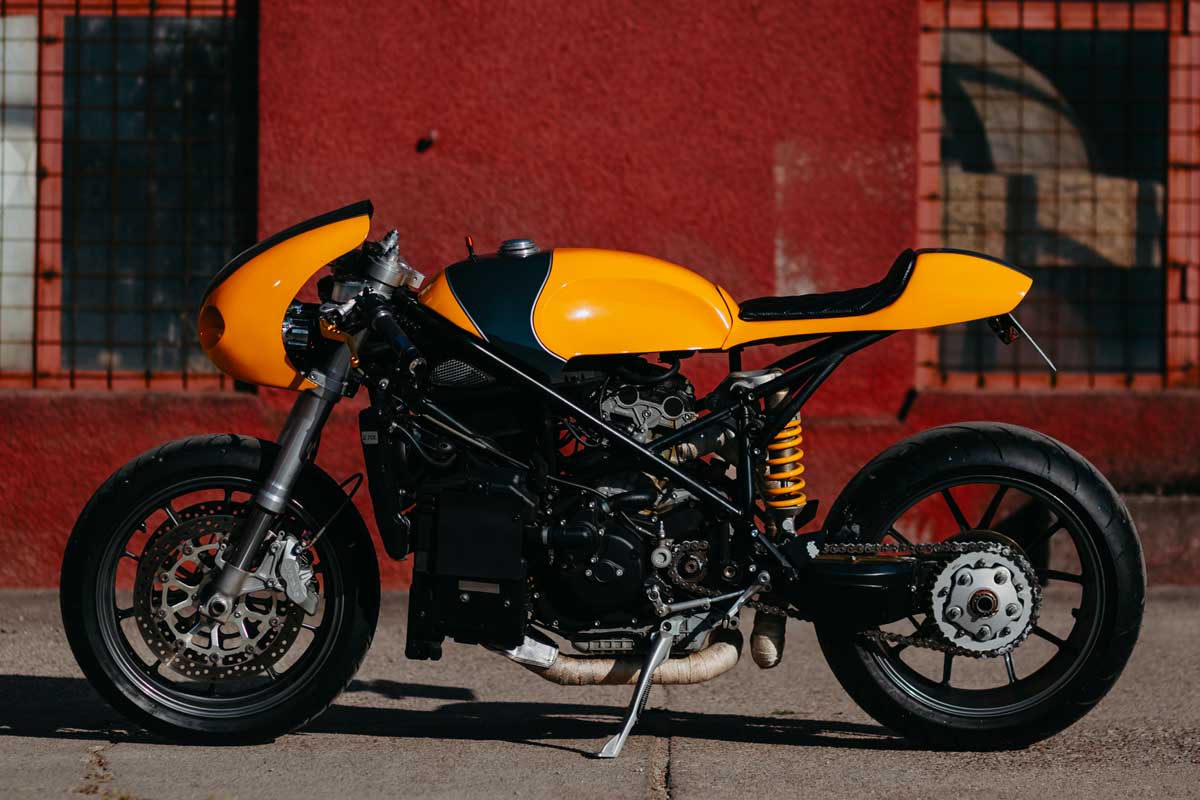 The revised bodywork was all formed using hammers, sandbags, an English wheel and a whole lot of aluminium sheet. The twin headlight front cowl was the first cab off the ranks. The strikingly simple-looking cowl fits snuggly around the 749 front end and finishes high over the triple clamp. Next, they shaped a svelte fuel tank. The new design follows the line of the trellis frame just low enough to disguise the airbox. It then cuts up and levels out to establish the bike's well-balanced bone line. Scallops in the sidewalls add a touch on vintage style and the turned filler cap is the hand-finished cherry on the cake. Lastly, they completed the bodywork by shaping a single-piece seat pan and rear cowl that cups over the rear of the tank for a homogeneous finish.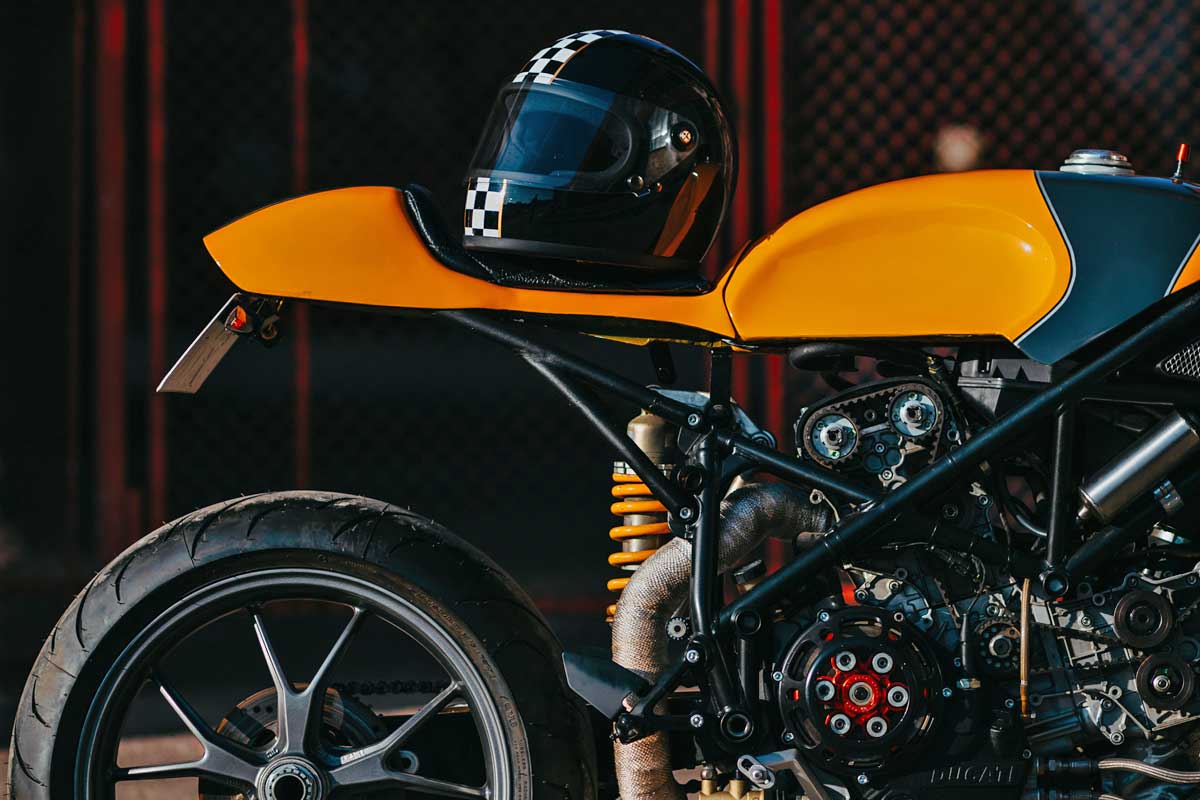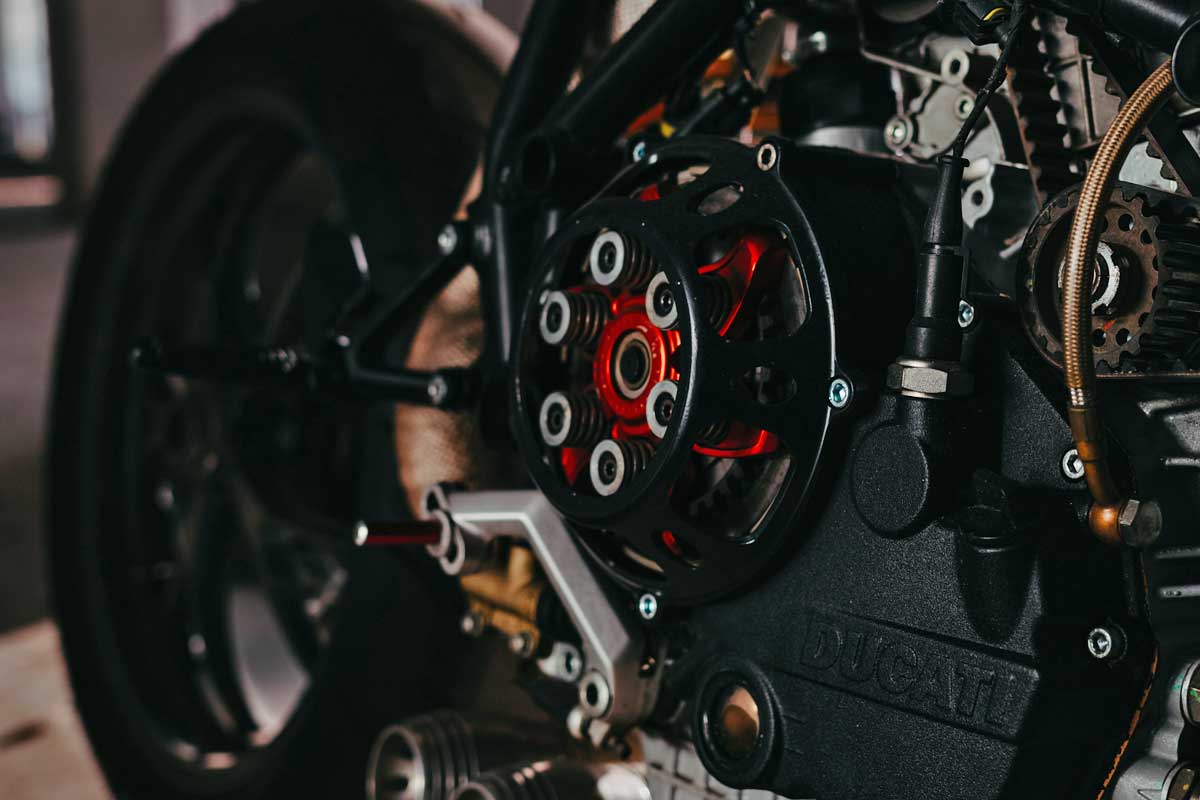 With his Ducati 749 cafe racer bodywork completed, Dan turned his attention to the smaller details. On the lathe, he spun up a set of footpegs and handlebar grips which have been polished to a mirror finish. Next, a new subframe was made from scratch that mounts the tail in line with the stock frame and custom tank. The original twin headlamps are recessed into the alloy fairing up front and the rest of the lights are aftermarket LED items.
After wrapping things up the Ducati 749 cafe racer was finished in a premium grey scheme with Tricolore pinstripe livery. Unfortunately, despite their best efforts, vapours from the fuel made their way out of pores in the alloy and ruined the pricey paint. So the bodywork was stripped bare and gas leaks painstakingly plugged before being painted in the current bold yellow and black scheme. Last but not least their Ducati 749 cafe racer was treated to a set of custom pipes. The 2-into-2 system was carefully designed to optimise performance and match their lengths. Exiting beneath the engine they feature more lathe made touches and by all accounts, sound as raucous as you'd expect.
In total, Dan's Perseus Ducati 749 cafe racer took 3 years to complete, which is fairly long by most standards. If you asked me if I thought all that time and effort was worth it, I'd suggest you got your eyes checked.
Photography by Claudiu Vlas and Claudiu Negrea