The Ducati 749 was designed by renowned automotive designer Pierre Terblanche. The bike shared a lot in common with the Ducati 999, including the polarising opinions regarding its looks. Today's builder Jerry Missin was neither a lover nor hater of the 749's styling. Instead, he found himself in a position that allowed him to create his own interpretation of the Italian twin and did so without hesitation.
"I am the 54-year-old co-owner of a Mechanical Engineering business and work predominantly in the automotive sector," says Jerry. "My Engineering roots date back to my father. I have been around motorcycles since my early teens. Since passing my bike test one week after my 17th birthday I can't recall any time when I didn't own at least 1 motorcycle.
After emerging, somehow still alive, through the haze of '80s 2 stroke smoke I transitioned to four strokes. Wanting to be different, I was always drawn to non-mainstream bikes such as the Suzuki GSX1000, 1100 Katanas and the early Supermotos. In 1988 I purchased a Moto Guzzi LeMans III, which took me to the 24hr Bol Dor at Paul Ricard Circuit in the South of France a number of times. During the past 38 years, I have probably owned around 50 bikes. Some I've loved, others I've hated with a passion. Of late I seem to have developed a love/hate relationship with Ducatis."
"This bike is based on a 2003 Ducati 749. The build took me 9 months in total, all done in my spare time. This was a personal project. After two previous attempts at a build which both had to be aborted due to lack of funds (divorce). I was determined to prove to myself that it could be done. The Ducati 749 donor was purchased from eBay. It was very cheap and on removing the bodywork it became apparent why. It was a London bike that had spent a good few years living solely outdoors. This discovery led to the Ducati being chosen as the basis for this project.
There is nothing hi-tech about my approach to building bikes. I spend hours researching (Googling) other peoples work, taking a little bit from here and a little bit from there. I merge these with my own ideas to come up with something original. I feel my engineering background does give me an advantage, especially with one-off designs and the selection of the correct materials."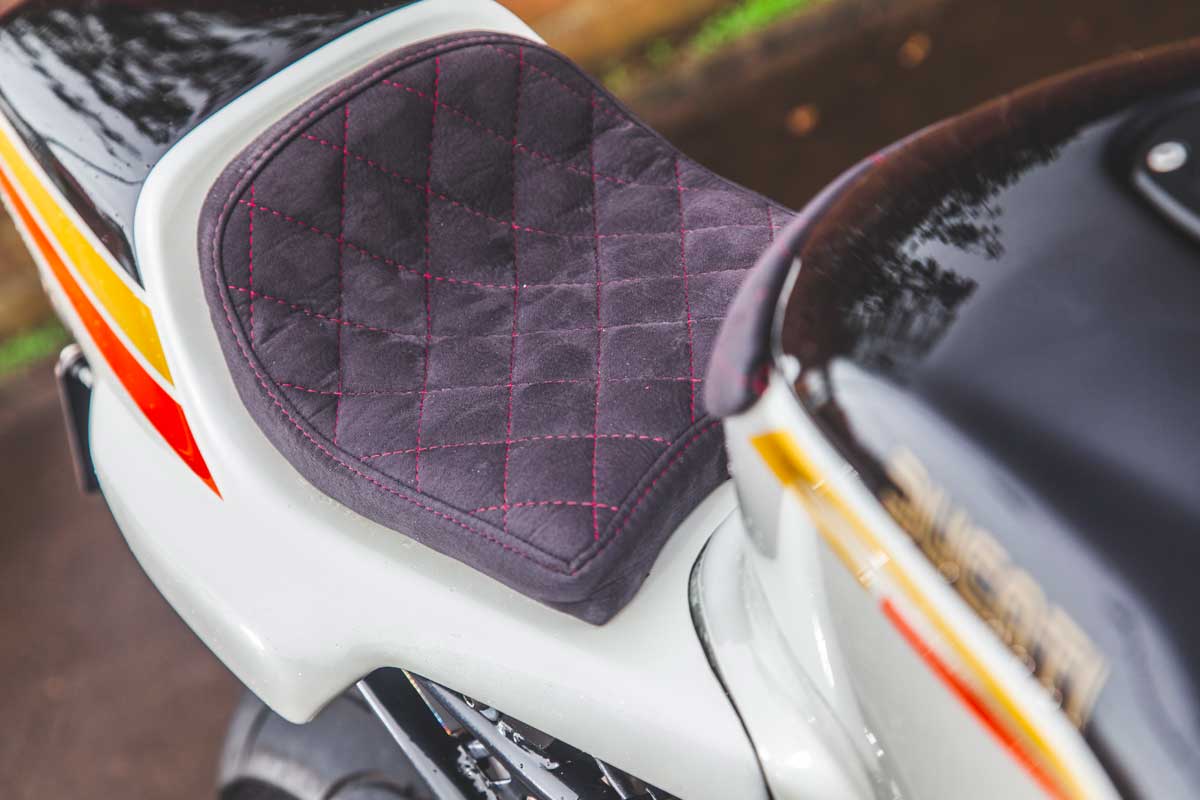 Ducati 749 transformation
Jerry's design direction for the 749 saw it adopt naked styling with a spattering of cafe racer-inspired touches. Stripping any full faired motorcycle down introduces a plethora of problems. With the fairings gone visually unappealing wiring and electronic components are on full display. Addressing this issue became the most time-consuming aspect of this build. Additionally, Jerry had to deal with the years of exposure to London's hostile weather conditions.
After countless hours of relocating and rerouting Jerry had things looking much less dishevelled. During the clean up the traditionally silver frame and swingarm were refinished in a fresh coat of gloss black. The tired-looking engine covers were swapped out with either aftermarket carbon fibre components or hydro dipped by Chris Hardman at HydroV8 for a unique look. With the openings to the airbox now completely exposed Jerry fashion a pair of stainless grilles to keep large debris out.
All of Ducati's 749 factory bodywork is gone with the exception of the fuel tank. To create the look he was after Jerry built a custom subframe and installed a custom monoposto tail unit. A suede-covered seat pad offers plenty of grip and a matching pad on the back tank provides comfort when he's laid over the tank. Sitting snuggly over the front wheel is a custom mudguard on one-off stays. More custom brackets support the instruments and number plate and an antique hip flask functions as an expansion chamber for the radiator.
The headlight configuration was perhaps their most controversial feature of the Ducati 749 and it had no place on this modern-retro build. Jerry has swapped Terblanche's vertical 2 lamp design for a single retro-styled headlamp that tightens the bikes front end. As for performance modifications, this Ducati 749 benefits from a custom exhaust system (one of two created during the build), a fuel remap and a major service.
To wrap things up the Ducati 749 was painted by John McGuiness at JC Paintworks. The result is a far cry from Terblanche's vision but in our opinion a welcome change. Jerry's design celebrates the best aspects of this Ducati while adding just the right amount of customisation to make it something truly unique.
Photography by Simon Lee