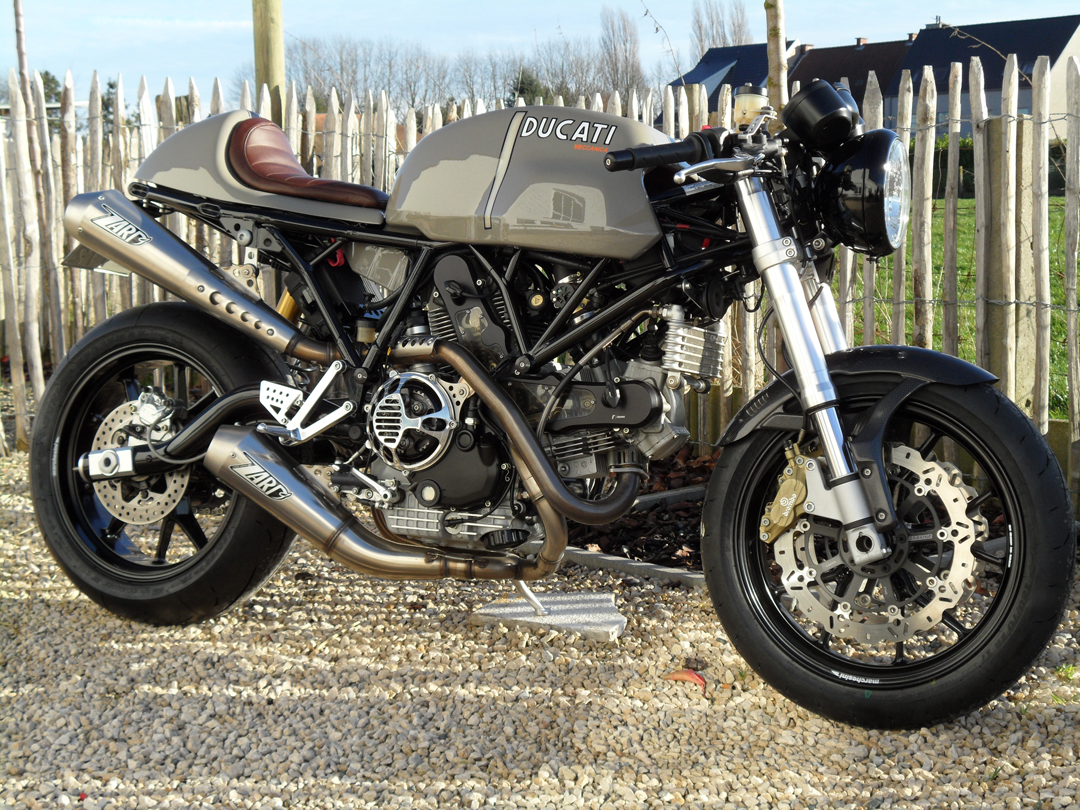 I'm a huge fan of Ducati's Sport 1000 and was disappointed to see them go when they ceased their production in 2010. The Sport 1000 took inspiration from the 750 Sport of the seventies and was one of the few factory made Cafe Racer styled bikes on market. With a seat designed for one, clip on bars, bar end mirrors and plenty of performance punch it's no wonder they actually went up in value soon after Ducati pulled the plug on them. When it comes to customising a Ducati Modern Classic most wouldn't even consider it, but for Andy of Belguim when an unfortunate accident took his beloved Sport 1000 off the road he made the most of.

When Andy crashed his bike it was an unmolested, pristine example of a Sport 1000 but afterwards it was left with a cracked and misshapen frame, bent forks, a twisted front wheel and a smashed headlight. With the rest of the bike still intact Andy made the decision to rebuild his beloved Sport but with his own concoction of performance and aesthetic modifications. First things first he needed a frame as the old one was well beyond repair. Prices on brand new replacement frames were way too high but by chance he stumbled across a secondhand Ducati Modern Classic Paul Smart frame and made the purchase.
Due to differences in the new frames geometry Andy also had to change the tank for a Paul Smart model. Preferring the naked look he opted against the front fairing which meant some modifications had to be done allowing for the addition of the fully functional fuel window. The new, much narrower and much better looking seat was a team effort by Andy and good friend De Lagen who shaped the tail by hand while it sat on the frame before making the final piece out of fibreglass. The striking brown leather seat was designed and covered by local custom shop Motokouture.
Other mods on Andy's Sport 1000 include a set of 999 rims and rear brake, a 998 front caliper and custom discs, S4R carbon front fender, Zard titanium exhausts, exposed clutch cover, Rizoma clutch pressure plate, MWR open air filter, Speedymoto clipons, lowered gauges and a single bar end mirror. Finally Andy finished off the bodywork himself with a custom grey/black paint scheme with orange Meccanica decals which I must say is another vast improvement over the original Ducati banana yellow.
If you happen to live in Belgium you can see Andy's bike in the flesh at the next Flying Hermans club ride. He started the club with some friends a few years ago and at their last ride attracted 250 other riders. Check out the Flying Hermans facebook page here.