Thirty-three-year-old Chris Scholtka lives in Cottbus, Germany, about 125km southeast of Berlin. From the age of 5, he was active in the motocross scene; eventually competing in his country's national race series. As fate would have it his days of competing in motorsport ended at the age of 18 when a violent crash resulted in a broken back. After a long recovery, Chris studied to become an industrial mechanic and worked in the industry for several years before becoming a full-time firefighter.
Despite his departure from competitive riding, Chris never lost his love of motorcycles. His chosen career fostered a 'never say never' attitude and he combined it with the skills he acquired as a mechanic to complete his first custom project in 2016. The motorcycle he built was so well received that it wasn't long before his friends were requesting builds. Then, 2 years ago, Chris accepted his first customer project and his 'Motocrew' brand was born.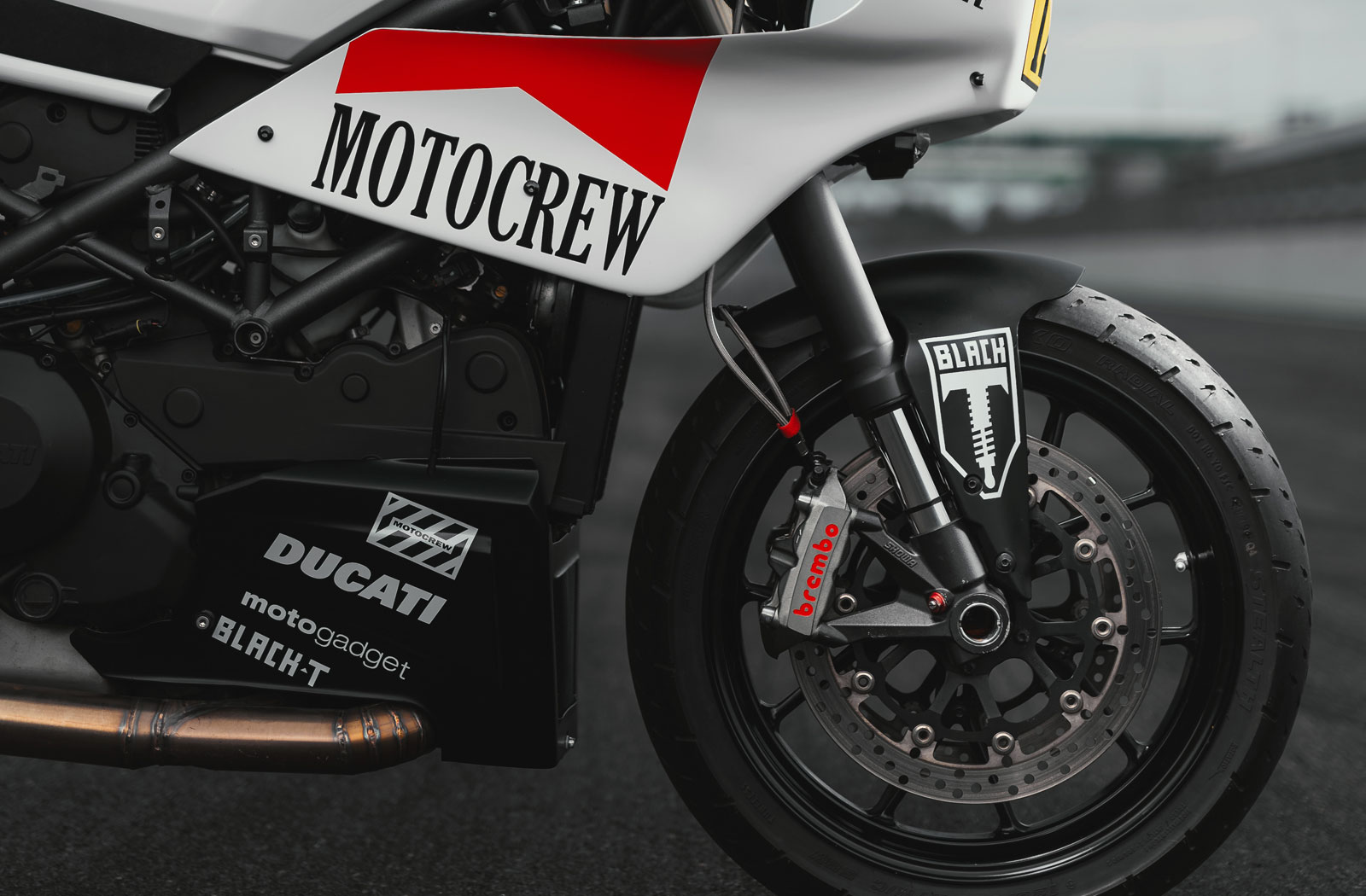 Being based in Germany means that everything Chris does must comply with the country's strict TÜV certification system. Despite what it represents, the TÜV system is widely despised by custom automotive enthusiasts. This is due to the costs associated with TÜV certification and how restrictive the rules are. If however, you have a good understanding of the laws, the skills to make modifications that adhere to those rules and the patience to go through the often arduous process, (almost) anything is possible.
Luckily Chris has spent a lot of time getting to know the TÜV system. So when he takes a project on, he's already considering how to keep everything 100% legal. Sometimes this means spending more time and money to achieve his goals, but his efforts clearly pay off.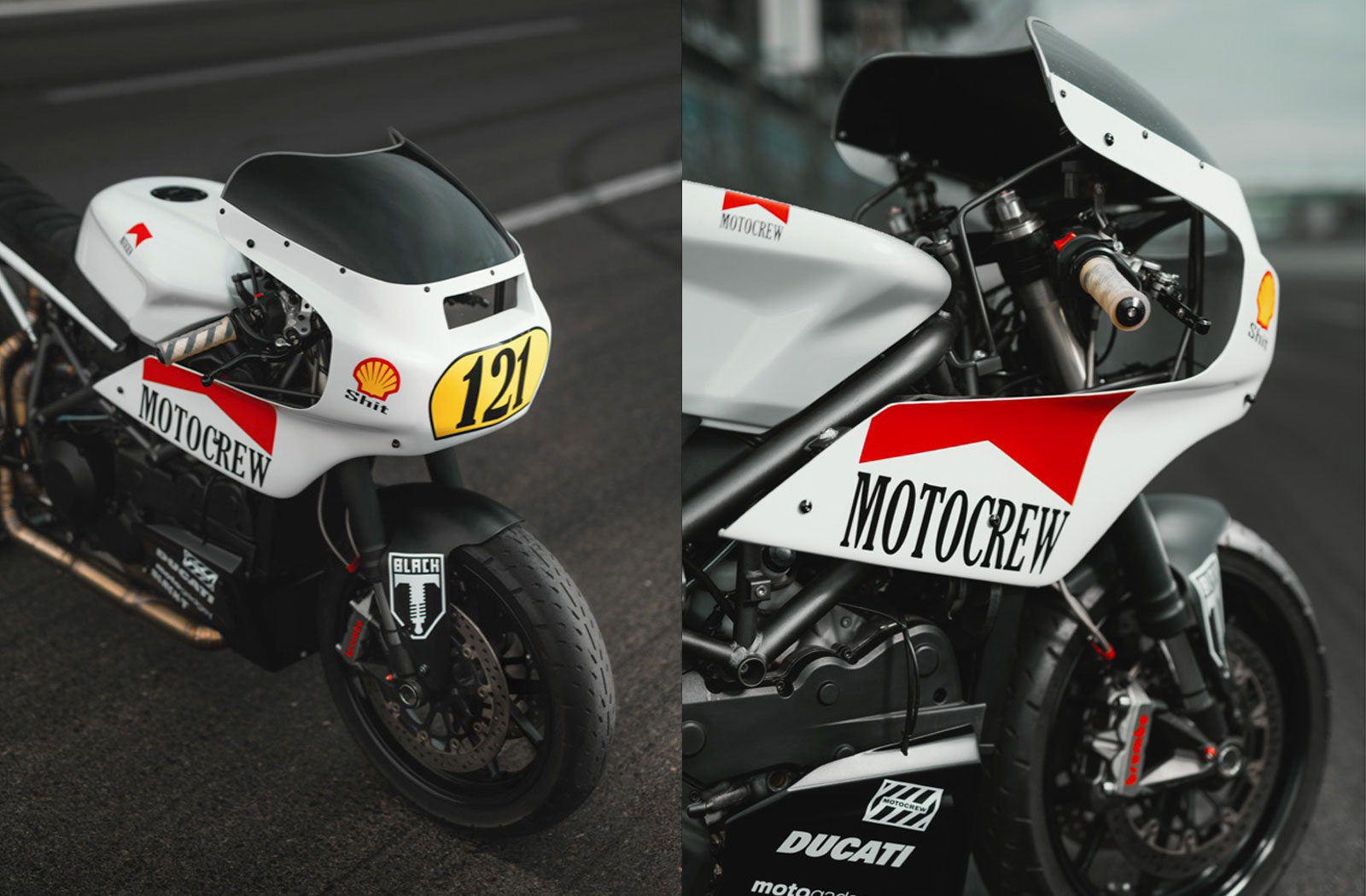 Chris' own 2013 Ducati 848 Evo is exemplary of his TÜV compliant approach. In late 2020 he acquired the bike from a racer who had well and truly put it through its paces at the track. He then went about getting the bike ready for street use again along with making a few aesthetic tweaks to make it his own.
Originally finished in silver his 848 hit the streets in 2021 as an angular neo-retro cafe racer (pictured below). But despite how well received the finished bike was, he always had other plans for it. "I had the idea to fit the bike with an '80s fairing since day one," Chris explains. "But it's really difficult to get it street legal with the German law." After riding the bike for around a year Chris decided enough was enough and set about making his modern retro 848 racer a reality.
During the first phase of the build, Chris had already tackled several of the modifications seen here. He'd given the engine an extensive overhaul for a new lease on life. Designed a new subframe using his hallmark style, fabricated it from stainless steel and fitted it with a custom-made Alcantara-covered seat. The belly pan that beefs up the engine's bottom was handbuilt too and it doubles as a hiding place for the Ducati's myriad of electrical doodads and fandangles.
To optimise the bike's svelte proportion Chris fitted the 848 with tiny Motogadget mo.blaze tens turn signals. In the rear, they double as brake lights and are mounted to a custom-made rego plate wheel hugger. The original clip-on handlebars were shod with Hookie Co. frozen grips with custom-made Moto Crew inserts to make them his own.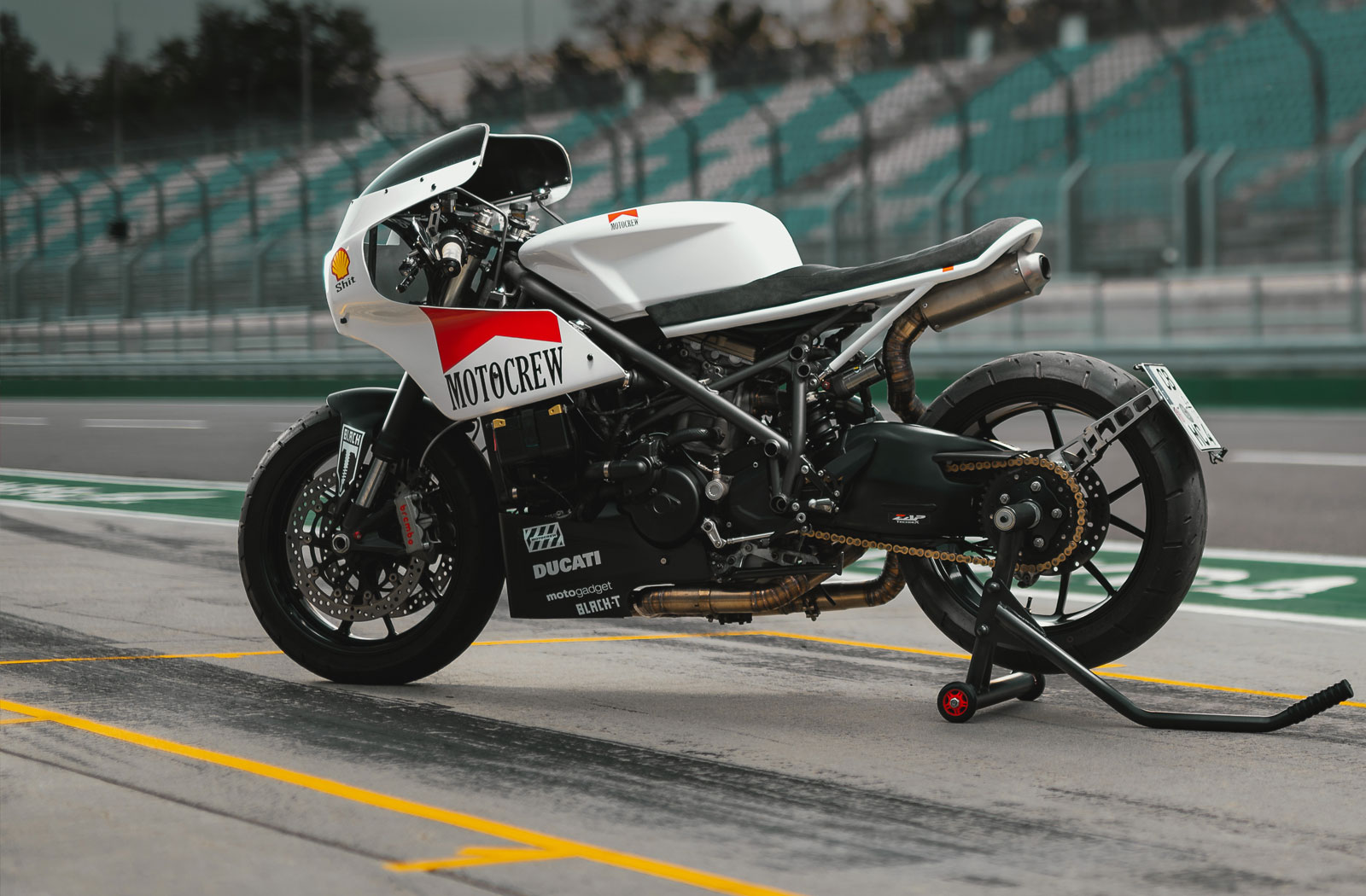 With 140hp on tap, Chris was satisfied that the 848 had more than enough grunt to meet his needs. Engine modifications are also a notoriously difficult thing to get past the TÜV. So Chris limited the changes to a custom-made exhaust. The new system was built from scratch using stainless steel tube and is made up of 75 individual pie-cut components painstakingly welded into 1. The muffler is one of the original 848 cans which Chris cut down to fit neatly under the revised subframe. This task also involved carefully monitoring the volume of the system since loud pipes are another TÜV sore point.
The key component of the 848's latest appearance is the addition of a retro front fairing but fitting it to the bike was far from a bolt-on affair. "It's a late '80s Kawasaki racing fairing I sourced," Chris tells us and every step of getting it mounted to the Ducati was fraught with challenges.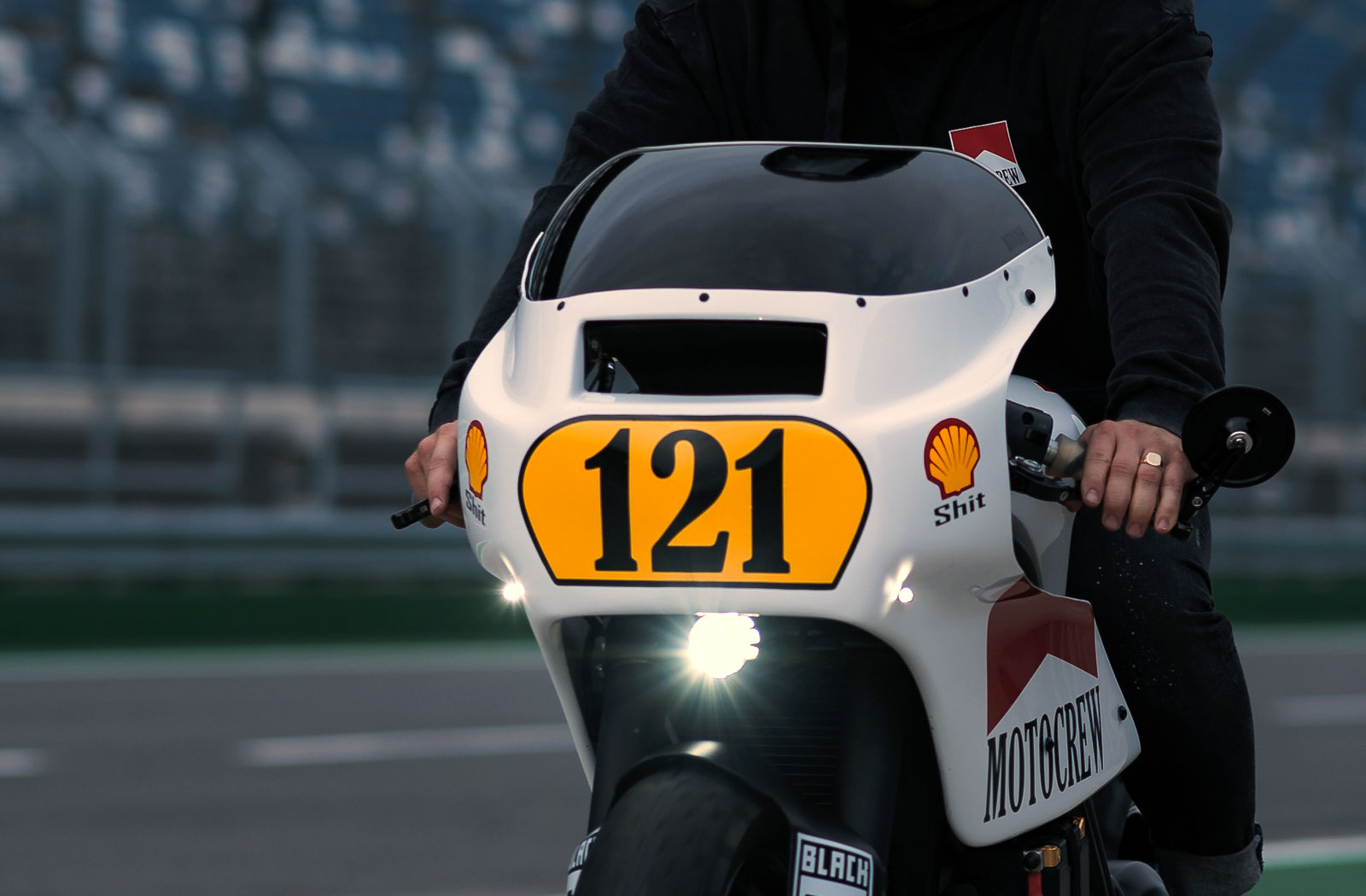 First up the 40-year olf fairing was far from symmetrical. This meant Chris has to spend time coaxing it back into shape before he could start planning how to mount it. Once that was done he set about designing and building the brackets to hold it in place. To avoid any issues with the TÜV he deliberately over-engineered the setup. But during the test fit another serious issue became apparent.
"A major problem was how to hide the original cooling system," recalls Chris. "It didn't fit under the fairing so I had to order a custom radiator to my own measurements." Now that may sound like a fairly straightforward task, but in Germany building custom radiators is a dying craft. After days of dedicated searching, Chris located a craftsman who could do the job, but it didn't come cheap. After a long wait and a 1000 Euro outlay, the new radiator arrived and he was able to install both it and the fairing exactly as planned.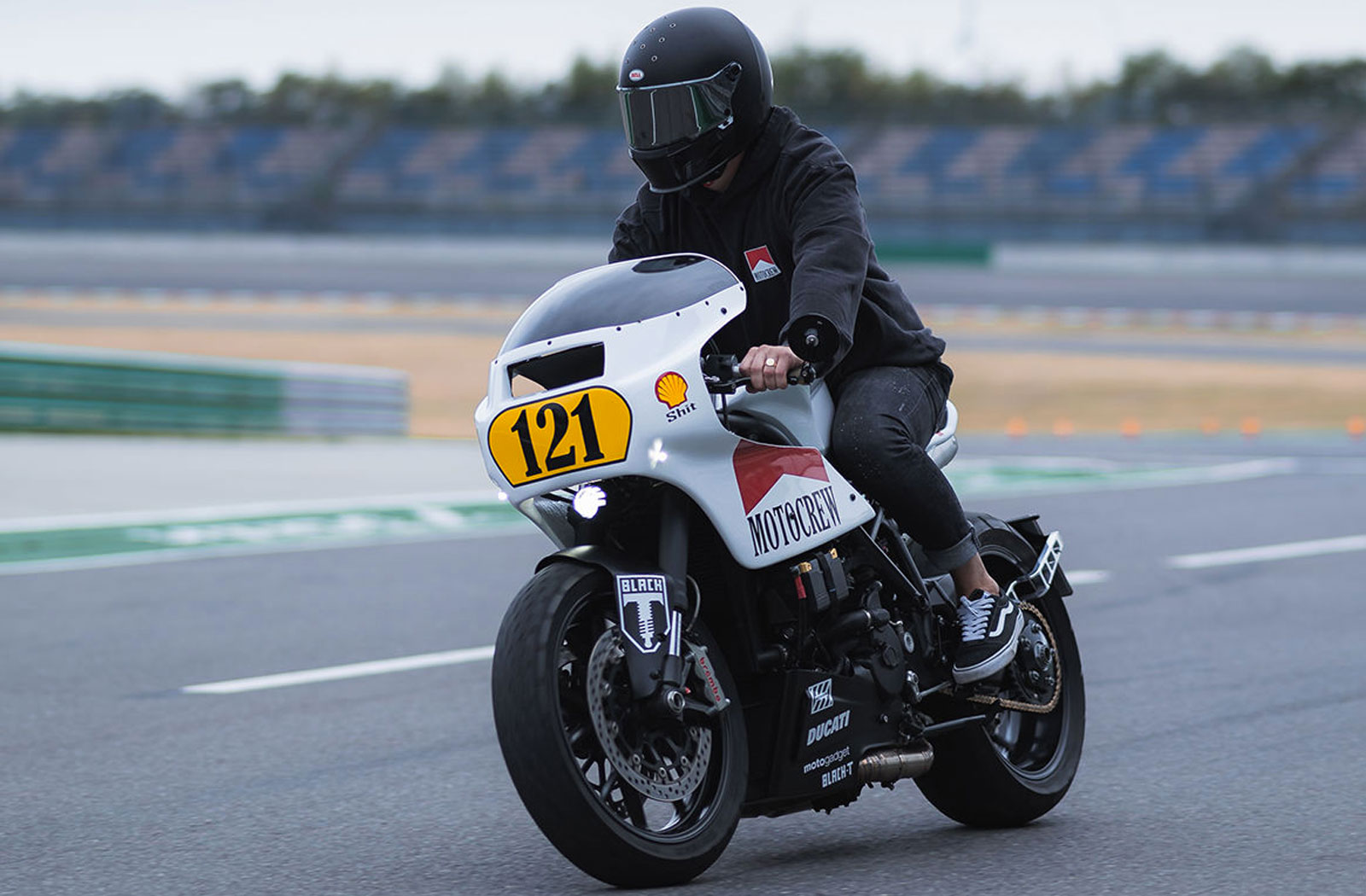 To hop up the 848's handling Chris also completely updated the suspension using components from Touratech's new Black-T urban range. In the rear sits a Black-T mono-shock with a remote reservoir while the front end uses the 848 forks with progressively sprung Black-T internals.
Finishing touches came in the form of a hidden Highsider LED headlight under the front lip of the fairing. He strapped a lightweight Noco lithium battery to the side of the frame and had the subframe, fuel tank and new fairing all painted a crisp white. The bodywork was then treated to a spattering of tongue-in-cheek racing livery along with a few build partner logos to emphasize the Ducati's track-inspired style.
With everything finished to Chris' exacting standards, it was time for a visit to the local TÜV to get everything signed off. Despite knowing he'd built the bike to spec, Chris watched nervously as his 848 was heavily scrutinised by the TÜV inspector. Thankfully all of his hard work paid off and this Ducati cafe racer is now fully street legal.
A build like this will always stand out on the street, but in a place with registration rules like Germany, this beauty undoubtedly pulls crowds.
 Photography by Kyle Reim