After immigrating to the US with his family 12 years ago, Johann Keyser turned his passion into a career. The South African ex-pat has ridden motorcycles for the majority of his life, including a stint in professional foot up trials. As a sponsored rider for Italian Endurance bike manufacturer Fanatic Motors, Johann learned a thing or two about the benefits of adding lightness to a bike. He now applies this principle to his Moto Motivo builds along with an educated selection of performance upgrades. His latest build dubbed 'Calabrone' demonstrates this approach by transforming a hefty Ducati ST4S Sport Tourer into this lean, mean Italian cafe racer.
"I custom-built a Ducati ST2 for a customer a few years ago called 'Lady in Red'," says Johann. "We were able to transform the Tourer into a very lightweight cafe racer." Lucky for Johann the owner of Lady in Red isn't shy about showing the bike off. After spotting the ST2 at a show his latest customer approached him seeking a similar transformation for his own bike. The customer had an '05 Ducati ST4S sitting in his garage which Johann knew was an ideal candidate for the job.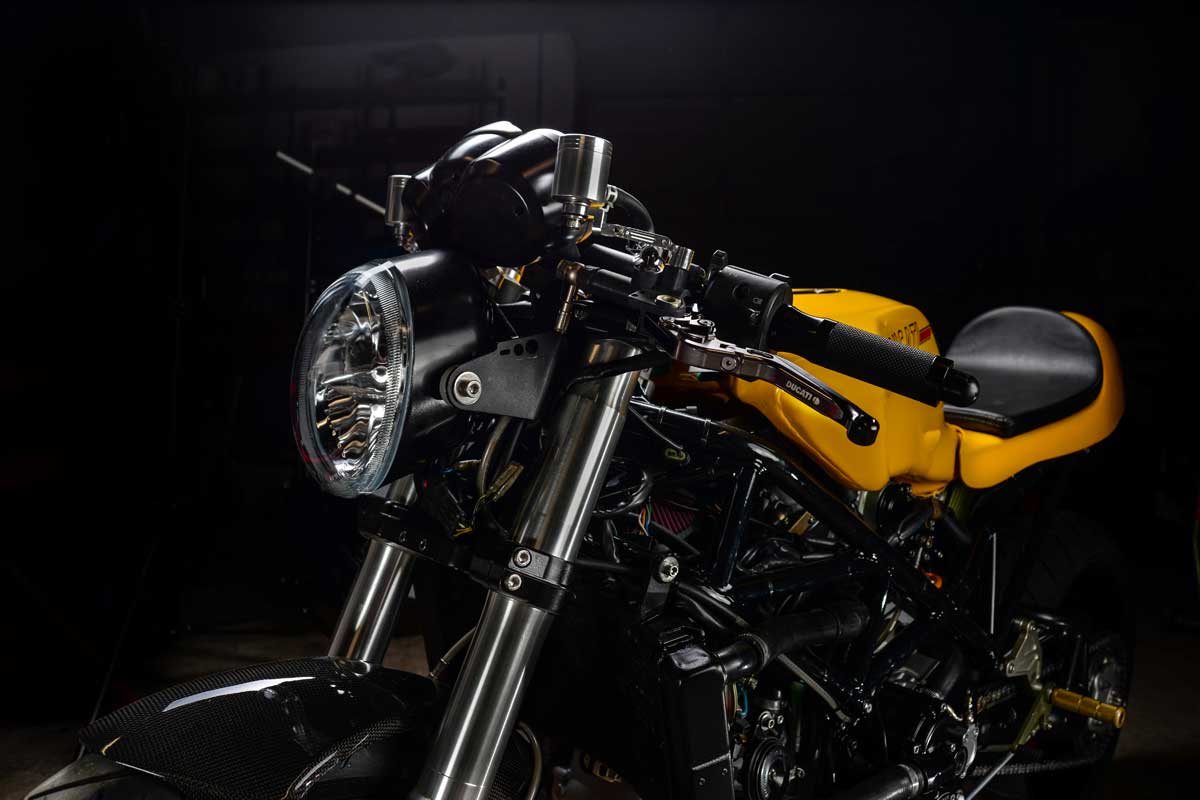 "The Ducati ST4S is another heavy Sport Tourer with a full fairing setup and side panniers," says Johann. "The owner was looking for a naked, lighter bike with improved handling and braking." Featuring a more advanced engine design Ducati released the ST4 as the successor to the ST2. The ST4S Johann's customer delivered also came with high-spec suspension from the factory and a larger engine based off the Ducati 996 platform.
After stripping away all of the original bodywork Johann kicked things off with a few tweaks to the trellis chassis. In order to fit a cafe-style rear cowl, the subframe has been condensed in both length and width. To tighten things up further and add a few aggressive lines, Johann opted to lose the stock ST4 tank. In its place is a more befitting modified Ducati 999 unit that looks right at home here. Worth noting is that the new tail unit has been shaped to mould around the rear of the tank to achieve a factory level of fit and finish.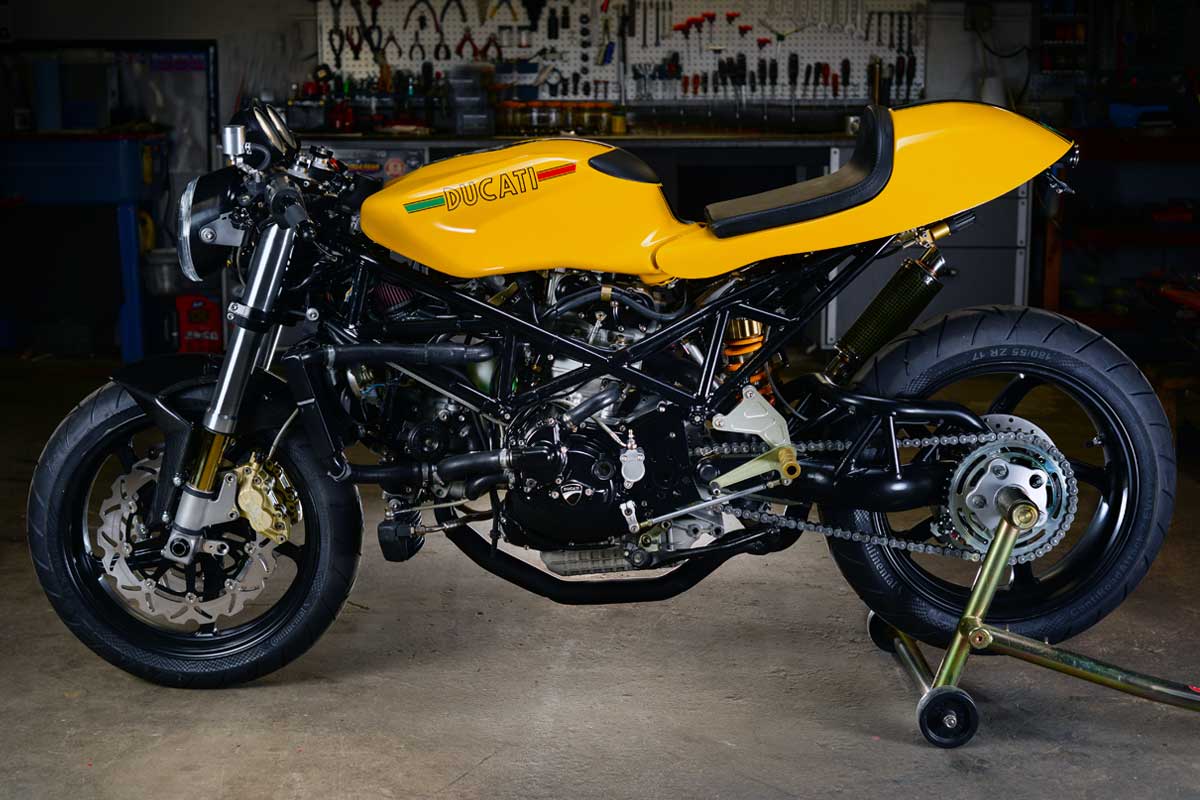 Moving to the front end you'll find a pair of gauges transplanted from a Ducati Monster SR4S. They're perched between clip-on bars which have been mounted to the top of the fork legs. This approach has helped Johann to level out the bikes bone line and keep the riding position relatively comfortable. Lighting up the way is a V-rod aftermarket headlight while at the rear is a retro-styled LED brake light. A custom made saddle and rear sets from Japan complete the Ducati's quintessential cafe racer riding position.
The Ducati ST4S came standard with capable Ohlins suspension so Johann focused his handling improvements on the wheels and brakes. Both front and rear rims are of Monster S4RS breeding and are wrapped in Conti Road Attack 2 EVO rubber. In order to fit the rear wheel, the S4RS single-sided swingarm was also shoehorned into the frame. As for the brakes, it's the standard ST4S Brembo affair aside from a set of wave rotors front and rear to maintain plenty of feel during spirited riding.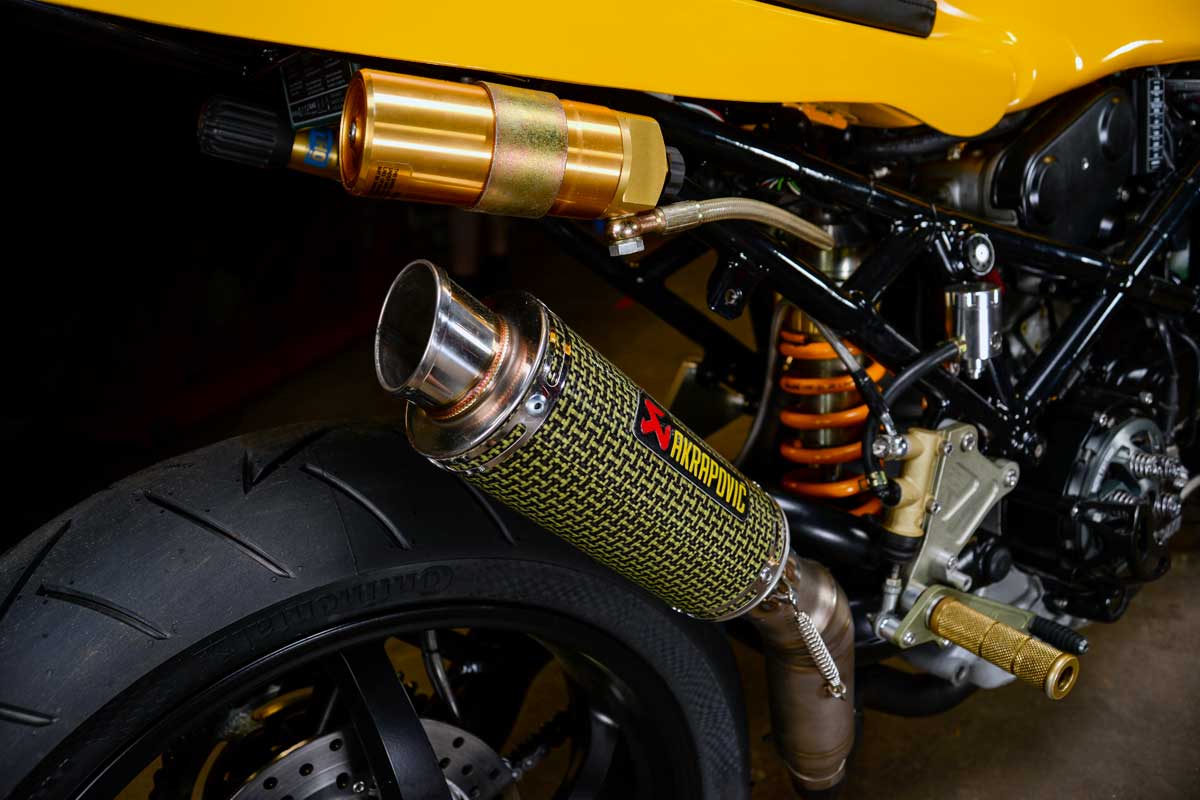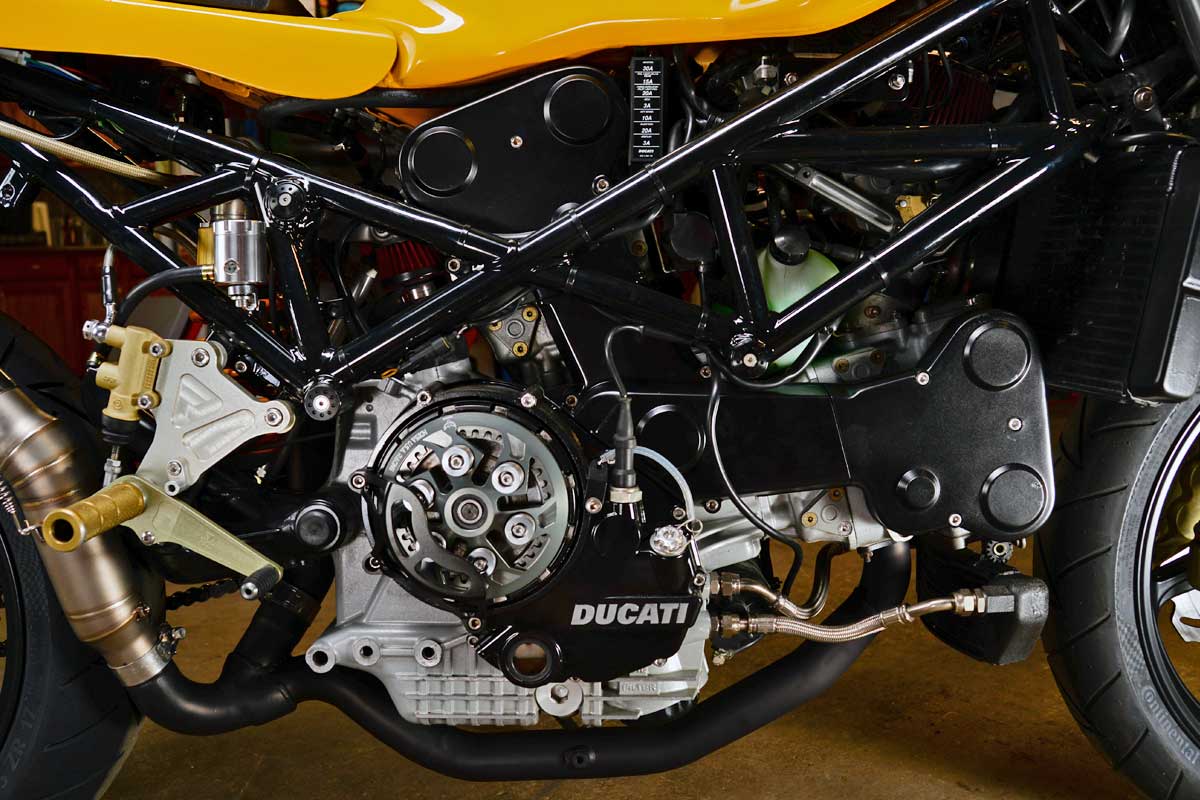 For power improvements, the Desmoquattro twin now inhales freely via a set of K&N air filters. A custom made, ceramic coated 2-into-1 Moto Motivo exhaust slinks under the belly of the bike. It exhales via an eyecatching Akrapovic muffler made from a yellow carbon fibre weave. To get the most out of the new additions the bike's ECU was then remapped. As for electrics everything is channelled through a modified Monster S4R loom. "The overall performance has been transformed due to the massive weight savings and ECU upgrade," says Johann. "The braking and handling have also benefitted due to weight saving."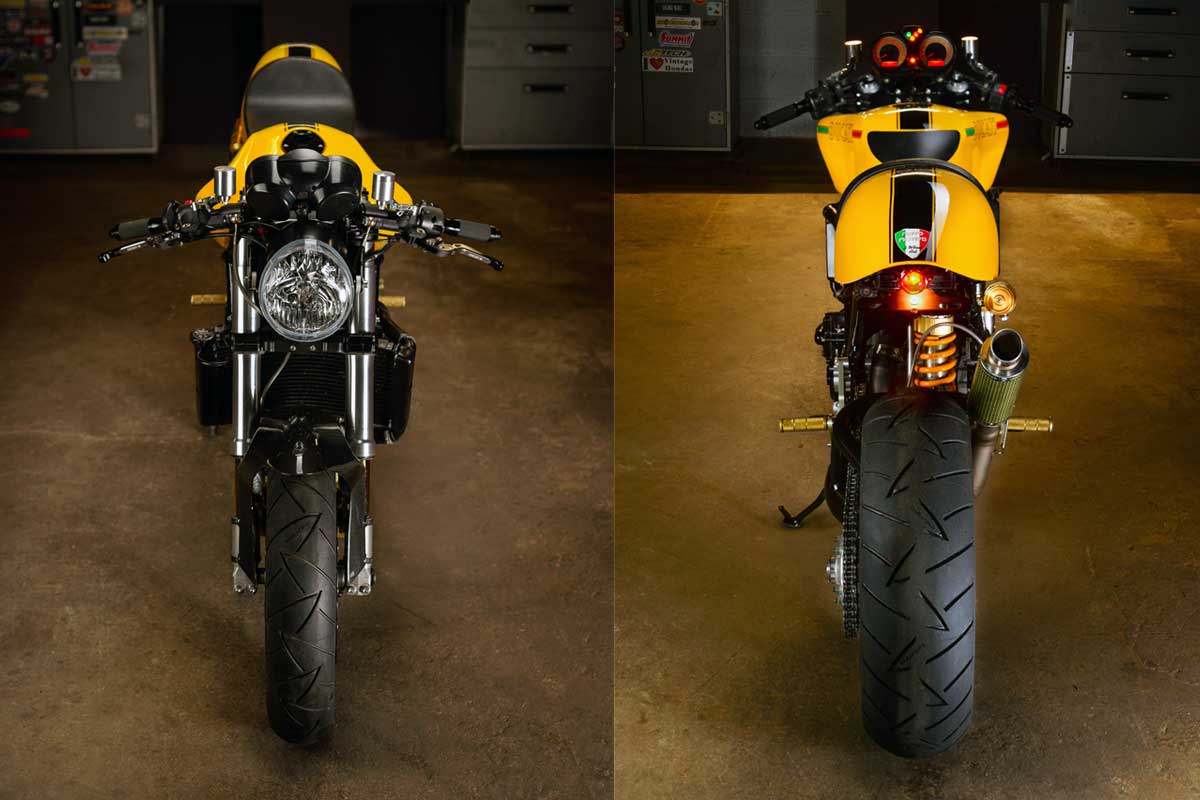 Unlike the Lady in Red, the Moto Motivo Ducati ST4S cafe racer wears vivid yellow livery. The paint is a homage to Johann's long-standing relationship with the colour. As a teenager, his first cafe racer build was yellow and during his time racing Alfa Romeo's, each of his cars wore the same hue. To finish things off the bodywork wears classic Ducati graphics and a bold black racing stripe down its back. Black has also been applied to most of the bikes other surfaces earning it the name 'Calabrone'  which translates to hornet in English.
There's no denying that as a sport-tourer, the Ducati ST4S isn't a bike designed to turn heads. But my money says this beauty has the complete opposite effect.
Photography by Ron Smith