Bangkok-based custom motorcycle workshop 'Slayer House' is all about relationships. Workshop owner Nattaphat Janyapanich, otherwise known as 'Peach', works with his associates in the motorcycle design industry to develop concepts for his projects. He builds bikes for his friends and he even chooses donors for his builds that are of similar breeding and this duo of custom Ducatis are his latest creation.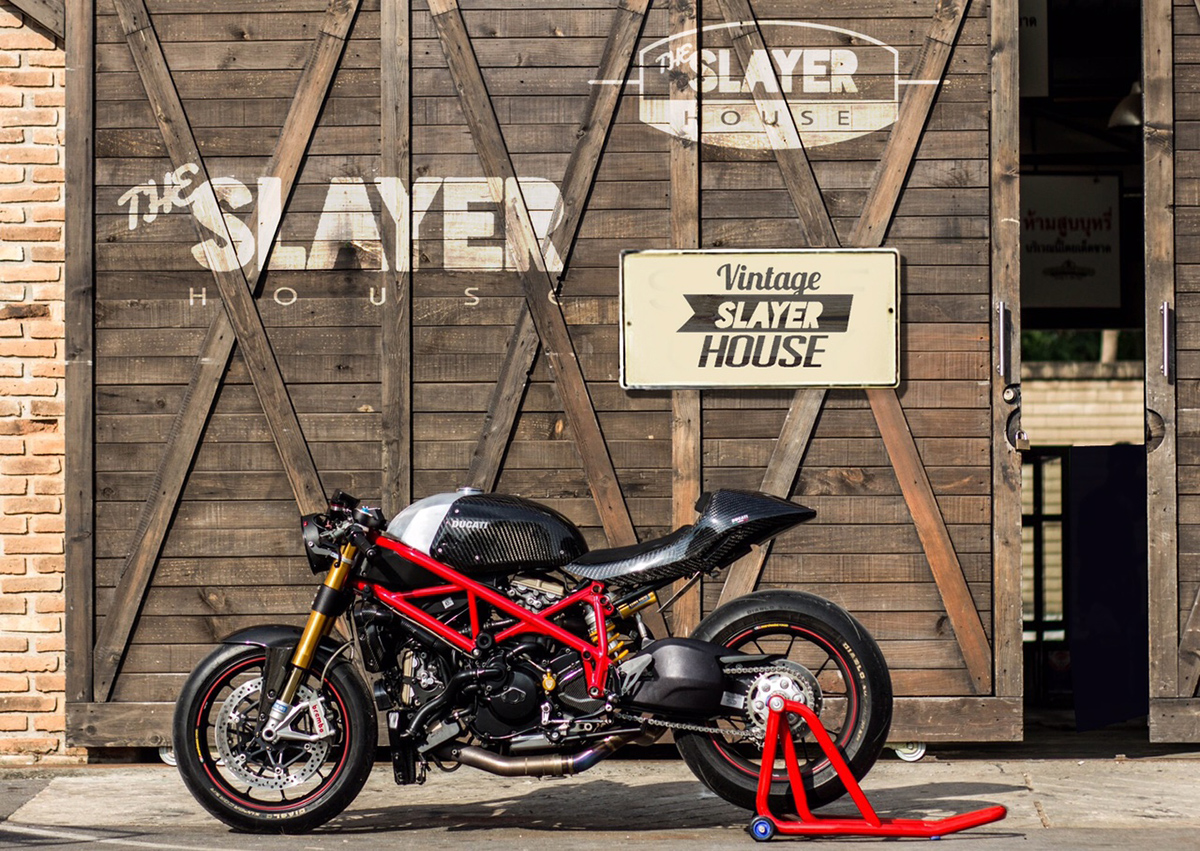 Based on a 2013 Streetfighter S and a 2016 Scrambler 803 the 2 bikes epitomize the Slayer House style. The Streetfighter is Peaches own ride while the Scrambler belongs to a close friend and each took around 4 months to complete. Peach's concept was to create a pair of café racer styled motorcycles using a modern design language and his unmistakable Slayerhouse style.
To give his Streetfighter S it's modern café racer looks, Peach kicked off the build with all new bodywork. His handmade aluminium fuel tank sits flush with the rails of the bike's trellis frame for a factory like fit and finish. With its top edge sitting parallel to the ground the new tank gives the Streetfighter a level, more cafe styled bone line. Engulfing the rear half of the tank is a carbon fibre cover that ties in with an all new carbon tail unit. Slightly upswept for an aggressive stance the carbon tail is attached using a custom made hinge that can be easily removed to revert the bike back to its factory set up.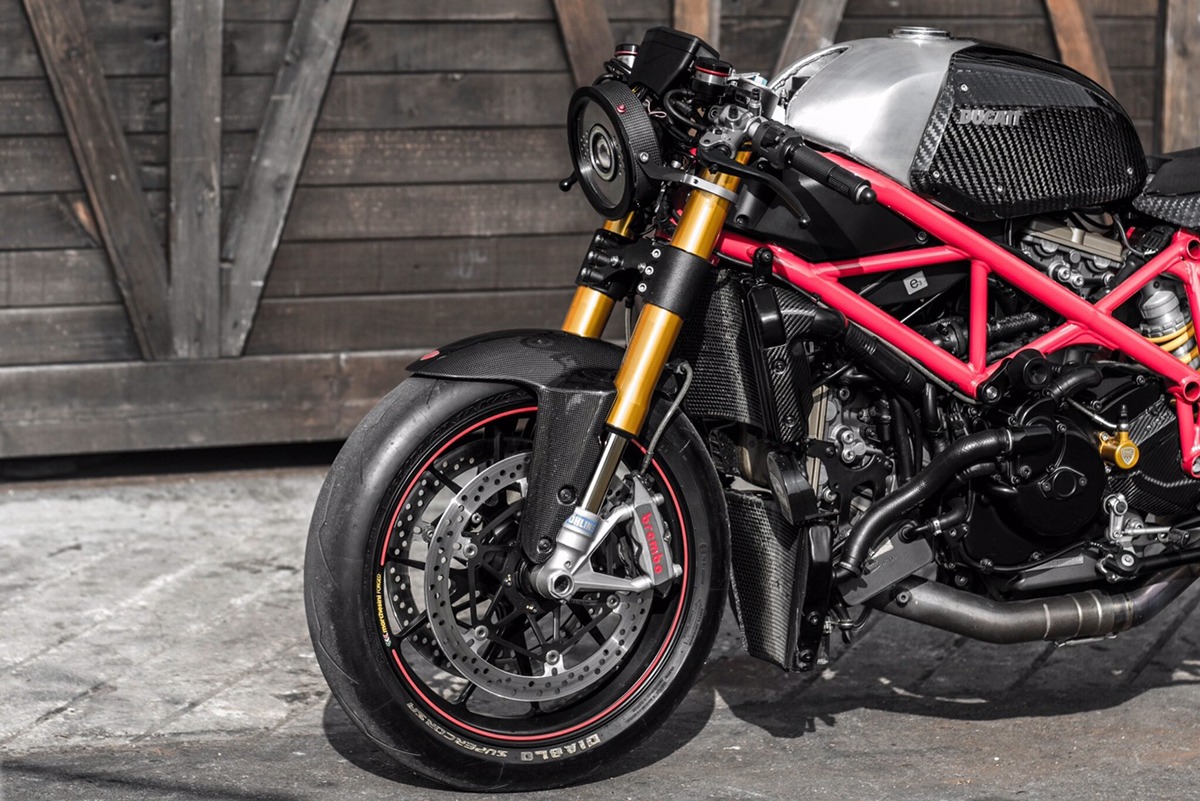 Ducati Corsa carbon components such as the front fender and radiator surround were added to compliment the new bodywork and the riding position revised by adding lower, clip on handlebars. A Slayerhouse signature headlight was then mounted between the forks that features integrated indicator lighting and a powerful halogen headlamp. To give the bike some additional grunt a compact Austin Racing muffler was then tucked down beside the rear wheel.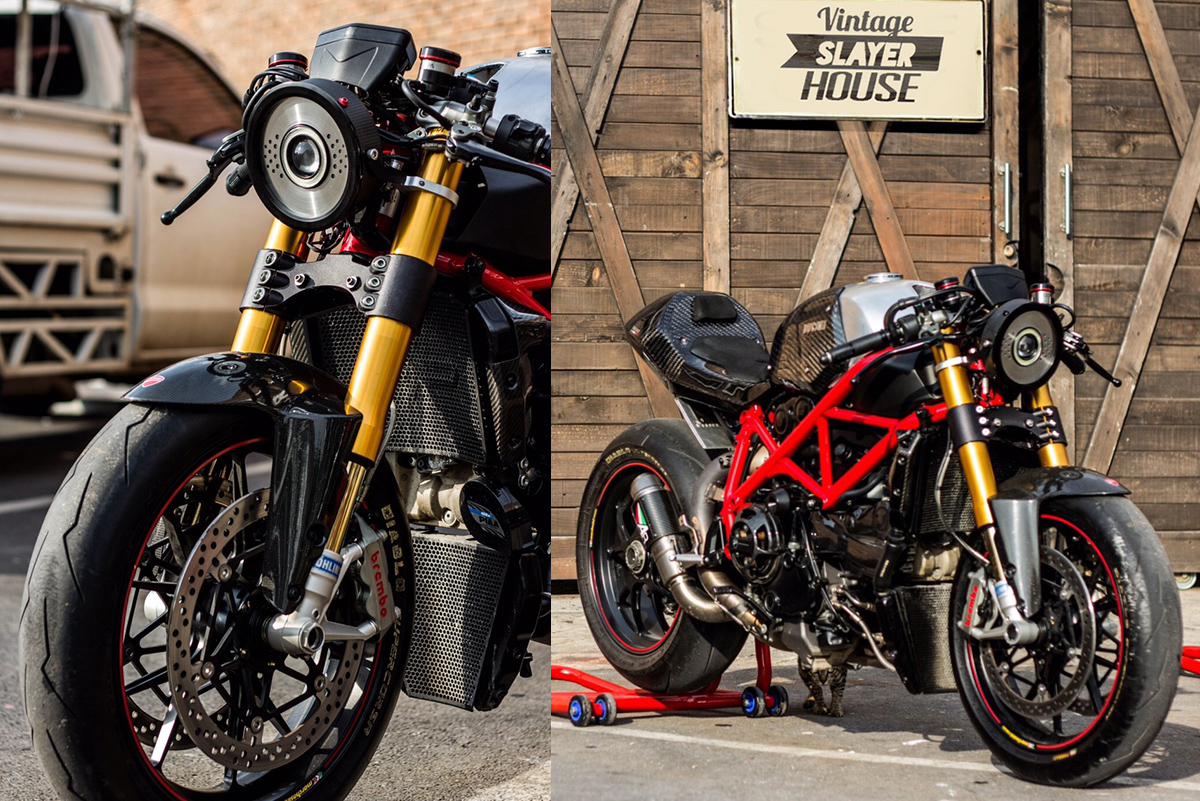 For the Scrambler Peach adopted a similar aesthetic approach to his Streetfighter. This time though, the stock fuel tank remains intact with only its cover being customised. Rather than the individual side panels applied in the Ducati factory Peach fabricated a single piece carbon fibre shroud that wraps around the rear half of the tank and aids in extending its length. Similar to the Streetfighter, the tank cover blends the tank into the bike's custom tail that has also been made out of lightweight carbon fibre.
Since the Scramblers performance wasn't up to the standard of the Streetfighter Peach also revised its suspension. A pair of 848 forks occupies the front end of the bike while at the rear there's a 796 Monster swing arm and mono-shock set up. The stock Scrambler wheels have also been replaced by lighter weight 996 items to shed a few additional kilos.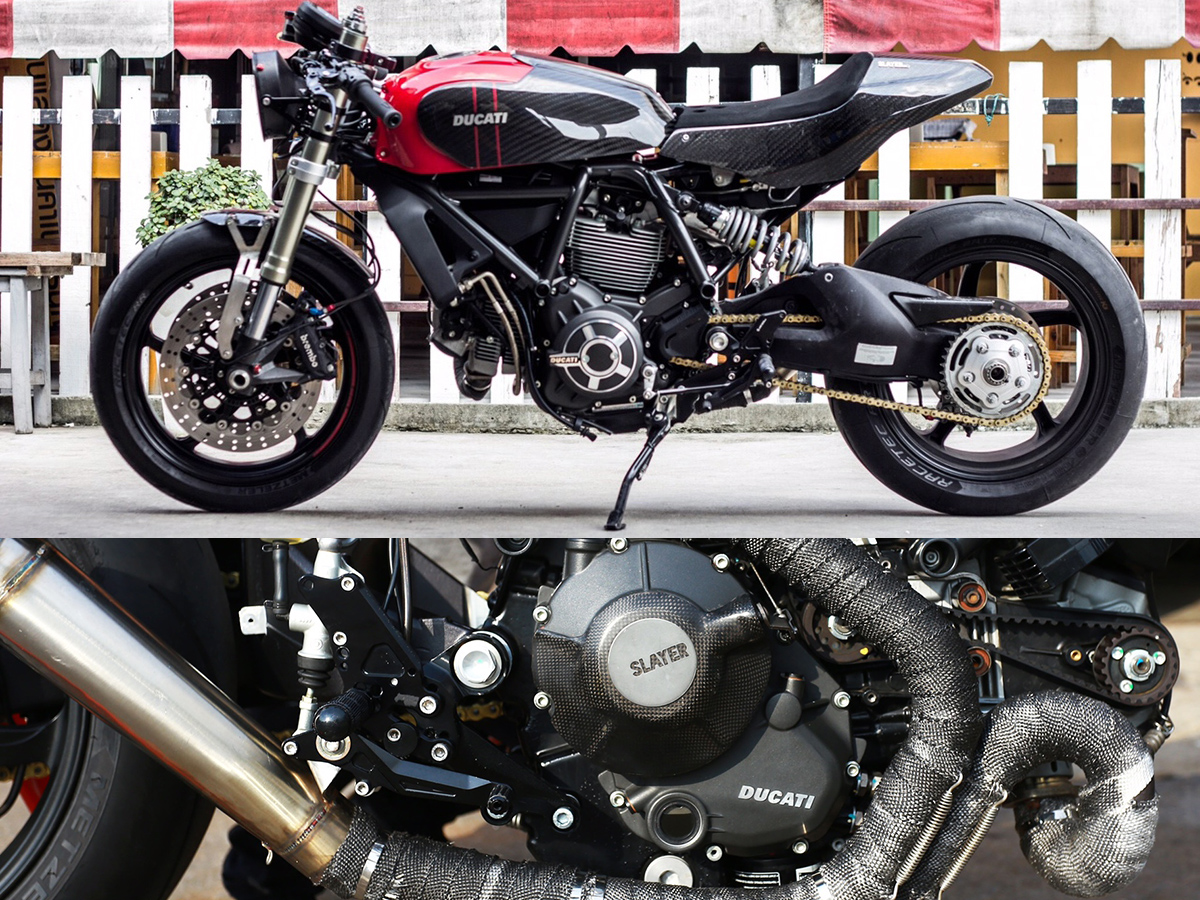 As with the Streetfighter clip on handlebars and rear set foot pegs form a more appropriate cafe racer riding position. The headlight unit is the same Slayerhouse signature item and the frame remains stock so everything can be switched back to factory configuration. For the Scramblers power improvement Peach chose to fabricate a new muffler from scratch rather than utilizing anything from Ducati's rather pricey aftermarket catalogue.
Along with looking considerably cooler than their former selves, both of these Slayerhouse Ducati's benefit from a lower center of gravity and significantly reduced weight. With their retro-esque lines and carbon fiber components and factory fit and finish, one could mistakenly assume Ducati had rehashed their Sport Classic range, alas, for now, these two are the only ones in existence. What a pity.