2018 marks the 25th anniversary of the Ducati Monster. A motorcycle that revolutionized the 'naked bike' category and saved the Italian manufacturer from potential bankruptcy. In the early nineties, Ducati technical Director Massimo Bordi somehow convinced the companies directors to let him produce a new motorcycle unlike any in the range. His idea was to create a machine that celebrated the companies heritage, was easy to ride and wasn't just another sports bike. What the Monster became was a lifeline for the company that turned their profits around and became the best selling Ducati of all time.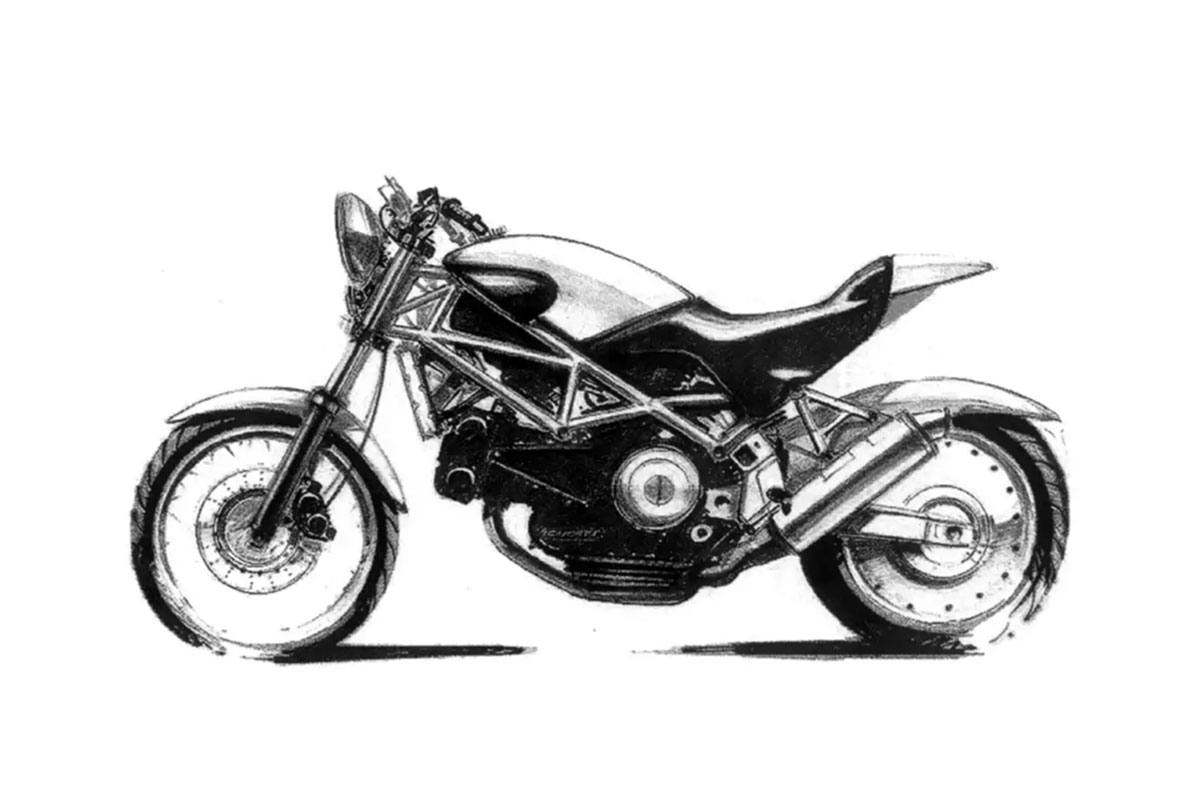 Massimo proposed his idea to Ducati designer Miguel Galluzzi who translated his vision into this basic philosophy…
"All you need is a saddle, tank, engine, two wheels, and handlebars."
Galluzzi took inspiration from vintage motorcycles and even reference cultural icons like Marlon Brandon in the movie the Wild One. He sketched out a muscular looking machine with a bull like stance that was devoid of excess. It was a true modern classic with café racer styling and the performance to back it up. Perhaps the most impressive part of the design, however, was how it could be developed amidst Ducati's huge debts.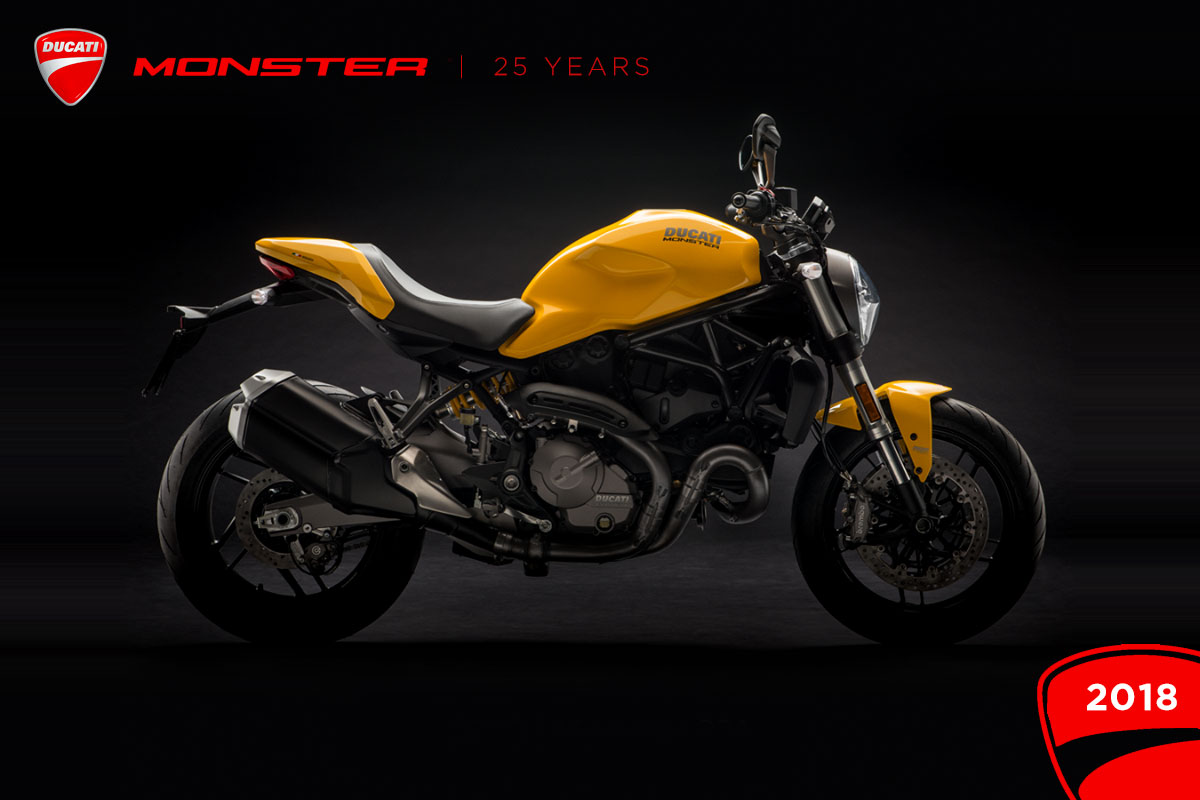 What Galluzzi did was create a new motorcycle that was a culmination of existing parts. Rather than spending millions developing new components, he combined components from existing models in the Ducati range to create the Monster. It was the same approach Dr. Frankenstein used when he made his Monster and it worked out to be a very affordable one. The Monsters trellis frame was borrowed from the Ducati 888 Superbike, chosen for its light weight and great handling characteristics. Hung beneath it was the latest 904cc Desmo L-twin from the 900SS that produced a decent 67bhp. Upfront they opted to use the inverted forks from a 750 Supersport and rounded out the performance package with high-end Brembo disc brakes.
As for the rest of his design, Galluzzi stuck to his bare essential philosophy designing a muscular looking tank, smooth saddle, and tight tail end. The handlebars had a low appearance but offered great comfort and the entire machine weighed a measly 185kg.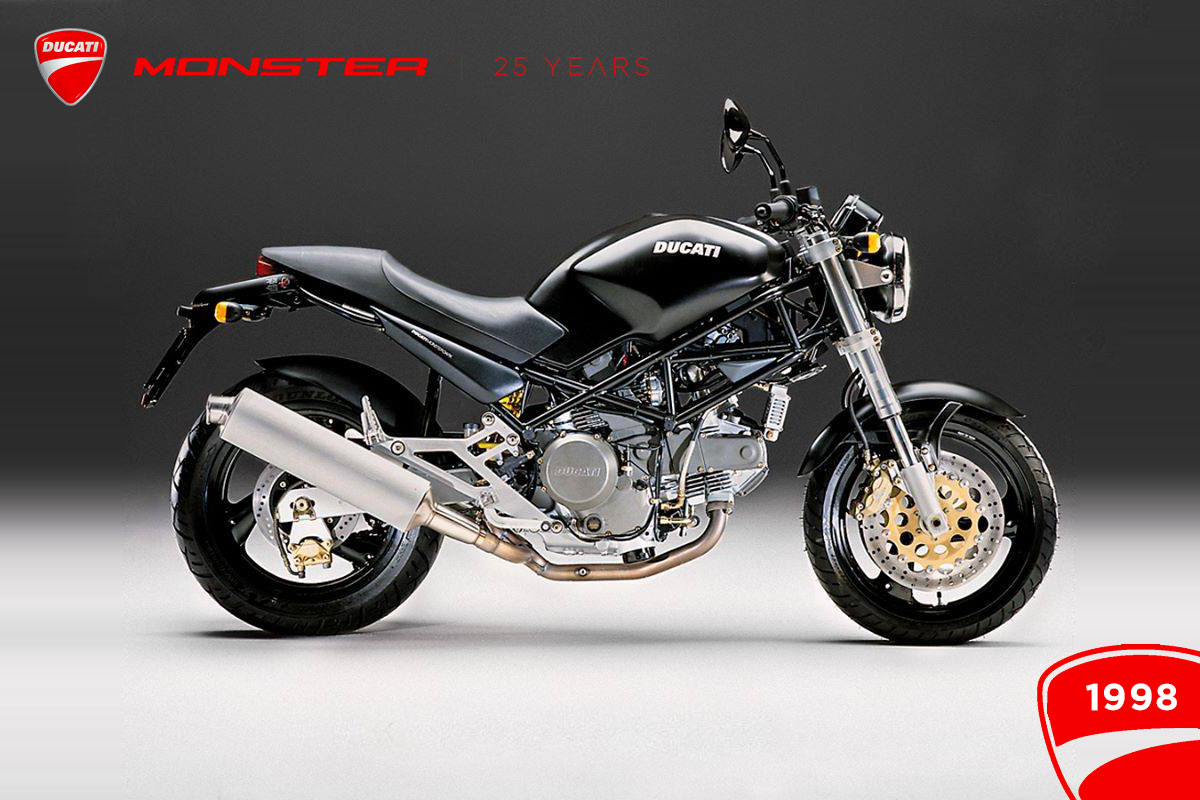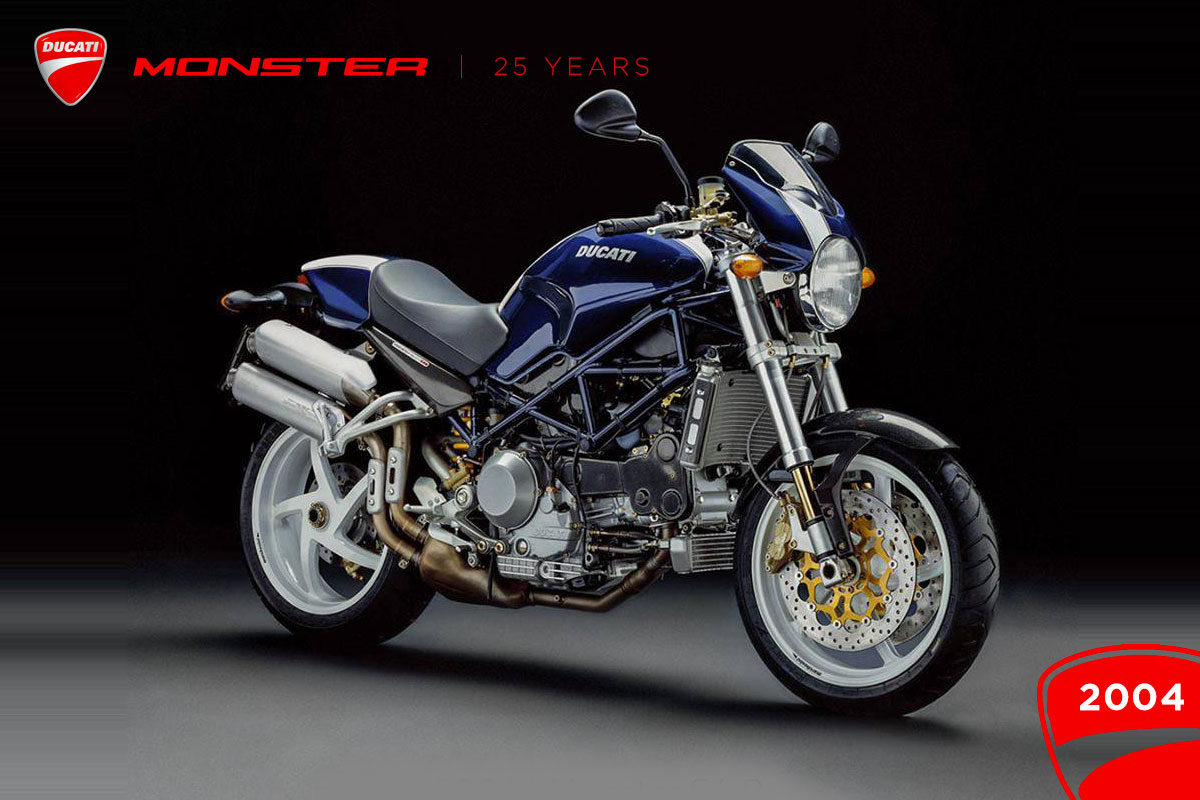 When the Monster hit the market in 1993 the motorcycling world couldn't get enough of it. Ducati had created an affordable, lightweight machine that was easy to ride yet boasted high-end performance and parts. It was hailed as a revolutionary design and it paved the way for a whole new era of naked motorcycles. The Monster also quickly became the biggest selling Ducati of all time. Between 1993 and 2000 Monster sales accounted for over 40% of total Ducati sales and today, 25 years on, more than 300,000 have been sold.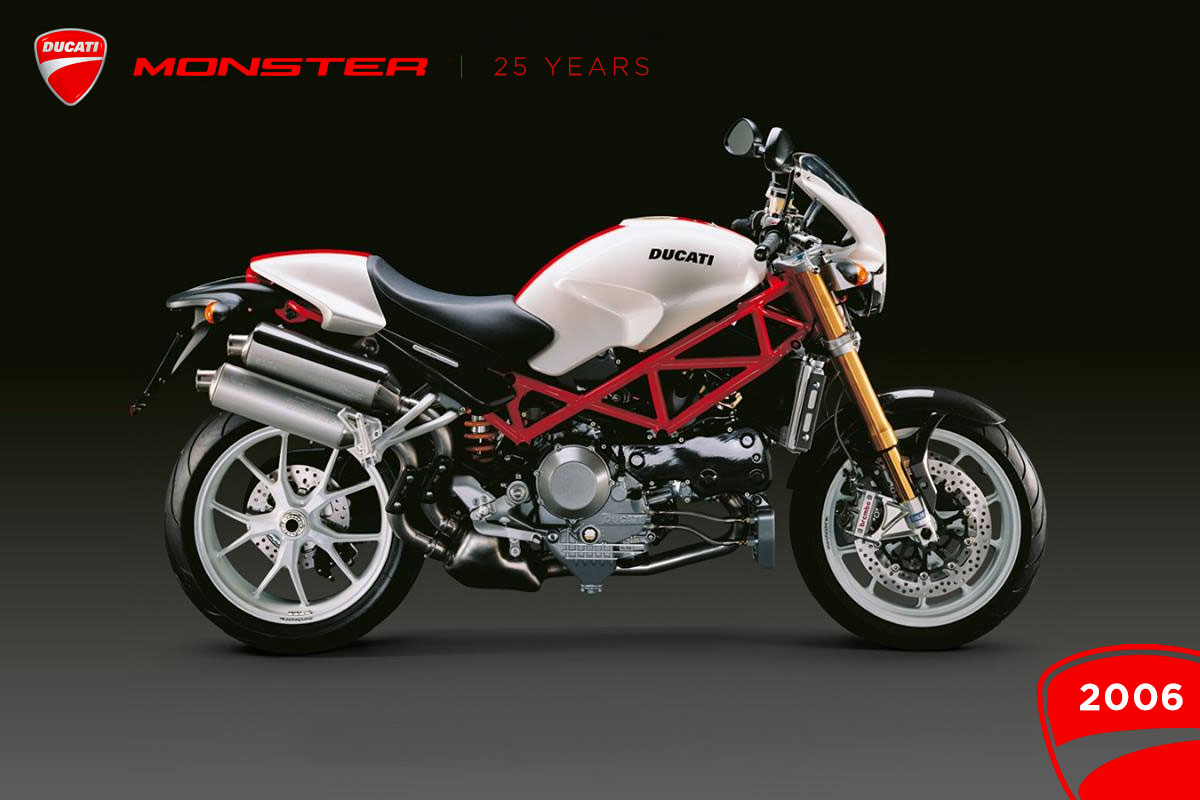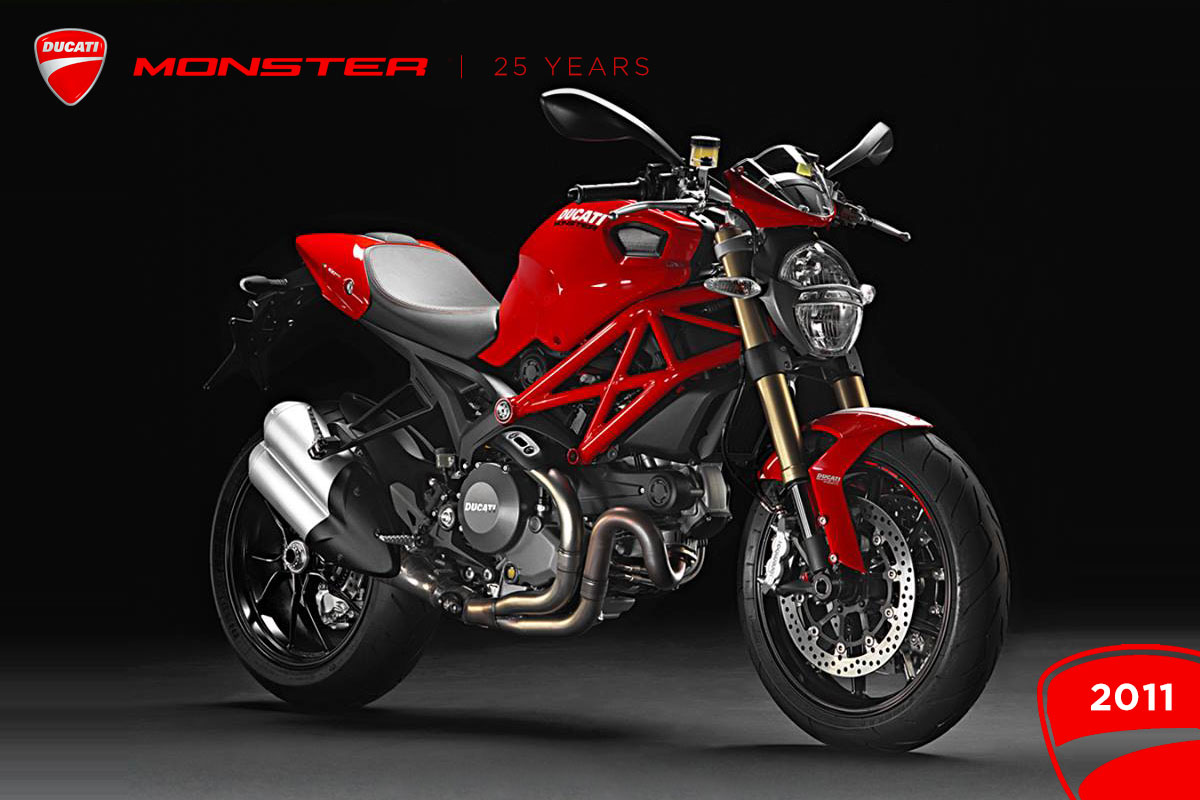 Ducati Monster – Then and Now
During its 25 year run, the Monster has appeared in 37 different variations. Engine sizes have varied from 400cc to 1200cc and almost every common capacity size in-between. From 1993 to 2018 several key Monster components remain unchanged. The Trellis frame, Desmo valves, L-twin engine configuration (both air and water-cooled) and a fuel tank that echoes Galluzzi's original design all remain. As the years passed Ducati updated the Monster by fitting it with updated tech such as fuel injection, suspension, and ABS. There has also been a slew of special editions that have varied in styling, such as the black editions, and higher spec S and R models.
Although it still possesses a strong connection to its origins the 2018 Ducati Monster is a very different kind of machine. The 2018 Monster is available in 3 different capacity sizes are 5 different spec options. The lowest specification Monster 797 is the entry level machine with 73bhp and 67Nm of torque. It comes standard with AB, Brembo brakes, an LCD dash and 6-speed gearbox. At the other end of the range is the Monster 1200R, a 152bhp, 125Nm beast. All components are of a higher spec on the 1200 R including a Superbike Brembo brake system, Öhlins suspension, and switchable ride modes. The 1200 R also stands out from the crowd with a Ducati Corse inspired paint scheme. It's a far cry from Galluzzi's 1993 parts bin special, but the existence of a model like this only highlights how popular the Monster platform has become.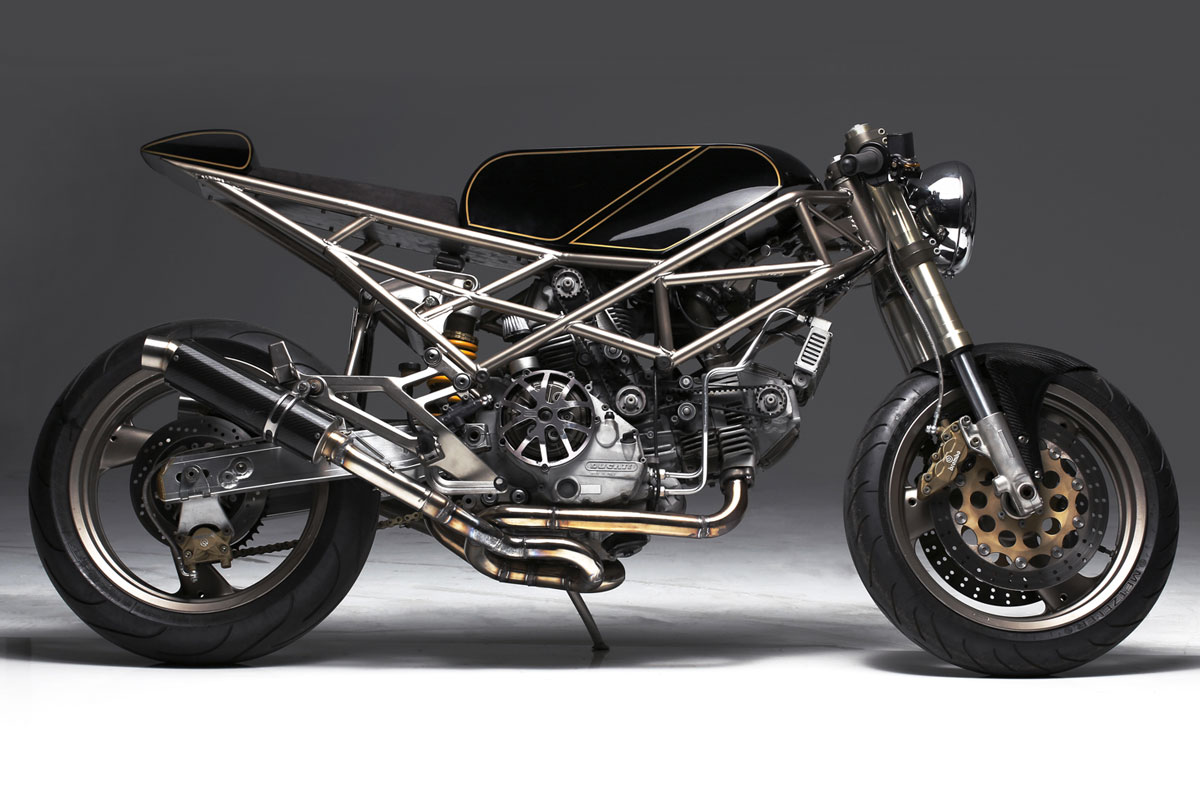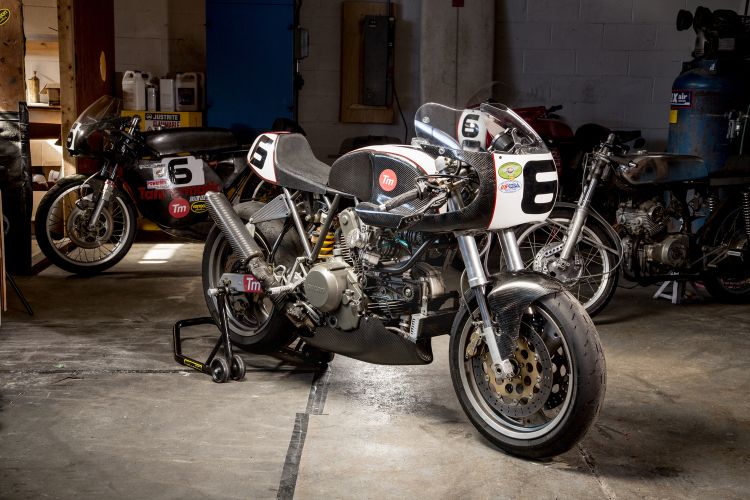 Make your own Monster
I've said it before and I will say it again, to me the Ducati Monster is the perfect candidate for the full café racer treatment. Its barebones design, thoroughbred Italian breeding and the fact that you can pick up secondhand examples for under $3000 should make it a very attractive option. Add to that the kudos you'll get rolling up to the pub on an Italian stallion and you'll be wishing you'd done it years ago.