After writing my article on Benelli's TNT Cafe Racer I was interested to see what other Modern, non-classic style bikes would make a good base for a custom Cafe Racer build. Obviously if you really wanted to you could build a cafe racer inspired machine out of just about anything but I like naked bikes so that would instantly cut my choices down by about three quarters. Ultimately this decision would also make a build a little easier as full fairing bikes tend to be a little messy under their plastic exteriors with lots of wiring and ugly frame work so you would need to spend hours and hours figuring out where to hide it all. Next came price and performance and one particular bike shone out above the rest, The Ducati Monster.

Ducati first released the Monster in 1993 with 3 available engine variations of 600, 750 and 900cc. It's release introduced the naked bike style (a sports bike with an exposed chassis and engine) to the market and it's great success prompted many other motorcycle manufacturers to begin producing their own naked variations. Today there are 8 different variations of the bike that you can purchase and Ducati looks to be constantly looking for new ways to improve upon the range. Monsters all feature 90 degree V-Twin engines (L twin) encased in a steel tubular chassis and have different suspension set up according to model (and price). Prices range from around $7,000 to $16,000 US brand new but you can pick up top quality second hand models for bargain prices. The most recent variation to the Monster line up is the 2007 Monster 695 which will be replacing the Monster 620 models. The 695 will have the highest power output per CC of any Ducati air cooled engine every produced, a statistic that will put a smile on any Monster fans face.
One of the most desireable things about a Monster based Cafe Racer for me is the fact that there are literally hundreds of custom parts available because of it's massive popularity. So creating a one of a kind reincarnation is easily achievable. Also by purchasing a Monster you are joining a huge global community of Monster riders who have started clubs and online communities you can access for tips, inspiration or club related activities. Here's a few links to clubs and enthusiast sites I found…
Ducatimonster.org – Huge! Great resource of links, custom product reviews, DIY information, tuning tips and an inspirational featured bike section that showcases members Custom Monster creations.
UKMOC.co.uk – UK Monster Owners club. Nice Gallery area with heaps of modified Monsters .
ducatimonsterclub.it – Ducati Monster Club Italy (in Italian)
So once you've bought your Monster where do you start? Well as always I would start on eBay. If you do an advanced search for Ducati Monster in Cars, Bikes & Boats (set the preferred sellers drop down to worldwide) you get around 350 results. From this you can start your search for your Cafe Racers custom parts to suit your project. I would recommend eBay for any non-manufacturer specific parts such as handle bars, head light, tail light, indicators etc. When you start getting down to body parts though you will need to look for specialty stores or custom builders. Here are a few Ducati Monster custom parts suppliers I found online…
ducati.com – Ducati supply many upgrade or custom parts for the Monster but you're going to be paying top dollar.
ducatimonstershop.com – devoted to all things Ducati Monster, once again quite a pricing store.
thetankshop.com/ – If you want to go as far as getting a custom tank these guys can help and willeven design to your specifications.
ducatistore.co.uk – All things Ducati in the UK. Huge range of parts for all Ducati bikes.
Corbin Seats – Top quality seats from the US. 2 different models made specifically for Ducati Monsters.
Here's a few tasty looking Monster's to get you excited.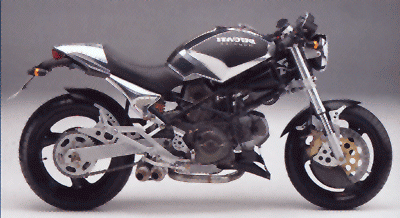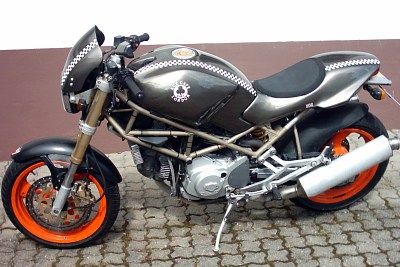 Also check out this site for some great custom info…http://ebbot.net/ducati/m900crsp/ The site belongs to the guy responsible for the beautiful looking monster pictured above.