The Ducati SportClassics were well ahead of their time. But not in an engineering or performance sense.
Conceived by visionary designer Pierre Terblanche, the Ducati SportClassics were factory-built cafe racers. Their styling was reminiscent of iconic 1970's Ducati race bikes like the 750 Imola Desmo and when they were unveiled at the Tokyo Motor Show in 2003 they caused quite a stir. Unfortunately, the motorcycling world wasn't quite ready for a neo-retro Italian twin just yet. After 5 short years, the SportClassic range ceased production. Had Ducati held out a few more years things would have been very different, but such is life.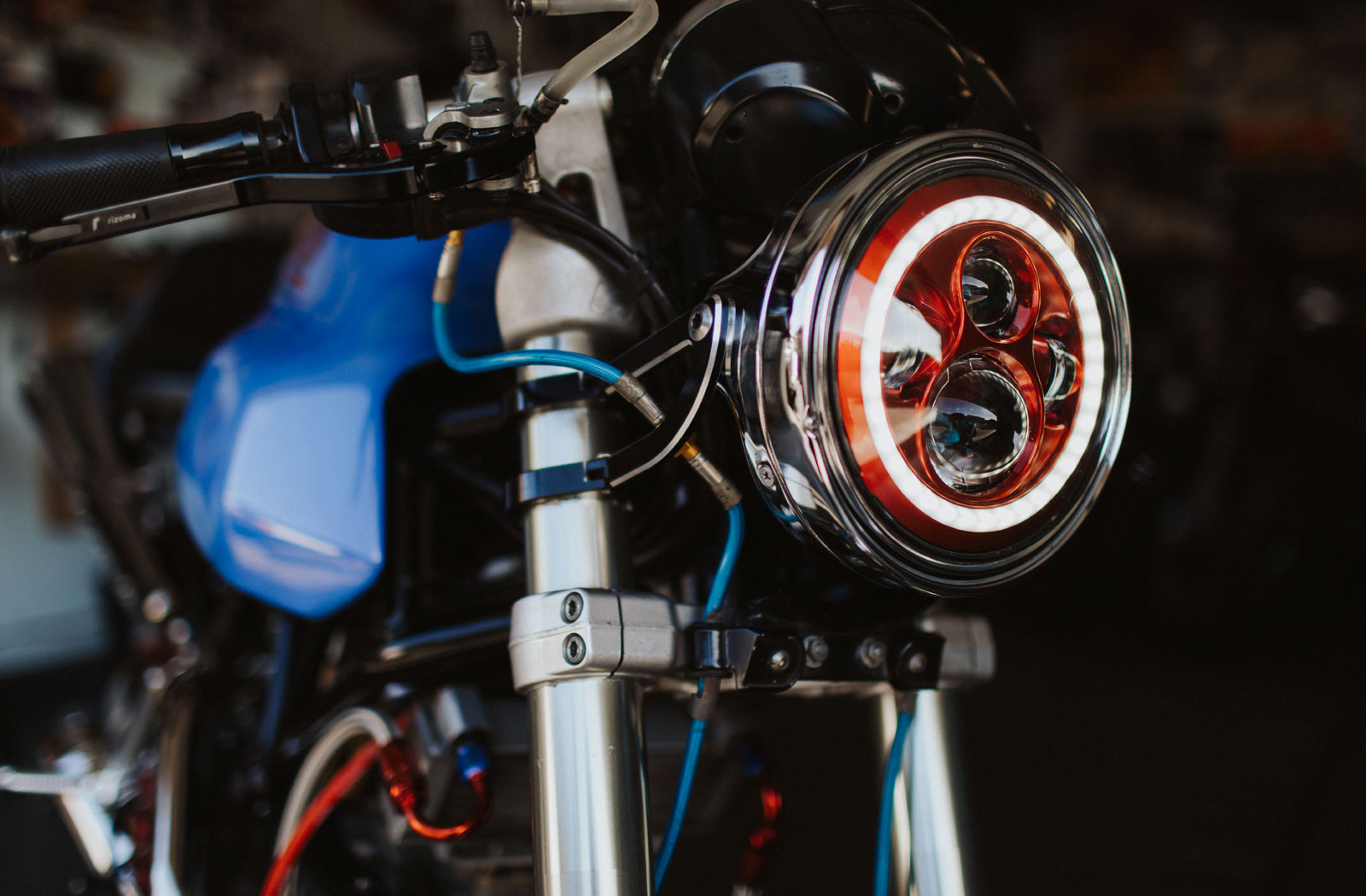 Since the demise of the SportClassics, Ducati has reentered the retro bike market with their Scrambler range which has been an incredibly huge success for the brand. Personally, I don't consider the Ducati Scrambler as appealing as the SportClassics, but it just goes to show how important timing is.
It seems that others find the short-lived SportClassics very appealing too. A quick look at prices for secondhand examples reveals that a low mileage bike will fetch significantly more than when they were new. At only 15 years young that makes them appealing investments. But not everyone looks at them purely from an investment perspective. Take for instance Rodrigo Cedeño of DNA Motor Labs. Rodrigo has not 1 but 3 custom SportClassics under his belt and this 2005 Ducati Sport 1000 is the latest.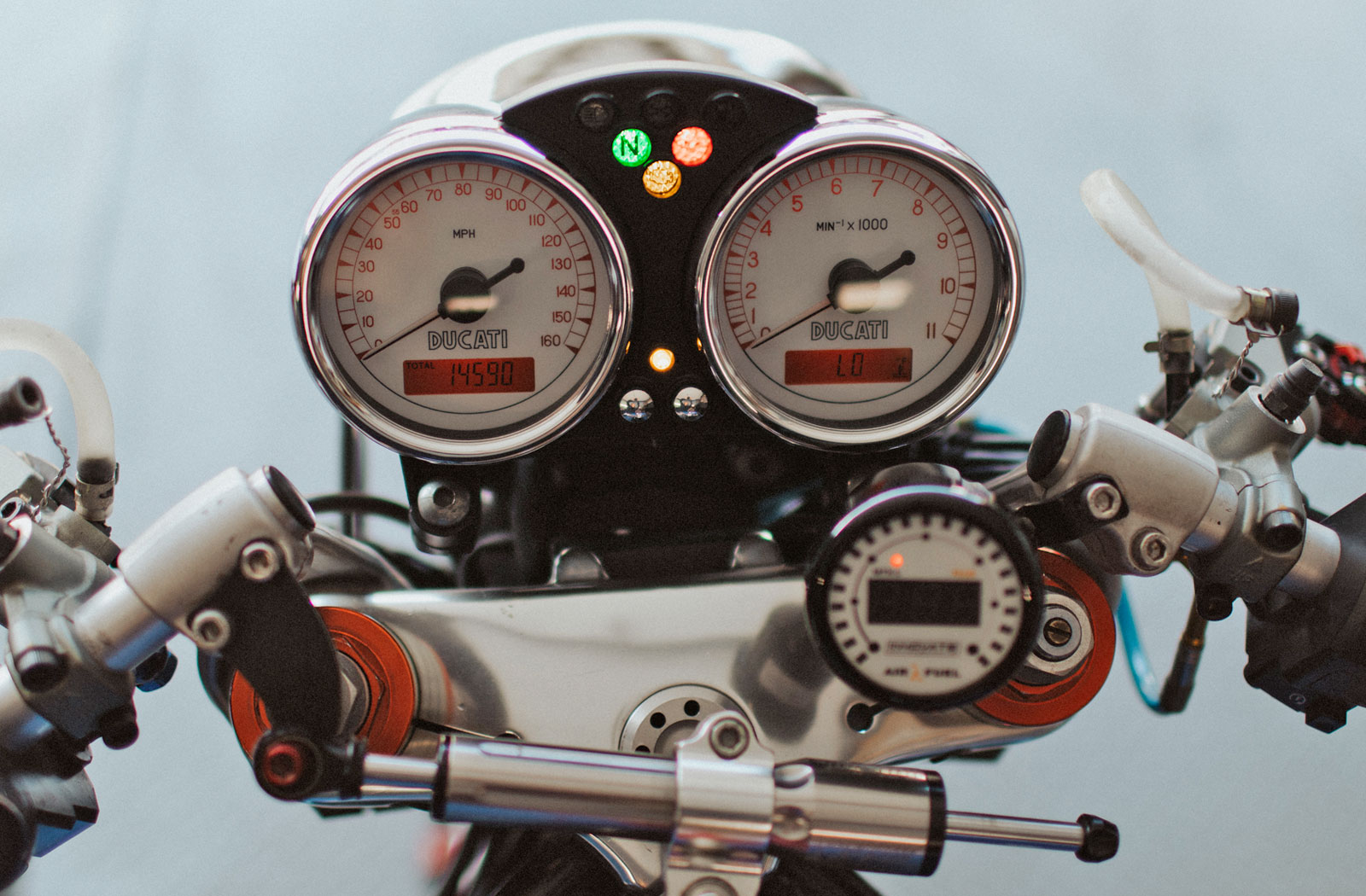 "This has always been one of my dream/visionary type of builds and ended up becoming a little bit of a never-ending canvas," says Rodrigo regarding his work with the SportClassic platform. The former chef operates 2 motorcycle workshops in the San Fransisco Bay Area. The aforementioned DNA Motor Lab, where his team perform servicing, repairs and performance modifications, and Bay Area Vintage Motors which focuses primarily on custom work. The 2 businesses work independently of one another, but when they combine their talents the results are very impressive. Such was the case with this heavily revised and upgraded Ducati.
Similar to their previous DNA SportClassic builds this Sport 1000 project focused on improving upon Ducati's original design. Rodrigo explains that this bike is all about "Keeping a classic look but getting the modern-day R&D perks." This meant finding ways of making a good bike even better in both performance and aesthetics.
From a performance perspective, the Sport 1000 didn't offer the same exhilaration as Ducati's 2005 Superbike lineup, but it wasn't lacking. From the factory the naked cafe racers 992cc 4v V-twin put out 92 hp and 67 lbs of torque. The 43mm USD forks were fully adjustable and rear end suspension came in the form of a Sachs fully adjustable monoshock. The brake package was also very capable with a single 245mm disc and a 2 pot calliper in the back and twin 320mm discs and 4 pot callipers up front. However, as we in the custom scene know, there's always room for improvement.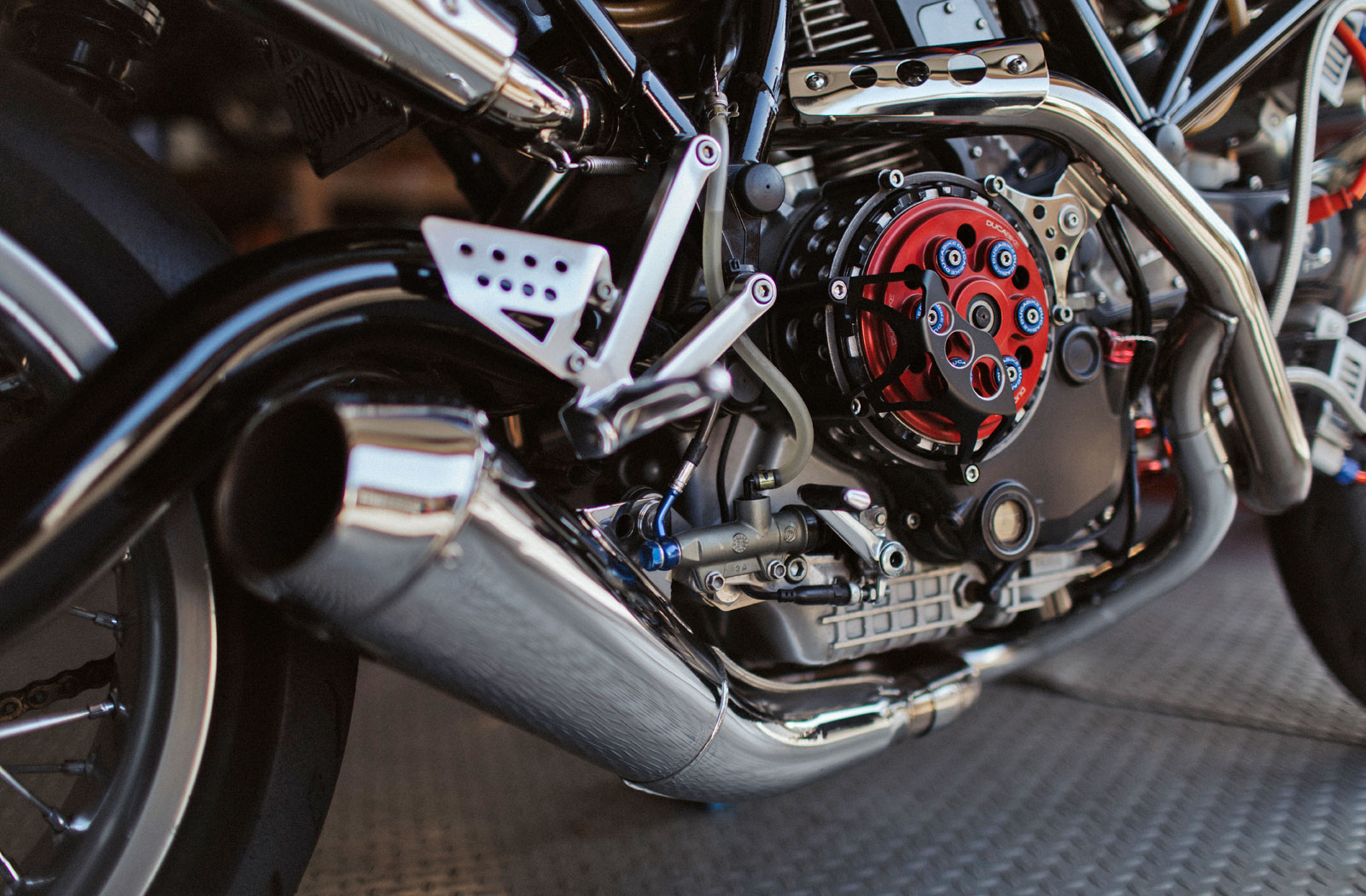 Starting with the engine this Ducati Sport 1000 now inhales via high flow velocity stacks. An upgraded fuel pump ensures the V-twin will never go thirsty and a vented slipper clutch helps get the power to the rear wheel. Working with exhaust experts Zard, Rodrigo and his team put together a 2-into-2 system with upswept chrome mufflers. To keep everything sufficiently lubricated and cool the Sport 1000 also wears a custom twin oil cooler system that feeds the engine internals via trick braided lines and anodised connectors. Then to get the most out of the arrangement DNA tuned the engine using their own custom fueling map.
"I spent months developing the map that the bike has (fuel and ignition), and it changed the bike entirely. We had so much success with the map that variants of it are on other models of the Sport Classics we've worked on." says Rodrigo.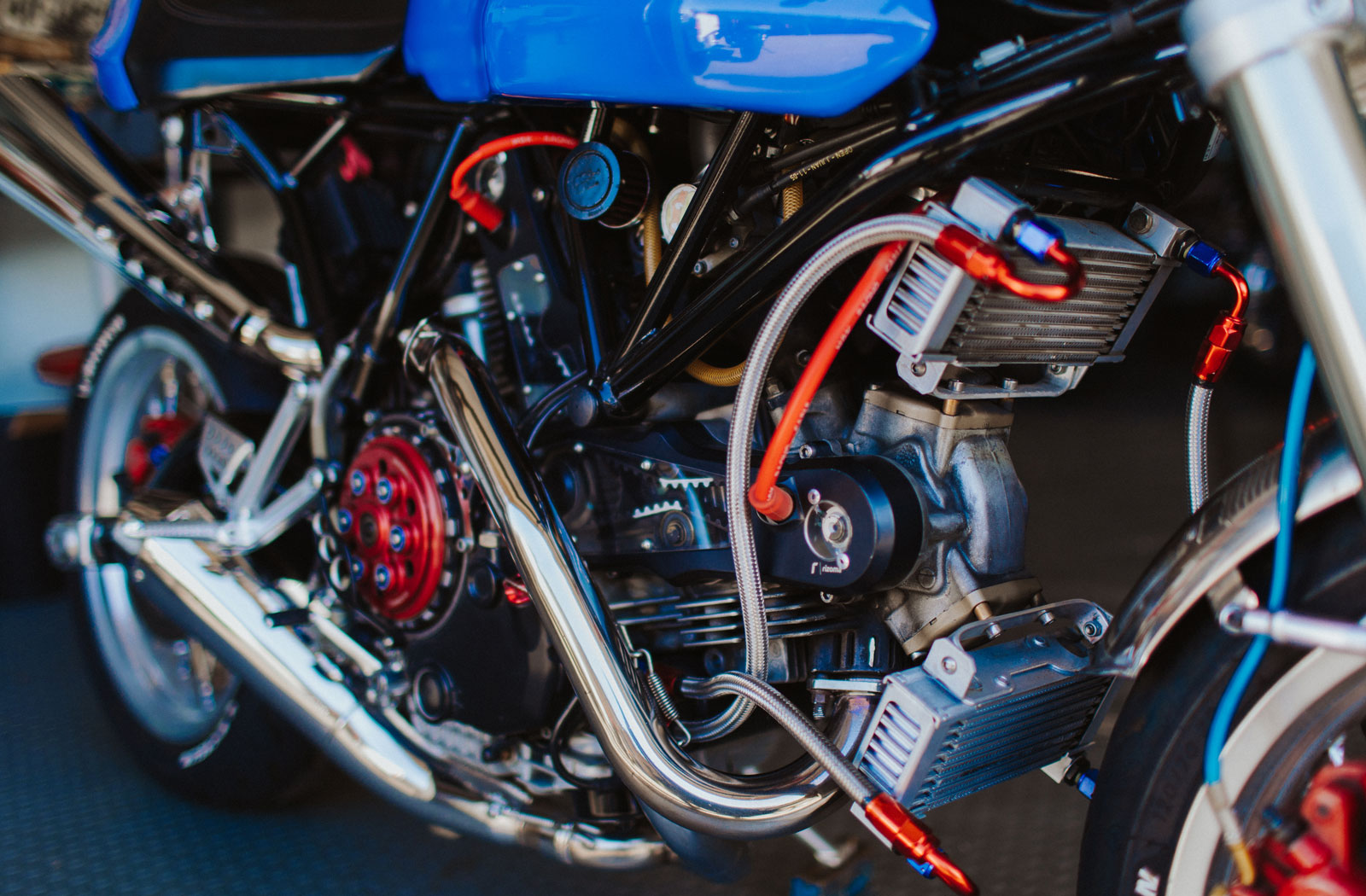 To complement the additional power the Ducati's brakes and suspension have been tweaked too. Upgraded Brembos provide all the stopping power and the fully adjustable front end is kept in check by a steering damper. To keep the bike firmly planted to the road the wheels are now wrapped in Michelin's highly rated Power 5 naked street sports tires.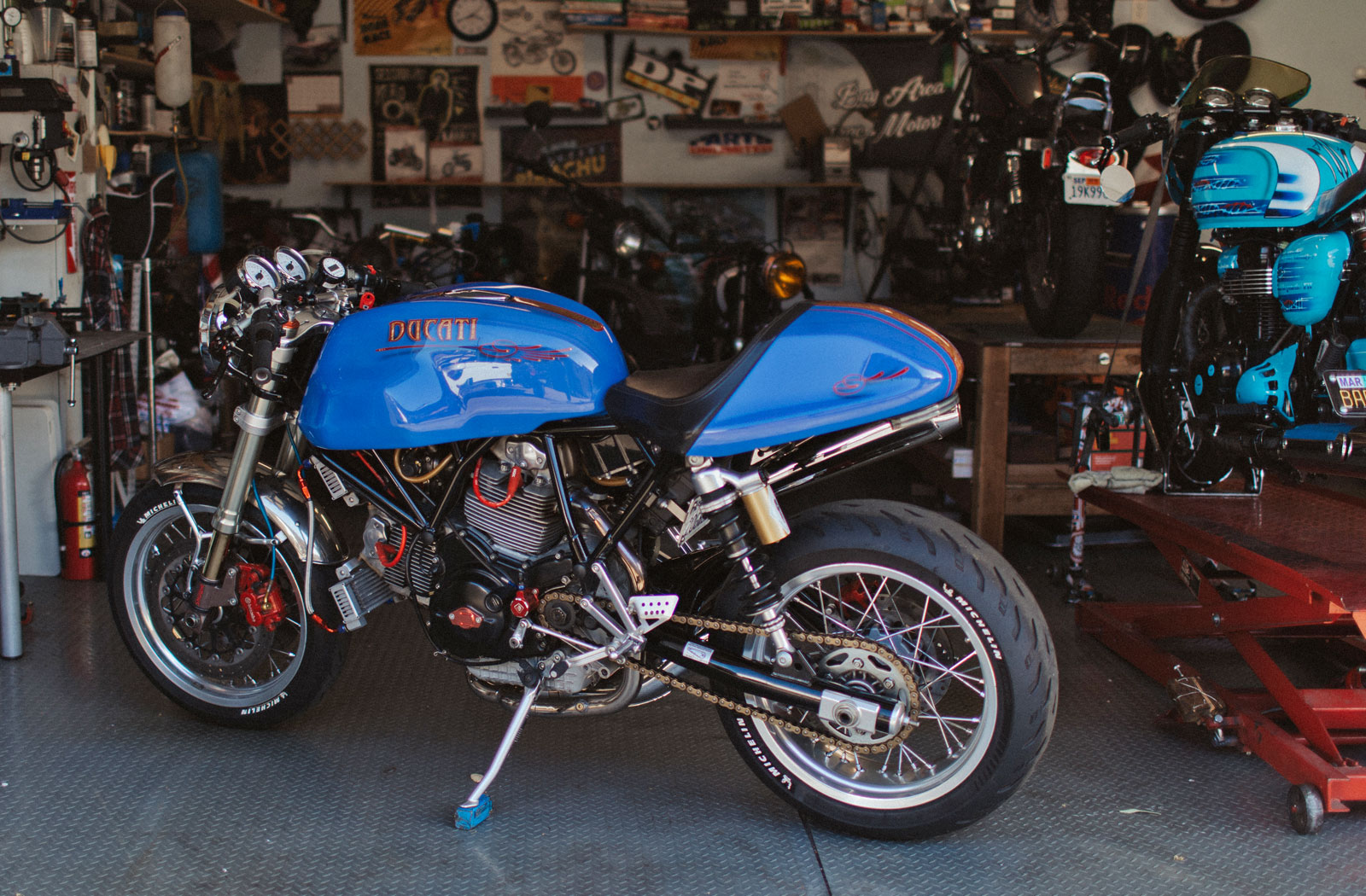 In terms of styling tweaks, there's no shortage of small detail improvements here. Rodrigo has gone to town with anodised components and fasteners and colour matched hoses and leads. His main goal though was to satisfy one of his own obsessions.
"I wanted to create a theme of some transparency," he says. "By being able to see many of the bike's moving components in action. I've always been fascinated by mechanical systems and their operation." To tick that box he's fit the bike with clear perspex cam belt covers and an open dry clutch basket.
The bike's fuel tank and tail unit are the standard affair, but the front fender is a custom alloy unit supported by bespoke brackets. The lighting is all-new with an angel eye style LED headlight and a pair of LED strip lights covering rear end lighting duties. The clip-on bars wear trinkets from the Rizoma catalogue and an additional gauge in the cockpit relays air-fuel mix info back to the rider.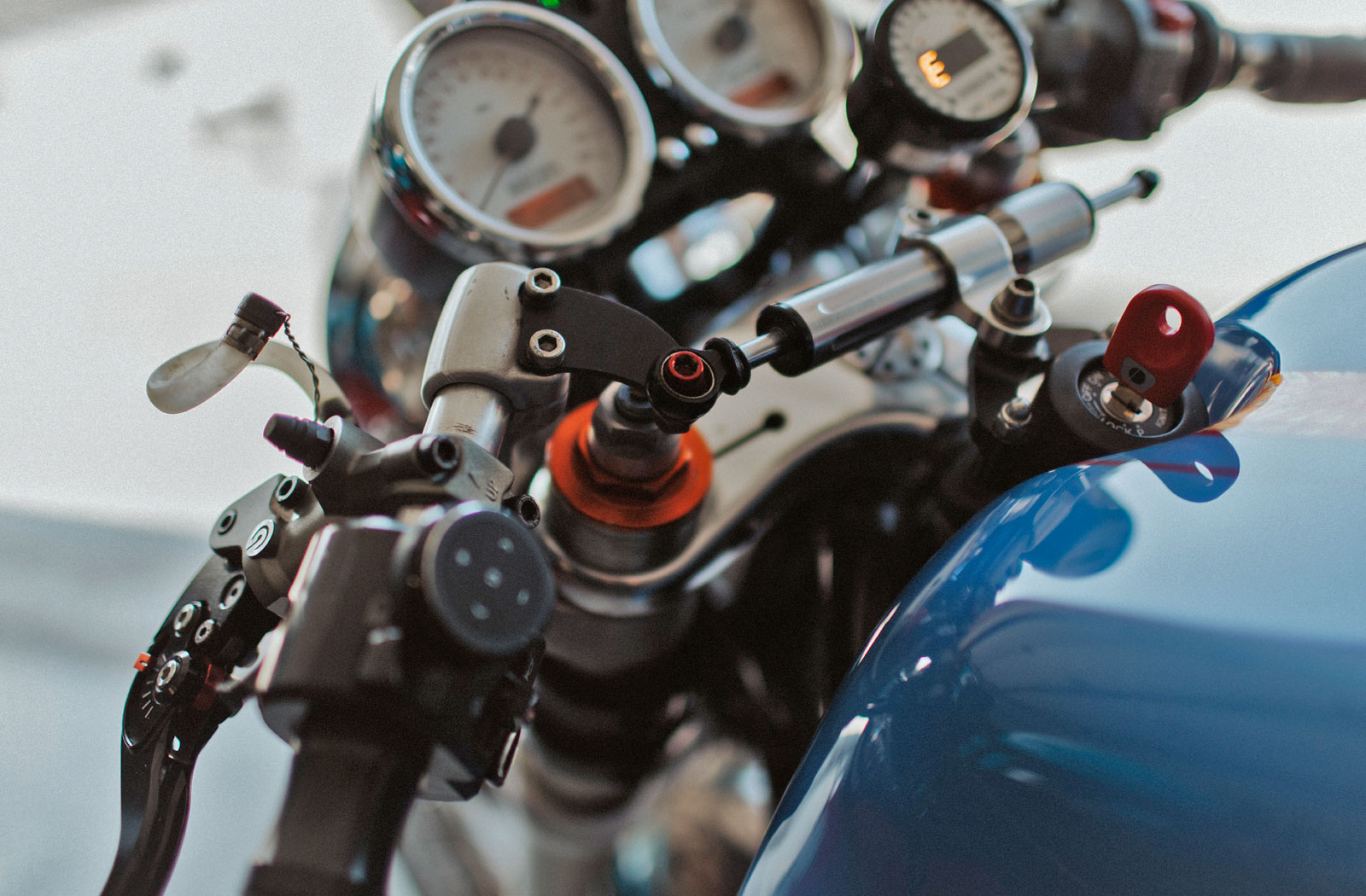 To complete the overhaul Rodrigo wanted a suitably unique and striking colour scheme. So rather than opting for the obvious Monza Red he's finished 'The Duc', as he calls it, in a bright blue from Volvo's range. Handlaid pinstripes and acid-washed gold leaf add a touch of hot rodding style.
As always we asked the all-important question of  'How does it ride?' to which Rodrigo replied, "Honestly, it rides exactly as it looks. It's been re-geared (on top of the custom map), so it has a lot of lower-end torque and power. It's fast right off the line and pulls through the canyons very gracefully and it keeps with the bigger bikes, no problem"
Photography by Hellena Cedeño