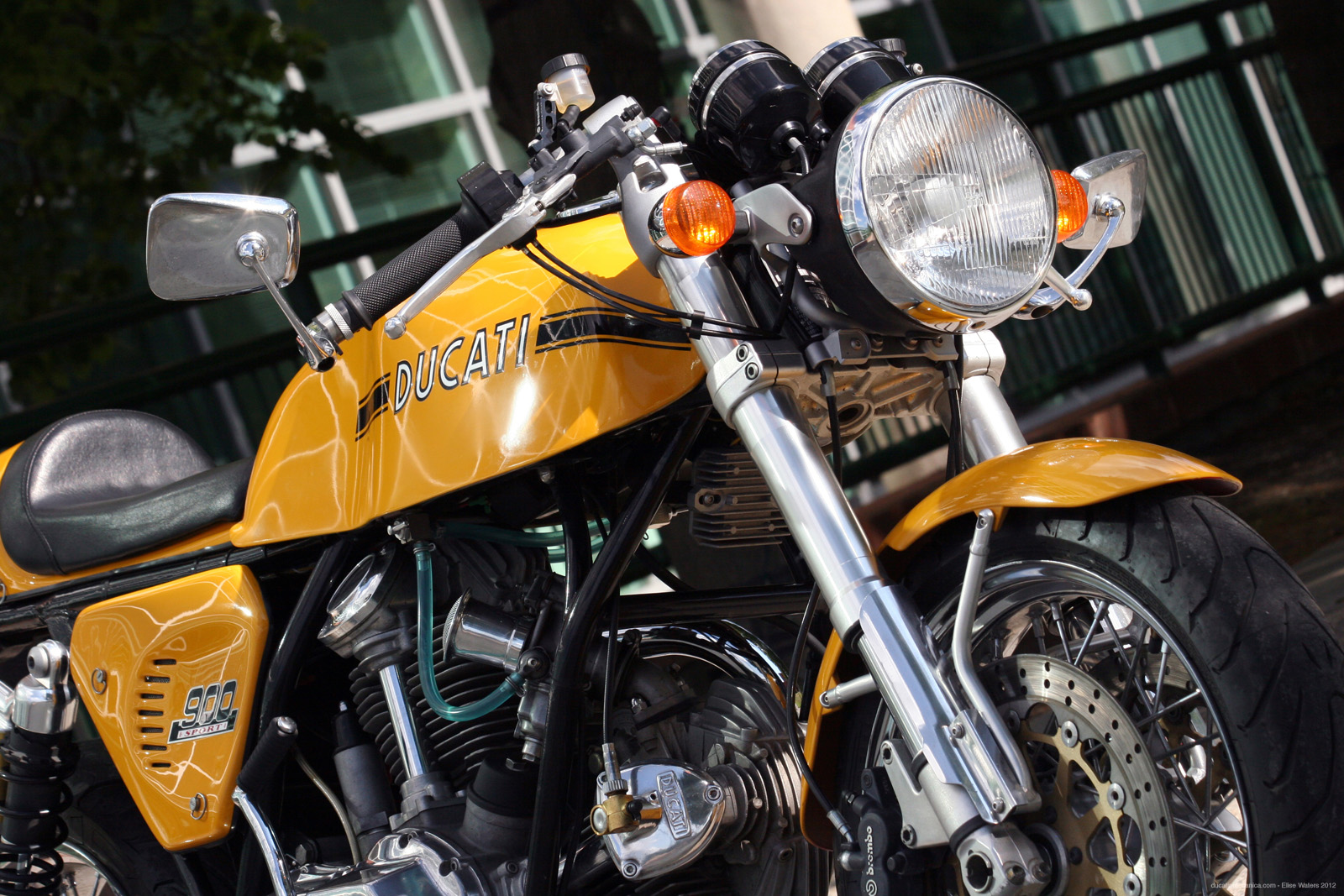 First things first a new frame was required which Rene acquired from a '76 Ducati 860 GT. To fit the replica '72 750 Sport tank and seat he extended the frame by 3 inches before it was prepped and powdered in classic gloss black. A custom steering stem and bearings were then fabricated to fit a set of modern Ducati Sport Classic triple trees that would hold the fully adjustable 53mm Showa upside down forks.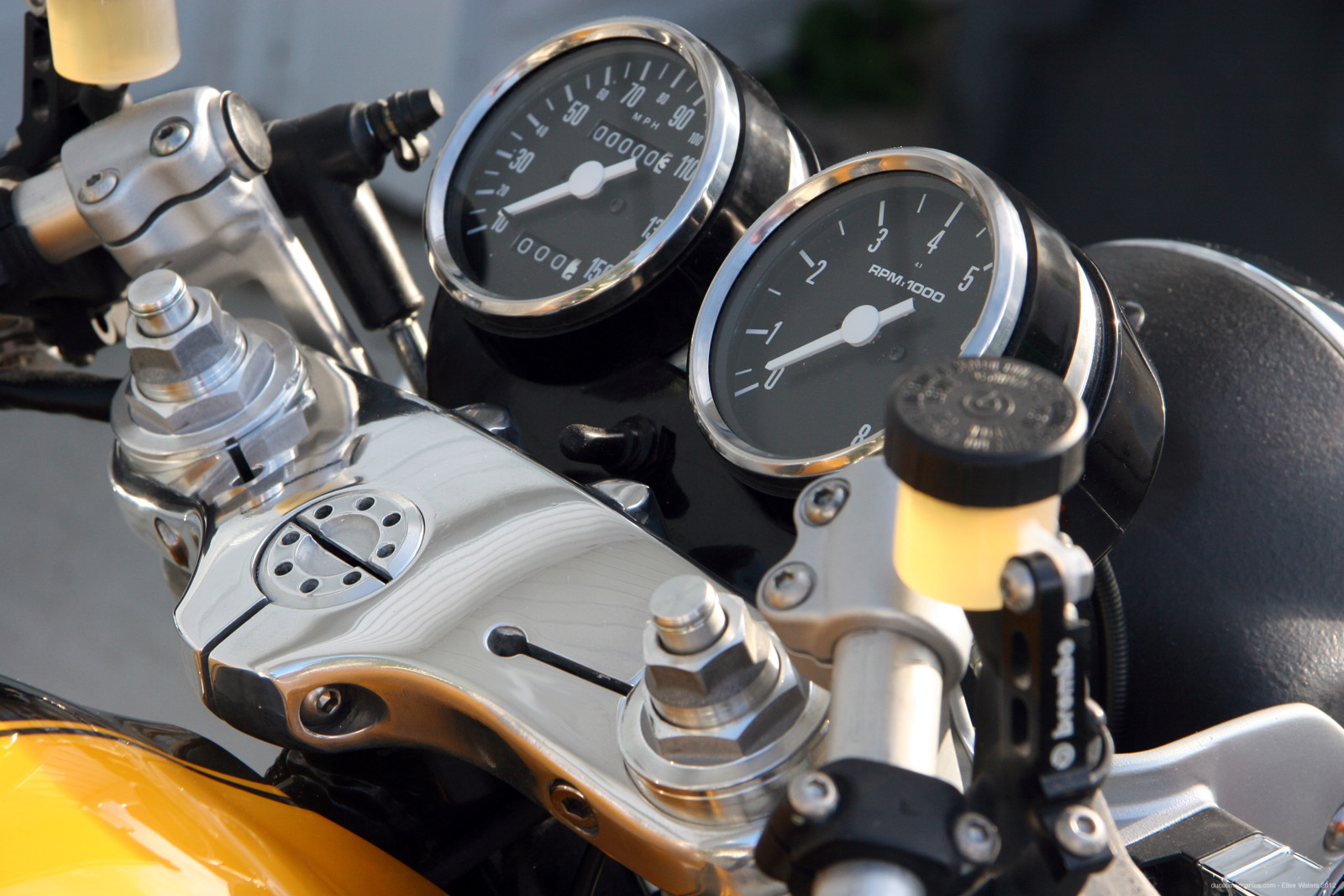 The salvaged Ohlins cartridge shocks went on the rear and were secured to a heavily modified swingarm designed to accommodate a wider, 17″ 1000GT rims with Pirelli Angel rubber. Braking at the rear comes from a custom Brembo disk and caliper brake set up while at the front a Brembo master cylinder, dual calipers, and rotor provide ample stopping power. A custom hydraulic clutch system was also devised using a Motorcycle Machining Specialties slave cylinder and Brembo master.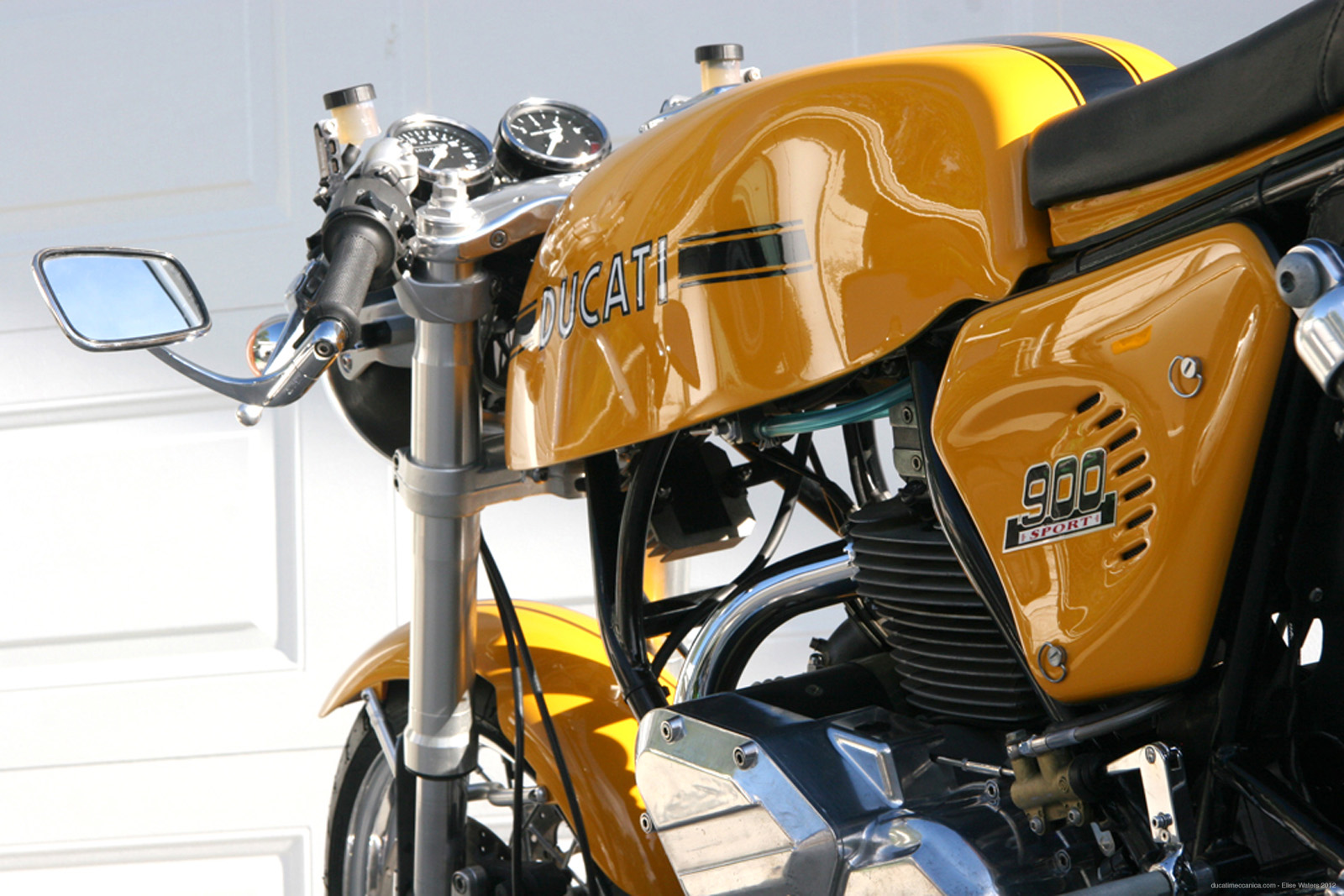 To add a modern creature comfort the '78 900 GTS kick-start square-case motor has been retrofitted with an electric start system built with original parts that Rene has accumulated over years. While the engine was out of its frame a set of oversized valves and Ross Racing, hi-comp pistons were installed. 32mm Delorto carbs with open velocity stacks and Conti straight through exhaust were then added to give the Ducati plenty of extra oomph.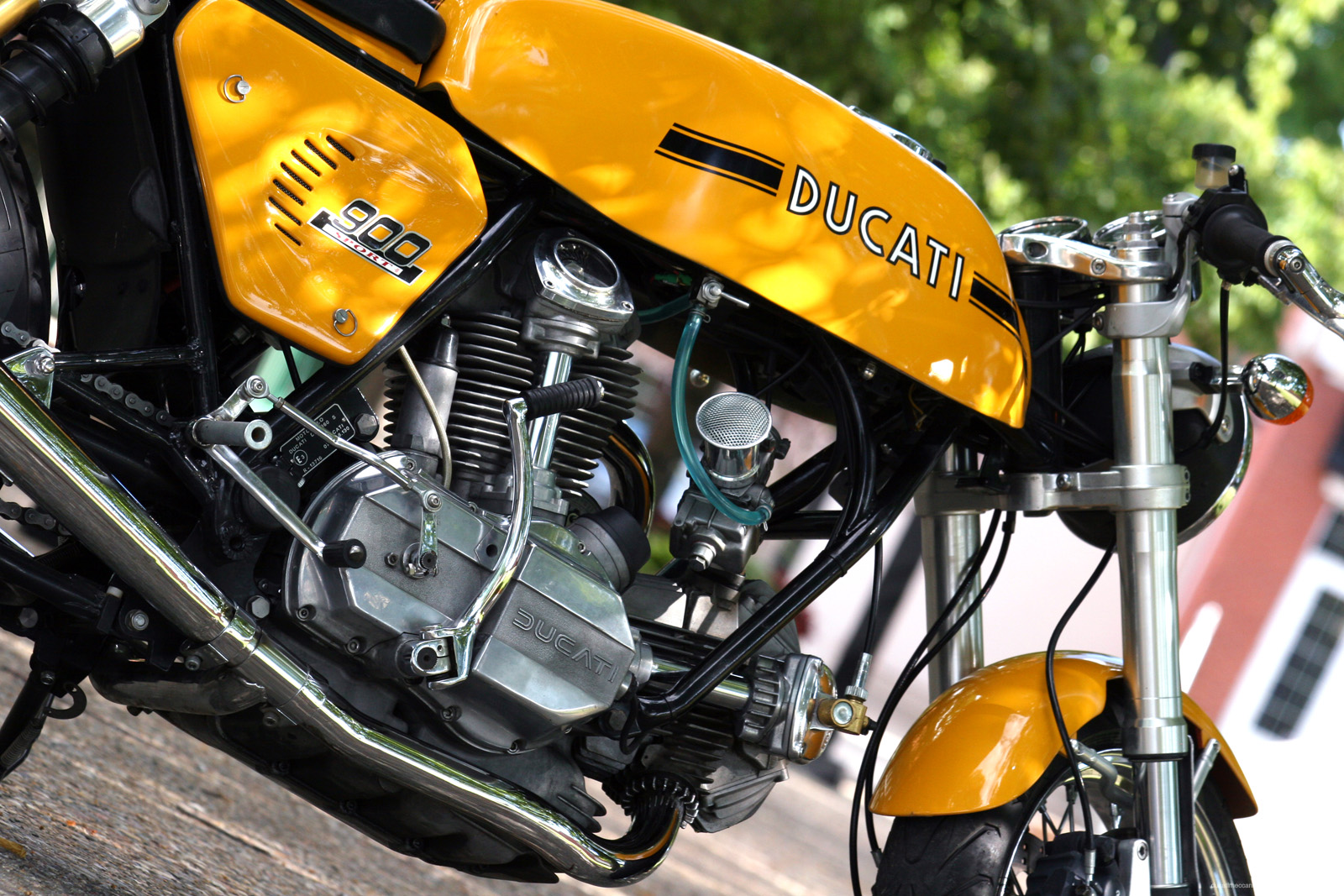 Electrical upgrades come in the form of a 203mm Bosh headlight secured in place with a modified Sport Classic headlight mount. The gauges are '70's Veglia replicas and the tail light and turn signals are from a late model 1000GT. A Sachse digital ignition and custom built loom running off a Ballistic Lithium Iron battery keep the bikes electrics in check and provide plenty of juice to get the electric starter turning over.  Inspired by Ducati's 750 Sport from the early '70s, the paint is the original Ducati colour just like its former self and it carries replica 750 badges altered to read 900.
"A couple of people have asked me why I built such a similar bike and I tell them all the same thing… I wasn't finished riding it yet!"
Photographed by Elise Waters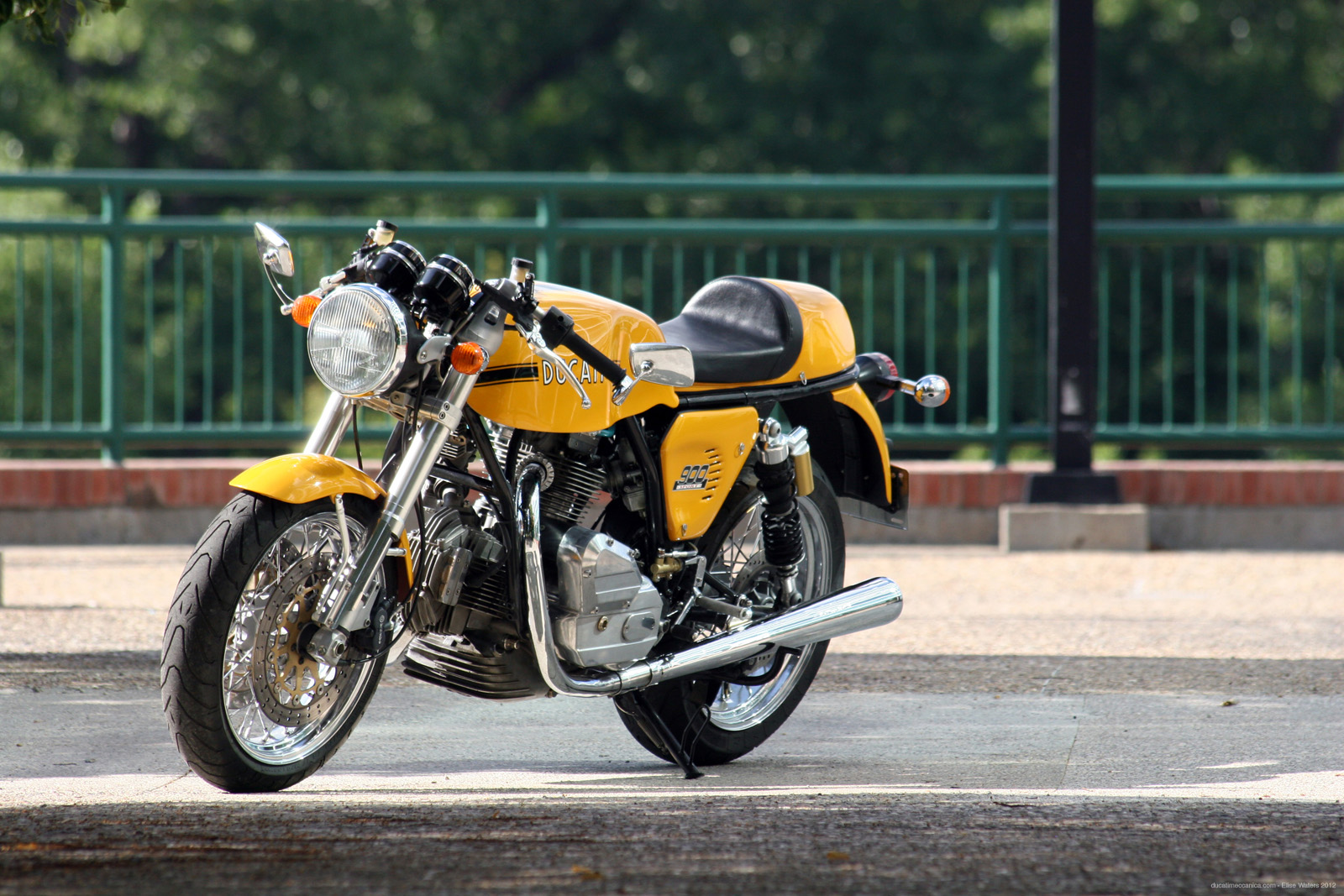 A few years back Rene Waters custom 1978 Ducati 900 GTS was getting some great online press, appearing on the likes of Bike Exif and Pipeburn and rightly so, it was a stunning build. Notice though that I said it "was" a stunning build. In an unfortunate twist of fate the bike was written off in an accident leaving very few salvageable parts. Starting with only an engine and a pair of rear shocks Rene rebuilt his beloved Ducati from the ground up.