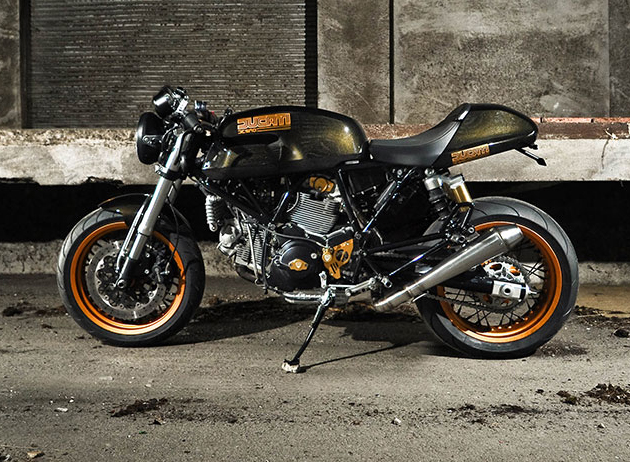 It's not often I receive two customised versions of the same motorcycle in less than a week. This second example of a customised Ducati Sport Classic named "La Rage" comes from custom workshop FCR in France. In this build though the donor bike didn't go through as much trauma as Andy's custom Sport Classic I featured last week, but it's every bit as unique.

Those of you who have been following my site for a while will know I'm not adverse to a bit of flaky paint and as you can see this bikes covered in it! The mix is Black Gold Candy applied by the FCR team to the Dukes gas tank front fender and rear end. Then more Black Gold was added to the base of the forks, the headlight supports and gauge housings.
To compliment the flake paint a selection of parts finished in Alpina Gold including an anodised CNC clutch slave, camshaft plate and chain covers dress up the bikes engine. The clip on bars and grips are again finished in Alpina Gold along with the custom tank and tail decals made in-house by team FCR. The bikes wheels were then replaced with Alpina tubeless spoked wheels in matching Arco orange and black spokes.
While the engine didn't receive much more than a full tune FCR hand built a stainless custom exhaust for the bike. The twin system was rolled and tig welded from the manifold back to the silencers, increasing horsepower and accentuating thebeautiful note coming from that Ducati 1000cc v-twin. Other FCR custom features on the bike include the reupholstered seat and LED tail light with integrated indicators mounted in the tail.