The small capacity custom bikes just keep rolling in. Here's the latest from Italian outfit Radical Ducati. As their name suggests they do some pretty wild things to their Ducati donor bikes and their latest build, the F3 is a perfect example. Based on a 1963 Ducati 125 TS the F3 is a purpose built track demon, stripped back, beefed up and ready to give even the most seasoned rider a kick in the pants.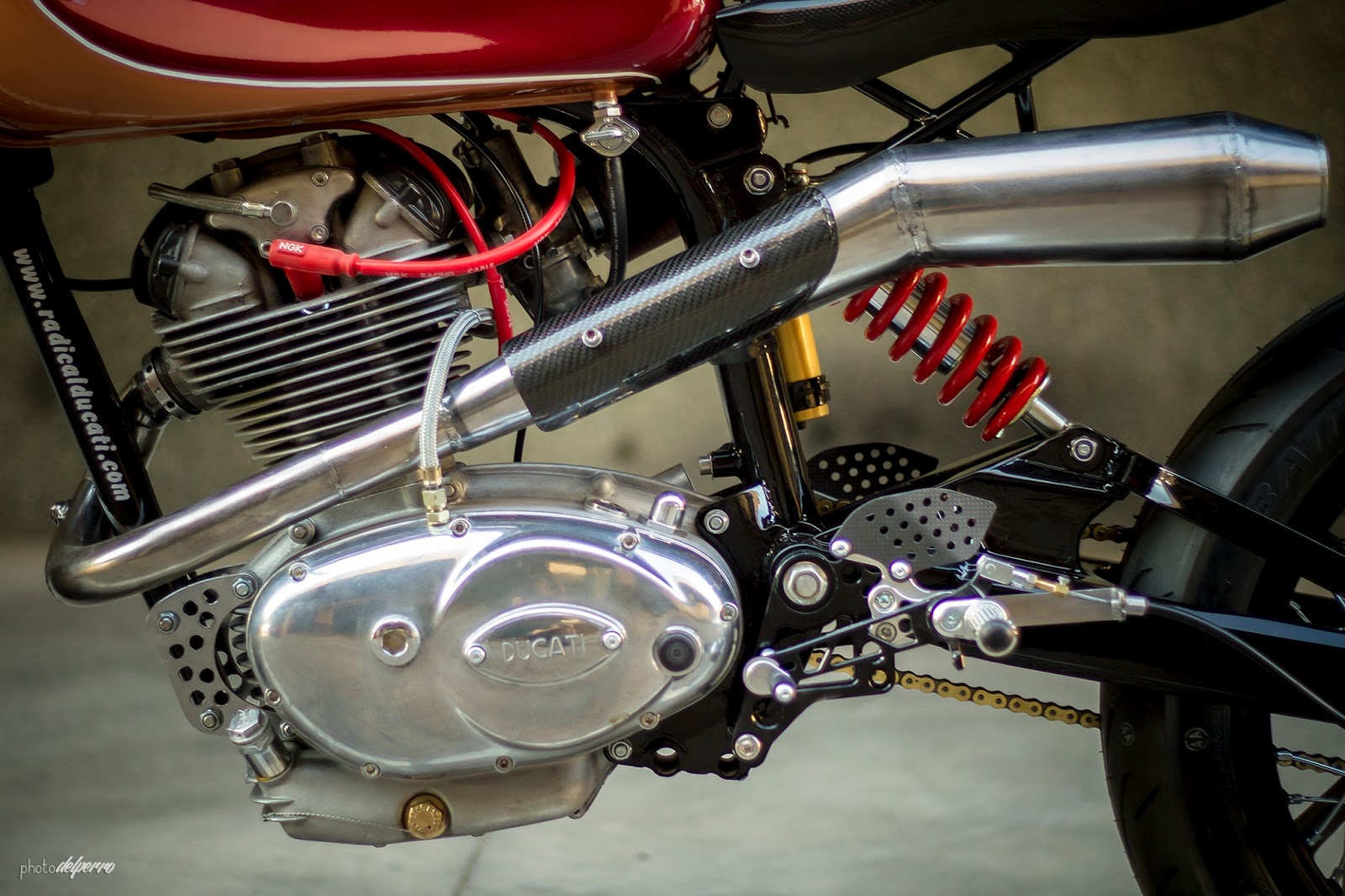 Back in '63 this TS delivered a top speed of around 60mph from it's 6.5bhp, air cooled, 4 stroke single. It may not seem like much but these bikes paved the way for the world of small capacity motorcycles due to their solid design and reliable performance. By today's standard though they're not going to be impressing anyone with their performance but they certainly look great. Radical wanted to change that though, their TS was destined to be much more than an admirable vintage, it had to be able to outperform similar capacity, modern motorcycles.
The F3 transformation began with some serious engine modifications. The 125 was uprated to a 250cc  short stroke and treated to ported heads, a high compression piston, lightened crankshaft, a race cam and big valves. Internally gears were lightened and excess electrics were dispensed with to save a few more grams. Oil the oil lines were replaced with higher capacity braided lines and an extra spark plug was added for good measure.  An Amal 32 mm carb now delivers ample fuel and air to the cylinder and a coil taken from a CBR 600 guarantees a solid spark. The humorously name company SUPERMARIO then supplied the tuned exhaust system and megaphone to which the Radical team added a carbon heat shield to avoid nasty pipeburn experiences.
With the motor now ready to race it was time to tackle the bikes handling. Morad aluminium rims, wrapped in Bridgestone rubber, with a Ducati 250 rear hub and drum brake in the rear and a huge 320mm NG disc, AJP caliper and a 900SS brake pump up front take care of any braking concerns. A new subframe was fabricated to mount the RAD carbon fiber solo seat which sits flush up against the classically painted Ducati 160 Sport fuel tank. The bikes suspension also went through serious changes with the rear suspension being converted to a cantilever setup using a Betor shock while up front you'll find a set of Derbi GPR 50 inverted forks. Add to this list, lightweight levers and pedals, carbon guards and a trick aluminium swingarm and there's no denying this little beast is on hell of a Radical Ducati.