Whether you're a die-hard Ducatista or not there's something special about the Italian marque. In fact, some hold the Ducati name in such high esteem that they compare it to another premium Italian manufacturer, Ferarri. Unlike Ferrari however, Ducati doesn't only produce eye wateringly fast (and expensive) vehicles. Their motorcycles cover a wide range of styles and purposes so no matter what function or budget you have mind there's a Ducati that's right for you. As far as building a Ducati cafe racer, models like the newer Ducati Scrambler or the iconic Ducati Monster are the most obvious choice. But occasionally we see older models like the legendary Ducati 900SS and even newer models from their premium Panigale range getting the cafe treatment. To honour those who have delved into the world of Ducati customisation we created this list of our Top 10 Ducati Cafe Racer Builds.
10. John Ball Gulf Racing Ducati 748
This stunning Ducati 748 dressed in Gulf Racing livery is the work of IT professional and Ducatista, John Ball. To complete this project John trailered the bike hundreds of miles to Denton Moto in Texas. There he worked tirelessly for 3 days with his old riding buddies to complete all of the fabrication work. Once he was back home he dispensed with the 748's angular bodywork. In its place are more classically styled fibreglass alternatives set up for use on the street. The result is a jaw-dropping Ducati cafe racer that is definitely worthy of its iconic paint scheme.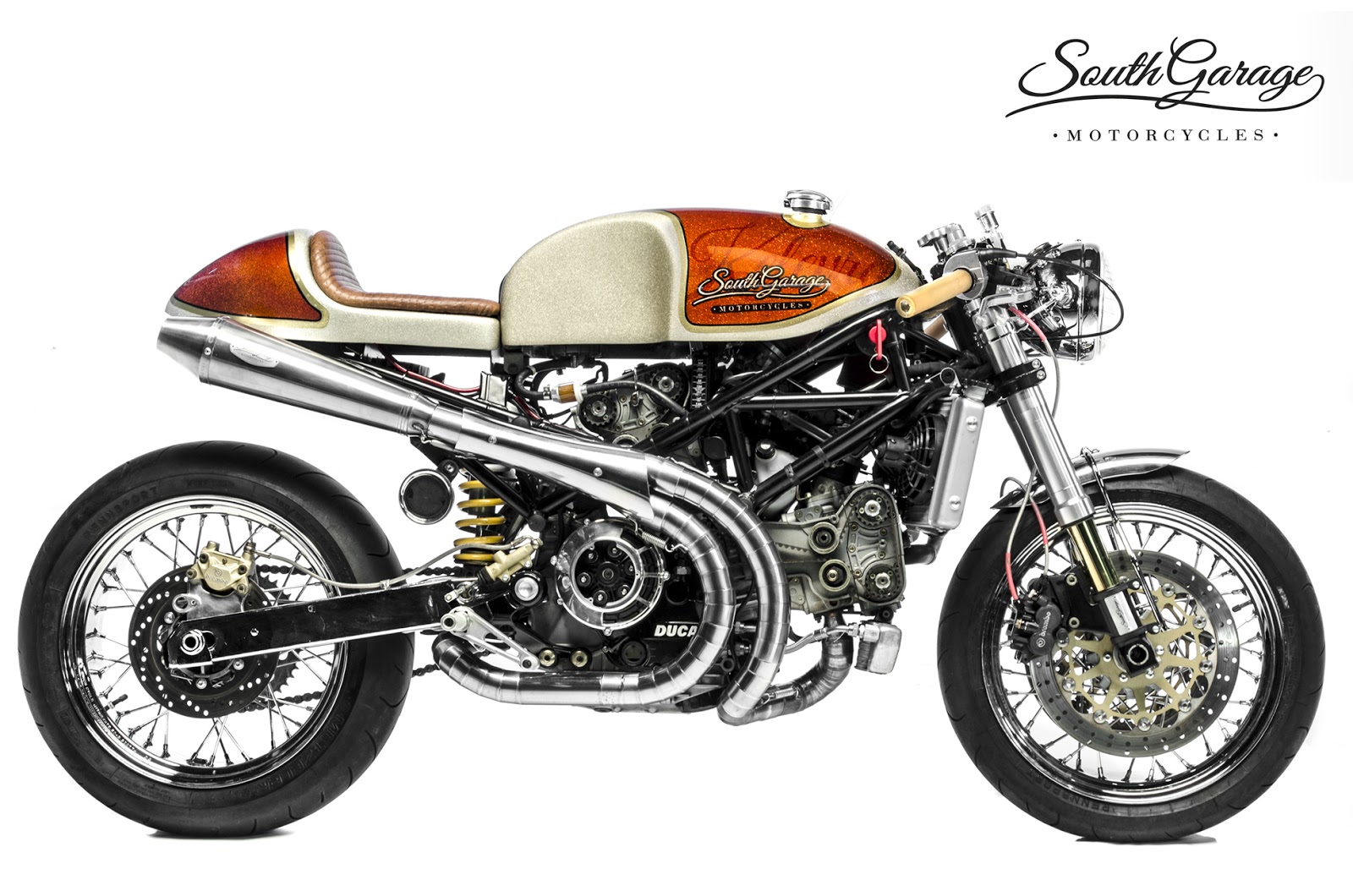 9. South Garage 'Kelvara' Ducati S4R
Italy's South Garage found inspiration for their Ducati cafe racer project in the lines of the legendary Norton Manx. The build started with a Ducati Monster S4R. After stripping away the bodywork they fabricated their own fibreglass alternative tank and tail inspired by those of the Manx. The new bodywork has been made to fit the trellis frame like a glove and to set up a perfectly balanced cafe racer bone line.
The bikes new exhaust system is made up of around 70 individual pieces carefully cut and welded to achieve the desired look. For a more classic appearance, the cast wheels were swapped for spoked alternatives and a chrome round headlight installed. Despite this S4R's old school appearance, it packs thoroughly modern performance. A complete suspension overhaul has the Monster handling like it's on rails. As for the engine, it's been hopped up to 113bhp which sees the bike completing a 1/4 mile pass in a touch under 11 seconds.
One of the most unexpected features of the build is the bike's lairy paintwork. A heavily flaked golden basecoat and a deep gloss finish add a touch of Kustom Kulture style that we definitely approve of.
8. Marc Roissetter Ducati Monster 1100
To us, the Ducati Monster seems the ideal starting point for a cafe racer build. It boasts stripped-back naked styling, offers solid performance and has serious street cred. Strangely though Ducati Monster cafe racers aren't as common as you'd expect. Thankfully enthusiasts builders like Marc Roissetter have cottoned on to the fact are doing something about it.
Marc's 'Monstrosity' Ducati cafe racer is equal parts style and performance. He had his heart on building a modern Ducati cafe racer, but it had to be a bike that could be competitive at the race track. So after sourcing a wrecked Monster 1100 he set about making his dream a reality. The Monster now wears a Ducati 996 fuel tank, a super slim LED headlight to tighten its proportions. a custom triple clamp and clip-on bars and a custom tail and subframe. The whole bike has been rewired to leave only the roadworthy essentials and the fully rebuilt engine has been tuned to unlock its full potential.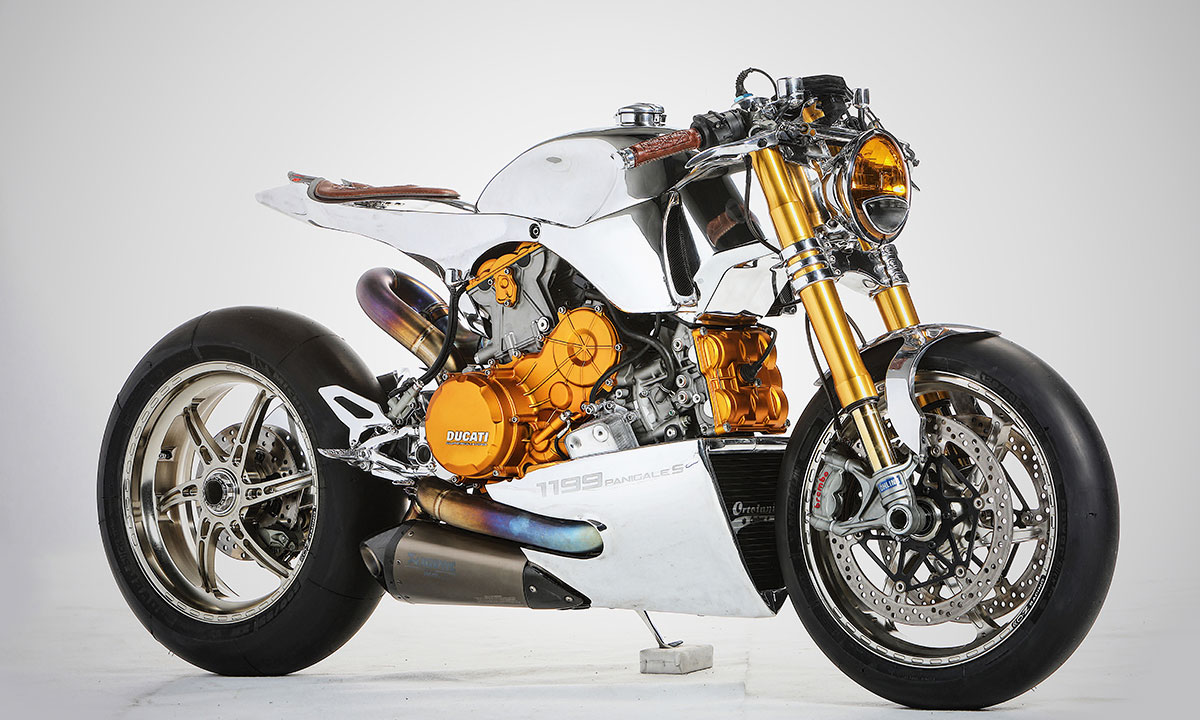 7. Ortolani Customs Ducati 1199 S
The 1199 S is a stand out model from the past decade of Ducati production. It was praised by pretty much every sports bike journalist around the globe. This likely means the 1199 S is destined to one day be a collector's item and shouldn't be messed with. Thankfully there are people out there who don't give a damn about such things. This was the case for one Ortolani Customs clients. After seeing an illustration by automotive artist 'Holographic Hammer' the owner tasked Ortolani with recreating it using his Ducati 1199 S. Ortolani happily obliged.
While Holographic Hammer's design looked great on paper recreating it wasn't an easy task. The Ortolani team had to relocate masses of electrical gadgetry and find a way to move an ugly radiator out of sight. They then fashioned all-new bodywork from aluminium using traditional metal shaping techniques and polished everything to a mirror finish. This project wasn't just about looks though. During the build, Ortolani rebuilt the Superquadro L-Twin bumping rear-wheel power up to 210 bhp.
If you've ever spent hours trying to polish an engine cover the thought of maintaining the shine on this bike will probably make you cringe. However, despite the tennis elbow inducing shine, it's a standout Ducati cafe racer from our archives.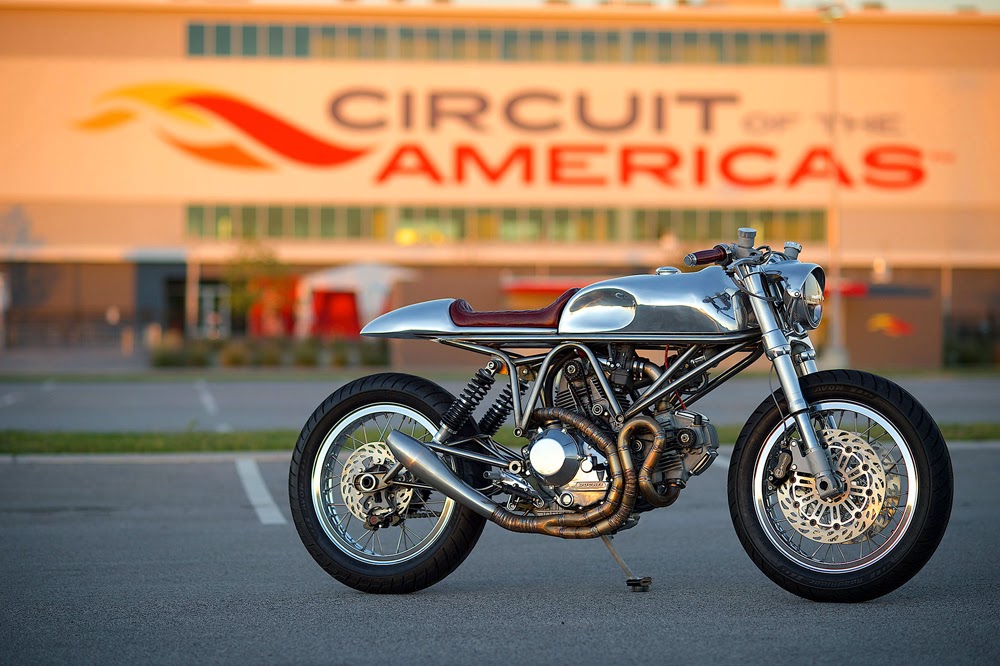 6. Revival Cycles Ducati 900SS
As soon as you cast your eye over Revival Cycles Ducati 900SS J63 you realise there's something different about it. That's because almost the entire bike has been rebuilt from scratch. What began as a bright yellow, plastic covered, 90s sports bike is now a bespoke Ducati cafe racer unlike any other.
Aside from the engine, pretty much everything you see here was either custom made or handpicked for this project. What gives the bike its distinct look though is the combination of the custom frame and polished alloy bodywork. The frame is strikingly simple with a single level bone line spanning the length of the body. Although it's not what you'd label a traditional trellis design the frame is reminiscent of Ducati's chassis' and does a stellar job of heroing the engine. The slender bodywork looks right at home atop the new frame and manages to give the impression of speed even the bike is at a standstill.
According to Revival Cycles founders, Alan Stulberg and Stefan Hertel, they wanted to create a bike that was "better than the original" and we think they've done a very good job of that.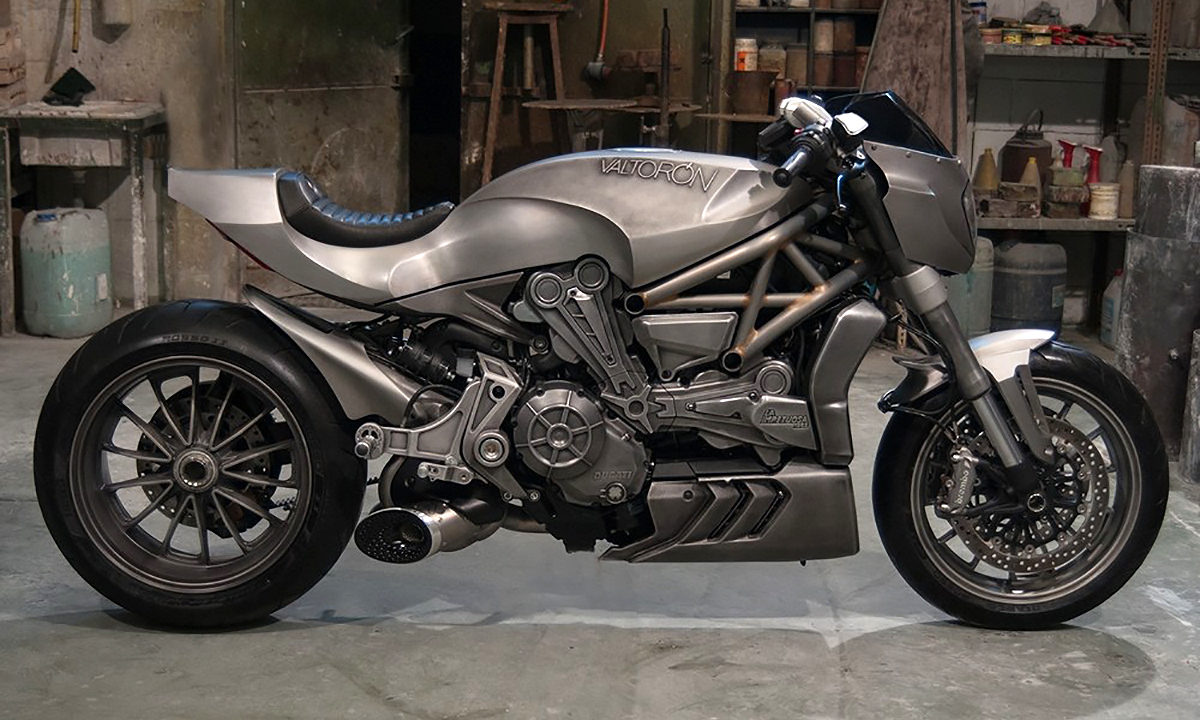 5. Valtoron La Impetuosa 1262 Diavel X
Brothers Pablo and Carlos Delgado go by the name of Valtoron Motorcycles. From their studio in Spain, they build motorcycles that are the definition of rolling works of art. That's because the techniques they use to build each one are the same as those used by sculptors. Each Valtoron motorcycle features almost entirely handmade parts that are shaped, moulded and cast to create a truly unique finish.
For this project, the Delgado's were commissioned by Ducati Spain to demonstrate how responsive the Diavel X was to customisation. The result was this radical aesthetic transformation that still possessed the standard Diavel X underpinnings.
All of this Diavel's bodywork has been sand cast in the Valtoron foundry. The brothers then meticulously sanded each part to achieve the desired finish. The entire tank and tank are a single cast piece which sits higher in the rear and levels things out. Clip-on handlebars, rear-set footpegs and a front cowl give the bike a racier edge and set up a quintessential cafe racer riding position. But it's the smaller details that make this build really exceptional. To ensure everything matched perfectly Valtoron took moulds of many of the bikes smaller parts such as the engine covers. They then added styling touches of their own before recasting them and fitting in the place of their factory equivalents.
While the Valtoron Diavel X may not be a quintessential cafe racer build it's one that certainly left a lasting impression on us.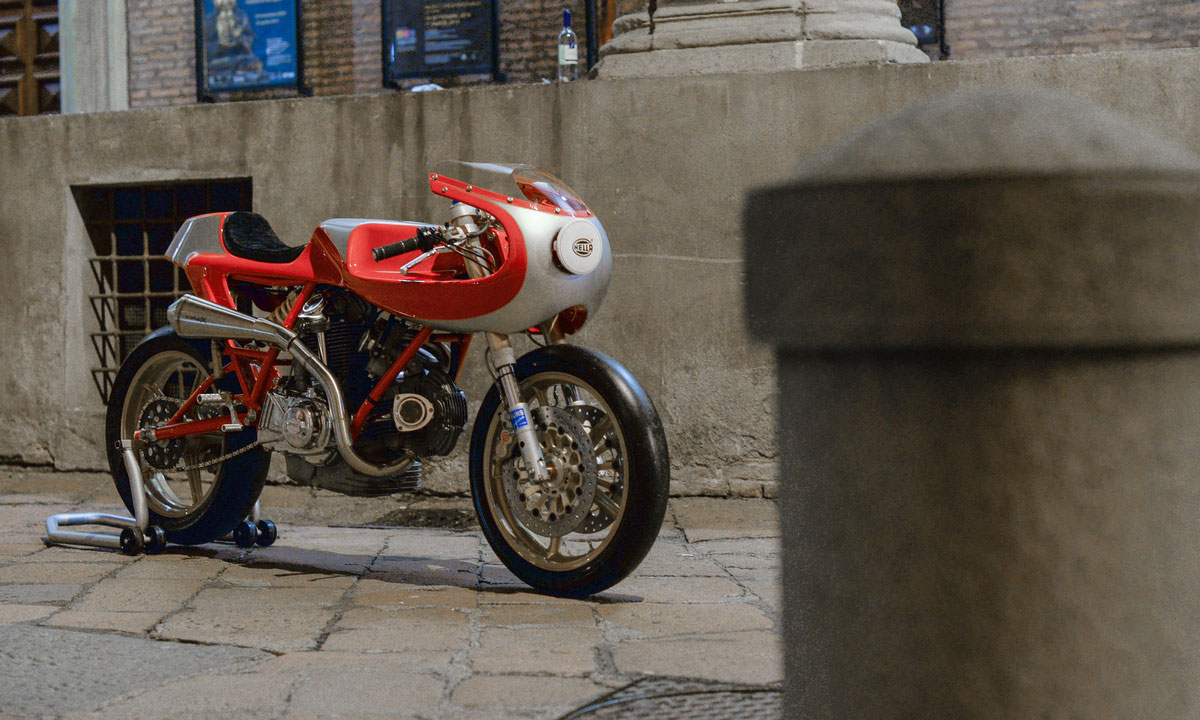 4. Stile Italiano Ducati MHR1000 Caracchi Tribute
The crew at Italy's Stile Italiano know a thing or two about building beautiful bikes. What makes their work really special though is the bodywork they shape from aluminium. They are the masters of the monocoque, building millimetre perfect single-piece bodies that are often astounding.
For this project, Stile Italiano paid tribute to Rino Caracchi one of the founders of NCR. During the 60s the NCR performance workshop managed Ducati's racing efforts which lead to many great successes. After the recent death of Caracchi, Stile Italiano acquired a Ducati MHR 1000 and set out to build a bike that celebrated the styling and performance characteristics of NCR's race bikes.
The MHR 1000 now wears a single piece alloy body over a double-cradle DASPA frame. The fully rebuilt 1000cc bevel L-twin engine is a thing of beauty with its polished cases and clear bevel drive sight windows. Stile Italiano also upgraded the carbs with PHM 40 Dell'ortos and designed a bespoke exhaust with Virex exhausts.
Some aspects of this build pay tribute to NCRs earlier years such as the shape of the bodywork and the Marvic gold replica magnesium wheels. Others are more reminiscent of NCR's later years like the Ohlins suspension setup and if Caracchi was here to see this bike we're sure we would approve.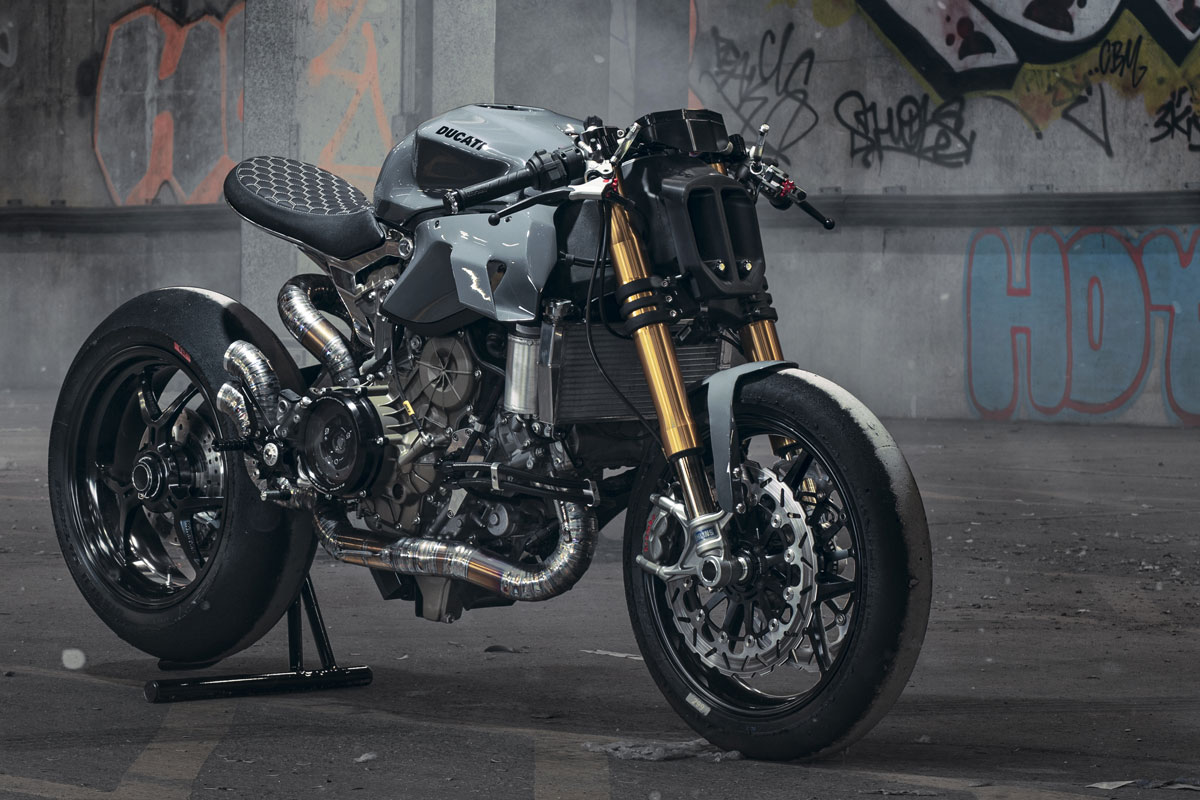 3. Thornton Hundred Motorcycles Ducati Panigale 1299
Jody Millhouse of England's Thornton Hundred Motorcycles says, "If I'm going to build something, I'm going to build a show stopper" and that's exactly what he did with this Ducati cafe racer. Debuting at the 2019 Bike Shed Show in London this wild build made everyone sit up and take notice. And rightly so. Not only did Jody start out with a showstopping donor bike, a 205bhp Panigale 1299, but he built a bike that was unlike anything anyone expected.
There's a lot to behold on this bike but there are a few stand out features that are well worth a mention. Lighting up the road is a custom made headlight assembly designed in CAD then 3D printed. A pair of LED lamps provide illumination and openings in the design feed air back into the airbox. Custom aerodynamic side panels merge with the Panigale tank, concealing a plethora of electronic gadgetry and adding a touch of GP style. The icing on the cake though is the one-off tail and subframe. The polished alloy piece was designed in CAD, milled in 2 parts then welded together, sanded and buffed to a mirror finish.
We think Jody's Panigale is the epitome of what a modern cafe racer should be.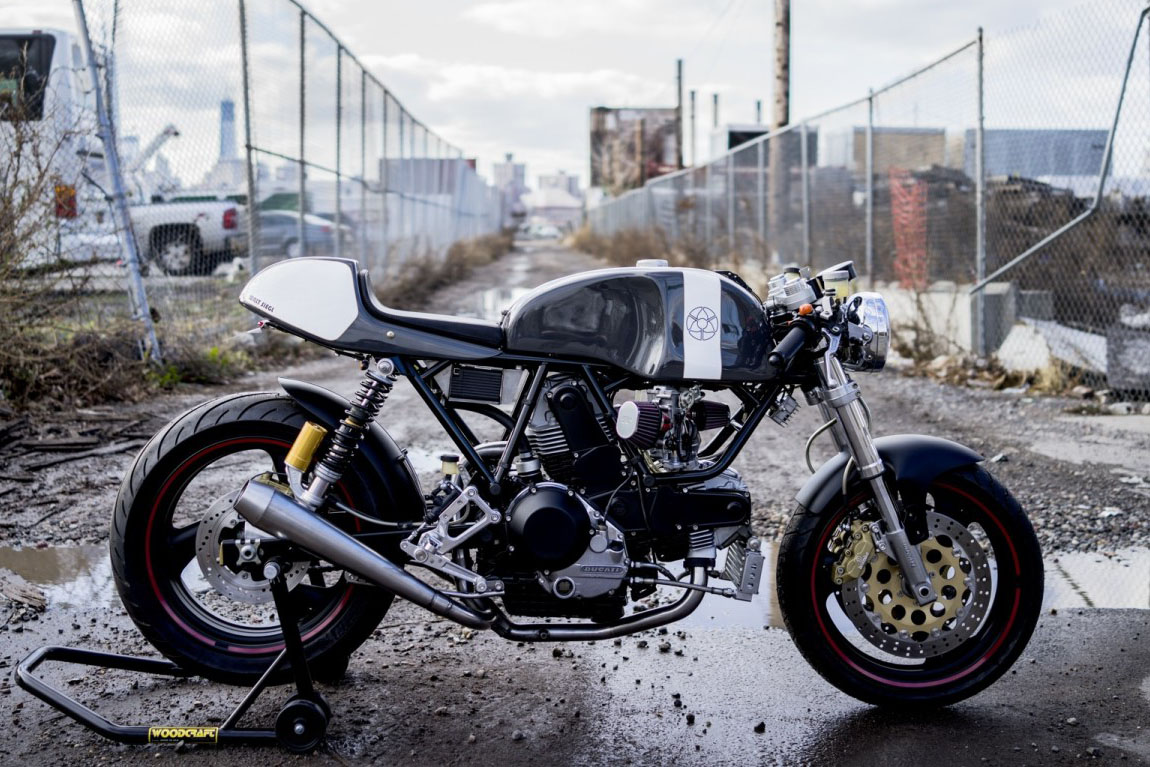 2. Walt Siegl Ducati Leggero
No Ducati cafe racer top 10 would be complete without at least one Walt Siegl build. Mr Siegl has built countless jaw-dropping custom Ducati's but this bike made its debut here way back in 2013. This 900cc Ducati cafe racer was built as the demonstration model for an extremely limited series of bikes. In typical Walt style, no stone went unturned during the rebuild resulting in a bike anyone would be happy to call their own.
Each of the bikes in the Walt Siegl Leggero (Italian for 'light')  series offers a long list of customisable options built around the same frame design. Weighing in at around 4kg less than Ducati's effort the frame is Siegl's own design and is made from 4130 chrome-moly steel. In keeping with the bikes name the bodywork is carbon fibre, built with the help of Matt at Tannermatic.
Other highlights of this Walk Siegl Ducati Leggero are the Showa/Öhlins suspension setup, a pair of 39mm Keihin FCR carbs, a Conti style stainless exhaust system and the understated grey/cream paint scheme. As for the engine, Siegl starts out with a twin-valve 900cc unit which the customer can have tuned to whatever specification they require. Like every Siegl build, this Ducati cafe racer is finished to his impeccable standard.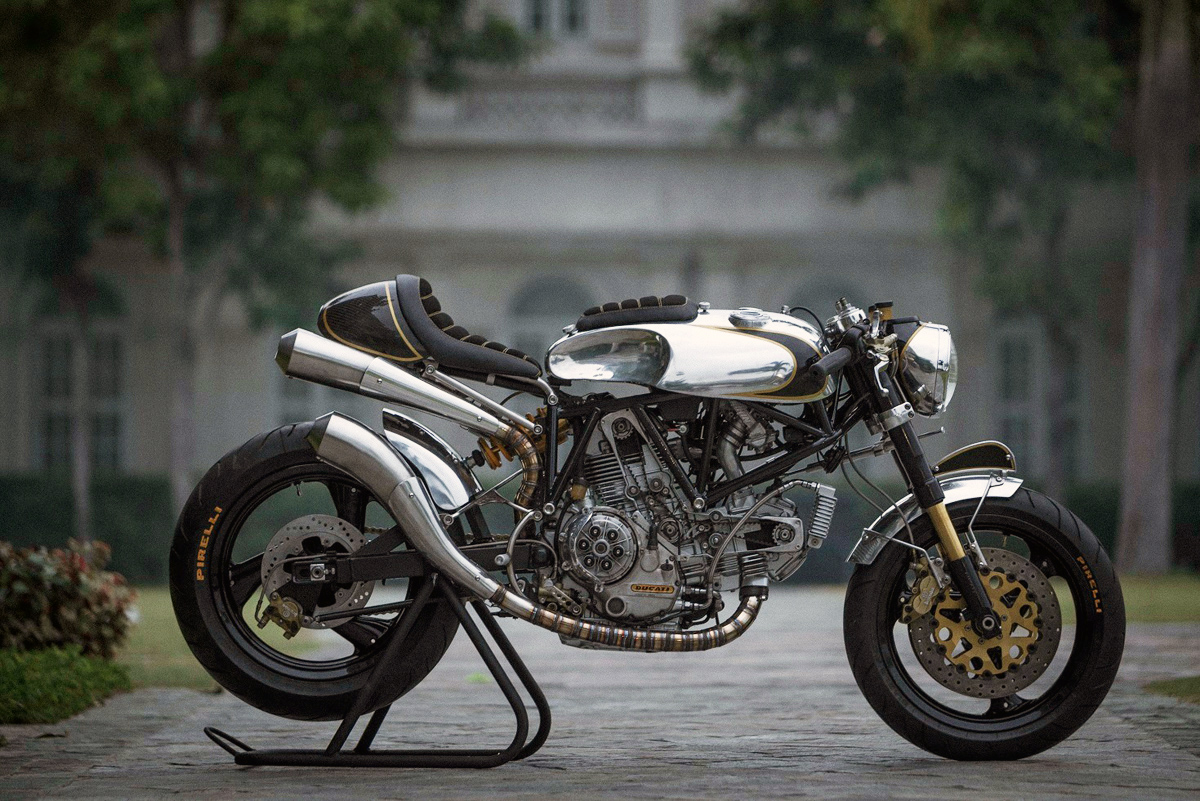 1. Benjie's Cafe Racers Ducati 900SS
We've been fans of the bikes built by Benjie's Cafe Racers for years, but this reimagined '96 Ducati 900 Supersport SP is a definite standout. Benjie has somehow managed to blend vintage styling with modern running gear with this build to create a cohesive looking modern Ducati cafe racer.
The 900SS is covered in delectable handmade details but it's the tank and tail that are the icing on the cake. The fuel tank is a hand-shaped aluminium item while the tail is a carbon fibre piece perched on a custom subframe. A collection of bespoke stainless brackets secure things in place and a pie-cut exhaust, inspired by Medusa's slithering hairdo, makes its way around the desmodromic L-twin. Then little touches like a pedestrian slicer on the front fender, the padded tank pad and a classic 900SS inspired gold/black paint scheme tie everything together for a perfect finish.