This year the London Bike Shed show played host to an astounding 281 custom motorcycles and over 17,000 visitors. As I watched the event unfold from the other side of the world it was obvious the quality of builds has reached all new heights. Amongst all the incredible bikes at the show, there was a handful of truly stand out builds. This Ducati Panigale 1299 by Thornton Hundred Motorcycles was one of them.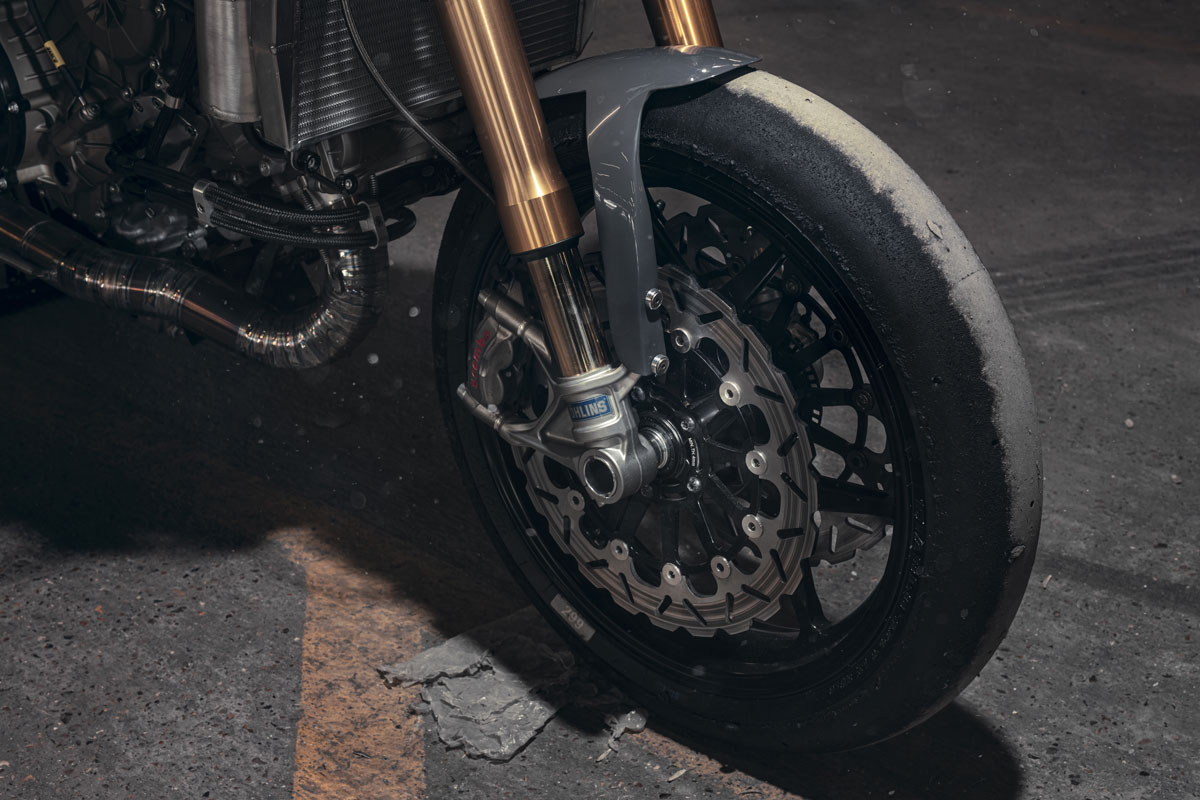 One sure-fire way of making a custom build stand out is to start with an already impressive donor. In this case, it was a 2017 edition Ducati Panigale 1299; a bike that received rave reviews from the motorcycle press. With 205bhp and 145 Nm of torque, the Panigale 1299 will make any sports bike rider go weak at the knees. What really turns me on though is craftsmanship and creativity, both of which this bike has in droves.
Jody Millhouse of Thornton Hundred Motorcycles has transformed this fully faired Italian sports bike into a faultless naked bike. During the show, the Bike Shed crew interviewed Jody about the build and he's just released these jaw-dropping photos of the bike. Thanks to Jody and the Bike Shed here's how this incredible build came together.
"If I'm going to build something, I'm going to build a show stopper"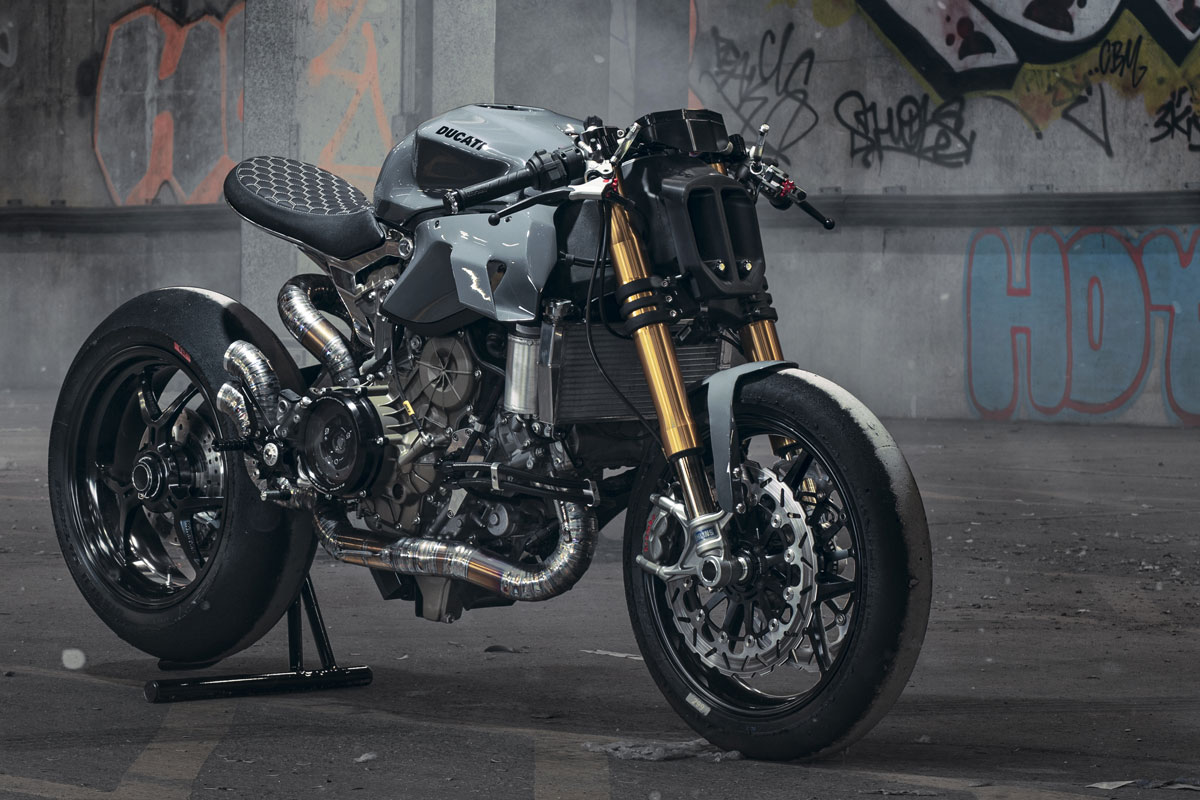 "This bike started out as a completely standard Ducati 1299 with only 1,000 miles on it," says Jody. "I thought that if I'm going to build something, I'm going to build a show stopper." After getting the Panigale back to his shop Jody stripped it down to see what lay beneath the bright red bodywork. "I noticed that the engine was actually quite pretty. You never really get to see an engine on a Panigale 1299." So inspired by the L-twin's good looks Jody devised a plan to transform his Panigale into a stripped back, modern cafe racer.
Moving from the front end to the back he shaped an alloy mudguard on his English wheel using a single-sided support design similar to the bikes swingarm. Now completely exposed the gold Ohlins forks demand the attention they deserve. In place of the entire front fairing is a one-off headlight surround that Jody designed in CAD before having it 3D printed. He's then reduced lighting to a pair of high intensity LED projectors. These leave plenty of room for air to pass through the unit to the bikes concealed air filter. Perched above the headlight is the Panigale's factory instrument cluster that looks right at home in this naked setup. The handlebars wear Rethal Intellilevers and Motogadget bar end indicators.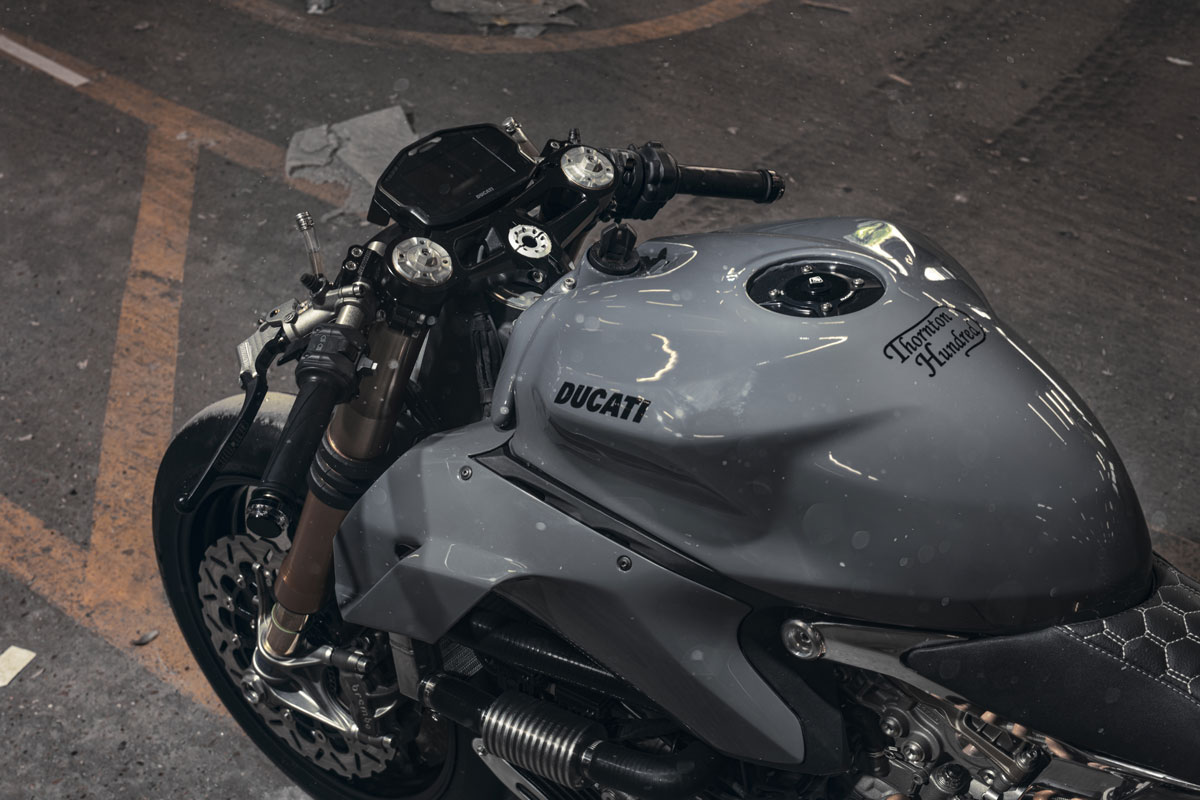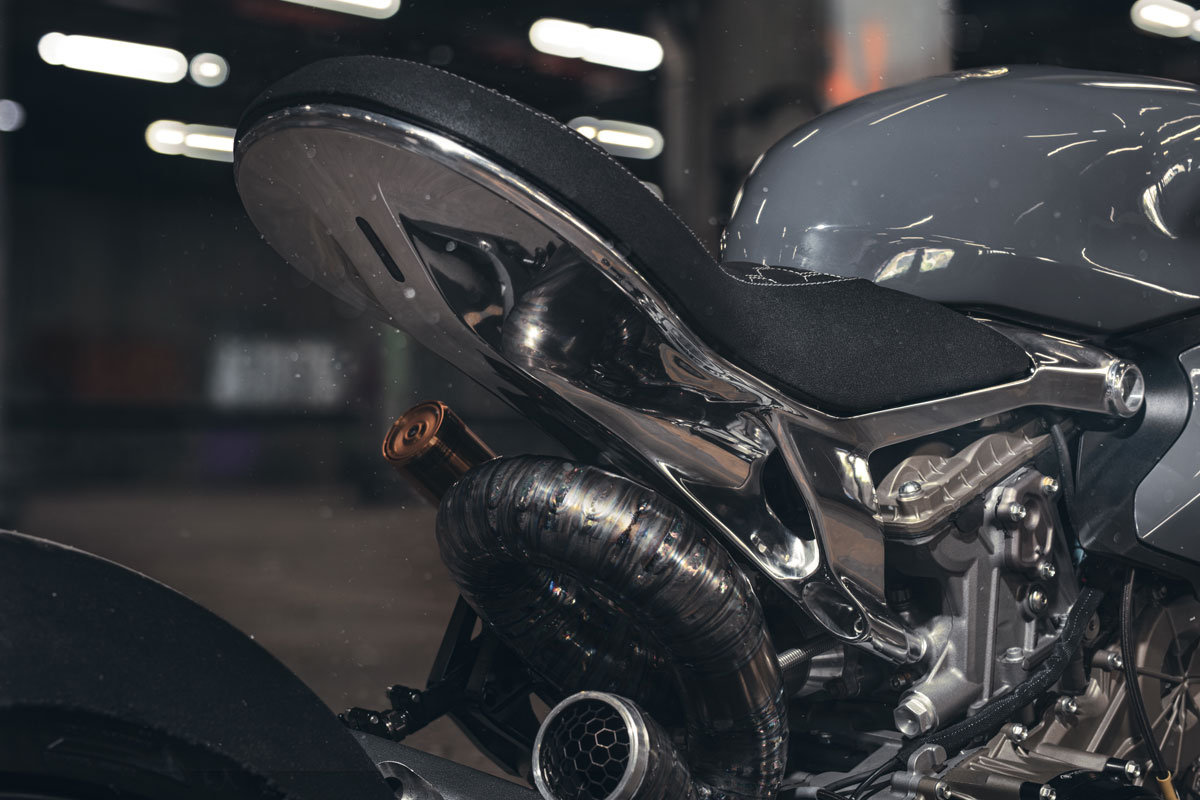 Although Jody's build moves completely away from Ducati's original design he wanted to retain aspects of the Panigale's Moto GP breeding. This was done by incorporating a pair of aerodynamic looking wings into the custom side panels that flank the fuel tank. These panels were also essential in achieving the bikes stripped back aesthetic. With its traction control, anti-wheelie tech and electronic gadgetry the Ducati Panigale 1299 is covered in sensors and electronic components. To retain all of the bikes factory functionality and to keep it safe these had to be retained. So everything now lives in the space behind the panels where they can continue to do their job without being an eyesore. When it came to painting his bike Jody steered clear of Ducati's classic red, instead opting for a Volkswagen "pure grey".
Those familiar with the Panigale 1299 setup will note how much cleaner the front of Jody's L-twin appears. This was done placing a new oil cooler on the opposite side of the engine. This allowed him to drastically reduce the amount of engine pipework and cabling. He then set about building custom pipework of his own in the form of a one-off exhaust system. "I 3D-printed prototypes of the exhaust flanges then built a titanium exhaust using a pie cut system," he explains. "There's about 70 hours worth of work in the exhaust." To finish the system off Jody capped the exhaust mouths with a hexagon mesh pattern that he repeated on the custom made seat.
As for the rear end, the custom work continued with another CAD designed component. The CNC milled subframe was machined in two parts prior to being welded together and polished to a mirror finish. The round tail compliments the curve of the exhaust that runs beneath and has the rear lighting incorporated into it. Jody built the bike to be ridden so in the rear you'll find a few of his own suspension tweaks. The Ohlins shock is supported by an adjustable Ducabike linkage and there are AM rearsets to complete the revised riding position. Jody also points out that; "the bike's actually running slicks as well, and as you can see, they've had a bit of heat through them." just to show us that his custom Panigale 1299 is no trailer queen.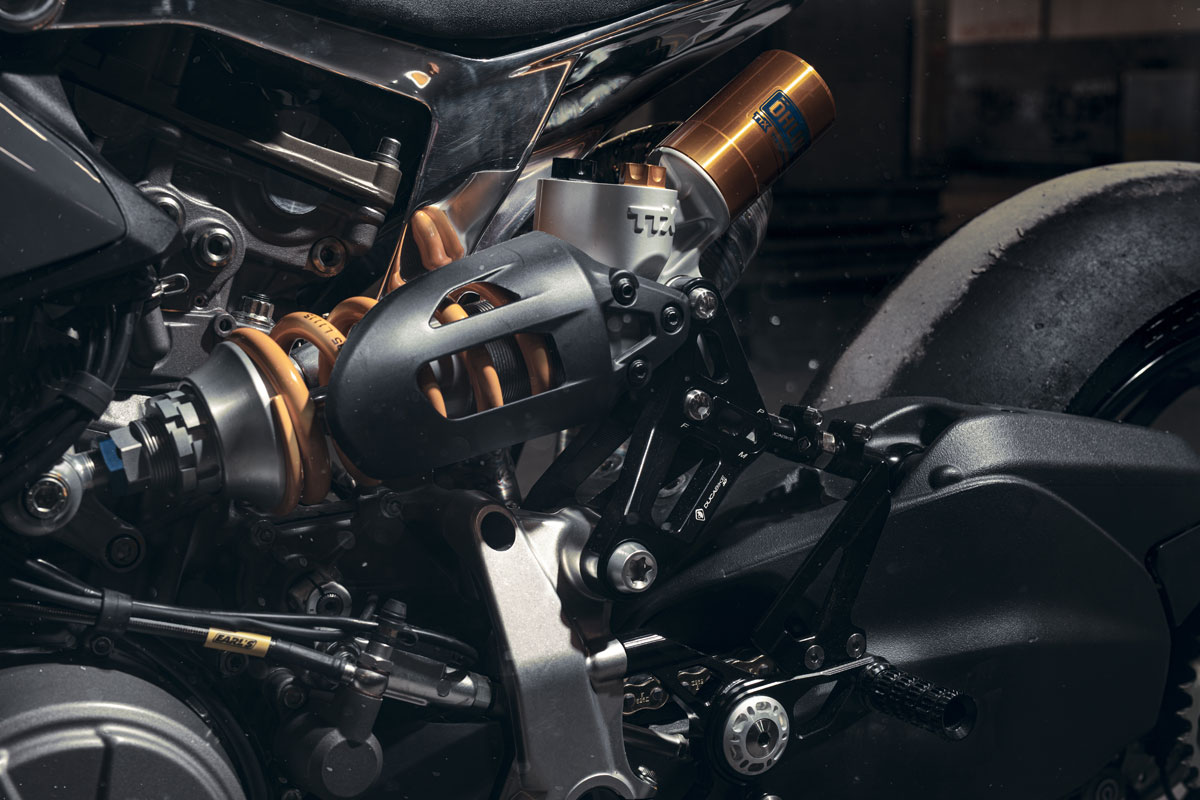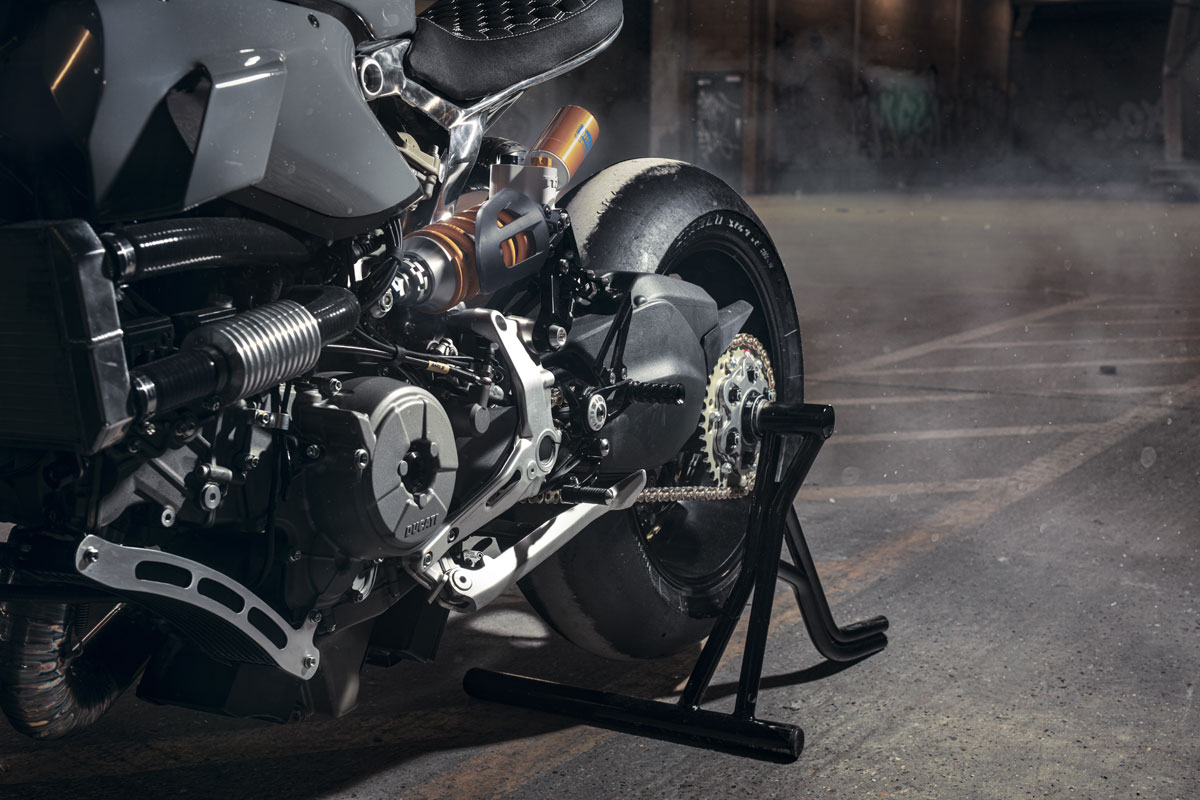 No custom build would be complete without some performance improvements and Jody's Ducati Panigale 1299 is no exception. The modifications to the exhaust and a retune has pushed the bikes power figure up to 220bhp. As far as wanting to create a show stopper Jody has done just that. The only thing left to reveal is how the Panigale now sounds. Hit play on the Bike Shed video below and all your prayers will be answered (4:12).
Photography by 8t5mm