They say a change is as good as a holiday. For Marco Ferrara of Singular Rides that change came in the form of his 'Dark Knight' BMW R9T. Now the holidays are over and Marco has come home to the marque he admires most, Ducati.
Marco found his inspiration for his latest project in the work of other builders from around the globe. This time around it was bikes like Jody Millhouse's Thornton Hundred Ducati 1299 and the Ortonali Customs 1199 cafe racer. So as you can imagine, his chosen donor followed suit. "I researched the online 'literature' and came to admire several examples of Ducati Panigale based cafe racers. I cherished the idea of exposing that gorgeous engine in all its glory," he says.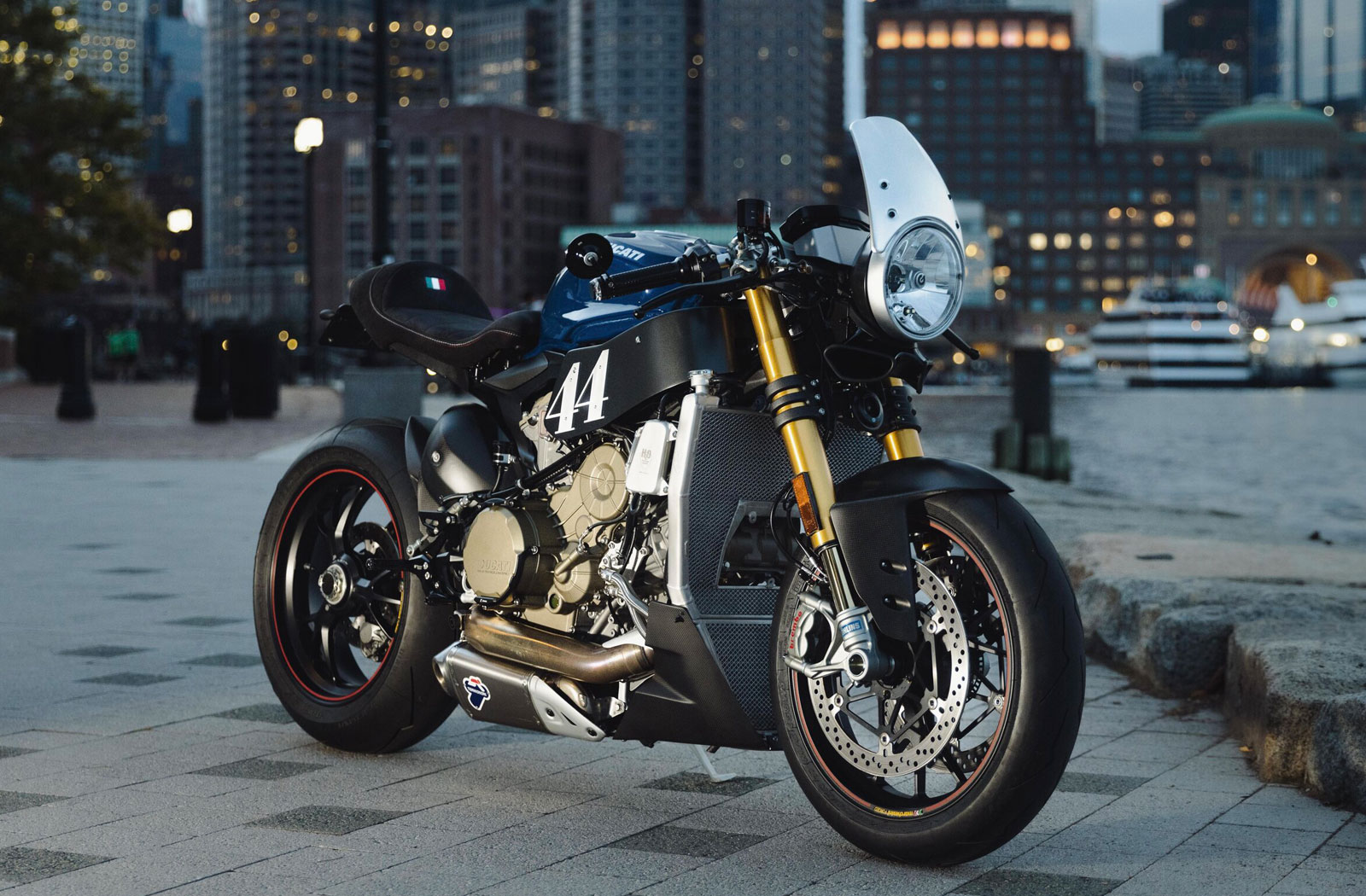 "I wanted to offer an interpretation of a naked Panigale different from the V4 Streetfighter, which shines in performance but leaves a lot to be desired in aesthetics, particularly with regards to the large amounts of plastics left on the bike," says Marco and we couldn't agree more.
After researching how others approached the challenge of transforming a fully-faired Panigale into a stripped-back cafe racer, Marco was able to assess what challenges lay ahead of him. Firstly, he would need to completely revise the Panigales front and rear bodywork. Secondly, he noted that the Panigale relies on a plethora of electronic systems to function which are managed by a mess of wires and components hidden beneath the fairings. This meant he'd need to find a new home for it all once the fairings were gone without adversely affecting functionality. It was a task which was sure to be no walk in the park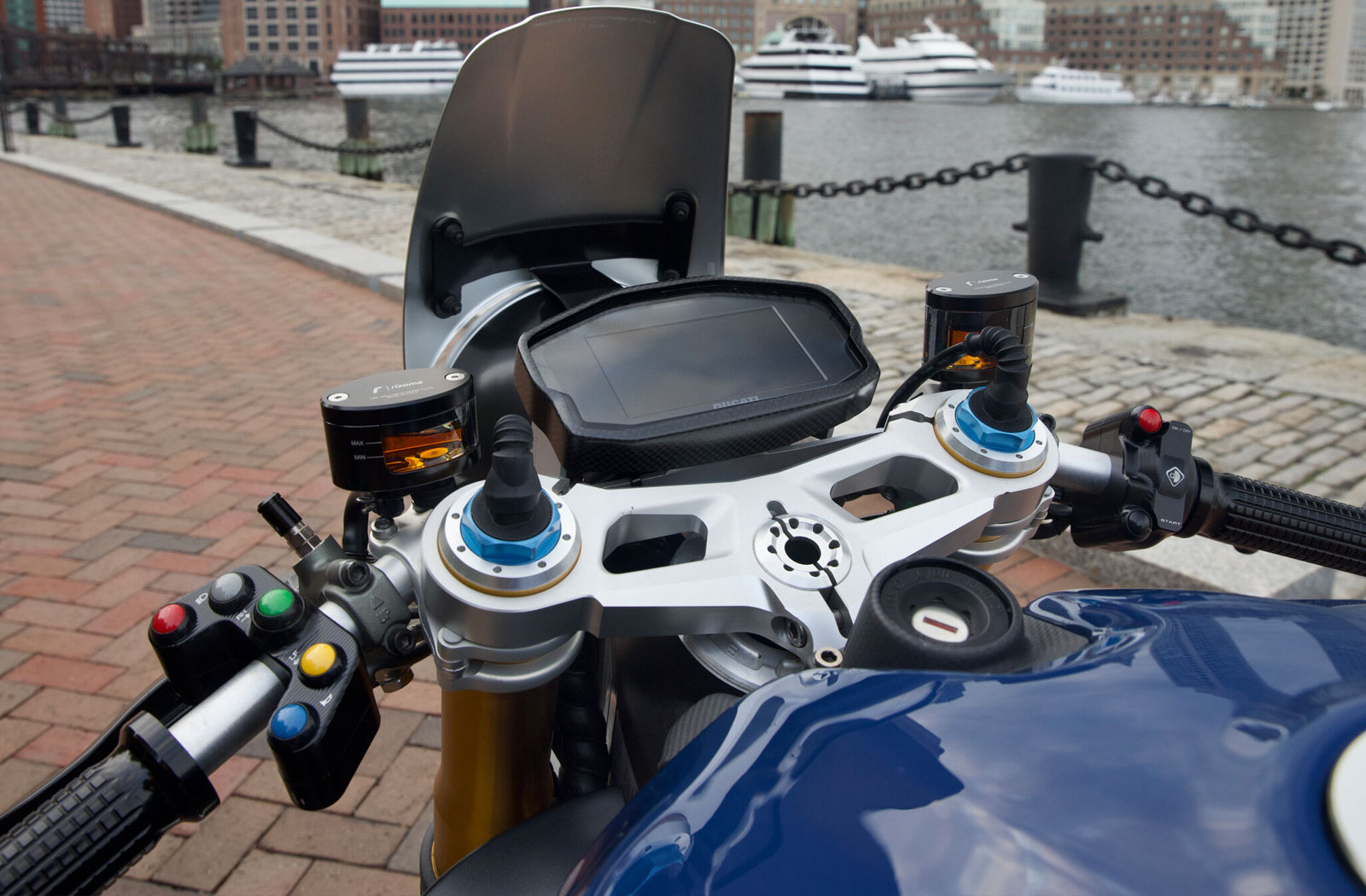 In order to tackle the wiring issue, Marco had to be resourceful. Since there would be very little room under his proposed seat he had to fabricate a new home for it all. The challenge here was of course to avoid adding any excess to the now stripped down Panigale.
"The ABS unit, battery, and fuse boxes were relocated to an aluminium housing that sits under a custom carbon fibre belly pan," explains Marco. "The original battery was replaced with a light Shorai Li-ion unit" While this certainly was a good solution to both challenges, it introduced new technical issues that could potentially have had catastrophic consequences.
Due to its proximity to the Panigale's manifold, Marco was concerned that the aluminium housing could end up roasting the components it housed. To get around the issue he pieced together a thermal shield that keeps everything safe from the searing heat of the exhaust.
Another challenge was that in order to fit everything the radiator cooling fan had to go. This left the engine relying on the radiator alone to keep temperatures in check, which Marco was not comfortable with. To solve this challenge he discussed the issue with Gianluca Franca of Italian Ducati race experts and parts supplier WRS.
The solution they came up with was fitting the Panigale with a race-spec H2O radiator which offered combined water and oil cooling. The downside was that it's a fair whack bigger than the stock unit, but it certainly highlights the fact that this bike means business.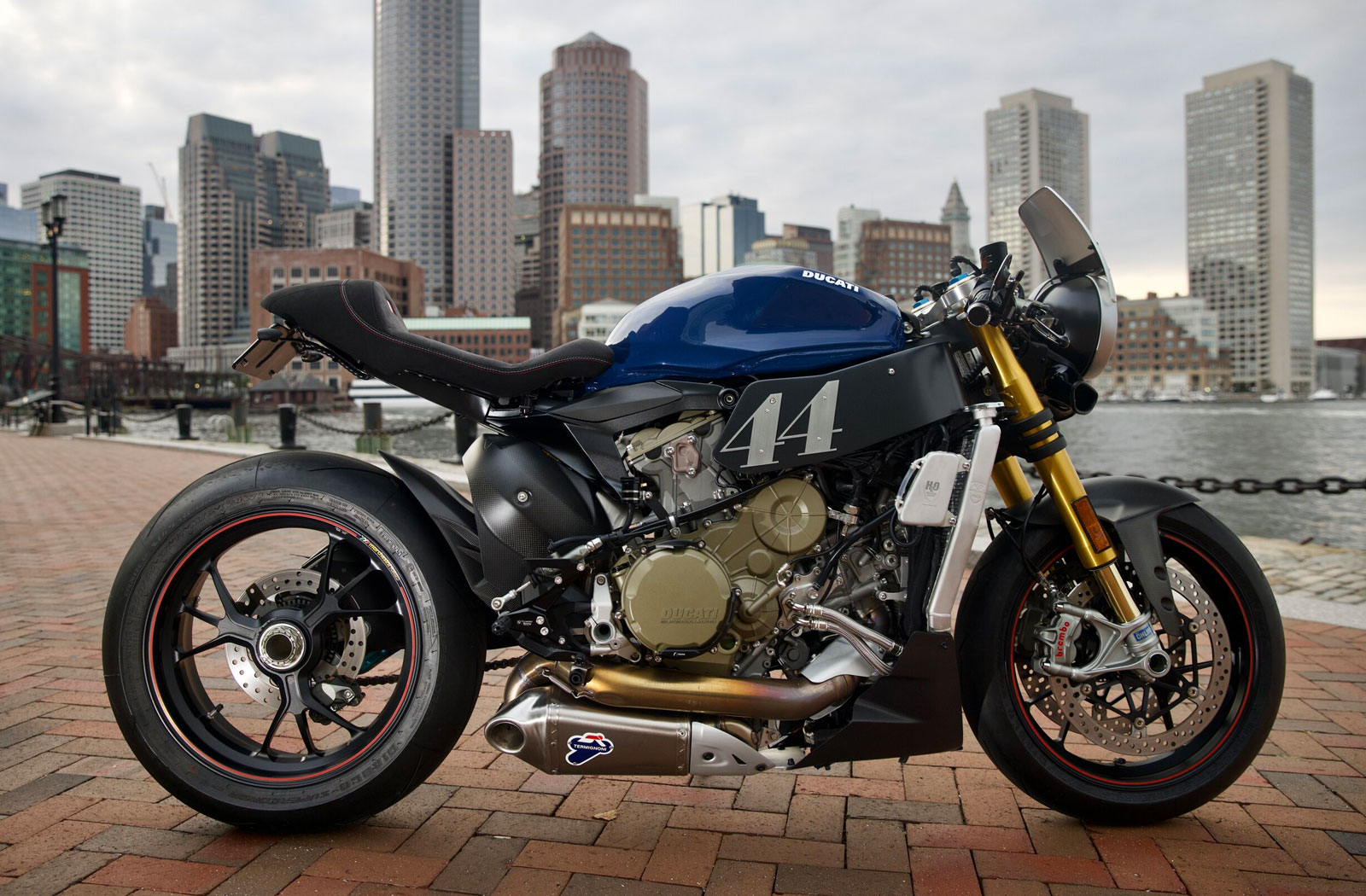 Since the Panigale now had race-spec cooling, Marco decided to unlock the full potential of the Panigales 1198cc L-twin with some performance mods.
Helping the Ducati to inhale freely is a high-performance air cleaner from Sprint Filters. As for exhaling that's now taken care of by a full Termignoni racing exhaust system made of stainless steel and titanium. Most importantly – the Panigales ECU has had a full remap thanks to the crew at BrenTuning. This approach means complete control and adjustability and ensures the tune is perfectly suited to these specific components.
Next came the new bodywork and despite the bikes spartan appearance, there's a lot going here.
The Ducati's new side covers have been hand-formed from aluminium. They conceal the wiring that runs along the exterior of the frame and double as racing number plates. Marco finished them with a black Cerakote to make them extra hard-wearing.
The single-seater saddle is a Wunderlich unit designed to fit a BMW R Nine T. Marco modified it to fit the Panigale frame which was shortened with the help of Ricky at Classic Fabrication. To finish the saddle off Marco had the team at JK Automotive Designs reupholster it in black Alcantara and add a rather patriotic embroidered Italian flag.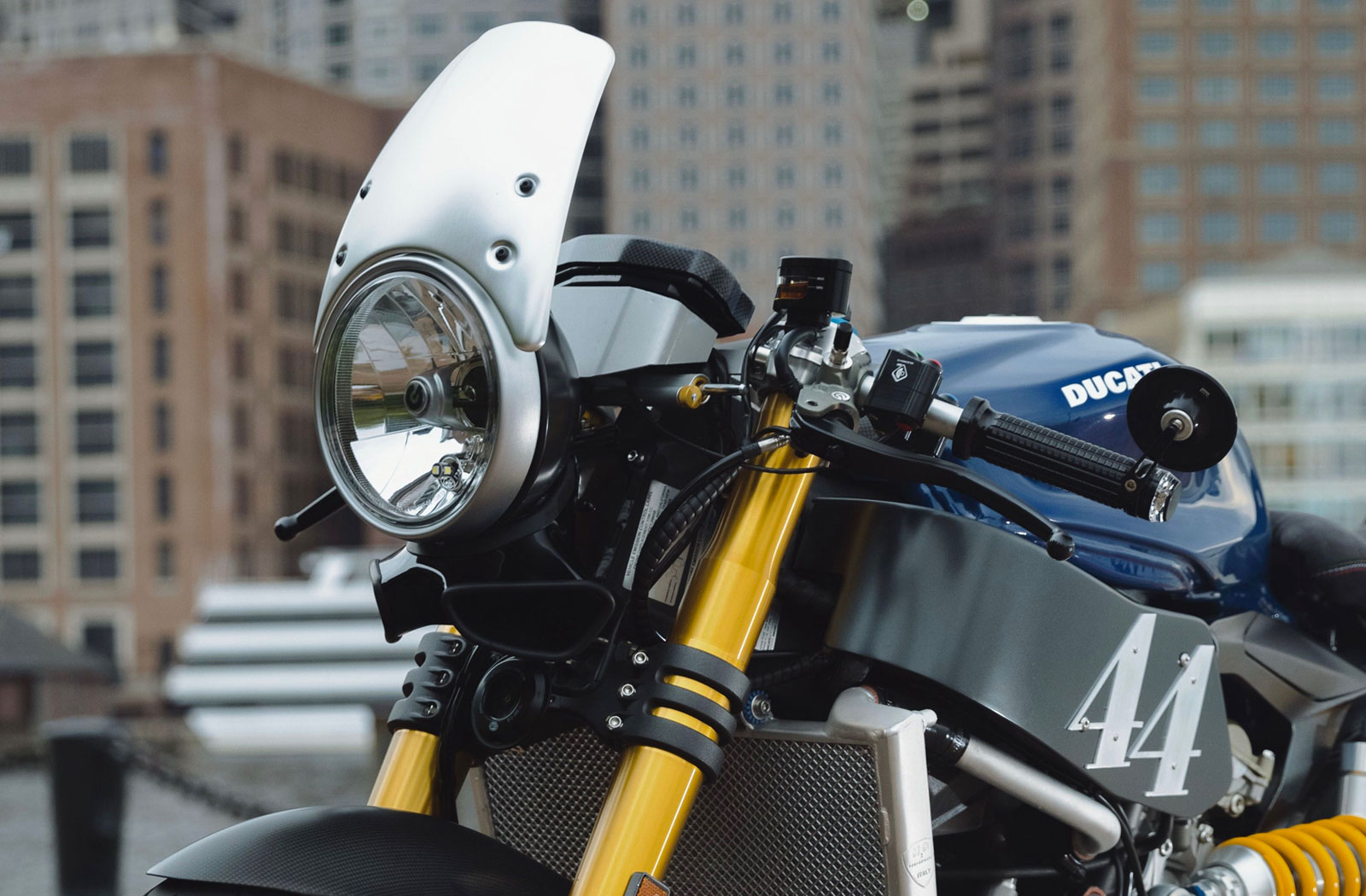 At the pointy end of the Panigale, the cockpit is an almost entirely custom concoction. The new headlight hails from a BMW R Nine T and it's been retrofitted with LED running gear. Beneath it sits a modified intake manifold that draws air in under the tank and to the airbox. A Rizoma alloy windscreen eases some of the buffeting at high speeds and the original gauge cluster has been relocated and shrouded to tighten things up. The Panigale clip-on handlebars now wear Motogadget m.Grips, m.View mirrors and m.Blaze bar-end turn signals. Ducabike switch blocks complete the new arrangement and add yet another touch of racetrack style.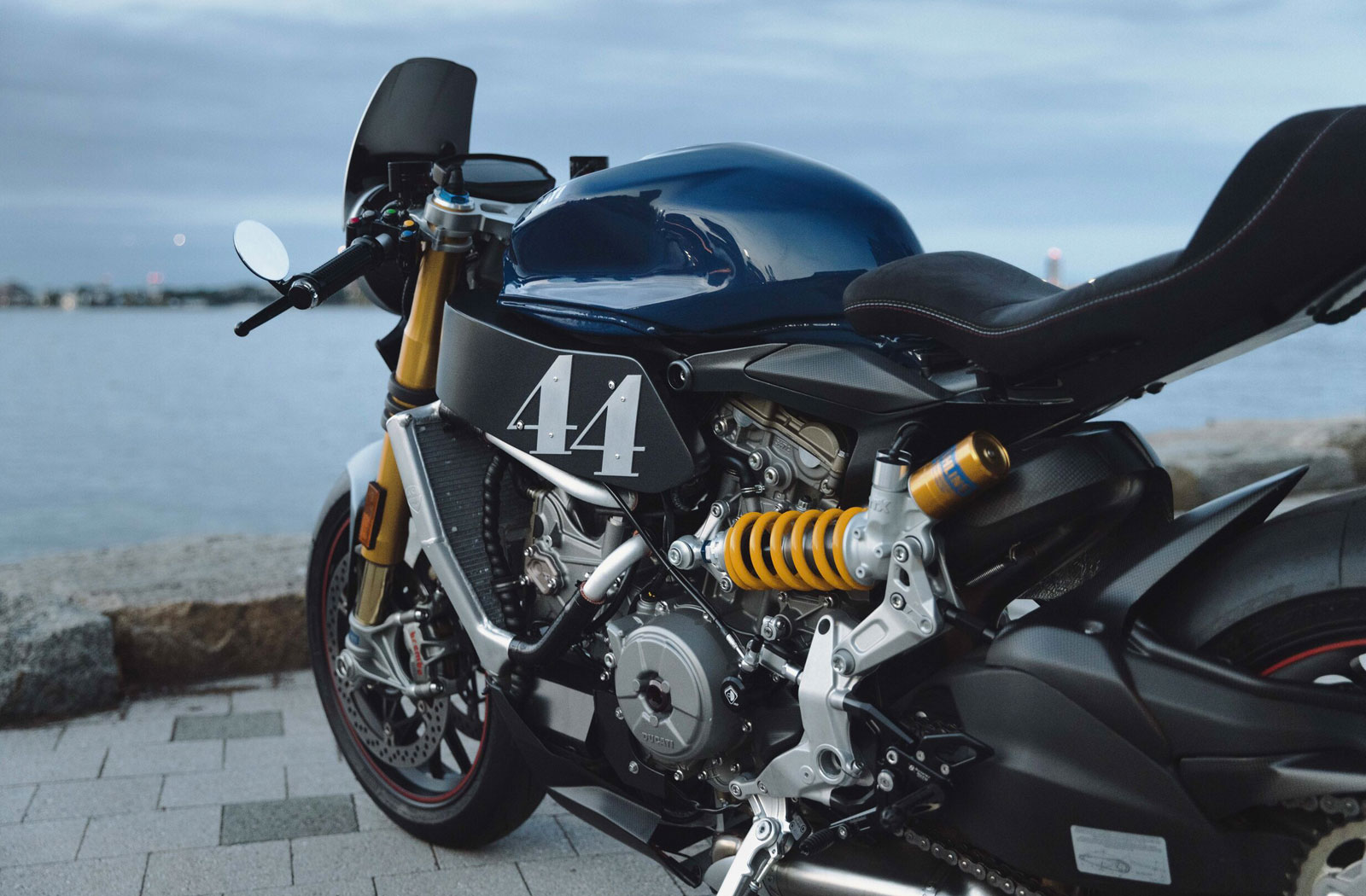 To complete the transformation Marco made a few last cosmetic changes to tie everything together. These include a set of Bonamici Racing fully adjustable rear sets, a spattering of carbon fibre dress-up parts and stainless fasteners all around. There's a long list of premium Rizoma components too which includes brake and clutch reservoirs, fuel and oil caps, a clutch protector, rear turn signals and more.
The finishing touches came courtesy of the crew at Krazy Kustoms paint. All of the custom bodywork has been finished using more black Cerakote and the fuel tank wears Ascari blue, a bespoke colour from the Audi R8 family.
The result of Marco's hard work is a beastly modern retro that makes the Ducati Scrambler look like a child's toy. Given the choice, we'd take this naked Ducati Panigale over a Streetfighter any day.
Photography by Jacob Chang-Rascle