Back in 2013 BMW Motorrad celebrated the 40th anniversary of the legendary BMW R 90 S with the unveiling of the Concept Ninety. Designed in collaboration with custom builder Roland Sands the Concept Ninety was much more than a homage. It was the precursor to the hugely successful R Nine T which has become an icon of the current custom motorcycle scene. Since then we've seen countless BMW R Nine T custom projects, but few have looked back to the Concept Ninety for inspiration, at least that is until now.
This custom R Nine T is the work of Marco Ferrara a part-time custom motorcycle builder who works under the pseudonym 'Singular Rides'. His projects are all for personal pleasure rather than customer requests and are completed in his spare time. "By night, weekends, holidays and whenever I have a moment, I find my Zen in modifying or building custom motorcycles," he says. During regular work hours, Marco is a scientist and engineer and works on developing innovative clean energy technologies. Using his skills and knowledge of manufacturing techniques he wanted to create a custom BMW R Nine T inspired by Roland Sands original vision. Today we are sharing the story of how he did it in his own words…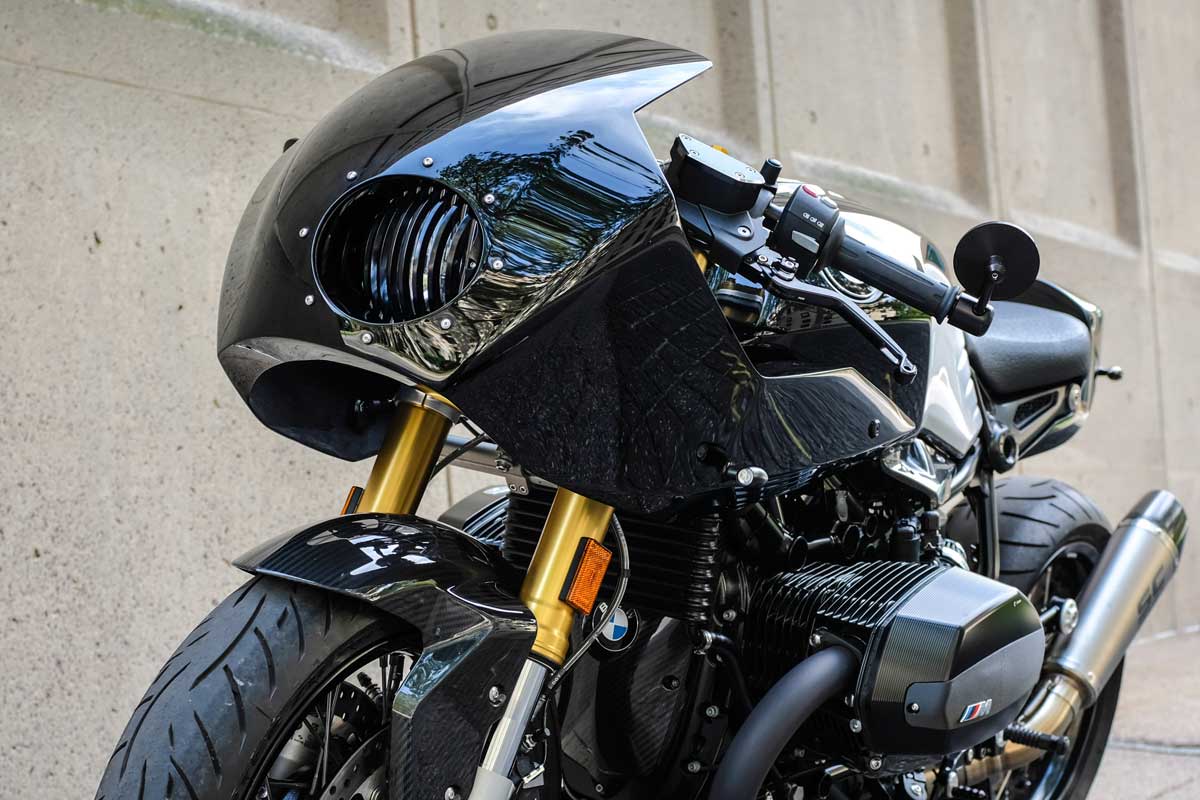 "In the summer of 2017, after selling my Ducati cafe racer, I started pondering my next project," says Marco. "My wish list comprised of a big-twin engine with tons of torque and air cooling or mixed air/oil cooling for a cleaner look. And I wanted it to be a modern platform, to take advantage of the latest tech (ABS, traction control, etc.). For a long time, I looked at Ducati Monsters and custom builds based on them. There are many outstanding examples out there, however, the most recent Monster line-up has, in my opinion, lost the raw simplicity of the earlier models. So I decided to take a break from my country's beloved Ducati and try my luck with a German powerhouse.
I was lucky enough to find a new 2016 BMW R Nine T sitting at a dealer that was becoming obsolete with the introduction of the 2017 line-up and quickly pulled the trigger. The R Nine T is an amazing motorcycle with many high-quality components right off the bat. Take for instance the gorgeous aluminium tank, modular alloy subframe and the spoke wheels. However, in my opinion, even the racer version does not cater to a lover of sporty looks like the original concept of the R Nine T, the Concept Ninety. Moreover, there are some elements that are aesthetically problematic such as the big plastic airbox and battery support."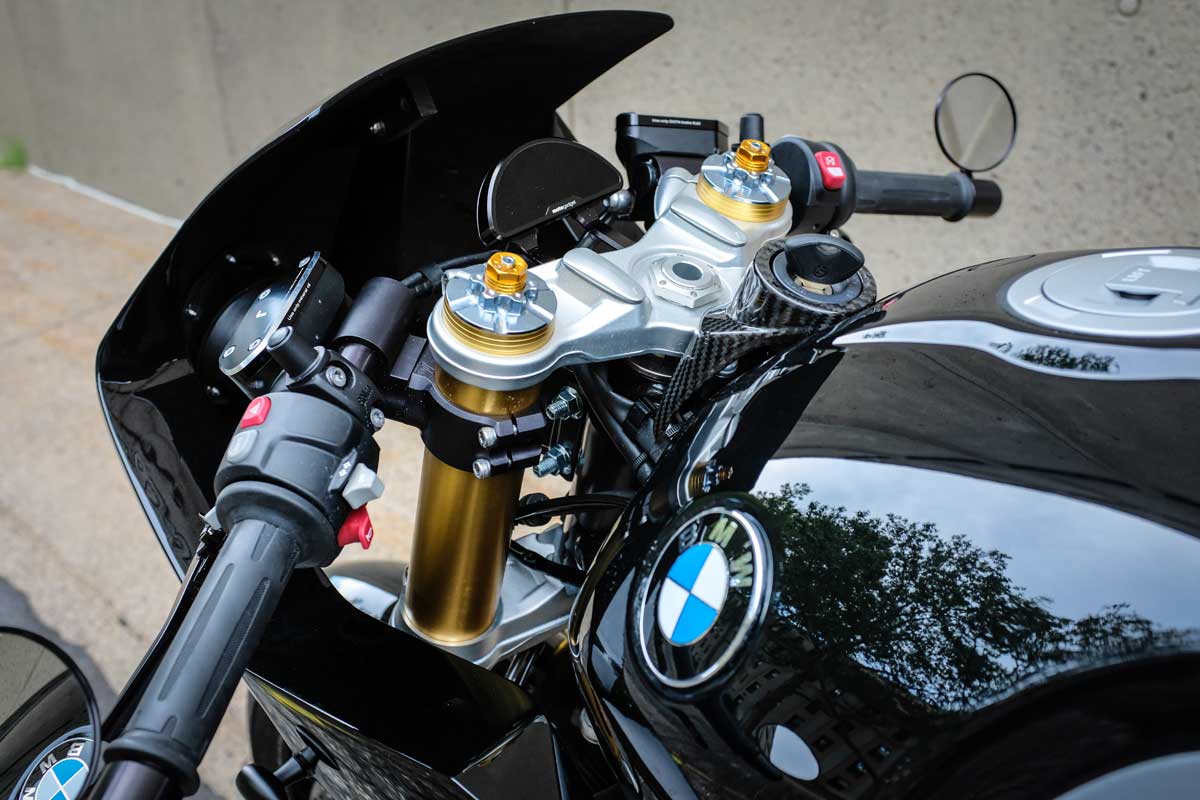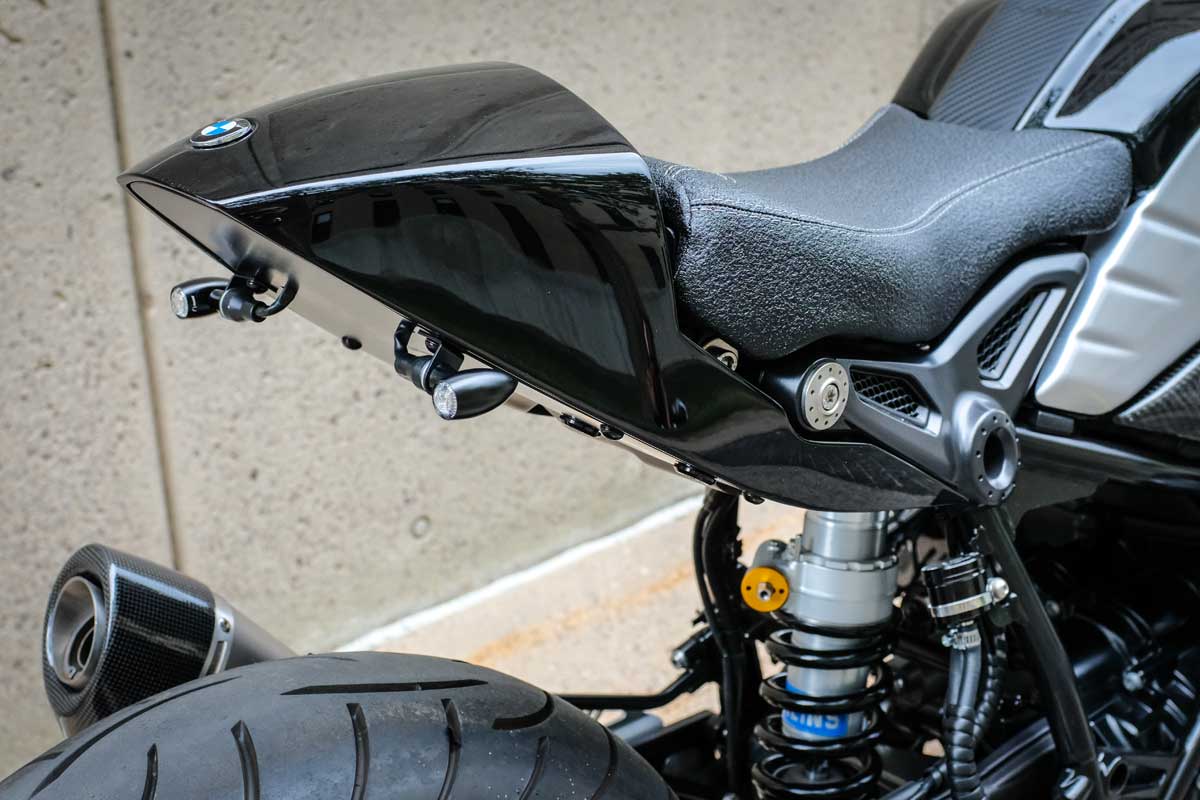 "My weekends working on the bike were a journey to find the perfect formula. I started small with the installation of parts from the Rizoma BMW R Nine T parts range and off-the-shelf options such as the OEM aluminium cowl. It soon became obvious that something more drastic had to be done if I was to find peace.
I located a simplified CAD model of the R Nine T on the Internet, which provided a good basis for the design of new fairings. The DAB Motors retrofit kit provided some initial design inspiration. For several weeks I collaborated with Guerino Toscano, a brilliant Italian industrial designer specializing in sports vehicles, to generate a number of layout ideas that would strike a balance between futuristic, sporty lines and the R Nine T's sensual, organic curves. In the end, one was chosen for prototyping."
"3D printing large scale objects can be expensive. In order to test the look and fit before committing to a bigger job, a scaled-down 1:10 version was printed and installed on a toy model of the bike, with very satisfying results. The next step was finding a digital manufacturing shop that could print the full-size panels at a reasonable price. Midwest Composite Technologies took the job and delivered initial prototypes of the parts. A couple of iterations were then required to get the final proportions and shape right. Finishing and reinforcing trims were subsequently cut and shaped from ABS sheets and chemically welded to the 3D printed shell. Custom aluminium subframes were fabricated to reinforce and mount the fairing and the tail. Rubberized steel clamps were then used to secure the front fairing to the motorcycle's steering head and trellis frame. This all allowed me to easily fit the new bodywork and to avoid structural modifications."
"Eric Silverio of Krazy Kustoms bravely accepted the difficult task of turning the rough surface of the large scale ASA 3D print to a stable and high-quality OEM finish with spectacular results. Krazy Kustoms also took care of the black ceramic coating of several original and newly fabricated parts to match the new look and character of the build.
The valve covers were replaced with Rizoma units; the spark plug covers were 3D printed in nylon with interspersed carbon fibre strands. The airbox was eliminated and replaced by metallic pod filters and a small Shorai Li-ion battery is tucked away under the tank. The original header pipes were ceramic-coated, and the flap valve eliminated. A titanium and carbon fibre muffler from SC Project is supported by a Unit Garage custom bracket."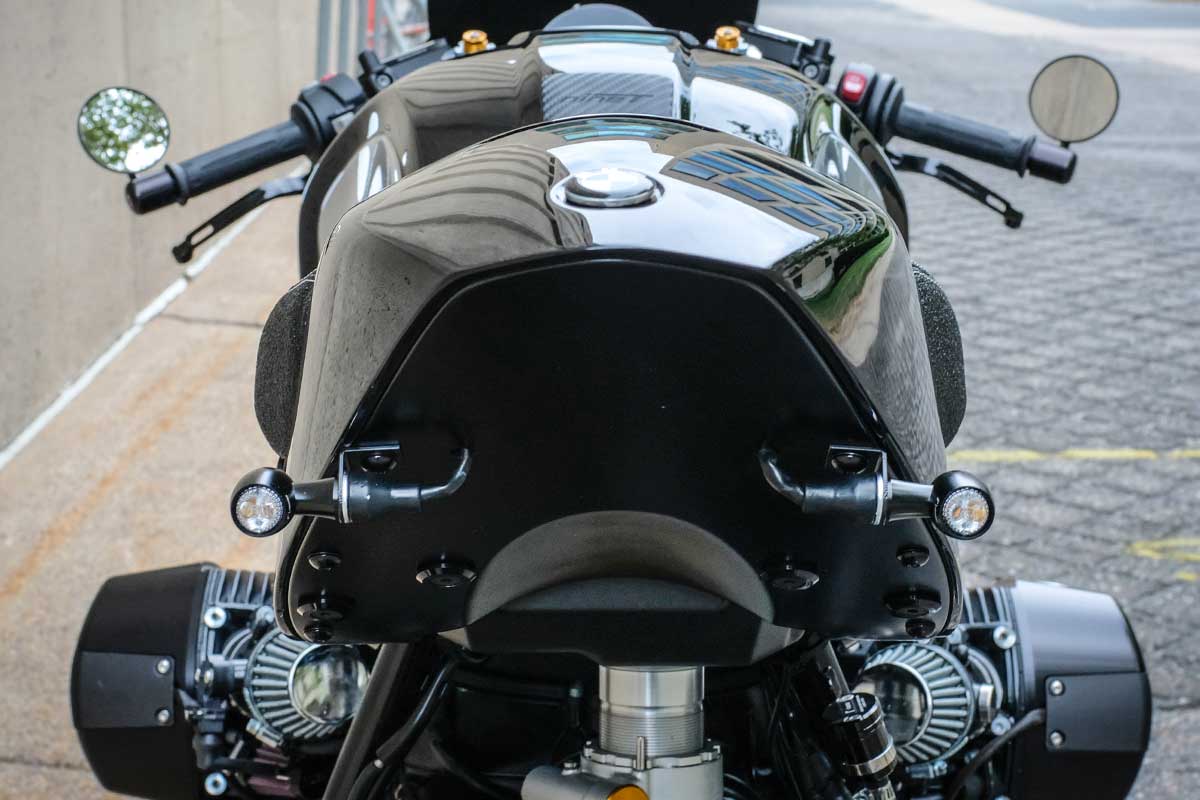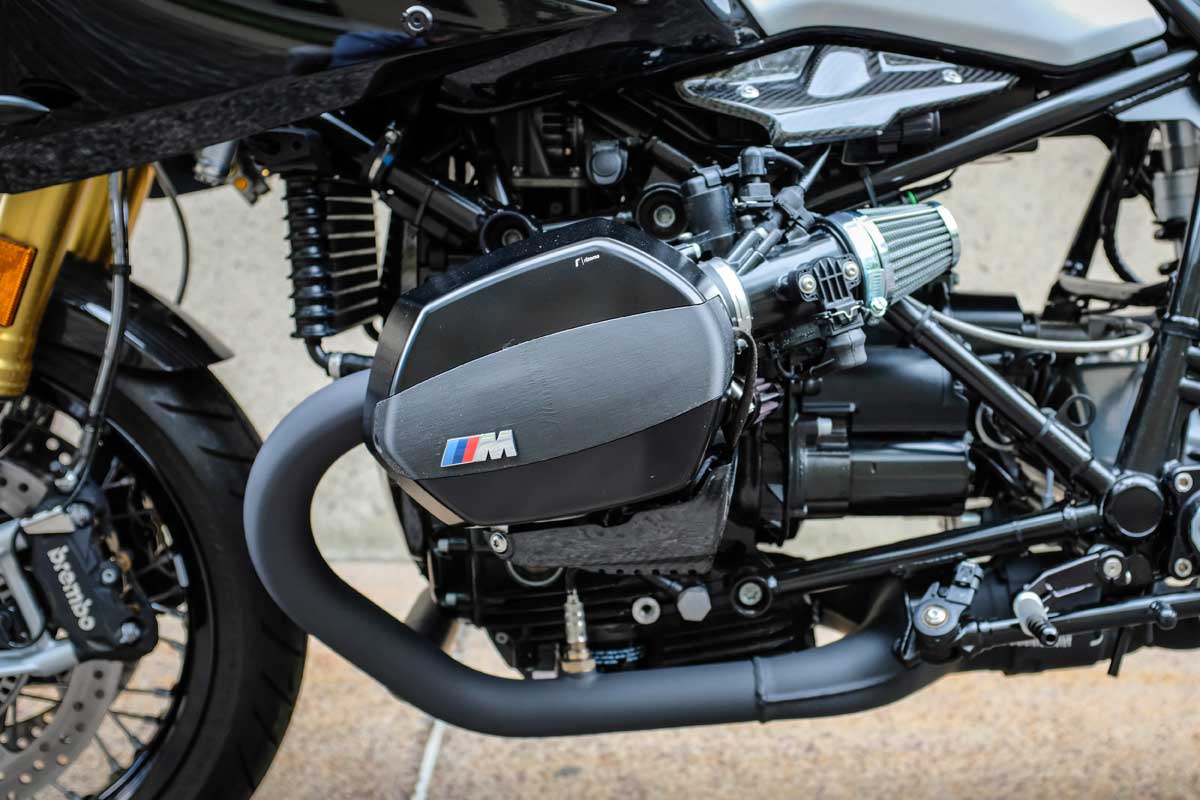 "The rear sets were replaced with gorgeous units from Gilles Tooling, while the hand controls were upgraded for ergonomics and adjustability with Woodcraft clip-ons and Puig levers. Special parts from several catalogues were individually chosen after several iterations for quality, performance and harmonious integration in the build. The front fender, ignitor covers, lower engine covers, key cover and breastplate were all replaced with carbon units. The rear and front signals, rear brake reservoir, front brake and clutch reservoir covers are all from Rizoma. Minimalist mirrors from Oberon hang off the end of the bars and the plate relocator came from Daedalus Designs. An asymmetrically mounted headlight from a Harley Bobber sits in the front fairing and was retrofitted with an LED bulb. The housing of the light was custom designed and 3D printed and doubles as the anchor point between the fairing and the subframe. The original bulky dashboard was also removed in favour of a minimalistic digital unit from the Motogadget catalogue."
In order to give the build a dynamic character matching its new looks, the suspension was replaced with a fully adjustable Ohlins Suspension rear shock and steering damper. The original front forks were retrofitted with Andreani Misano cartridges, also fully adjustable. And finally, the original BMW R Nine T seat was swapped with a Race Seats unit to guarantee stronger grip and control."
Shop This Look
Since the completion of his Concept Ninety inspired BMW R nine T custom, Marco tells us the bike is now substantially lighter. And thanks to the pod filters, flap valve elimination and SC Project muffler it's got plenty of extra oomph low down where it counts. His efforts have also added a hard edge to BMWs iconic heritage twin. For us, that's a welcome change after 7 years of relatively staid R Nine T updates.