Rebuilding wrecked bikes means being prepared to take on some real challenges. When Marc Roissetter bought his Ducati Monster 1100 he knew he had his work cut out for him. Marc found the donor bike at a wrecker in the United Arab Emirates where he lives. Along with having sustained crash damage it had been sitting completely exposed to the harsh UAE elements. Thankfully Marc is well accustomed to the work involved in building custom bikes and took up the challenge. As you would expect the bike threw up a few unexpected surprises along the way, but the finished result is nothing short of spectacular. Here's Marc's full account of how his "Monstrosity" Ducati Monster cafe racer came to be…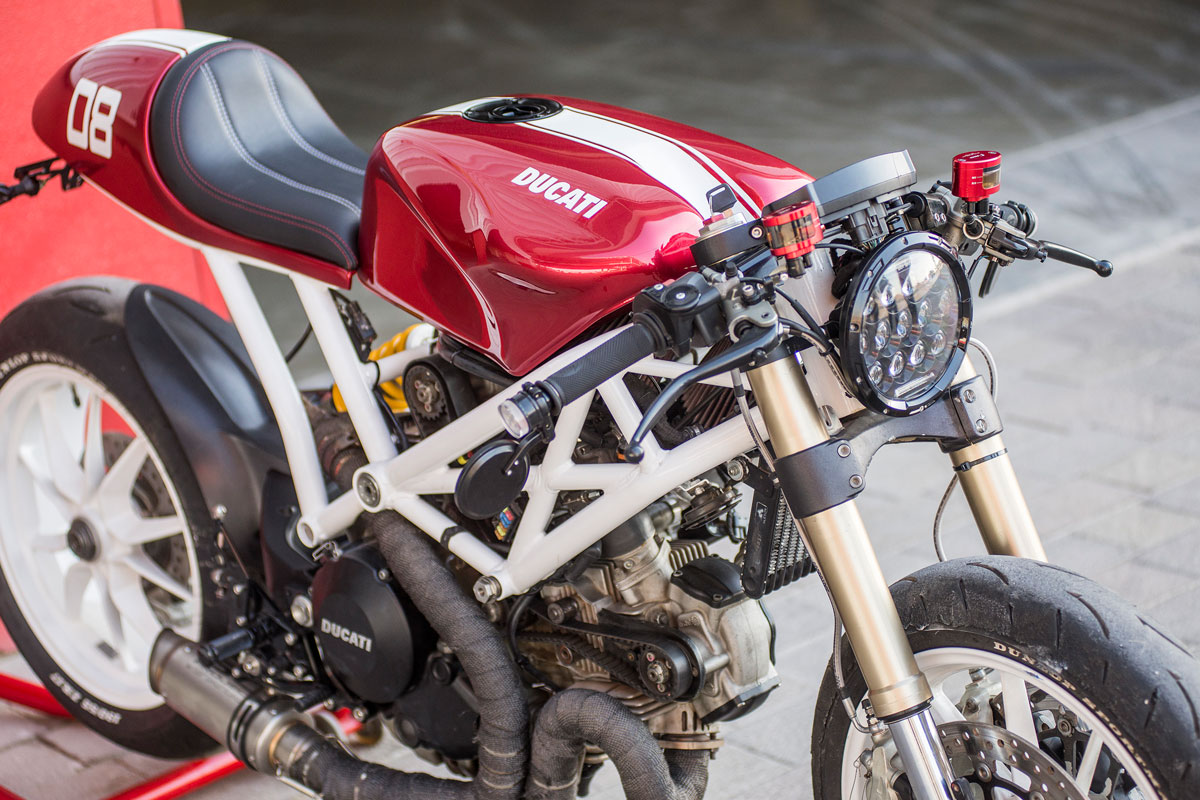 "I knew I wanted to build a Monster cafe racer with a modern twist that suited the Ducati's 2012 production date. I also knew I would be taking it to the track so it had to function well. My preference with custom projects is usually to be more go than show, but this time, I think I got a good mix of both worlds.
A comprehensive strip down took place. From there I mocked up a new rear subframe and started looking at how I could fit a Ducati 996 fuel tank to the bike. I decided to retain the Monsters fuel pump and installed it into the 996 unit with some careful cutting. Once I had the subframe done it was time to look at the front end and overall stance of the bike. I wanted the Monster to have forward leaning superbike stance. So, I fit it with a quality set of clip-ons and installed a custom top triple clamp to clean everything up. I also used some CAD (Cardboard Aided Design) work of my own and came up with the slimline headlight mounts. This allowed everything to be tucked in tight to reduce the bulge of the front end.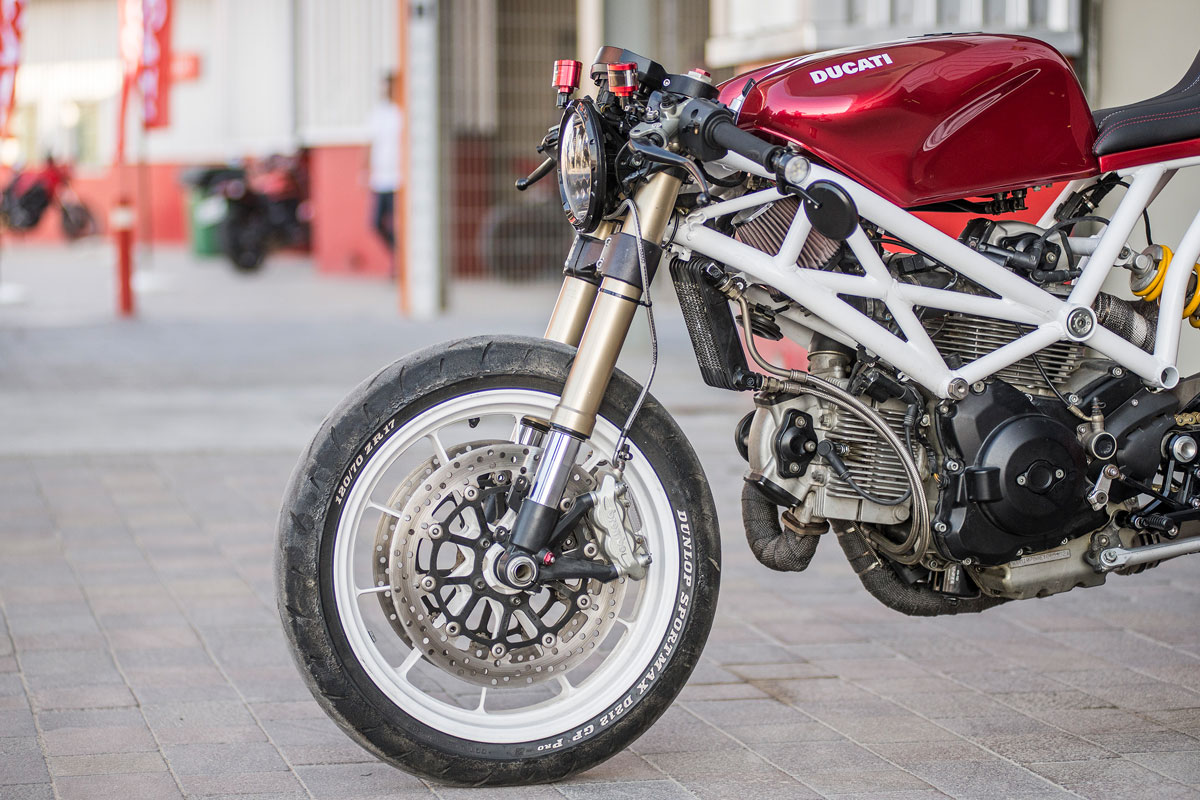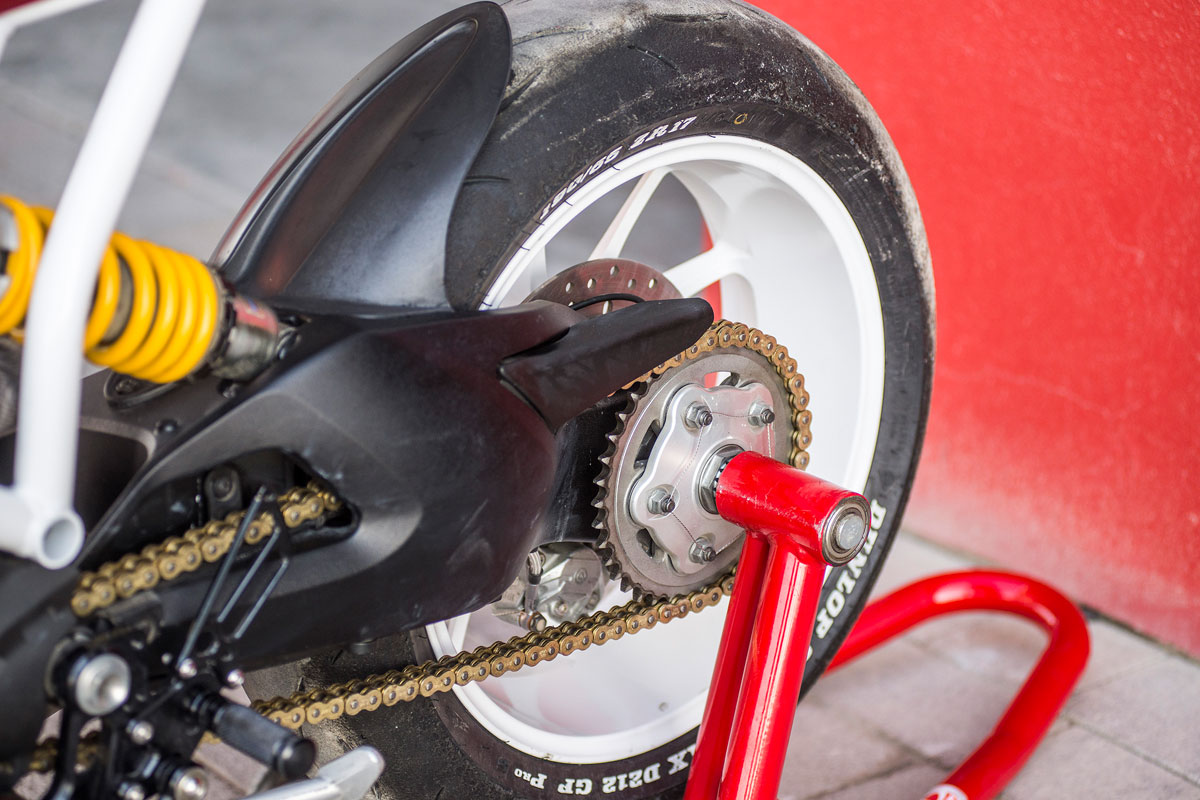 Once I had the stance all worked out it was time to break the bike down and send everything off for blasting and coating. This included the frame, swingarm, engine cases, wheels and new top triple clamp. Whilst everything was off for coating I got stuck into the electrical fun. In total, I spent about 40 hours re-building the wiring harness and removing all un-necessary sensors and wires for the loom. The Monster is now as basic as possible with only the bare minimum required elements left to be road legal. The tank and tail were also sent for paint so reassembly would be fairly smooth.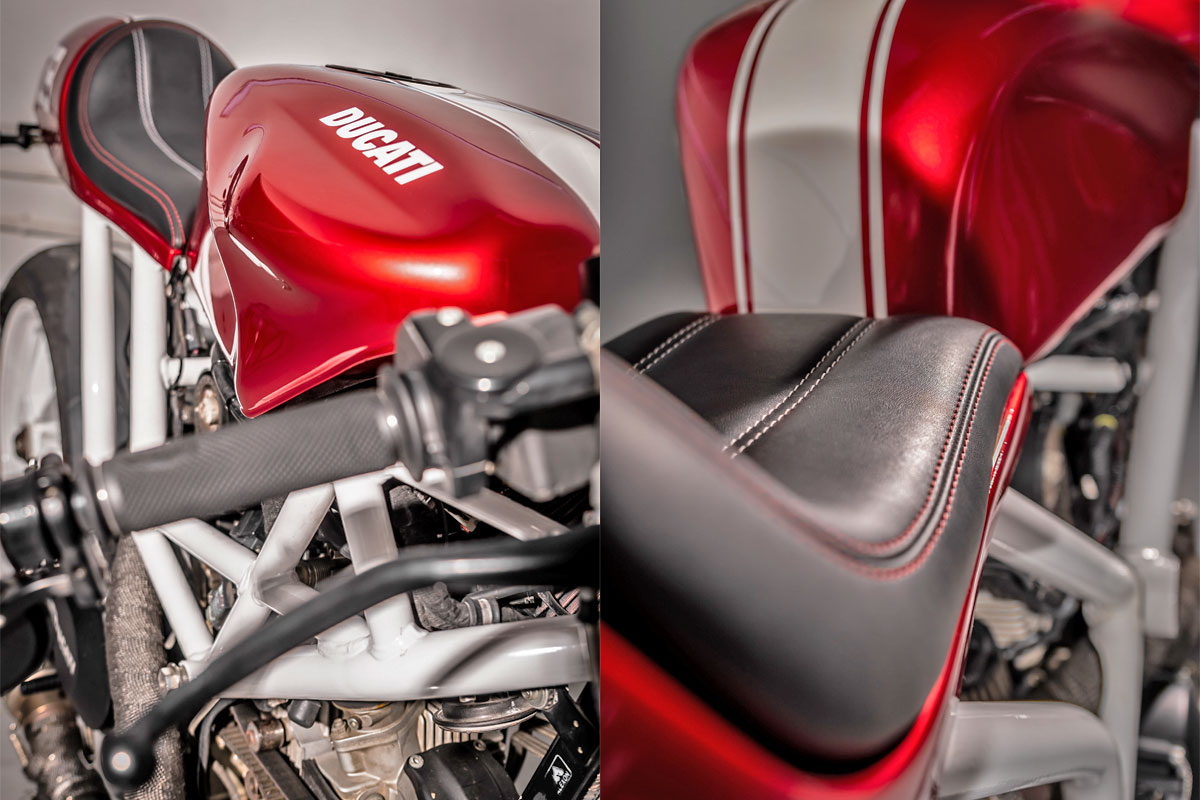 After getting the bike back together there were a few teething issues. The fuel pump was ceased due to its time out in the elements, it had busted fork seals and a few other small issues. Once all that was fixed it was time to fire it up. Unfortunately, this didn't go so well. I noticed a serious knock in the front cylinder. So I had to tear the bike back down into pieces and the engine was cracked open to inspect the issue. It turned out the shop that sold me the bike found that a valve had gone through the piston. They decided the best way to repair it was to replace the valve and weld the hole in the piston shut! This, of course, meant a full re-build was necessary. Once completed my Monster cafe racer was put back together in no time and went to the dyno for tuning.
Shortly after, it was time for its first track day. I'm very pleased to say that my Ducati Monster cafe racer runs well and has buckets of torque. A few small changes will soon be made to the exhaust for more ground clearance and an upgraded shock from a 959 will be dropped in for more adjustment."
Story by Marc Roissetter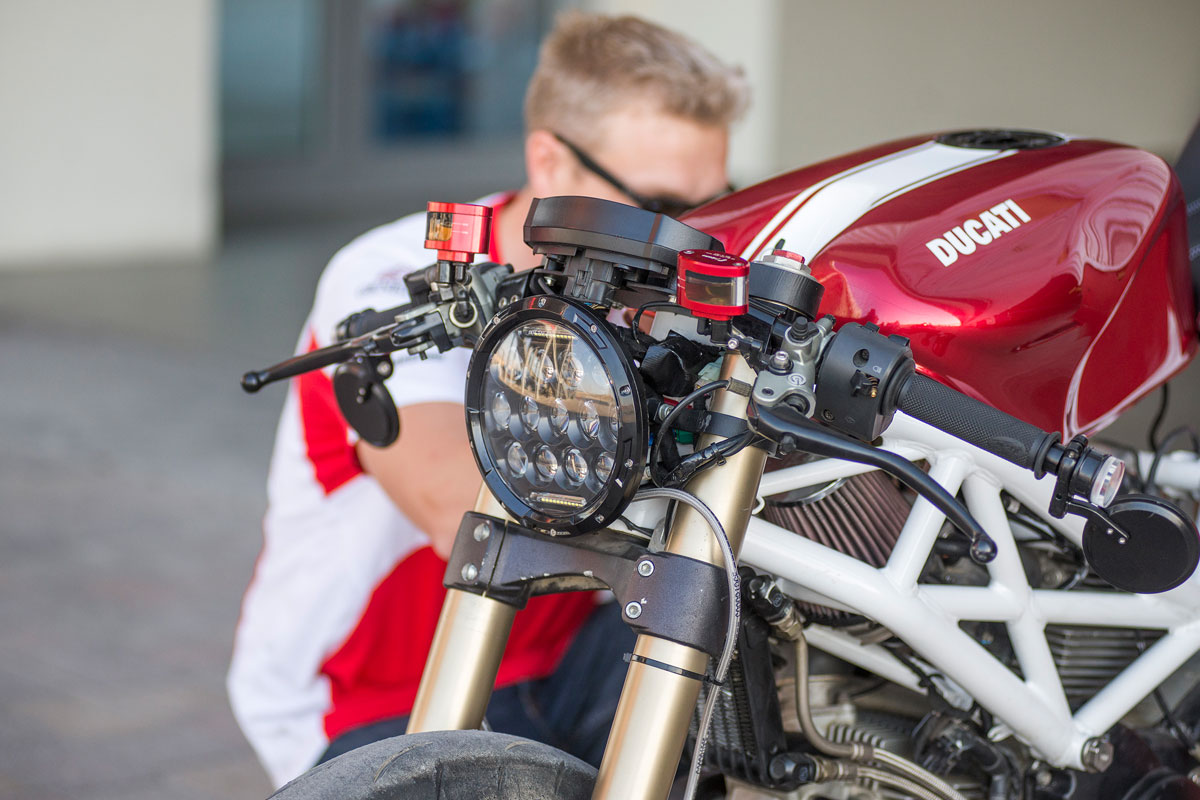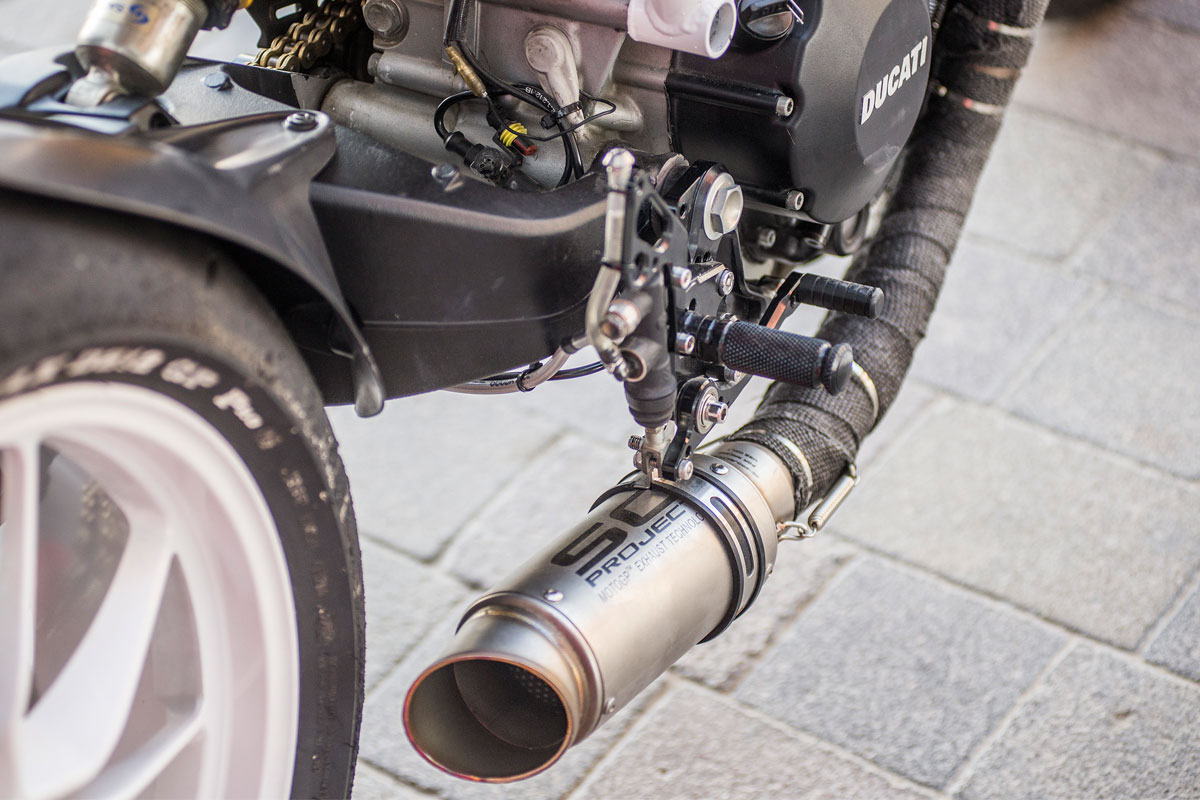 MONSTER CAFE RACER SPECIFICATIONS:
Ducati Monster 1100 EVO 2012 base unit
Full engine re-build
Custom rear sub frame
Custom tail unit
Full custom wiring loom
Custom front top triple clamp
Custom headlight mounts
Custom bar end indicators
Custom gauge cluster mount
Ducati 996 fuel tank
K&N filters for intake and oil breather
Power Commander 5
Billet clip ons
Aftermarket rear sets
Full powder coating of parts
Ducati Multistrada brake and clutch upgrade
Rizoma brake and clutch reservoirs
SC Projects muffler
KTM 125 SX throttle tube and cable
Black fibre exhaust wrapping
Photography by Craig Kidwell & Greg Falski