It's the most wonderful time of the year! We've just finished sifting through the past 12 months of articles to assemble the top 10 cafe racers of 2019. Some made the cut because of their dedication to the cafe racer ethos while others blew us away with their originality and expert levels of workmanship. When curating the list we also compared our choices to how each bike was received on our social media pages by you, our readers. This ultimately resulted in a number 1 pick that we didn't expect, but the people have spoken and who are we to argue.
There's been talk of interest in the cafe racer category slowing down, but it certainly hasn't slowed down around here! This year we featured a steady stream of cafe racers projects from all around the world. These included builds by both professional workshops and the dedicated backyard builders that are the backbone of the cafe racer community.
As we scrolled back through the year's features we noticed a few trends during 2019. For starters, it's apparent that fairings are definitely in fashion. We also noted that the classics never fail to impress our readers and that the unexpected is often the most impressive. As you read through our top 10 cafe racers of 2019 list you'll see plenty of examples of what we mean.
This year you'll also find a few extra additions at the end of the list. These have been added due to a few changes we made to our content, our appreciation of doing things a little differently and to put a spotlight on future trends and technology. We hope you like the new additions as much as we do and agree that these 10 cafe racers were the best of the bunch for 2019.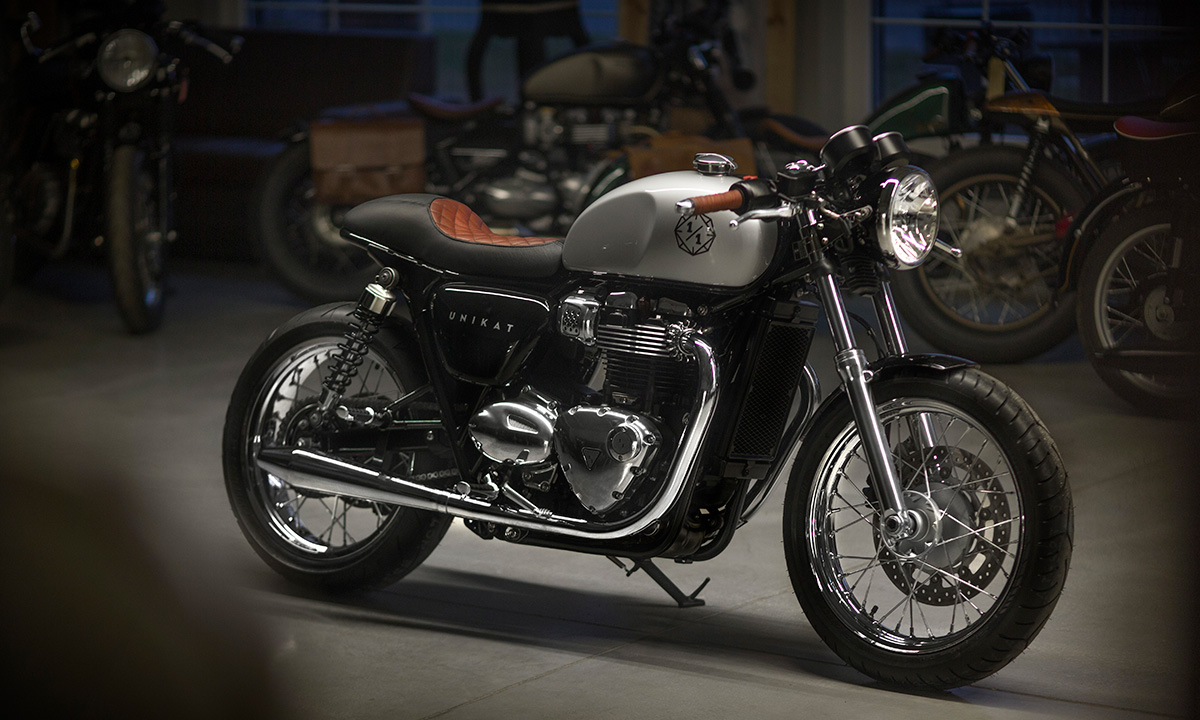 10. Unikat Triumph T100
Sitting in the tenth position is a cafe racer project that exceeded our expectations. Grzegorz Korczak and the team at Poland's Unikat Motorworks are no newcomers to these pages. They've been building a steady stream of custom motorcycles since 2015, but for this build, they decided to do things a little differently.
By teaming up with Triumph Poland Unikat developed a bespoke cafe racer kit for the water-cooled Bonneville T100 range. The kit adds a few tasteful components and styling tweaks that address some of the T100's styling faux pas. The result is a svelte, "off-the-shelf" cafe racer that's still covered by a warranty and allows the buyer to add a few personalized touches.
While this Triumph T100 cafe racer is not the most radical or technically comprehensive build it was a huge hit with our readers. Whether it was due to the timing of its release or simply because people approved, the positive response earnt it a place on this year's top 10.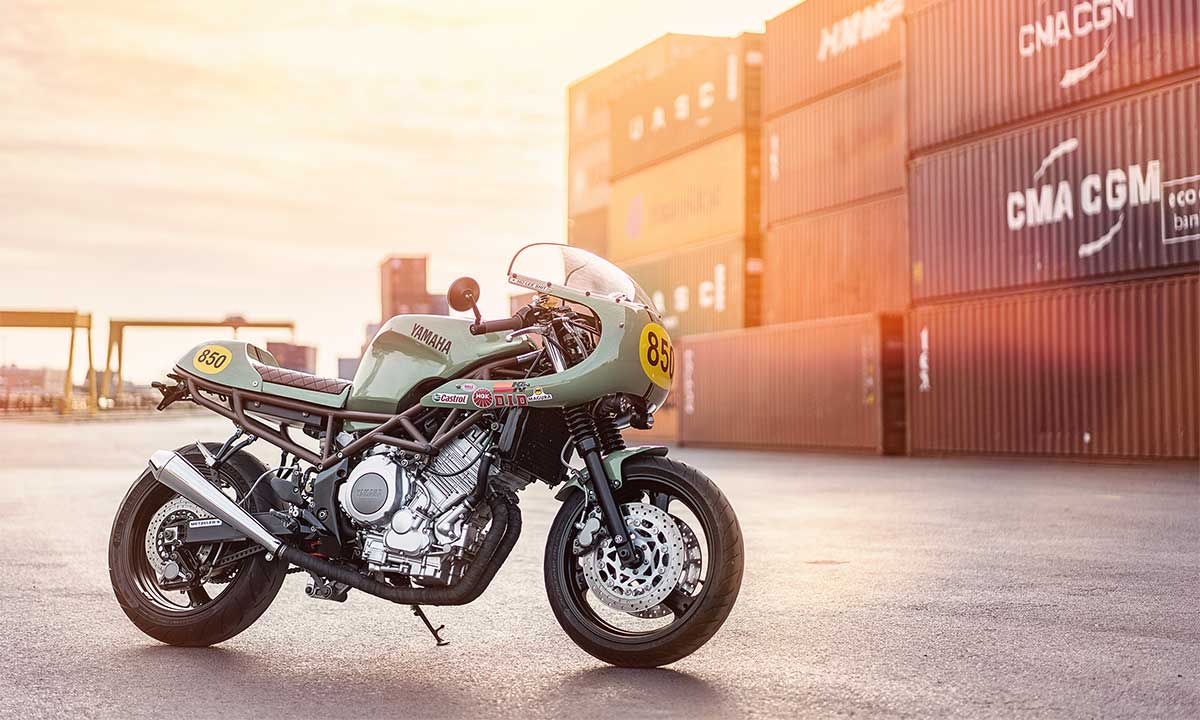 9. Manfred's Yamaha TRX850 Racer
The words cafe racer and practical don't usually appear in the same sentence, but when Manfred Schmidt set out to build his first custom motorcycle that was his goal. For this ambitious project, Manfred opted to use the best Ducati that Ducati never built, a Yamaha TRX850. The decision clearly paid off.
During the 2 month build, he replaced the Yamaha's bodywork with appropriately styled retro alternatives, fabricated his own subframe, revised the suspension set up and fit a cafe styled exhaust. Most importantly he designed a seat and cowl combo that can be easily modified to take a pillion. A carefully revised seating position means riding comfort isn't an issue and a unique color scheme had this bike stirring up quite a storm on our social pages.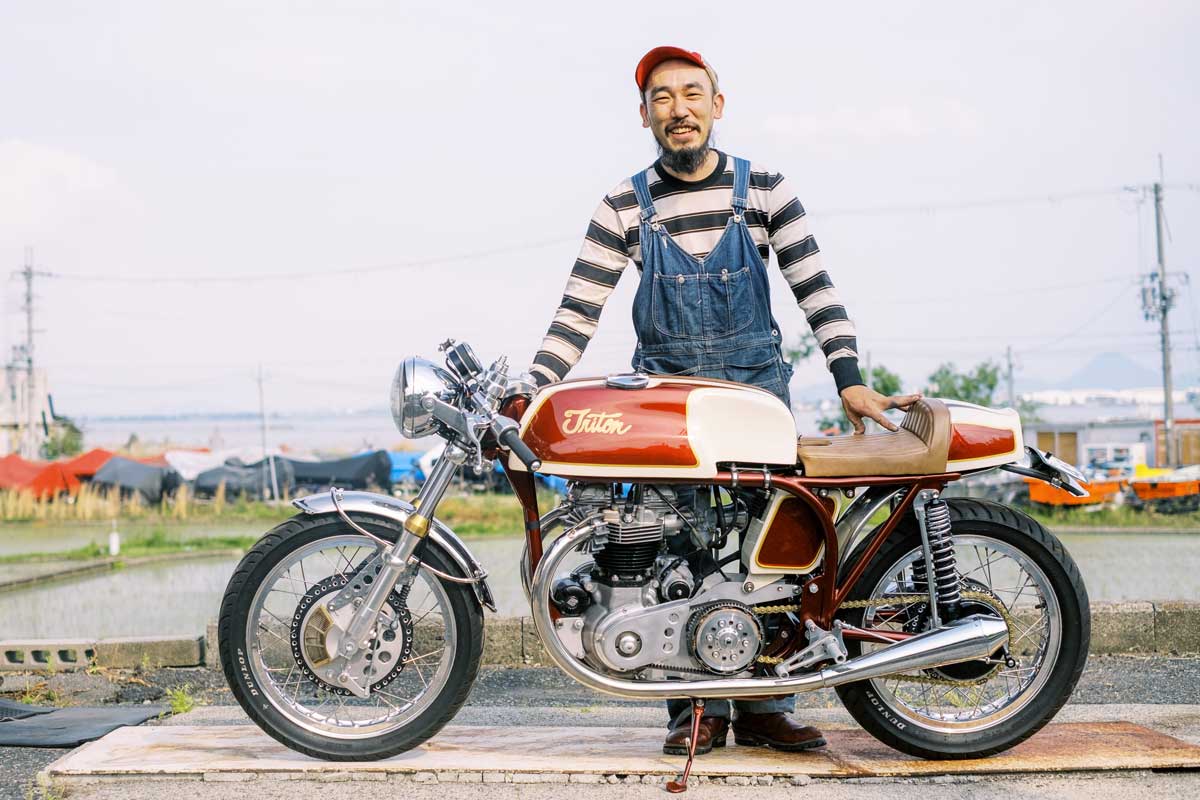 8. Berrybad Norton Featherbed
Nothing gets our adrenals going like a Triton cafe racer. Tritons were the envy of the 1950's cafe racer scene and it's easy to see why. By mating a Norton featherbed frame with a powerful Triumph engine you could wipe the floor with pretty much any bike that was brave enough to step up to the challenge. These days Triton's are becoming hard to find so one of this caliber is a rare treat.
This feature came to us via photographers Christine Gabler and Marc Holstein after their last visit to Japan. The Triton is the work of Kyohey Sugimoto, the man behind Berrybads Motorcycles. After taking delivery of the incomplete bike from a customer, Sugimoto-san had his work cut out for him. The bike ran a Triumph T110 engine in a Norton featherbed frame but most of the other components were missing.
Sugimoto-san's concept was to create a Triton with styling tweaks inspired by Italian bikes of the same era. A large chunk of the 6 month build involved sourcing and refurbishing period correct parts. There's also a spattering of hand made components like the oil tank and a few improvements to the engine so that this Triton has performance befitting of its history.
7. Nought Tea Enfield GT 650
To promote the release of their 650 twins, Royal Enfield has been collaborating with talented custom builders around the world. This bike coined the Nought Tea GT 650 is the result of collaboration with Royal Enfield's go-to chassis and suspension guys, Harris Performance. After working closely together during the development of the Continental GT 650 Enfield and Harris decided to have some fun with the bike.
Their goal was to make the Continental GT 650 "the best cafe racer is could be" and we think they've done a decent job of it. The Nought Tea has tighter proportions, is better-sprung and has a more capable braking package. The fairing was built especially for the project and there's a spattering of aftermarket parts that set the bike up for it's intended purpose, racing. We're looking forward to hearing how it stacks up out on the track.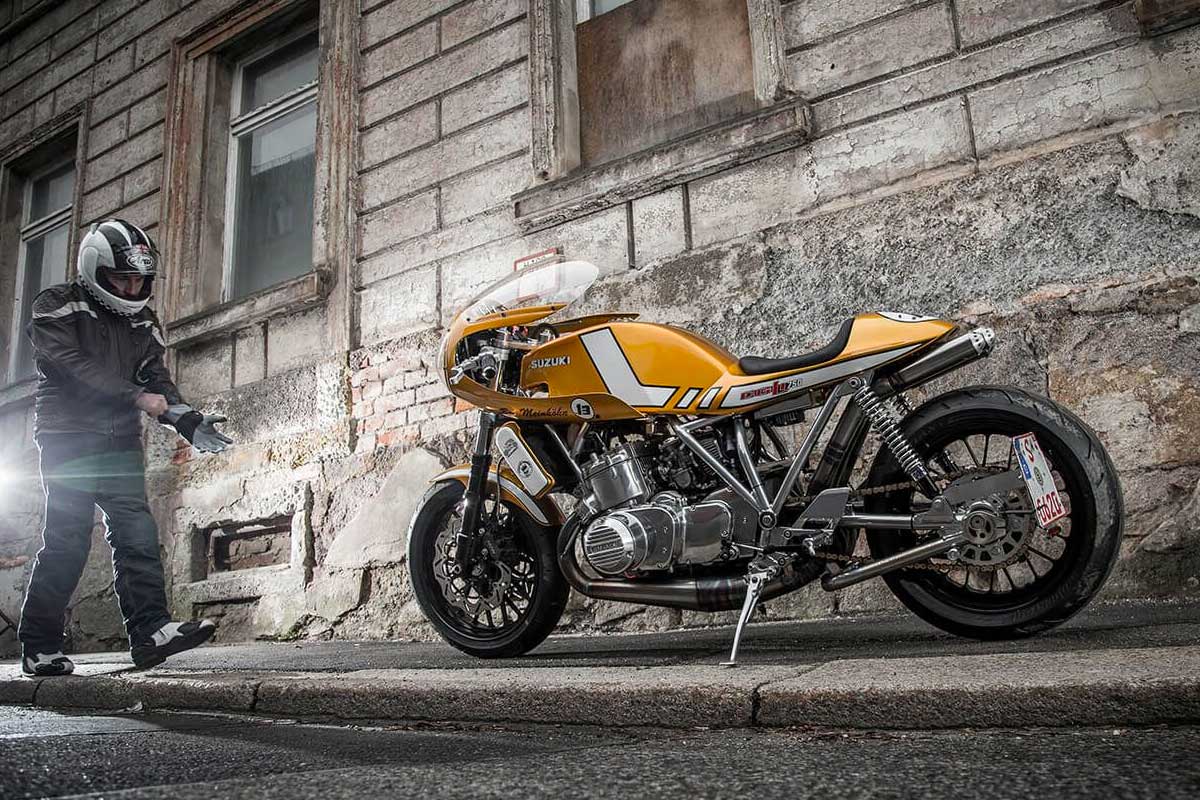 6. Boy's Suzuki Egli GT750
The story behind Boy Meinkehn's Suzuki GT750 purchase is the kind of thing we'd all wish would happen to us. After buying the GT750 as a potential track bike Boy noticed a few unusual things about its custom frame. After some digging it was revealed that the bike ran one of only three test frames built by renowned frame expert Fritz Egli. After that, his plans quickly changed.
Boy decided to breath fresh life into the water-cooled two-stroke and transform it into something that was befitting of its breeding. For that he handed the bike over to German performance and custom workshop Extremebikes. On Boy's instruction Extremebikes upgraded the Suzuki's suspension using modern alternatives. PVM performance wheels were then added to the mix along with a specially tuned custom made exhaust. Fresh bodywork was made to match the Avon fairing up front and everything was finished in a brilliant gold paint scheme.
Although his Egli framed Suzuki GT750 won't be racing at the track every week it will be doing the rounds at historic clubs meets. A befitting life for such a rare gem of a motorcycle.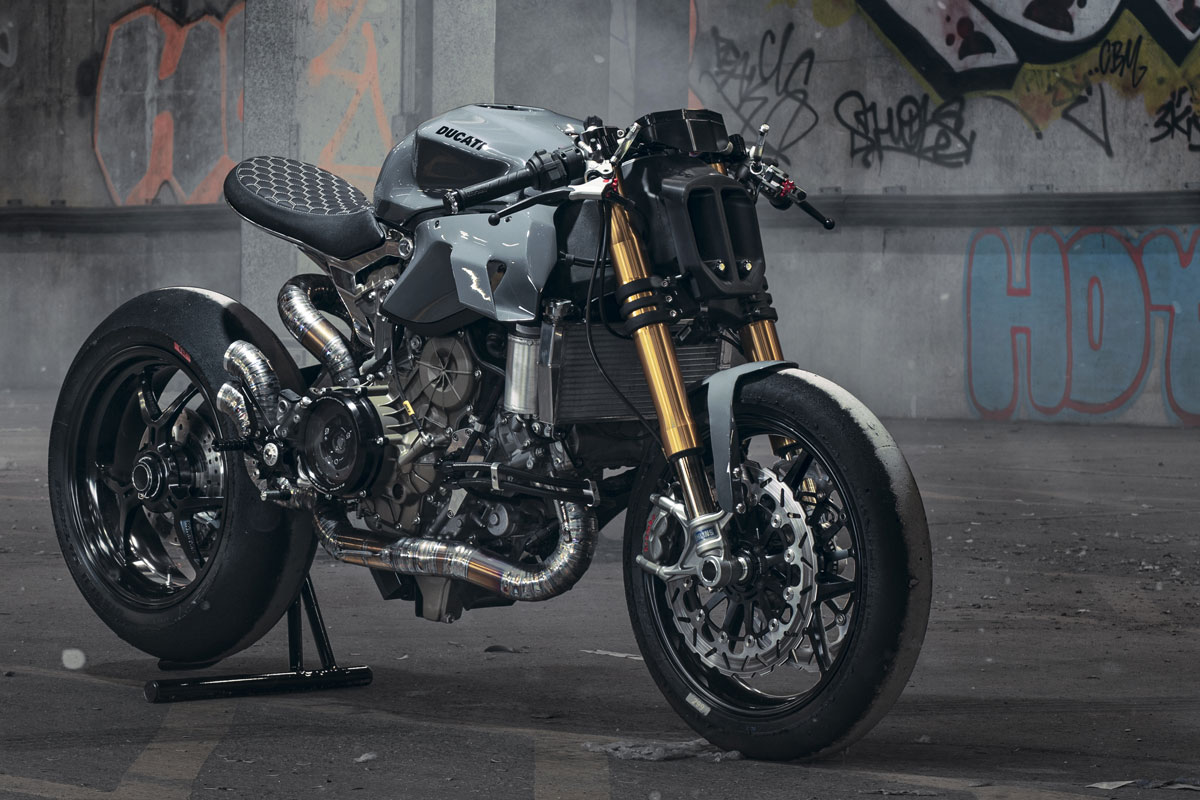 5. Thornton Panigale 1299
"If I'm going to build something, I'm going to build a show stopper". These are the words of Jody Millhouse who runs Thornton Hundred Motorcycles in the UK. With the annual Bike Shed show approaching, Jody decided to go all out with his latest build and he did it in spectacular fashion.
For starters, he chose an absolute beast of a bike as the donor for the project. It's hard to imagine looking at it now, but this modern cafe racer was built around a 205bhp Ducati Panigale 1299. The donor had a mere 1000 miles on the clock so it had barely been run in before Jody got to work. He stripped away all of the bodywork and rerouted everything beneath custom made side panels. Interestingly the Panigale still has all of its original functions and features like the anti-wheelie and traction control.
The new headlight is a 3D printed unit running high-intensity LEDs that doubles as an intake for the airbox. Jody also fabricated the pie cut exhaust himself and designed the subframe which was CNC milled from aluminum. One of our favorite features of this bike though is the tires. Yes, they're just your run of the mill track slicks, but look closer and you'll see they've been put through their paces. So while this Panigale cafe racer was designed to be a show stopper it is certainly no trailer queen.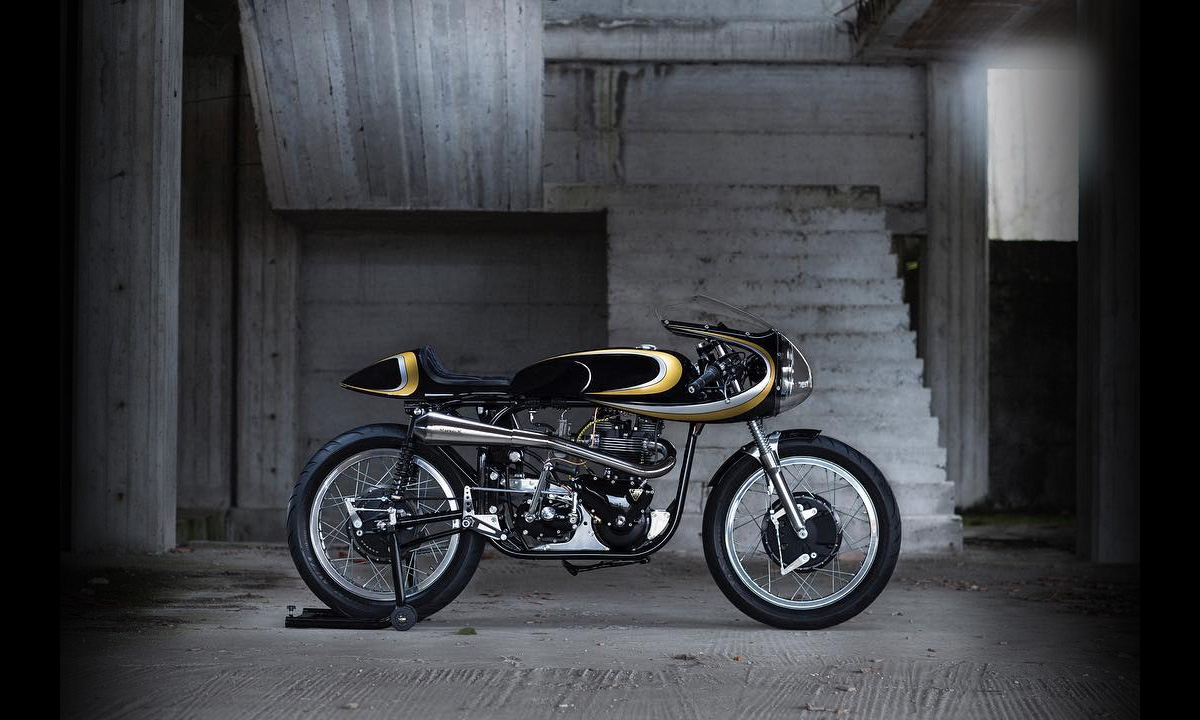 4. Stile Italiano CR650 Triton Cafe Racer
This immaculate Triton is the work of Stile Italiano who has well and truly proved themselves to be expert bike builders over the last few years. Powering their Triton is a completely rebuilt 1960's T120 with a few modern additions to get it running strong and reliably. The parallel-twin sits in a 1964 Norton slimline featherbed frame finished in deep gloss piano black. The exhaust is a bespoke system by Virex and, as with most of their other builds, you won't find any fiberglass on this bike. The Avon styled fairing, svelte fuel tank, and wasps tail cowl were all hand-formed from aluminum and have been welded together to form a single monocoque unit. In trademark Stile Italiano fashion the Triton wears a black, gold and silver paint scheme that emphasizes this bike's streamlined aesthetic.
3. Kaffee Maschine Moto Guzzi Le Mans 3
When we think Moto Guzzi cafe racers one name always jumps to mind. Axel Budde of Kaffeemaschine. Axel has a real soft spot for transverse 90° v-twins as evidenced by his extensive portfolio of custom Guzzi's. This Kaffeemaschine bright orange LeMans 3 cafe racer landed on our website back in July and, as you'd expect, made everyone go weak at the knees.
Along with having a talent for turning Moto Guzzi's into rolling works of art, Axel's work is equal parts form and function. During this project, the engine received a complete internal overhaul as well as an all-new intake and exhaust system. This resulted in the 1000cc twin producing 80bhp. That may not seem like much but combine that with a reduced curb weight of 177kg, a drastically upgraded brake system, a braced frame, and modern suspension and you've got yourself one hell of a fun Italian ride.
When you hear people talking about nice lines on a motorcycle, this is what they are referring to.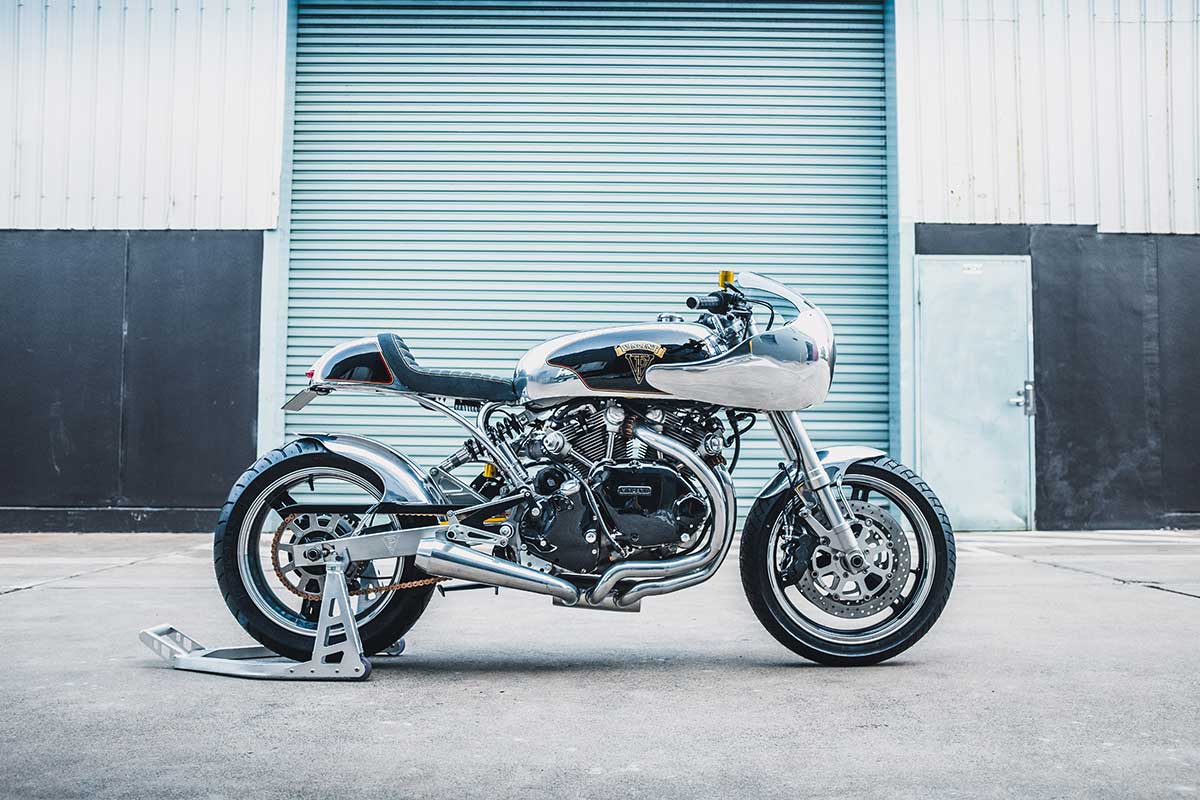 2. Vincent Black Shadow 21st Century Cafe Racer
We're seeing less and less Vincent motorcycles these days. Cashed up collectors are buying them all up and locking them away in climate-controlled garages where they're unlikely to ever see the light of day again. Right when I thought my days of seeing Vincent cafe racers had come to an end Sydney-sider Simon Leake appeared, and boy did he make one hell of an entrance!
This Vincent Black Shadow is Simon's interpretation of a 21st-century cafe racer. The bike is running a Black Shadow bottom end with a Terry Prince Vincent top end. The engine runs on modern ignition equipment and utilizes Motogadget components for all the other electrics.  The engine works as a stressed member in a TRV billet alloy oil-in-frame chassis and the wheels and suspension were pulled from a Suzuki GSXR. As for the bodywork, it's all hand-formed alloy from the talented crew at Motor Retro in Sydney.
Well done Mr Leake. We are very impressed.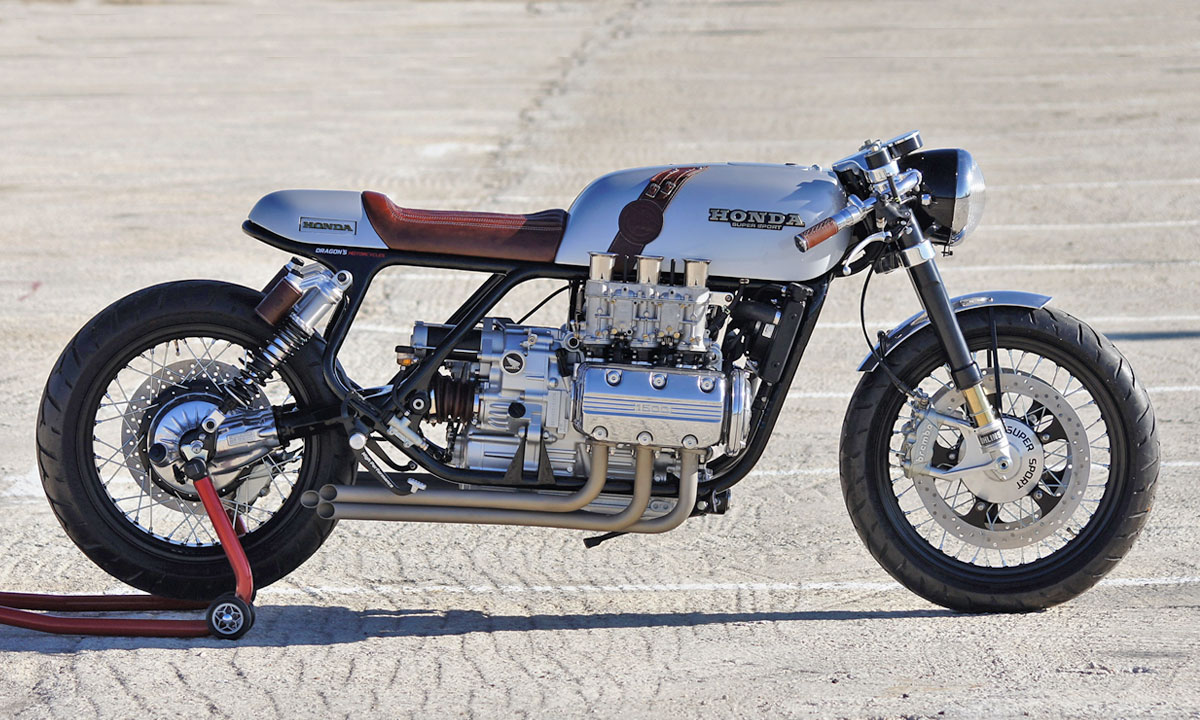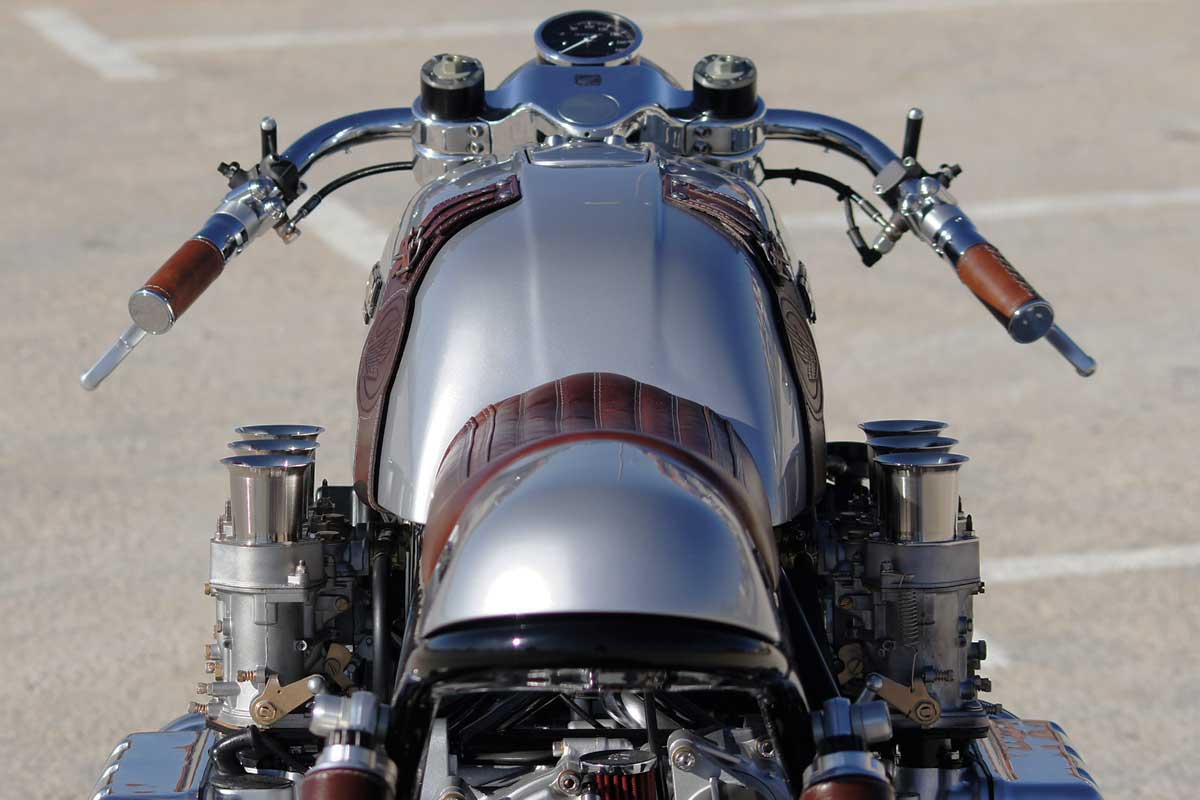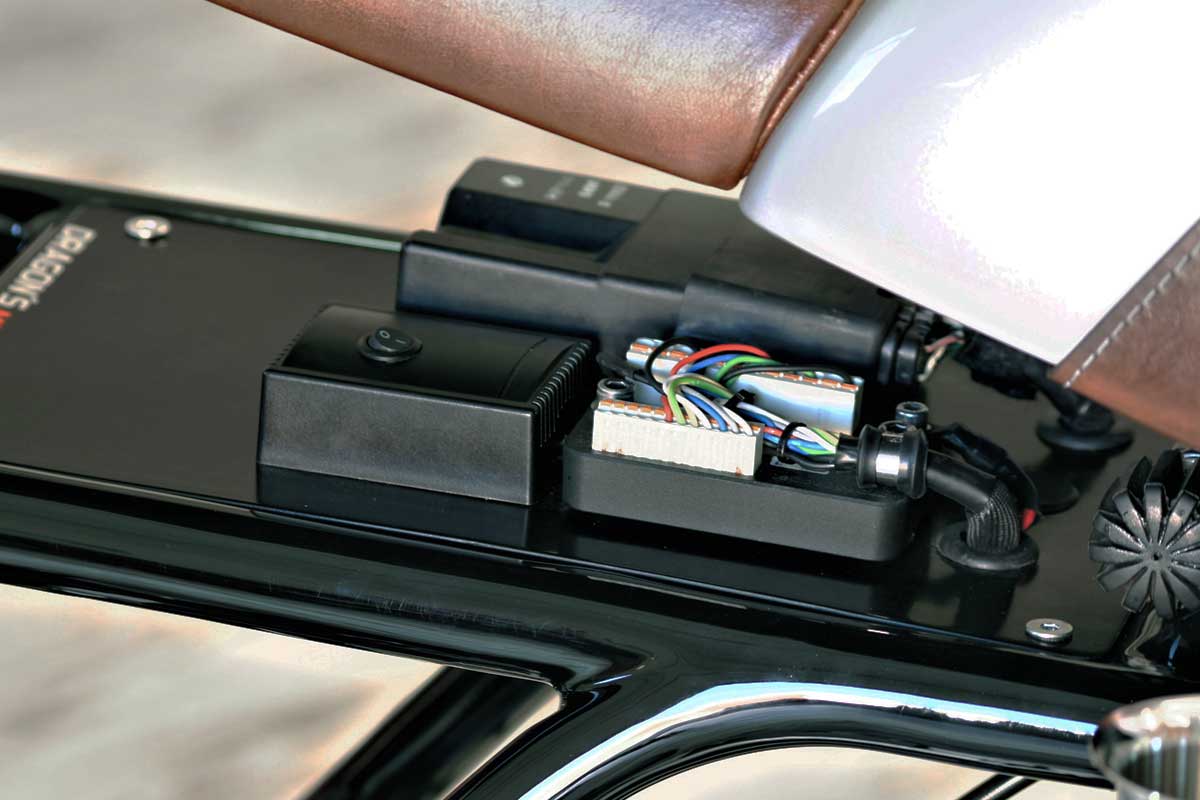 1. Dragon's Motorcycles GL1000 Goldwing
Yes, that's right. This year's first-place position goes to a Honda Goldwing! After posting this bike we saw huge interest in it on our social channels. So to follow up on the feature we also published a video (see below) of the bike on the Return of the Cafe Racers Facebook page. Rather unexpectedly that video went viral… in a BIG way. When the dust finally settled it had received almost 62,000 likes and was watched by over 800,000 people making this, hands down, the most popular cafe racer we featured during 2019.
And there's a good reason people liked this bike so much. The Honda is beautifully balanced despite its behemoth proportions. The engine has been upgraded to a 1500cc six from a Honda Valkyrie and the carbs hail from a 1968 Porsche 911. Dragon's motorcycles also went to town on all other aspects of this build. The fit and finish are immaculate (just take a look at that wiring!), the monocoque bodywork cleverly flips up like a nitro racer and the rear indicators flip out of the tail when the bike is started like the pop up headlights on a Chevy Corvette. So truth be told while we never expected to see a Honda Goldwing taking out first place on this list, Dragon's Motorcycles definitely earned the honor.
---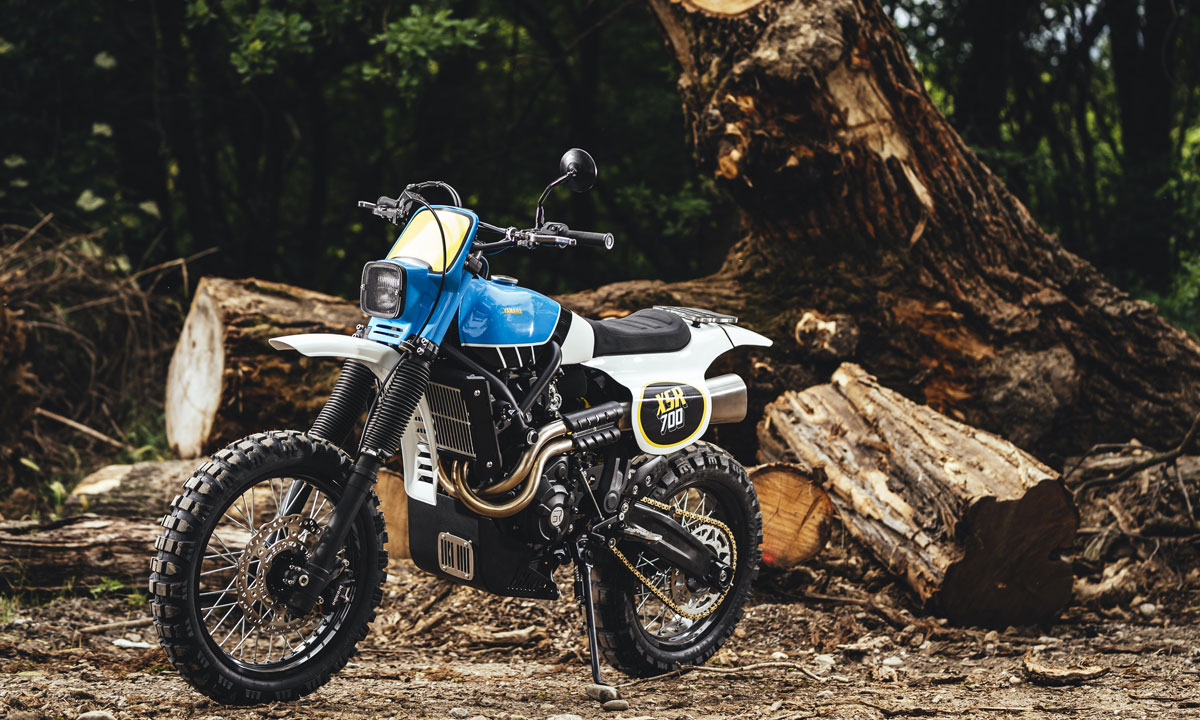 Best "that's not a cafe racer!" – Capelo's Garage XSR700 Scrambler
This year we tested new waters by occasionally posting custom motorcycles that weren't cafe racers. It went well with most of our readers approving of the alternative content. However, despite our best efforts to iterate the fact that we knew these bikes weren't cafe racers, the eagle-eyed, keyboard evangelists on Facebook took it upon themselves to educate us on what a cafe racer is each time we posted them. So in order to give them something to type about again, we decided to add this special category to this year's list. Out of all the bikes we posted that had people proclaiming "that's not a cafe racer" this was the one we loved the most.
As part of the Yamaha Yardbuilt series, Portuguese workshop Capêlos Garage and Elemental Rides built this Yamaha XSR700 based Scrambler. The project took inspiration from Yamaha's own legendary off-road racers of the 70s and 80s and is packed with purposeful modifications.
Getting the modern retro UJM ready for off-road duty meant a complete suspension overhaul was in order. The ABS was also dispensed with, brakes upgraded using Brembo bits and the engine protected by bespoke bash plates. A custom set of high pipes makes river crossings no big deal and the all-new bodywork places you in a suitably high riding position. Throw all this together with one of our favorite inline twins and an awesome Yamaha paint scheme and good times are sure to ensue.
This custom XSR700 is so good that we'd kill to see Yamaha put it into production. Unfortunately, they are probably still hurting after the huge failure that was the SCR950, but we have no doubt this capable machine would outperform every other Scrambler styled modern classic on the market.
Best "What the" Build – Death Machines London 'Kenzo' Goldwing
Variety is the spice of life and while doing something different makes some people very uncomfortable we welcome it. We created this category to acknowledge the efforts of the builders who are willing to travel into the unknown and take a chance. The individuals who, despite the inevitable backlash, stick to their guns and do things their own way.
This year we had a handful of such builds appear on the site, but none were as impressive as the Death Machines of London 'Kenzo'. DMOL took the philosophy of doing things differently and cranked the throttle all the way around with this Samurai inspired Honda Goldwing. There's too many incredible details to cover off here so if you haven't read the story behind this bike be sure to check it out here. Two of our favorite features on this incredible build are the traditional Japanese weave embossed into the seat leather and the completely custom made speedometer styled after an 18th-century Japanese jewel box. This is next-level bike building that deserves all the attention it can get.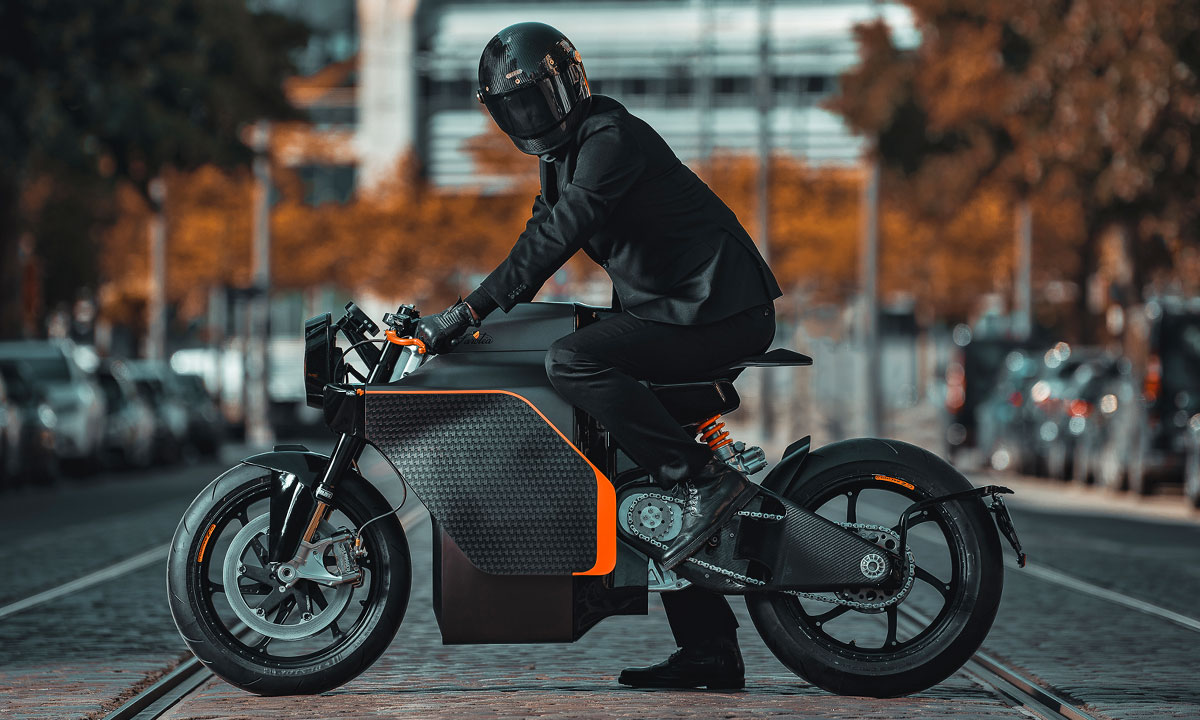 Best Electric Motorcycle – Mighty Machines x Sarolea N60
Things are amping up in the world of electric motorcycles (Badoom ching!). 2019 was a big year for battery-powered bikes with the release of the first electric motorcycle from a mainstream manufacturer, the Harley Davidson Livewire. Along with that bike, we also enjoyed a steady stream of electric motorcycle concepts and production models from independent manufacturers.
Belgian electric motorcycle experts Saroléa has been on our radar for quite some time. However when they teamed up the Mighty Machines earlier this year something special happened. They built the N60, a cafe racer version of their fully faired MANX7 electric motorcycle.
The MANX7 was developed on the back of Saroléa's experiences racing at the TT Zero, an all-electric race series at the Isle of Man. So as you can imagine this bike is no slouch. The N60's list of impressive features goes well beyond 0-100 times. Thanks to Saroléa's extensive testing and development the N60 has a huge 330km range which makes the Livewire's range look like a joke. The entire body is formed from carbon fiber and everything is held together with titanium and stainless steel hardware.
Interestingly as part of the collaboration, 3 other brands joined in to create a helmet, riding/business suit and a knife to go with the bike. Only 20 units are being produced but we're hoping Saroléa will add something similar to this to their electric motorcycle range in the future.
---
That wraps up our top 10 cafe racers of 2019 feature and another year here at Return of the Cafe Racers. Thanks to everyone who sent us their cafe racer projects, contributed to our content, followed, liked or clicked our social media stories or signed up to our newsletter. Your enthusiasm, words of support and passion for cafe racers keeps us doing what we do.
We'd also like to thank our advertisers and the brands who collaborated with us in 2019. They helped to support what is one of the longest-running cafe racer focused websites in the world and it's been a huge honor working with you all. Have a great new year and we'll see you in 2020! – Ed.