I've said it before and I will say it again. The most beautiful engines ever made were the v-twins manufactured by Vincent Motorcycles. Drop-dead good looks aside Vincents were also groundbreaking performers. Take for example the 1948 Vincent Black Shadow. It held the title of world's fastest production motorcycle after Roland 'Rollie' Free set a record at Bonneville salt flats riding one wearing nothing more than a pair of swim trunks (yes, you read that right). Unfortunately, Vincent's reign over the motorcycling world was short lived. At only 27 years young Vincent closed their doors and never reopened them.
On April 27th, 2019 I co-hosted the first Australian SIX ONE custom automotive show. Amongst all the amazing custom vehicles on display was one very special Vincent Black Shadow cafe racer owned by Simon Leake. Thanks to Simon I now have the opportunity to share the story of his 21st Century Vincent here for you to enjoy…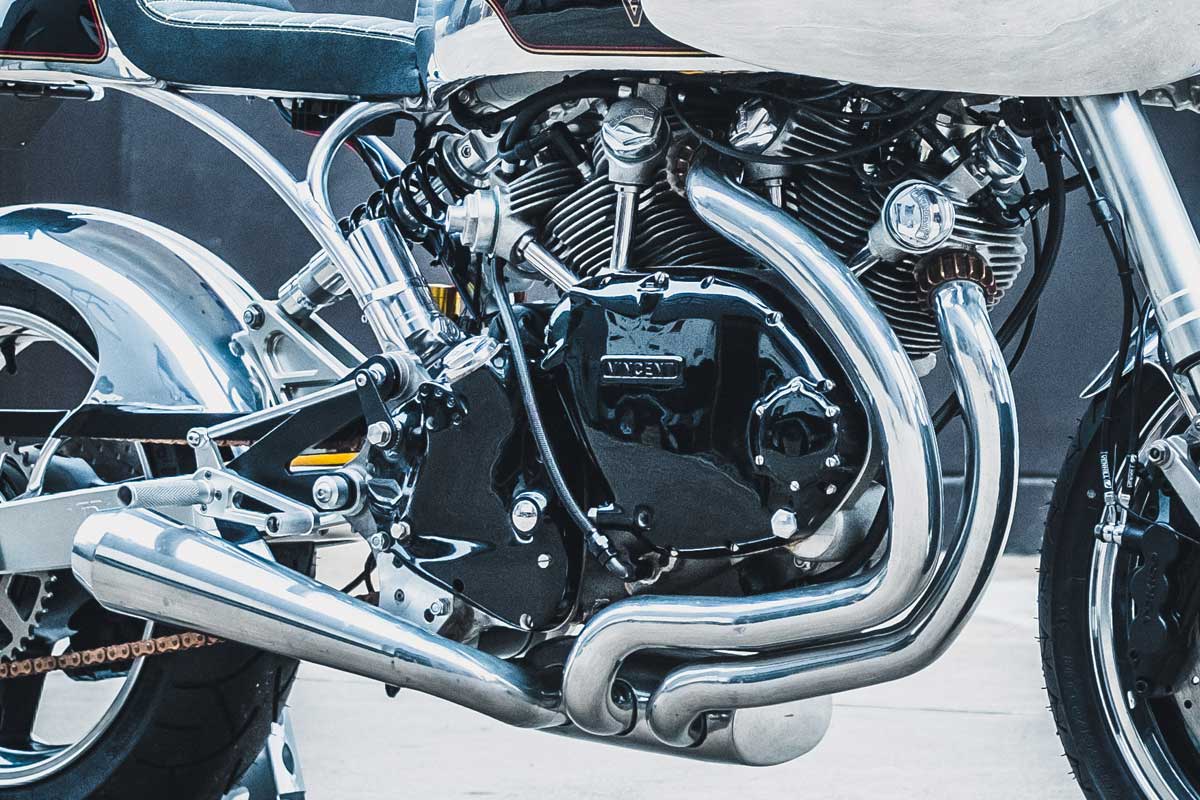 "When I was a small boy in Perth Western Australia my Dad took us to his friend Athol Middleton's house. I remember seeing rows of corrugated iron sheds outside his home with blokes working on their bikes in each one. It was a sea of black and silver and I stopped to talk to a bearded man working on a dismantled engine. I don't remember what was said but do remember the smells and sights and that he was keen to tell me about his bike, even though I was just a boy.
In my late teens, I visited Athol again in Perth on a round-Australia trip. We were escorted into his library where he greeted us in his underpants and white singlet, sipping on a cold beer and pouring over a book on atomic chemistry (he was the senior lecturer in chemistry at RMIT). After some small talk, he took us to his motorcycle shed. He had about 25 bikes but the ones that stood out were 'Sodium Chloride', his Triumph 110 salt racer, a Manx Norton and not one but three Vincents. The shed was dark and all was black and silver.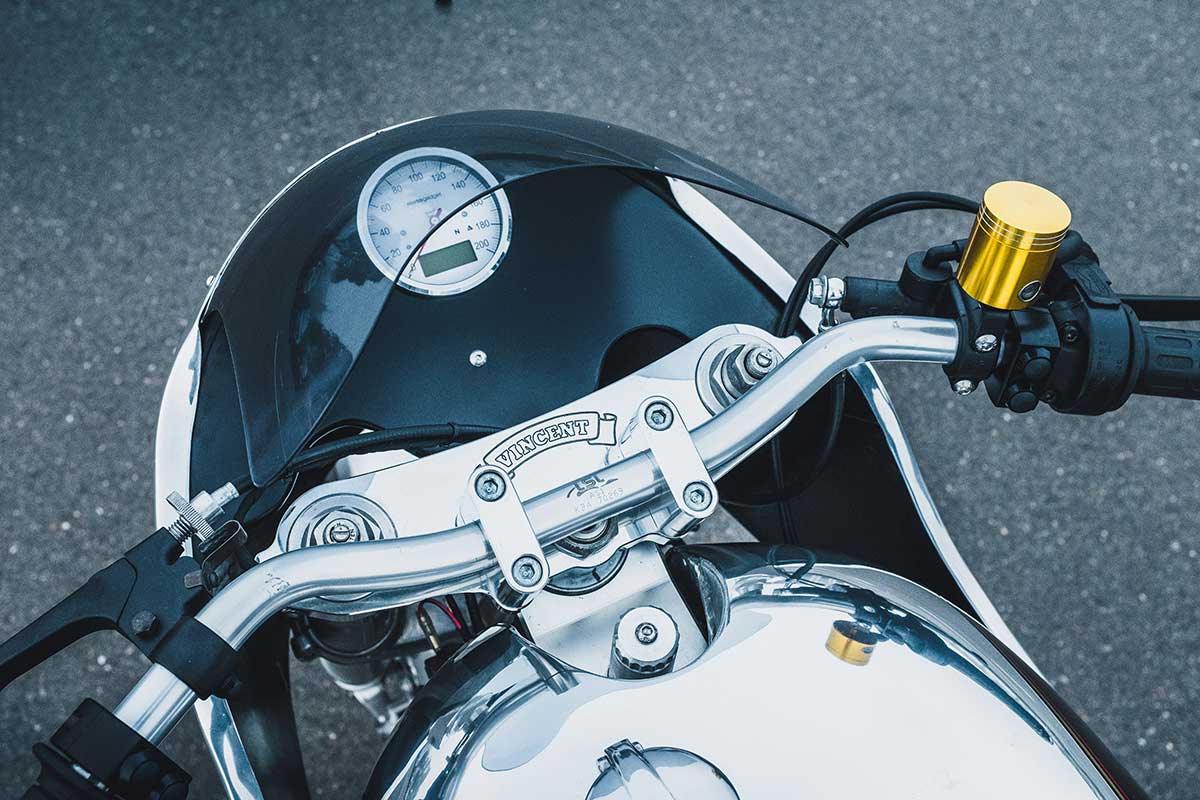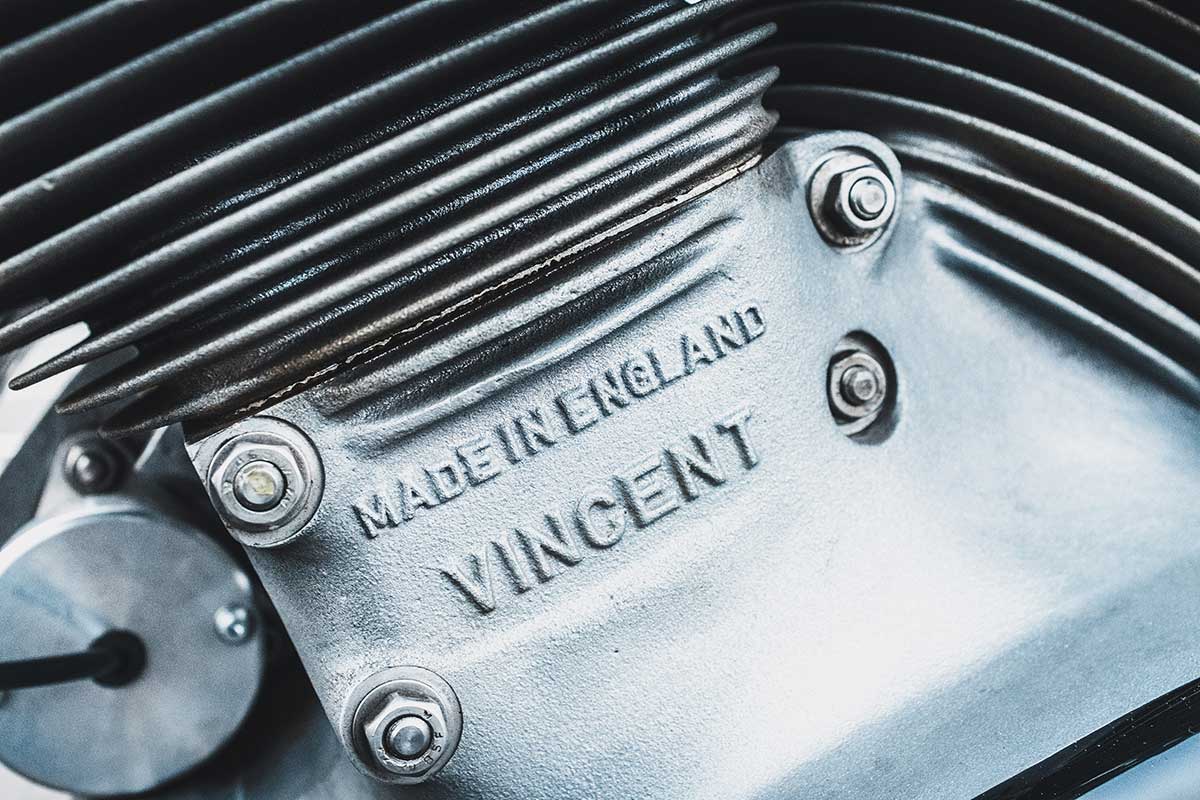 "So, you can actually build and modify your own Vincent?!"
Years of study and training followed and I owned various motorcycles, but every time I picked up a classic bike mag and flicked through the pages it was always the articles on Vincents that caught my eye. One, in particular, was named the 'Conk quivering Vincent'. It was built by some lout who had customised a Vincent with a cherry red tank and way too much-chrome, but it made me think. "So, you can actually build and modify your own Vincent?!"
Soon afterwards I read Hunter S. Thompson's 'Fear and Loathing in Las Vegas'. The book perfectly explained the power of Vincent Motorcycles over men's minds. Decades of work, marriage and family followed with no time for motorcycles let alone a Vincent. Until one day, when I had a cash reserve to myself, I saw a Black Shadow up at auction. Making sure I talked to the guy before the bidding he accepted my offer of $25,000 for the 50-year-old motorcycle.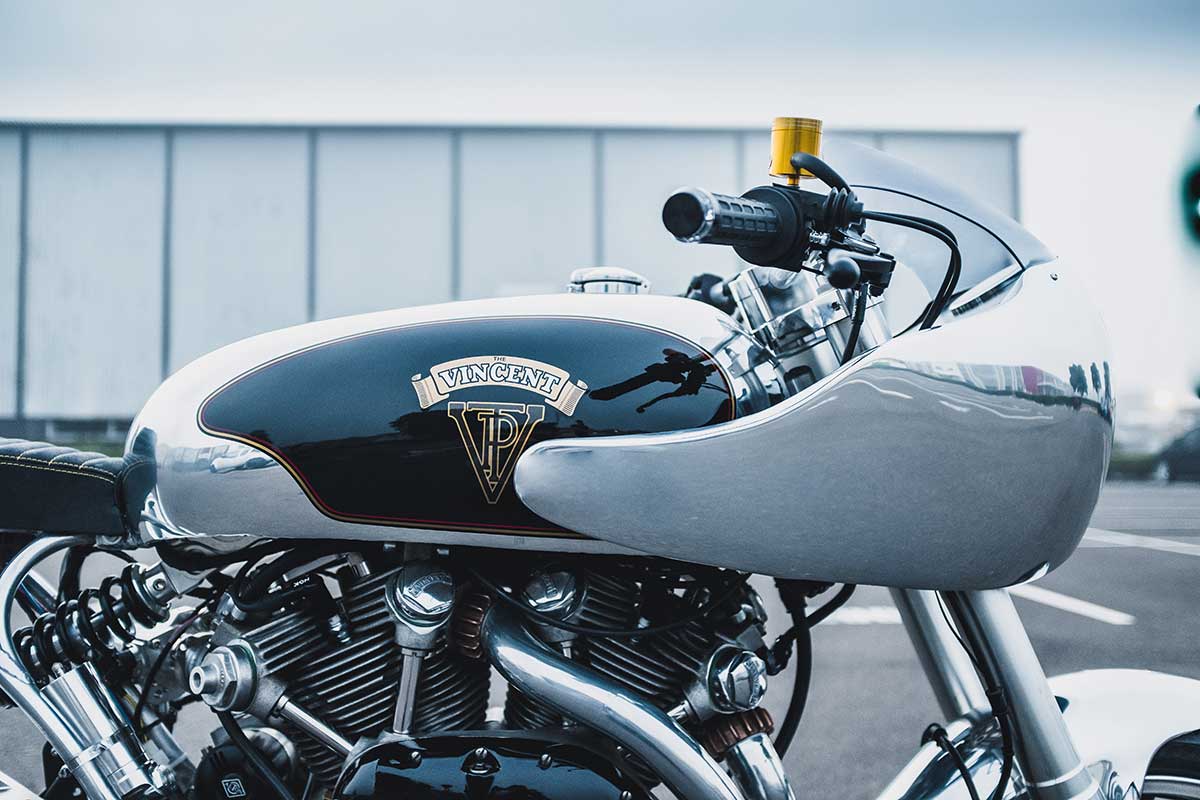 His surname was Broadford and he had worked for Repco with Phil Irving. He showed me how to properly start the bike. Crank to TDC, ease past with the decompression lever, tickle both carbs then push, not kick. Put your whole weight into it and it was easy. Krump-krump-krump off I went. The bike had an incredible urge. Old as it was the slightest throttle twist put it into roaring mode. I would go easy around long corners, make sure I had the short ones under control, then open it up into the straight. As Hunter S. Thompson so eloquently put it "The fucker's not much for turning, but it's pure hell on the straightaway."
I loved my Vincent motorcycle, but I could never start it hot without a hill to push start it on and eventually sold it. This proved to be the stupidest thing I ever did because you couldn't buy one for $85k now! Terry Prince, who I had met through the Vincent Owners Club once said to me: "They're old Simon, clapped out and the carbies are worn. But the centre pivot was a great idea, all modern bikes use it now, but in those days the materials they had weren't up to it".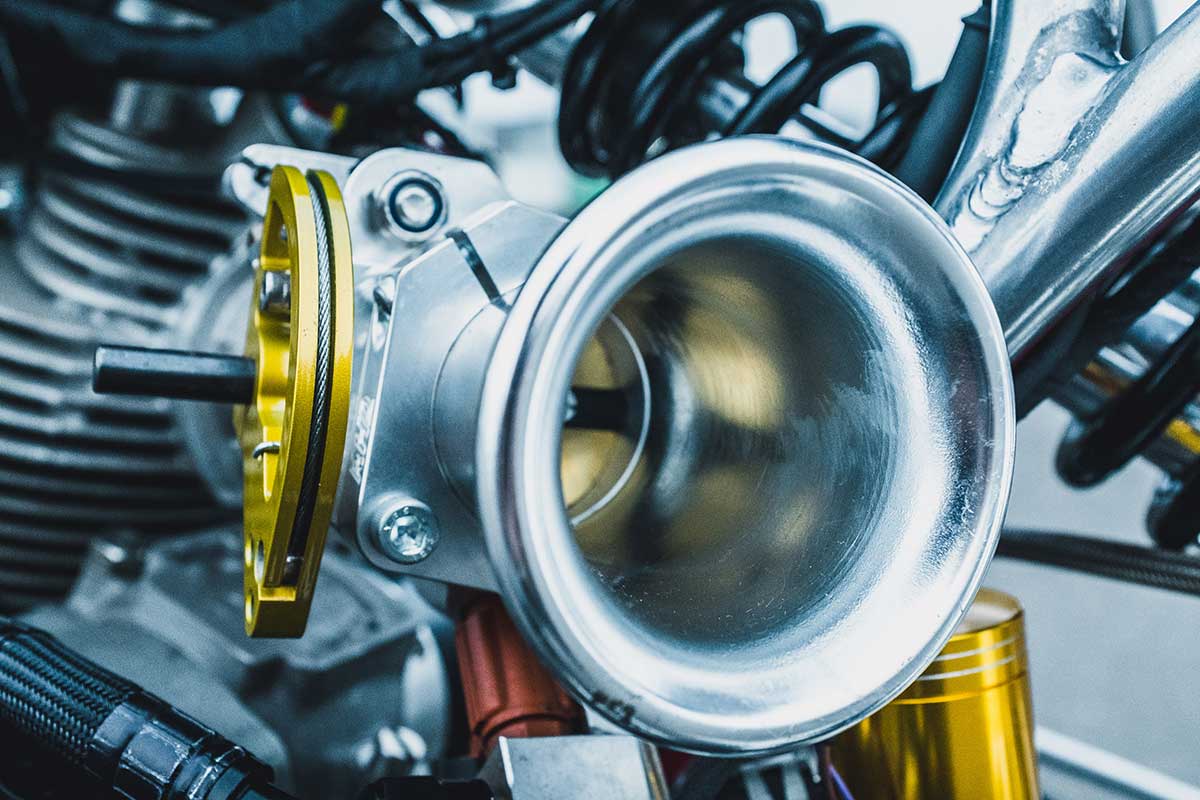 I kept in touch with Terry over the subsequent years. He worked with Fritz Egli and had built many custom Vincents himself. My desire to own another Vincent never left my head. I wanted Fritz to one day build me a brand new Vincent Black Shadow. The memory of that engine, with its lovely effortless style, perfect slow sweeper cornering, and the never-ending throttle was too much to resist. So I hatched a plan for a brand new build. I knew there were plenty of parts around and Terry had most of them. So I started the project with Terry but ended up with John Mossey Classics in the UK.
I had in mind a Vincent that preserved yet developed the original Philip Vincent, Phil Irving and HRD concept. I wanted my bike to use the engine as the frame, feature centre pivot suspension, deliver smooth high torque from the engine and use quality modern materials. And it would be both stylish and tasteful.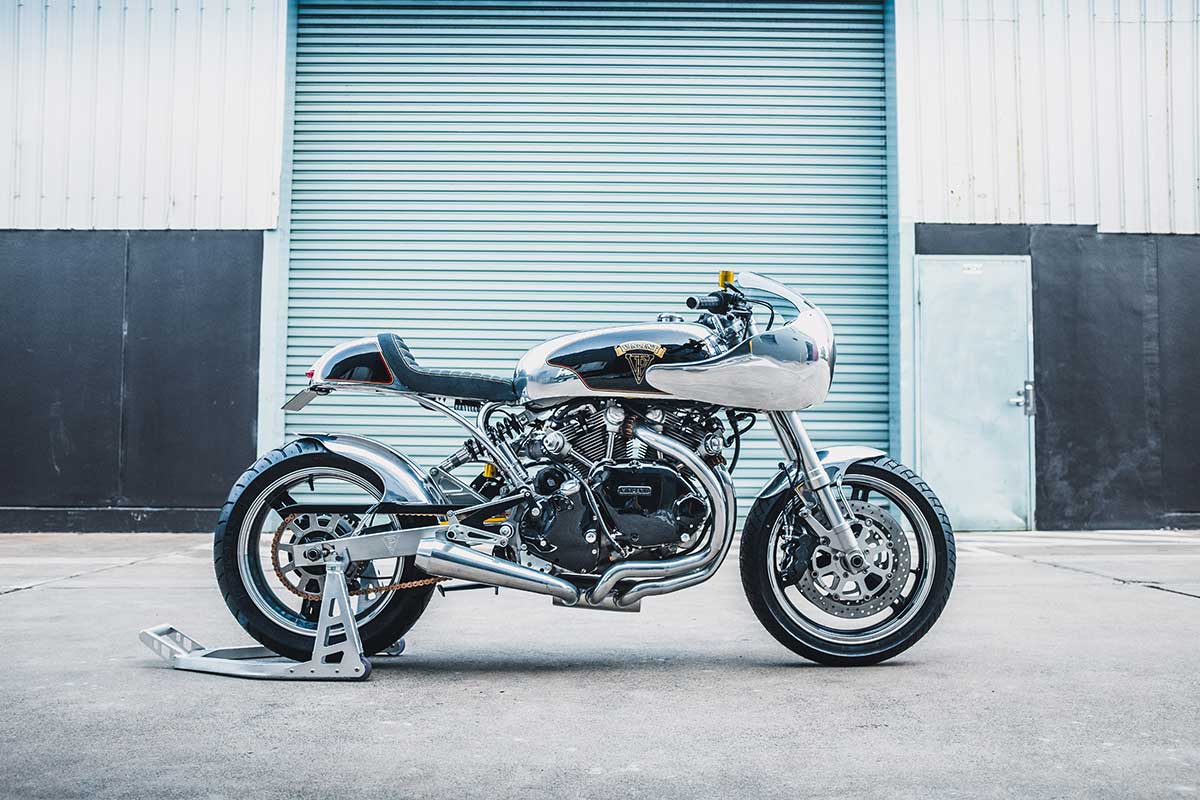 "Change the pistons to high squish on Friday night, put on the number boards on Saturday morning and ride it to the track."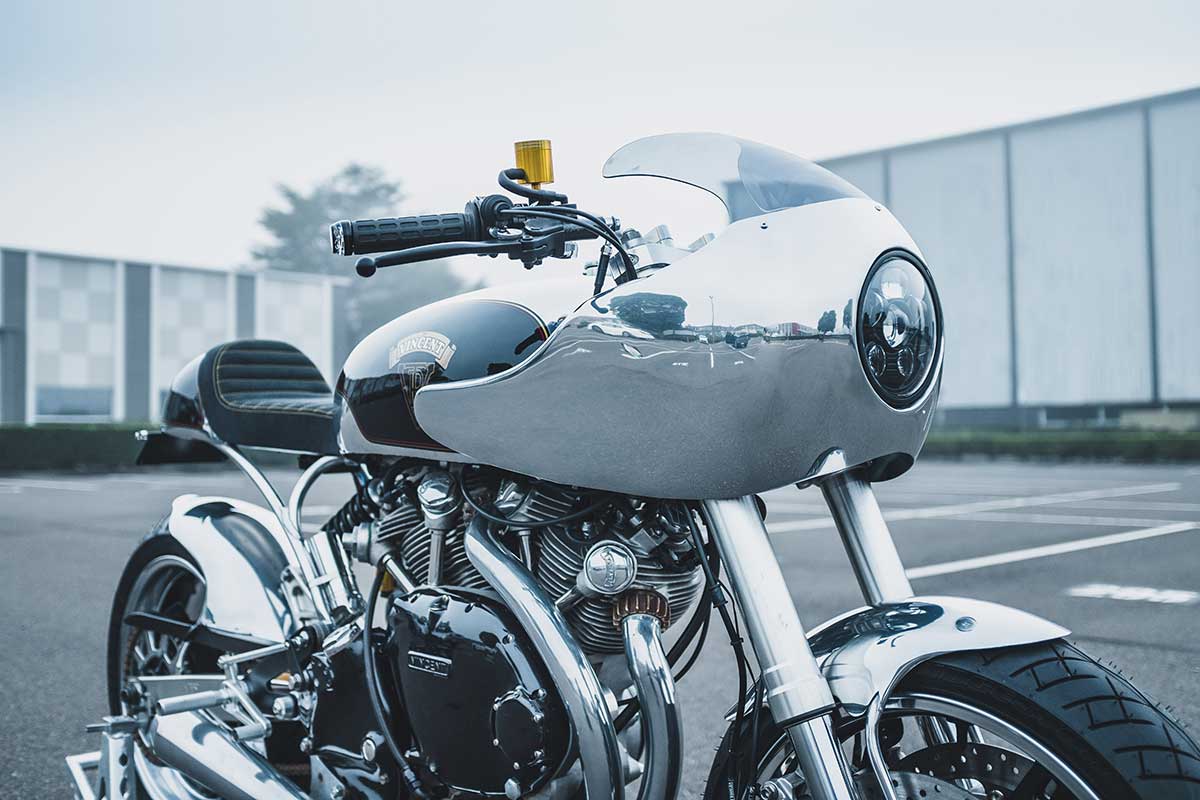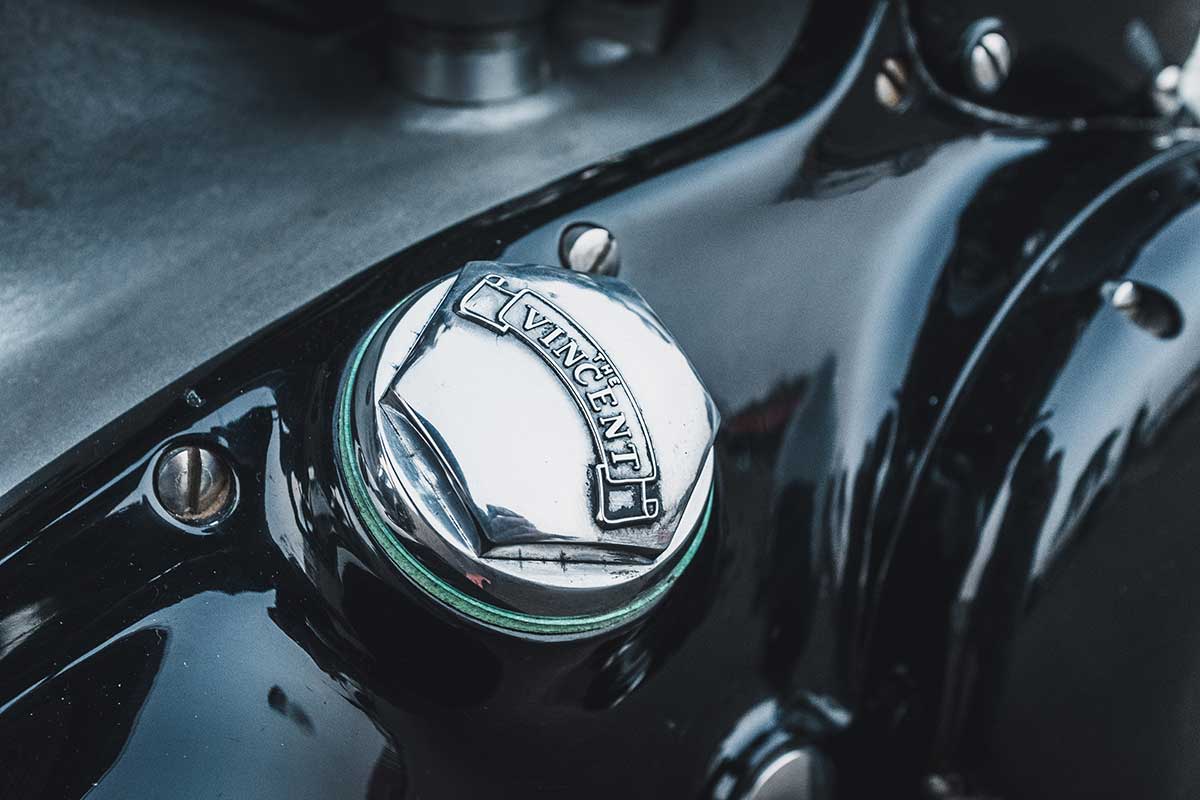 The old Vincent engines need certain improvements to meet modern performance expectations. Serendipitously Terry was working on some new advancements at the time I was ready to begin so we mated them to a Black Shadow bottom end. We fit a TPV twin spark 600cc top end kit with enlarged valve heads, improved finning and pushrod tunnels that increased capacity to 1200cc. To update the electrics we added an electronic ignition and starter, EFI/EMU system and Motogadget components. A set of throttle bodies from Racing Hardware Developments and a 2-into-1 exhaust by Hitech Mufflers rounded things off.
The bike also now runs a TPV CNC milled billet alloy oil-in-frame chassis and swing arm for rigidity and modern handling. Terry designed a headstock that could accept modern metric front ends so we coupled it with a set of Suzuki GSXR forks and wheels. Julian Lopez wired everything up and any machining that was required was handled by Mario Ricciardiello and Crawford at Asquith.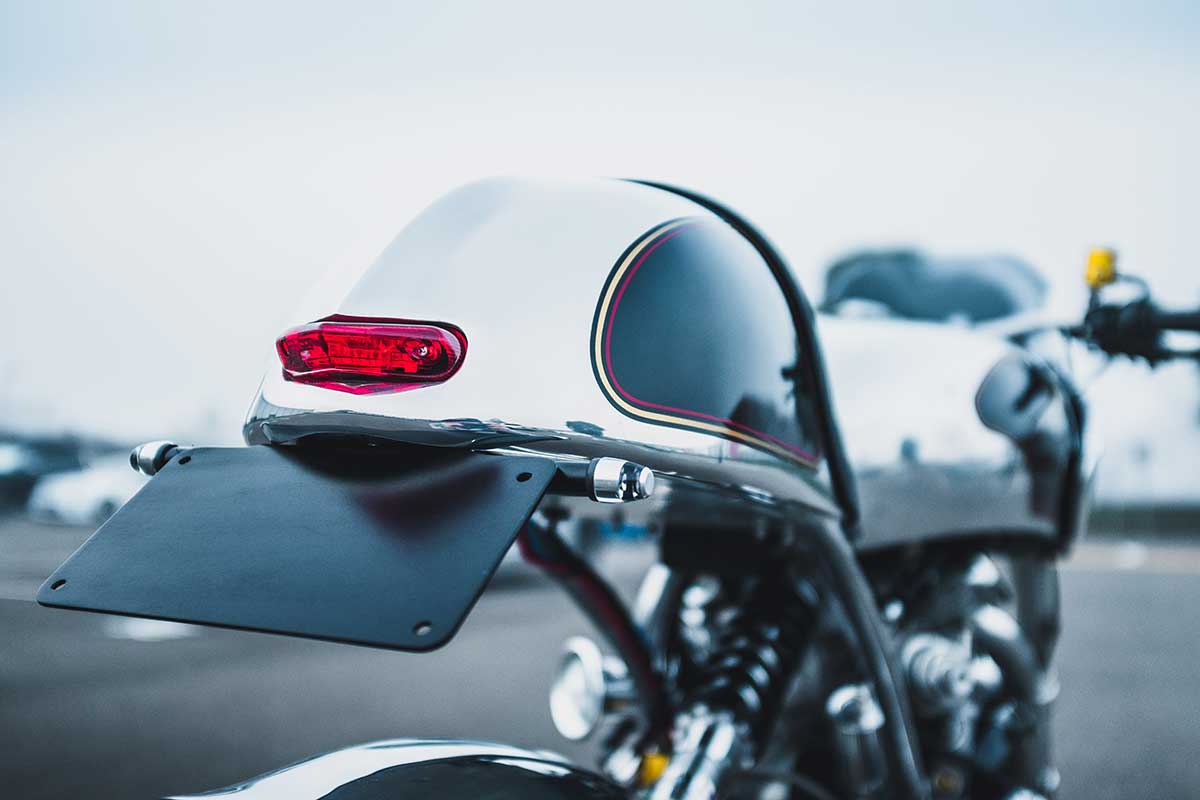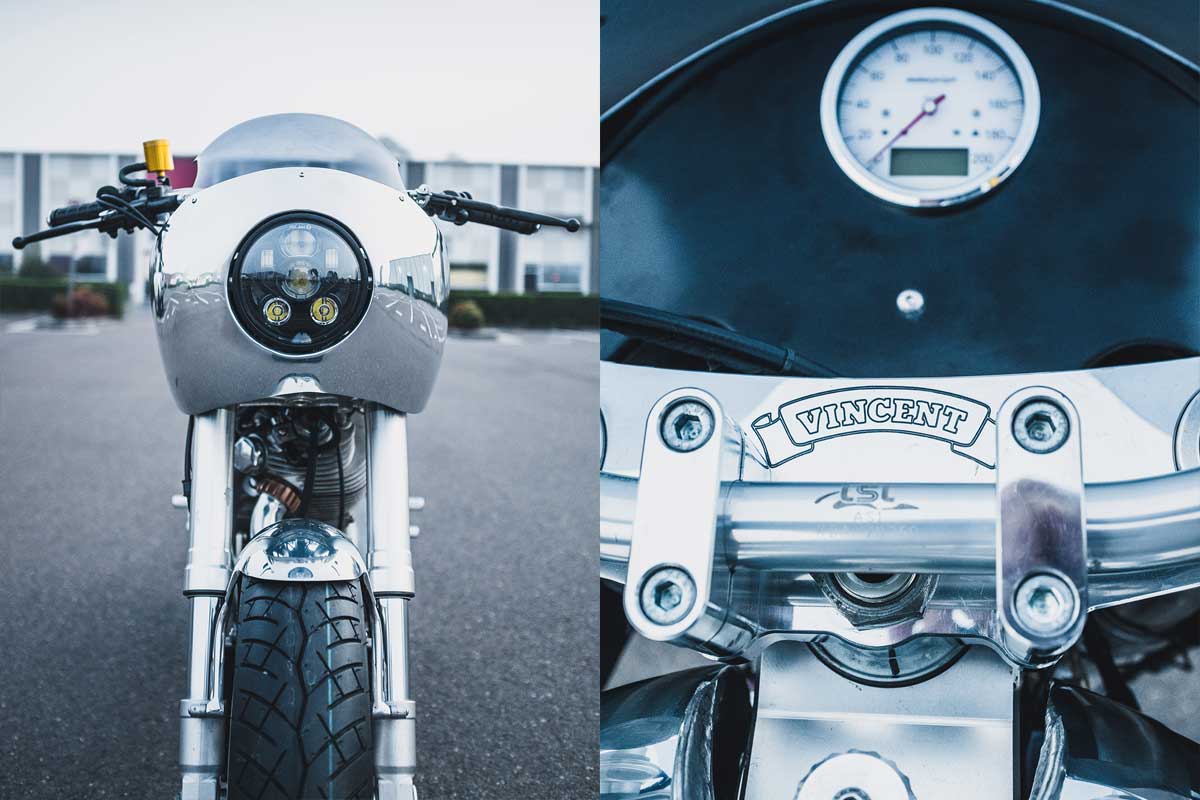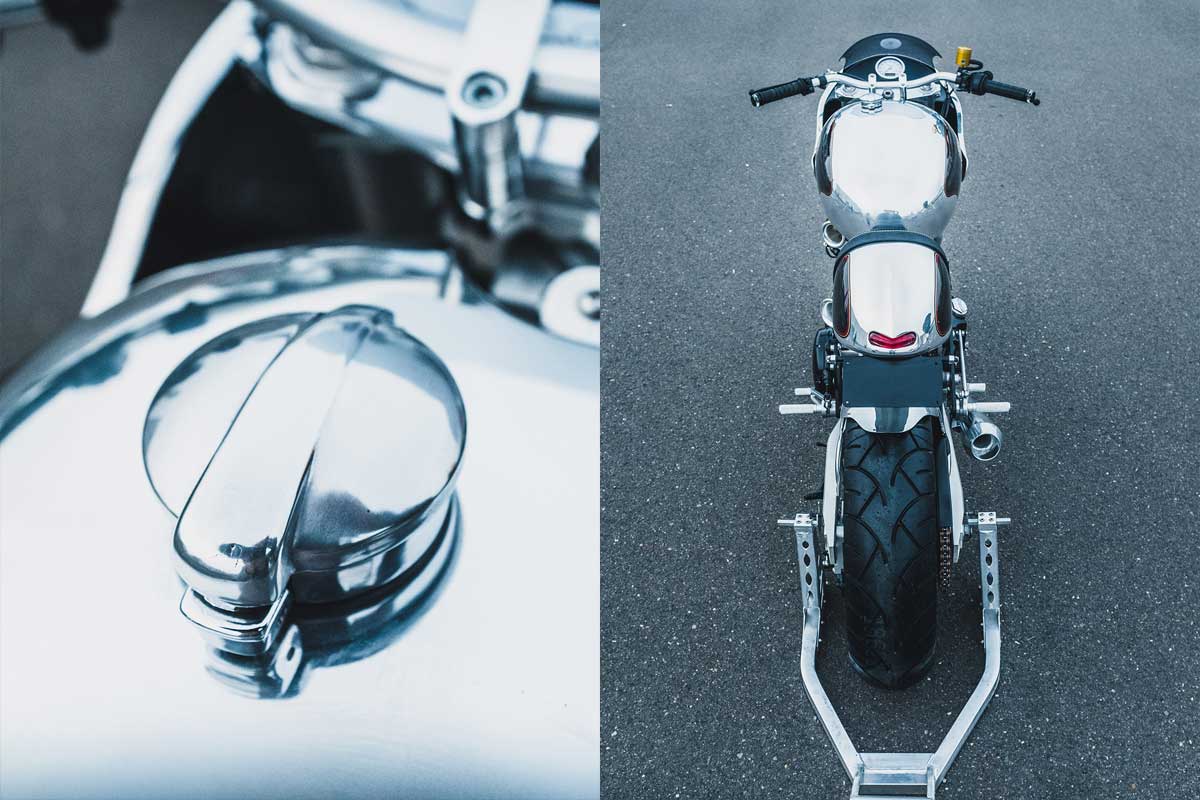 What we created was a 21st-century spec 1950's pushrod engine. It provided easy starting, modern fuel control and superb sports bike handling in a modernised centre pivot frame. Compression was reduced from 11.5 to 8.9 for roadwork and power sits at around the 90bhp mark. That makes it a 130mph machine straight off the showroom floor! As they used to do on days long past, change the pistons to high squish on Friday night (115 bhp), put on the number boards on Saturday morning and ride it to the track.
All up it took 6 years to complete my 21st century Vincent Black Shadow, but all good things are worth waiting for. The styling is deliberately retro and subdued but preserves Vincent Motorcycles original concept. It's muscular yet still has impeccable English taste. Nothing lairy and no bloody mural art. The subframe, tank, fairing, bodywork, fenders and attitude were my vision realised by Vaughan Ryan, Georgio Rimi and Gary Vincent'e of MotorRetro in Sydney. The all black and silver paint scheme is by Dutchy's Motorcycle Paintwork and Gary Vincent'e put in the hard work finishing and polishing the bike. As with any collaborative project of this kind, special thanks have to be given to Terry Prince, David (Bones) McLauchlin and Vaughan Ryan."
Story by Simon Leake
Photography by Lensflareair.com