Spain's Dragon's Motorcycles created a massive stir with just one build. Their debut creation, a glorious six-cylinder BMW KL1100LT trimmed into a cafe racer, turned heads and raised pulses when it was unveiled. And now, one year later, Pablo Pérez González and the Dragon's team released a follow up to their Beemer. And it's another enormous belter — a show-stopping 1977 Honda Goldwing cafe racer.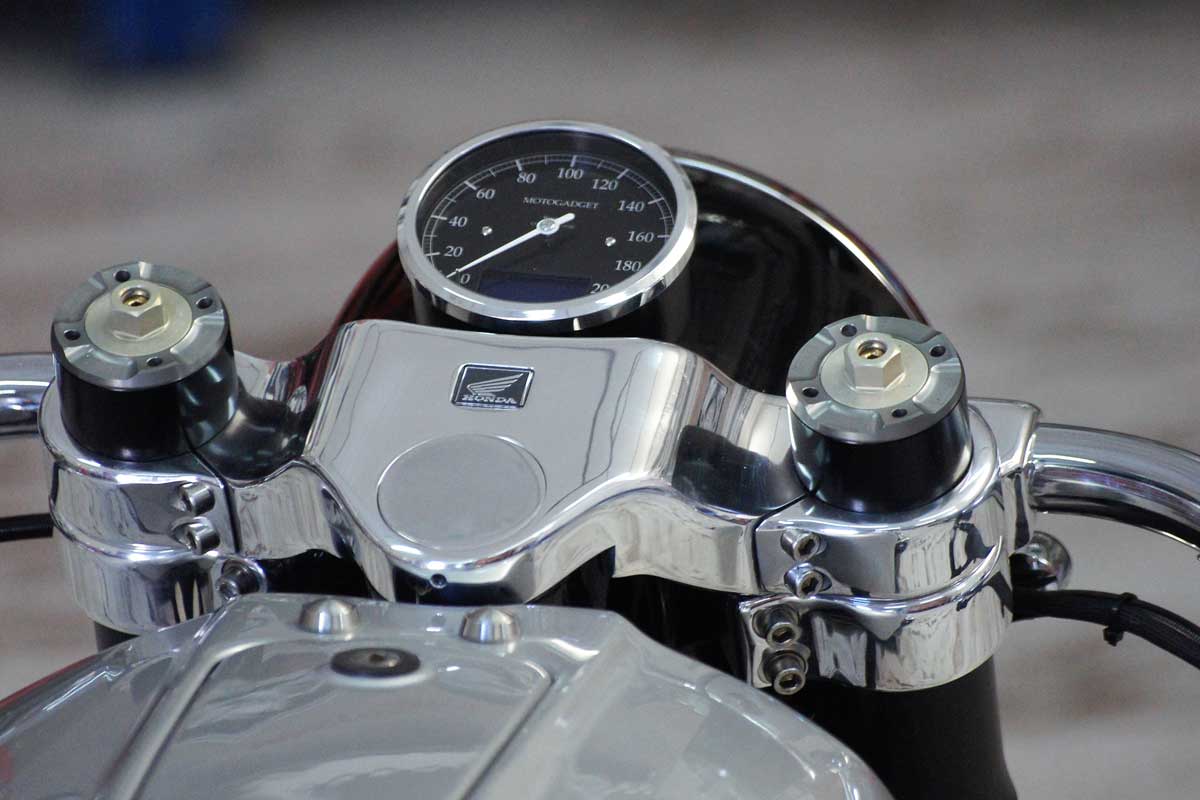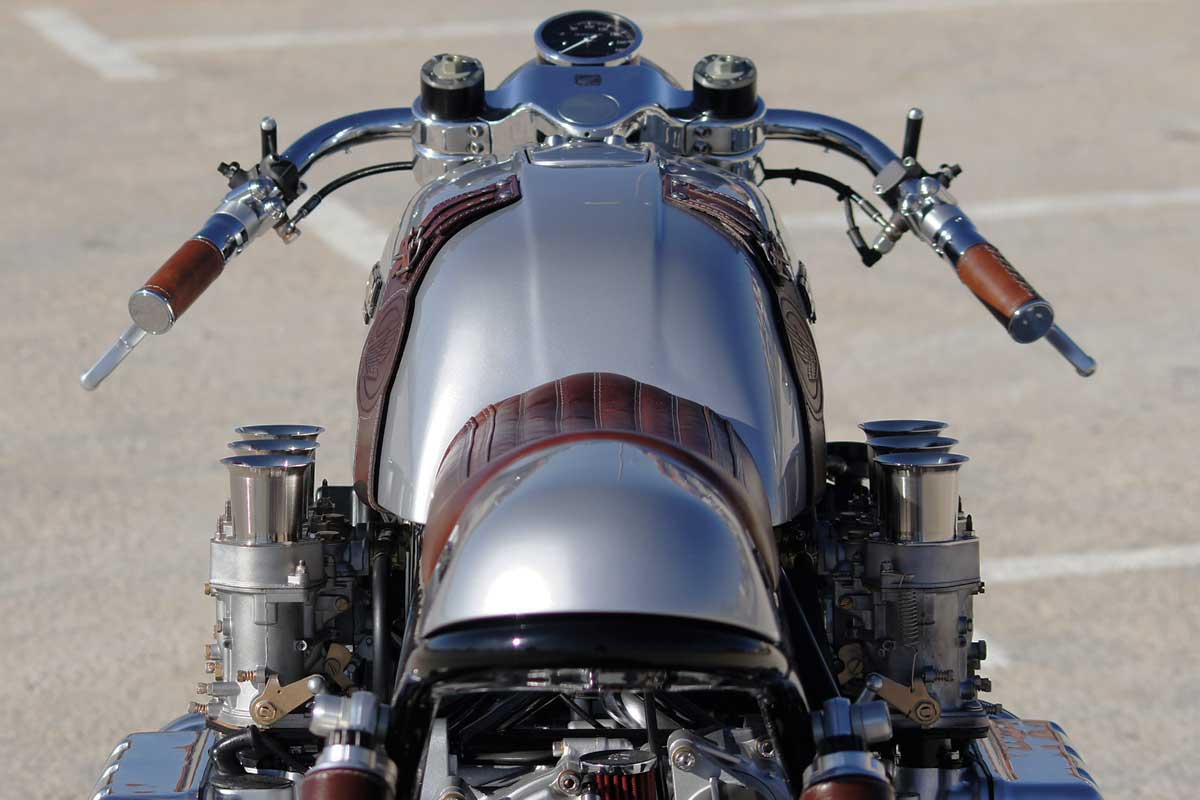 Like the K1100LT the Goldwing isn't a typical starting point for a cafe racer build. At around the same size and weight as an aircraft carrier, it's designed to ferry similarly overweight bikers down endless miles of flat interstate in diabetic comfort. It's big. It's reliable. It's comfortable. But it's not supposed to be a cafe racer. It's the antithesis of one.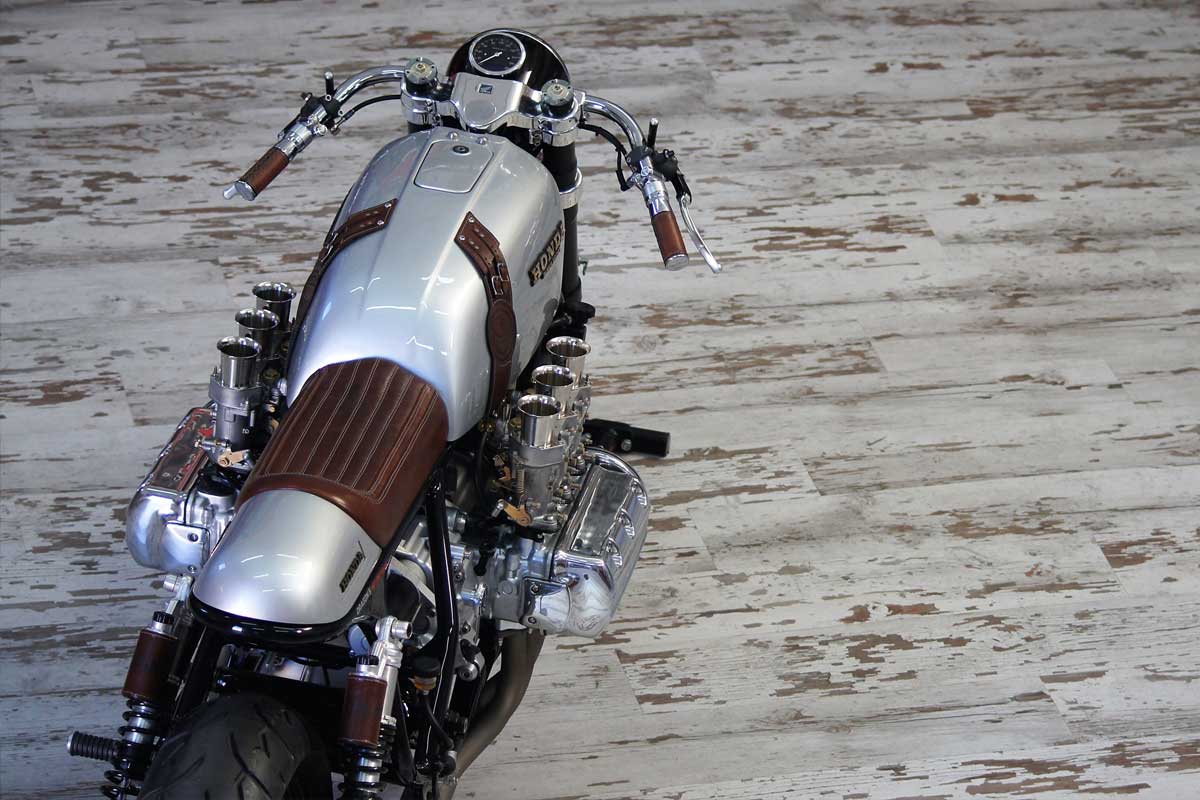 But Pablo González thought otherwise. He saw something in the lines of the big ol' '77 Goldie he owned. And after careful consideration, he went to work. He pulled the original flat-four engine from the bike, set it aside and took to the frame with vigour. The tabs were removed. A rear loop was installed. Laser-cut bracing was fitted and then the real magic happened — a whopping 1520cc six-cylinder engine from a Honda Valkyrie was installed, resplendent with polished '50th-anniversary' valve covers.
The fit wasn't exact, so parts of the frame and swingarm were also removed to free up enough real estate to fit the two extra cylinders. With some modified mounting points and not too much effort the new engine was sitting square and looking damn good. Everything was going to plan for Dragon's. And then the worst thing possible happened to Pablo and the team. Spain happened.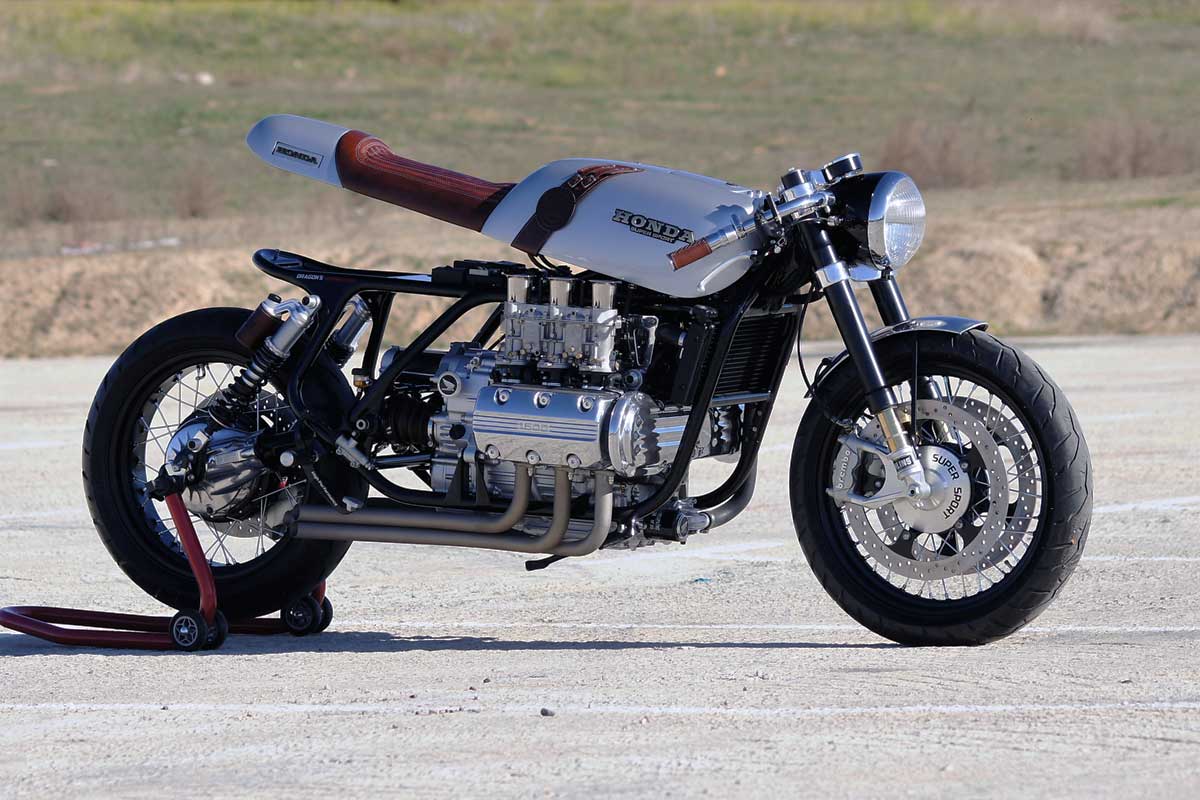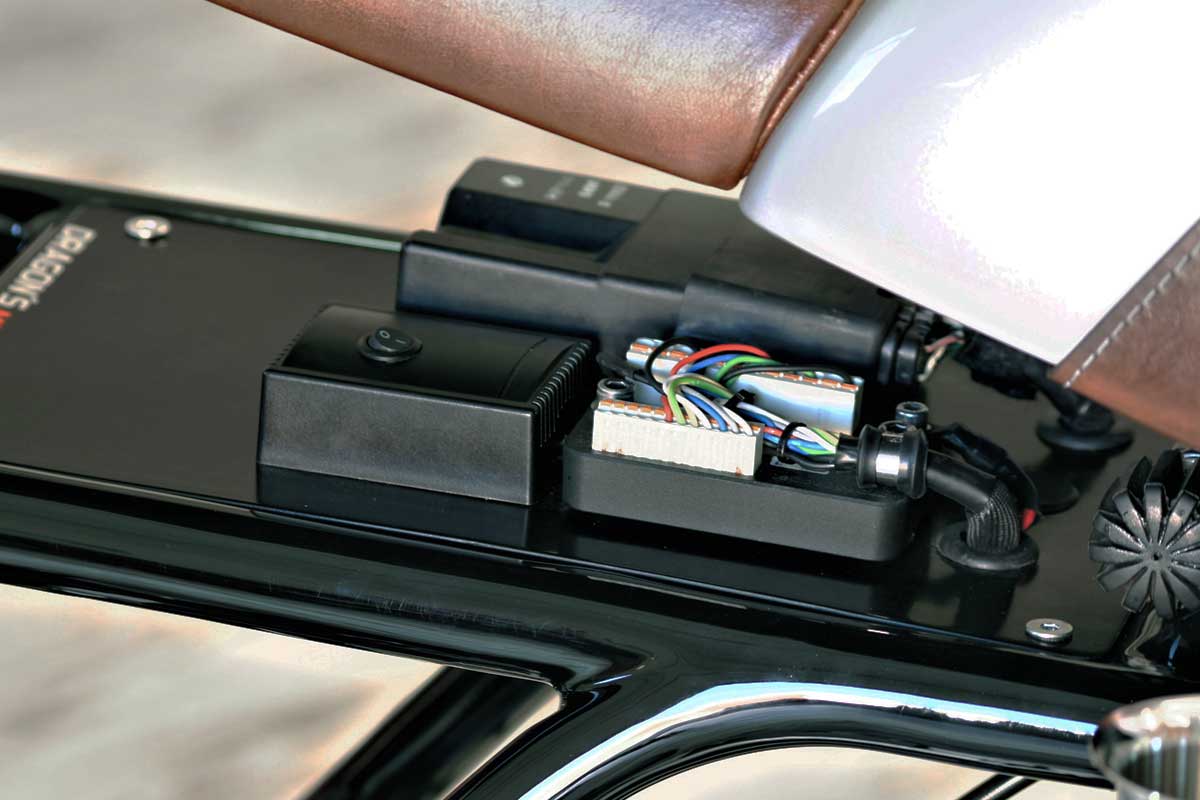 Stereotypes are cruel, but sometimes they exist for a reason. Australians are drunks. Germans are German. And the Spanish… well, they can be a little laissez-faire about things like deadlines. And Pablo, who works on a strict day-to-day timeline, found the process infuriating. He'd planned to outsource many parts of the build but was let down time after time by local shops that didn't share the same work ethic as him. So Pablo decided to complete his Goldwing cafe racer himself. And the build is better for it.
He pulled the original fuel system on the Goldwing and installed two banks of carburettors from a 1968 Porsche 911. Though it was even more work than he'd expected, Pablo insists it was worth it and the huge assemblies form the centrepiece of the build. The massive units were mated to machined bellmouths and a slimline 6-6 exhaust system all made by Dragon's Motorcycles.
Then Pablo turned to the body. His initial plans involved a restoration of the standard fuel tank, a clever design that actually contained much of the electronics. Instead, Pablo removed the tank and replaced it with one from a Honda 750, mated it to a seat unit and installed a series of struts and supports. That means that unibody design can be raised electronically using a remote control, allowing access to the new electronic wizardry inside. Which is now an excellent full Motogadget setup, with a new speedometer and M-Lock Start all being fed into a Bluetooth-managed M-Unit. Final touches to this Goldwing cafe racer come via the way of Senen Leatherworks, who crafted the seat and side straps while the paint was being laid down by Dimitri Tolin from Motor Paint.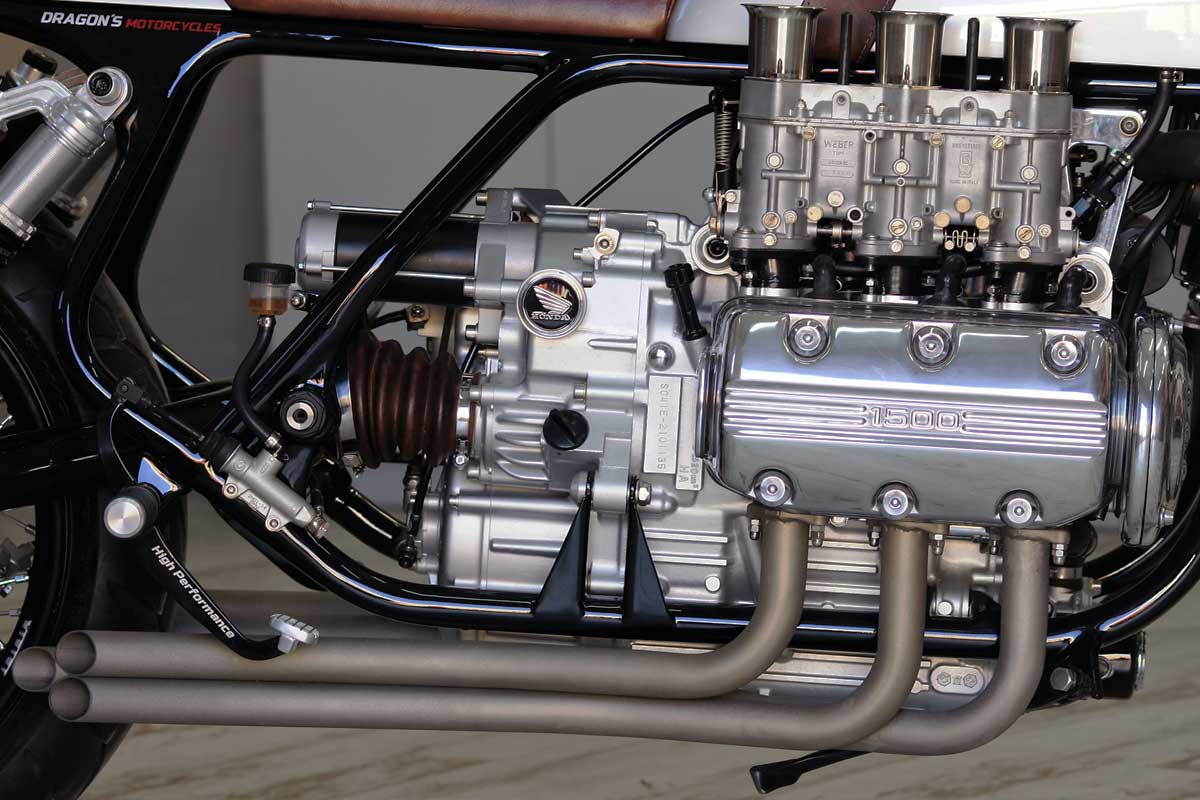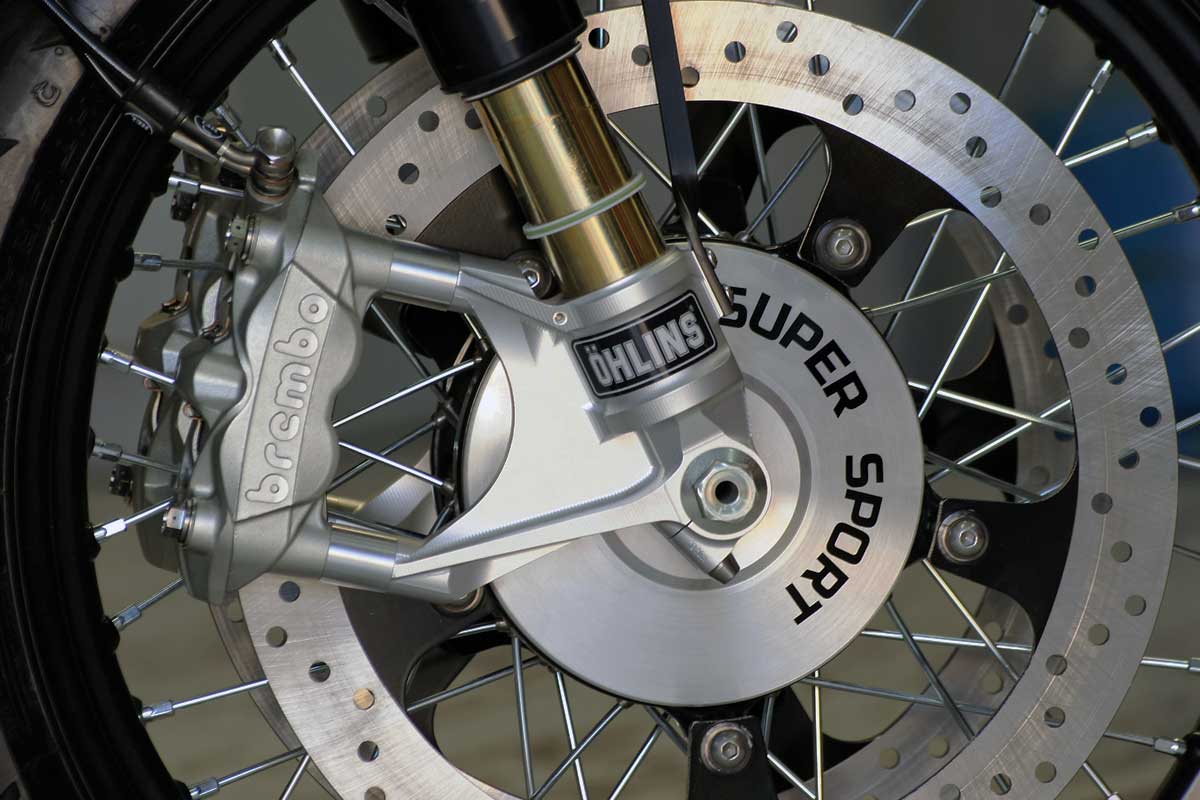 There's a whole heap more going on here. The suspension come via Öhlins. It has heavily modified front wheel and brake assemblies. A new swingarm and rear wheel that's wider than your mum. It's truly a no-expense-spared build with barely a standard component left unchanged.
At Return of the Cafe Racers, we're firm believers that there is a replacement for displacement. Lightweight, lithe, nimble bikes with punchy engines are some of our favourites. But there's something incredible about a honking great bike cut down into a beautiful, lightweight machine. And we're not the only ones who love the bike — just hours after Pablo's Honda Goldwing cafe racer was finished it was wheeled into the Madrid Bike Show and was bestowed with the 'Best in Show' title. Can't argue with that.
Story by Marlon Slack