Since 1963 Kawasaki Motorcycle Co. has introduced a plethora of technological innovations which have gone on to become industry standards. The Japanese manufacturer has a strong following in the sports segment thanks to legendary motorcycles like the Z1 and Ninja. They have also built a dedicated clientele in the off-road segment with models like the dual-sport KLR650 being in constant production for over 3 decades.
In the world of motorcycle customisation, Kawasaki's street bikes are a popular choice. Models like the retro-styled W650 and W800 are obvious choices, but many builders also opt for less obvious donors. Models from Kawasaki's '80s and '90s sports bike catalogue are reliable, powerful and relatively affordable. Today we're taking a look at 10 of the Best Kawasaki Cafe Racers to have graced the pages of this site.

10. The Little Rat KZ440 by GT Moto
Fixing other people's mistakes is a common undertaking for mechanics. In the case of this KZ440 cafe racer, it had been chopped up and badly serviced by a dodgy workshop. Sofi Tsingos of GT Moto in Texas stumbled across the bike and its owner at a fundraiser she'd organised and couldn't help but offer to help. At that time the bike was running on 1 cylinder, had a rear end that was hardly holding on and would stall at every stop. Loryn, the bike's owner, was ready to give up on the bike but Sofi convinced her otherwise.
In order to resurrect the Kawasaki KZ440 Sofi rebuilt its engine from the bottom end up. To get the bike handling right the suspension was rebuilt along with the brakes and wheels. To fix the issues with the frame Sofi had to build a whole new rear half and the resulting subframe is a work of art. Sofi shaped it to harmoniously match the circumference of the rear wheel and used the opportunity to establish a level bone line. For the bodywork, she opted to retain the KZ440 fuel tank. For the tail however she built a custom cowl that's designed to match the silhouette of the fuel tank. To wrap things up Sofi applied Loryn's desired colour scheme of British racing green and cream white which suits this little cafe racer to a T.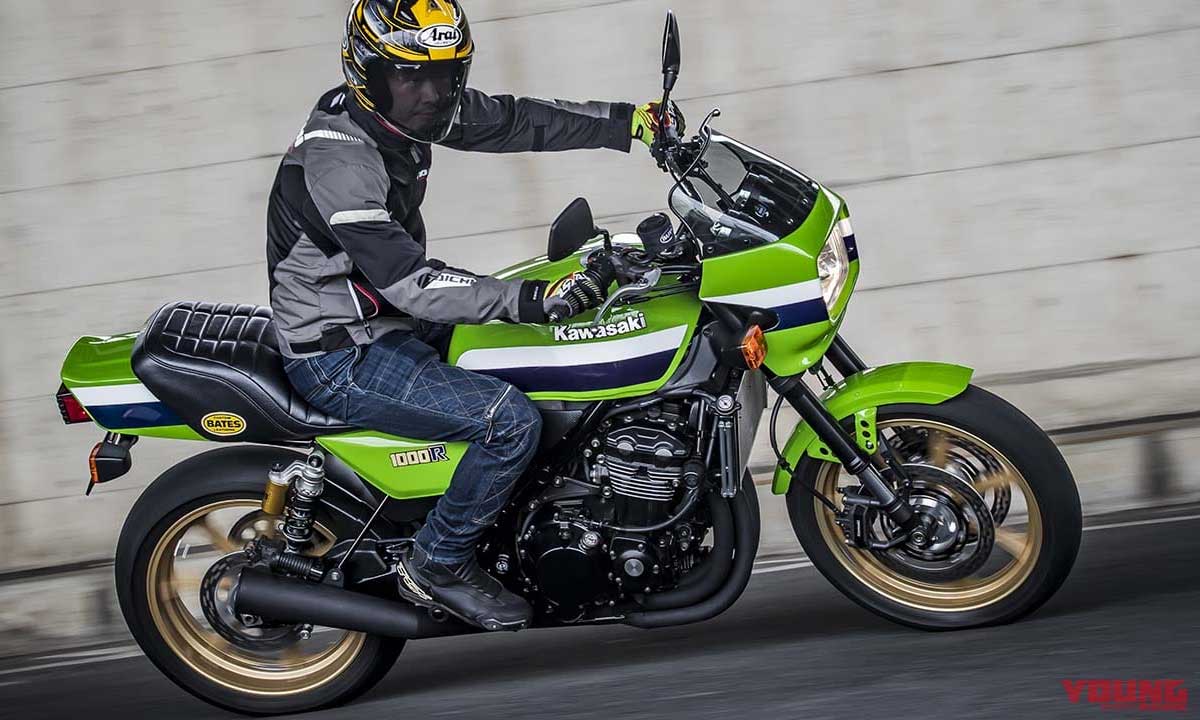 9. Doremi Collection Eddie Lawson Replica Z900RS
When Kawasaki Japan released the Z1-inspired Z900RS in 2018 they invited a select group of custom workshops to modify the motorcycle to their liking; amongst them was the aftermarket parts expert Doremi Collection. After getting a taste for modifying the new Z Doremi continued to experiment with the platform, building a wide range of bolt-on components. As part of this process, Doremi also designed and built several comprehensive customs which they now sell as Z900rs Heritage Kits.
This bike is the Doremi Collection Z1000R 900RS. Its styling was inspired by the special edition Kawasaki Z1000R Eddie Lawson Replica which was first released in 1982. At the heart of the transformation is a Doremi aluminium fuel tank, which is the starting point for all of their Heritage kits. The stock Z900RS fuel tank is notoriously wide so Doremi built their own replacement with geometry more befitting for a Z1000R. Covering the tank is an FRP replica Z1000R tank cover and it's joined by an FRP tail unit, side covers, fender and front cowl which are all dead ringers for the original bike. To complete the look of this machine, which is Doremi's own demo bike, they've fitted suitably retro-styled lighting, lightweight gold finished wheels and a chunky Bates saddle.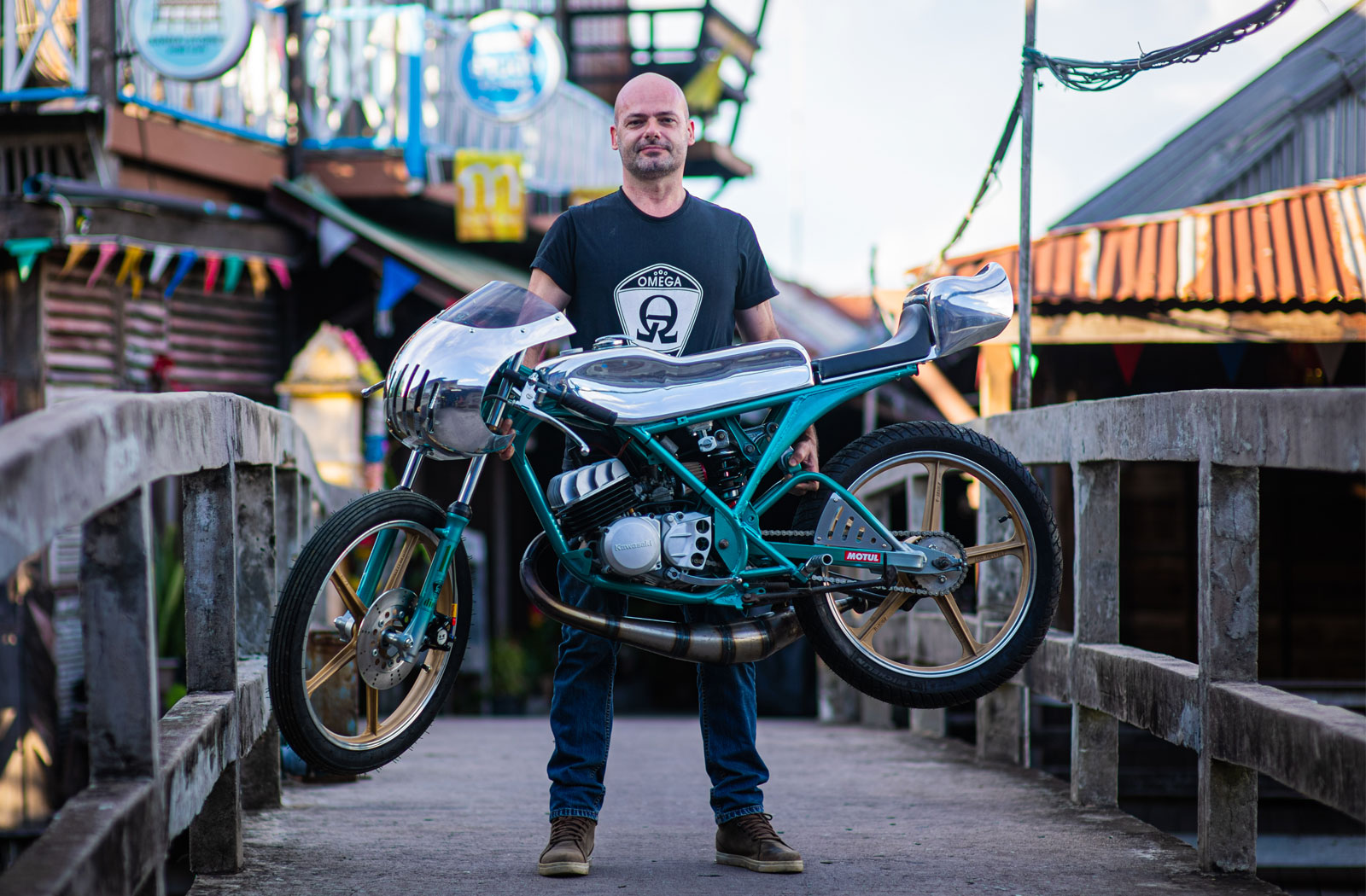 8. Omega Racer Cavalleggero AR80
In 2021 Markus Pintzinger celebrated the 10-year anniversary of his Thailand-based aftermarket parts store, Omega Racer. To commemorate the milestone anniversary Markus decided to do what any custom enthusiast would do and build himself a new motorcycle. The Omega Racer store sells bolt-on parts for several popular modern retro motorcycles such as the Yahama SR400, Kawasaki W650 and the latest slew of Triumph Bonnevilles. But, rather than do the obvious and choose one of those bikes for his own project, Markus decided to turn his hand to something new.
Markus' choice of donor for the project was a Kawasaki AR80, otherwise known as the Micro Magnum in Thailand. Produced during the 1980s the AR80 is an 80cc two-stroke "sportbike" which produced a touch over 10hp and weighed a measly 78kg. Markus acquired the bike for the princely sum of $100 which, as you can imagine, wasn't in great condition. So after tearing it down he fit the bike with new wheels and suspension, overhauled the engine, added a tuned exhaust system and cleaned and resprayed the frame in a striking tropical green.
Markus then teamed up with his long-time friend and fabricator, Korn. Starting with foam blocks Korn sculpted the new bodywork in the style of Italian race bikes from the 50s and 60s. These were then used to create aluminium versions which were polished to a mirror shine. Although this little Kawasaki cafe racer may never break the ton, it sure looks like it'd be fun trying!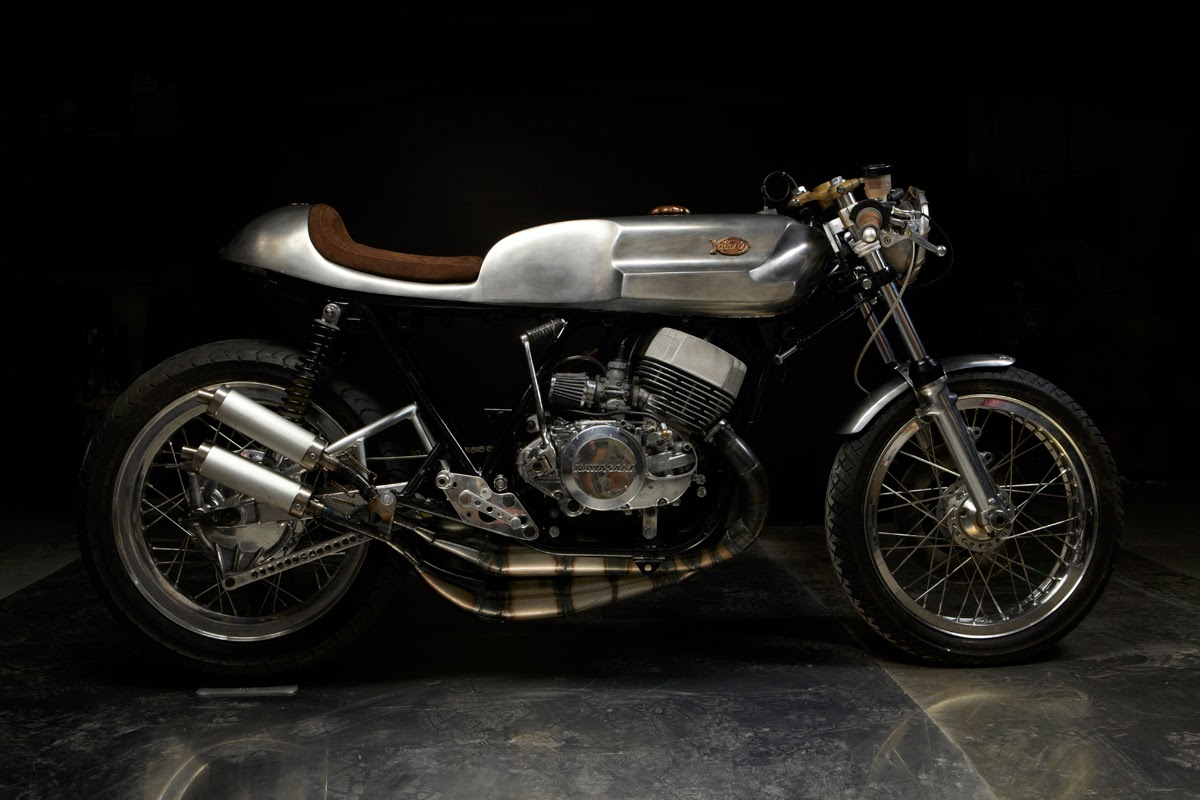 7. La Bomba Kawasaki H1 by Valtoron
I've been enamoured by the work of Spanish brothers Pablo and Carlos Delgado, aka Valtoron Motorcycles, for over a decade. This bike, a heavily modified Kawasaki H1 appeared on my radar back in 2013 and like all their other builds, it's a rolling work of art.
The reason I say this motorcycle is a work of art is because the Delgado's approach to custom building was taught to them by their father who is a sculptor. Unlike other workshops that shape bodywork from sheet metal, Valtoron sculpts each motorcycle's monocoque-style body from clay. They then use the clay to build a mould which is then taken to their own foundry where they sand cast it in aluminium. The process results in a unique look that the brothers then painstakingly sand by hand to perfect the finish. Along with the bodywork, they also sand cast their own badges and emblems and various bolt-on components.
On top of all the work that went into creating this H1's bodywork the brothers also upgraded the performance of the motorcycle. To do this they rebuilt the engine using high-compression Wiseco pistons, 28mm Mikuni carbs and a one-off custom-tuned exhaust. Valtoron have also dispensed with the H1's notorious handling deficiencies by bracing its frame, repositioning the engine and fitting it with high-performance suspension.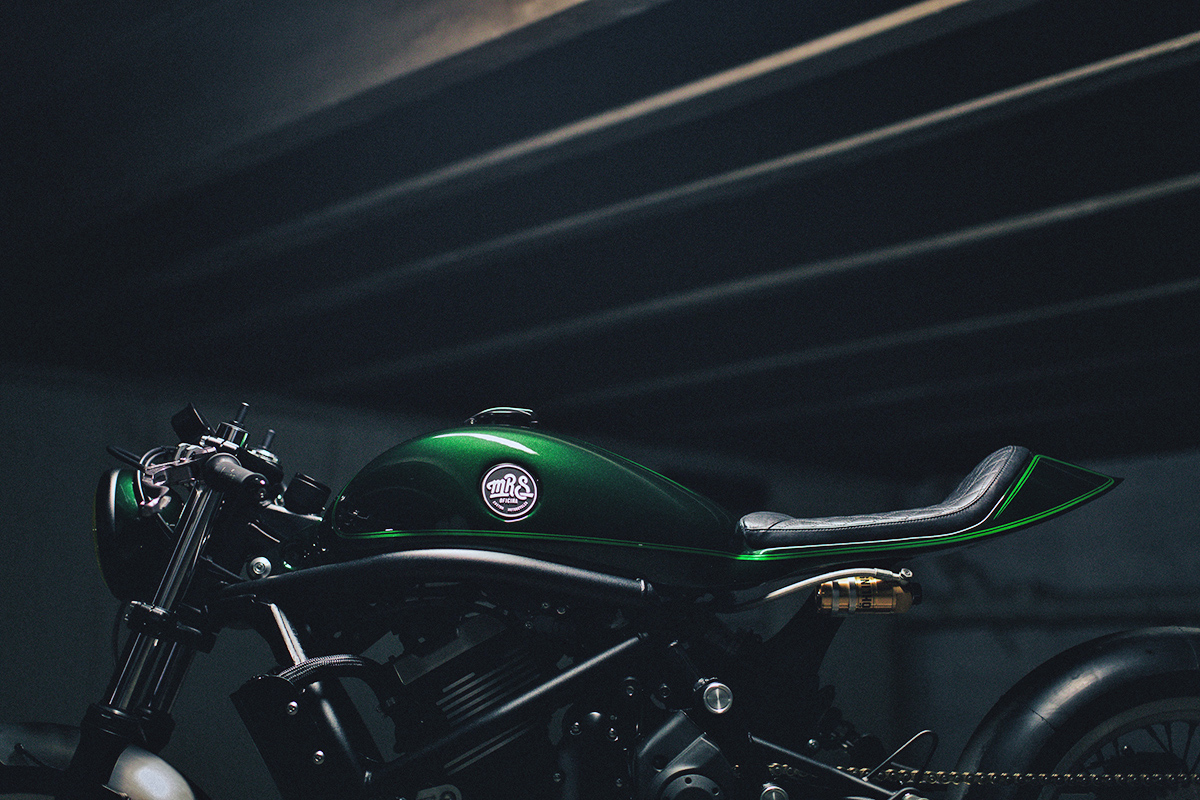 6. MRS Oficina Kawasaki Vulcan Cafe Racer
In 2016, before the release of the Z900RS Cafe, Kawasaki was testing the market with the cafe racer name. Confusingly they applied it to a variant of their entry-level Vulcan S cruiser which they coined the Vulcan S Cafe. Aside from a windscreen and a 3-tone paint scheme, the Vulcan S Cafe was identical to the base model. As you can imagine the cruiser had little to no resemblance to a cafe racer. So when Kawasaki France commissioned Mário of MRS Oficina to make a custom version of the bike, he decided to correct its naming convention.
The MRS Oficina cafe racer is a huge improvement on Kawasaki's definition of the term. Achieving the new look, however, was no mean feat. For starters, the rear half of the frame is all new which Mario designed and built himself. He's modified the geometry too by lifting the rear end using a custom swingarm and taller Ohlins shock. The forks sit lower in the triple tree to level things out and he's added matching diameter spoked wheels for improved handling and style. The svelte bodywork is all new too. Formed as a single piece the tank and tail sit flat on the frame and there's a new, slimmed-down fender to keep proportions tight. To complete the look there are clip-on bars and rear-set footpegs. Now that's a cafe racer!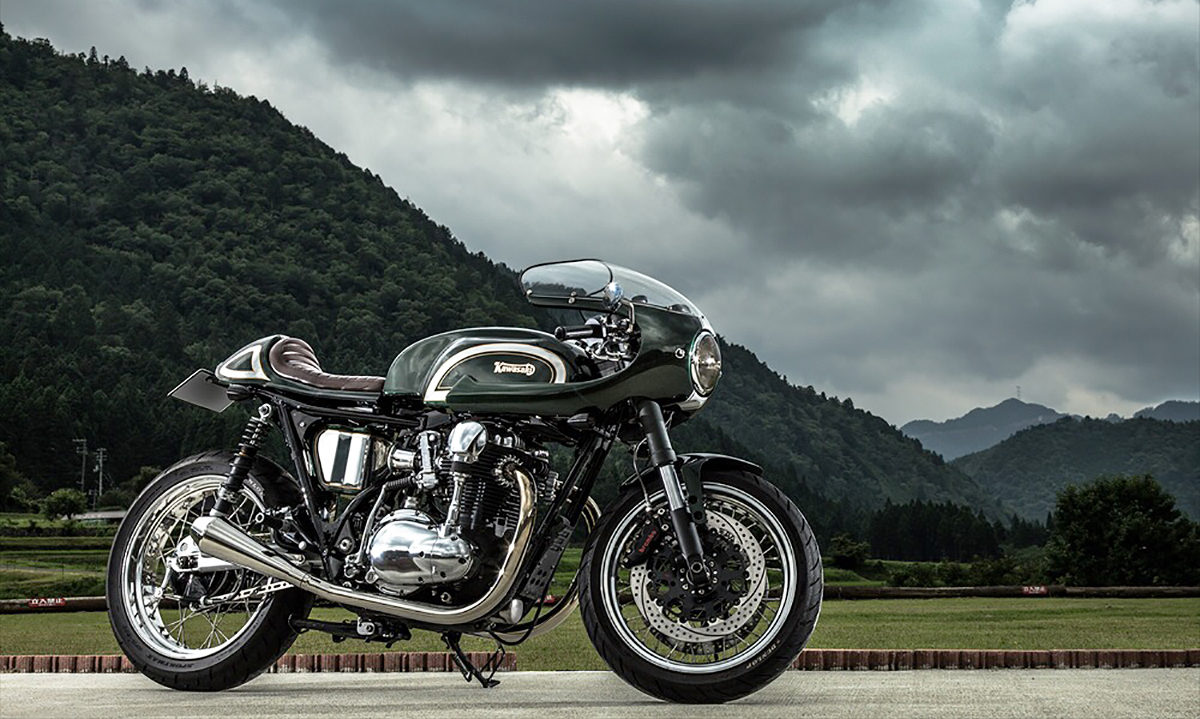 5. The Berrybad Kawasaki W650 Cafe Racer
You could be forgiven for thinking this cafe racer was built upon a classic British platform. It is infact a beautifully modified Kawasaki W650 by Berry Bads Motorcycles in Japan. The W650 was built for a customer who wanted a motorcycle with the soul of a cafe racer. Seeing as the W650 is an evolution of the 1966 W1, which was Kawasaki's interpretation of a British twin, it was the perfect starting point.
During the build of this bike, almost every aspect of it was modified or upgraded in some way. Amongst the improvements are an 814cc big bore kit, FCR flat slide carburettors, an upside-down Ducati front end, Ohlins adjustable twin shocks, double disc brakes, Motogadget mini speedometer, Cognito Moto GPS meter and a 17-inch front and 18-inch rear wheel conversion. To complete the transformation Berry Bads fit the W650 with custom bodywork. Sourced from local aftermarket manufacturer Peyton Place the W now wears a half-cowl front fairing, Norton Type Tank, slim fender, battery box and wasps tail rear cowl. The finishing touch came in the form of a British racing green paint scheme and some tongue-in-cheek Norton-styled Kawasaki decals.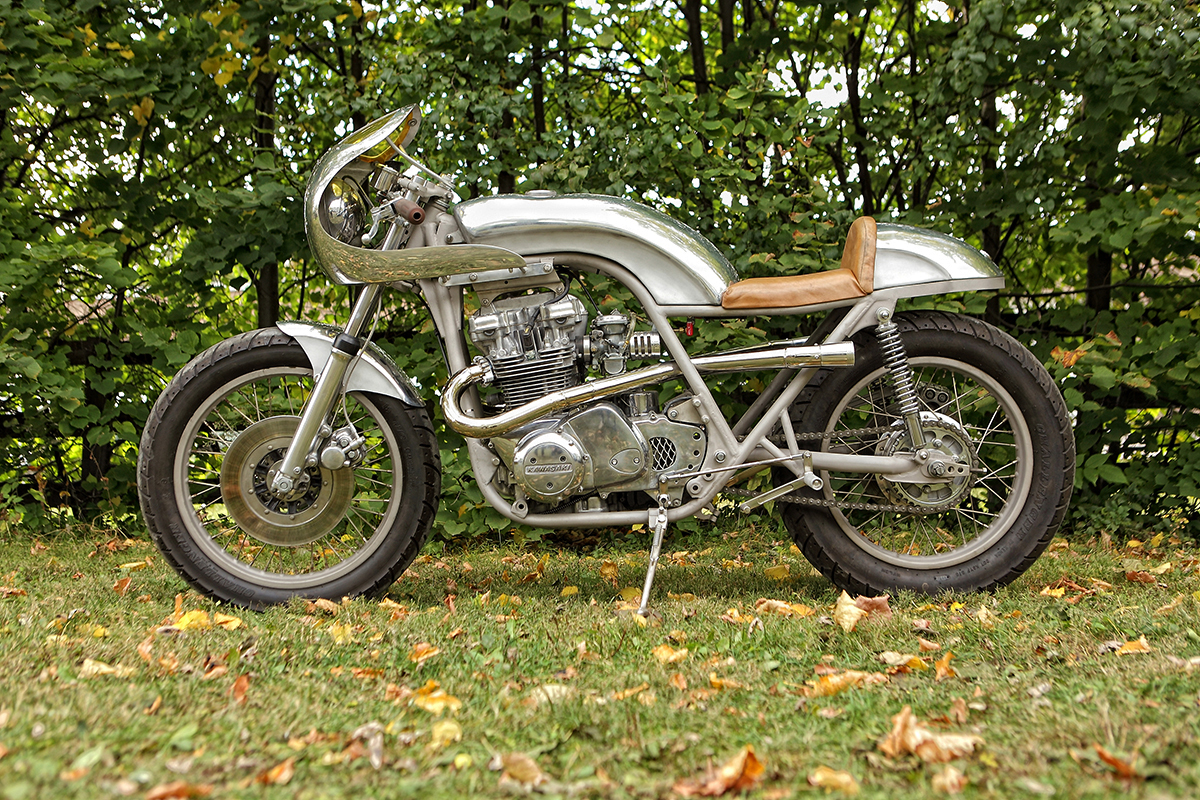 4. Craig Rodsmith's KZ750 cafe racer
If you're into custom motorcycles Craig Rodsmith needs no introduction. The Aussie-born ex-pat who now resides in Illinois is one of the most colourful characters in the scene. The only thing Craig does better than making a joke is building incredible custom motorcycles like this wild Kawasaki KZ750.
After purchasing the bike Craig decided to "turn a mundane bike into something more interesting" and he's clearly achieved just that. Rodsmith's Kawasaki KZ750 cafe racer is a real head-turner thanks to its unusual bodywork and the mirror-polished finish of the hand-beaten aluminium. The decision to shape the bike's tank in such a unique way came about after removing the stock one. Surprised by the unusual hunch in the backbone of the frame Craig decided to make it a feature. From there he continued to do things a little differently. Up front, you'll find a cowl with a VW Beetle-Esque split window windscreen. The twin exhausts weave in and out of the frame and he's nickel-plated most of the brackets on the bike using his own electroplating setup. There's also a distinct lack of clutter on this custom KZ750 because according to Rodsmith, "I like everything simple and clean so every piece of this bike has a purpose".
3. The Bully ER6N by AMS Garage
After I first met the guys from Indonesia's AMS Garage in 2015 they've become a force to be reckoned with in the custom world. Workshop frontman Ajus Mulyawarman has spent years honing his metalworking skills. As a result, he can realise anything his creative mind can come up with using hand-beaten aluminium.
This incredible build is named 'The Bully' and was based on a modern Kawasaki ER6N. Everything on this bike from the large front fairing to the monocoque fuel tank and tail unit has been hand-shaped from aluminium sheet. In typical AMS style, the bodywork has an organic look to it which gives the ER6N an insectoid appearance. The finished result is a huge upgrade on the stock bike's appearance and there's also a long list of handling upgrades that make this ER6N a cut above the rest.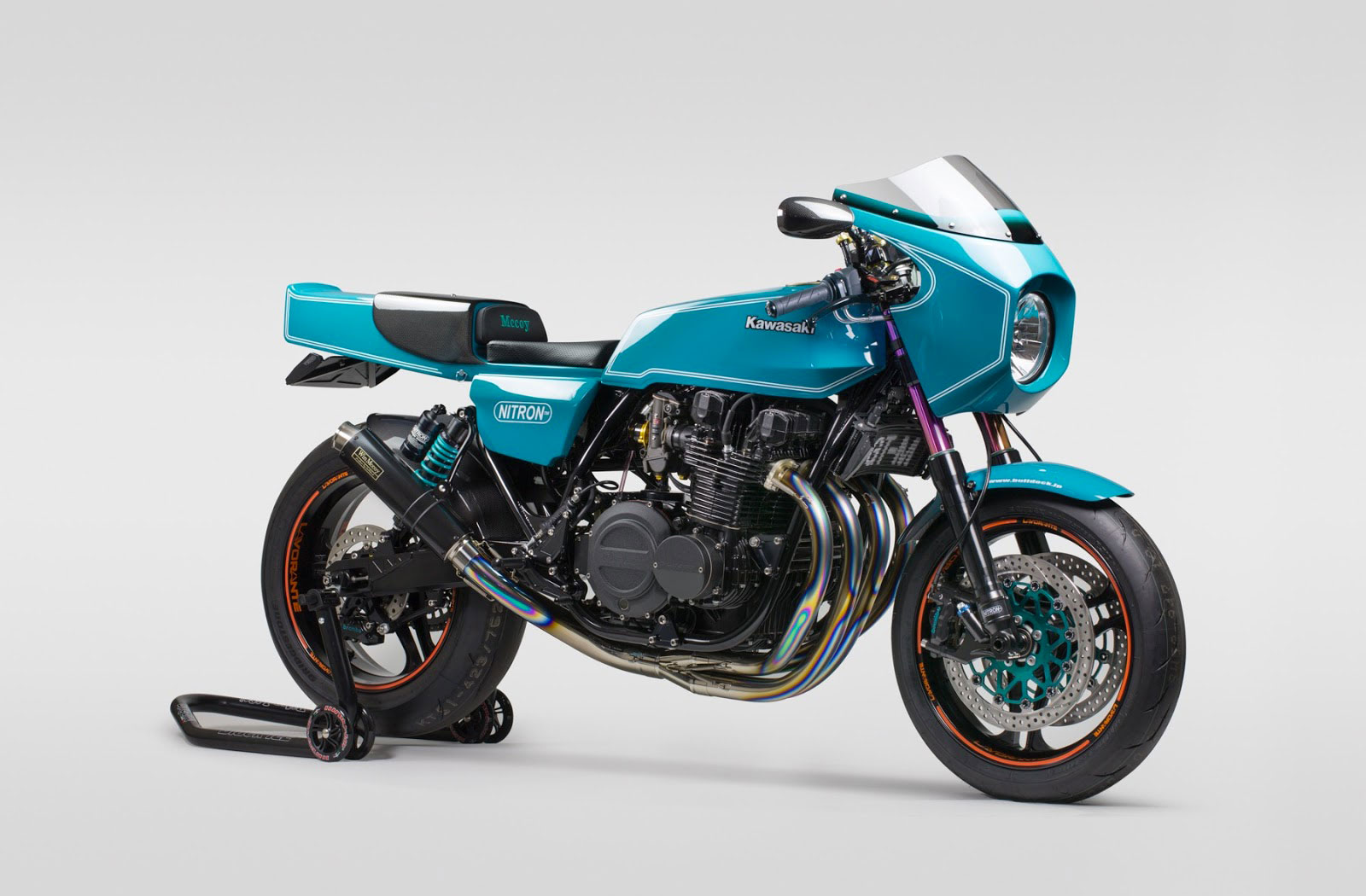 2. Bull Dock Genuine Tuning Machine Nitron Z1-R
Through a special collaboration with Nitron Suspension, the Japanese workshop Bull Dock created this enviable custom Kawasaki Z1-R. Bull Dock is renowned for their GT-M (Genuine Tuning Machine) resto-mods and this bike is the perfect example of why.
The aptly named 1230R started out as a stock 1978 Kawasaki Z1-R that was imported to Japan from the USA. In keeping with Nitron's motorsport heritage it was decided that this bike should have the performance to tackle the track while still being manageable on the street. The first step to achieving this was to upgrade the engine to 1203cc and fitted it with a tried and tested concoction of internal upgrades that make it really sing. Next Bull Dock modified the frame to stiffen things up, lower the centre of gravity and sharpen the steering. The all-new custom-tuned suspension system came next courtesy of Nitron and there's a complete Brembo brake upgrade too. Lastly, the new bodywork, which is a mix of FRP and aluminium components, is styled after the original Z1-R and it's finished in Nitron's unmistakable turquoise blue.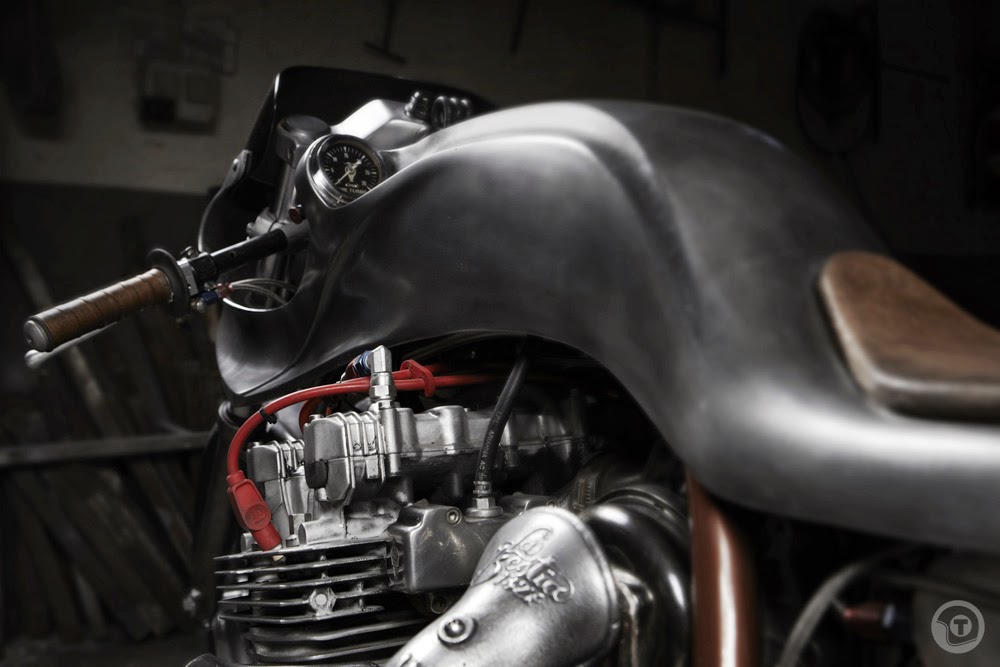 1. La Bestia Kawasaki Z1000 R by Valtoron Motorcycles
Sitting at the number 1 position on our Top 10 Kawasaki Cafe Racers list is yet another creation from the Delgado brothers and their Valtoron workshop. Fittingly named 'The Beast' this highly modified Kawasaki Z1000R is every bit as aggressive as its name suggests.
When Pablo and Carlos acquired the bike it had already been highly modified and used as drag bike. With an engine capacity of 1327cc, a turbocharger and a slew of power upgrades it was capable of 8 second 1/4 mile times. To further enhance its performance the Delgado made handling improvements using a front-end swap and by extending the frame. They then turned their attention to the appearance of the bike.
As is always the case with Valtoron builds the bodywork was first sculpted from clay. The brothers found their inspiration in photos of Bonneville land speed racers and designed the tank and tail unit as a single piece. Up front, they added a small cowl for improved aerodynamics and a svelte fender. Once happy with how things were looking the body parts were then forged in aluminium using a sand cast technique. Along with the bodywork, Valroton made a trick heat shield for the turbo changer featuring the bike's name. What impresses me most about this bike though is how everything has its place. When creating the bodywork the brothers added in cavities to house the lighting and gauges so everything looks like it's exactly where it belongs. It is that kind of attention to detail that has made Valtoron one of my favourite custom motorcycle workshops.