The Vulcan S ABS Café is Kawasaki's "learner approved" cruiser. Its styling is typical of all cruisers that follow in Harley's footsteps with its laid-back riding position, wide handlebars and overinflated bodywork (in my humble opinion). However, at its heart is an engine that uses the same configuration as some of the first motorcycles to ever be used for Cafe Racer conversions, a parallel twin. Granted the liquid cooled, Kawasaki 650 may not have the same aesthetic appeal as a pre-unit Bonneville, but to a romanticist, the Vulcan engine is, in a roundabout way, a homage to the legend. At least that's how Mário of MRS Oficina felt about it when he was given the opportunity to customize one himself.
The project began when Mário was approached by Kawasaki France to undertake a commissioned project in 2015. They had recently released the 'Vulcan S ABS Café' and wanted to see what Mário could make of it. Knowing that Kawasaki's claim to have been influenced by cafe racer styling when designing the Vulcan S was a bit of a stretch, he decided to follow their lead and build a bike worthy of the cafe racer moniker.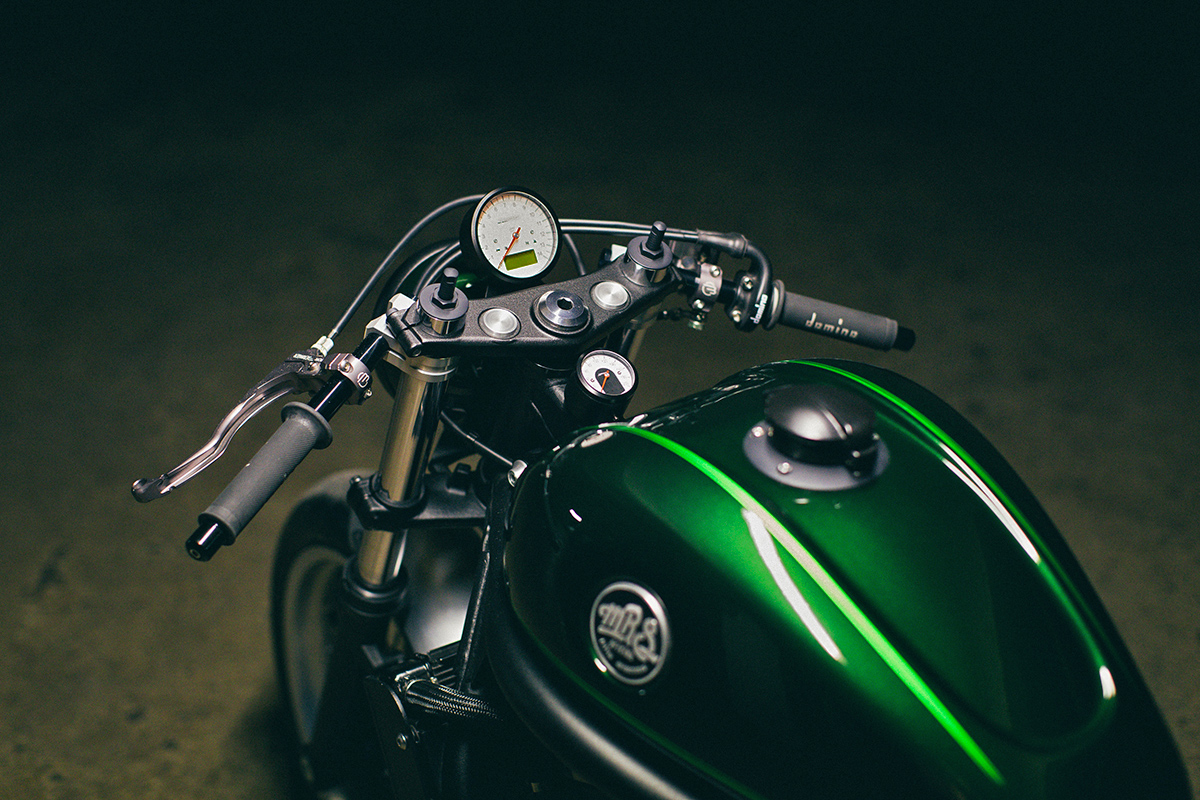 Despite being the lightest of the bunch in Kawasaki's cruiser range, the Vulcan S is no feather weight tipping the scales at a hefty 498 pounds (226kg). Mário was going to have to shed some serious pounds from the Kwaka if it was ever going to perform to his expectations. The weight reduction regime began by discarding the bikes fuel tank, seat and fenders. This was followed by the removal of the rear half of the frame, the cast wheels and any components that complimented the cruiser configuration such as the handlebars and forward control footpegs.
Stance was the next challenge to overcome. The Vulcan needed a less slouched, more aggressive posture if it was to have the geometry of a cafe racer. This required raising the rear significantly using a single, custom-made shock absorber from Ohlins and modifying the swingarm to suit. The triple trees were then slid 20mm lower on the fork tubes and stiffer springs installed for optimum handling. A set of classically styled, laced rims with slick rubber donated by Pirelli were then bolted in place.
Mário wasted no time discarding the Vulcan's highly adjustable riding system, which Kawasaki had no doubt spent millions developing. In it's place he installed a single piece tank and tail that floats above the rear wheel and mounted the quintessential cafe racer control configuration of clip on bars and rear set footpegs. To continue to enhance the cafe styling the triangle headlight was also replaced with a yellow lensed Bates style unit, colour matched to the new bodywork and Ohlins shock reservoir. A slimmer custom front fender was also bolted in place for everyday riding practicality.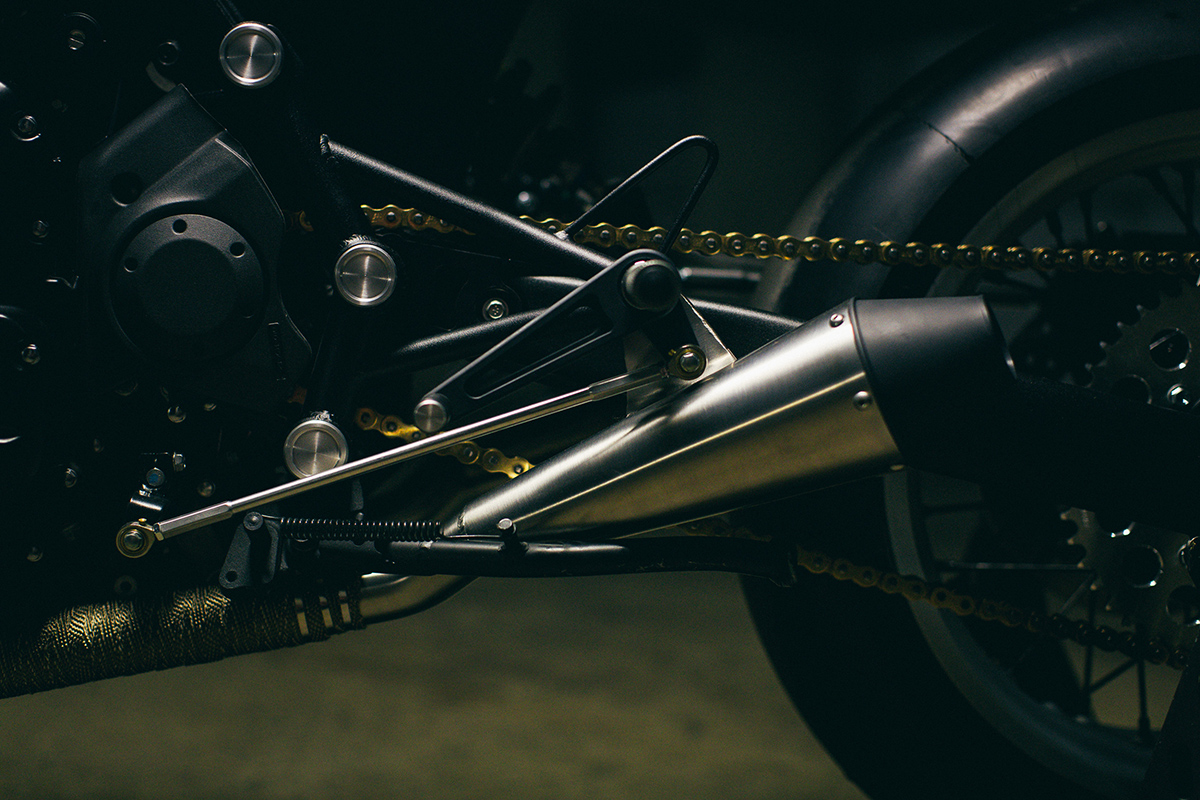 Reverse megaphone mufflers were the obvious choice for the exhaust system, mounting 2 of them using a custom made pair of stainless steel headers. Finishing touches were then mounted such as the cross stitched leather seat, the matching white faced Motogadget dials, Beringer brake reservoir assembly, Monza style filler cap and frame mounted, custom made indicators.
Being a Kawasaki the obvious colour choice was always going to be green and Mário has smashed it out of the ballpark with a two-toned, metallic scheme. Amazingly this entire build was packed into 4 short months leading up to the 2015 'Salon de la Moto Paris' where punters were lining up to place their deposits. Alas, much like Kawasaki Italy's 40th anniversary Z1000 from 2013, this bike will remain a one-off, but here's hoping this won't be the last time we see the green team commission a build of this calibre.