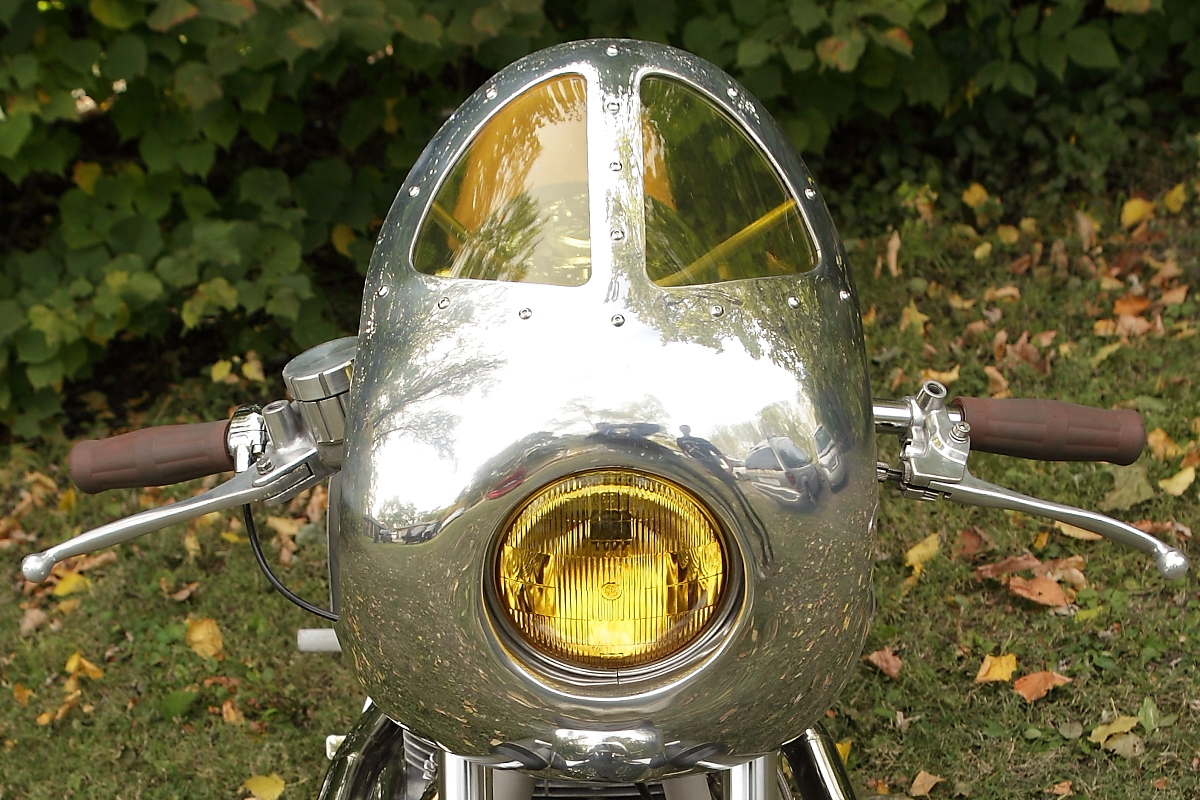 "I was born and grew up in Melbourne, Australia." Craig explained "I spent a lot of time amongst the Elizabeth Street motorcycle scene and was a member of the Hartwell Motorcycle Club. I did a lot of road racing, on TZs and RDs, at Winton Raceway, Calder, and other regional tracks."
"I bought this motorcycle as an almost stock Kawasaki KZ750 twin from a guy in Wisconsin and decided to turn a mundane bike into something interesting. When I took off the stock fuel tank I liked the shape of the top of the bikes frame so, going outside the box, I decided to make a tank that accentuated that line."
The KZ was a neglected relic that had been sitting unloved in a garage for over a decade. Thanks to Craig's handy work it would soon have a new lease on life. "I like the challenge of giving a bike another chance by restyling it. Like most of my bikes, I like to bridge the gap between traditional styles and something unique and unusual. With this particular build I wanted the exhaust to be a part of the bike and not just an add-on, which is why I snuck it into the frame to hug the engine."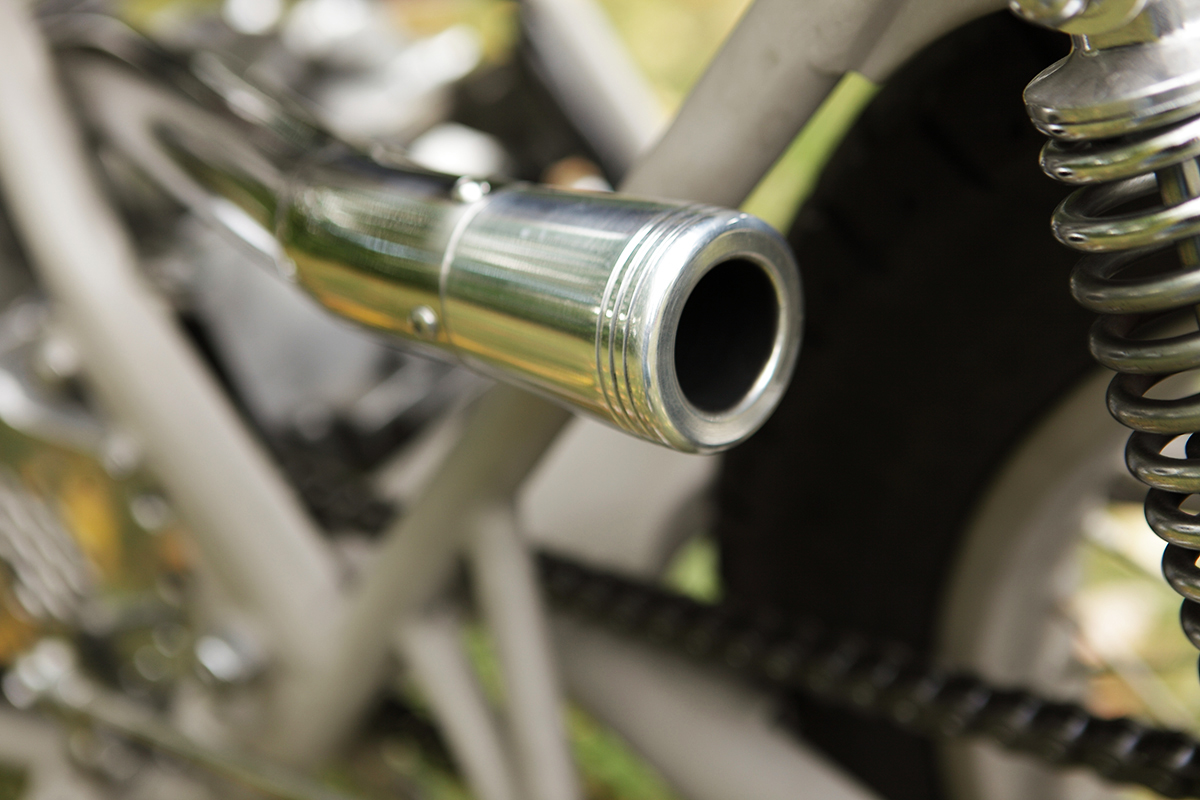 Every builder approaches their projects differently and Craig's is defined by his skill set. "When I approach a build I plan the entire bike in my head straight away, then I build it accordingly. I make minimal changes to my idea along the way depending on what the bike requires. I do every aspect of each build myself from disassembly, to design, fabrication, engine building, electrical, metal forming, welding, polishing, painting and tuning. This means I don't need to do sketches or delegate the build requirements. I can just get on with it."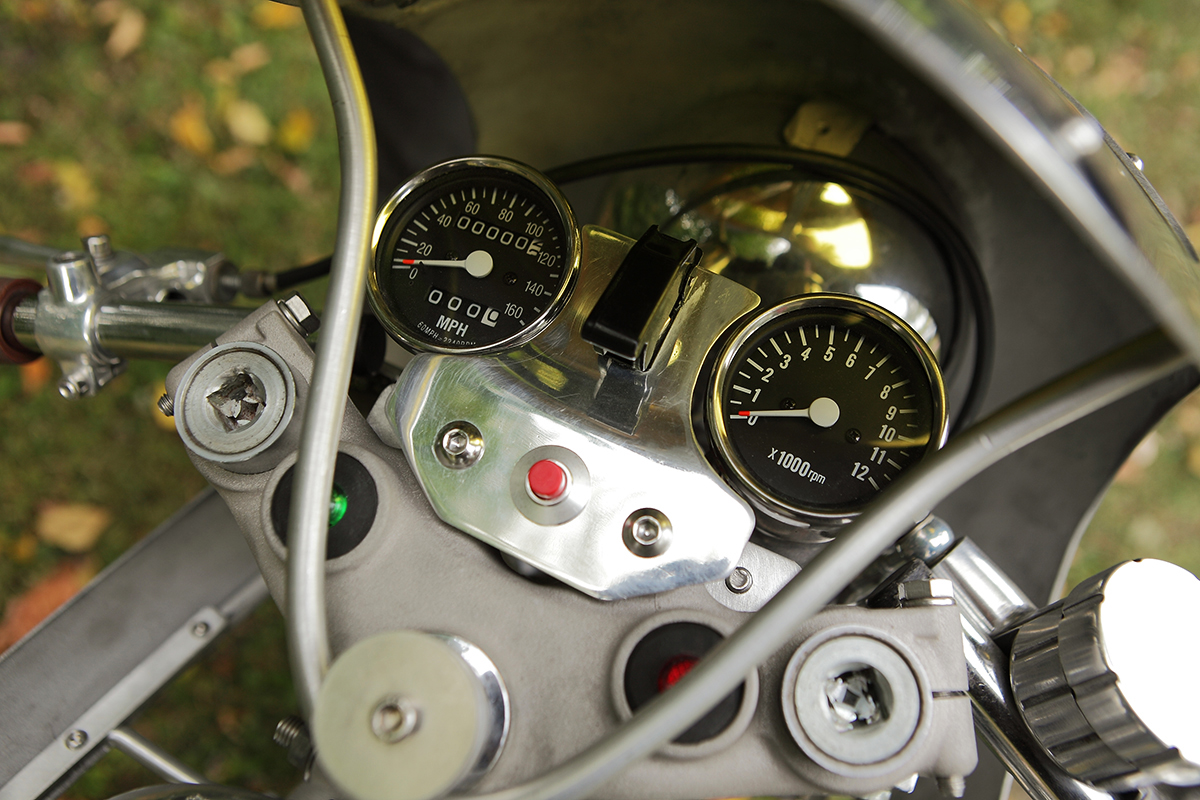 "With the body work on the Kawasaki I used traditional tools (many of which I made), such as hammers and dollies and, obviously, an English wheel. I usually do a mockup with cardboard outlines before I form the metal. Every piece of aluminum on the KZ started as flat stock.  I like to make as many pieces myself as practical, on this bike that includes the rear sets, brackets, exhaust and air cleaners.  I designed and constructed the seat to have a simple, clean look and kept the sewing at a minimum (Yes, I can sew as well). The tailpiece houses an EarthX lithium battery and the electronics.
I used an early model driving guide light and made the fairing screen to match. I like the contrast of the polished aluminum with the raw cast look so used a mix of these finishes on the bikesalloy parts. As with a lot of my builds, I like everything simple and clean so every piece of this bike has a purpose.I also have my own electroplating setup so I nickel plated the spokes and all of the bikes engine brackets."
When I asked Craig which part of the build was the most challenging he replied " The fairing was a pain in the ass! I wanted it to look seamless while flowing aesthetically with the rest of the bike.  The shape was a major challenge because I very rarely use forms or bucks to shape the metal." Regardless of the stress it put him under the fairing remains Craig's favourite part of the Kawasaki. "I was struggling with whether or not I should even build it. I couldn't imagine the bike without it and it ended up being the finishing touch." and we'd have to agree.
The art of coachbuilding and metal shaping is a dying art form. Finding skilled individuals who can take a flat piece of metal and fashion it into a fuel tank or custom fender is getting more and more difficult. Thankfully the demand for such work is on the rise thanks to the popularity of the custom motorcycle scene and people like Craig Rodsmith are leading the way. Craig's an Aussie living in Illinois and he's been manipulating metal for hot rods and custom motorcycles for the past 25 years. One of his latest 2 wheeled creations is this '79 KZ750 <a href="https://www.returnofthecaferacers.com/category/kawasaki-cafe-racer/">Kawasaki Cafe Racer</a> and I had the opportunity to speak to Craig about its creation.