Bali's AMS Garage is back with yet another incredible example of their metal shaping skills. In our last AMS feature, we showcased their Honda CB650 Pitbull – a dragstrip destined custom shrouded in artfully shaped aluminum. That build earned them a coveted invitation to the 2019 Mooneyes Yokohama Hot Rod & Custom Show. After just returning home from Mooneyes, with a few new trophies to add to his collection, we touched base with workshop owner Ajus Mulyawarman to discuss another of their motorcycle projects. Nicknamed 'Bully', this custom Kawasaki ER6N was also influenced by the stance and proportions of American Pitbulls, but unlike the Honda, this terrier is destined to tear up the street.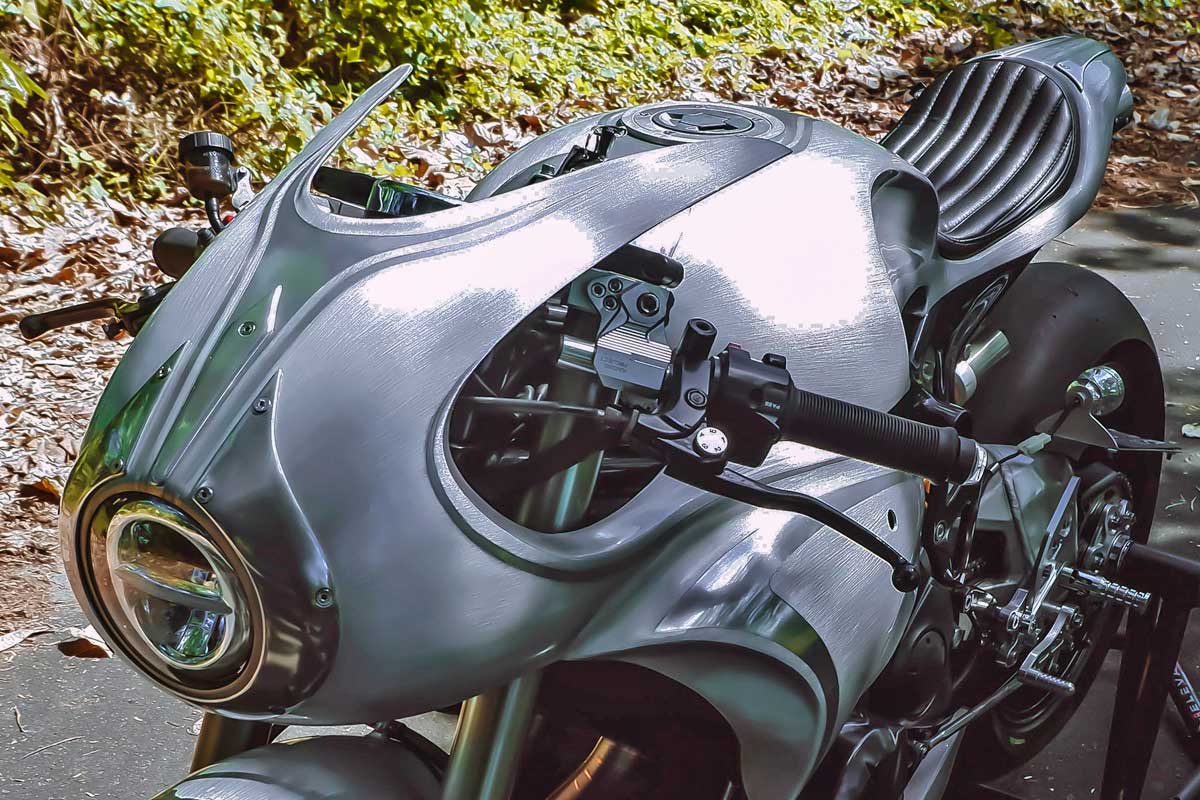 AMS debuted their Kawasaki ER6N Bully at the Kustomfest show in Jogjakarta back in October. Astonishingly the bike was built in half the time it took to complete the Honda. Taking a mere 3 months to finish while building 2 other equally impressive bikes, the turnaround seems implausible. But like many of the Indonesian workshops we've featured, these guys don't believe in dragging their heels.
Performance-wise the ER6N's 72bhp parallel-twin remains relatively untouched. The only tweak to its power delivering comes in the form of a custom stainless pie-cut exhaust that vents beneath the tail. The work on Bully's handling was much more extensive. Up front the Kawasaki wears a set of retrofitted forks from a top of the range ZX10R. In the rear, they've installed an Ohlins monoshock which is supporting a single-sided swingarm. The ER6N never came in this configuration, so to achieve this look AMS shoehorned the swingarm from a Ducati Panigale into the Kawasaki frame. The Panigale contributed further to the build by providing the cast wheels. These have been wrapped in slick Metzeler rubber in preparation for a shakedown at the track. As for the bike's bodywork, AMS pulled out all the stops.
Not a single piece of factory bodywork remains on the AMS Kawasaki ER6N. That means the bike is almost entirely devoid of plastic (just how we like it). In its place, you'll find hand-shaped alloy panels that are a testament to this workshop's impressive abilities. The front fairing and side covers are a single unit shaped to fit the chassis with millimeter perfect proportions. An LED headlamp sits recessed into the nose and is surrounded by polished alloy embellishments. Slung under the bike is a custom belly pan, adding visual weight to the bike's muscular front end. The fuel tank and tail are, of course, aluminum too and are joined to form a single, monocoque style unit. Deep knee dents add a touch of classic cafe racer styling and an alloy front fender rounds things out.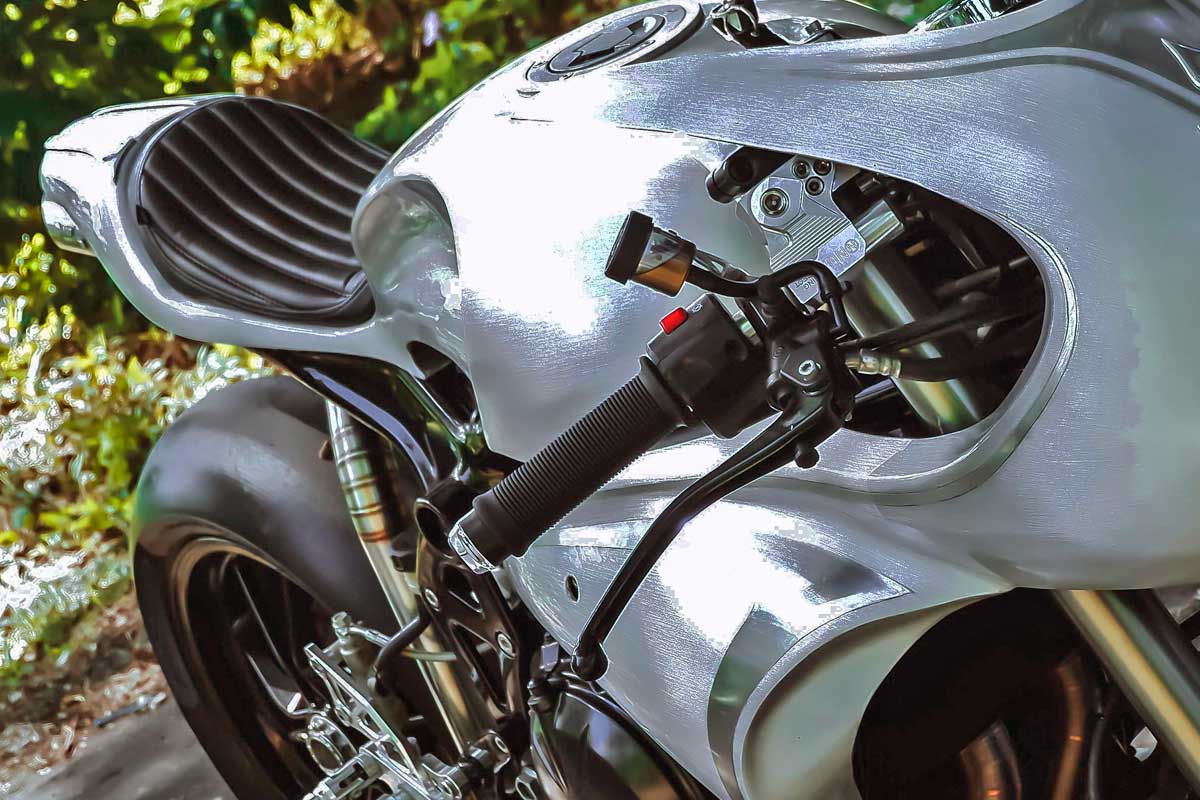 Other smaller tweaks AMS added include a set of bar end indicators and a side-mounted Brat Style brake light and license plate. A custom leather saddle, aftermarket rearsets, and the clipons from the ZX10 position the rider in a more aggressive stance. As for the paintwork, the only place you'll find any is on this bikes frame. Every inch of aluminum bodywork remains raw. In a style that has become a trademark of AMS builds the body is finished with either a brushed or polished appearance. Polished sections are used to break up the body like pinstripes and draw attention to the bike's voluptuous curves.
Honda may have created the Neo Sports Cafe category with its CB1000R but AMS Garage has owned it with their incredible Kawasaki ER6N Bully.