The late seventies Honda CB650 is commonly referred to as being a 'standard motorcycle'. We doubt anyone would be using that term to refer to this bike by Indonesian workshop AMS Garage. Workshop owner Ajus Mulyawarman calls it his "drag cafe racer – Pitbull" and it's the wildest Honda CB650 we've ever seen.
Ajus' bike building skills have improved exponentially since we first met in 2013. He's mastered metal shaping with guidance from international experts and is capable of hammering out whatever his mind can conceive. At last year's Kustomfest I awarded his alloy-bodied Kawasaki ZZR600 the Return of the Cafe Racers 'pick of the show'. His CB650 Pitbull is just 1 of 4 new AMS Garage builds set to take Yogyakarta's Kustomfest 2019 by storm. My guess is Ajus will be going home with a few more trophies to add to his collection.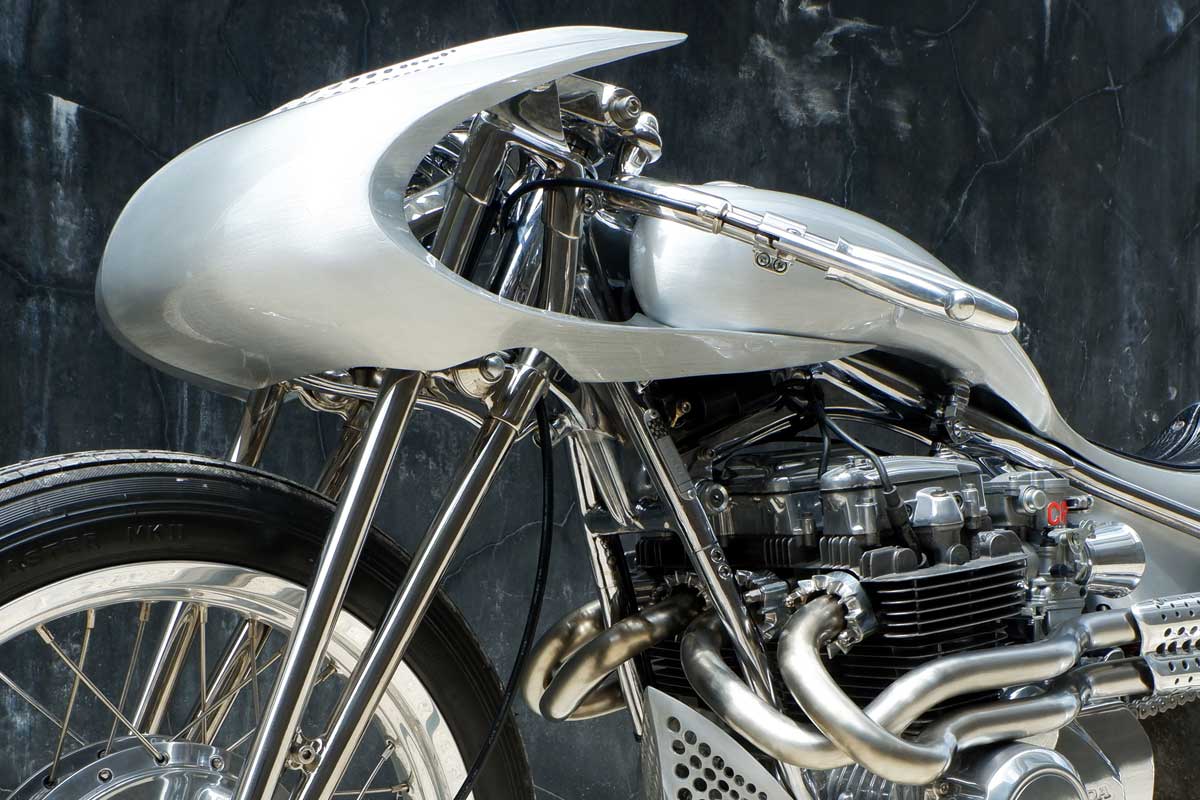 Ajus spent 6 months putting the Honda CB650 Pitbull together at his workshop in Sanur, Bali. It's the perfect example of the kind of unbridled creativity you find in the Indonesian custom scene. Like most Indo builds running engines larger than 600cc, this project started out with nothing more than a 1980 Honda CB650 engine and frame. Due to import difficulties, very few large capacity bikes were sold in Indonesia so owners resorted to sneakily importing them in pieces. As a result, almost everything on Ajus' Pitbull was built from scratch.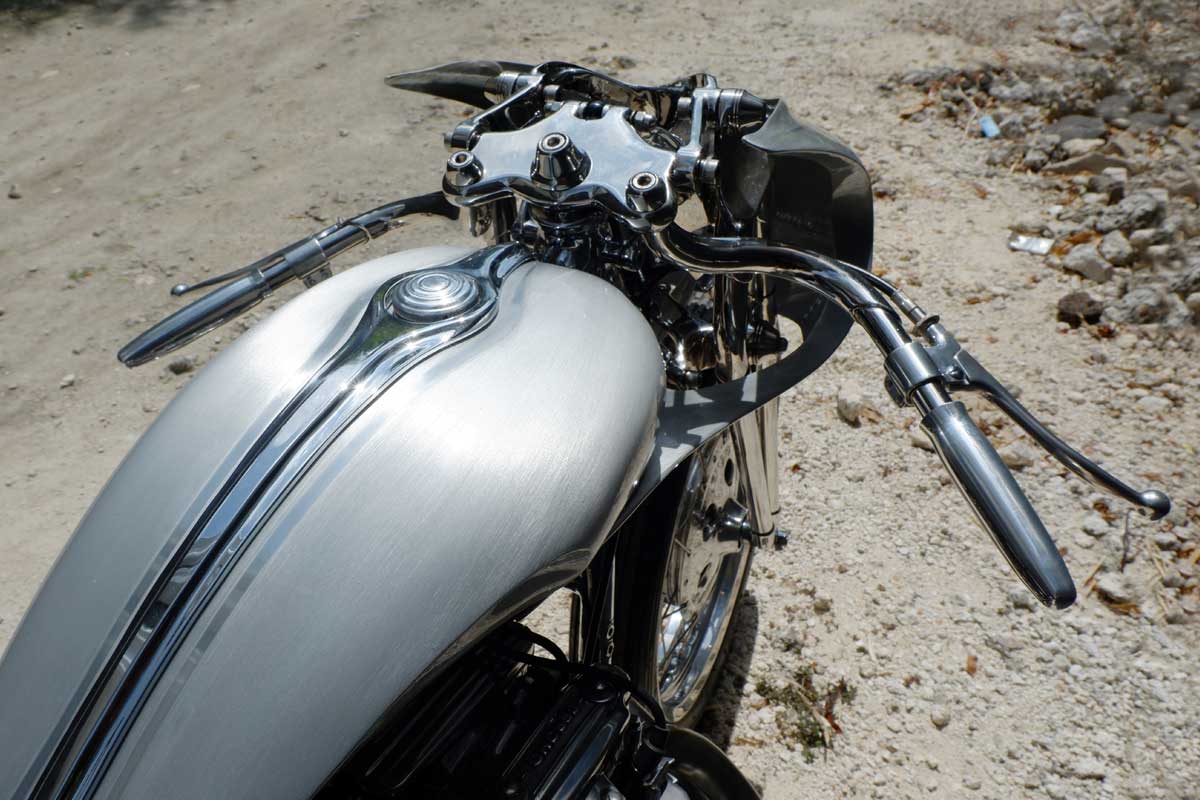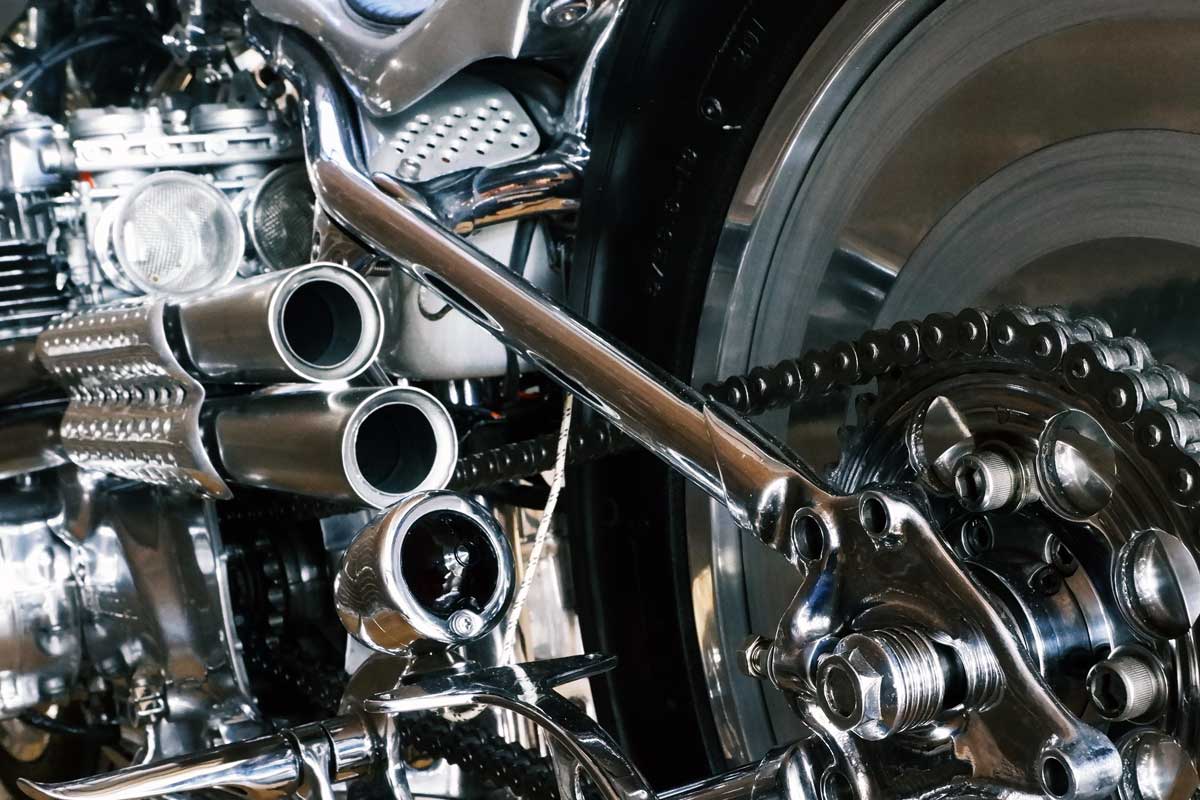 Starting with the chrome-plated frame it's a handmade rigid design straight out of the Seventies. The only element of the original unit that remains is the neck and top rail. Ajus has mated the new setup to a custom made, stainless steel girder fork that's been polished to a mirror finish. Naturally, the controls are all custom too with pulled back clip on style bars up front. The gears and back brake are managed by rear set footpegs which are positioned appropriately for chin on the tank quarter-mile passes. The wheels are a 19/18 inch combination wearing an Avon Speedmaster in the front and a purposeful Race Master drag slick out back.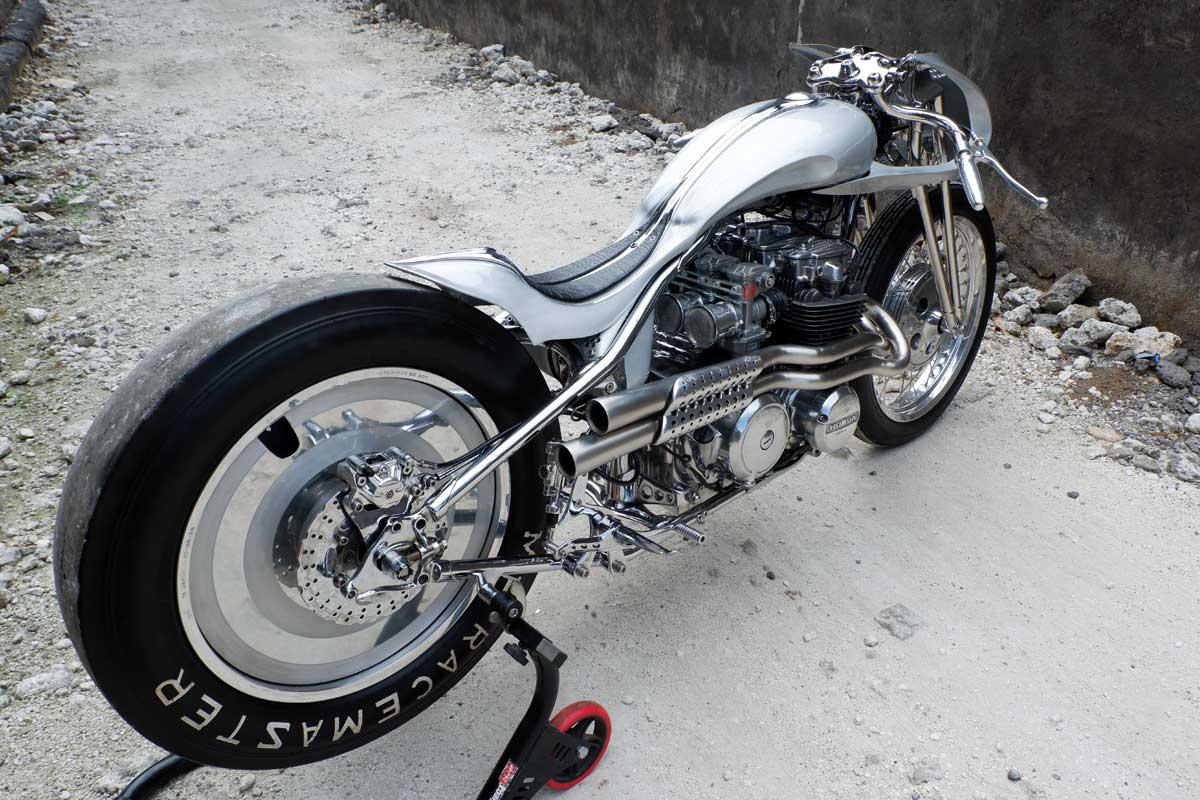 In standard form, the 627cc SOHC inline-four produced 63bhp. Honda originally tasked it with lugging a hefty 465 pounds (210kg) of bike around. Despite this, it still managed a decent 1980's quarter-mile time of 13.4 seconds. The AMS Garage Pitbull weighs a fraction of a standard CB650, which on its own guarantees a swifter time. However, this engine was also given a complete overhaul. During the rebuild, the cylinders were honed and fit with 100 over pistons and the stock CV vacuum carbs swapped for CR Keihin round slides. To get it breathing as freely as possible the carbs wear velocity stacks and the exhaust is a custom 4-into-4 set up. Seeing as this bike is yet to spend any time at a dragstrip Ajus wasn't able to provide us with any numbers. However, he assures us things will be different in February 2020 when the Pitbull will compete in its first blacktop drags.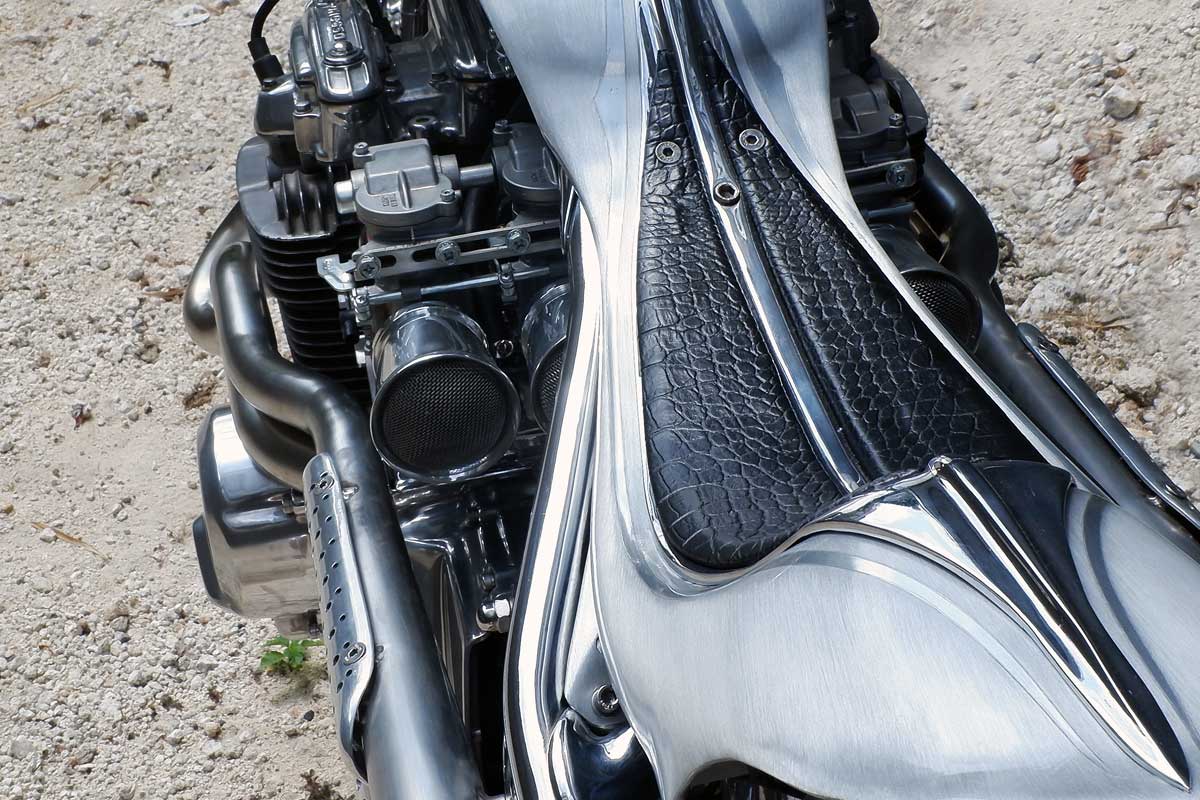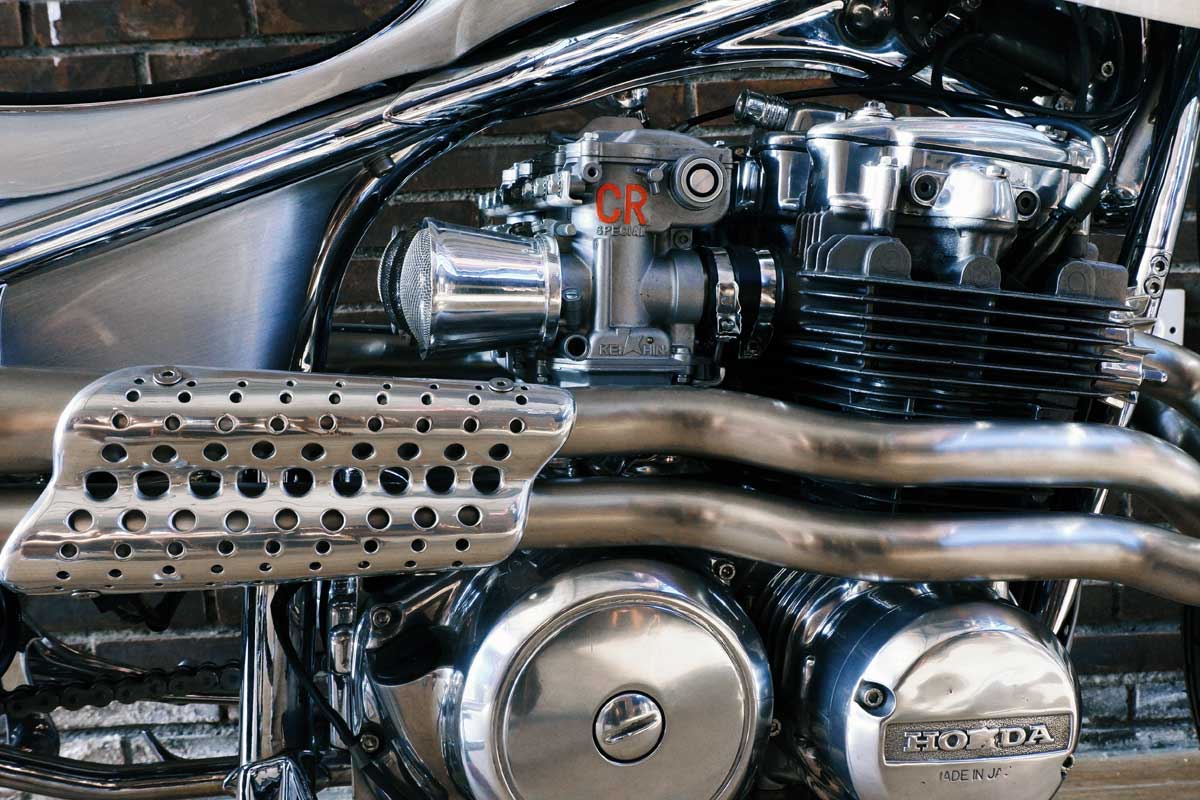 As impressive as all that is, the Pitbull's stand out feature is its bodywork. Everything was hand-made from aluminium sheet and welded together to form 2 main components. Wrapping around the girder fork is an aggressive, aerodynamic fairing that flows back to merge with the sides of the tank. The fuel tank and tail section are a single, monocoque unit that sits perched on the frame rails. Running the length of the body is an alloy tank strap that forms the seat pan for the Pitbull's crocodile leather saddle. To finish it all off Ajus added a brushed finish that's broken up by polished pinstripes.
A lot has changed in Indonesia since I attended my first Kustomfest show in 2013. My only prior experience with motorcycles in the Emerald Isle was limited to hiring battle-scarred tourist scooters. Five years later I consider Indonesia to have one of the most dynamic and inspirational custom scenes in the world. Looking at the work of Ajus and his small team at AMS Garage I'm sure you can understand why.