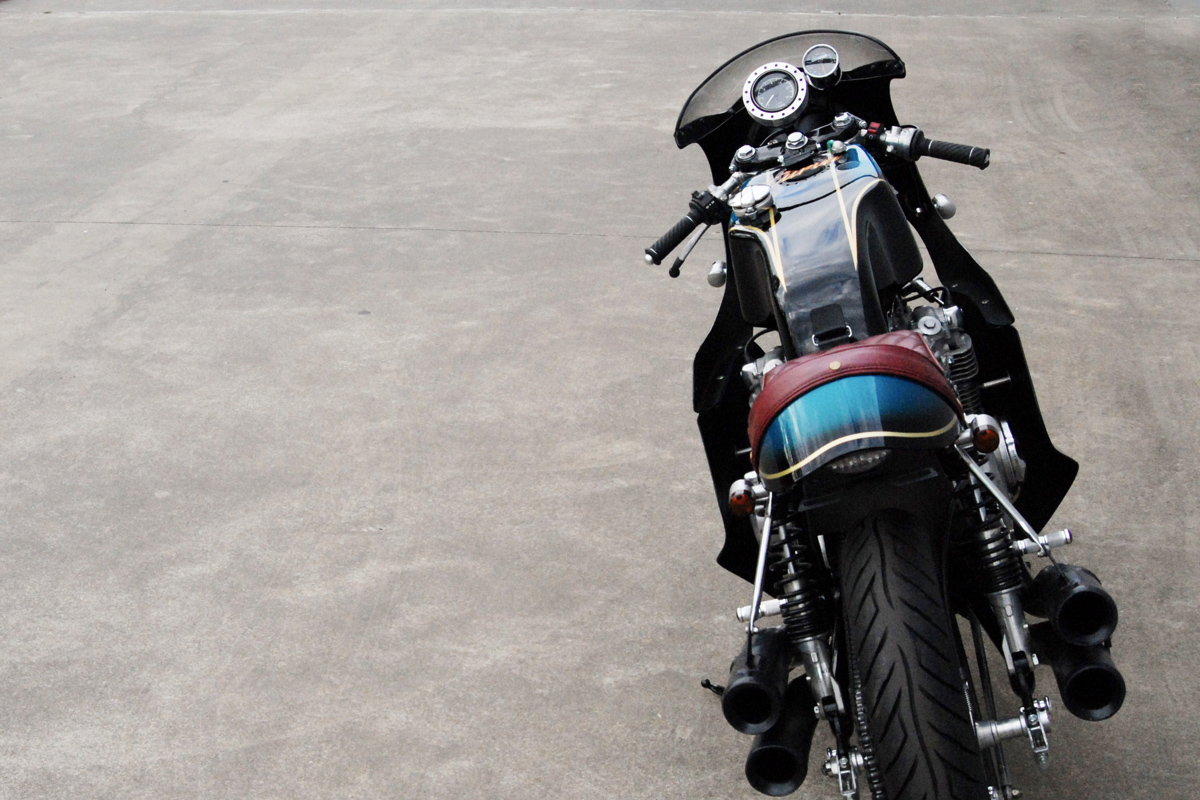 Thankfully, 3 years ago, Ivor spotted something that motivated him to revisit his forgotten project. "I came across an old Two Wheels mag from the seventies with a feature about a Read Titan CR kitted CB750 that was fully faired with funky paint." Ivor is a self-confessed fan of cult Aussie motorcycle movies Mad Max and Stone and a lover of 70s styling, so after seeing the old mag, he found the motivation he needed to get the Honda back out on the road.
The bike already wore a Yamaha TZ aluminum tank which Ivor hoped to strip bare and polish. After discovering damage beneath the old paint he knew the only option would be to repaint it. With the help of Mick at Moto Tumbi Classic Motorcycle Glass in New South Wales a replica upper fairing, headlight bubble and side skirts were fabricated. Using old molds with some custom modifications Mick created a kit that mimicked the Read Titan kit. Ivor then carefully test fit the fairing, trimming the screen and sides to balance its lines with the frame.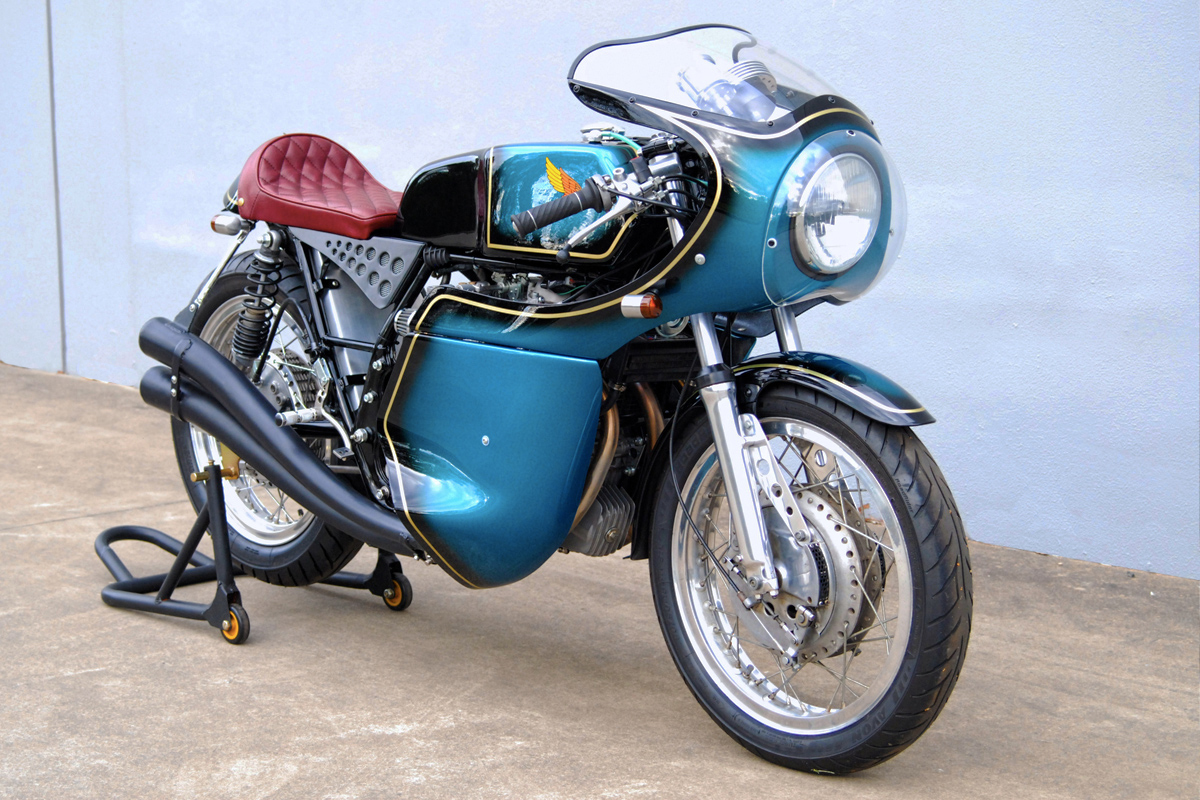 Throughout the build, Ivor's younger brother Julian leant a hand and even helped out with some of the associated costs. Along with their mate John Harding, they lightly honed the bores of the 598cc engine, reconditioned the head and rebuilt the motor. "The engine was already heavily modified and was running a total loss system with a heavily lightened crank," says Ivor. This presented a problem since the tapered spline that the stator originally bolted to was gone. The solution was to convert it back to a stock crank which he sourced with the help of a friend from the SOHC forum. The crew at Dominator Engines then acid bathed and balanced the crank and fit new rods and bearings. When Ivor bought it the Honda also wore CB750 K0 carbs which would also have to be replaced. Since a customary set of CR carbs would cost more than the bike itself Ivor opted for a set of stock carbs which he had hydro blasted and rebuilt.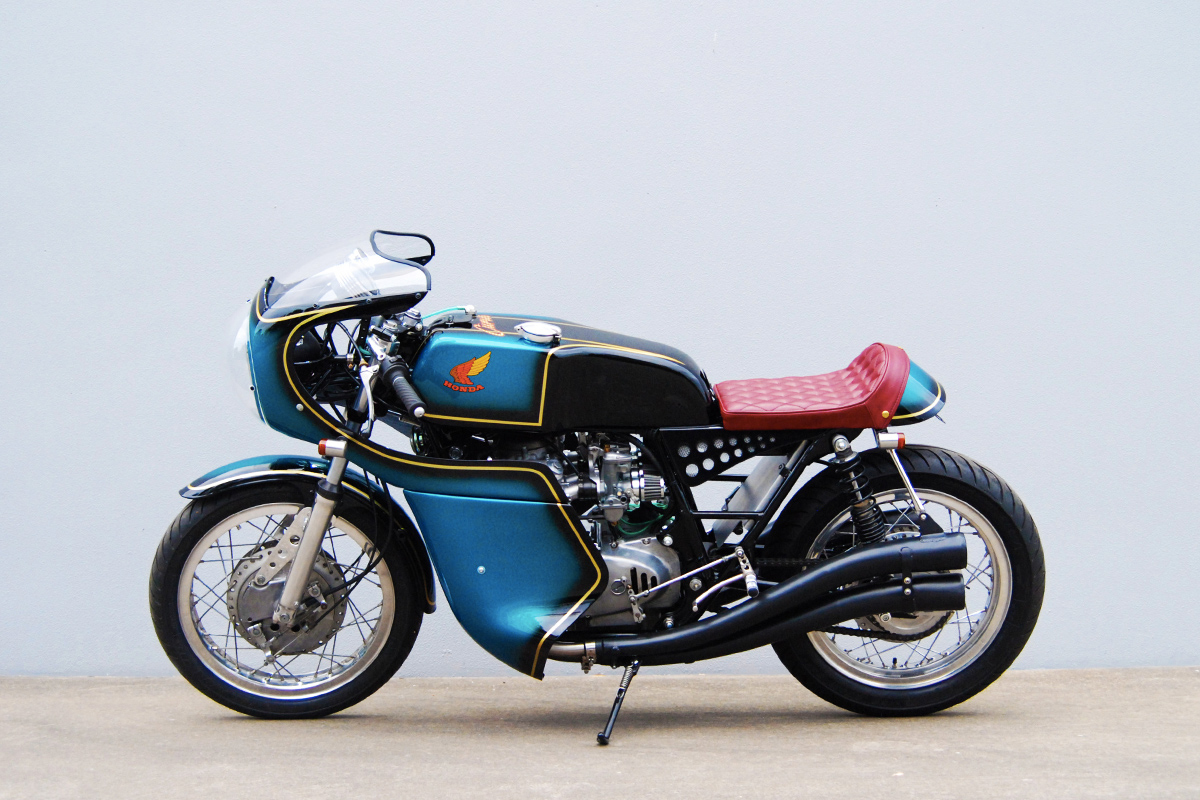 "The headers needed replacing too as they were rusted beyond repair. After being quoted massive coin to have them fabricated, I had Carrington balustrades and railings in Riverstone fabricate them from stainless steel for a quarter of the price." After that stroke of genius Ivor then faced the problem of bending the pipes to fit. After asking around his friends lead him to Phil O'Brien. "Phil was part of the Continental Circus back in the 60's and still runs a fabrication joint in Kirawee," says Ivor. "At 74 years young he is still a machine and specializes in pipework. He not only fit the headers but fabricated the fairing and headlight mounts, taillight and plate bracket and relocated the side stand to clear the headers. Having Phil work on the bike was an honor. Phil is an absolute gentleman and true legend."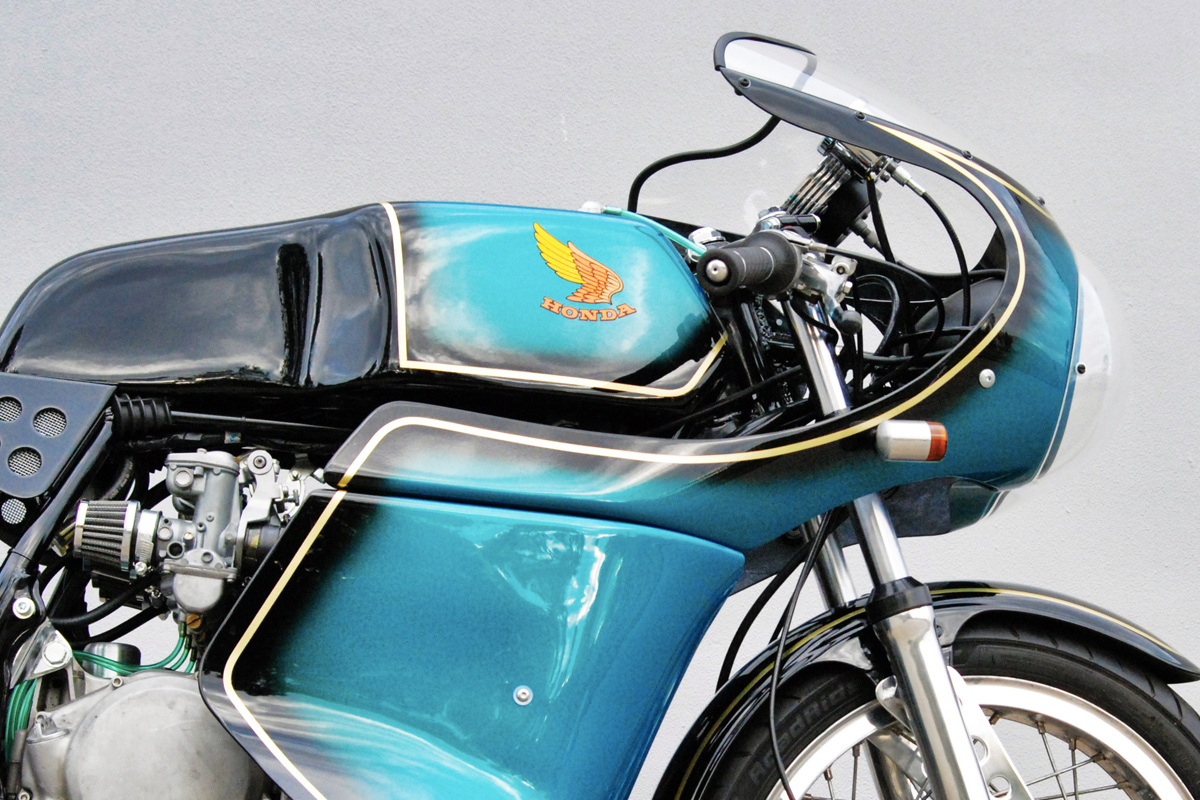 Ivor also pulled in favors from work colleagues and friends Greg Brown and Mat Walters from Walter's Engineering. The duo contributed to the build by fabricating the tacho surround, ignition mount, rear brake light switch mount, various spacers and modifications to the subframe. The frame and swingarm were then braced and gusseted before being bead blasted in preparation for paint. "The color is blue/green metallic that's very similar to Honda's paint of the early 70's. We couldn't find the original color code so we used a Suzuki Vitara equivalent. The gold pinstripe was masked on and black outlines airbrushed in. Lastly, we added a vintage Honda tank sticker originally found on the Honda CMX250."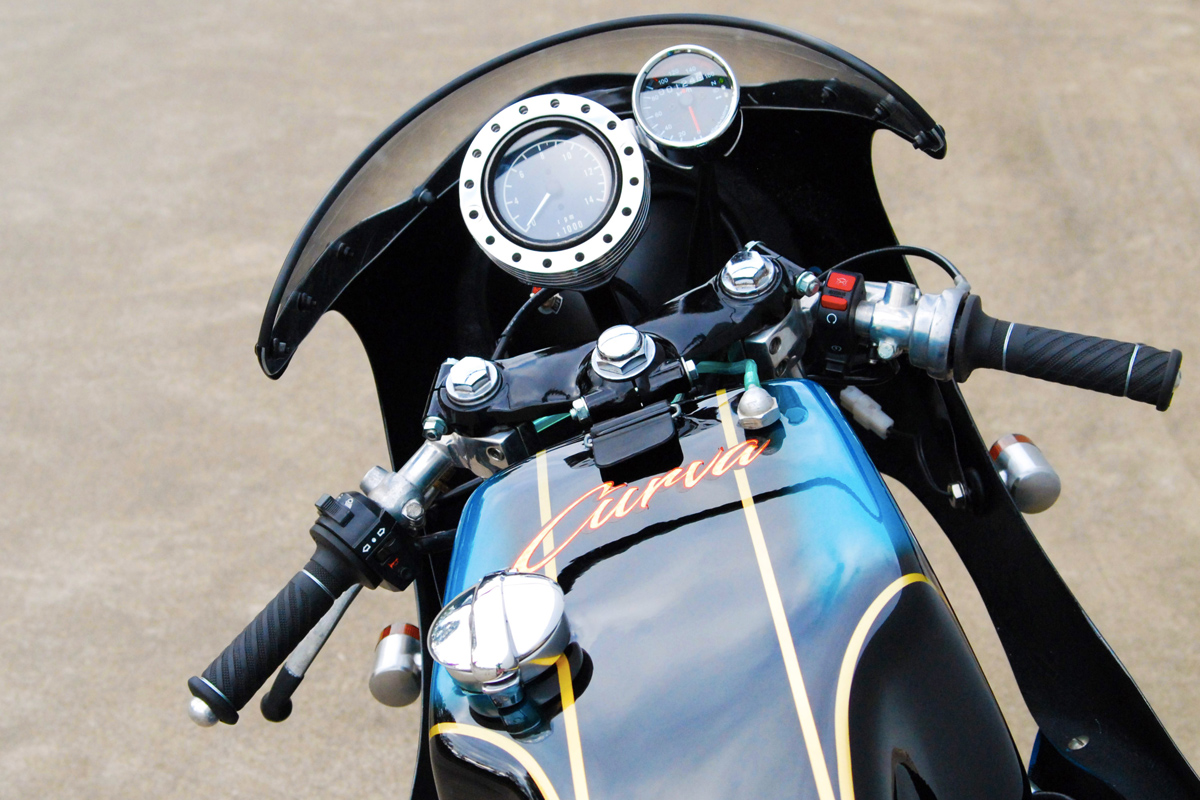 Along with the already extensive list of work done Ivor had all of the bikes fasteners zinc plated. He polished everything he could using knowledge passed on to him by Luke at Ultimate Shine and had the awesome curved mufflers ceramic coated in black. New cables, levers, and lights were put together for the brake system and a quick action throttle added. The Honda also runs all new wiring and components and an oil cooler. The finishing touch was having the saddle upholstered in diamond-stitched oxblood leather.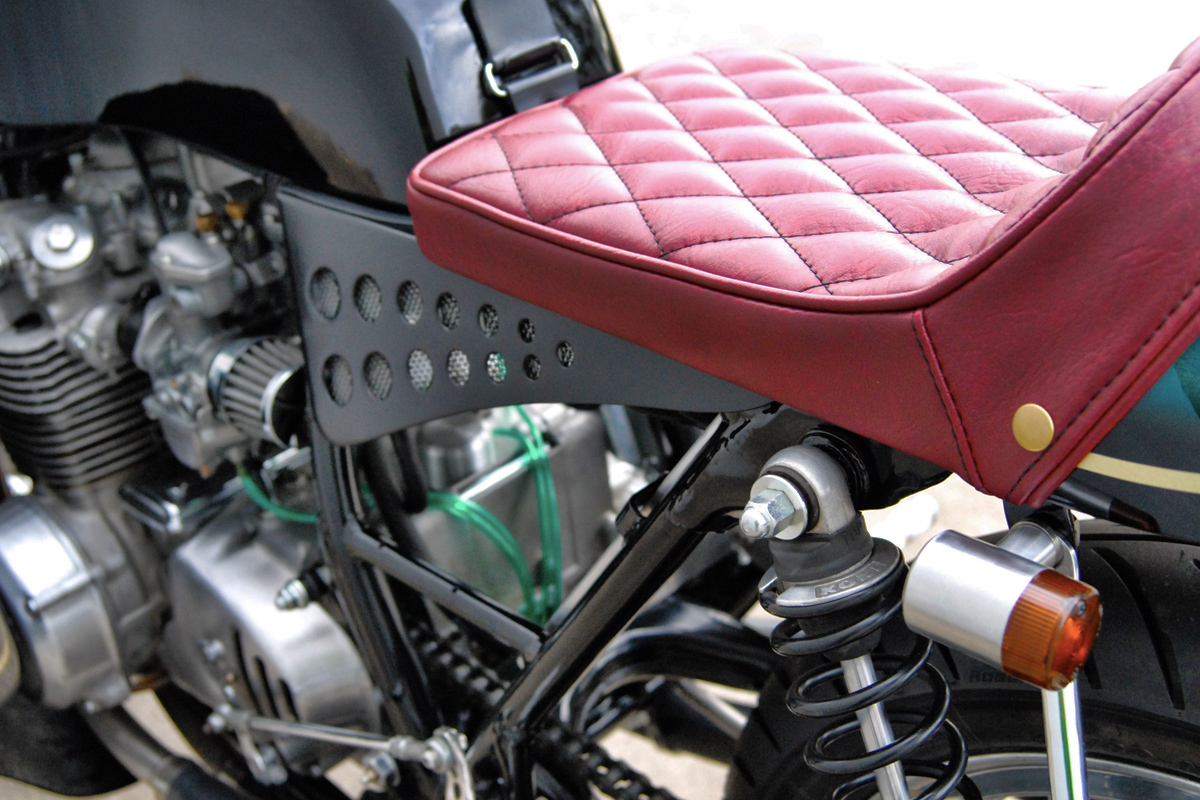 "How does she go? Like the clappers!" says Ivor, but he admits there are still a few things to smooth out. "It's uncomfortable as buggery, impractical, cost a third of what it's worth to build and not everyone's cup of tea, but I love it and I guess that's what is most important." We couldn't agree with him more.
Got a build you'd like to see here on Return of the Café Racers?
Photography by Rodrigo Fuentes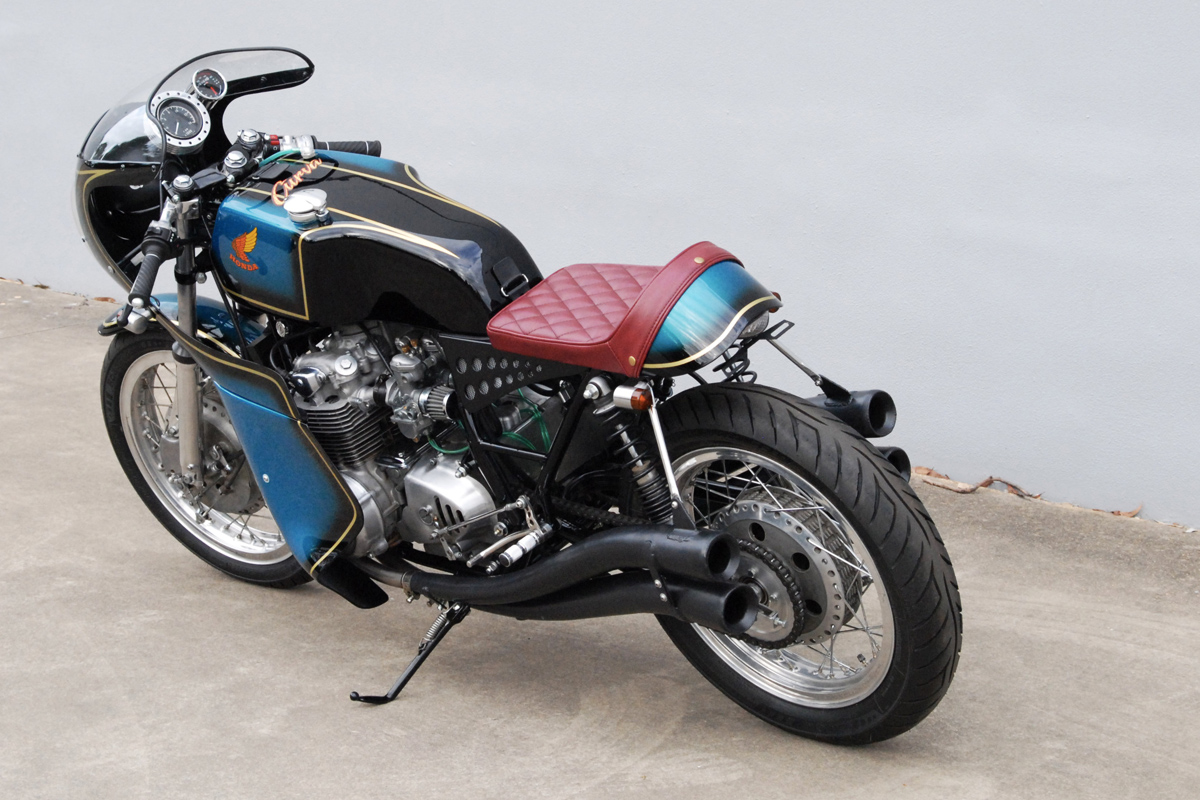 We're big fans of "backyard builds" here on Return of the Cafe Racers. During the past week, we have been fortunate enough to feature 2 very slick bikes that were put together by a couple of regular guys. Today we unveil the trifecta with another Japanese based café racer that's been one man's long-term labor of love.
Ivor Demetlika is a 45-year-old Fireman living in Sydney, Australia, and his wild looking Honda CB550 has a history steeped in motorcycle racing. "The bike was originally built by Bill Snelling who ran Westgate racing in the 80's and 90's," says Ivor. After acquiring the bike in the early 2000's he discovered that it had swapped hands amongst some big names in the Australian racing and made plans to begin race it himself in post Classic events. Unfortunately, due to living arrangements, funds and the worst project killer of them all, procrastination, the Honda became a piece of quirky granny flat furniture.