Earning a customer's trust is worth more to a custom workshop than simply getting customers in the door. Without trust, they won't be given creative freedom or the chance to show the world what they're really capable of.
It takes a special kind of trust to hand someone the keys to your brand-new motorcycle. Let alone trust them with tearing it apart and rebuilding it. But that's exactly what Zife Design's latest customer did. With little more than a brief consisting of a basic style guide the Zife team found themselves in possession of a brand new Honda CB650R and free rein to translate their client's requests however they saw fit.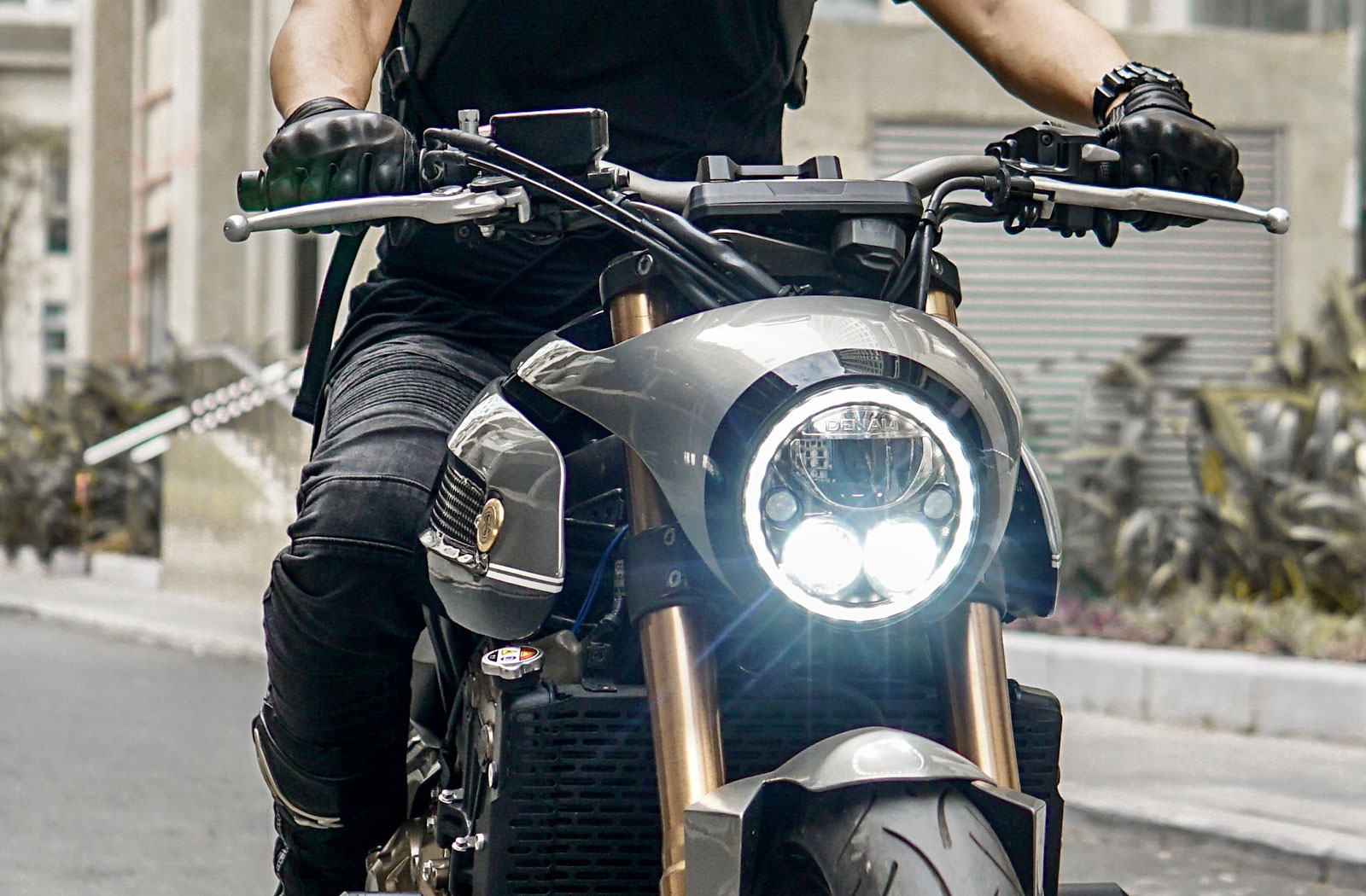 The Zife Design workshop is based in Hanoi, Vietnam. They've been building custom motorcycles since 2010 and have clearly formed a strong rapport with the local motorcycling community. Their ethos is to never build the same bike twice and so far they have done a good job sticking to that plan with a diverse portfolio of custom creations. This is the second late model Honda CB to receive the Zife treatment, but just as they promise, this one is nothing like the last. Based on a 2021 version of the CB650R Zife call this bike 'The Prototype".
"The owner wanted a one-of-a-kind version of the CB650R that is retro as well as futuristic," says Zife manager Tuan Ngoc. "Our design concept was influenced by cafe racers with a modernised fairing design that complements the futuristic lines and chassis of Honda's neo-sports CB650R."
Realising their client's brief took the Zife team a mere 5 months. The project began with a digital sketch in Procreate that was laid directly onto a photo of a stock CB650R. Along with giving their client something to sign off this formed a solid starting point for the build. During this stage, many of the component's dimensions and relative positions were fine-tuned on screen prior to any work commencing.
Despite the Prototype's complex forms and organic lines, the bodywork isn't made from fibre composites. Instead, for their projects, Zife relies on their metal shaping skills to realise their concepts. This Honda's new all-metal attire consists of a custom front fender, unique front fairing that wraps back over the fuel tank, a faux fuel tank that sits over the stock fuel cell and bespoke side panels that hide any unsightly engine or electrical components. The whole tail assembly is new too and features a removable cowl for 2-up riding.
One additional request of the bike's owner was to make the CB650R more suitable for his stature. Being a smaller rider he wanted to be able to easily get a foot down in Hanoi's busy start/stop traffic. To make this possible Zife has slimmed down the seat design and added higher handlebars that position the rider more upright and in the lowest part of the saddle. Showing off their ability to plan a project well, all of the new bodywork is held in place by existing fixing points on the CB650R chassis so there was no need for any cutting or welding of the frame.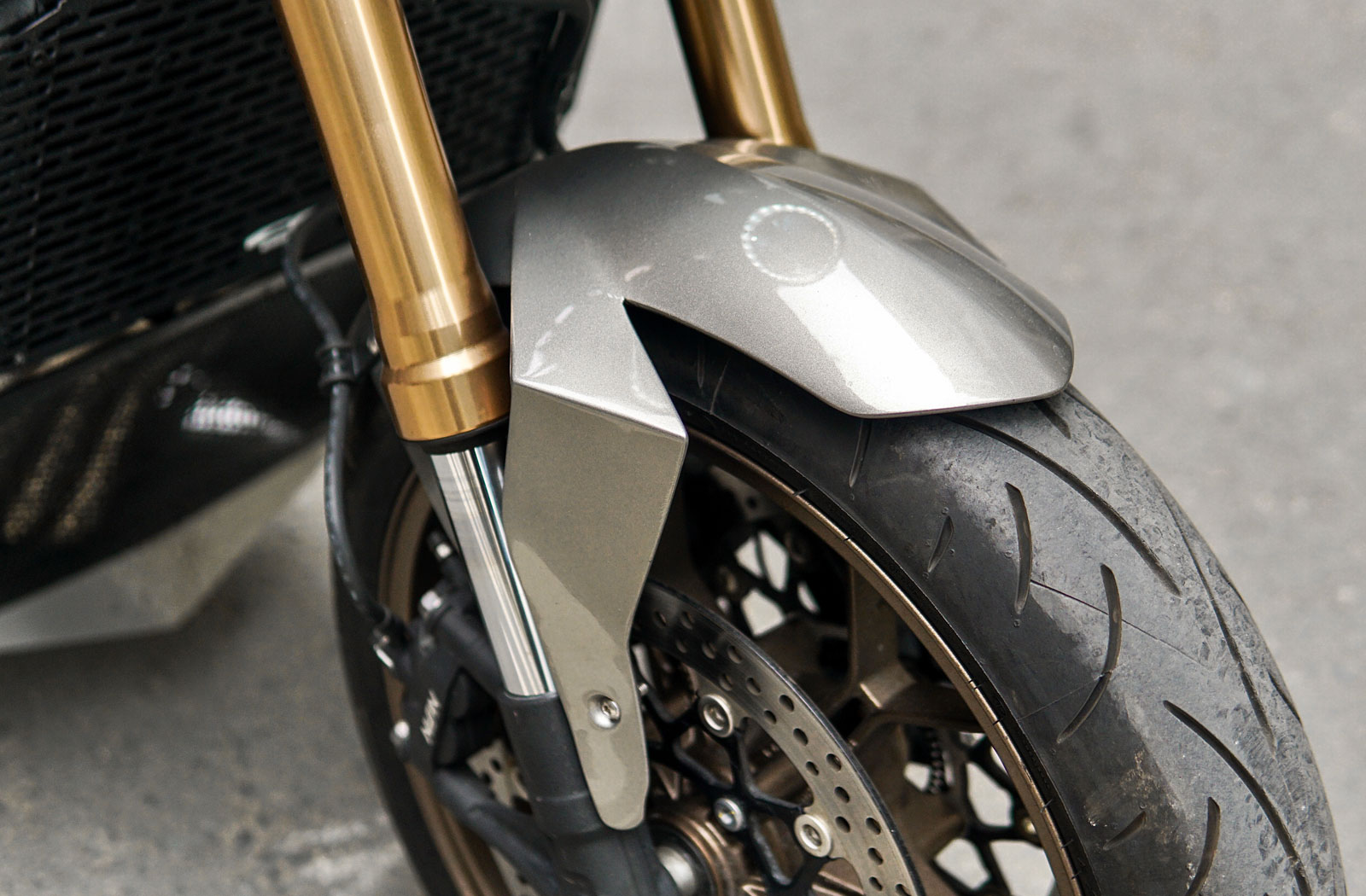 This CB650R wears a spattering of custom accessories too. Amongst them is a Denali M7 LED headlight that is seamlessly integrated into the custom front fairing. Rear-end lighting duties are managed by a multi-function LED light strip. There are custom-made Zife badges on the tank covers and a custom-made fuel cap. Road debris is kept in check thanks to a machined radiator guard and a taller set of motocross-style handlebars complete the revised riding position.
Performance upgrades weren't part of the brief with this project, but that didn't stop Zife from making a few changes to free up the flow of fuel and air into and out of the engine.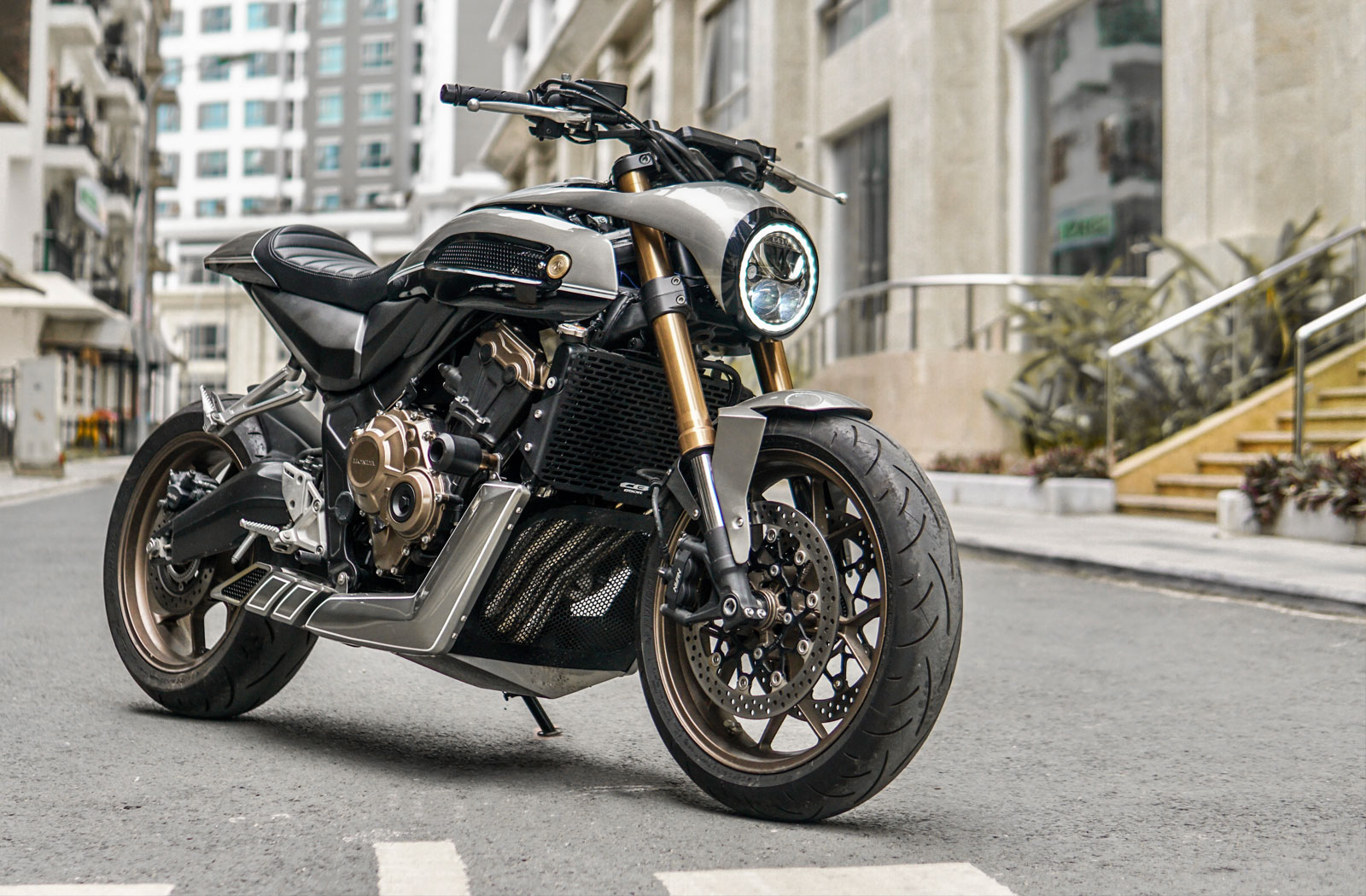 Along with fabricating a one-of-a-kind fuel tank cover, the Zife team looked at ways of improving the Honda's intake system with a custom air box. "The ratio of the air box was one of the most challenging parts of the project," says Tuan. "We had to remake it twice to get the desired look and function." The result of Zife's hard work is a striking new setup for the neo-sports Honda that along with boosting performance helps to keep operating temperatures down during Hanoi's stifling wet season.
As for the exhaust end of the combustion cycle, it's hard to ignore the bike's new belly pan and muffler arrangement. Sitting beneath the radiator is a wide mesh panel that allows ample airflow while protecting the system from damage. Flanking the lower half of the engine are chunky panels that form the muffler housings at the rear. The whole setup adds some serious visual heft to the lower half of the inline-four and in turn, makes this CB650R appear much more planted and muscular.
In our opinion, Honda's Neo-Sports Cafe series is one of the least classic-looking modern retros on the market. Despite the Prototype's unmistakably futuristic styling Zife has managed to give the CB650R a much more classic feel. By replacing hard lines with flowing curves and a balanced bone line they've created one of the best-looking modified Neo-Sport models we've seen so far. With first-rate work like this rolling out of the Zife workshop, it's no wonder they've earned the trust of their customers.