From time to time, you see something that makes it hard to believe your eyes. They call it cognitive dissonance; a state where two conflicting images or ideas exist in the mind at the same time. It confounds you and makes it hard to compute exactly what it is that you're seeing. It's also a concept that Japan's "Berry Bad Motorcycles" could patent, given that the first instinct when looking at this incredible Berry Bad Kawasaki W650 is to ask "That's a Norton, right?"
Taro Korogi the owner of this remarkable motorcycle was very proud to share his striking custom W650 with us. He told us his first bike, a tastefully modified SR400, was stolen a few years back. After dealing with the loss Korogi-san spent a few years revelling in the torque and brutal acceleration of a new VMAX 1700, but he soon yearned for more. He grew dissatisfied with the VMAX's robotic appearance and felt himself being drawn towards a second bike with a more refined classic aesthetic. It would need to be one that was easily customised and had "the soul of a café racer".
Korogi-san explains, "I'm a computer engineer and didn't have time to do the work myself, so I made contact with Mr Kyohey Sugimoto, owner of Berry Bads Motorcycle. I was very inspired by the Norton Dominator, and asked them to bring the look and feel of that bike to a Kawasaki W650".
The choice made perfect sense. Some argue that the Kawasaki W650 is a better ode to the halcyon days of British bikes than 'modern classics' offered by the Brits themselves. As Japan rebuilt their economy after the war, manufacturers began to closely follow designs from abroad in order to supply reliable workaday motorcycles for a newly industrialised nation. So while on paper the W650 harks back to Kawasaki's own W1, W2 and W3 models from the 1960s, these machines were almost cloned cousins to the BSAs and Bonnevilles of the day. Whilst the British marques have gained size and weight since the 1960s, the W650 remains a reasonably faithful facsimile of the template with only sensible concessions to modern reliability, performance and safety.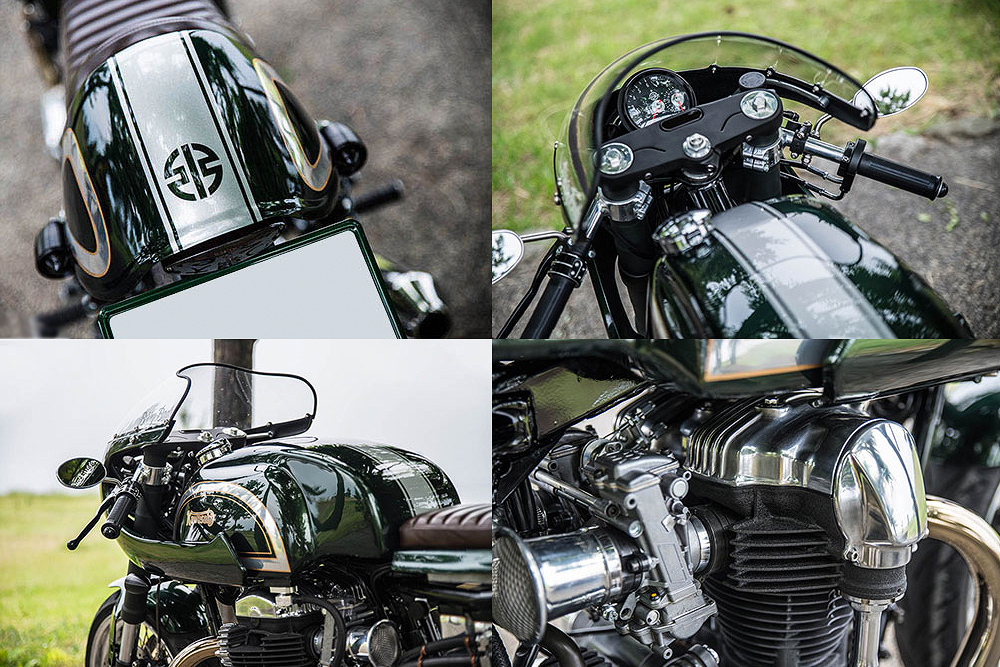 With a plan hatched, Mr Sugimoto and Korogi-san began to develop ideas. The brief became a classically styled but aggressive café racer that would balance aesthetics and performance. Mostly happy for Berry Bads to lead the way, Korogi-san was sure to contribute his own list of 'must-have' features that made their way onto the build.
Almost every part of the bike's many components and systems were worked over to create this stunning machine. The engine was taken out to 814cc thanks to a big bore kit, and breathing duties are met by FCR flat slide carburettors with scant regard for filtration. Suspension is handled by an upside-down front end from a Ducati 400 SS and Ohlin's adjustable twin shocks at the rear. The transplant up front also allowed double discs to pull up a brand new set of 17-inch front and 18 inch rear wide wheels as quickly as possible.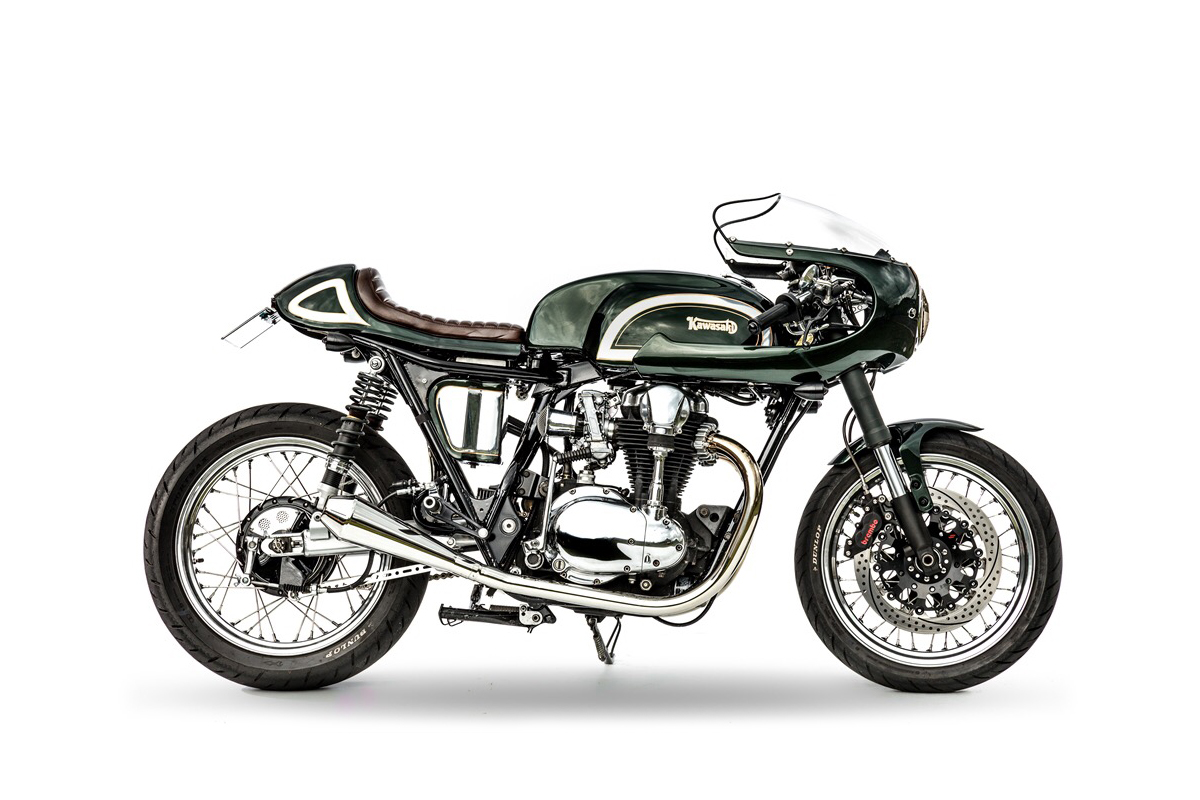 You'd expect a computer engineer's bike to have some hi-tech gadgetry aboard, and this machine doesn't disappoint. Motogadget's Motoscope mini speedometer and a Cognito Moto GPS meter with a Motogadget shift indicator and NFC ignition to round out the dash.
A slew of other details emerge the longer you look at Korogi-san's W650. Bespoke rear sets, the deep lustre of the exhaust and a custom oil temperature gauge. Minor features that speak to the craftsmanship and attention to detail that have gone into this machine. It's definitely worthy of a double-take, and both the builder and the owner should be very proud of that indeed.
Photography by Nobu and Berry Bads
Words by Mik.