In the scheme of things, 10 years isn't all that long. But for a small business launched by a pair of ex-pat friends living in Thailand, it's a milestone worth celebrating. During the past decade, Markus Pintzinger has piloted his Omega Racer business through all manner of challenges including a global financial crisis. Now 10 years on he's looking back at everything he's achieved and started planning what his business can offer the motorcycling community moving ahead. Markus also wanted to commemorate the anniversary of his motorcycle parts and accessories store by building something special.
Although Omega Racer mainly specialises in parts for specific motorcycle models like the Kawasaki W650/W800, Yamaha SR400 and the Triumph Bonneville range (to name a few), the Omega Racer anniversary bike was based on something rather unexpected.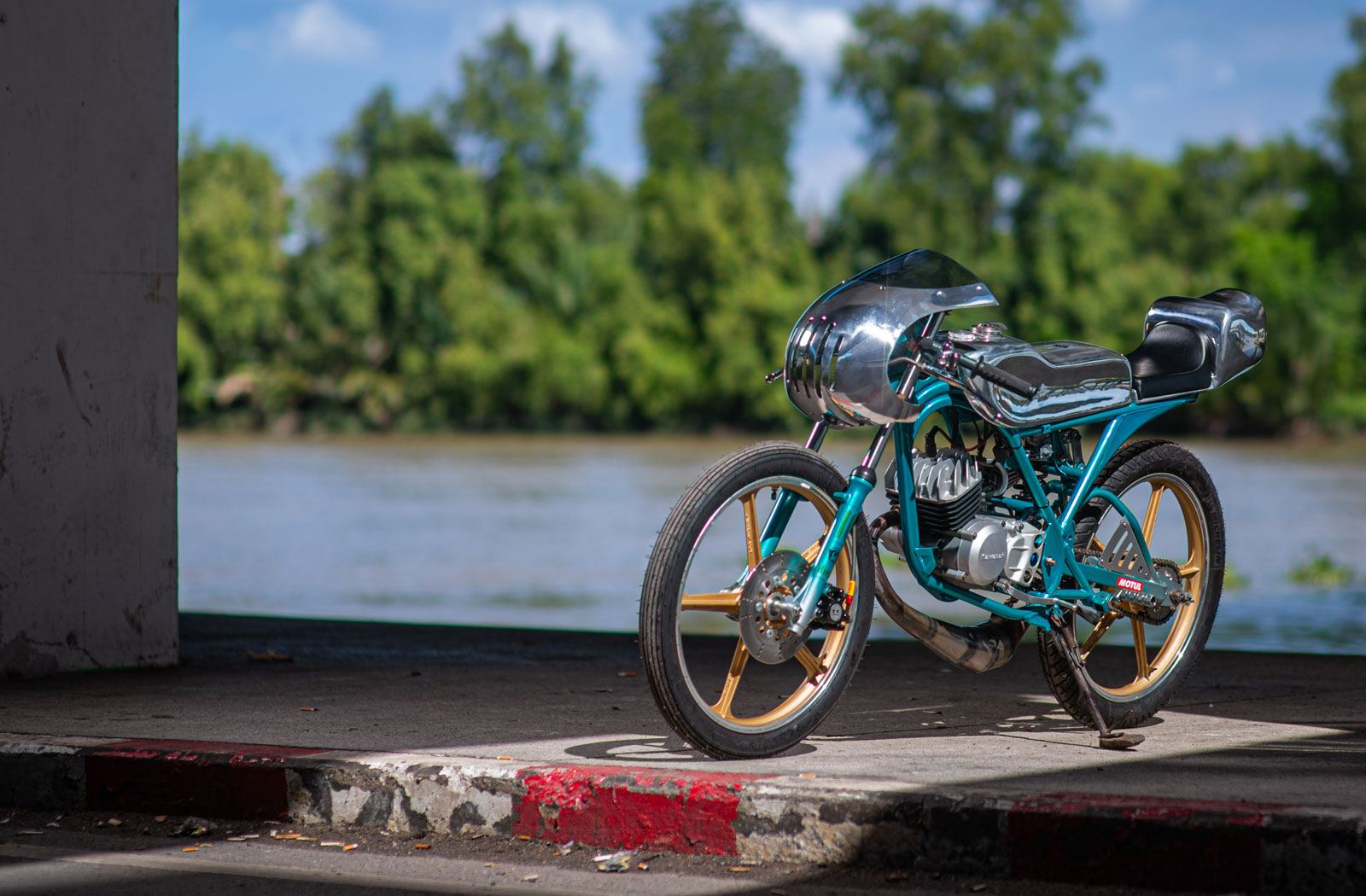 "It's a project bike called Cavalleggero, which is Italian for Light Cavalry," Markus explains. "It seemed like an apt name for such a lightweight but slightly horsepower-deficient bike like this." The motorcycle Markus is describing is a 1982 Kawasaki AR80 which was purchased for the princely sum of $100.
As you'd expect for that kind of money the AR80 was looking a little worse for wear. But Markus has a soft spot for small bikes and the Kawasaki's monoshock rear end really appealed. Markus also has a reliable list of local builders he's built over the 10 years of running Omega Racer. So despite the challenges the delapidated Kawasaki AR80 presented he knew his team could massage something special out of it.
In its standard setup, the Kawasaki AR80 two-stroke single puts out a touch over 10hp. That figure certainly isn't going to get any pulses racing, but Kawasaki promised a ride that was light, nimble and, most importantly, fun to ride. To then let everyone know the AR80 was a cut above the rest of the small capacity two-store crowd they added sporty styling. Up front, the Kawasaki wore a quarter fairing and the rear was upswept like many of its larger, performance-focused siblings. To complete the look Kawasaki added a set of gold rims and a blacked-out exhaust.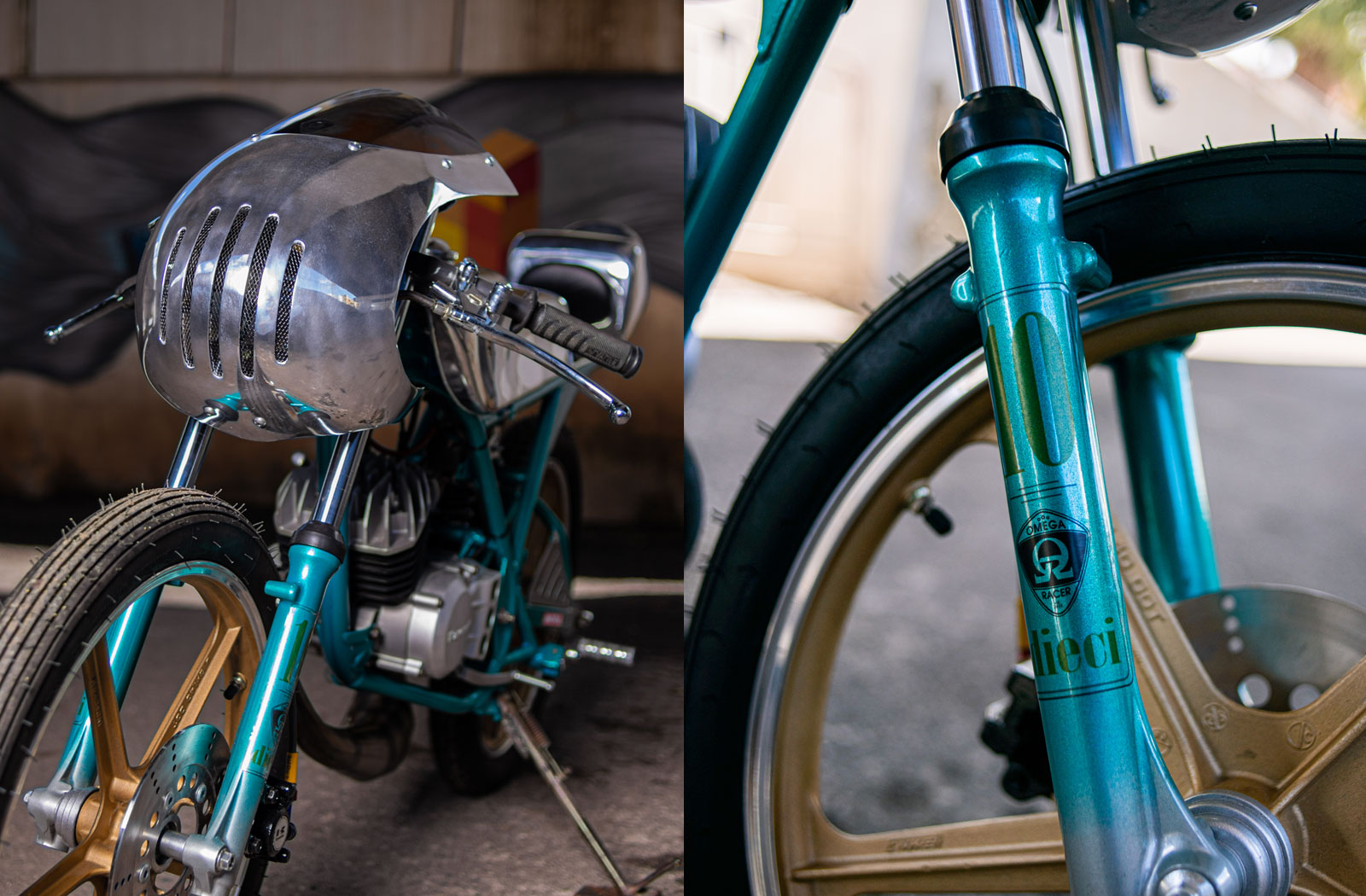 "We stripped it down completely and acquired a new set of rims, a new rear shock and other small parts. We powder coated the frame in "tropical green" (very fitting for Thailand and Kawasaki) and overhauled the engine." says Markus.
With a mere 78kg of mass to move around the AR80's engine delivered decent performance. It was the bike's weight however that Markus focused on to get more out of it.
"Our inspiration came from the Italian 50cc race and street bikes of the late 60s and 70s. We just love those bikes, sporting super long and narrow tanks, tiny seats and huge attitudes," Markus says.
To recreate the look they were after using the lightest materials available Markus enlisted the help of his go-to aluminium fabricator, Korn.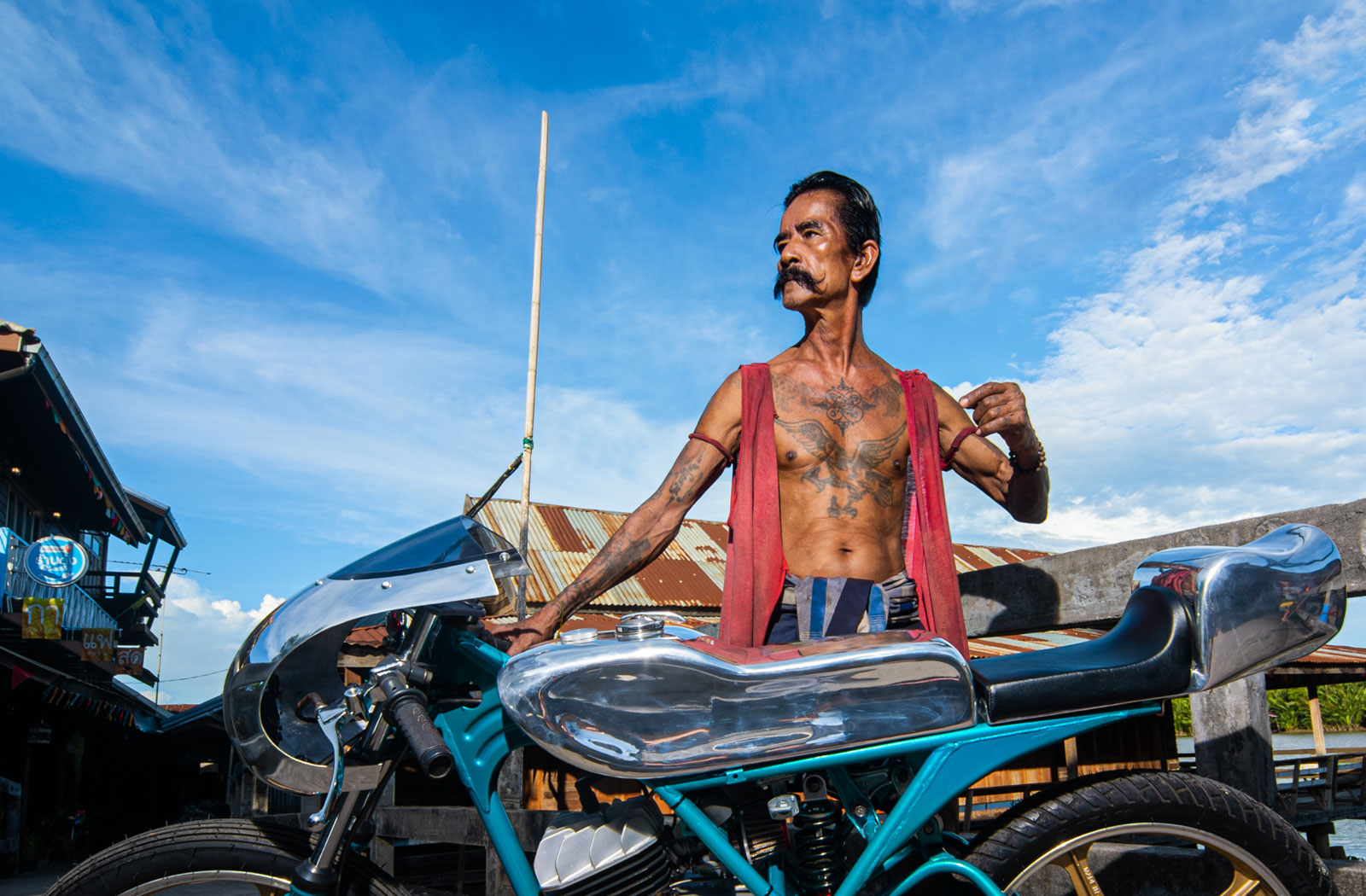 "The body parts were first sculpted with foam and then taken to our trusted friend and amazing aluminium fabricator Korn, who performed his magic as usual," recalls Markus. "The duckbill aluminium seat cowl shares the same design elements we added to the AR80's swingarm bracing, steering neck and the front fairing. The sleek bullet fairing completes the bodywork, making sure that the major design lines are all respected. To commemorate a dear friend and riding buddy, Angelo, who sadly passed away last April, we immortalized his name on the tank."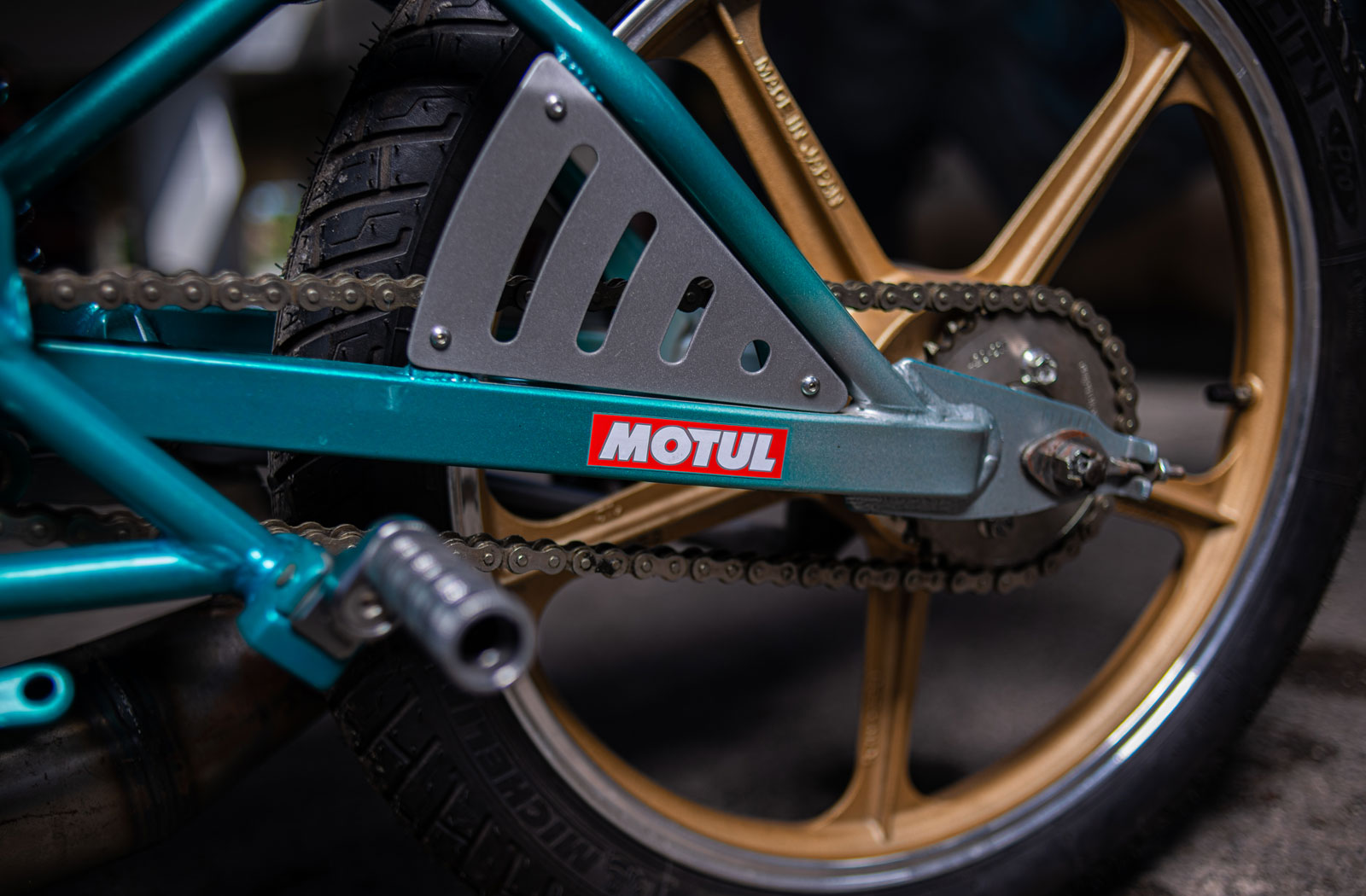 All up it took Korn a mere 4 weeks to complete the all-alloy bodywork. Once installed it fit the bike like a glove and helped to shed a few of the kilos they wanted to lose. Helping to bump up the power figure is a custom-tuned two-stroke exhaust and a free-flowing air filter.
To finish things off Markus then installed a set of clip-on handlebars and some machined alloy rear-set footpegs to set up an appropriately sporty riding position. Their adjustable modern shock was fitted to the AR80s acclaimed 'Uni-track' rear suspension and the new AR gold rims wrapped in vintage look Michelin rubber.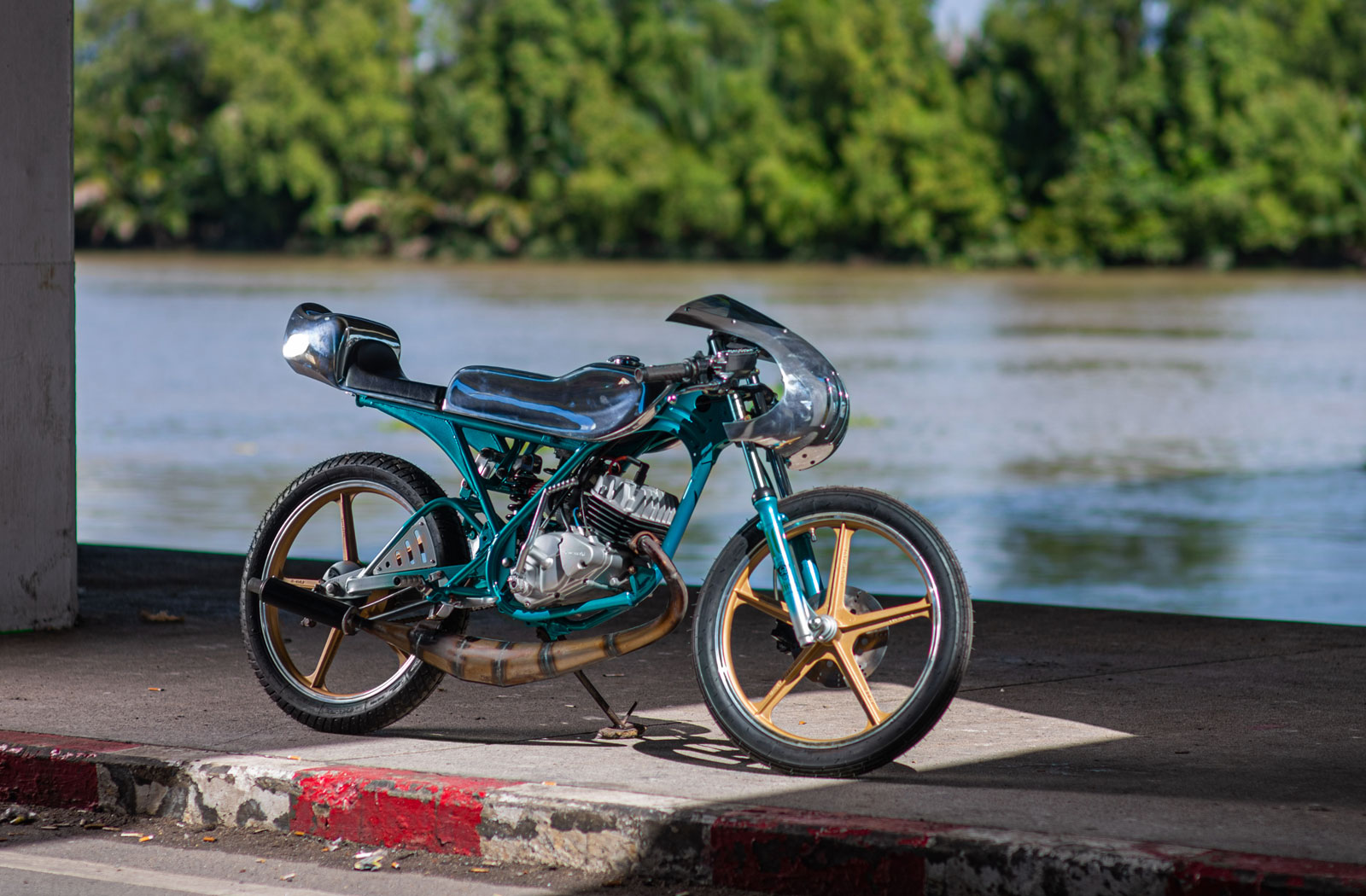 Along with piecing together one hell of a small capacity custom for Omega Racers anniversary, Markus has made some big changes to his business.
"We are very proud to present our brand new website. It's built on a faster, more responsive framework and boasts a more streamlined user interface. There are also new features such as an integrated DHL shipping system, an easy 'parts search' based on your bike model." says Markus. "We've added several new parts, especially for the Triumph Bonneville and Kawasaki W650/800, and have many more to come in the near future. One of our personal favourites is the handcrafted Rickman/Avon- style aluminium fairing, which is a true work of art."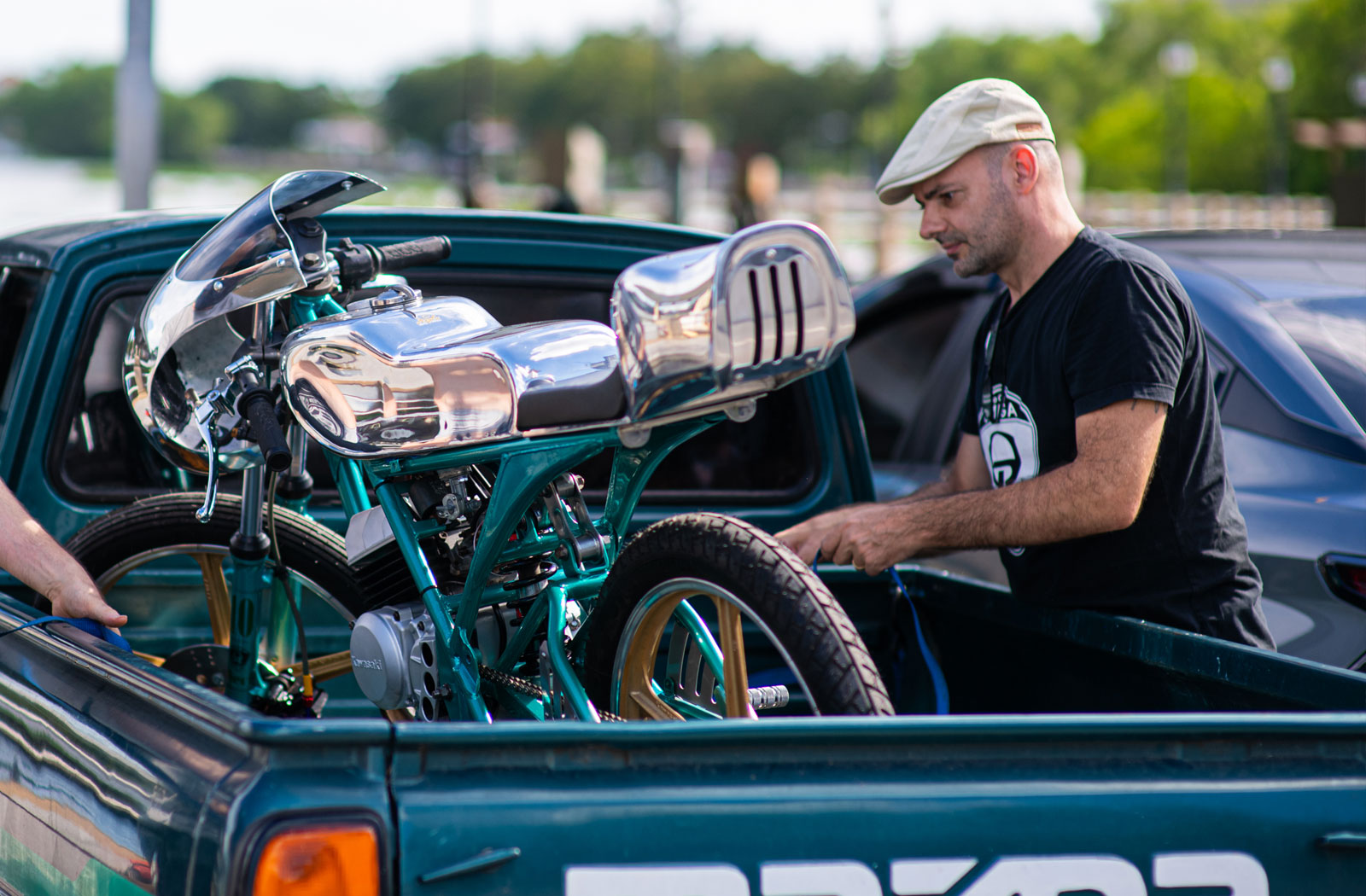 For a short time, Markus is also offering Return of the Cafe Racer readers a special discount at the Omega Racer store. Simply enter the code ROTCR1010 during checkout to receive a 10% discount. Now that's something worth celebrating!
Photography by Thanuthong  Jariyatham